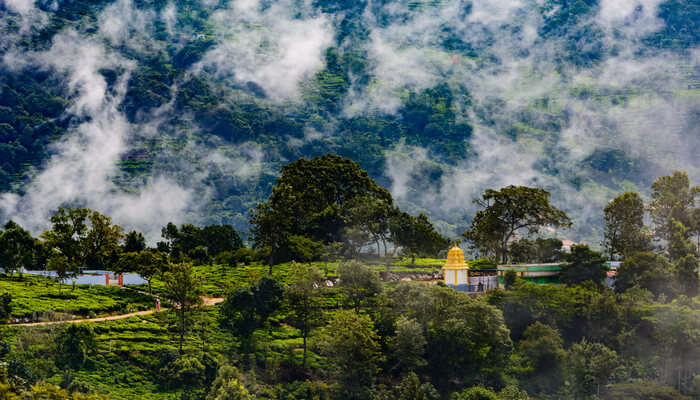 Madurai is one of the most established urban communities in India. Administered by Pandya kings for a very long time in its history, the city of Madurai is built as a lotus. Madurai is known for Meenakshi Amman Temple, dedicated to the goddess Meenakshi with a sanctum for Sundareswarar.
There are numerous other antiquated temples in Madurai, including Thiruparankundram. It is one of the significant old temples dedicated to Lord Muruga (Karthikeya). Having trade connections with Rome in the past, the spot holds an incredible socio-cultural legacy. We have listed a few hill stations near Madurai, away from the hustle and bustle of city life, that offers the perfect getaway for you to relax and rejuvenate.
14 Best Hill Stations Near Madurai
So, are you you are looking to add a few hilltowns on your Madurai holiday itinerary or just head out for a weekend to a cool place near the city? Because we have rounded up an inventory of 10 delightful hill stations near Madurai that are sure to enchant you. They are all quite close to Madurai, at a distance of not more than 300 km from the city, by road. These destinations could prove to be amazing day trips from Madurai, all you have to do is choose which way you want to go. Read on! 
Kodaikanal – 117 Km From Madurai
Kumily – 138 Km From Madurai
Thekkady– 139.2 Km From Madurai
Kolukkumalai– 140 Km From Madurai
Munnar – 154.2 Km From Madurai
Peerumedu – 165 Km From Madurai
Idukki – 173 Km From Madurai
Vagamon – 184 Km From Madurai
Bellikkal – 185 Km From Madurai
Kolli Hills – 212 Km From Madurai
Yercaud– 261 Km From Madurai 
Kotagiri – 282 Km From Madurai
Coonoor – 287 Km From Madurai
Ooty – 303 Km From Madurai
1. Kodaikanal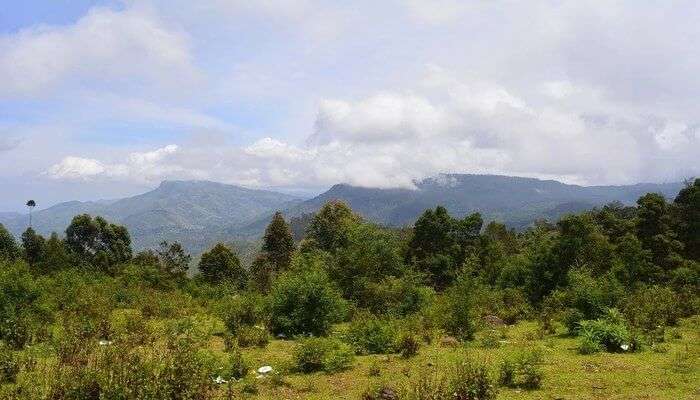 Image Source
One of the nearest hill stations from Madurai, Kodaikanal is situated in the state of Tamil Nadu and is frequented by hill lovers from across India. The magnificent atmosphere canvassed in fog, cloud-topped mountains, and excellent lakes and valleys, make it a perfect retreat. Settled in the midst of the Palani Hills in Tamil Nadu, Kodaikanal stands at a height of 7200 feet above sea level and has a cool, wonderful atmosphere throughout the entire year.
Things to do: Night Safari: Have An Adventure Of A Lifetime, Coaker's Walk: Take A Stroll, Bear Shola Falls: Spend A Day Chilling, Bryant Park: Have A Fun Picnic
Places to stay: Vivera Grande, JC Residency, Heritage Madurai, Shola Crown, Sterling Munnar, Fortune Pandian
Places to visit: Green Valley View, Kodaikanal Lake, Kodaikanal Lake, Kodaikanal Pine Forest
Distance from Madurai: 117 km.
Must Read: 8 Top Resorts In Madurai That Will Make You Wish To Stay Longer In This Temple City!
2. Kumily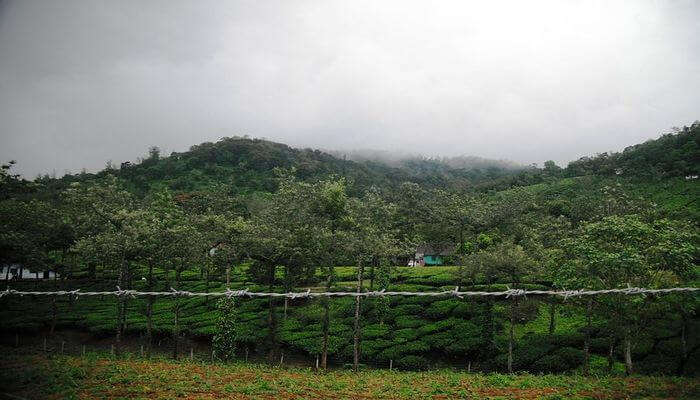 Image Source
This interesting little town is most popular for its wildlife, trekking trails, plantations, and its Ayurvedic spas and is another nearest hill station from Madurai. Situated in between Kerala and Tamil Nadu, this place abounds in spice gardens of cloves, pepper, nutmeg, cinnamon, and cardamom. One should likewise visit the Kalari Center where entertainers play out the interesting martial art of Kalaripayattu. The must-visit places in Kumily are Abraham's Spice Garden, Idukki Arch Dam, and Cheruthoni. You should also ensure that you go boating here.
Things to do: Jeep rides, wildlife safari, plantation walks, bamboo rafting, boating
Places to stay: Spice Village, Crown Valley Resort, Oriole Homestay
Places to visit: Murikkady, Kadathanadan Kalari Centre, Chellarkovil and more
Distance from Madurai: 138 km.
3. Thekkady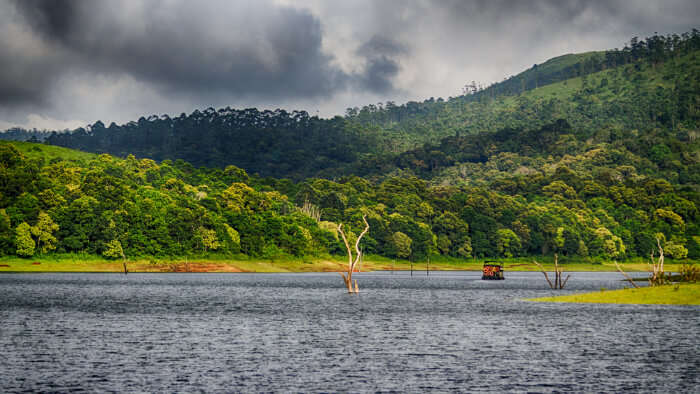 Enjoy a jungle vacation in this beautiful hill station in Kerala- Thekkady, the home to India's largest tiger reserve, Periyar National Park. While the vast biodiversity hotspot makes it one of the most popular hill stations near Madurai, there are many other attractions in Thekkady as well. The place has lush spice plantations, gushing waterfalls, and beautiful temples that attract tourists from all across the country. 
Things To do: Wildlife safari, camping, trekking, boating, shopping
Places To Stay: The Elephant Court, Hotel Ambadi, Periyar Nest Resort, Hotel Peppervine
Places To Visit: Elephant Junction Thekkady, Thekkady Rose Park, Elephant Camp, Spice Farm
Distance from Madurai: 139 km
Must Read: 20 Tranquil Hill Stations In Kerala For A Rejuvenating Experience In Summer
4. Kolukkumalai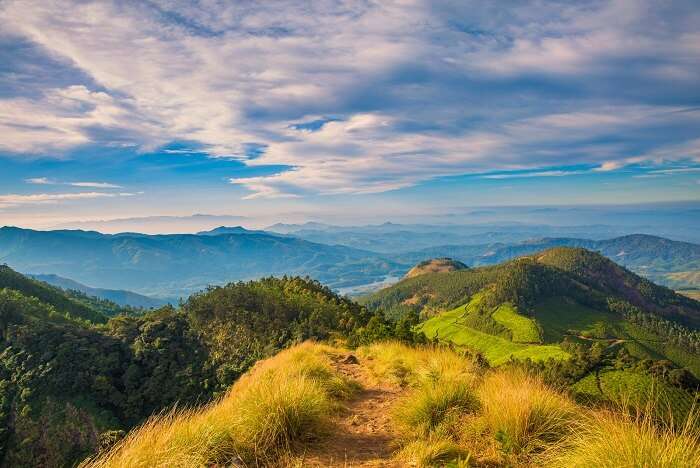 A small hill station near Madurai, Kolukkumalai is located in the state of Tamil Nadu. The place is famous for the world's highest elevated tea plantations at a height of 7900 feet. Owing to its unparalleled natural beauty, the place is often frequented by tourists from all across the world. Apart from tea plantations, the place also boasts of gorgeous viewpoints, waterfalls, and wildlife reserve located close to the Tea estate.   
Things To do: Wildlife safari, tea plantation walks, sightseeing, trekking and more
Places To Stay: Kolukkumalai Mountain Hut, Shola Crown, Bethel Varkis, Pothys Villa
Places To Visit: Kolukkumalai hills and Kolukkumalai Tea Estate
Distance from Madurai: 140 km
Suggested Read: 20 Best Places To Visit In Madurai For A Spiritual Journey Back In Time!
3. Munnar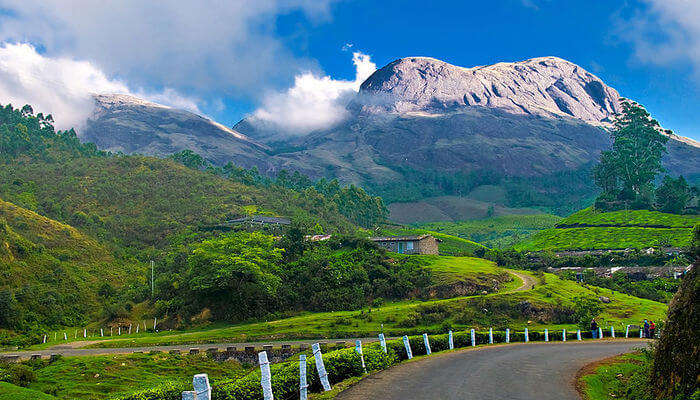 Image Source
The charming hill station of Munnar is renowned for its tea plantations, fascinating rich greenery, and jagged hills. It is situated in the Western Ghats, in the state of Kerala. It fills in as the business place for a portion of the world's biggest tea estates. Munnar has also many secured regions that are home to endemic and endangered species like the Nilgiri Thar and the Neelakurinji.
Things To do: Kolukkumalai, Lakkam Waterfalls, Kundala Lake, Carmelagiri Elephant Park
Places To Stay: Talayar Valley Bungalow, Mountain Hut Resorts, Veetee Midtown, Spoony Residency, Matha Regency
Places To Visit: Chinnar Wildlife Sanctuary, Eravikulam National Park, KDHP Museum, Mattupetty Dam
Distance from Madurai: 154.2 km.
Suggested Read: 7 Airports In Tamil Nadu For An Awesome Flying Experience
4. Peermade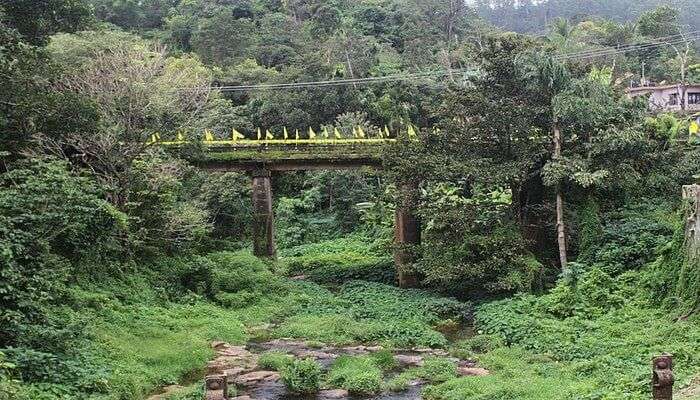 Blessed with lavish greenery, excellent hills, meandering streams, and sputtering cascades, Peermade is a little charming hill station in Kerala. Standing at an elevation of 915 m above sea level, the town has many concealed tourist spots. It likewise has rambling plantations of tea, espresso, and cardamom. The spot is home to different sorts of clans like Malapandaram, Malayarayan, and Orali and shows a mixture of different societies. The town gets its name from a Sufi holy person named Peer Mohammad who is said to be connected with the royal family of Travancore. With heaps of delightful trekking trails, this town is a perfect spot for families, travel buffs, and honeymooners.
Things to do: Trekking, hiking, sightseeing, ayurvedic massages, shopping and more 
Places to stay: Wisteria Luxury Villas, KTDC Tamarind Peermedu, PAradise Plantation Retreat and more 
Places to visit: Grampi, Thrissanku Hills, Peeru Hills, Sahyadri Ayurvedic Center and more
Distance from Madurai: 165 km.
Suggested Read: 20 Offbeat Honeymoon Destinations In India For A Romantic Getaway
5. Idukki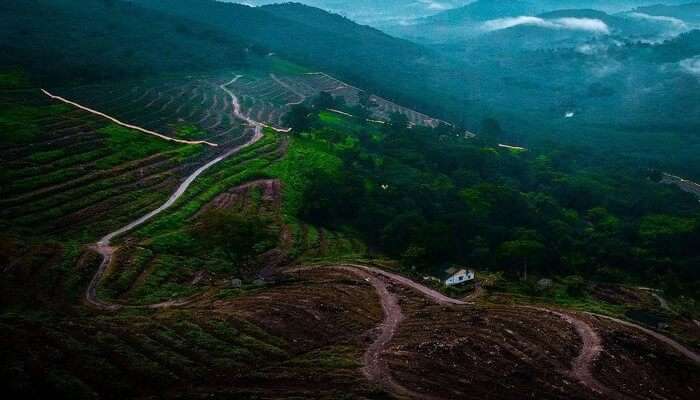 Image Source
Idukki is one of the most nature-rich territories in Kerala with the greater part of the place secured with woods. This hill resort is known for its wildlife sanctuaries, excellent cabins, tea manufacturing plants, manors, and woodlands. It is a beautiful area prospering between the Kurava and Kurathy. Anamudi, which is the most noteworthy peak in India, south of the Himalayas, is additionally situated in Idukki.
Things to do: Trekking, Camping, Paragliding, Misty Mountain Resort
Places to Stay: Green Berg Resort, Misty Mountain Plantation Resort, Palette Hill View Resort, Saj Vagamon Hideout, Winter Vale
Places to visit: Idukki Wildlife sanctuary, Idukki Arch Dam, Ilaveeza Poonchira, Keezharkuthu falls and more 
Distance from Madurai: 173 km.
Suggested Read: 15 Romantic Airbnbs In India That Will Make You Fall In Love All Over Again
6. Vagamon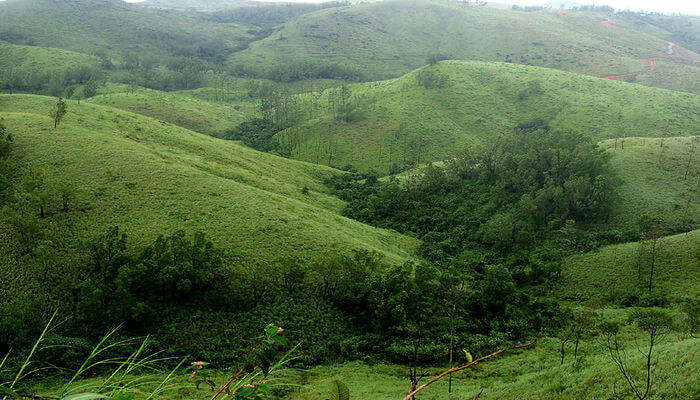 Image Source
1100 meters above sea level and far from the uproarious city culture, Vagamon abounds in lavish greenery and serenity. Situated in Kerala, it is home to the Vagamon Pine Forest, which is a significant vacation destination. A famous spot for film shootings, Vagamon forest is a man-made woods which was made during the British period. The woods are an excellent spot where you can take a long walk, or simply sit under a pine tree and take in the crisp mountain air. The other significant vacation spot in Vagamon is the Marmala Waterfall, which is one of the top attractions of this place.
Things to do: Murugan Mala- Trekking, Off-Roading, Vagamon Lake- Boat Ride, Vagamon- Waterfall Camping & Trekking
Places to stay: Aquarius Hotel, Travancore Palace Hotel, Hotel Vettikattu Plaza, Hotel Breezeland, Hotel Panchavady
Places to visit: Thangal Para: A Trek Up A Spiritual Place, Idukki Dam: A Gorgeous Geometric Marvel, Pine Hill: Actualise Walking In The Woods, Marmala Waterfall: A Pristine And Unspoiled Spot
Distance from Madurai: 184 km.
Suggested Read: From Royal To Offbeat, Here Are 30 Best Wedding Destinations In India To Tie The Knot
7. Bellikkal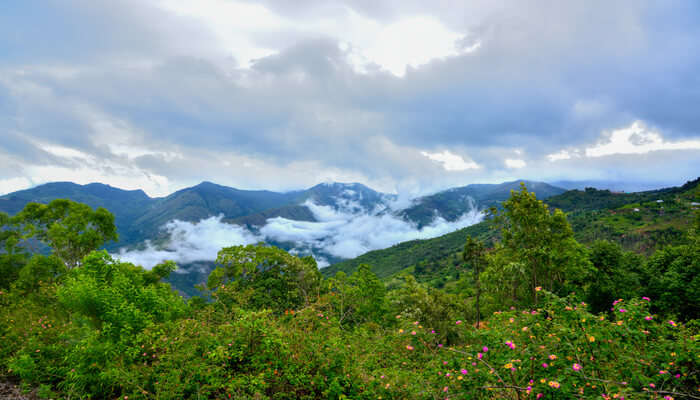 Image Source
Bellikkal is one of those spots where you can totally unwind. Its beautiful mountains will take your breath away. Rather than having a hundred tourist attractions to offer, it will take you by its excellence, smoothness, and quietness. Bellikkal is a little town in the south of Sigur Plateau in Tamil Nadu. This little hill station is as excellent as those in the Himalayas.
Things to do: Trekking, Camping, Boating, Rappeling, Shopping 
Places to stay: Homely Cottages, Lymod House, Golden Larch Residency, Hotel Welbeck Residency
Places to visit: Bellikkal Lake, Bison Valley Hill, Kalhatti Falls Water Fall
Distance from Madurai: 185 km.
Suggested Read: 43 Famous Historical Places In India To Visit
8. Kolli Hills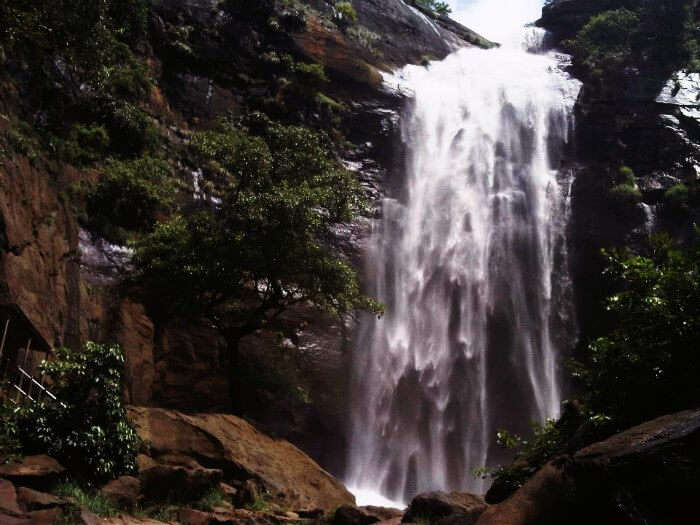 The name Kolli Hills literally translates to 'Mountain of Death', however, if you can ignore the dreadful name, you are in for a visual treat, for this is one of the most beautiful hill stations near Madurai. The mighty peaks of Kolli Hills rise up to an elevation of 4,265 feet. The place is blessed with immense natural beauty and is home to some revered temples in South India. 
Things to do: Trekking, Caving, Boating, Sightseeing and more
Places to stay: Silverline Retreat Hotel, Nallathambi Resort, Akshaya Residency
Places to visit: Arapaleeswarar Temple, Botanical Garden Kolli Hills, Tampcol Medicinal Farm, Agaya Gangai Waterfalls, The Siddhar Caves
Distance from Madurai: 212 km
9. Yercaud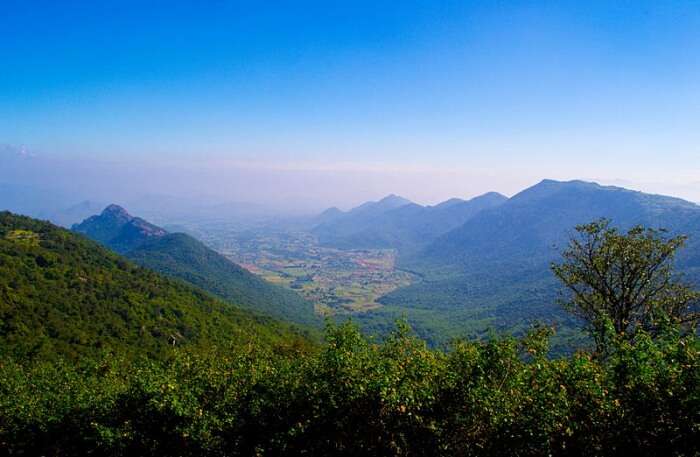 Yercaud is a gorgeous hill station located in the state of Tamil Nadu. Nestled on the foothills of the Shevaroys range of hills in the Eastern Ghats, it sits at an altitude of 1515 feet. The place boasts of immense natural beauty which includes a large lake in the middle of the town, and plantations of spice, coffee, and orange which make it a travelers' dream destination. There's a lot to do in Yercaud and you'll love the place if you're a nature lover. 
Things to do: Trekking, Plantation walks, Boating, Learn about silk farming
Places to stay: Sterling Yercaud, TGI Star Holiday Resort, Great Trails Yercaud, The Cliff Resort
Places to visit: Emerald Lake, Deer Park, Pagoda Point, Tipperary View Point, Lady's Seat
Distance from Madurai: 261 km
10. Kotagiri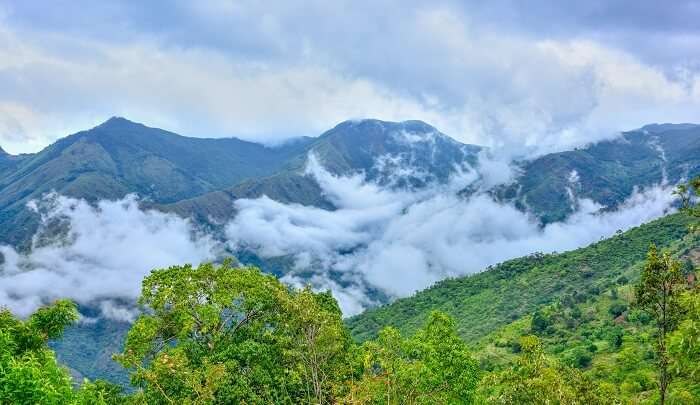 Image Source
Situated in the Nilgiris District, Kotagiri is an exquisite hill station frequented by travelers from various parts of the nation. It is one of the best hill stations in the Nilgiris and stands at a height of 5882 feet. Home to the renowned Kota clan, Kotagiri is also known as the 'mountains of the Kotas'. It is dotted with European style houses and has a pleasant climate throughout the year.
Things to do: Trekking, Sightseeing, Camping, Plantation walks and more
Places to stay: Pear Tree Inn Villa, Garuda Park Resort, Nahar Retreat & Spa, Sunshine Bungalow and more
Places to visit: Elk Falls, Longwood Shola, Catherine Falls, Rangasamy Peak, Kodanand viewpoint
Distance from Madurai: 282 km.
Suggested Read: 30 Amazing Places In India To Celebrate New Year
11. Coonoor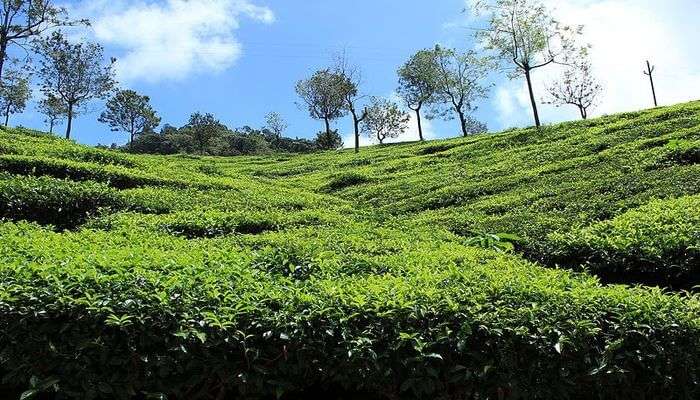 Image Source
One of the most excellent and peaceful hill stations you will visit in the nation, Coonoor is the second largest hill station in the brilliant Nilgiri Hills of the Western Ghats. It is arranged at an elevation of 1930 meters and only 19 km from Ooty. Coonoor is an awesome area to have an all-encompassing view of the Nilgiri Hills and Catherine Falls. Its rich greenery, manicured slopes, Colonial past, and stunning landscapes, will leave you stunned.
Things To do: Droog Fort – History Lesson, Hidden Valley – Take A Trek, Catherine Falls – Take A Swim, Acres Wild – Learn How To Make Cheese
Places To Stay: Gem Park Ooty, Sterling Ooty Fern Hill, Accord Highland Hotel, Sterling Ooty Elk Hill, Hotel Selva Ganapathy's Nest
Places To Visit: Dolphin's Nose, Lamb's Rock, Catherine Falls, Rallia Dam, St. George's Church
Distance from Madurai: 287 km.
Suggested Read: Seaports In India: Know About The Important Ports Which Stands As A Glory Of The Country!
14. Ooty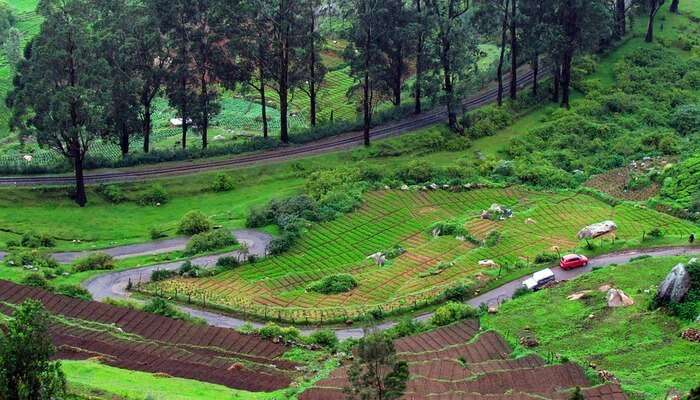 Image Source
This city, also known as the Queen of the Hills, holds a charm like no other. Once viewed as the mid-year central command of the East India Company, Ooty, otherwise called Udagamandalam, is a hill station in Tamil Nadu which fills in as a famous travel destination for anybody searching for a pleasant spot to unwind and loosen up. Ooty is settled in the midst of the Nilgiri hills at a height of 2,240 meters above sea level. The adventure to Ooty itself is spotted with sublime sights of the remarkable Nilgiri slopes, tea gardens, and peaceful waterfalls.
Things To do: Nilgiri Mountain Toy Train, Botanical Gardens, Dolphin's Nose, Toda Huts
Places To Stay: Gateway Coonoor, The Clive and Curzon, Le Méridien Coimbatore, Orchid Square Boutique Hotel, Misty Meadows Coonoor
Places To Visit: Ooty Lake – The Sparkling Beauty, Thunder World – A Place For Fun And Thrill, Avalanche Lake – Get Closer To Nature, Kamaraj Sagar Dam – For The Perfect Picnic
Distance from Madurai: 303 km.
Further Read: 16 Airports In India That Make A Dreamy Halt For Every Traveler
Make sure to not miss the above-listed hill stations near Madurai on your next trip to South India, as they offer the perfect getaway to unwind and relax. We hope you have a fantastic stay and take back lovely snapshots!
Disclaimer: TravelTriangle claims no credit for images featured on our blog site unless otherwise noted. All visual content is copyrighted to its respectful owners. We try to link back to original sources whenever possible. If you own the rights to any of the images, and do not wish them to appear on TravelTriangle, please contact us and they will be promptly removed. We believe in providing proper attribution to the original author, artist or photographer.
Please Note: Any information published by TravelTriangle in any form of content is not intended to be a substitute for any kind of medical advice, and one must not take any action before consulting a professional medical expert of their own choice.
Frequently Asked Questions About Hill Stations Near Madurai
What is Madurai most famous for?
Madurai is most famous for being the cultural capital of Tamil Nadu. It is also famous for the Meenakshi Amman Temple and the Tirumalai Nayak Palace.
What is the best time to visit Madurai?
The best time to travel here is anytime between the months of October and March.
What is an ideal trip duration to Madurai?
2-3 days are enough to explore and appreciate the whole town of Madurai.
How is the weather in Madurai?
In the summer season, the weather goes up to 34 degrees Celsius, and in the winter season, it drops to a minimum of 21 degrees Celsius.
What are the best hill stations to see in and around Madurai?
Ooty, Kodaikanal, Idukki and Coonoor are some of the best hill stations to visit around Madurai.
What are some things to do in Madurai?
You can visit the Meenakshi Amman Temple and the Tirumalai Nayak Palace. You can make a visit to the Vaigai Dam. You can spend a day savouring the city's local delicacies.
---
Looking To Book A Holiday Package?
---
People Also Read:
Hill Stations Near Munnar Hill Stations Near Agra Hill Stations Near Lucknow