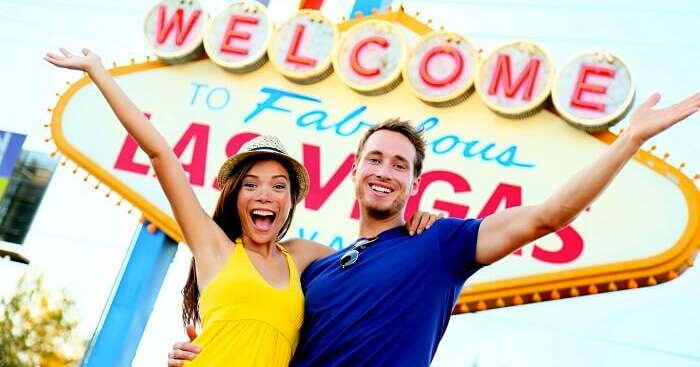 A city of dreams which never sleeps and is always high on entertainment, can be none other than the lively, vibrant, and one & only, Las Vegas. Owing much to its lively culture and happening places to visit, honeymoon in Vegas has become quite popular off-lately amongst the couples. Hence, we gave it a thought and put the best of Vegas honeymoon ideas together in an absolute guide.
From trying your luck at the casino to tasting the cultures of different destinations at one place, this ultimate honeymoon guide caters to all your needs. So if you've been dreaming of Vegas for long, now would be the right time to book your international honeymoon package and gear up for some real fun, romance & entertainment in Las Vegas!
About Honeymoon In Las Vegas
Off lately, a lot of couples have considered their honeymoon in Vegas as the city has earned a reputation of being a peppy, energetic, and a spirited party destination.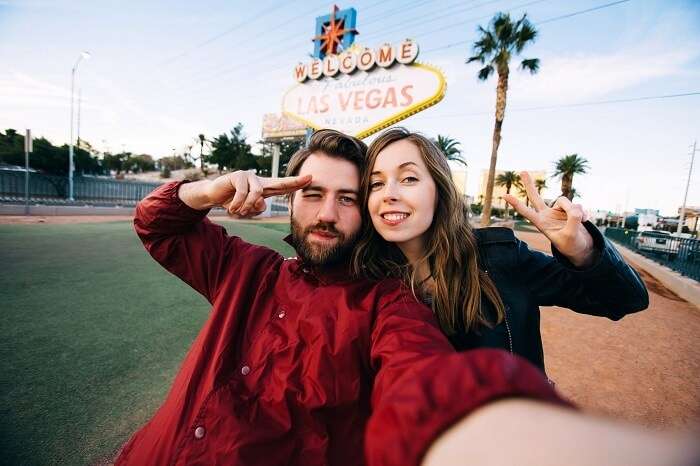 Suggested Read: 20 Superb Summer Honeymoon Ideas: Romance The Unusual Way
Hence, the charm of romantic places in Las Vegas, undoubtedly makes it a great destination for honeymooners. Apart from the casinos, there is a lot more to Vegas than what meets the eye!
Weather
Las Vegas enjoys a pleasant weather throughout the year except for summers. So while planning for honeymoon in Las Vegas, make sure you plan well in advance and check twice on the weather conditions.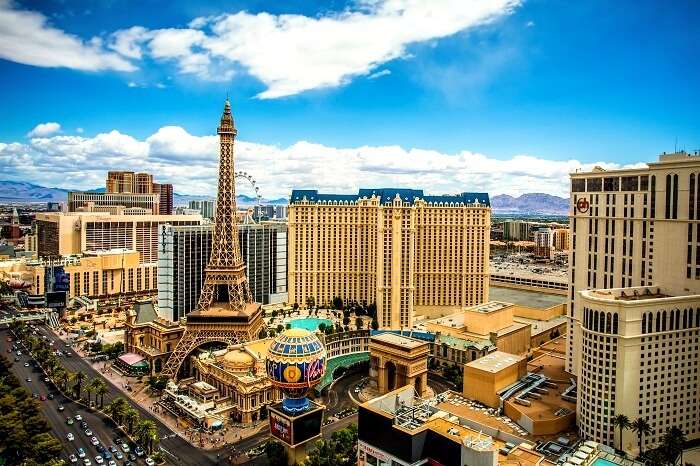 Spring: March to May – The weather is usually moderate during spring which makes it the most suitable time explore around Las Vegas.
Summers: June to August – Vegas is equal to a hot oven with temperatures ranging above 100 degrees.
Autumn: September to November – Just like spring, autumn too serves the travelers well with a pleasant climate and cool temperatures.
Winters: December to February – Chilled out environs make winters the most busiest time as most of the travelers flock to Las Vegas to celebrate New Year's Eve.
Best Time To Visit
The spring season which spans over the months of March to May, and the autumn season spanning over the months of September to November serve as the best time to enjoy a romantic Las Vegas honeymoon.
Ideal Duration
An ideal duration for perfect Las Vegas romantic vacations would be of 5 days and 4 nights. To explore the best of romantic getaways in Las Vegas and must experiences, a 5-day tour would suffice all your plans.
Budget
While planning a honeymoon in Vegas, all the necessities have to be taken into consideration that includes average accommodation, meals, local transfers, sightseeing and miscellaneous expenses.
Accordingly, a breakup of an estimated expenditure per person per day has been listed below: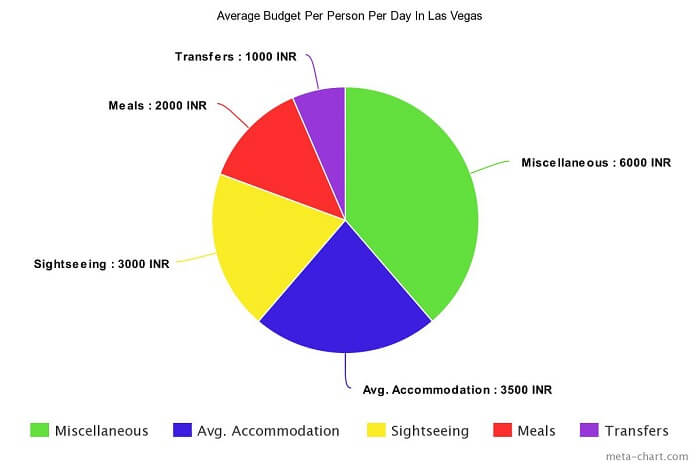 Flights: INR 70,000 (round trip)
Accommodation: INR 4000 to INR 10,000 (double-sharing basis)
Average Accommodation Per Day: INR 7000 (double sharing); INR 3500 per person
Meals: INR 2000 (Breakfast, Lunch, and Dinner)
Sightseeing: INR 3000
Transfers: INR 1000 to INR 1500
Miscellaneous: INR 6000
Average Budget Per Person Per Day: INR 15,500
Please Note:
Flight rates have been excluded as it varies from traveler to traveler.
Though the best place to stay in Las Vegas for couples are many, an average accommodation rate of budgeted yet lavish stays has been included in the average budget per day per person to arrive at an estimated budget.
Also, the lower limit has been considered to calculate the average budget per person per day.
How To Reach
There are many options for travelers from all over the world that they can choose in order to reach Las Vegas.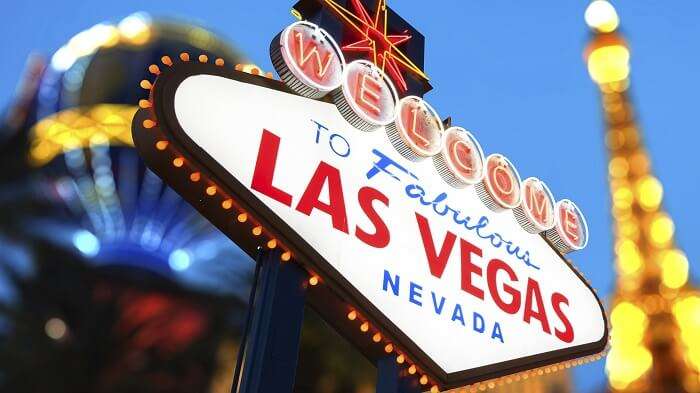 Suggested Read: Best Islands For Honeymoon: Across The World & Full Of Love!
By Flight: Las Vegas is well connected to many countries through the McCarran International Airport that is located just five miles away. Major airlines such Air India, Lufthansa, and Cathay Pacific fly regularly from India.
By Bus: Las Vegas is well connected to the nearby states of San Diego, Los Angeles, Phoenix, and Salt Lake City, through the bus services of firms like Megabus, Greyhound, and LuxBus. You can also opt to avail the services of the Airport Shuttle in order to get to your hotel for less than INR 600 per person.
By Road: Honeymooners coming from California can drive via Interstate 15 whereas Phoenix is connected to Vegas through Interstate 15 via Interstate 40.
Getting Around In Las Vegas
From double-decker buses to rickshaws, you can hire anything to get around Las Vegas and even opt to explore the city on foot. In order to keep your spirits high, you can choose to get around the city through any of the below mentioned mode of transports: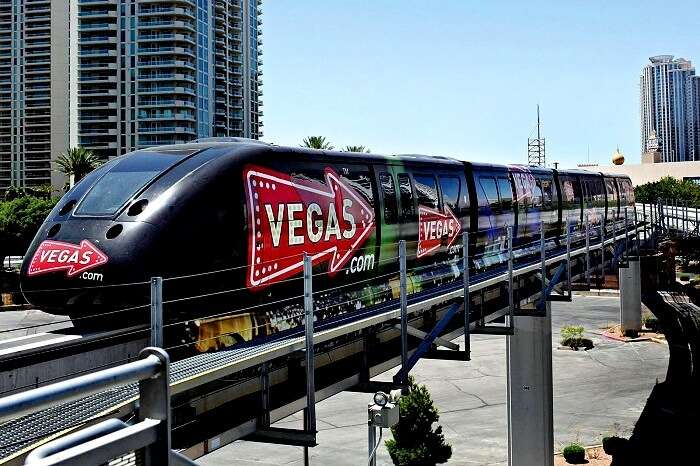 Monorail: Functioning from Sahara Avenue to the MGM Grand on all days from 7 am till midnight, Monorail remains available from 7 am to 2 am on Monday to Thursday and from 7 am to 3 am on Friday to Sunday.
Take A Bus: Bus services are available for 24 hours in Vegas but the fares range from INR 200 to INR 400, off the strip and on the strip respectively whereas one way rides cost only INR 130 per person.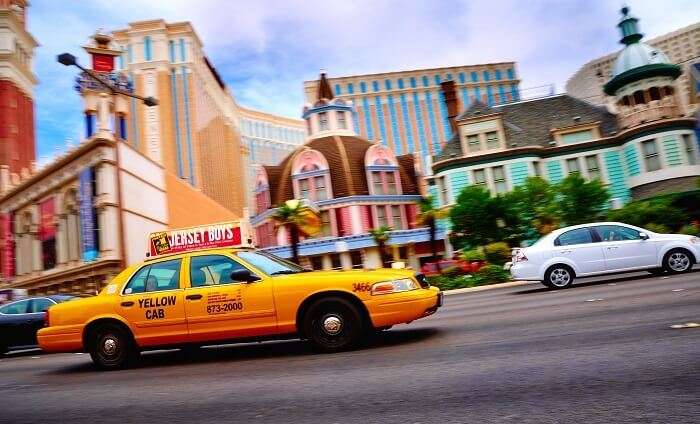 Hire A Taxi: You will be charged a fixed initial amount in addition to a per mile charge thereon. Payments are accepted in form of cash as well as via cards.
Rent A Car: One can easily rent a car for about INR 1500 to INR 2000 per day.
Rent A Limo: For that extravagant feel on your honeymoon, you can also rent limousine services for about INR 2300 per hour.
Las Vegas Honeymoon Essentials
The phrase of "making a list and checking it twice", suits the situation well when one is packing for their honeymoon in Vegas. Without worrying too much, and ranging from necessary travel accessories to must take things, here's a list that will take all your stress away.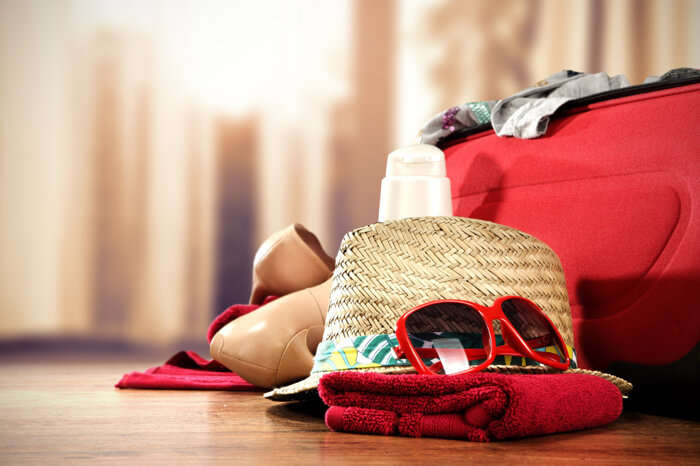 1. First Things First
Keep your passport and visa related details in place and safe.
Carry copies of your airline tickets. (Just in case)
Take your photo identification proofs and don't forget your international driving license.
Credits cards are accepted in most of the places in Vegas but also carry enough cash and it's even better to carry multiple denominations.
2. Checklist For Your Tech Stuff
Mobile charger and power converters
USB cable and extra SD cards
Camera and charging cord
Headphones and earphones
iPad and portable speakers
Power bank and binoculars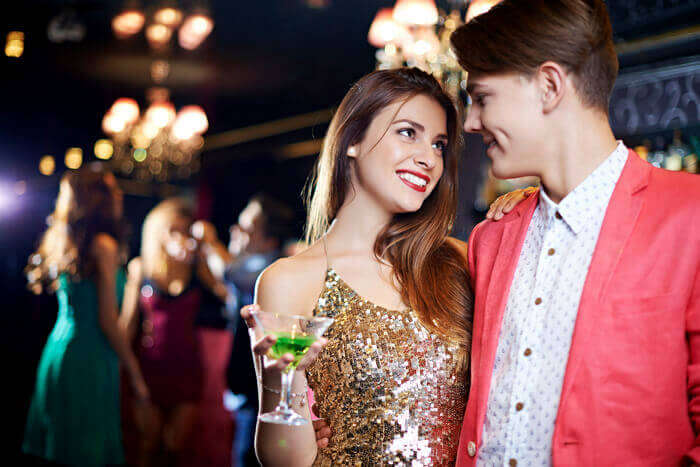 Suggested Read: Dream Honeymoon Destinations Of Popular Travel Bloggers
3. Clothes & Footwear
Clothes: T-shirts; shorts; tops; trousers; formal dresses for party, fine dining, and date night; and a swimsuit is a must in summers.
In case you happen to visit Las Vegas in summers (which is not advised at all), do carry light clothes such as t-shirts and shorts that are the best match for sightseeing.
Trousers and a thick-layered jacket are must while visiting Vegas in winters.
Footwear: Flip flops for hanging out; boots in winters; sports shoes for sightseeing; formal shoes, and a pair of heels for party, dining and date night scenes.
4. Miscellaneous
Make-up kit is a must for ladies
First-aid kit with necessary medicines
Don't miss out on loads of sunscreen
Sunglasses, and a hat or cap not to be forgotten
Carrying an umbrella is totally your choice
Insect repellent
5. Optional
Carry your golf clubs in case you have included exploring the Vegas golf courses
Books and magazines
Eye mask
Places To Visit
1. The Stratosphere Tower
Striking attraction of the sin city, the Stratosphere Tower is the tallest observation tower in the entire of USA.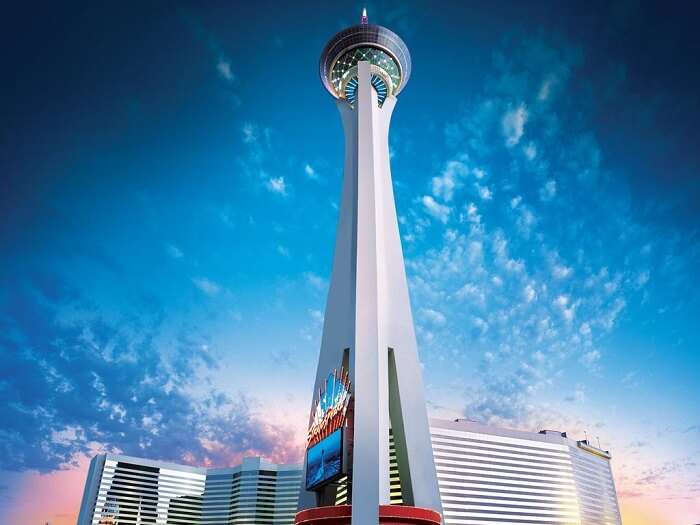 Standing tall at a height of 1,149 feet, its observation deck is set high at 869 feet and offers stunning 360-degree views of the Strip in Las Vegas.
Location: 2000, Las Vegas Blvd S, Stratosphere Casino Hotel & Tower, Las Vegas
Timings: Sunday to Thursday: 10 am to 1 am; Friday & Saturday: 10 am to 2 am
Entrance Fee: INR 1,300 per person
2. A Little White Wedding Chapel
A combination of five striking chapels, the Little White Wedding Chapel enables couples to get married in as quickly as one hour.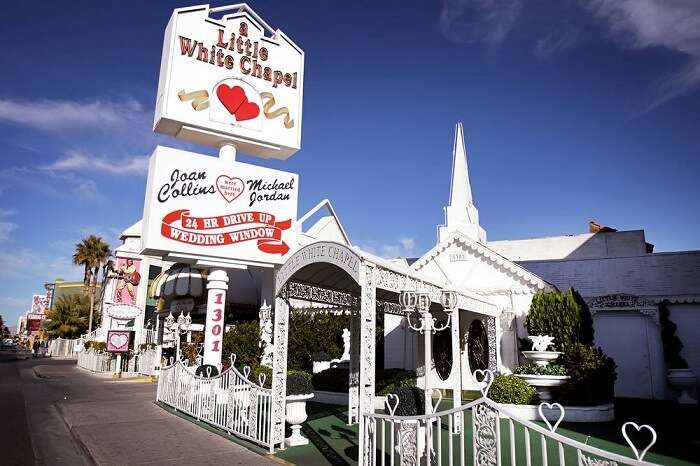 Suggested Read: The Ultimate Honeymoon Calendar Of The Most Romantic Destinations
Couples who plan to get married in Vegas, can choose from five different chapels and create memories forever. Sounds interesting, isn't it?
Location: 1301 S Las Vegas Blvd, Las Vegas
Timings: Monday to Sunday: 7 am to 1 am
Packages: Starting from INR 5000
Number of Chapels: 5
3. The MGM Grand
True to its name, the MGM Grand is a casino resort that is much renowned to be the largest of all single hotels in USA that features 5,124 rooms.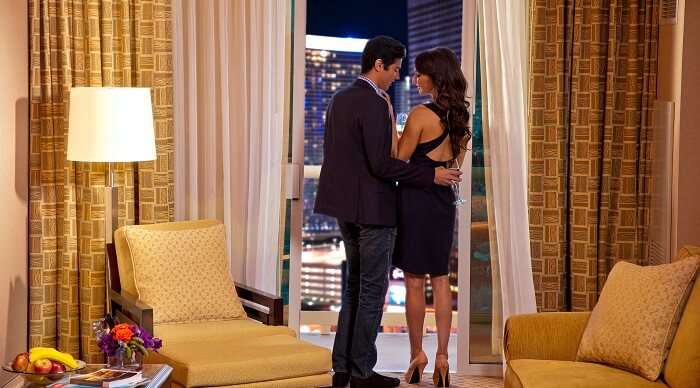 Located on the southern end of the Strip, the colossal bronze statue of a lion stands high at a height of 45-foot. Your stay at MGM, will be nothing less than, grand!
Location: 3799 S Las Vegas Blvd, Las Vegas
Price Per Night: INR 8,500 to INR 28,000 (double sharing for standard rooms)
Recommended Stay: Signature Suites
4. Shark Reef Aquarium
Taking the travelers through 14 striking and thrilling exhibits, Shark Reef Aquarium showcases some of the most unusual and dangerous marine creatures.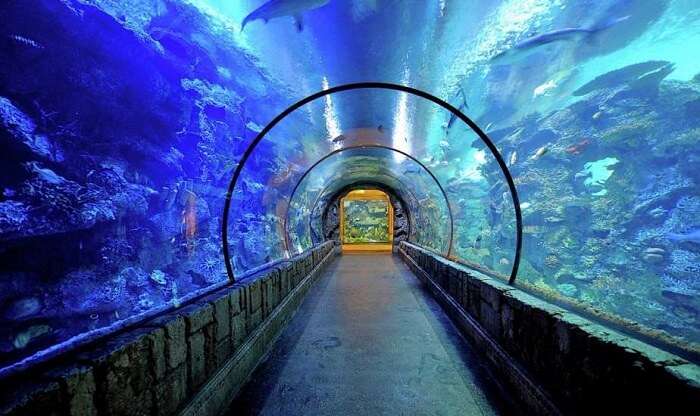 An ancient temple, a shipwreck of 1.3 million gallon, an an acrylic tunnel, a touch pool, and more than a hundred different species is what the Shark Reef Aquarium promises.
Location: Mandalay Bay, 3950 S Las Vegas Blvd, Las Vegas
Timings: Sunday to Thursday: 10 am to 8 pm; Friday to Saturday: 10 am to 10 pm
Cost Of Ticket: INR 1000 per person
Average Time Spent: 1 to 1.5 hours
5. Caesars Palace
You honeymoon in Vegas is undoubtedly incomplete without a visit or stay at the breathtaking Caesars Palace.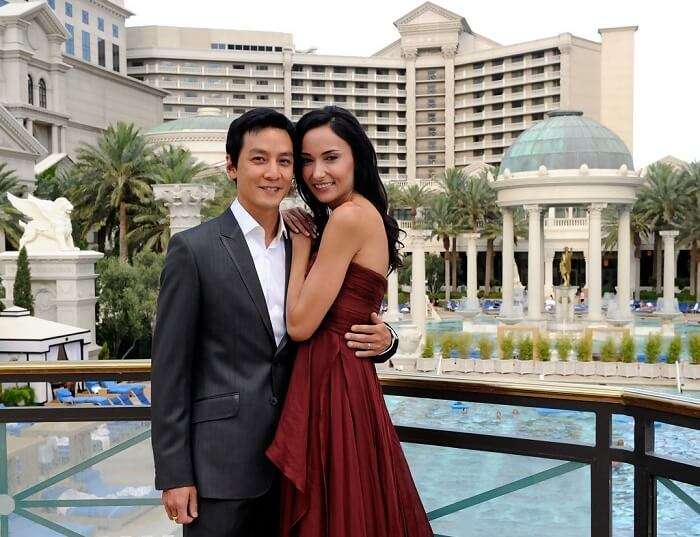 Enjoying its stunning location between the famous casino of the Bellagio and the Mirage on the western side of Strip, Caesars Palace is a classic casino hotel which is based on an astonishing Roman theme. Don't miss out to watch the famous show of "Absinthe."
Location: 3570 S Las Vegas Blvd, Las Vegas
Price Per Night: Starting from INR 24,000 (double sharing for standard rooms)
Recommended Stay: Nobu Deluxe King
Things To Do
1. Adventuredome: One-Spot Destination For Fun & Adventure
Located at Circus Circus, Adventuredome is an indoor piece of heaven for all the adventure junkies.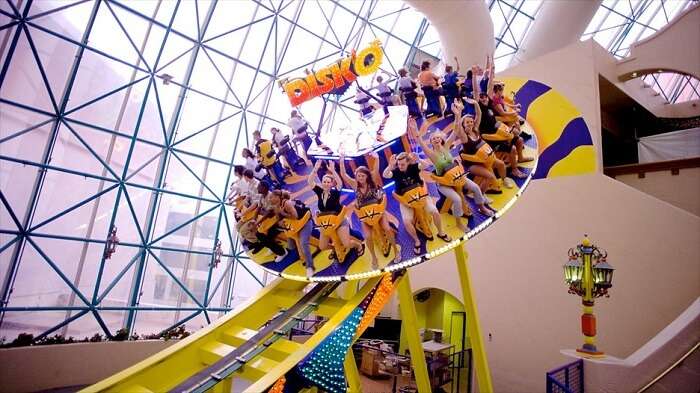 Suggested Read: 10 Sizzling And Unusual Honeymoon Destinations For The Crazy Ones
Offering jaw-dropping 25 rides like that of Canyon Blaster along with a 18-hole miniature golf course, and a lot more, Adventuredome offers year round thrills to all the travelers across the world.
Location: 2880 S Las Vegas Blvd, Las Vegas
Timings: Monday to Thursday: 11 am to 6 pm; Fridays & Saturdays: 10 am till midnight; Sunday: 10 am to 9 pm
Average Time Spent: 3 hours
All Day Pass: INR 2100 per person
2. Rock Climbing At The Red Rock Canyon National Conservation Area
Set at a distance of about 24 kilometers to the western part of Las Vegas, the Red Rock Canyon National Conservation Area is a protected area that also serves millions of travelers as a hub for trekking, rock climbing, and hiking.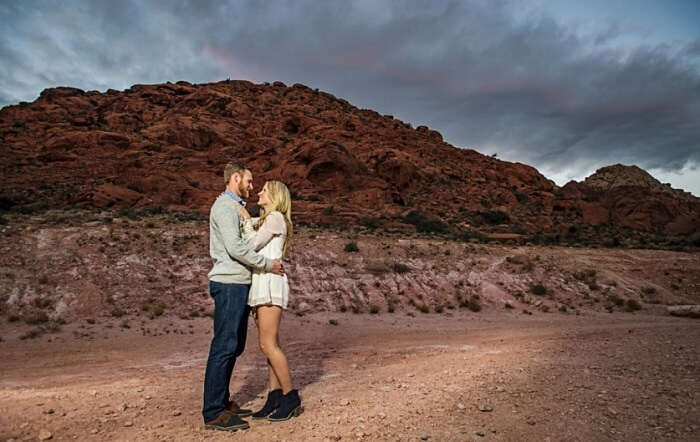 In this way, Las Vegas also qualifies to be one of the best adventure honeymoon destinations. Standing at a height of 910 meters, the conservation area also features the famous Keystone Thrust, a series of sandstone walls.
Location: 1000 Scenic Loop Dr, Las Vegas
Timings: 6 am to 5 pm
How To Reach: One can reach the Red Rock Canyon National Conservation Area from Las Vegas Strip in just 30 minutes by road.
3. Shopping At The LINQ Promenade
Much famed to be the hub of dining, entertainment & shopping, the 550 ft. observation wheel is the main attraction of the LINQ Promenade which located right in the heart of Las Vegas.

Location: 3535 S Las Vegas Blvd, Las Vegas
Cost Of Ticket: INR 1650 (daytime) and INR 2310 (nighttime)
How To Reach: The LINQ Promenade is located just 8 minutes away from the Harrah's Las Vegas Monorail station.
4. Discover The Planet Hollywood
You just cannot come back from your honeymoon in Vegas without visiting the Planet Hollywood. This vibrant and dazzling casino resort features luxurious suites, multi-cuisine restaurants, and a starry casino, that makes every visitor nothing less than a celebrity.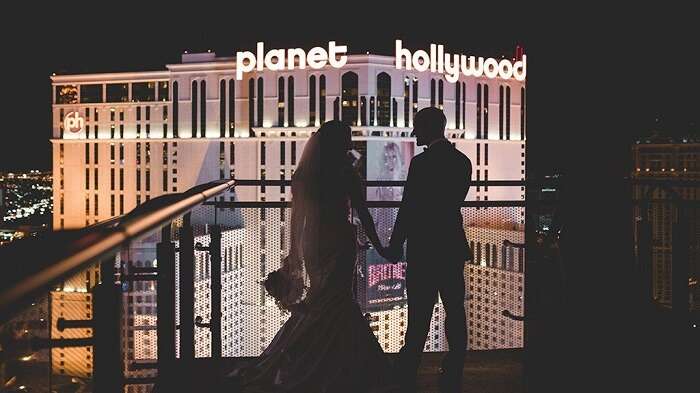 Suggested Read: 28 Offbeat Honeymoon Destinations In The World You'd Have Never Heard Of
If you're lucky enough, you can also watch live concerts of popular celebrities like J Lo and Pitbull.
Location: 3667 S Las Vegas Blvd, Las Vegas
Other Things To Do In Planet Hollywood: Dance away at Koi Lounge; Shop till you drop at Miracle Mile and PH Shops; Beat the heat at Planet Hollywood Pools; revive your energies at Spa by Mandara, and more
How To Reach: Planet Hollywood is located just 5 minutes away from the famous Bellagio fountains.
Must Experiences
1. Enjoy A Card Game At Bellagio
Owned by MGM resorts, you haven't experienced Las Vegas at its best if you haven't given the card game a try at the most famous Bellagio Casino. Your gambling experience will be nothing less than dramatic and sophisticated at the stunning setting of Bellagio.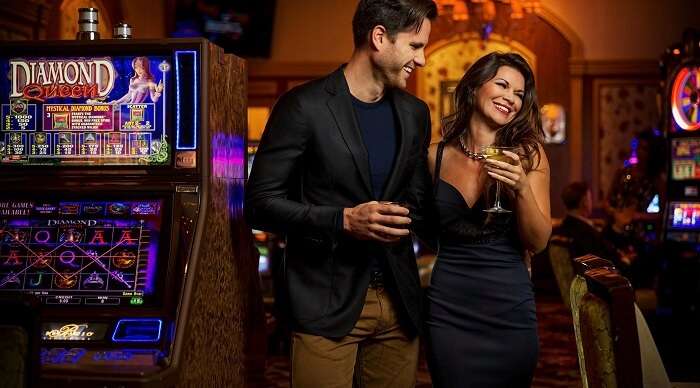 Get busy with wide range of slot machines, intriguing table games, betting on sports and races, and not to forget the popular world poker tour. Who knows, you might get lucky!
Location: 3600 S Las Vegas Blvd, Las Vegas
How To Reach: Bellagio is located just 2 miles away from the McCarran International Airport.
2. Visit The Neon Museum
Can you imagine about a land that measures 6 acres, and is filled with neon signs?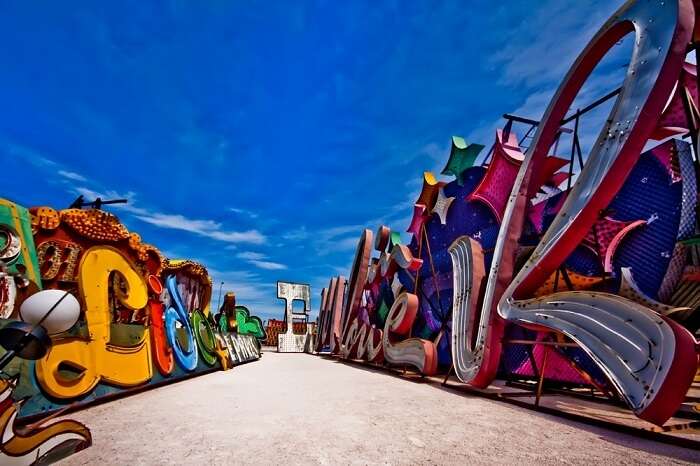 Well that is what is going to amaze you at the stunning Neon Museum. Breaking all the junkyard stereotypes, this places literally lights up the environs and your heart as well!
Location: 770 N Las Vegas Blvd, Las Vegas
Timings: Monday to Sunday: 8 am to 10 am and 7.30 pm to 9 pm
Price Per Person: INR 2000 for a day tour and INR 1250 for visit
Average Time Spent: 2 hours
How To Reach: Take a taxi from the Fremont Street which is just few blocks away from the Neon Museum or combine your visit with a trip to Downtown.
3. High Roller Ferris Wheel
Much famed to be the world's tallest observation wheel, High Roller offers magnanimous views of Las Vegas as it enjoys the central location at the Strip.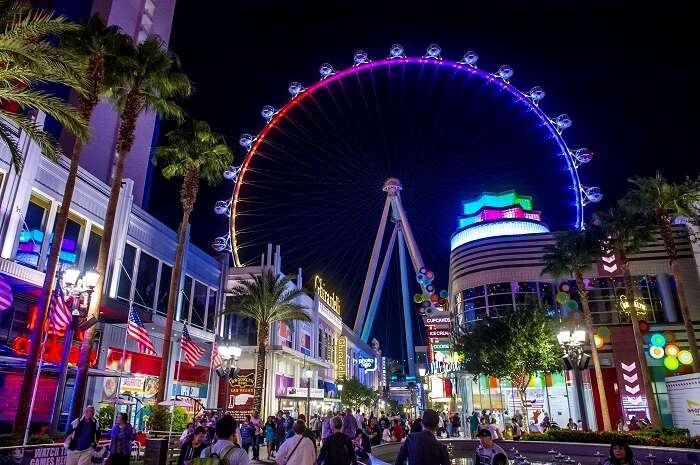 Measuring 550 ft in height, its glass-made cabins have the capacity of holding up to 40 people each. It's too much fun and one must try this in Vegas for sure!
Location: The LINQ, 3545 S Las Vegas Blvd, Las Vegas
Average Time Spent: 1 hour
How To Reach: You can easily reach the site of Ferris Wheel from the Harrah's monorail station in just 8 minutes.
4. Gondola Rides At The Venetian
If you think on your honeymoon trip to Italy, you missed out on enjoying a gondola ride in Venice, then you can make that dream come true at the Venetian in Las Vegas too.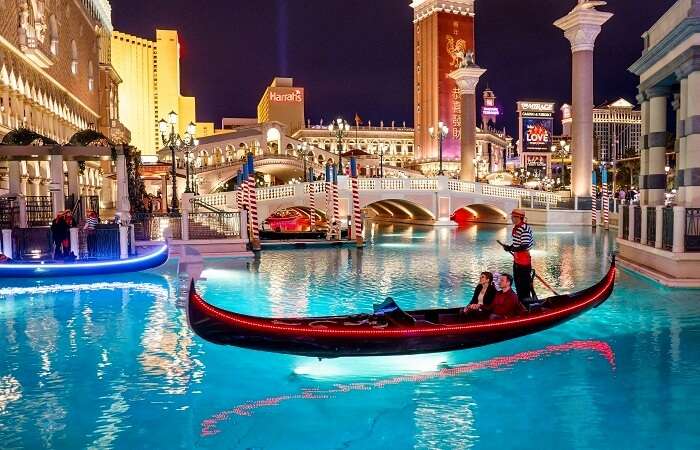 Suggested Read: The Most Romantic Honeymoon Suites In The World
Though the Venetian and its environs feel like the Disneyland of Las Vegas, enjoying a gondola ride at the Venetian is one of the most romantic experiences for couples in Las Vegas.
Location: 3355 S Las Vegas Blvd, Las Vegas
How To Reach: This Italian marvel is located just 1.5 miles away from the Las Vegas Convention Center.
5. Insane Rides On Top Of The Stratosphere Tower
Don't come back from your honeymoon in Vegas without enjoying the insane rides at the top of the Stratosphere Tower.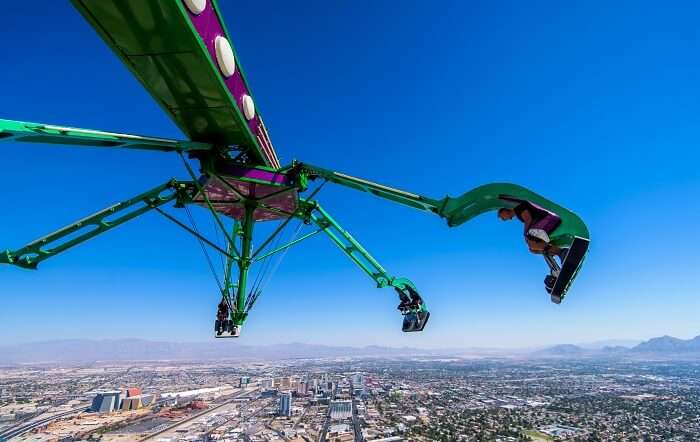 Though it is insanely high on adrenaline, it is one of the most thrilling things to do in Las Vegas that throws you off the top. It is a nerve-racking experience indeed.
Location: 2000, Las Vegas Blvd S, Stratosphere Casino Hotel & Tower, Las Vegas
Timings: Sunday to Thursday: 10 am to 1 am; Friday & Saturday: 10 am to 2 am
Price Per Person: INR 2640 for an all-day pass; INR 2310 for three rides; INR 1980 for two rides; INR 1650 for one ride; and an additional of INR 660 for an express pass.
How To Reach: The tower can be reached easily from the Fremont Street Experience, located at a distance of 1.9 miles away.
Where To Stay For Honeymoon
Las Vegas has no boundaries when it comes to number of casino hotels and resorts. Hence, we've listed three hotels which are the best amongst the 3 star, 4 star, and 5 star properties in Las Vegas. These hotels will make sure your honeymoon in Vegas is worth it.
1. The Plaza Hotel & Casino
From pool patios to penthouses, the Plaza Hotel offers all the luxuries of a modern hotel at an affordable price.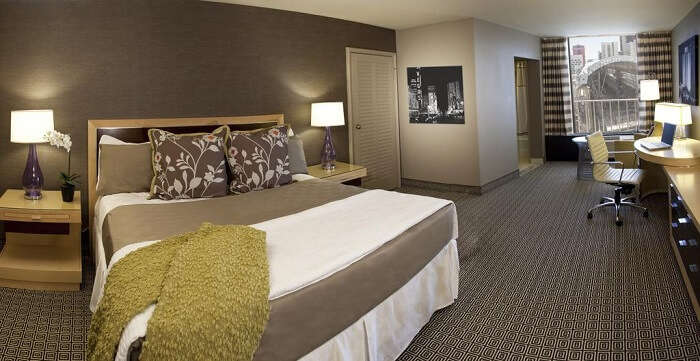 The hotel offers the authentic Vegas experience and is covered with shining neon bulbs, starry accommodation options, shopping sites, and a casino that never sleeps. A comfortable stay at an affordable rate is what you can expect at The Plaza.
Address: 1, S Main Street, Las Vegas
Price/Night: Starts from INR 4,500 (standard rooms on double-sharing basis)
Ratings: 3.8/5
How To Reach: The hotel can be easily reached from the Mob Museum in just 10 minutes.
Website | Reviews
2. Mandalay Bay Resort & Casino
Though it is surrounded by hotels on all sides, Mandalay Bay Resort & Casino leaves no stone unturned in impressing anyone and everyone at the first sight.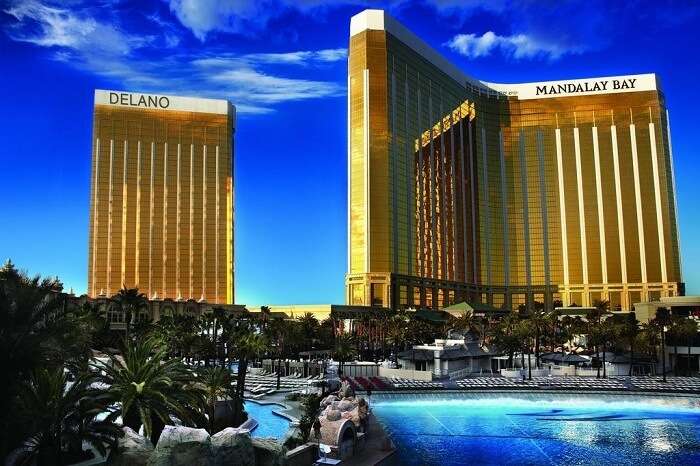 Suggested Read: Things You Ought To Know Before Traveling #PackingHacksIncluded
Offering an elegant stay, Mandalay Bay is a high-end hotel and casino that also features the must experience shark aquarium, offers never ending shopping scenes, and non-stop entertainment scenes with live performances.
Address: 3950, Las Vegas Boulevard South, Las Vegas
Price/Night: Starts from INR 6,500 (standard rooms on double-sharing basis)
Ratings: 4/5
How To Reach: This hotel is located just 10 minutes away from the McCarran International Airport.
Website | Reviews
3. Mandarin Oriental, Las Vegas
Been rated triple five stars by the Forbes Magazine, Mandarin Oriental is synonymous with sophistication.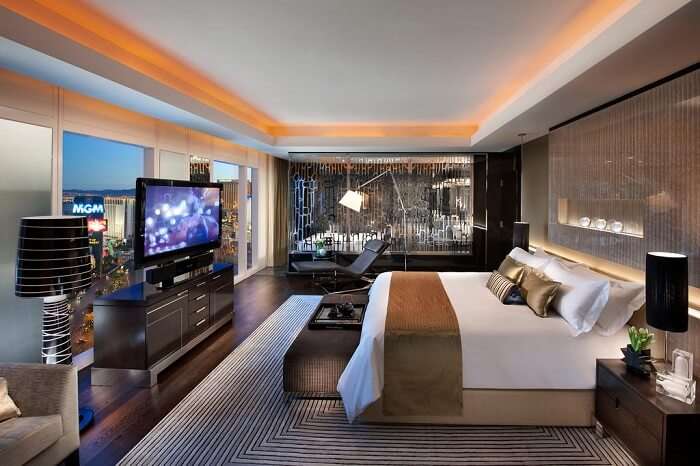 Enjoying its central location in the heart of Vegas, this five star property offers world-class accommodation options combined with top-notch services, and warm hospitality. Style, tranquility, and luxury is what Mandarin Oriental has in store for your perfect romantic stay.
Address: 3752, Las Vegas Boulevard South, Las Vegas
Price/Night: Starts from 16,500 (standard rooms on double-sharing basis)
Ratings: 4.6/5
How To Reach: The hotel can be best reached from Las Vegas Convention Centre in just 10 minutes.
Website | Reviews
Where To Eat
It is needless to say that Las Vegas is full of classic cafes that offers fulfilling meals to quick bites at every nook and corner. Hence, we've listed two of the best restaurants that enjoy a central location and put up the best romantic setting and environs that one expects on their honeymoon in Vegas.
1. é by José Andrés
Highest level of fine dining is what é by José Andrés has to offer to you. This luxurious high-class restaurant enjoys a secret location within the restaurant of Jaleo. It admits only 8 people at a time and reservations have to be made 3 months ago.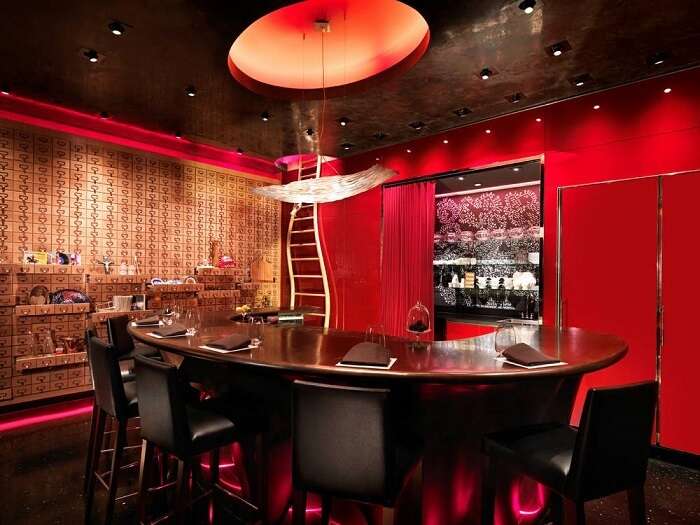 Even after that, your entry into the restaurant will only be possible post your request gets passed and you receive a permit. Composed of outstanding service and authentic Spanish cuisine, no place is an equal match to é by José Andrés.
Address: 3708 Las Vegas Boulevard South, Las Vegas
Timings: Tuesday to Sunday: 8.30 am to 11 pm; Closed on Mondays
Ratings: 3.9/5 (Zomato)
What To Eat: A truffle tree (Menu changes seasonally)
Meal For Two: Starts from INR 4,500
Average Time Spent: 2 to 3 hours
Website | Reviews
2. Momofuku Las Vegas
The brainchild of the famous chef, David Chang, dining at Momofuku will be an experience in itself. Momofuku features striking graffiti murals, hippy backdrop, and bright neon signs that blend well with the Vegas lifestyle.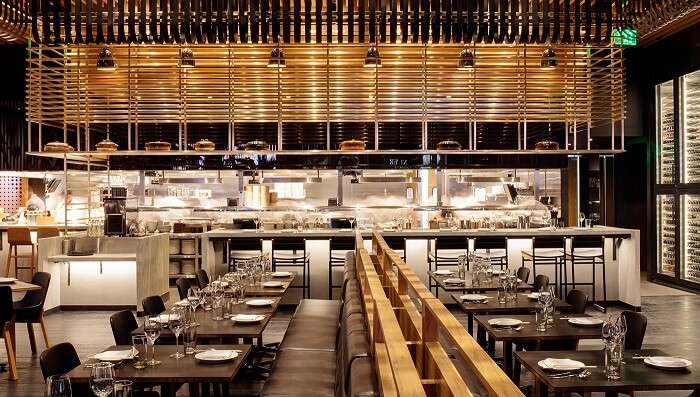 Suggested Read: 11 Sparkling Places That Appear To Be From Another World But Are Actually On Earth
With a balanced open kitchen setting, Momofuku specializes in lip-smacking American, Japanese and Korean cuisines.
Address: 3708 Las Vegas Boulevard South, Las Vegas
Timings: Lunch: 11 am to 2.30 pm; Afternoon Service: 2.30 pm to 5 pm; Dinner: 5 pm to 11 pm
Ratings: 4.5/5 (OpenTable)
What To Eat: Pork Belly Ramen, Black Winter Truffle Ramen
Meal For Two: INR 3,000 to INR 4,000
Average Time Spent: 1.5 to 2 hours
Website | Reviews
Make A Note Of These Tips
Keep these tips close to your heart and extra cash in your pocket while going for your honeymoon in Vegas.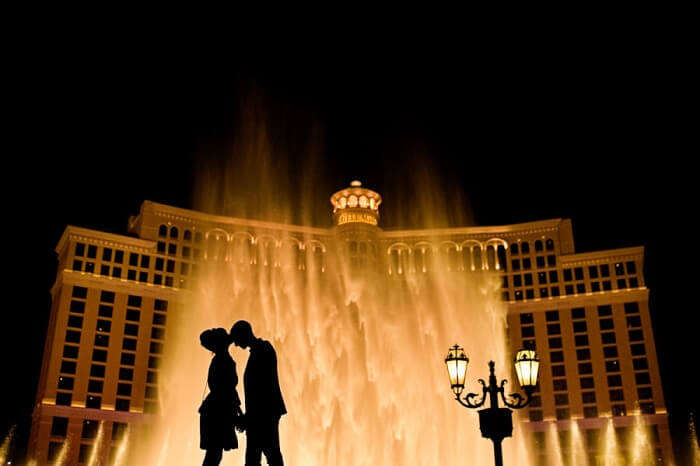 Wherever you go, carry extra cash as delighting people with tips is customary in Las Vegas. Tipping ranges anywhere from 15 percent to 20 percent for food or drinks, INR 70 to INR 150 for taxi drivers, tour guides, and maids.
It is advised that all men match their belt with their shoe colors and for ladies, do carry an evening purse for fine dining and clubbing.
Spread out your money and keep little amount of cash in separate bags for backup purposes.
Keep necessary travel apps and stick to Google Maps while exploring the city on your own.
Carry enough water to drink.
Last but not the least, keep this guide handy!
And that's a wrap from our side. We really hope that on your next international honeymoon tour, you travel to Vegas and enjoy as much as you enjoyed reading this article.
What? You've already been to Vegas and think that we've missed something out here? Then let us know of more exciting experiences in the comments below!
Disclaimer: TravelTriangle claims no credit for images featured on our blog site unless otherwise noted. All visual content is copyrighted to its respectful owners. We try to link back to original sources whenever possible. If you own the rights to any of the images, and do not wish them to appear on TravelTriangle, please contact us and they will be promptly removed. We believe in providing proper attribution to the original author, artist or photographer.
Please Note: Any information published by TravelTriangle in any form of content is not intended to be a substitute for any kind of medical advice, and one must not take any action before consulting a professional medical expert of their own choice.
Frequently Asked Questions About Honeymoon In Vegas
Is Las Vegas good for honeymoon?
Yes, you would surely be surprised to know that Las Vegas is amongst the most preferred honeymoon destinations in the world. However, it is a bit expensive but the experiences offered by this electrifying place is the best of its kind.
What can you do in Vegas on your honeymoon?
The following are the best thing to do in Vegas on honeymoon:
1. Taking a helicopter tour to the Grand Canyon
2. Going for a Gondola Ride at Venetian Grand Canal
3. Attending Cirque du Soleil Show
4. Splurge on a romantic dinner
5. Get Airborne
Which is the most romantic hotel in Las Vegas?
There are numerous romantic hotels in Las Vegas offering the most comfortable ambiance. The following are the best amongst them:
1. Nobu Hotel at Caesars Palace
2. The Palazzo at The Venetian
3. Four Seasons Hotel Las Vegas
4. Vdara Hotel & Spa
5. Bellagio Las Vega
6. Caesars Palace Hotel & Casino
Where can we go for shopping in Vegas?
Shopping in Las Vegas is one of the most awesome experiences that visitors are interested in. The following are the best places for shopping in Las Vegas:
1. Via Bellagio
2. Wynn Esplanade
3. Fashion Show Mall
4. Town Square
5. Grand Bazaar Shops
6. The Shoppes at Mandalay Place
7. Miracle Mile Shops at Planet Hollywood Resort
What are the best experiences of monsoon in Las Vegas?
The best experiences of monsoon in Las Vegas are the following:
1. Planning a stay at The Mirage Hotel
2. Going for Pole Position Raceway
3. Visiting Mob Museum
4. Attending The Mermaid Show
5. Going to The Bellagio Conservatory
6. Taking rides at Observation Wheel
What can we do on Christmas in Vegas?
Las Vegas is known for its awesome and memorable Christmas experiences. The following are the best experiences of Las Vegas during Christmas:
1. Glancing the Bellagio Fountain
2. Get astonished at Magical Forest
3. Going to Bellagio Conservatory
4. Shopping at LINQ Promenade