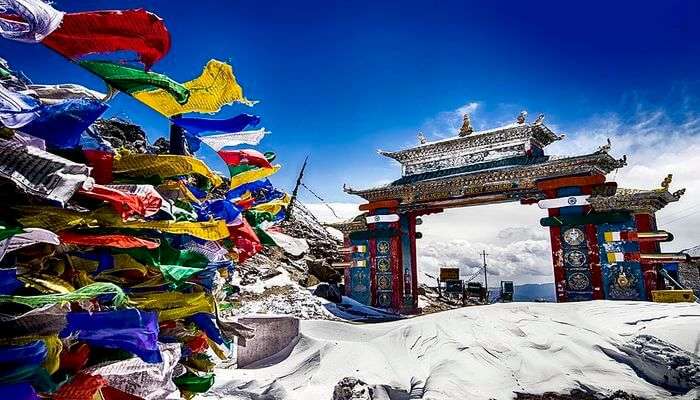 India is a land of extremities. One can find hot deserts in the western part of India and some of the coolest regions in the Northeastern parts. No other place in the world has so many diverse things to offer like how India does. This is one of the reasons behind the high adaptability nature of Indians. They say Geography determines one's mindset. As Indians are used to live in harmony with people who live in different geographic locations, they can accept differences and reside together in the same territory. The most surprising part is that the entire region of time almost follows the same time zone but there are so many drastic differences in temperature. These extremes don't create chaos but give a wow factor. Thus to experience such extremities, here are the hottest and coldest places in India which one must visit at least once.
9 Hottest Places In India
India's proximity to the Equator and the Tropic of Cancer is the reason behind the hot temperatures of a few places in India. The following is the list of the 9 hottest places in India.
Delhi
Agra
Sri Ganganagar
Vijayawada
Jhansi
Nagpur
Daltonganj
Bilaspur
Vijayawada
Titlagarh
1. Delhi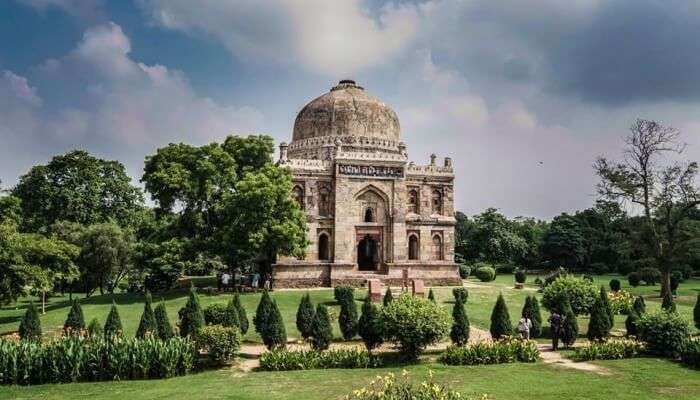 Delhi being the capital city of India, also known as the National Capital Region is a landlocked place. It experiences a continental climate due to the less proximity of seas. The people from other parts of the world visit Delhi during summers to get some taste of the sun. Delhi despite imbibing a lot of elements of modernity, has never failed to hold on to the remains of past glory. One can easily spend 5 full days only at Delhi touring around the historical monuments, temples, mosques, and other immense structures. There are many religious places in Delhi, where people of all faiths can visit.
How to reach: Delhi has Indira Gandhi International Airport that has flights connecting all major cities of the world. One can also reach Delhi via trains. Trains ply on all days from all parts of India. There are state transport corporation buses that operate on routes on the highways.
Must Read: Top 12 Summer Festivals In India You Shouldn't Miss
---
Looking To Book A Holiday Package?
---
2. Agra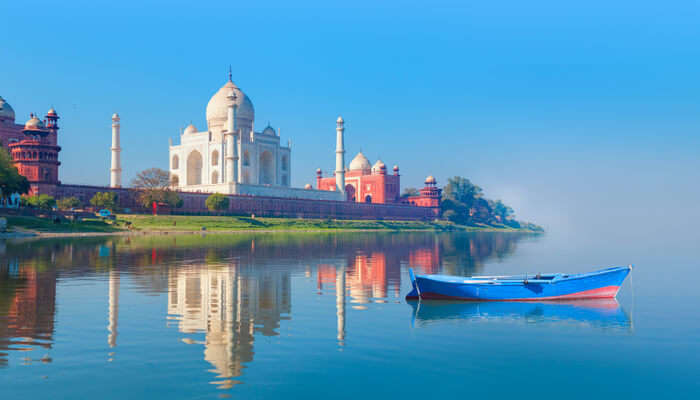 Agra became a place of prime importance ever since the Taj Mahal was declared as one of the seven wonders of the world. Agra with its proximity to Delhi is a very hot place. The temperatures soar extremely high during the summers. But the breeze emanating from the banks of the River Yamuna does provide some calm amongst the hot climate. The white marble of the Taj Mahal just shimmers in the hot summers and there are other places of attraction like Agra Fort, Fatehpur Sikri which are located very near to the Taj Mahal. Agra is a must place to visit if you are a big-time fan of architecture.
How to reach: Agra is less than an hour's drive from Delhi. The airport that operates at Agra is mostly used for military purposes. Agra Cantt railway station ply trains to all major regions of India. Agra is located in the Delhi-Mumbai highway and Delhi-Chennai highway that makes it much more accessible.
Suggested Read: The Ultimate List of Adventure Holidays In India For Summer
3. Sri Ganganagar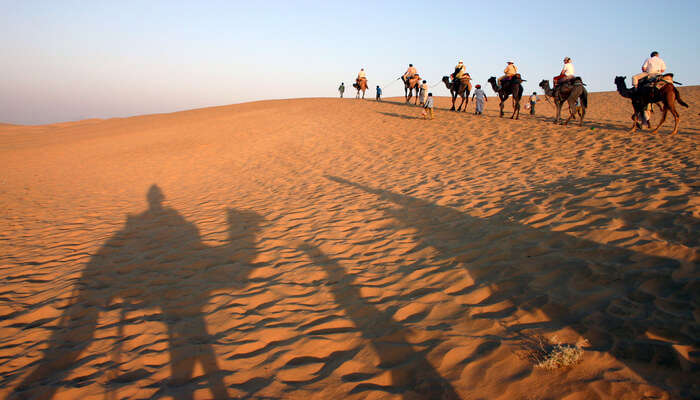 Sri Ganganagar located in the northern part of Rajasthan is one of the hottest places in India. The place is situated near the international border of India and Pakistan. Sri Ganganagar shares its boundaries with states like Punjab and Haryana. This can be seen in a large number of Punjabi Hindus who reside in the place. It is fondly called as Punjab of Rajasthan. Despite being very hot, the place is known as the food basket of Rajasthan. The temperatures are known to touch 50 degrees Celsius in the summers. There are many temples where one can spend some time connecting to God. One can also shop at Sri Ganganagar some fancy dupattas.
How to reach: Sri Ganganagar is very much accessible by road from all major cities in North India. The best way to reach Sri Ganganagar is by road. Sri Ganganagar doesn't have an airport of its own. It takes about 4 and a half hours to reach Sri Ganganagar from Amritsar. Sri Ganganagar has its railway station where trains ply regularly to other cities.
Suggested Read: 30 Places To Visit In India In April: Beat The Heat This Summer Like A Pro!
4. Jhansi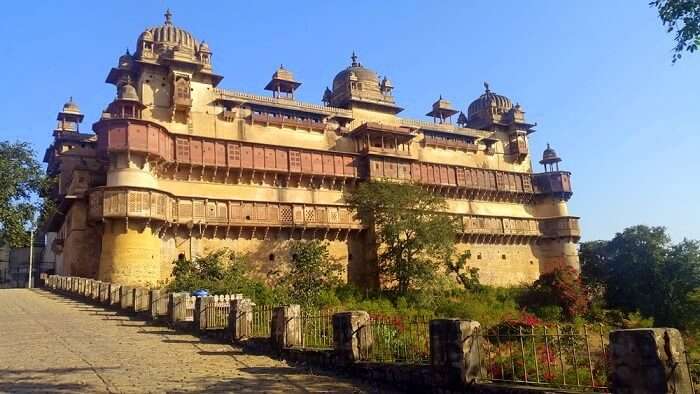 When one speaks of Jhansi, the first thing that comes to one's mind is Rani Laxmibai who was born in this place and made history. Located in the state of Uttar Pradesh, the region where it is situated is the reason behind its soaring temperatures. Jhansi was called Balwantnagar in the past and it is known as Gateway to Bundelkhand. If you wish to have a sneak peek into the history of Bundelkhand, then you must be visiting Jhansi.
How to reach: Jhansi doesn't have an airport of its own. One can reach Jhansi from Gwalior airport. The place has a railway station that plies trains to other cities in India. Jhansi is located on the Srinagar-Chennai highway is well connected to other places by road.
Suggested Read: Andaman In October: Guide To Enjoying A Fun And Paradisaical Vacation!
5. Nagpur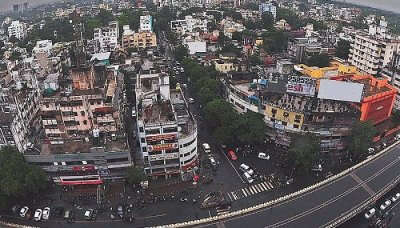 Image Credit: Varunshiralkar for Wikipedia
Often called the Orange city, this is the third-largest city in Maharashtra and known for experiencing high soaring temperature. The highest temperature noted in the city is around 48 degrees celsius. The city welcomes a vast number of tourists throughout the year. The city is located at the center of India hence it witnesses higher temperature.
Suggested Read: The Cure For Homesickness Is Here: 10 Indian Restaurants In Brisbane
6. Daltonganj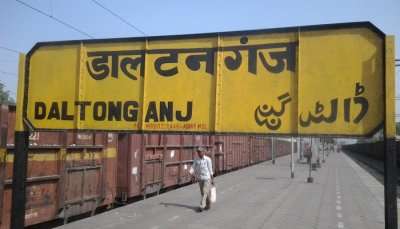 Also called Medininagar, this beautiful city is located in the state of Jharkhand. The weather in this city is quite humid which forms due to the moisture in the air. Due to the scorching temperature, several deaths are reported every year. The only respite to this unbearable heat is River Koel which provides relief from the unpleasant weather conditions in the city.
Suggested Read: 35 Spectacular Road Trips In India For That Passionate Traveler In You
7. Bilaspur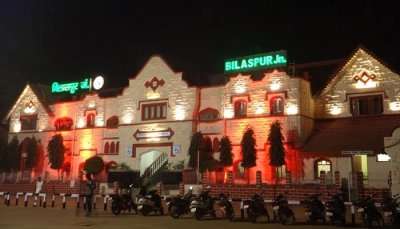 Image Credit: Dharu80 for Wikipedia
Located in Chattisgarh, this city is situated close to the tropic of Cancer and experiences excessive heat from the sun. When the sun rises at its peak, it becomes difficult for the people to step out of their houses during the daytime. The city is located around 220 kms below the Tropic of Cancer which means that it receives 10% excessive radiation as compared to other cities.
Suggested Read: Highest Waterfall In India: A Mini Guide To Explore The Stunning Vajrai Waterfall!
8. Vijayawada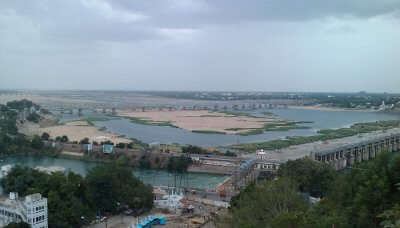 Image Credit: Ashwin Kumar for Wikipedia
Often called the Oven of Andhra Pradesh due to its excessive warm temperatures and sultry weather which is quite uncomfortable to bear. The Kaveri river flows by its side and usually, the city experiences temperature above 45 degrees celsius in the daytime.
Suggested Read: Street Shopping In India: 12 Places To Satisfy The Penny Pincher Inside
9. Titlagarh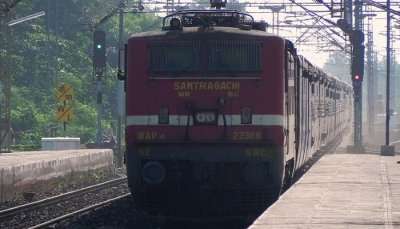 Image Credit: Smeet Chowdhury for Wikipedia
Apart from the Thar Desert, Titagarh is known to be one of the hottest places in India. Situated in the state of Odisha, this place receives considerable heat, especially during the summer season. Surrounded by the bustling markets and extravagant nightlife, the temperature in the city rises above 43 degrees during the daytime.
1o Coldest Places In India
The following is a list of 10 coldest places in India. The proximity to the Himalayas is the reason behind the nail-biting temperatures of this region.
Leh
Spiti Valley
Gangtok
Manali
Tawang
Dras
Sela Pass
Rohtang Pass
Hemkund Sahib
Kalpa
1. Leh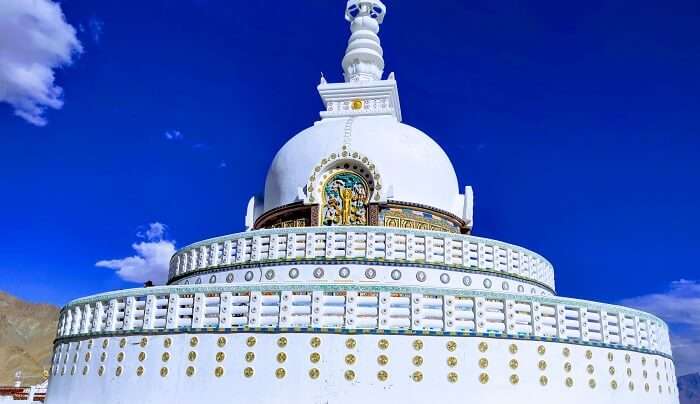 The mountains of Leh are filled with snow during all times of the year. The road connecting Leh to Ladakh is on the bucket list of many ardent travelers. The place is filled with serene valleys and many Buddhist monasteries. This is one of the high-altitude regions in the world. It is not advised to visit the place during the winter. There are many places in and around Leh where you can rediscover yourself.
How to reach: The best way to reach Leh is either by air or by bus. The nearest railway station to Leh is located in Tawi, which is about 700 kilometers away from the main center. The airport receives many flights from airports in Delhi. One can reach Leh via road from Srinagar and Manali.
Suggested Read: 25 Amazing Wildlife Sanctuaries In India For Adventurous Safaris And Encounters With The Wild!
---
Planning your holiday but confused about where to go? These travel stories help you find your best trip ever!
---
2. Spiti Valley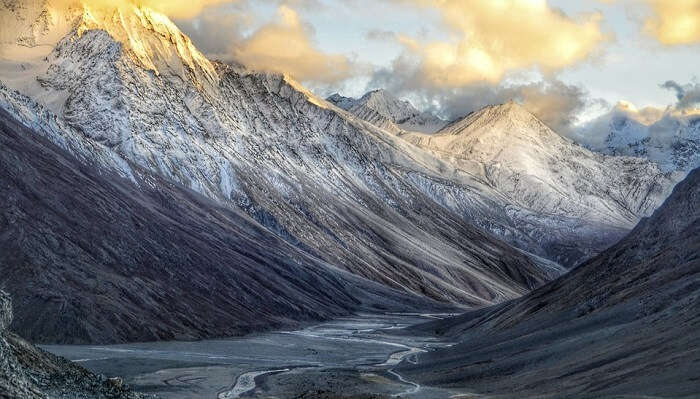 Spiti Valley is one of the coldest regions in India. The temperature drops down very terribly in these regions. There are many unique things about Spiti Valley like that of the world's highest post office, the world's highest petrol bunk. The monasteries found in Spiti Valley is as old as the monasteries found in the Tibet region. There are many lakes and other rare species of flora and fauna which are found in the place. There are other places of attraction like Mummy Village, hilltop monasteries, etc.,
How to reach: Spiti doesn't have an airport of its own. One can reach Spiti Valley from the airport at Kullu. It takes very little time to reach Spiti Valley from Kullu airport. The valley doesn't have a railway station of its own. Srinagar to Manali highway is well connected to Spiti Valley.
Suggested Read: Delhi To Mumbai In 10 Hours By Train Now Made Possible By Indian Railways
3. Gangtok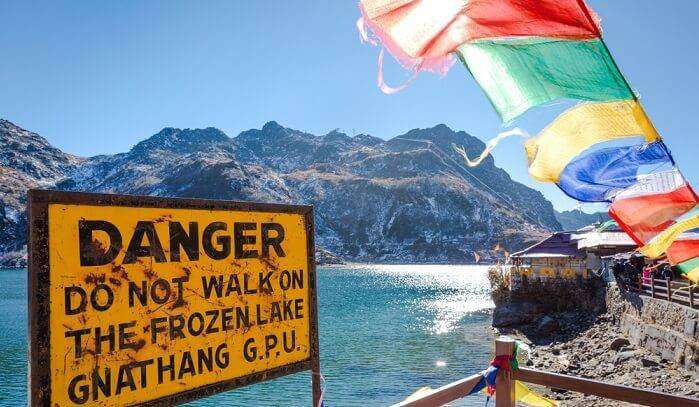 Located at the foothills of Himalayas, Gangtok is the capital of Sikkim experiences very cold temperatures throughout the year. Home to the third-largest peak in the world, Kanchenjunga, Gangtok is a place that is very less explored. Due to this nature, the place remains very less polluted. This is a paradise for those who love hiking and exploring the trails which are unraveled. There are many temples dedicated to Lord Ganesh, Lord Hanuman. Many strong belief systems are surrounding the religious shrines of Gangtok which truly creates a feeling of connecting with God.
How to reach: The nearest airport to Gangtok is Bagdogra, West Bengal. The drive from Bagdogra to Gangtok is filled with a lot of beautiful scenic locations. The nearest railway station is about 150 kilometers from Gangtok. One can also prefer to reach Gangtok via car and other means of road transport.
Suggested Read: Choose The Best Travel Insurance In India With Our Guide
4. Manali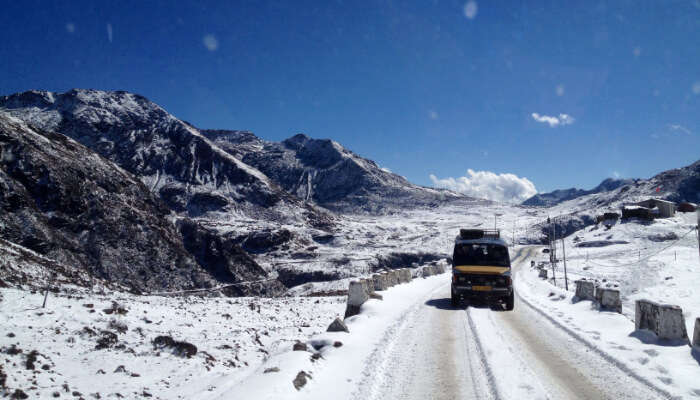 If you are an adventure sports enthusiast, then you must never fail to visit Manali in your lifetime. It is one of the coldest places in India, but the excellence of adventure sports offered in Manali is unparalleled. Activities like paragliding, zorbing, rafting can be enjoyed with full josh here at Manali. Manali is also the gateway to high altitude regions like Rohtang Pass. It is best to visit Manali during summers.
How to reach: The nearest airport to Manali is at Bhuntar. As it is a hilly terrain, there is no railway station at Manali. One can reach Manali via road from cities like Delhi.
Suggested Read: 35 Exotic Places To Visit In December In India To Enjoy A Surreal Vacation!
5. Tawang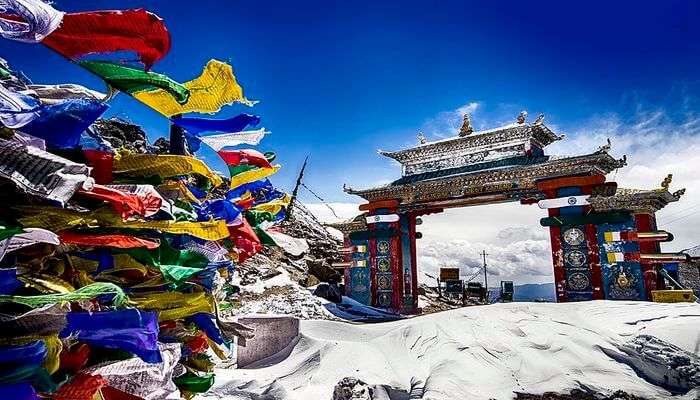 Tawang located in Arunachal Pradesh is much close to the Indo Chinese border. The place gets very cold during winters. Tawang is one of the offbeat destinations for those who wish to explore different regions of the world. The colorful prayer flags kissing the blue skies with the smell of snow in the mountains is a true pleasure. Tawang is a place where one can meditate as well as go hiking. There are many lakes and waterfalls in and around Tawang. The water is so clear that one need not buy bottled water on their trip to the place.
How to reach: Tawang doesn't have an airport or railway station of its own. One needs to take a cab from Kolkata airport or Guwahati airport. The nearest railway station is about 450 km away from Tawang. The best way to reach Tawang is by road from Kolkata or Guwahati.
6. Dras

Image Credit: Narender9 for Wikipedia
Located in the Kargil district of Jammu and Kashmir, the Dras is actually a silent town which is also called the 'Gateway of Ladakh'. This is the coldest place in India which also ranks as the second coldest place on Earth. This is one of the ideal places to start treks to Amarnath, Suru Valley, and Sialkot. Usually, on a freezing winter, the temperature drops down to -45 degree celsius.
7. Sela Pass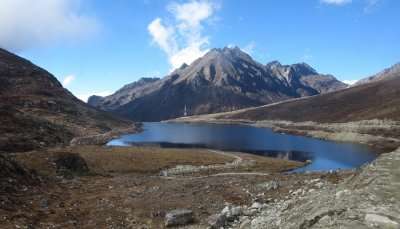 Image Credit: Vikrant roy12 for Wikipedia
Situated in the Tawang district, this is one of the high altitude passes located in Arunachal Pradesh and connects the town to Tezpur and Guwahati. Covered by the blanket of snow throughout the year, this place looks beautiful with the snow capped mountains. Resting at a height of 4,170 m, this place experiences a temperature as low as -15 degrees celsius in winter.
8. Rohtang Pass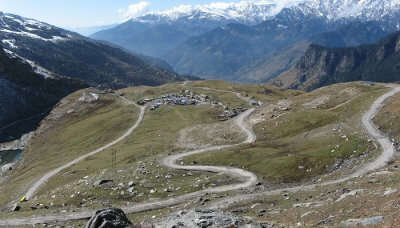 Image Credit: Achiwiki356 for Wikipedia
Rohtang Pass is one of the best places to visit while in Manali which is resting at a height of 3,978 m and surrounded by thick layers of snow. Offering a picturesque view, this place is considered to be one of the coldest places in India. Facing the snowstorms and blizzards every year, this place is a true paradise to visit at least once. During the months of December and January, this temperature falls down to around -5 degrees celsius to -6 degrees celsius.
9. Hemkund Sahib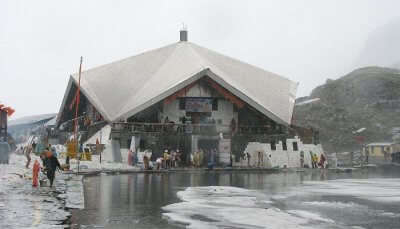 Image Credit: Satbir 4 for WIkipedia
Also known as the Gurudwara Sri Hemkund Sahib, this is one of the famous pilgrimage destinations for Sikhs. Located in Chamoli district of Uttarakhand this place is known for its glacial lake which is enclosed by the seven snow-capped peaks which bears the Nishan Sahib. Resting at a height of 4,362 m, this place is known for attracting a vast amount of trekkers every year. The temperature drops to -10 degree celsius to -11 degrees celsius during the coldest months.
1o. Kalpa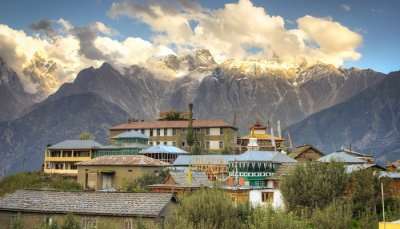 Image Credit: Carlos Adampol Galindo for Wikipedia
This is the main village of Kinnaur which is located by the Sutlej River Valley and considered quite a famous place. A land of beautiful temples and monasteries, this place is also one of the coldest places in India. Surrounded by the Kinnaur-Kailash range, this place is no less than a painted picture. The village experiences the lowest temperature of -15 degrees celsius during the coldest months.
Further Read: Diwali Celebration In India: An Extensive Guide To The Festival Of Lights
These are some of the lesser-known yet beautiful places. One should never forget to include these places on one's agenda while planning a trip to visit the whole of India. Despite the hot and cold weather conditions, the place offers a lifetime experience. It is always good to appreciate both extremes. By taking note of the places mentioned above, one can have the time of their lives by travelling. One can experience the unique feature of these places only by visiting and exploring, thus it's always good to take a tour of India and not miss out on these hottest and coldest places in India.
Disclaimer: TravelTriangle claims no credit for images featured on our blog site unless otherwise noted. All visual content is copyrighted to its respectful owners. We try to link back to original sources whenever possible. If you own rights to any of the images, and do not wish them to appear on TravelTriangle, please contact us and they will be promptly removed. We believe in providing proper attribution to the original author, artist or photographer.
Please Note: Any information published by TravelTriangle in any form of content is not intended to be a substitute for any kind of medical advice, and one must not take any action before consulting a professional medical expert of their own choice.
Frequently Asked Questions About Hottest And Coldest Places In India
What should one carry while visiting the hottest places in India?

Sunscreen, a dupatta to cover your face and a water bottle to suffice your thirst. These places serve a lot of cool items to chill your body heat.

Does Delhi suffer from air pollution problems in the winters?

No. Delhi doesn't face the issue of air pollution in the summers. It is advised to stay hydrated while visiting Delhi in the summers.

Is Sri Ganganagar a desert region?

Despite being a desert region, it doesn't sport the look of a desert. Due to the Ganga Canal, the place is very well irrigated and paddy grows there.

Are there good budget hotels in Vijayawada?

Yes. Vijayawada has a lot of budget hotels. One needs to book well in advance to avail discounts. There are good star hotels in the vicinity as well.

Should one have exceptionally good driving skills to take bike rides in Leh?

The roads are properly maintained in Leh. One need not possess exceptionally good driving skills. But, one needs to know the bike taken for hire.

Which are the best places to stay in Spiti Valley?

The best places to stay in Spiti Valley are the homestays. These places provide a real essence of the valleys. There are many budget hotels in Spiti Valley as well.

Are the roads of Manali accessible?

Yes, the roads of Manali are very accessible. They are properly maintained. But, one needs to have a proper driving experience to traverse the extremely hilly terrains of Manali.

Is it safe to visit Arunachal Pradesh in the winters?

Yes, it is safe. People generally fear to visit Arunachal Pradesh as it is a disputed region between China and India. If you are a person who can manage rough weather, then Arunachal Pradesh is the place to be.
---
---