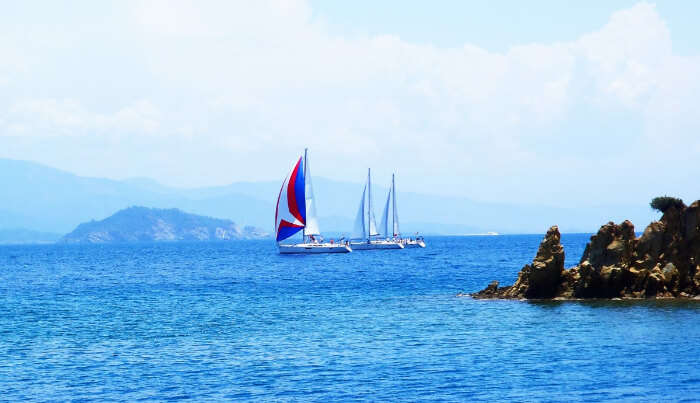 A sport for one, might be madness for the other. Usually, the prudent folks shake heads at putting their lives at risk just for a short-lived thrill but the adventure geeks accept such challenges. Their ultimate goal is to rush over to these sensational activities and enjoy those transient moments that make them feel alive.
It goes without saying that our world houses plenty of things that can best fulfill recreational activities. 'Water Sport' is one such activity that drives all the adrenaline junkies to chase that elusive rush over high waters.
Are you exploring options to enjoy water sports? Drop your worries, pack your bags and gear up to world's famous haven for Water Sports. Turkey, a country, part of 2 continents, Asia & Europe, with its coasts lining four different seas occupies the greatest adventures.
Explore Water Sports In Turkey
You can experience water sports all over the world but none will excite you as much as Turkey. This country seeks the attention of enthusiasts throughout the year. Countless types of water sports in Turkey remain famous worldwide as there are many areas devoted to such sports. Those of you passionate about being on the water often must visit this spectacular country. Here's a snapshot of the most spine-tingling water sports in Turkey which you shouldn't miss.
1. White Water Rafting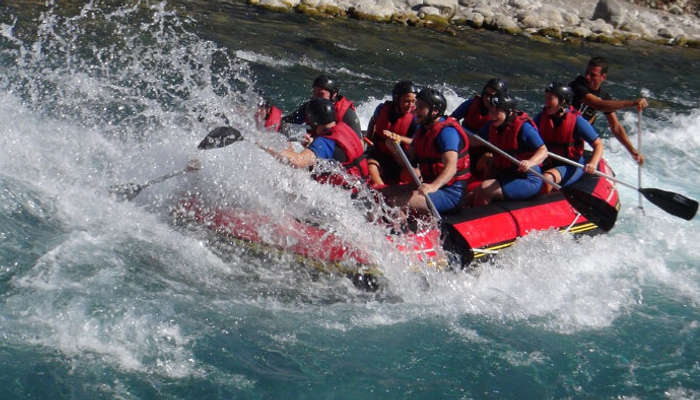 With the aim of sharing your passion for rafting, Turkey possesses beautiful sparkling rivers which are suitable for white water rafting. It is a team-focused sport particularly popular with groups of friends who really want to rush over water waves. With its luxurious natural resources and a number of appropriate rivers, you can definitely enjoy the best water sports in Turkey during your trip. Plan it with your adventure geek friends or family members for an unforgettable memory.
Best Rivers for Rafting In Turkey: Manavgat in Antalaya, Firtina in Rize and Coruh River in Artvin.
Best Time: All year round
Must Read: 76 Best Places To Visit In Turkey That Must Be On Your Itinerary In 2020
---
Europe Holiday Packages On TravelTriangle
---
2. Fasten Up To Experience Windsurfing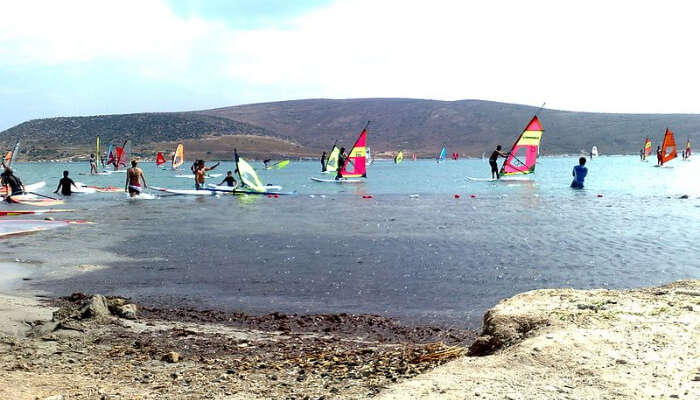 Windsurfing remains one of the most adventurous and famous water sports in Turkey which is a combination of surfing as well as sailing. It is a recreational sport where the surfboard is powered across waters though the support of wind. If you want to accumulate a lifetime full of memories in windsurfing, then Turkey would be the best place to experience this.
Best Places for Windsurfing in Turkey: Aegen Shores (Akyaka, Alacati Beach, Foca, Pirlanta Beach), Antalaya and Marmara Coast (Gokceada, Gulf of Saros, Gumusdere Beach, Mimarsinan, Tuzla).
Best Time: Summer season
Suggested Read: This Is How You Can Impress Your Soulmate On Valentine's Day In Turkey!
3. Explore Rocky Coastline Through Sea Kayaking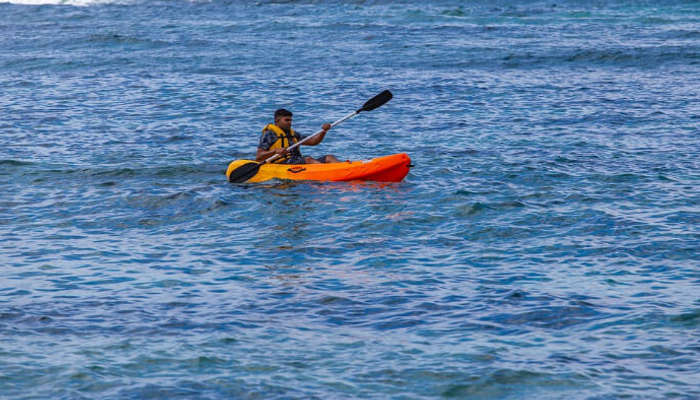 If you are love water sports, then get ready for one of the most famous water sports in Turkey – Sea Kayaking. It is a perfect sport to explore the rocky coastlines and other open bodies by paddling around the coastal waters. The famous Gauley River festival brings all the kayakers from all over the world to enjoy this best water sport in Turkey. Make sure to wear life jackets while sea kayaking.
Best Places for Sea Kayaking: Kekova Islands, Kas, Antalya
Best Time: All year round
Suggested Read: Turkey In September: The Ultimate Guide For Exploring The Land Of The Legends!
4. Dive Deep To Enjoy Scuba Diving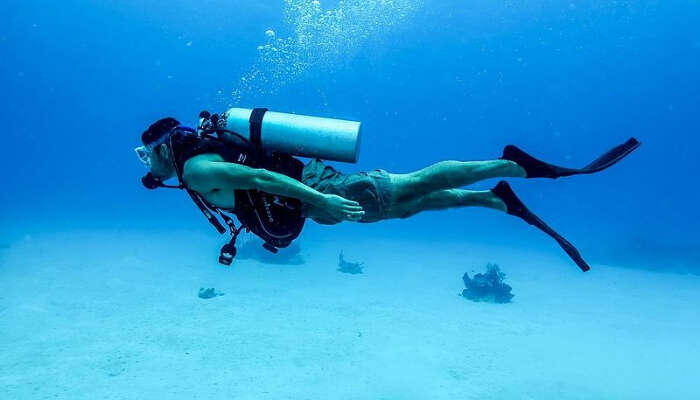 Nothing in this world matches the extravaganza of the still unexplored underwater world. That is why Scuba Diving is an adventurous and popular sport. Almost all adrenaline junkies get vigorous on hearing about this game. The cost of water sports in Turkey is comparatively nominal and thus affordable by all means as compared to other parts of the world. Perfect diving facilities, turquoise crystal water, professional facilities and phenomenal underwater world is a sheer crown & pride of this country.
Best Places for Scuba Diving: Antalaya, Kemer, Kas, Mersin, Side, Datca, Bodrum Ayvalik, Gulf of Saros
Best Time: April to November
Suggested Read: Celebrate 2019 Christmas In Turkey And Make It Merry With These Fantastic Experiences
5. Get Through The Crystal Clear Seas Through Canoeing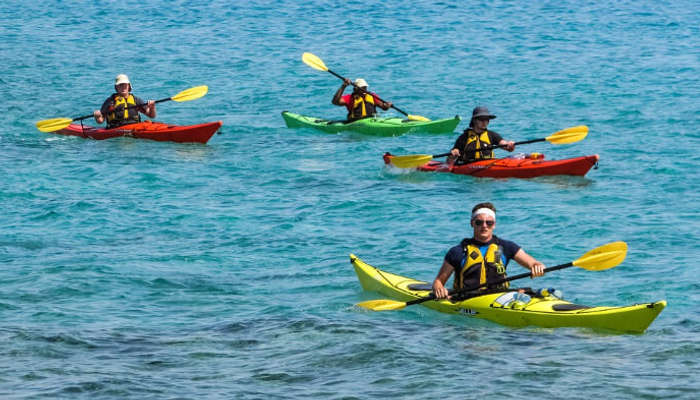 Due to its rich natural resources and plenty of white water rivers, Water Sports in Turkey attracts all the enthusiasts. Canoeing is thus considered as a famous water sport in Turkey. A good physical exercise is required to succeed in canoeing. One must exert great force in order to row the boat and enjoy this recreational activity. Canoeing attracts a bunch of folks to visit Turkey and get indulged in this physically demanding sport.
Best Places for Canoeing: Fethiye, Kas, Kalkan, Gocek, Dalaman, Kusadasi
Best Time: All year round
Suggested Read: Turkey In October: Witness The Land Of Aladdin At Its Best!
6. Kiteboarding: A Sport Relying On Hearnessing Winds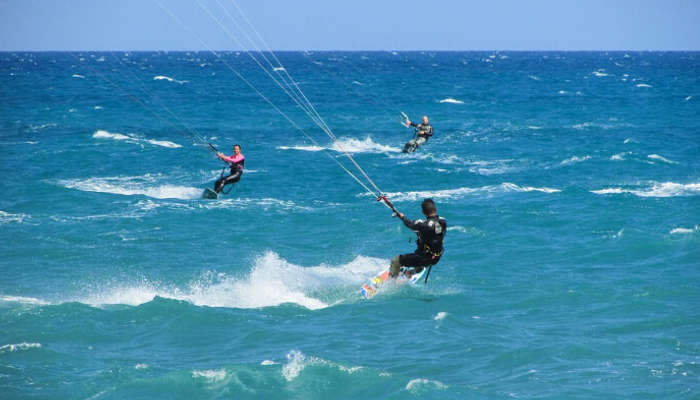 Relish the most exciting water sport in Turkey on turquoise blue waters and the most adorable beaches. Enjoy an enthralling ride as you can take advantage of the trade winds to sail through the seas. If you are concerned about the cost of water sports in Turkey, then don't worry as everything will be under your budget.
Best Places for Kiteboarding: Gokova Bay, Akyaka, Alacati, Gokceada Island.
Best Time: Mid-April and Mid-October
Suggested Read: 6 Iconic Bridges In Turkey That Are A Paragon Of Beauty & Magnificence!
7. Experience Parasailing: Get The Spectacular Feeling Of Air And Water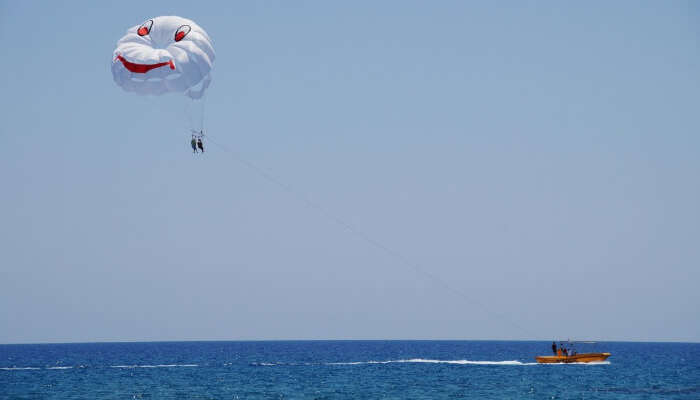 Parasailing is a famous water sport in Turkey where a person is towed behind the vehicle and attached to a parasail. You will be amused by the adjoining sceneries. Experienced guides are a boon in disguise for the novice visitors. Adrenaline junkies as well as the lazy loungers will have the best time around these topwater spots.
Best Place for Parasailing: Antalya
Best Time: April to October
Suggested Read: 5 Historical Caves In Turkey Which Will Give You Some Serious Adventure Goals!
8. Yachting In Turkey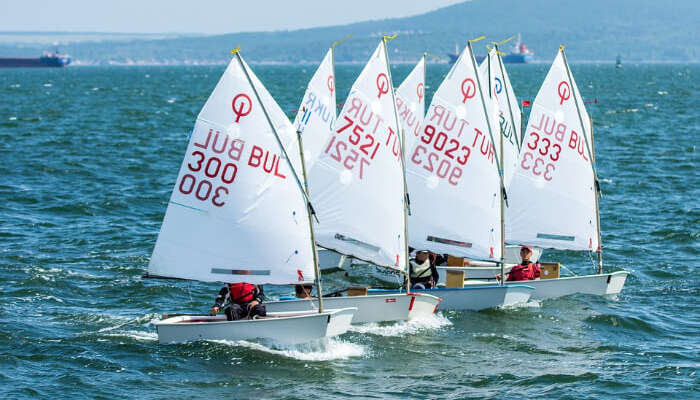 Surrounded by seas on three sides, Turkey remains an ultimate location and the best place for water sports. Good weather conditions, crystal clear waters, and rich heritage attracts visitors here. This picturesque country has attached hundreds of yacht owners to its Riviera and coasts. You can enjoy the sport at multiple locations.
Best Places for Yachting: Cesme, Izmir, Antalya
Best Time: All year round
Suggested Read: 7 Therapeutic Hot Springs In Turkey Everyone Who Searches For Tranquility Should Visit
3 Fun Water Activities To Immerse Yourself In
The exciting combination of a picturesque Turkey and water doesn't end with sports. You can still enjoy a few more water activities whilst on your vacation to Turkey. Here are a few of them for you to explore.
1. Deep Sea Exploration Through Pirate Boat Trips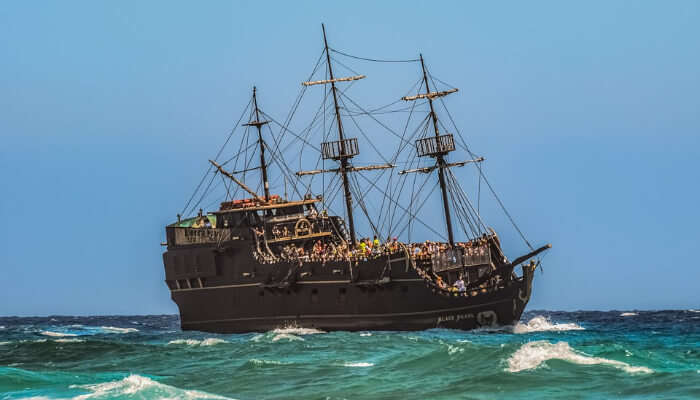 Antalya is one of the best places for water sports in Turkey as the deep blue sea and climatic conditions are quite suitable. Book a ride on the pirate boat and a private picker will pick you up from your hotel. So, what else do you want? You may enjoy sightseeing, delicious meals and a peaceful time while you are at it.
Best Place: Antalya, Marmaris
Best Time: April to October
Suggested Read: Turkey In November 2019: Take A Quick Rundown At This Guide For An Enthralling Vacation!
2. Submarine NEMO Excursions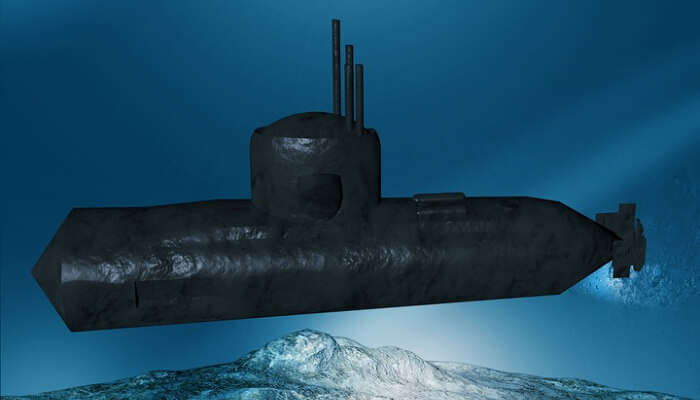 Submerge yourself underwater to have the mesmerizing view of the ocean and aquatic life. Live commentary will educate you about the sceneries. So, don't miss the chance to enter the submarine and grab this wonderful opportunity.
Best Place: Antalya
Best Time: All year round
Suggested Read: 8 Monuments In Turkey That Are A Reminiscence Of The Turkish War Of Independence!
3. Enjoy The Exciting Water Rides At Aqualand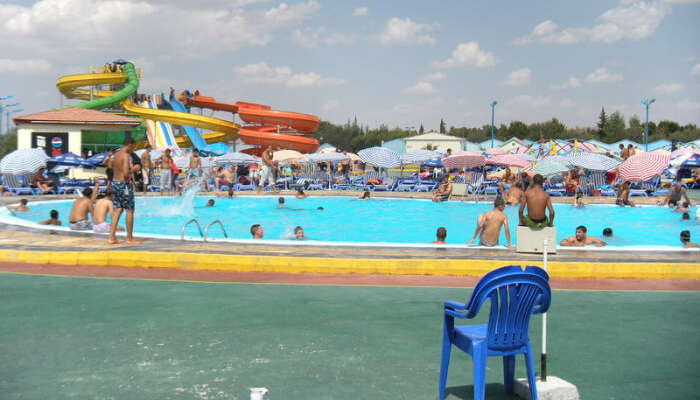 Best place for all age groups, whether adults or kids, Aqualand facilitates you with an ultimate chance to enjoy the super exciting water rides. A one day pass will let you ingress the theme park. The rides include a 100-meter slide and a pool bar. Beverages and supper are also included with your pass.
Best Place: Antalya, Konyaalti
Best Time: April to October
Suggested Read: 8 Impeccable Museums In Turkey To Embrace The Deeply Rooted Turkish History!
Best Time For Water Sports In Turkey
Being a world-famous tourist destination, Turkey welcomes tourists all year round to delve into numerous adventurous activities. There is no dearth of places to indulge in recreational activities in this lovely country. The peak season, when water sports are the most popular, usually run from April to November. In the months of September and October though, most water sports enthusiasts visit Turkey for several competitions particularly Bodrum Cup of Sailing and Slalom League of Wind Surfing. So, don't miss this great opportunity to explore different water sports and watching the country's ultimate water sport championships.
Further Read: Cruises From Turkey: 9 Liners That Will Set Your Luxury Records Straight
Also, many scuba diving schools throughout the country and coasts are available that cater to everyone – from beginner to experts. Some of the main centers for water sports in Turkey include Marmaris, Fethiye, Kas, and Antalya. Don't forget to plan a visit to these centers for a memorable trip to Turkey. If you are an adventurer, gear up to experience this spectacular nation full of adventurous sports.
Frequently Asked Questions About Water Sports In Turkey
Q. Is a visit to Turkey in December fruitful?
A. You can visit Turkey round the year but it is advised to visit from April to November to enjoy the best out of weather.
Q. Which is the best place for Scuba Diving in Turkey?
A. Antalya is the best place to enjoy Scuba Diving in Turkey.
Q. Which river is best for white water rafting?
A. Köprüçay & Köprü river in Manavgat are the best rivers for white water rafting.
Q. Which is the best place for kiteboarding in Turkey?
A. Akyaka in the Gulf of Gokova between Bodrum and Marmaris.
Q. Can we watch the water sports competitions?
A. Yes, of course. Visitors from all over the world come to spectate the championships.
---
Looking To Book An International Holiday?
---
People Also Read:
Adventure Sports in Croatia Water Sports in Japan Water Sports in Pattaya
Comments
comments