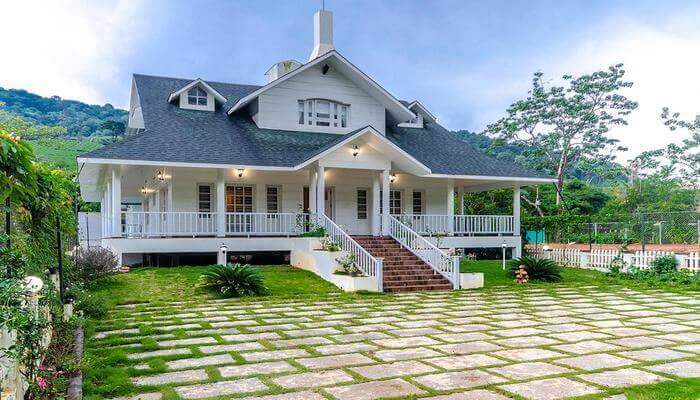 The Kabini shares the major tributaries of the river Cauvery in southern parts of India. The Kabini is a beautiful place where there is a confluence of the Panamaram River and the Mananthavady River. With this scenic beauty, you are sure to witness paradise. In order to enjoy the true beauty of the place, you should stay in one of Kabini homestays. They offer a stay amidst the surreal surroundings and will compel you to stay there forever.
10 Best Kabini Homestays
Here's a list of homestays that will make your stay comfortable and luxurious. Take a look and add them to your list for your next escapade.
1. George's Arabica, Hive Homes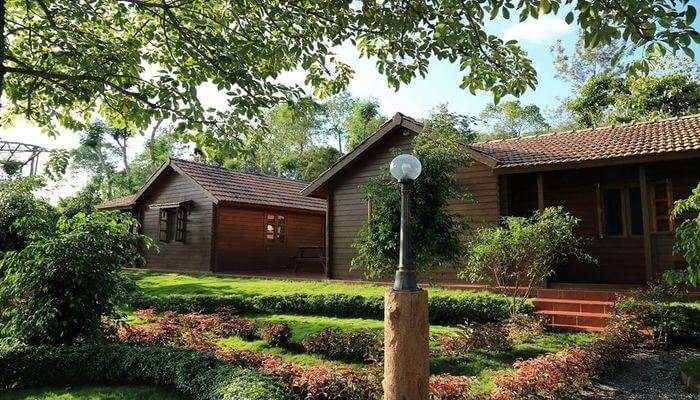 Hivehomes George's Arabica, Robusta and Liberica are homes on an area of ​​4.5 hectares with rotational plantations. The Kabini River is 200 meters from the hotel. Liberica was added in April 2018. Stay away from the hustle and bustle of city life and feel the peace and silence of the forest. Become a free creature again. Get everything comfortably by offering modernity. Stay with us. This cottage is located on an area of ​​4.5 hectares with rotational plantations such as ginger, tapioca, sweet potato, etc. Along with rubber, coffee and dozens of Mahogany trees in the village of Bavali near the town of Kattikulam, about 10 km from Mananthwada. This property is located near the highway at the entrance to Kerala on the Mysore-Mananthavadi road.
Location – Bavali, Kerala
Price – INR 1996 per night
Highlight – Farmhouse experience
Ratings – 4.5/5
Must Read: 7 Mystical Places To Visit In Badami, Karnataka That Need Your Attention In 2021
2. Kabani Riverside Cottage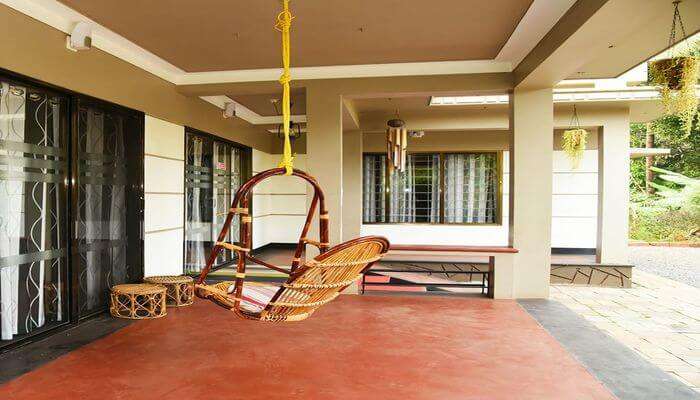 This mixed farm with an area of ​​2 hectares is located on the banks of the Kabini River. They cultivate an abundance of coffee, pepper, nutmeg, areca, coconut, including other spices, vegetables, and rice. Kabani Riverside is located on a side street, which provides easy access. Just before this place lies 300 hectares of Common Agricultural Rice, which throughout the year occupies many tribal villages that surround it. Walk-in these fields and give way to the world of life and culture of Wayanad.
Kerala's intricate cuisine, tribal traditions, and local knowledge complement the taste of your stay here. Leave it to hosts to plan your experience here. It is calming and relaxing feel to sit by their campfire at midnight.
Location – Mananthavady, Kerala
Price – INR 2550 per night
Highlight – Camp experience at home
Ratings – 4.8/5
Suggested Read: 9 Historical Places In Karnataka Every History Buff Should Visit In 2021
3. Palkadavu Warium Villa Homestay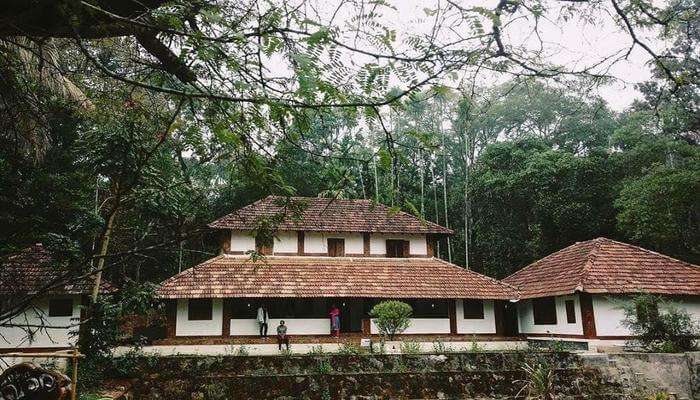 Traditional duplex villas are also known as Tharavadu in traditional Kerala. The villa has been renovated their family home since 1946. Without changing its architecture. This place is covered with tropical plants and overlooks green fields. Perfect getaway for the weekend if you are looking for peace that includes the flora and fauna of WAYANAD. There is attic for card games or where children can sleep with a relaxing light. There is a lush green playground also called OKKALAM in traditional languages. The villa assures you to take you back to the 90s, with a retro environment. An ideal for weekends, family reunions or company events. 71-year-old house with beautiful architecture, comfortable and quiet. The green playground can be used for barbecues and bonfires.
Location – Mananthavady, Kerala
Price – INR 3000 per night
Highlight – An ecological remote destination
Ratings – 4.6/5
Suggested Read: 7 Major Airports In Karnataka For A Safe & Joyful Trip In The Air
4. Pugmarks Wayanad Suite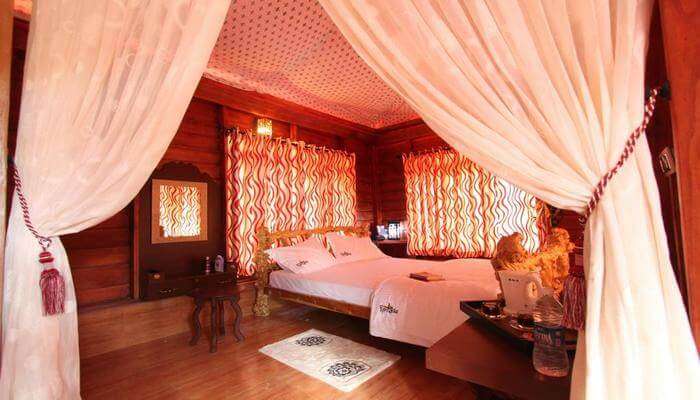 On three sides bordering the Wayanad Game Reserve, their property has only seven premium homes. Cedar Suite has its own fireplace. The famous Kuruva dweep can be reached by car in 10 minutes. The Wayanad Nature Reserve is a 20-minute drive away, and the 2000-year-old Thirunelly Temple is nearby. The watchtower on their property gives you the chance of a lifetime to see the Gaur elephants etc. On the other side of the moat. Ideal for observing and photographing birds. Kuruva Dweep, Tholpetty Wildlife sanctuary, Nagarhole national park, and Thirunelli temple are close by. Kuruva Dweep, Tholpetty Wildlife sanctuary, Nagarhole national park, and Thirunelli temple are also in proximity.
Location – Mananthavady, Kerala
Price – INR 3000 per night
Highlight – An ecological remote destination
Ratings – 4.6/5
Suggested Read: 10 Awesome Places To Visit Near Coorg On Your Next Holiday To Karnataka
5. Vansukh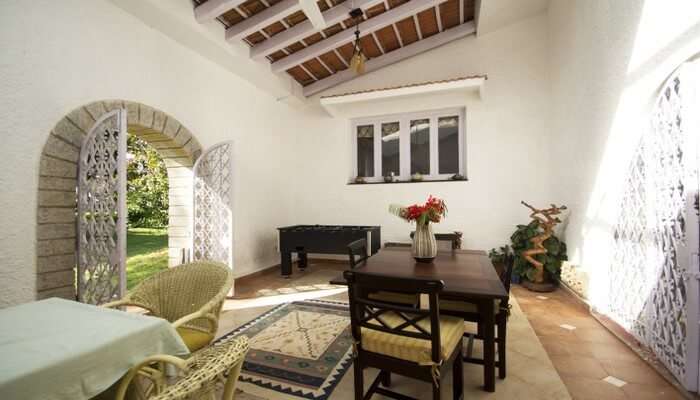 Vansukh is located right next to the spectacular Nagarhole forest and makes perfect homestays in Kabini, Karnataka. This 2-room cottage is located in the middle of a lush green coffee plantation. Perfect for a calm and relaxing holiday. Services and Amenities: Clean air without pollution with a little coffee. Fantastic vegetation all around with a cozy hut to enjoy the vast land for all activities that require space or a quiet fire. Modern amenities are available to ensure you the greatest comfort. Each room can be booked separately. Each room is about 300 square feet. A tariff is inclusive of breakfast. Food bills for lunch & dinner will have to be settled by cash, on-site, at the time of check out. They do not have a credit card machine on site so you would have to pay by cash at the time of check out. Mainly North Indian and South Indian cuisine.
Location – Kutta, Karnataka
Price – INR 3000 per night
Highlight – Homestay in forest
Ratings – 4.6/5
Suggested Read: 7 Things To Do In Tumkur That Are Worth Taking A Trip To Karnataka
6. Ranger's Farmhouse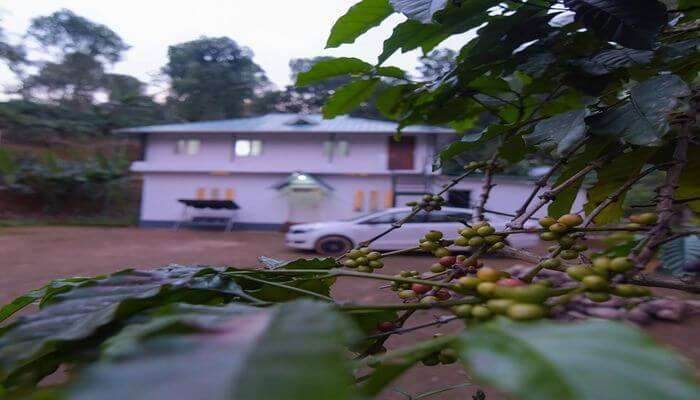 Exclusivity and privacy are their unique attractions. This farmhouse is located 14 km from the town of Kalpetta, surrounded by 17 hectares of coffee plantations. Fireplaces, live music, barbecues, outdoor cooking, a walk around the farm, you can organize 24*7. Enjoy here when you spend time in your vacation home. The main tourist attractions are only 15-20 minutes by car. The caregiver remains in the attached external building and is available for any support. You can organize basic local dishes or get food at the restaurant at any time. The homestay has two floors, one floor, and two bedrooms, a shared bathroom next door, a living room, and a kitchen. First floor, two bedrooms, bathroom not included and a dining room. This property is not luxurious, but its name is a cozy agritourism farm. Expect everything you expect from a country house, and the meal you will enjoy is on site.
Location – Mananthavady, Kerala
Price – INR 2450 per night
Highlight – Private Homestay
Ratings – 4.5/5
Suggested Read: Shopping In Karnataka: Pamper Yourself And Shop At These 10 Spots In The State!
7. Vythiri Glenwood Cottages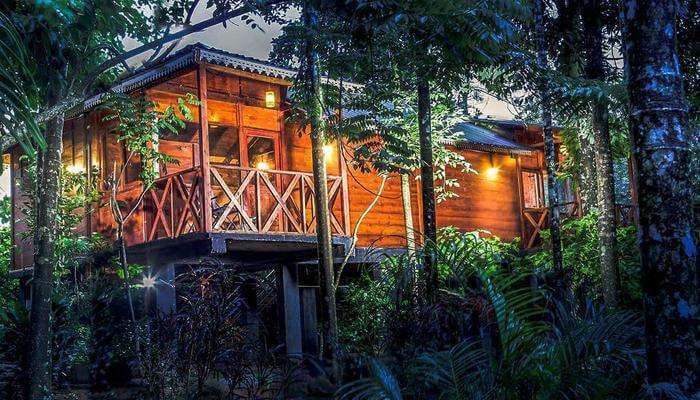 This cottage is made entirely from recycled steamed wood and has two bedrooms with bathtubs. This is a very different experience even with a toilet, except the wooden bathtub. This fully equipped room has a king bed with a large armrest. In addition, the rooms have a sofa where you can relax. This room overlooks a large seating area with mountain views. These two rooms, located in a quiet place, are ideal for honeymooners and nature lovers. their facility is located in Vythiri, one of the most popular tourist destinations in Wayanad. There is a very nice climate here all year round and their property is on a hill, so you can see all the peaks of Wayanad up close. Guests can access the entire place they have a pathway inside the property and fireplace barbecue area.
Location – Vythiri, Kerala
Price – INR 3800 per night
Highlight – Cottage Kabini homestays
Ratings – 4.5/5
Suggested Read: 9 Museums In Karnataka: Top Creative Spots With A Rich Heritage
8. Rinad Castle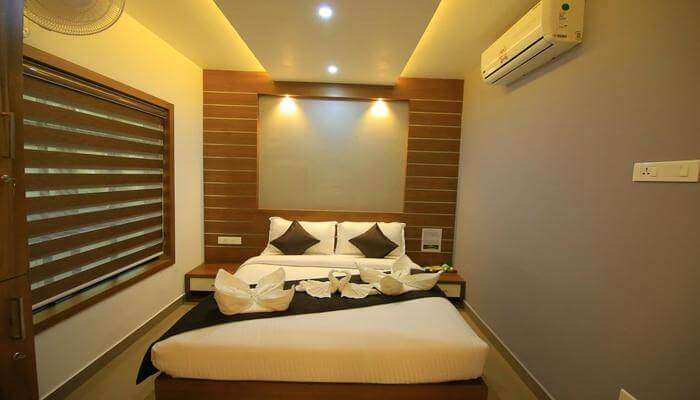 One of the best places on Vythiri Side Hill, Wayanad is surrounded by lush greenery overlooking the forest and mountains. An ideal location for family trips and budget kabini homestays for weddings, vacationers and share events. They are the best Kabini homestays resort with standard rooms, deluxe rooms, and family apartments with unforgettable experiences in spacious rooms with a natural and green occasion and a breathtaking view of the hill. Amenities include two beds and a family room, Wifi, Kitchen, Free parking on premises, Air conditioning, Washing machine, Hangers, Laptop friendly workspace, Breakfast.
Location – Vythiri, Kerala
Price – INR 2000 per night
Highlight – Basic and cheap Kabini homestays
Ratings – 4.7/5
Suggested Read: 8 Haunted Places In Karnataka: Are You Ready To Challenge Your Soul?
9. Hermas Villa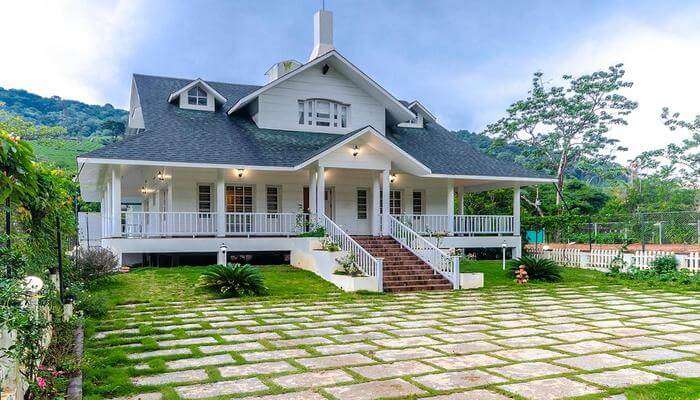 Hermas Villa is located in the misty Lakkidi Rainforest, among the Western Ghats of Kerala. The charming sanctuary paints beautiful pictures and overlooks the hills. The villa was designed by a Scottish designer and offers bright, quiet interiors with spacious rooms and modern furniture. Enjoy the best views of the mountains. Hermas Villa is special because of its Freshwater stream right behind the villa, private pool and the amazing views from the terrace, Relaxing outside shower, and Rooftop kitchen facilities. Other special Amenities: Inverter, Wardrobe, Wi-Fi, iron, mosquito repellent, torch, Toiletries, towels, geyser, medical kit, Grill for barbecue, and Secured car parking for 5 cars. They offer a Barbecue at an amazing scenario.
Location – Mananthavady, Kerala
Price – INR 6600 per night
Highlight – Famous Kabini homestays for family
Ratings – 4.9/5
Suggested Read: 12 Stunning Places To Visit In Summer In Karnataka For A Relaxing Retreat In 2021
10. Marsim Holiday Resort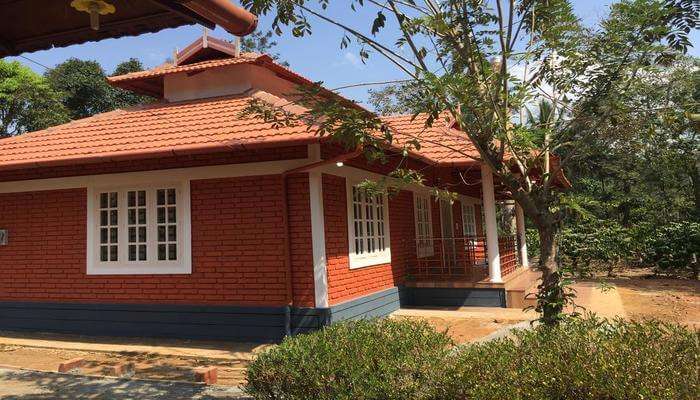 Located 3.8 km from Pookode Lake, Marsim Holiday Resort offers a restaurant, a garden, and a 24-hour reception. Good atmosphere and very clean rooms with brick houses on the wall, which is another thing. Besides this, excellent hospitality and support from the director stand out. Right at home with all the necessary facilities, a good choice for a long stay. This location is also close to many tourist attractions. Parking available. Easy access to the resort and a natural environment, located on a coffee plantation that too near the river. Entire villas, lawns, and villas. They provide all the information related to the route regarding their visit to tourist attractions
Location – Vythiri, Kerala
Price – INR 2500 per night
Highlight – Apple Villa
Ratings – 4.9/5
Further Read: 12 Top Hill Stations In Karnataka In 2021 To Rejuvenate Yourself
Having a trip to Kabini in mind? Be prepared to experience the unparalleled scenic beauty on earth and book your holiday in Karnataka. You will be left stunned by living in nature's company and relieving yourself altogether. To explore such a natural beauty, the hassle of a day won't make a trip to the mark. Enjoy a trip of 2-3 days stays with the above-mentioned homestay destinations.
Frequently Asked Questions About Homestays In Kabini
Q. What to do when in Kabini?
A. Explore the Wildlife destinations and go hunting.
Q. Which is the most romantic homestay in Kabini?
A. Ranger's Farmhouse is the most romantic homestay in Kabini.
Q. What is there in Kabini?
A.
1. Jungle Safari, Kabini.
2. Elephant Safari.
3. Boating in Kabini.
4. Nagarhole National Park.
5. Shopping in Kabini.
6. Kabini Dam.
7. Kabini River Lodge.
8. Nature Walks and Campfire
Q. Which is the adventurous stay in Kabini?
A. Vansukh is the most adventurous stay in Kabini.
Q. What is the best time to visit Kabini?
A. You can go to Kabiniat any time of the year, but between November and January is the best time to see wildlife and another best time to visit Kabini is between July and October when the forests turn a lush green.
Q. How much a wildlife destination at Kabini will cost?
A. 2500 INR per person per day.
Q. How many days are enough to visit Kabini?
A. 2 to 3 days are enough.
---
Looking To Book A Holiday Package?
---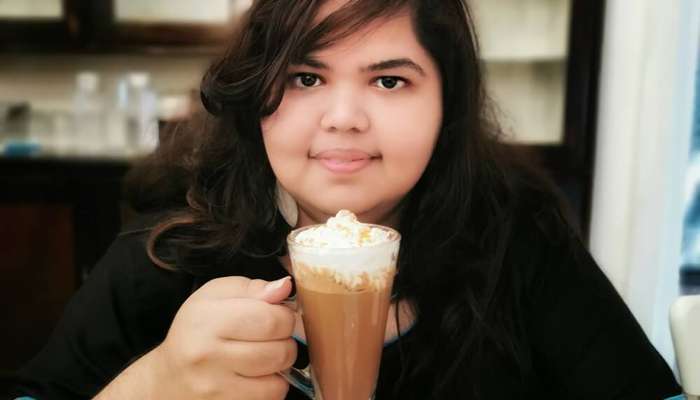 Comments
comments