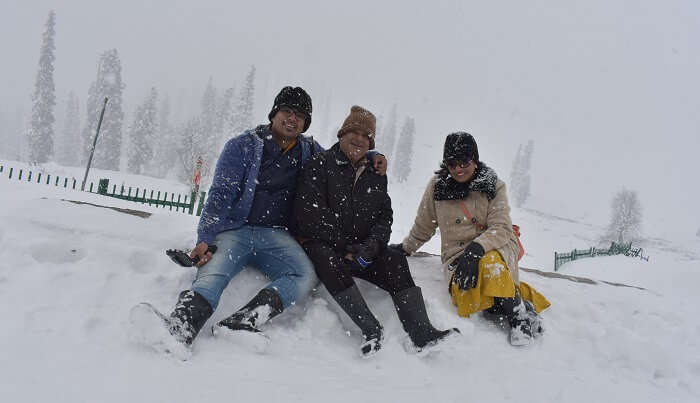 Sandeep's trip to the heavenly Kashmir was an unforgettable travel experience. This tourist destination was in his bucket list since quite long and he wanted to visit the paradise on earth this time. Many memories were created and will be cherished by each of them. Sandeep's account of this whole trip stands testimony.
The awe-striking natural beauty of Kashmir steals everyone's heart and since the place was one of my favorites since long, I didn't want to miss out on whatever is in store. Traveling to Kashmir in December was one of the best decisions we made. The whole region was covered in snow and it was definitely a sight worth beholding!
Package Details Of Our Trip To Kashmir In December
The details of the package that we considered for this trip are given below!
Travel Duration: 8 days
Group: 3 adults; 0 children
Inclusions: breakfast, dinner, transport facility, cab for sightseeing, Shikara ride, hotel, airport transfers, other inclusions
Exclusions: lunch, flight, entry fees, other exclusions
Itinerary For Our Trip To Kashmir In December
The itinerary prepared for us has been given below. This comprehensively prepared itinerary included some of the best experiences.
Day 1: day of arrival, check-in, local sightseeing – Cheshma Shahi, Mughal Gardens, Nishat Bagh, Abode of Pleasure, Shalimar Abode of Love
Day 2: spend the whole day at Sonmarg after an early morning breakfast, drive back to Srinagar in the evening
Day 3: start for Doodhpathri after having breakfast at the hotel, come back for dinner and overnight stay
Day 4: leave for Gulmarg after breakfast, drive back to the hotel for dinner and overnight stay
Day 5: drive till Pahalgam after you've had breakfast, visit Aru Valley and Chandanwadi, check-in at the Pahalgam hotel
Day 6: leave from Pahalgam and check-in to Srinagar hotel, visit Shankaracharya Temple in the afternoon, leave for Shikara ride in the evening, come back to the hotel
Day 7: leave for Srinagar Airport and say goodbye to the beautiful region of Kashmir
Here's What Makes Kashmir A True Heaven On Earth
Weather In Kashmir In December
We didn't regret visiting Kashmir in the month of December. The entire valley was snowclad and temperature dropped below 0. Even though it was really cold out there but since everything around was covered in snow we were able to have a memorable time together Kashmir weather in December is one of the things we'll never forget about this vacation.
Experiences During Our Trip To Kashmir In December
The travel experience we have undergone during our trip to Kashmir was something we won't ever forget. There were some really interesting things that we tried that simply added up to a great experience. We explored different places in the region that brought us closer to the natural beauty of Kashmir.
1. Skiing In Kongdoori






When we visited Gulmarg, one of the most interesting activities that I indulged myself in was skiing at Kongdoori in Gulmarg Gondola. Claimed as 7th best destination for skiing in the continent of Asia, Gulmarg Gondola. Moreover, this place has the world's highest ski lift that can give anyone chills down the spine.
2. Witnessing The Thajiwas Glacier

On our visit to Sonmarg, we were awe-struck by the Thajiwas Glacier. With Sindh River flowing alongside, the whole valley stole our hearts with its beauty. The whole scenery was quite picturesque and definitely one of the best places we visited in Kashmir.
Tulip Festival In Kashmir 2022: A Handy Guide To Welcome Spring At Asia's Largest Garden!
3. Horse Riding At Doodhpathri

Doodhpathri, also known by the name Valley of Milk was the site where we went for horse riding. Riding along the beautiful valley, this was a fun as well as peaceful experience. Doodhpathri is one of the best hill stations in Kashmir and since it was richly covered with snow, the place's charm was increased magnificently.
4. Losing Ourselves At Pahalgam




As we drove through the scenic roads of Anantnag with Kesar plantation and apple valley for Pahalgam, the surroundings made the road journey of 135 km worthwhile. Witnessing the beauty and experiencing isolation of Aru and Betaab Valley due to the winters and snowfall made us feel so lost that we simply gave in to the peace.
5. Exclusive Shopping Experience


Since the place is known for its woollens, we bought different shawls as well as stoles. We explored the market while returning from Gulmarg. We also got our hands on some sweaters. When we were in Pahalgam. The quality of the woollen items that we bought is quite rich. There are many other things to buy from Kashmir that you can consider when looking for some souvenirs.
Shruthi's Solo Trip To Kashmir Will Give You Some Real Travel Goals!
Travel Tips For Travelers Visiting Kashmir In December
Don't get worried about the ongoing situation in Kashmir, as the people here are quite welcoming
The temperatures drop to -5 degrees so I would suggest to carry good amount of woolens to be safe and warm
Worry less enjoy more
Hotels We Stayed In
We stayed in 3 hotels during our trip to Kashmir in December. When we were in Srinagar, we stayed at Hotel Asian Park in a deluxe room. This hotel is located at a close distance from major tourist attractions and the breakfast and dinner was worth having. In Gulmarg, we stayed at Royal Park from where we could enjoy the breathtaking views of landscapes. On our visit to Pahalgam, we stayed at Green Heights from where watching the snowfall was a sight!
23 Things To Do In Kashmir In 2022 To See The Best Of This Heaven On Earth
Overall Experience With TravelTriangle
We are really happy with the service given to us by TravelTriangle and couldn't ask for more. The enthusiasm shown by the team was commendable and we totally appreciate the way they have served us.
Sandeep's trip to Kashmir in December is a proof that not a single day in Kashmir is ordinary, thanks to the extraordinary beauty of the valleys here. Kashmir during the winter season will definitely surprise you, as the snow enhances the beauty of landscapes here. If you want to witness paradise on earth, then a trip to Kashmir awaits you this winter!
30 Unbelievably Beautiful Places To Visit In Kashmir One Cannot Miss In 2022!
Frequently Asked Questions About Kashmir In December
Is it a good time to visit Srinagar in December?
During the month of December, the temperature fluctuates between 0 degree celsius and 15 degrees celsius. If you want to witness the breathtaking snowfall, then this time is considered to be the best.
Which is the most beautiful place in Kashmir?
There are various beautiful places in Kashmir that are worth a visit. Some of them are – Pahalgam, Drass, Nubra Valley, Zanskar, Sonamarg, and more.
What should I wear in Kashmir?
You can wear trousers, long skirts, jeans, and t-shirts. During the winters, you must wear woollens and cover yourself with clothing accessories like stoles, shawls, and gloves.
What is there to do in Kashmir in winter?
You can go for a Shikara ride, try out the amazing delicacies for a delightful experience, you can also go for skiing in Gulmarg, and hiking can also be tried out for an ultimate travel experience in Kashmir during winter.