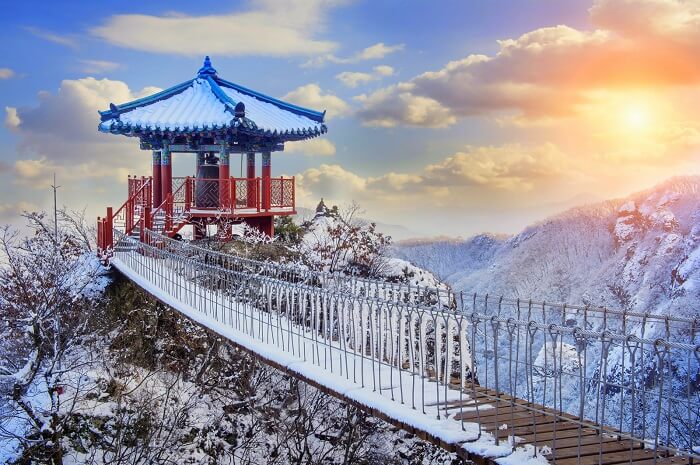 Korea is a beautiful and intriguing place to visit. Much like Japan, Korea combines wonderful natural sights with spectacular cultural curiosities that will have all kinds of visitors hooked. Its booming cities are filled with towering high rises and extensive food and culture districts, while rural Korea has preserved, much of the fascinating culture that separates its people from others in the region. The winters are an especially charming time to visit the region, partly because of the fact that the snow that the region gets adds an element of romance. Here is a list of the best places to visit in Korea during winter:
Top 10 Places To Visit In Korea During Winter
Here are the best places that would charm you away in the winters:
1. Bukhansan National Park
Must Read: 8 Hotels In South Korea That Are All About Class, Comfort, And Convenience!
The natural reserve is a great outing if you want to exert yourself physically while staying in the capital. The park has three peaks, the highest of which rises up to 836 meters. The hikes usually take 7-8 hours and offer the most stunning views of the city and the blood-red forest resting under a blanket of snow. Mountain cats and oriental temples are features that you will not find anywhere else on the planet but here, so that definitely qualifies Bukhansan National Park as one of the top places to visit in Korea during winter.
Location: Near Seoul
2. Gangchon Rail Bike Park
Image Source
Exploring the countryside during your Korea winter travel has never been more fun than with the rail bikes that you can ride at the Gangchon Rail Bike Park. The Bukhangan river that flows parallel to the tracks freezes over in winters and the ride offers exquisite views of the snow-clad forests. Although the whole thing is about 90 minutes long, it involves only 50 minutes of actual cycling so you don't tire too much.
Location: Gimyujeong Station
Cost: INR 1828 for two wheeler
Timings: 9 AM – 3 PM
3. Nami Island
Suggested Read: Top 10 Things To Do In South Korea To Experience The Essence Of The Vibrant Country
Nami Island is the height of the specific winter beauty that Korea is fast acquiring a reputation for and is one of the most romantic places to visit in Korea during winter. This beautiful island is filled with ancient redwood trees, and they turn into beautiful ice cones of nature after any snowfall, brimming with feather-light snow after any snowfall. From here, you can also try and take a shuttle bus to La Petite France, a French cultural village that was built in the honor of the author of Le Petit Prince.
Location: Chuncheon-si, Gangwon-do
Entry fees: INR 487, also carry a passport
Timings: 7:30 AM – 9:40 PM
4. Jagalchi Fish Market
Image Source
Korea, like Japan, has a distinctive flavor for seafood, and nowhere is it more apparent than Busan's Jagalchi Fish Market. And with the fat content of the fish and other seafood growing during winters, the treats only get tastier in the cold weather. You can buy raw fish, octopus, crabs, and rows of other creatures that you can probably not identify. The next step is to take the fresh produce to any restaurant of your choice and have it prepared your way.
Location: Jagalchihaean-ro, Jung-gu, Busan
Timings: 5 AM – 10 PM
5. Jung-gu, Busan
Suggested Read: 10 Best Places To Visit In South Korea: Perfect Recipe For An Exotic Asian Vacation
The 18 meter tall Christmas tree is the highlight of Christmas in Busan, which officially begins during the last week of November and goes on till January. The Busan Christmas Tree Festival takes place in the central district of Jung-gu in Busan. There are plenty of street folk performances, contests as well as caroling around Christmas during the Tree Festival. The culture of fusion makes it one of the essential places to visit in Korea during winter.
Location: Gwangbok-ro, Jung-gu
Dates of the festival: December 2, 2018 – January 7, 2019
6. Seonjaryeong Mountain
Image Source
At 1157 meters, you would think this is a hard climb, but as it turns out, the Seonjaryeong mountain is a treat for amateurs, professionals, and practically anyone who wants to enjoy the spectacular views from the top of the mountain. The trail has not-so-steep slopes and is popular with the local Gangwon people. Scaling this mountain in the winters is especially nice because of the snowy views all around that make the place look more like a scene from a movie than anything else.
Location: Pyeongchang-gun, Gangwon-do
7. Taebaek
Suggested Read: Korean Food Guide: 10 Tasteful Korean Dishes For An Epicurean Delight
Perhaps the greatest ode to your Korea winter trip would be to go see the Taebaeksan Snow Festival. The small settlement of Taebaek has six months of winter on account of its elevation, and the town seems to have converted it into the most fabulous winter fun. Snow sculpture exhibitions, snow rafting, dog sleds, and a very charming igloo cafe are some of the highlights of this lovely festival that should definitely be on your Korean winter itinerary.
Location: Taebaek-si, Gangwon-do
Dates: January – February
Entry fees: Free
8. Hwacheon-gun
Image Source
Fishing traditions are important to the Korean people, and each region has its own style of catching the local fish. This important and beautiful part of the culture is on display at the trout festival in the city of Gangwon-do. Actually, a lot of visitors are encouraged to take part in the Hwacheon Trout Ice Festival, and the locals held them out by teaching them the local fishing method. Besides fishing, local contests in ice football, skiing, and sledding are also held during this festival.
Location: Hwacheon-gun, Gangwon-do
Dates 2019: 5 – 27 January
9. Camellia Hill
Suggested Read: The Groovy Nightlife In Bhutan And 10 Popular Places To Taste It
If Japan is known for blooming cherry trees, Korea has its own version of paradise-like flower-bearing trees in full bloom, albeit with it happening in the thick of winter! Maybe the most surreal thing you will see in Korea in December is the 20-hectare arboretum at Camellia Hill, that has 6000 camellia trees beside other wildflowers bearing all colors and manners of beautiful flowers. The beautiful walkway and lily pond only add to how beautiful this place is. The flower garden is certainly one of the curiosities of winter in Korea.
Location: Seogwipo-si, Jeju-do
Timings: 8:30 AM – 5 PM
10. Seogwipo
Image Source
Bordering on the bizarre, one of the most interesting places to visit in Korea during winter is the Penguin Swimming Festival in Seogwipo. No, there are no actual penguins, only locals and a lot of tourists taking off their clothes to race in the icy waters off Seogwipo near Jeju-do. After this daring attempt, the participants are treated to fish cakes and warm soup to bring them back to life.
Why visit Korea during winter?
The snow is perhaps the best reason to visit Korea in winter since that means not only getting a chance to indulge in exciting activities such as skiing and sledding but also getting to savor special winter street food like sweet potato and chestnuts, which is not available at other times of the year!
Of course, there is also the inherent natural beauty and mystique of the place that makes it interesting. The local customs and traditions are fascinating, and against the beautiful contrast of snow-clad Korea, the picture is just gorgeous.
Further Read: China Honeymoon Guide: Witness All The Shades Of Nature At Once In The Most Romantic Way!
So, if you have Korea on your mind for your next holiday, winters are perhaps the best season to experience the place and the culture. When are you going?
Comments
comments