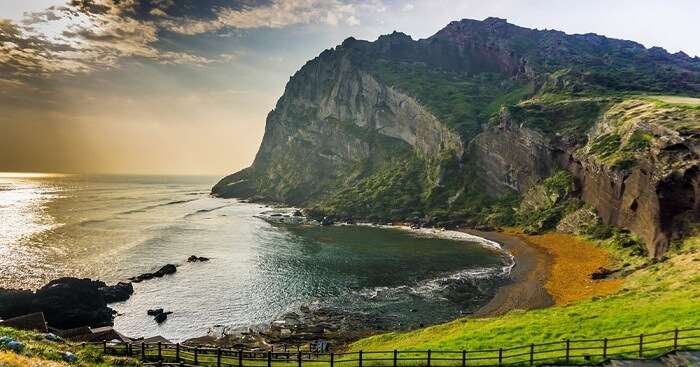 Korea is a beautiful and intriguing place to visit. Much like Japan, Korea combines wonderful natural sights with spectacular cultural curiosities that will have all kinds of visitors hooked. Its booming cities are filled with towering high rises and extensive food and culture districts, while rural Korea has preserved, much of the fascinating culture that separates its people from others in the region. The winters are an especially charming time to visit the region, partly because of the fact that the snow that the region gets adds an element of romance.
19 Best Places To Visit In Korea During Winter In 2019
To spend a relaxing vacation and get cosy amidst the pristine surroundings of this Winterland of Asia, these are the interesting places to visit in Korea during winter that would charm you away.
1. Bukhansan National Park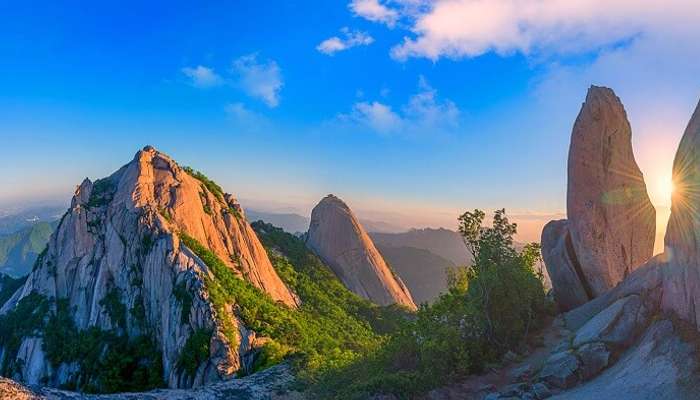 The natural reserve is a great outing if you want to exert yourself physically while staying in the capital. The park has three peaks, the highest of which rises up to 836 meters. The hikes usually take 7-8 hours and offer the most stunning views of the city and the blood-red forest resting under a blanket of snow. Mountain cats and oriental temples are features that you will not find anywhere else on the planet but here, so that definitely qualifies Bukhansan National Park as one of the top places to visit in Korea during winter 2020.
Location: Near Seoul
Must Read: Paris In Winter: All That You Can Do In This Winter Wonderland In 2019!
---
Looking To Book An International Holiday?
Book memorable holidays on TravelTriangle with 650+ verified travel agents for 65+ domestic and international destinations.
---
2. Gangchon Rail Bike Park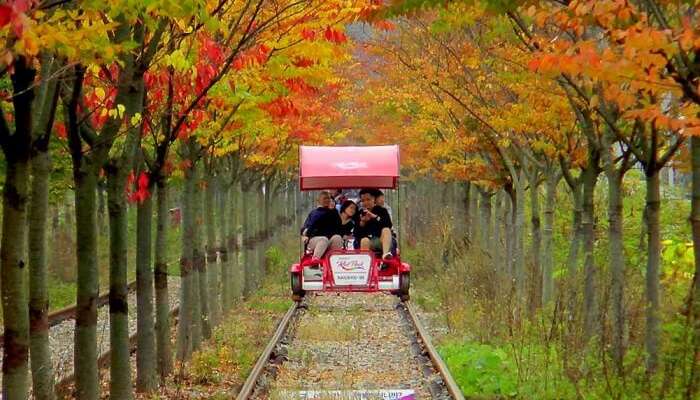 Image Source
Exploring the countryside during your Korea winter travel has never been more fun than with the rail bikes that you can ride at the Gangchon Rail Bike Park. The Bukhangan river that flows parallel to the tracks freezes over in winters and the ride offers exquisite views of the snow-clad forests. Although the whole thing is about 90 minutes long, it involves only 50 minutes of actual cycling so you don't tire too much.
Location: Gimyujeong Station
Cost: INR 1828 for two wheeler
Timings: 9 AM – 3 PM
Must Read: This Winter, Escape To The Best Honeymoon Destinations In Europe In Winter 2019!
3. Nami Island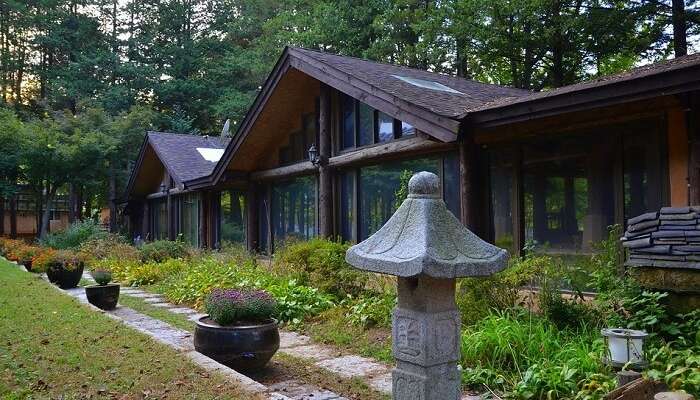 Nami Island is the height of the specific winter beauty that Korea is fast acquiring a reputation for and is one of the most romantic places to visit in Korea during winter. This beautiful island is filled with ancient redwood trees, and they turn into beautiful ice cones of nature after any snowfall, brimming with feather-light snow after any snowfall. From here, you can also try and take a shuttle bus to La Petite France, a French cultural village that was built in the honor of the author of Le Petit Prince.
Location: Chuncheon-si, Gangwon-do
Entry fees: INR 487, also carry a passport
Timings: 7:30 AM – 9:40 PM
Suggested Read: Top 10 Things To Do In South Korea To Experience The Essence Of The Vibrant Country
4. Jagalchi Fish Market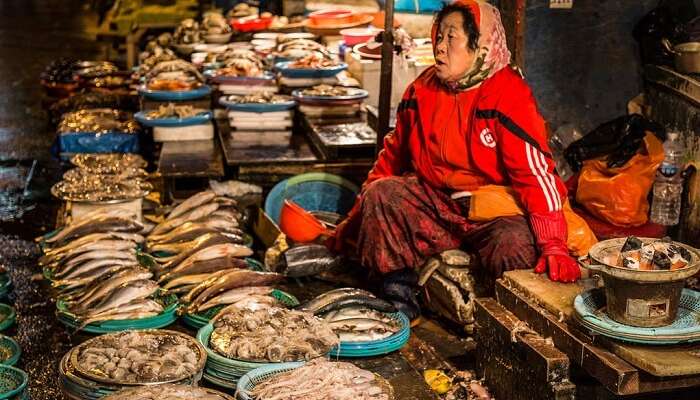 Image Source
Korea, like Japan, has a distinctive flavor for seafood, and nowhere is it more apparent than Busan's Jagalchi Fish Market. And with the fat content of the fish and other seafood growing during winters, the treats only get tastier in the cold weather. You can buy raw fish, octopus, crabs, and rows of other creatures that you can probably not identify. The next step is to take the fresh produce to any restaurant of your choice and have it prepared your way.
Location: Jagalchihaean-ro, Jung-gu, Busan
Timings: 5 AM – 10 PM
Must Read: These Siem Reap Floating Villages In Cambodia Will Cast You Away Into A Surreal World
5. Jung-gu, Busan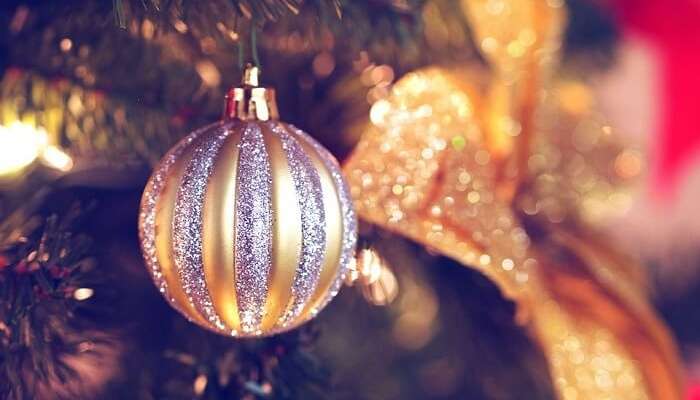 The 18 meter tall Christmas tree is the highlight of Christmas in Busan, which officially begins during the last week of November and goes on till January. The Busan Christmas Tree Festival takes place in the central district of Jung-gu in Busan. There are plenty of street folk performances, contests as well as caroling around Christmas during the Tree Festival. The culture of fusion makes it one of the essential places to visit in Korea during winter.
Location: Gwangbok-ro, Jung-gu
Dates of the festival: Not announced yet
Suggested Read: 10 Best Places To Visit In South Korea: Perfect Recipe For An Exotic Asian Vacation
---
Planning your holiday but confused about where to go? These travel stories help you find your best trip ever!
Real travel stories. Real stays. Handy tips to help you make the right choice.
---
6. Seonjaryeong Mountain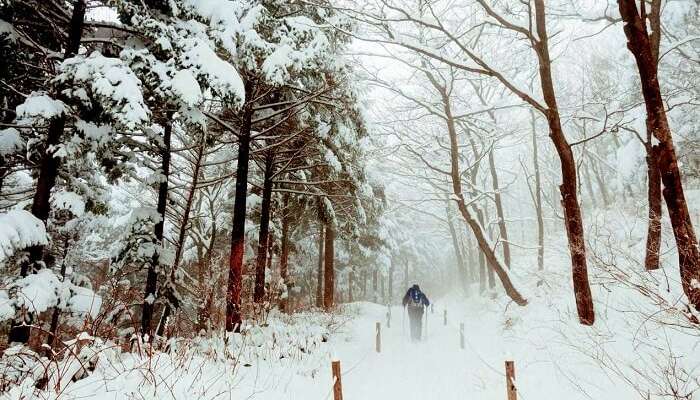 Image Source
At 1157 meters, you would think this is a hard climb, but as it turns out, the Seonjaryeong mountain is a treat for amateurs, professionals, and practically anyone who wants to enjoy the spectacular views from the top of the mountain. The trail has not-so-steep slopes and is popular with the local Gangwon people. Scaling this mountain in the winters is especially nice because of the snowy views all around that make the place look more like a scene from a movie than anything else.
Location: Pyeongchang-gun, Gangwon-do
Suggested Read: Korean Food Guide: 10 Tasteful Korean Dishes For An Epicurean Delight
7. Taebaek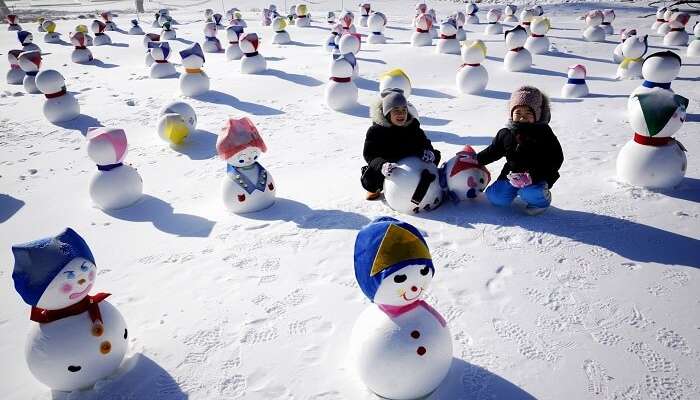 Perhaps the greatest ode to your Korea winter trip would be to go see the Taebaeksan Snow Festival. The small settlement of Taebaek has six months of winter on account of its elevation, and the town seems to have converted it into the most fabulous winter fun. Snow sculpture exhibitions, snow rafting, dog sleds, and a very charming igloo cafe are some of the highlights of this lovely festival that should definitely be on your Korean winter itinerary.
Location: Taebaek-si, Gangwon-do
Dates: January – February
Entry fees: Free
Must Read: 10 Best Markets In Singapore That Are A Mecca For All Shopaholics & Foodies
8. Hwacheon-gun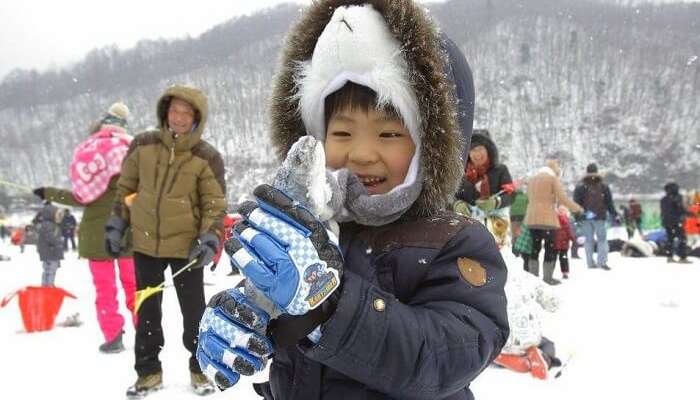 Fishing traditions are important to the Korean people, and each region has its own style of catching the local fish. This important and beautiful part of the culture is on display at the trout festival in the city of Gangwon-do. Actually, a lot of visitors are encouraged to take part in the Hwacheon Trout Ice Festival, and the locals held them out by teaching them the local fishing method. Besides fishing, local contests in ice football, skiing, and sledding are also held during this festival.
Location: Hwacheon-gun, Gangwon-do
Dates 2020: 5 – 27 January
Suggested Read: 5 Places Worth Exploring On Korea Tour-Land Of Morning Calm
9. Camellia Hill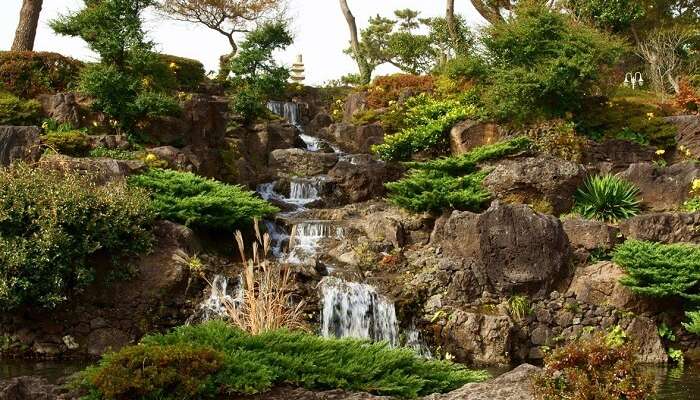 If Japan is known for blooming cherry trees, Korea has its own version of paradise-like flower-bearing trees in full bloom, albeit with it happening in the thick of winter! Maybe the most surreal thing you will see in Korea in December is the 20-hectare arboretum at Camellia Hill, that has 6000 camellia trees beside other wildflowers bearing all colors and manners of beautiful flowers. The beautiful walkway and lily pond only add to how beautiful this place is. The flower garden is certainly one of the curiosities of winter in Korea 2019.
Location: Seogwipo-si, Jeju-do
Timings: 8:30 AM – 5 PM
Suggested Read: The Groovy Nightlife In Bhutan And 10 Popular Places To Taste It
10. Seogwipo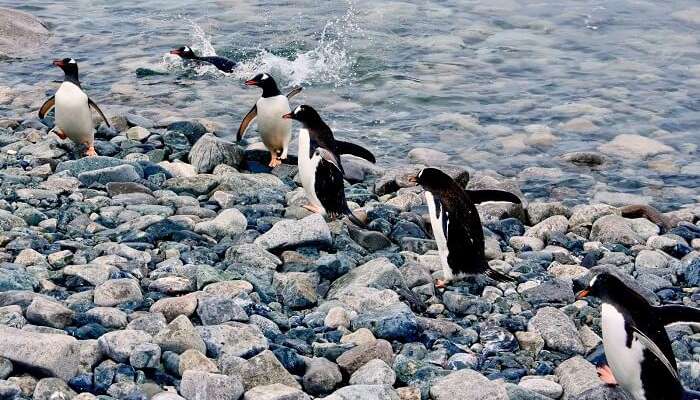 Bordering on the bizarre, one of the most interesting places to visit in Korea during winter is the Penguin Swimming Festival in Seogwipo. No, there are no actual penguins, only locals and a lot of tourists taking off their clothes to race in the icy waters off Seogwipo near Jeju-do. After this daring attempt, the participants are treated to fish cakes and warm soup to bring them back to life.
11. Vivaldi Park Ski World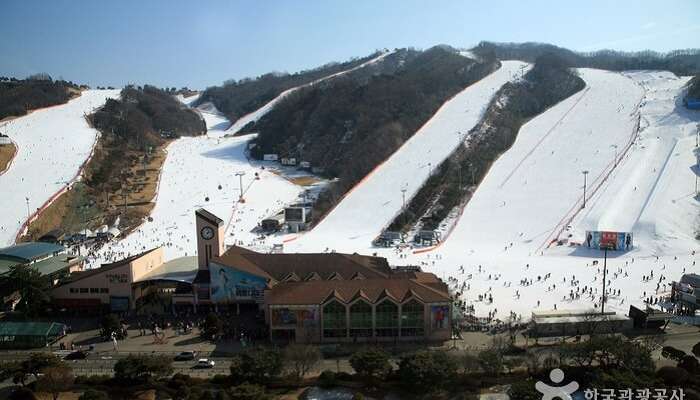 Image Source
One of the interesting places to visit in Korea during winter is Vivaldi Park. It turns into a ski-park in winters and attracts tourists to enjoy snowboarding and skiing. It has all the state-of-the-art facilities making it one of the most popular ski resorts in the country to spend a winter vacation here. You get a direct access to the snowy slopes making it a heaven for ski-enthusiasts. There are other leisure facilities in the resort for tourists to enjoy like a bowling alley, forest bathing site, and a bumper car.
12. The Garden Of Morning Calm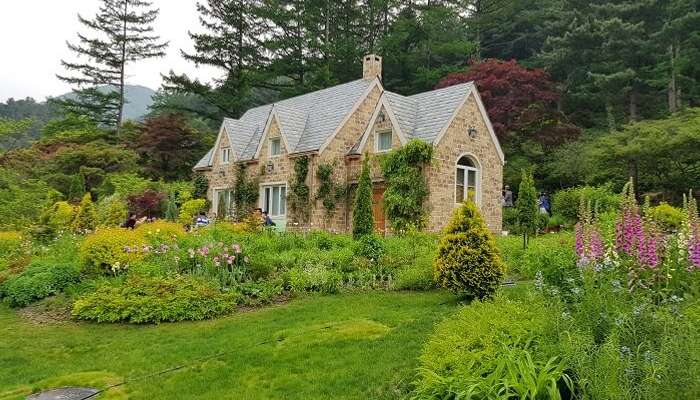 The Garden Of Morning Calm is truly blissful and one of the best places in Korea to witness a light festival during winter, it's one of the biggest. Get ready to be dazzled by thoudands of lighting flowers and glowing lights in vibrant colours.
13. Everland Theme Park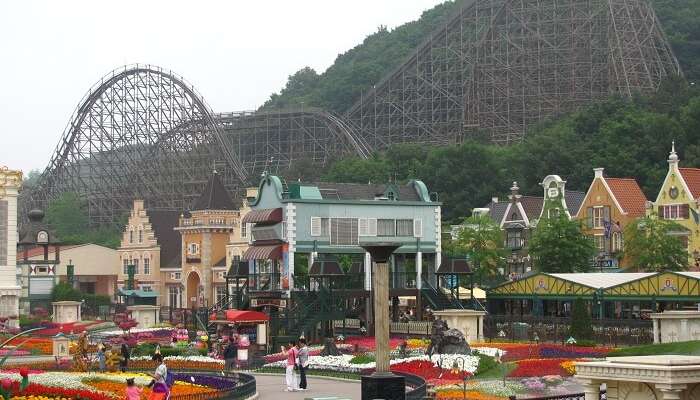 Everland is one of the biggest and best theme parks in Korea. It includes thrilling rides and five themed zones, it has one of the steepest wooden roller coasters in the world that is bound to give you an adrenaline rush, ideal for adventure junkies.
14. LED Rose Garden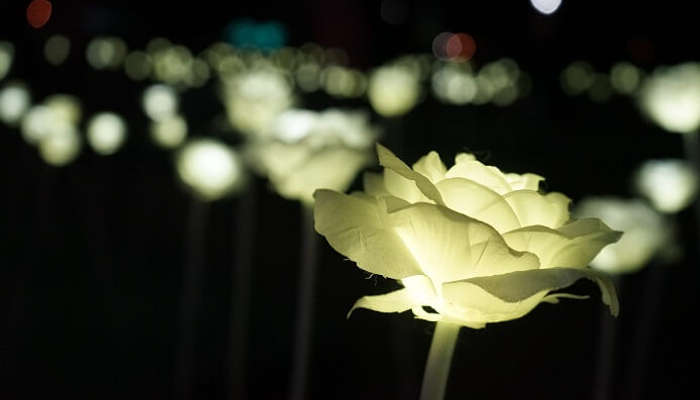 The rose garden is not your usual garden with flowers planted, this extraordinary Rose garden consists of 25,550 LED roses that are symbolic of the number of days since liberation.
15. Seoul Plaza – Ice Skating Rink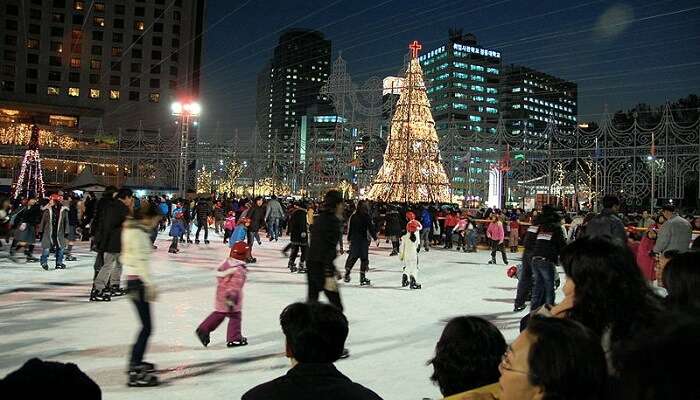 If you are visiting Korea in the winters, then one experience that you should definitely have in the winters is ice skating. Head straight to the Seoul Plaza where you can go swish-swish on the frozen bed of ice. It is one of the most exciting ways to spend your time on your winter vacation in Korea. This place is apt for both beginners and experienced.
16. High 1 Ski Resort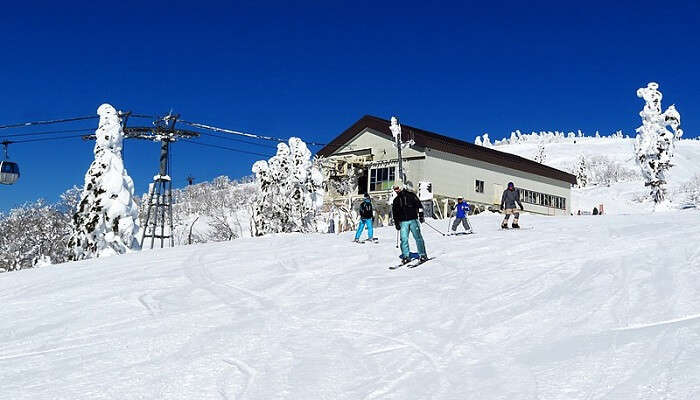 The best way to enjoy the winters in Korea is by checking you and your family in a ski resort where you can ski all you want and lie in the hot water tub for the rest of the parts of your vacation. You could also enjoy Gondola rides if you are not a fan of skiing. You can either spend a day here or extend your vacation.
17. Wondaeri Birch Forest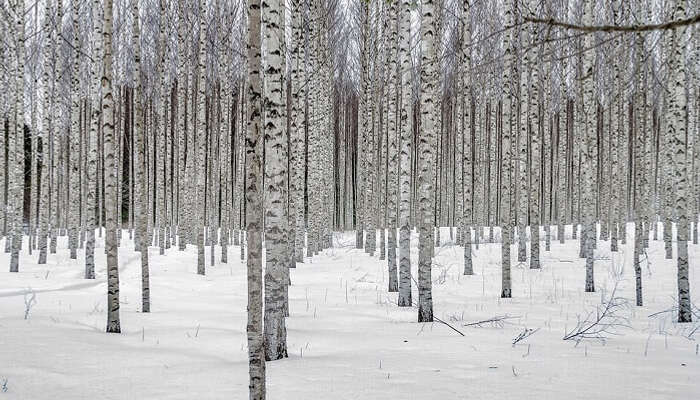 You might think why a forest is worth a visit but that's where you are wrong because the Wondaeri Birch Forest is one of the most beautiful places in Korea. The sight of 700,000 tall birch trees soaring high to the sky and with snow all around is astounding. It is a perfect place to fun hide and seek and make a snowman in the forest.
18. Yongpyong Ski Resort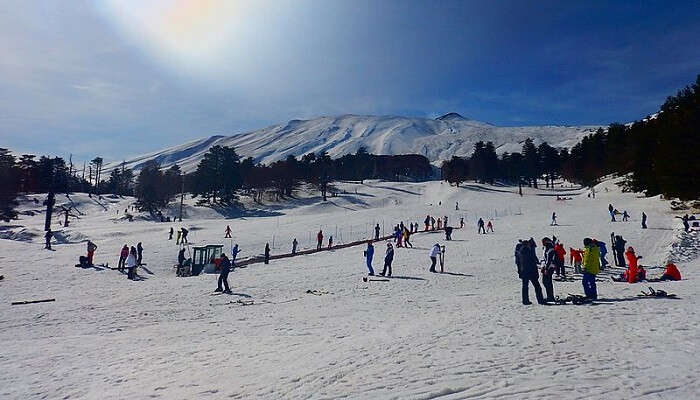 Yongpyong Ski Resort is another great place to spend your winter vacation in Korea. What makes this resort special is that it was the venue for 2018 Winter Olympics. It has 28 ski slopes in total and have a Gondola ride for non skiers. You could even enjoy the rides in the water park or plan to stay in their on-site accommodations.
19. Daegwallyeong Sheep Farm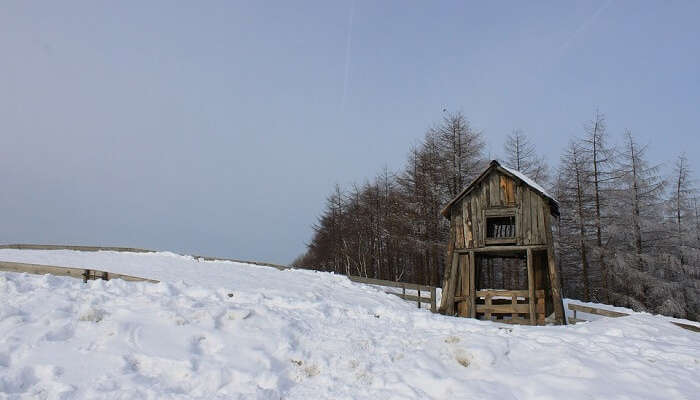 You can think of unlimited fun things to do in a vast land covered with snow. If you cannot, that means you are not fun-loving and should not visit Daegwallyeong Sheep Farm. A vast farm that gets covered with heaps of snow becomes a snowy playground for children and adults like. Enjoy making a snowman or throwing snowballs at each other. Yu also take swing on the tree.
3 Things To Do In Korea During Winter
With plenty of things to do in Korea, here are some festival in Korea that you can attend during the winter season and make the most of your trip.
1. Petite France Korea Lighting Festival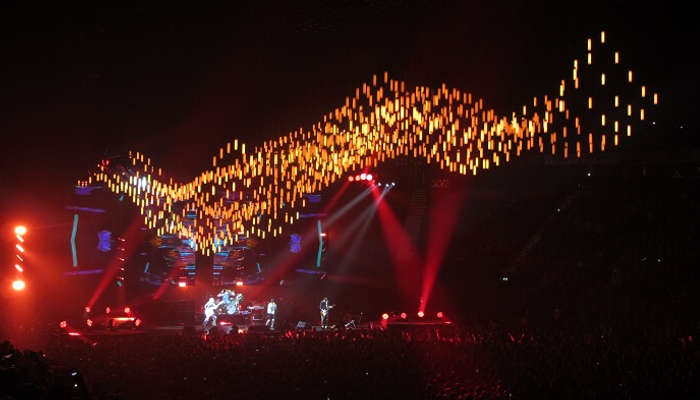 Get a slice of Christmas in Europe by attending the Petite France that is definitely a place to during winter in Korea. It will transport you to a France village as it's the best imitation of Montpellier, France with fairy tale lights.
2. Strawberry Picking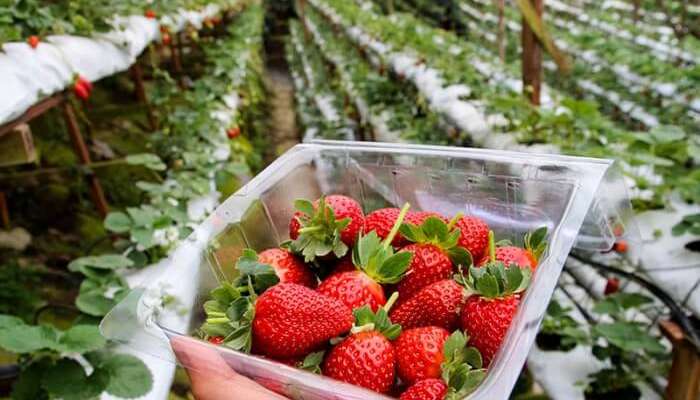 Go strawberry picking at a warm greenhouse in Korea and escape the chills. Korea has some of the most delicious and juicy strawberries in the world and this activity is the perfect way to indulge in juicy strawberries. Visit the farm in Namyangju that is the best for strawberry picking.
3. VR Game Cafe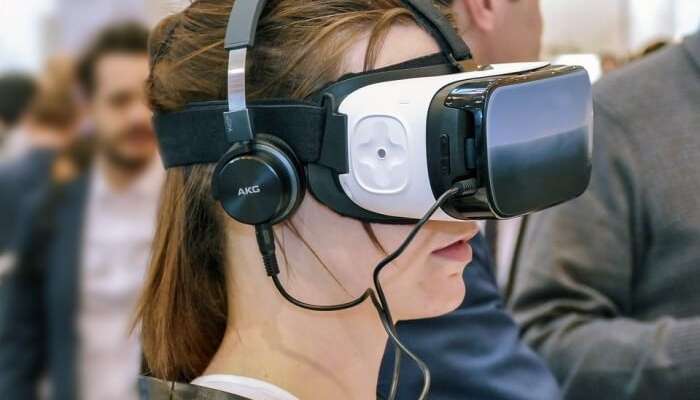 Virtual Reality games are really popular in Korea and it's no surpirise that they are because of the technological advancement of the country. Gather your friends and family and enjoy these VR games that are available at places all over Korea and is considered as one of the most enjoyable things to do in Korea.
Why Visit Korea During Winter?
The snow is perhaps the best reason to visit Korea in winter since that means not only getting a chance to indulge in exciting activities such as skiing and sledding but also getting to savor special winter street food like sweet potato and chestnuts, which is not available at other times of the year! And the snowfall and winters make it one of the best time to visit Korea in winter.
Travel Tips For Korea In Winter
Keep these tips handy while traveling to SOuth Korea in winter so not only the weather is bearable bt you have ultimate fun on your vacation.
One of the key factors to keeping warm during winter weather is to keep the head warm. Easy ways to accomplish this are thick scarves, ear muffs and beanies.
Wintercoats with big, fluffy collars of wool or fur – real or fake – and jackets with fur-lined hoods give that extra layer of insulation.
Carry ugg-like boots to keep your feet warm. Choose the ones tht are easy to slip on and off.
Do not miss watching the sunrise on your vacation because these are more beautiful in Korea. So are the sunsets.
Further Read: China Honeymoon Guide: Witness All The Shades Of Nature At Once In The Most Romantic Way!
So, if you have Korea on your mind for your next holiday, winters are perhaps the best season to experience the place and the culture. Of course, there is also the inherent natural beauty and mystique of the place that makes it interesting. The local customs and traditions are fascinating, and against the beautiful contrast of snow-clad Korea, the picture is just gorgeous. To witness these gorgeous settings of nature, plan your South Korea holiday tour and don't forget to fetch deals on other destinations with TravelTriangle.
Frequently Asked Questions About Places To Visit In Korea
Q: How cold does it get in Korea in the winter time?
A: January is the coldest month in Korea with temperatures dropping below -10 degrees Celsius. The winters last from December to February.
Q: Is it cold in Korea in December?
A: Yes, it is. there are cold winds blowing from December to January. There is even chances of snowfall.
Q: What is winter like in South Korea?
A: Very cold. The temperatures drop belowzero, chilly wind blows, and snowfall occurs.
Q: Why is Korea colder than Japan?
A: It is because Japan lies due north and is, therefore, sheltered from cold winds coming from Siberia.
Q: What is there to do in South Korea in winter?
A: The travelers can experience ice skating and ice fishing, go on a shopping spree, attend a concert while in South Korea in winter.
Q: Does Korea experience snowfall?
A: Before planning a vacation it is important to keep in mind one of the most essential travel tips to visit Korea in winter is to keep a check on the weather. The winter hits Korea around the month of December to January and the average temperature remains between minus six degrees Celsius to three degree Celsius. At this time the country also experiences snowfall but in a very meager rate.
Q: What is there to do in Seoul during winter?
A: There are plenty of things to enjoy in Seoul during winter like ice-skating, skiing, snow-boarding. You can also warm up in cozy tea houses which locals enjoy doing in the winter season.
People Also Read:
Places To Visit In Philippines Places To Visit In Japan Places To Visit In China
Comments
comments