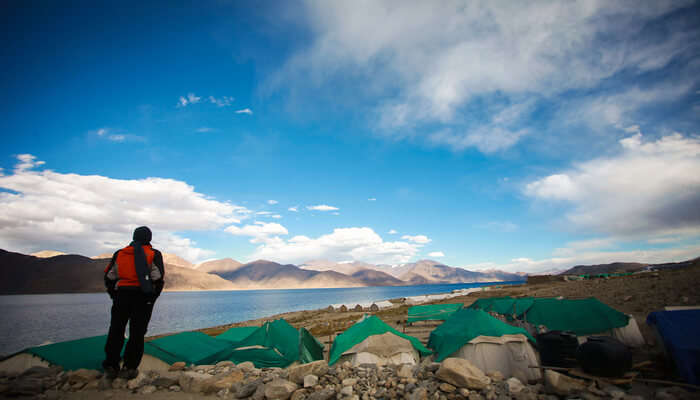 There is one Indian destination that everyone dreams of going to with friends and has thousands of cancelled plans for and if they somehow manage to convince the gods (read their parents and friends) they would have actually had a happening Ladakh trip! Sounds relatable, eh? It does to us too. Ladakh is the high-altitude Himalayan Mountain Region of India. Majestic Himalayas, rivers, plateau, mountain peaks, snow, and high altitude glaciers are just some of the factors. The road to Ladakh will give you the complete vistas of the snowy Himalayas and that is just another add on. It is a tourist-friendly place in India. Its coordinates are 34.2996° North and 78.2932° East. Naturally when a place is at such a height and is so charming, it will have its cons. Here, we have listed important Ladakh travel tips for first-time travelers to save you the trouble.
Travel Tips For Ladakh
Here are the top 10 Ladakh travel tips, which will be useful to adventure seekers, nature lovers, and Himalayan tour takers. Just take a quick glance at these and plan your trip accordingly.
1. Ladakh Climate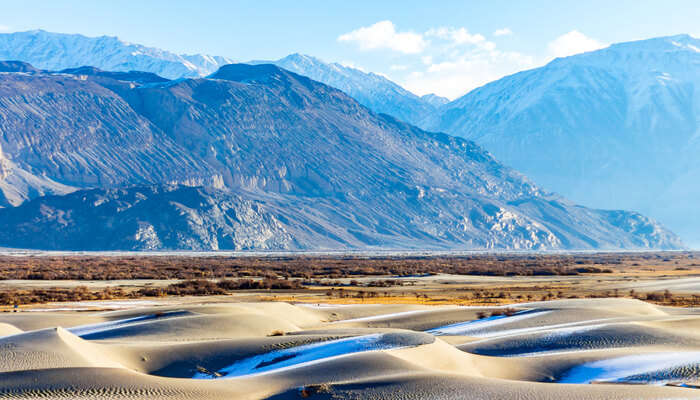 Image Source
Ladakh occupies a greater part of the high-altitude mountain ranges of the Himalayas in India. Cold desert type climate prevails throughout the year. One of the important Leh Ladakh travel tips to bear in mind is that there is cold wind throughout the day and night in this region. People who are unable to withstand the cold weather even with warm clothing must avoid the Ladakh trip during the winter of November to March. The weather will be extreme as it reaches below freezing point. You must carry sweaters and warm jackets in all seasons here. It is advisable to visit during the dry season, which is from April to June. You can feel some sunshine and heat during the day. The summer season is the best time to travel here by all ages of people. You can go exploring the glaciers, Indus River, trekking in its mountain pass and valleys. You can also take a scenic drive route to Ladakh through a bike or SUV.
Must Read: 11 Adventure Sports In Ladakh For A Thrill Vacay In The Hills!
2. Acute Mountain Sickness (AMS) Medications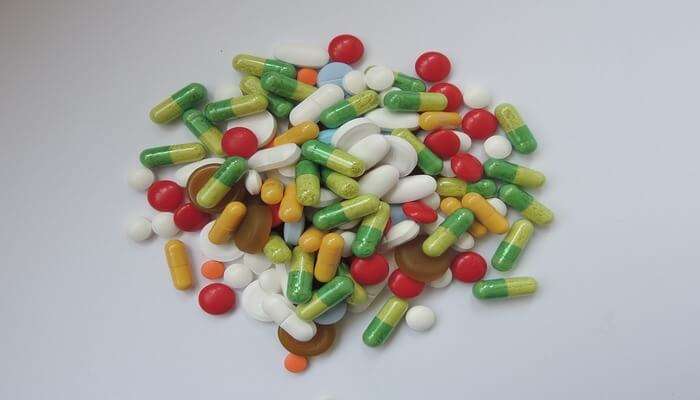 Image Source
This is one of the most important Ladakh travel tips. It is advisable to consult your doctor before traveling to Ladakh. This is because you will be on the high-altitude mountain ranges with an altitude ranging from 10,000-ft to 23,000-ft above mean sea level. It is advisable to carry AMS medication as prescribed by your doctor. This is because; AMS can cause breathlessness, severe headache, vomiting, and lack of appetite. Without AMS medication, there are chances to get bubbles formation in the lungs. This is a medical emergency if not treated can lead to coma or death. It is advisable to carry a personal thermometer, sphygmomanometer, and first aid kit. It is advisable to check your BP and temperature whenever you are feeling dizziness in high-altitude ranges in Ladakh. This is because; you have to reach Leh for any medical emergency. Traveling by road is the only option available here.
Suggested Read: How To Welcome The New Year In Ladakh For A Unique And Joyful Start
3. Mountain Bike Rental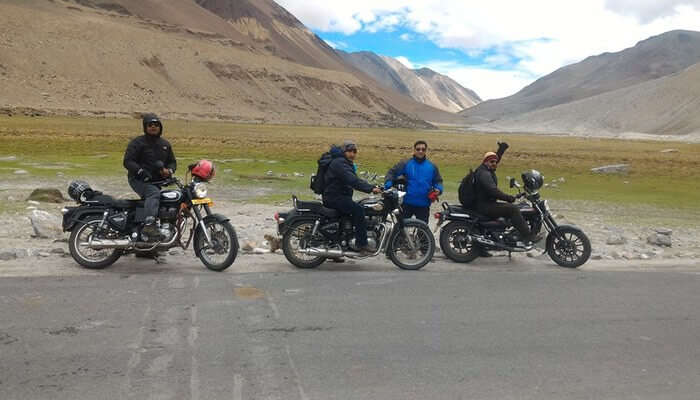 Image Source
High-altitude mountain biking is one of the most important adventure activities and you must try it in Ladakh. Traveling on the road to Ladakh, you are also traveling on the highest motorable road in the world. This will be one of the most memorable rides in your life. You will never forget the enchanting beauty of the Himalayas that you will witness while mountain biking. You can hire a bike on rental from Leh or Manali. They are in-between 350-cc to 490-cc. A few places on the road are rigid. Therefore, you must have some experience during a bike on mountain terrain. This is an affordable way to take the road not taken in Ladakh. It is advisable to bring your helmet, jerkins, boots, and hand gloves. You can also bring a knee, elbow and kidney guard for additional safety. This road is safe to drive and that is one of your Leh Ladakh travel tips right there. You can only find a few military and goods trucks on the way. Other SUVs are of tourists.
Suggested Read: 12 Festivals Of Ladakh That Celebrate The Life In The Valley
4. Ladakh Road Safari Car Rentals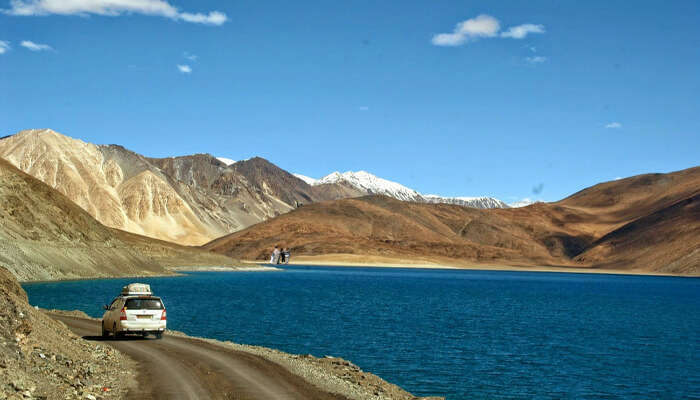 Image Source
Travel tips for Leh Ladakh includes telling you how road is the best choice for those who are not willing to take mountain biking. There are many car rental service providers in Leh. They will allow a maximum of 6-person to travel. You can self-drive or hire a driver if you are not able to drive on the high-altitude mountain road. This is a much more cost-effective way to explore the world's highest road in Ladakh. It is advisable to plan in advance during the peak season from March to May. Yet, the tourist does take road safari on other seasons to see the white beauty of the Himalayas. They do provide drivers. Exploring by road is the utmost way to see the Majestic Himalayas at the fullest. You can browse online for car rental for Leh to Ladakh road safari. This is a scenic mountain road drive on the Himalayas.
Suggested Read: 50 Places To Visit In Leh Ladakh For A Spell Binding Vacation In The Year
5. Tourist Accommodation In Ladakh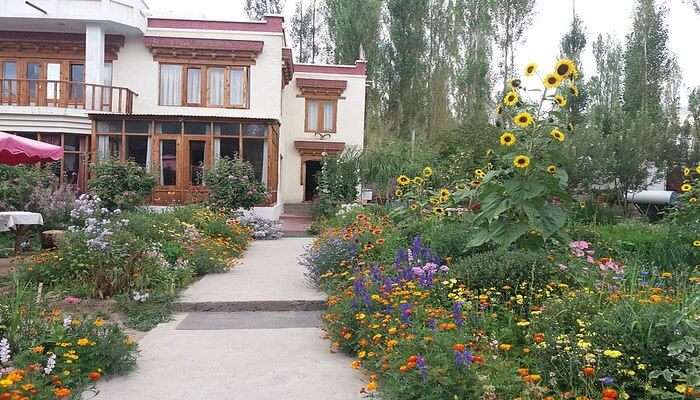 Image Source
This Leh Ladakh travel tips on accommodation will help you to find the right place to stay in various tourist seasons. March to June is the peak tourist season. It will be difficult to find accommodation if you come here and search. This is because it has very few lodging facilities. Most budget-friendly hotels are in Leh. It will be better to plan in advance during the peak season. The non peak seasons are snowy. Yet, there are many tourists, who wish to see the snow beauty of the Himalayas during winter. You cannot find luxury stay in Ladakh. You can expect standard accommodation with an HVAC system, a TV, and hot bath facilities. The night temperature will drop below the minus degree Celsius. If did not get accommodation, you will be in trouble to stay in your SUV with warm clothing or with a bonfire. It will be good to get a room with mountain views from the balcony or through the windows.
Suggested Read: Our Ladakh Itinerary For 7 Days Will Help You Plan Your Trip Like A Pro
6. Clothing For Ladakh Trip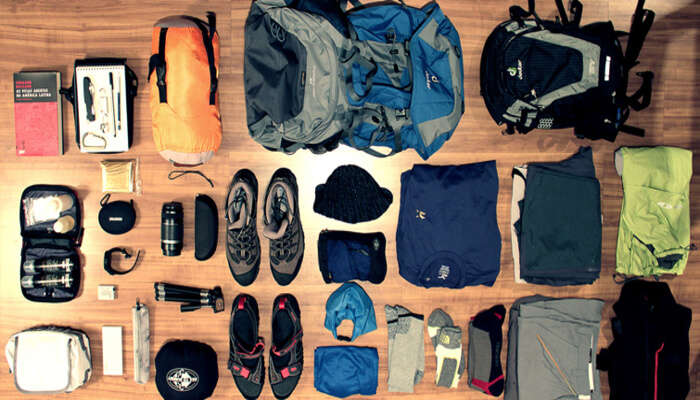 IMAGE COURTESY- offbeathimalaya
The clothing travel tips for Ladakh tells you that there is no other choice than warm clothing. The day temperature during the summer will remain from below 25-degrees Celsius. During the night, it may drop to 15-degrees Celsius. Wearing jeans shirt and pants are the best for men and women tourists during the day. During the winter, the day temperature will be below 15-degree Celsius. During the night, it will fall below zero degrees Celsius. It is advisable to bring warm jackets, furry socks and glows, mufflers, sweaters, and pair of boots above ankle level. If your warm clothing does not give much protection from the cold, it will be better to buy from Leh. They are handmade natural fur. It will give immediate worthiness soon after you wear them. They are affordable too.
Suggested Read: Ladakh Itinerary Of 9 Days: This Amazing Trip Took Us To The Best Of Leh Ladakh
7. Backpacking For Ladakh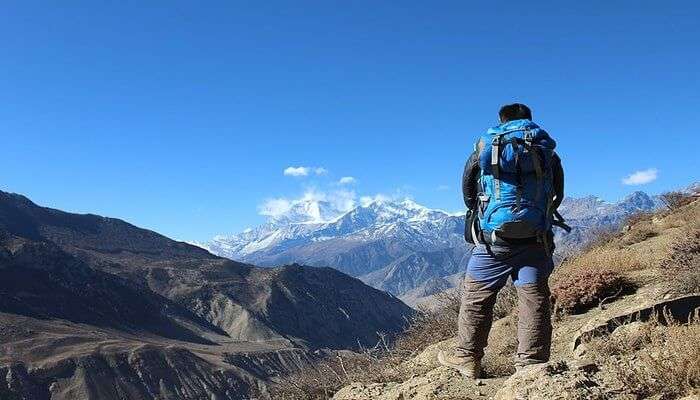 Image Source
Packing in a large size backpack is the best way to carry many materials and that is one of your primarily important Leh Ladakh travel tips. This is because; you need to carry woolen blankets and woolen cloths, which occupy most of your luggage space. You must also carry two pairs of boots, jerkins, and woolen accessories to keep you warm. It is advisable to carry emergency lights, torch, and a portable gas stove. These are essential items during your night travel for the light source and drink hot water. You must keep your photo and video camera as this is the finest place to capture the beauty of the Himalayas inch by inch. You must also not forget to keep a first aid kit. If you take any medicines daily, you must stock them for your travel too. You must also pack your GPS devices if any. Bathroom kit is a necessary one, as you cannot find any shops on the way to Ladakh from Leh.
Suggested Read: Our Honeymoon For 5 Days In Ladakh Was A Perfect Blend Of Bliss & Adventure
8. Currency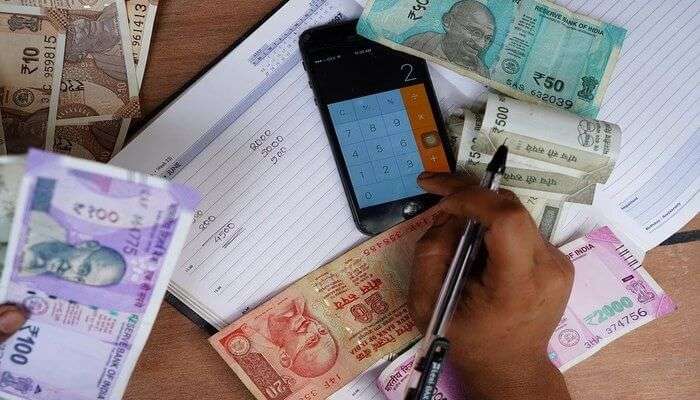 Image Source
This Leh Ladakh travel guide will be most helpful to international tourists. They have to convert their currency from New Delhi itself. This is because; Indian Rupees or INR is valid in Ladakh. Here, you cannot find a shop with POS and accepting other modes of electronic payments. This is due to a lack of internet connectivity. Moreover, there are a few money exchange service providers in Leh. If you are not coming through Leh, it will be a problem. You need INR for transport, food, and stay. This is because; this place has no ticketed entry places. You need cash to buy authentic crafts. There are a few ATMs in Leh. Most of the time, they are without cash. The banks with currency exchange are also very less in Leh. It is advisable to convert your nation's currency into INR and visit Ladakh to enjoy your tour.
Suggested Read: Losar Festival Ladakh: A Cultural Sojourn In The Land Of Mystic Lamas!
9. Food In Ladakh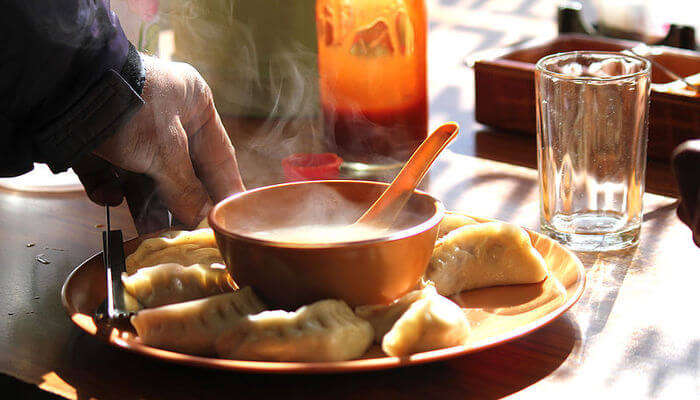 Image Source
This Ladakh Travel tips deals with the food in Ladakh. The people of Ladakh follow the Tibetan culture. Therefore, it is the finest place to taste Tibetan food without going to Tibet. Most of the food available here is of non-vegetarian foods. It is advisable to eat or pack your food from wherever you find a shop open. You cannot find food vendors on the road to Ladakh. When you are looking for places to stay at, it is advisable to see they serve food or not. If not, you have to travel some distance for food alone. It is advisable to stock some tinned food to fill your appetite. You cannot expect a multi-cuisine restaurant in Ladakh. It will be better to inquire about what they serve before giving the food orders. The vegetarians must find a hotel, which serves vegetarian food only. Leh has such restaurants.
Suggested Read: Our Amazing Trip To Ladakh In June Will Make You Pack Your Bags Right Away!
10. Commutation In Ladakh

Image Source
This Ladakh travel guide will not be complete without mentioning how you can commute to Ladakh. You can reach Leh through a flight from Delhi. The Kushok Bakula Rimpochee Airport is the only passenger or commercial airport in Ladakh. Locally, you must hire a private travel agent's vehicle to commute and explore Ladakh attractions. There are no mountain rail services in the Ladakh region. There are no lifts too. All you have to depend on is on-road transportation only. Bike and car rentals are available from Leh. You can do self-driving and hire them with a driver too. Camel safari is available in some attractions of Ladakh. This is a vast mountain cold desert region. It is not advisable to commute through walking and hiking. You may get tired soon due to altitude sickness. Altogether, transportation costs will be high due to long-distance travel in Ladakh. It is advisable to come under any of the all-inclusive Ladakh tour packages. This will include your local transportation facility too.
Further Read: Leh Ladakh With Kid: A Journey We'll Cherish For A Lifetime
Ladakh is the best place to check out Tibetan culture in India. It's quite evident when you witness the Buddhist Monasteries present here. Apart from the cultural heritage, it is the land for mountain biking, national parks, trekking through scenic mountain passes and valleys and much more. A journey to Ladakh is like a road to heaven on the Himalayas and we hope these Ladakh travel tips help you when you undertake the journey and travel that road. You can find a varied mountain topography every 10 kilometers. So, plan your trip to Ladakh soon enough and have the time of your life.
Disclaimer: TravelTriangle claims no credit for images featured on our blog site unless otherwise noted. All visual content is copyrighted to its respectful owners. We try to link back to original sources whenever possible. If you own the rights to any of the images, and do not wish them to appear on TravelTriangle, please contact us and they will be promptly removed. We believe in providing proper attribution to the original author, artist or photographer.
Please Note: Any information published by TravelTriangle in any form of content is not intended to be a substitute for any kind of medical advice, and one must not take any action before consulting a professional medical expert of their own choice.
Frequently Asked Question About Ladakh Travel Tips
Is Ladakh safe for backpackers?
Yes, the Ladakh is the largest mountain desert region in India on the Himalayas. It is a safe place for backpackers to travel via tandem and Solo Mountain biking during the summer season.
What is the altitude of Ladakh?
Ladakh altitude ranges from 9,800-ft to 20,000-ft above the mean sea level. Ladakh comes under the high-altitude mountain ranges of the Himalayas in India.
Are there any terrorist threats in Ladakh?
No, Ladakh is a high-altitude tourist destination in north India. This place is free from any terror attacks.
Is Leh to Ladakh safe for mountain Bikers?
Yes, the Leh to Ladakh is a highway. It is in good condition for mountain bikers. There are many bike rental services providers in Leh. You can hire them and enjoy the vistas of the Majestic Himalayas.
Is Ladakh having the highest road in this world?
Yes, Ladakh is having the world's highest road. Its highest altitude range is 19,300-ft above the mean sea level. This is a motorable road in India. The Border Road Department of India maintains this road.
Is Ladakh having the highest plateau in India?
Yes, the Ladakh plateau is 9,800-ft above the mean sea level on the Himalayas. This high-altitude location of this place makes them the highest one in India. It is a tourist attraction too in Ladakh.
When to visit Ladakh to see snow?
The Ladakh region which is above 15,000-ft above the mean sea level has snow throughout the year. The snowfall happens during the winter season November to February. The mountain snow remains without smelting until the end of April.
Does Indus River flows through Ladakh?
Yes, you can see the Indus River flowing throughout the Ladakh region on your Ladakh journey via road and air travel.
---
Looking To Book A Holiday Package?
---
People Also Read: