Backpacking around the world? Well that sounds like a plan! However, indulging in a bit of luxury now and then doesn't hurt much. And had it not been for the needs and wants of the globetrotters who always travel on stringent budgets, the idea and concept of affordable luxury would not have existed today.
So if you're saying you're a budget traveler who'd love to save more on time & money, and indulge in some luxuries as well (unless you're lying), make a note of these 20 tips and hacks that'll let you experience luxury travel on budget without any hassles or change of plans.
Grab a pen and a paper before you start scrolling!
20 Tips For Enjoying Luxury Travel On Budget
Research & Planning
1. Research Well

Suggested Read: 10 Family Travel Tips For A Hassle Free Vacation With Your Loved Ones
A systematic, and a thorough research is the key to a successful travel plan. Be it booking the tickets or browsing through the accommodation options for a comfortable stay, searching through multiple sources offline and online (mostly) makes it easier, convenient, and feasible for the traveler to compare and get better deals. Hence, make sure your research is in place before you move ahead with planning the trip.
2. Planning Is The Key

Planning can be done for many types of trips. There are some trips which your parents plan for you, then there are DIY trips, and further, there are impromptu trips which requires no planning. However, most of the times, majority of the trips require a full-proof plan to avoid hassles and hiccups while one in on the holiday.
While most of you might possess excellent planning skills, it is always better to entrust the responsibility of planning a holiday to the experts. Having said that, some of the best and leading online portals now offer exciting all-inclusive packages along with the option to customize one's trip as per the needs and their respective budget. Now what else does one need on a hassle-free vacation?
Choice Of Destination
3. Choose Offbeat Destinations

To make the most of luxury travel on budget, try to explore the lesser known places wherein you can splurge instead of saving. Such destinations not only offer all the peace and quiet that one requires on a vacation, but also turn out to be cheaper when compared to the famous destinations that burn a hole in your pockets.
4. Opt For Offbeat Places That Are Well-Connected To Major Cities

While you can cut down on major expenses like accommodation, local transfers, sightseeing, and miscellaneous expenses at an offbeat destination, make sure the hidden gems are well connected to any of the major cities that make commuting easier in order to save time. Better the connectivity, more will be your savings in terms of time and effort.
5. Travel In The Off Season

Suggested Read: 10 Tips On Beach Vacations You Must Embrace For Flawlessness
This is entirely based on money and financial terms. From hotels to food, and from sightseeing to getting around, traveling in the off-season is one of the most crucial factors of luxury travel on budget. Not only does it save on time and expenses, but also cuts down on the crowd that usually feels suffocating during peak seasons. Also, this is the best time to grab some of the best deals, discounts, and offers.
Manage Your Money Well
6. Pick A Country Where Your Local Currency Has More Value

It is always an advantage to travel to a destination wherein the value of Indian currency is higher provided, you manage your expenses well too. Picking a country that offers higher exchange rate for your local currency only proves to be beneficial when you spend carefully rather than splurging impulsively.
7. Compare Prices

One of the best advantages of booking a trip online is that the travelers can compare anything and everything. However, comparing prices on different sources is a thumb rule that should be practiced by all who're looking forward to luxury travel on budget. It not only is a money-saving hack but also helps in discovering great offers online.
8. Look For Deals

Be it any season, any occasion, any festival, or any cultural event, travelers can always find the best of deals, discounts, offers, and promotions online. While these deals make your travel more cheaper, they also tend to cut down on more expenses on the already stringent budget. Moreover, owing to the advanced technology that has made planning a trip so much easier, one can also make use of the digital money to travel and save on hard cash.
9. Book In Advance

Sooner the better is the case when it comes to online booking. One of the best ways to enjoy luxury travel on budget is to save money on flights, and accommodation, and this is one area where travelers can save the most. For example, there is a vast difference when you book flights and hotels 45 to 60 days prior to date of journey. Also, booking on weekdays has proven to be much more cheaper​ than booking on weekends.
10. Do Not Exchange Money At The Airport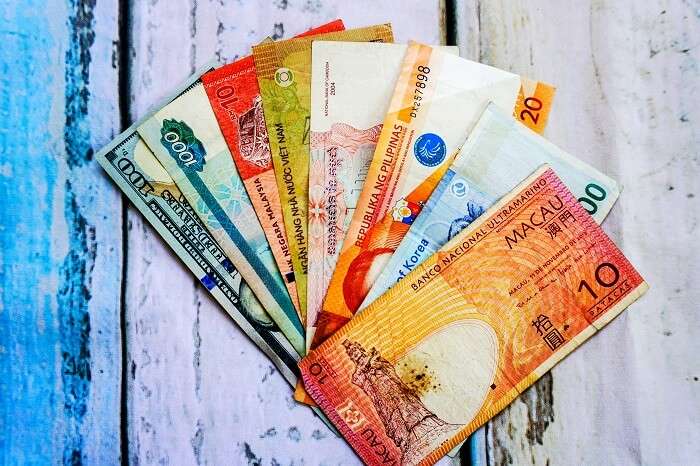 If you have a journey planned anytime soon, then never make the mistake of exchanging currency at the airport. One of the main reasons of why you should not exchange foreign currency at the airport is because it is the worst place to do so, and that too at higher rates. Airports kiosks and stalls always take advantage of the travelers' situation wherein the airport serves as their last resort and the travelers don't have much of a choice. Hence, don't try this at all.
Choice Of Accommodation & Food
11. Prefer Direct Booking For Accommodation

Suggested Read: Safety Tips For Female Solo Travelers: Planning Well & Staying Alert Is The Mantra
Most of the travelers prefer booking for accommodation directly from the hotel as this eliminates the addition of commission that various portals charge for listing the property on their website. While you cut down on the commission on traveler's as well as on the property's part, you also end up saving more on taxes while booking directly from a hotel, resort, or any accommodation option of your choice.
12. Choose The Best Room Of A Budget Hotel

One more way of enjoying luxury travel on budget is to find the best room in a cheap hotel. While the price is still going to be under your budget as per your calculations, then why not choose the most superior room of a budget hotel, and enjoy a luxury stay without burning a hole in your pockets or the travel plan. Interesting much?
13. Exchange Homes

---
Planning your holiday but confused about where to go? These travel stories help you find your best trip ever!
Real travel stories. Real stays. Handy tips to help you make the right choice.
---
Relatively a new concept but a lot of travelers follow the practice of exchanging homes on their international travel to save on a huge chunk of money. While you get to stay in an international destination for free just by swapping homes, all you have to do is find a traveler who is willing to travel on the same dates as you are, just like Cameron Diaz and Kate Winslet exchange their homes in the movie, the Holiday!
14. Why Buy It When You Can Rent It?

Be it bed and breakfasts, the hotel, hostels, holiday apartments, bikes, scooters, cars, or even bicycles, why invest more money in buying those assets when you can very well rent them, use them till the time you're on a vacation and return it to the owner or the agent when your purpose is done. As often seen in the case of Airbnbs, people end up getting a much better deal while on rent rather than buying it irrespective of the duration of their travel.
15. Try Only The Specialty

Suggested Read: 10 Packing & Luggage Hacks For The Smart Traveler
Call yourself a foodie to the core? Then this tip is for you. To be able to make the most of multiple cuisines, relishing the food at various restaurants, and to maximize treating your taste buds, make sure you try only the specialty of one particular restaurant. While most of the dishes are same in all the restaurants of a destination, trying only the specialty gives room to try more cuisines and at various eateries.
Basics 101
16. Make A List And Check It Twice

Well this is one of the basic rule of thumb for every keen and ardent traveler. Making a checklist doesn't hurt much and as a result, it only helps in planning a better trip without missing out on anything be it minor or major. Hence, be assured to make a list right from the beginning and double-check the list to strike off everything before you step out of that door.
17. Take Advice From The Famous Travel Bloggers

Expert advice has always been helpful and it is always a good move to consult and take a opinion from the famous travel bloggers who've been there and done that. First-hand experiences of the traveler are any day better than heading to a place and not having an idea about what's gonna be in store for you!
18. Book An All-inclusive Package

Image Source
Why take unnecessary load when you can get an all-inclusive tour package that too customized as per your opinion. Few of the leading online portals personalize your whole trip and include everything that ranges from transfers to hotels, and from meals to sightseeing. All you have to do is put in your request, and you'll soon be on your way to an amazing vacation!
19. Gear Up To Take Off!

Suggested Read: Travel Etiquettes Around The World That Everyone Needs To Follow – With Examples!
Having planned so much for enjoying your luxury travel on budget, do not miss out on keeping a check on your health and resting well before you take off. Also make sure you have all the documents in place like your passport, visa, travel insurance, international driving license, and so on. So make sure you do first things first.
20. Follow Your Heart

Well who needs an explanation for that? Just do what you love, and love what you do. (Couldn't resist a cliché)
So, now that you've got enough tips and hacks to enjoy luxury travel on budget, where do you plan to go next? Let us know in the comments below.
---
Looking To Book A Holiday Package?
Book memorable holidays on TravelTriangle with 650+ verified travel agents for 65+ domestic and international destinations.
---