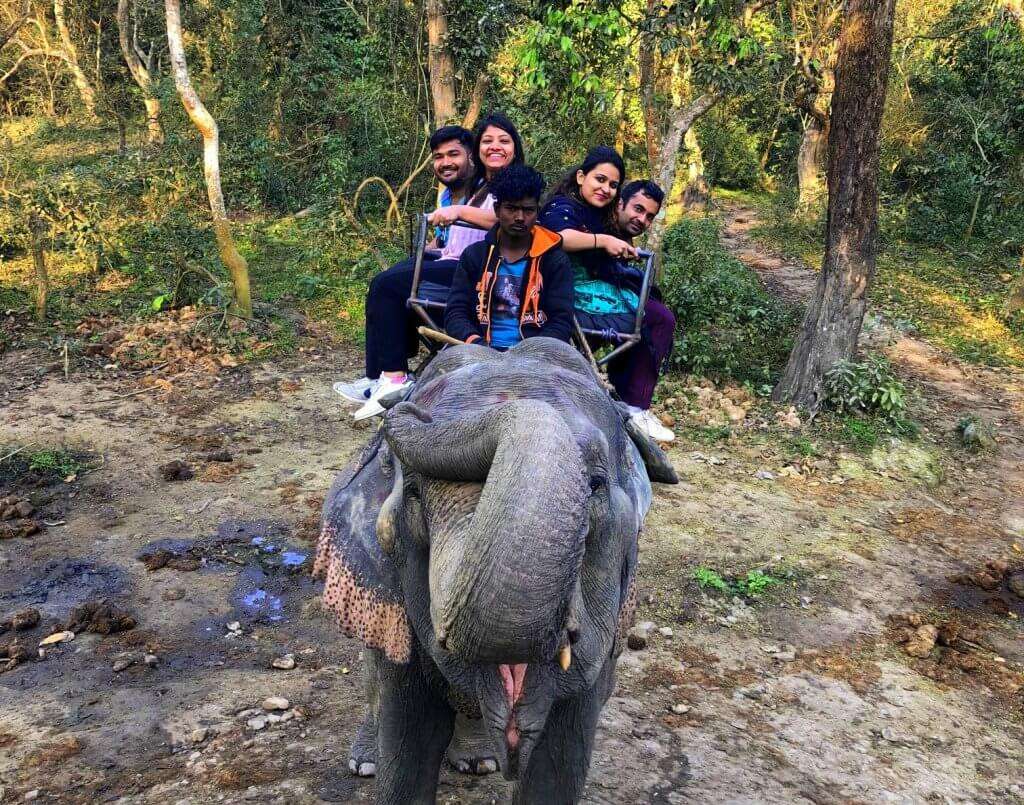 Traveling has always been an integral part of Ketan's life, who prefers to explore the unexplored, pristine places in the world. A banker by profession, Ketan's wanderer spirit has taken him to many offbeat locations in life, and this time, it landed him in the untouched paradise of Assam and Meghalaya. Tranquility, beauty, calm, and the purest form of nature – find below an account of what all he discovered in this piece of paradise!
Trip Type: A romantic escapade to the North East!
Trip Duration: 7 Nights 8 Days
Trip Cost: INR 57,100/-
Agent Name: Reify
Inclusions: Breakfast, Accommodation, Nameri Jungle Trek
Exclusions: Transfers, Entry Tickets
To me, travel means disconnecting from routine life and exploring the undiscovered parts of India. It means traveling with a reason to explore places which are not talked about often. Despite being a banker and having a hectic work schedule, I always ensure I travel more than twice every year to some or the other remote corner of this beautiful country.
This time, I wanted to explore the North East owing to its rich natural beauty and the fact that it hasn't yet become a commercial tourist-choked destination. My online research brought me to Nameri, Kaziranga, Shillong, and Cherrapunji.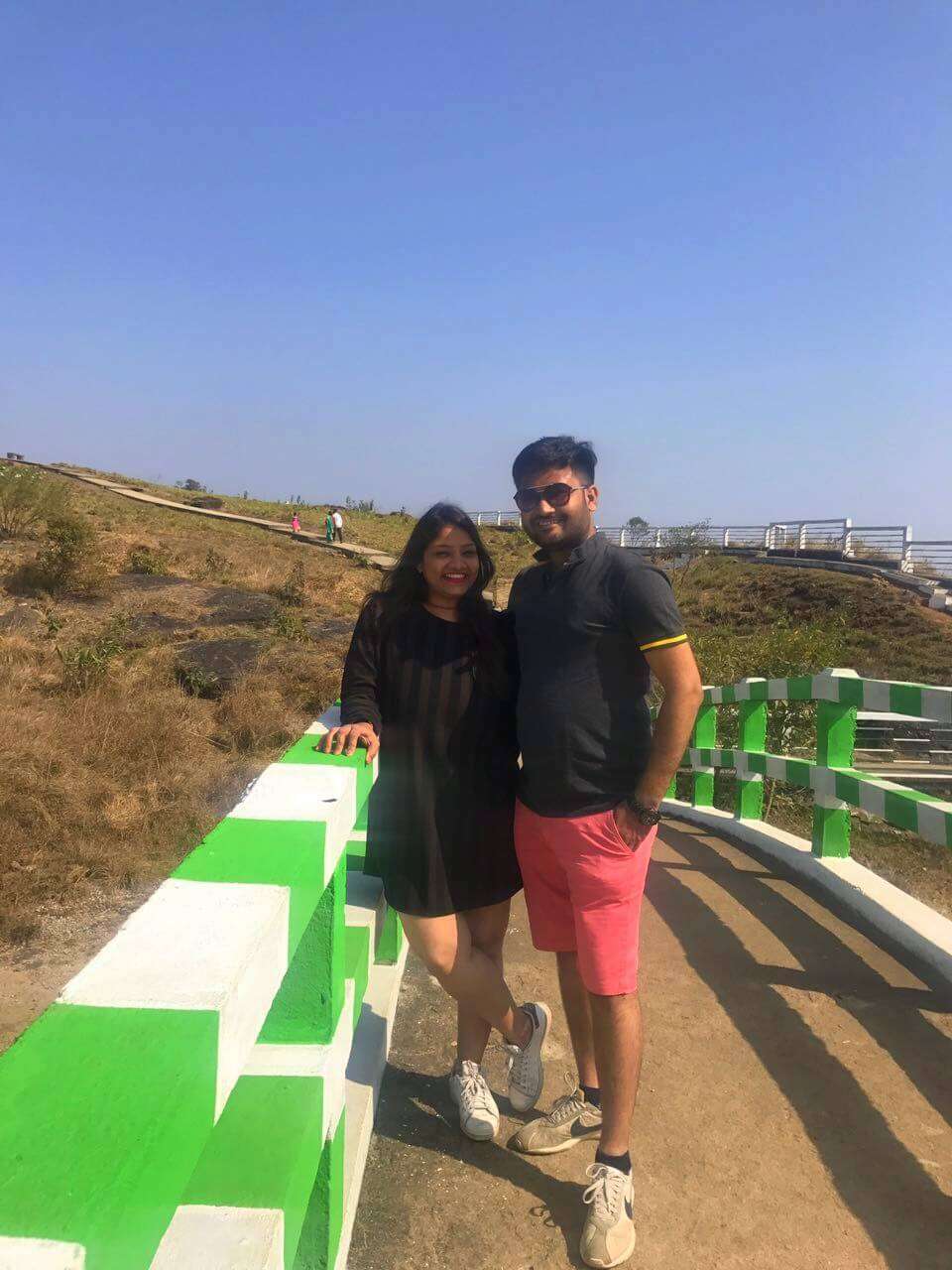 But there was a problem staring us in our faces – we had merely 8 days at hand and no idea how we could cover all these places in such a less time. That was when TravelTriangle came to our rescue! When we came across the TT website, we decided to give it a go. Their agents responded within a few hours itself, and out of all of them Reify seemed to provide exactly what we sought.
Reify cooked us up a brilliant itinerary fitting in all these destinations and allowing enough leisure time for us to relax, all within our budget. They kept all the hefty adventure activities in the first few days of our trip, and reserved the last few ones only for leisure activities and relaxation.
After a smooth and swift planning and booking process, we were on our way to the pristine terrains of Assam and Meghalaya!
Assam And Meghalaya: The Journey That Gave Us Countless Memories
Here's a day-wise encounter of our 8 days trip to Assam and Meghalaya:
DAY 1 | Nameri: A scenic drive to Nameri and night of music, wine, and bonfire
We landed at Guwahati airport at around 10 AM and left straight for Nameri. We reached Nameri within 5 hours and checked into our resort – Jia Bhorali Wild. The hotel is located near the Jia Bharali river and is the last resort in this location. At night we requested the hotel manager to arrange for the complimentary bonfire, but the request was turned down due to some issues.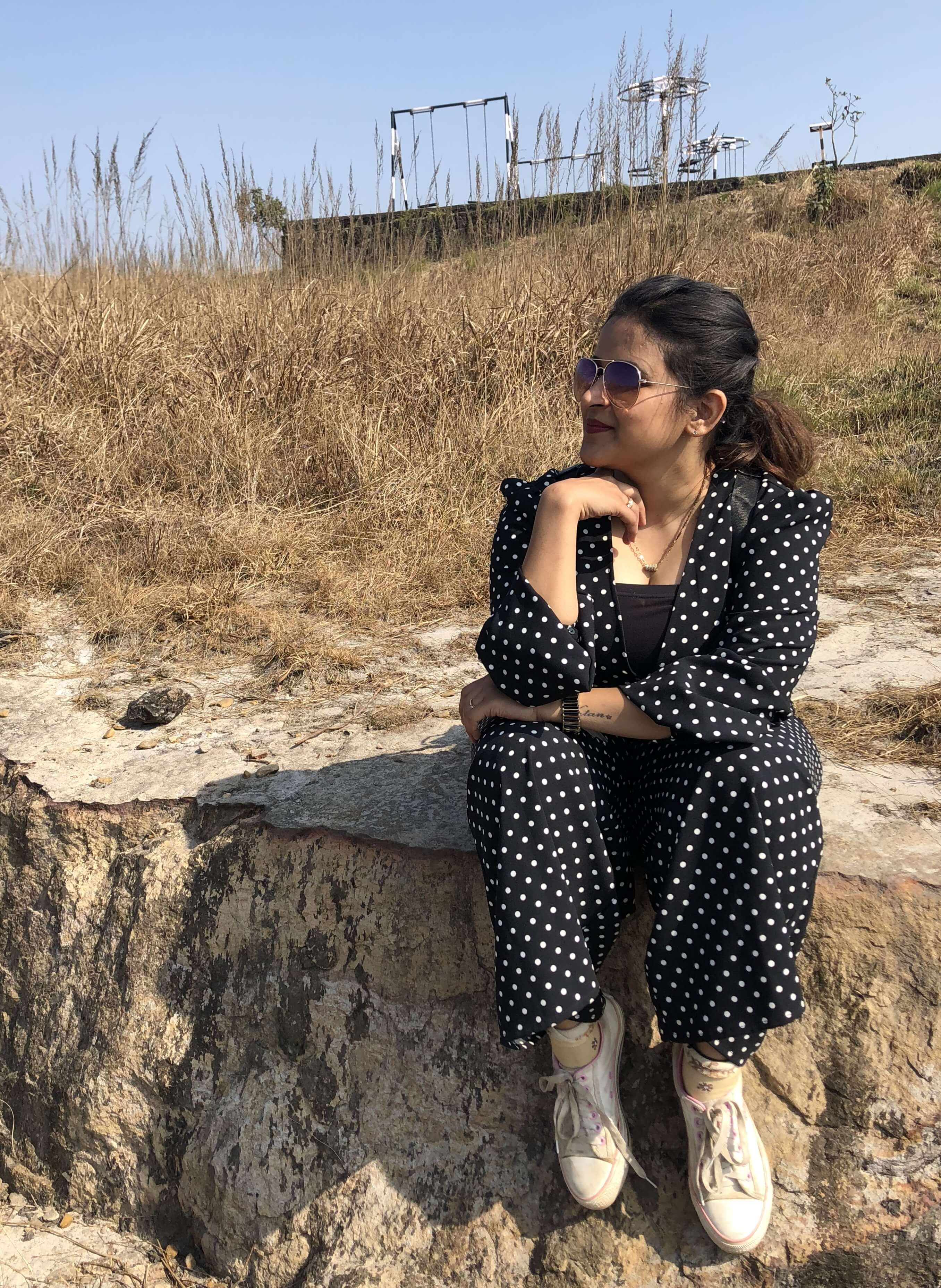 So we simply headed to the Eco Park nearby which turned out to be an exquisite place for a bonfire night. There was guitar playing, dancing, wine, and laughter – just what we needed to make the night a special one!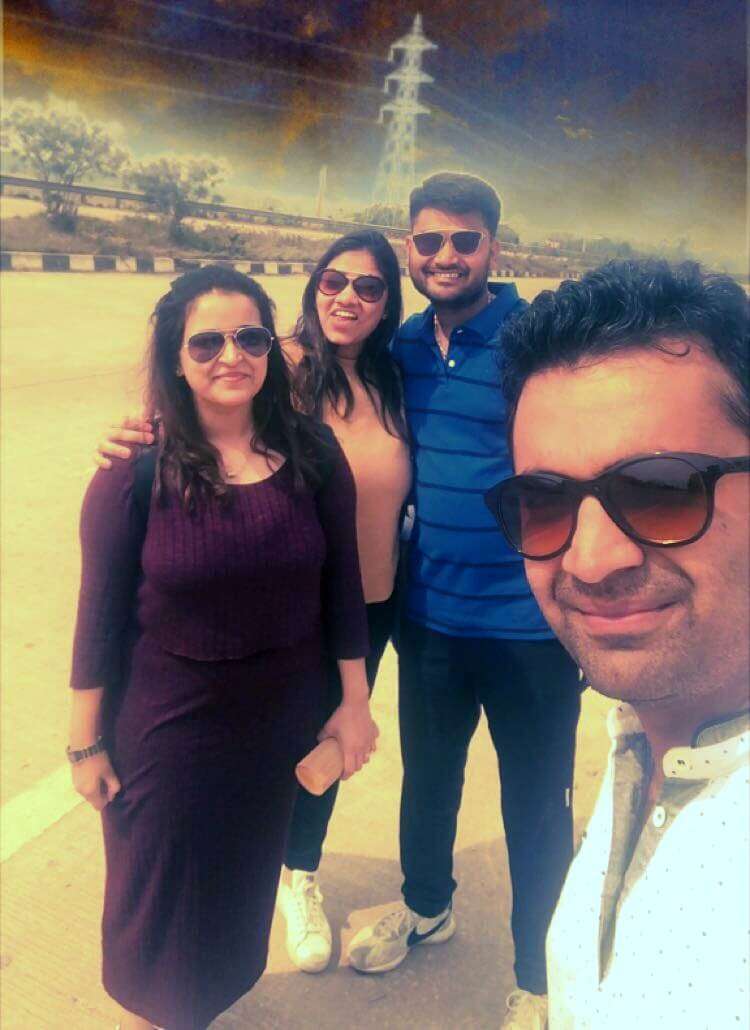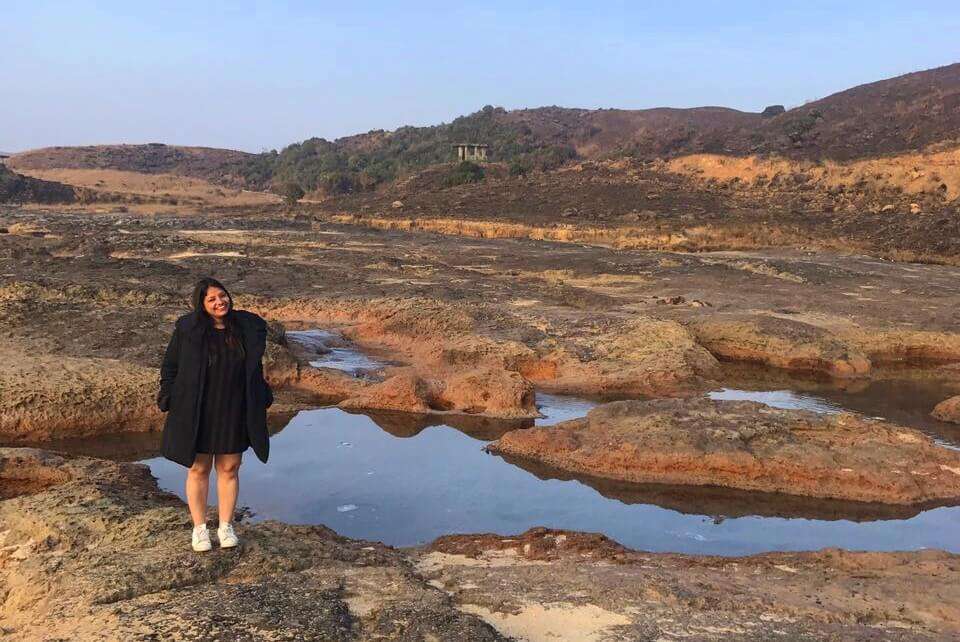 After a not-so-good dinner and overnight stay back at our hotel – Jia Bhorali – we went to our room and retired for the night.
---
Sikkim-Gangtok-Darjeeling Holiday Packages On TravelTriangle
Visit Sikkim and explore Yumthang valley, Tsomgo Lake, Gangtok, Nathula Pass, and Pelling. Experience peace and tranquility while exploring Buddhist monasteries, snow-capped mountains, and wildlife sanctuaries. Book packages inclusive of airport transfers, cab, resort, sightseeing, and meals.
---
DAY 2 | Nameri: Tasting ecstasy with jungle trekking and river rafting
Sharp at 6 AM, we began the first activity of our trip to Assam and Meghalaya – Jungle Trekking. The 16 km stretch of the mighty forest was totally worth the effort of rising early. Though we couldn't spot any tigers, the peace, tranquility, and greenery made up for it. We noticed that this side of the world has zero pollution levels and this made us yearn we could stay there forever!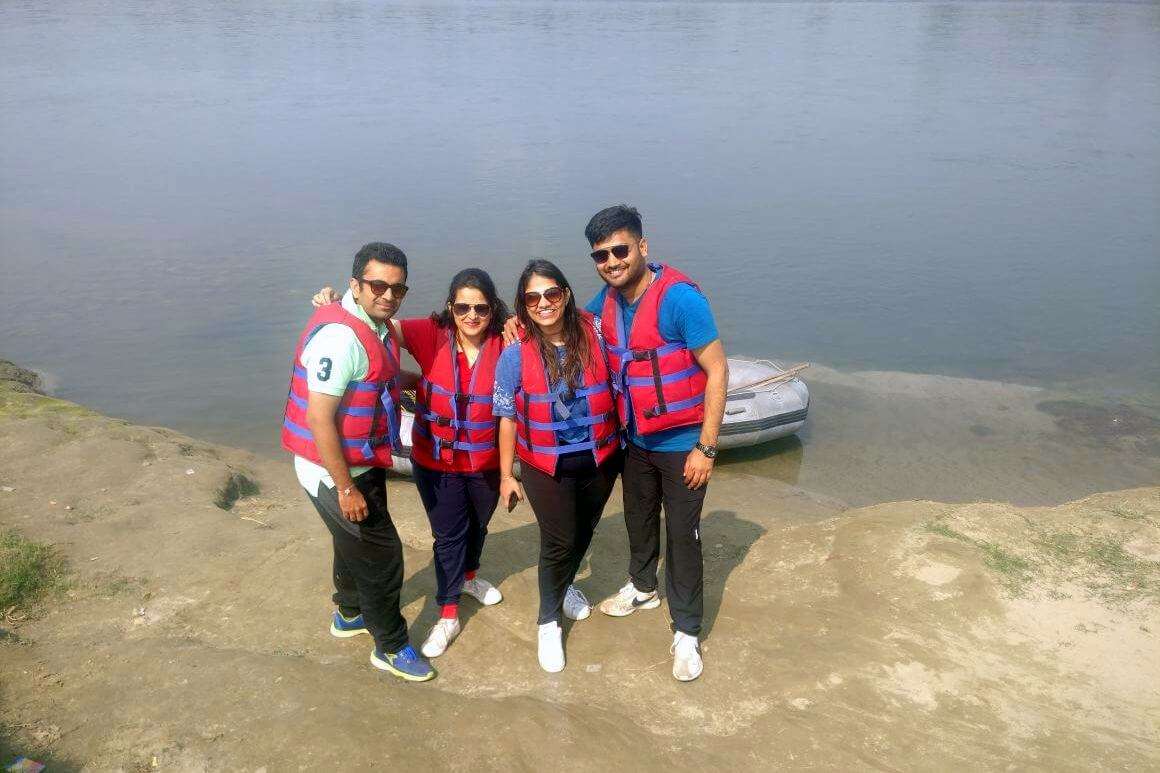 After the trek, we went to Eco Park again to enjoy a delicious, customised breakfast. Later, we proceeded for the Jia Bhoroli River Rafting expedition (25 km) from Eco Park itself. The rafting experience commenced at 12 noon and lasted for 2 hours. I don't remember ever sailing amid pure nature's bounty for this long a time. It was rather a boating experience where we would tumble down those steep stretches of white water every now and then, laughing with thrill and excitement. We enjoyed every single moment of it – the views, the adrenaline rush, the complete cut-off from the rest of the world, and the crystal clear river surrounding us!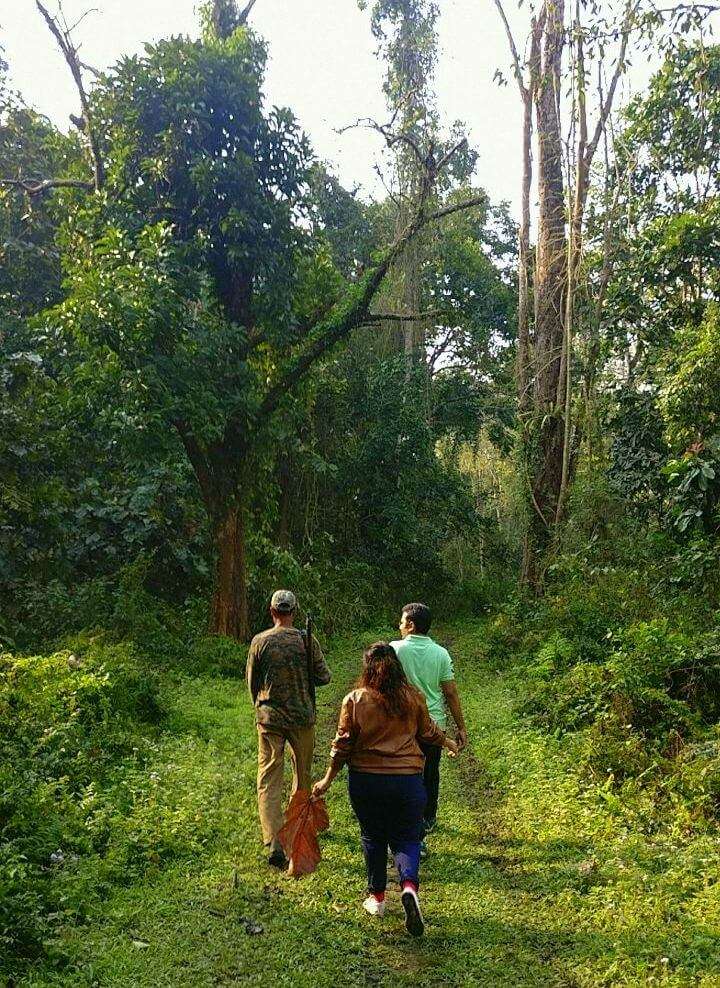 On A Solo Trip To Sikkim, Krishna's Lens Captured The True Beauty Of The Himalayas
Post having dinner at Eco Park, we enjoyed yet another night of bonfire and played cards with all the wonderful people from places like Kolkata, Guwahati, and Gujarat that we had met here.
DAY 3 | Kaziranga: Riding jeeps through the jungle and trying the traditional Assamese folk dance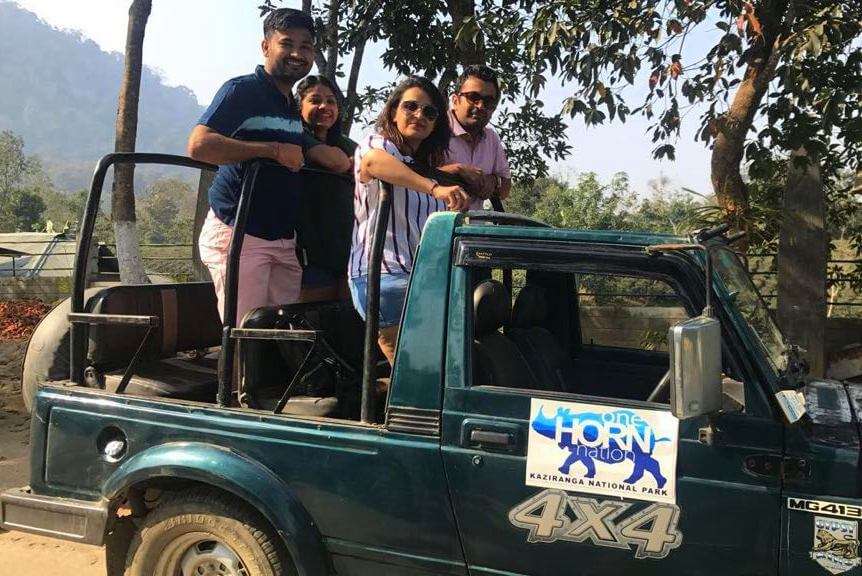 We started as early as 6:30 AM in the morning for Kaziranga since we wanted to make it in time for jeep safari and elephant ride. We reached the Kaziranga hotel at 9 AM – the Green Village resort – and received the warmest greeting by Mr. Abhijeet. We immediately left for Jeep Safari which again turned out be an utterly adventurous experience at Kaziranga National Park. The safari lasted for about 2:30 hours. We couldn't spot any of the one-horned rhinoceros on this day, but we were sure we would be able to spot one during our elephant ride the next day.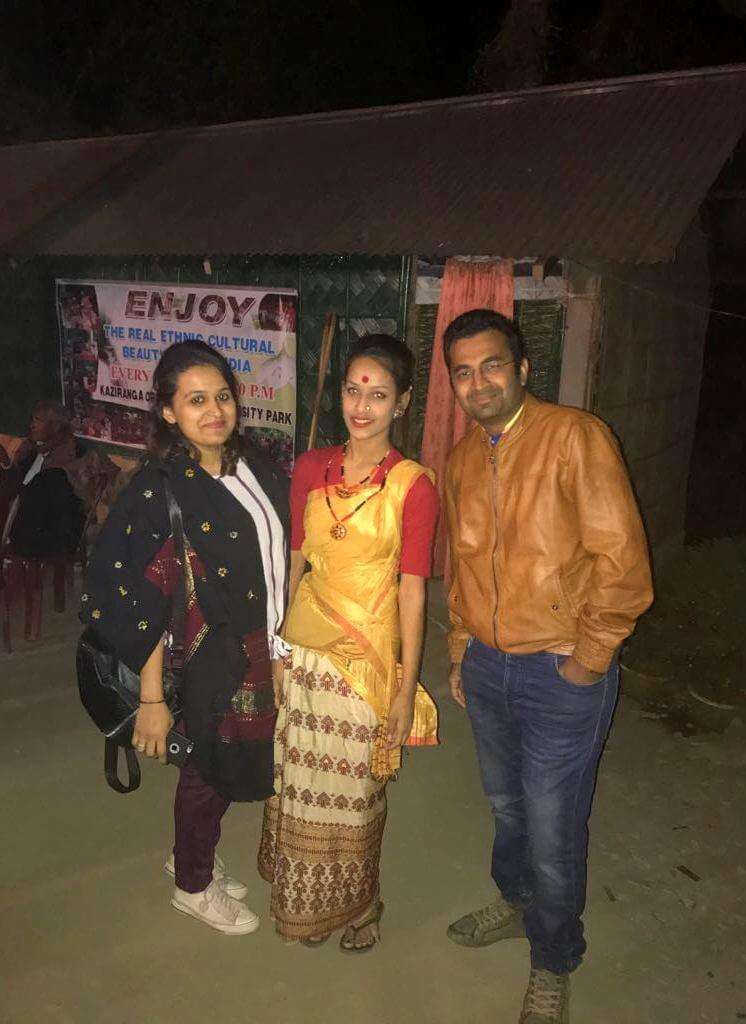 Post the safari, we returned to the hotel and took some rest in our room, which happened to have a very welcoming ambience. In the evening, we decided to go to the Orchid Park which is a recently developed area to care for and showcase an innumerable range of flora and fauna. The entry charges for the same are INR 200/- per person, and it was worth every penny!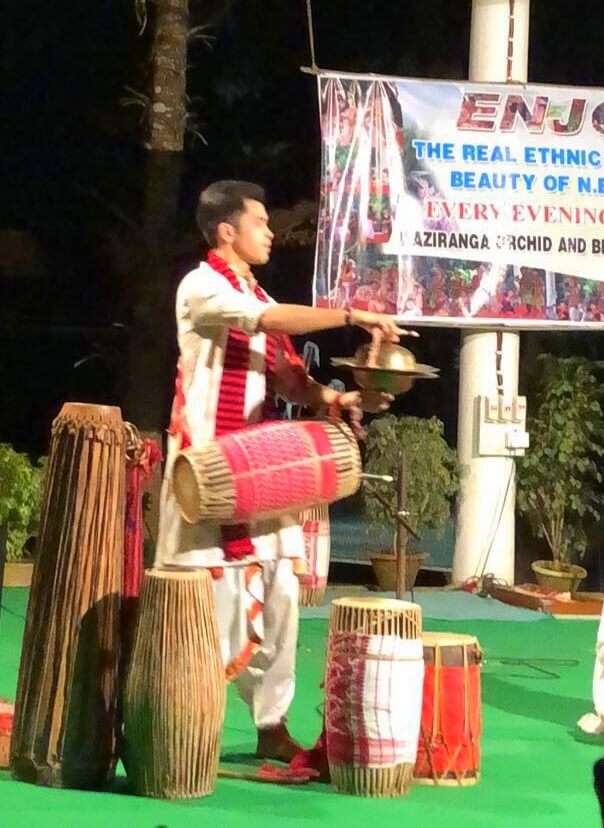 An Epic Adventure Trip To Meghalaya With Friends
We stayed there throughout the evening to witness the Assamese cultural dance, which turned out to be a rather vivid and engaging show, so much so that my wife readily joined the dancers in the end and had a gala time! I couldn't help notice that the dance was extremely energetic and probably more difficult to pull off than the average Gujarati Garba. It's a must attend for all as it provides a deep insight into the vibrant Assam culture.
DAY 4 | Elephant ride at Kaziranga and shopping in Shillong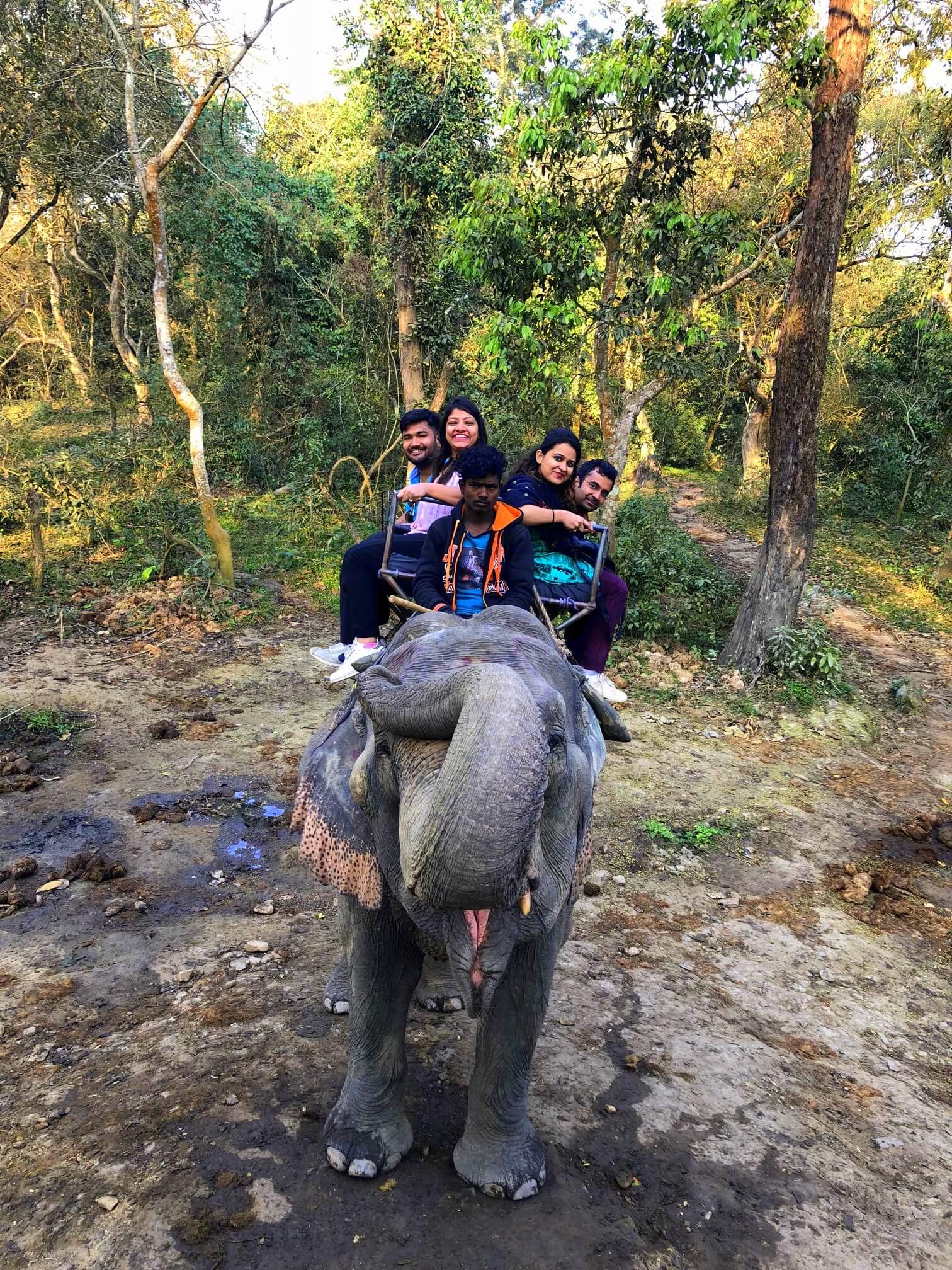 We left for the elephant ride at 5:30 AM in the morning and reached the location at 6:15. This day's elephant ride had been arranged by our hotel staff and they had done a commendable job at that. The ride commenced at 7 AM and we finally got the chance to spot a one-horned rhinoceros as well as a hog deer.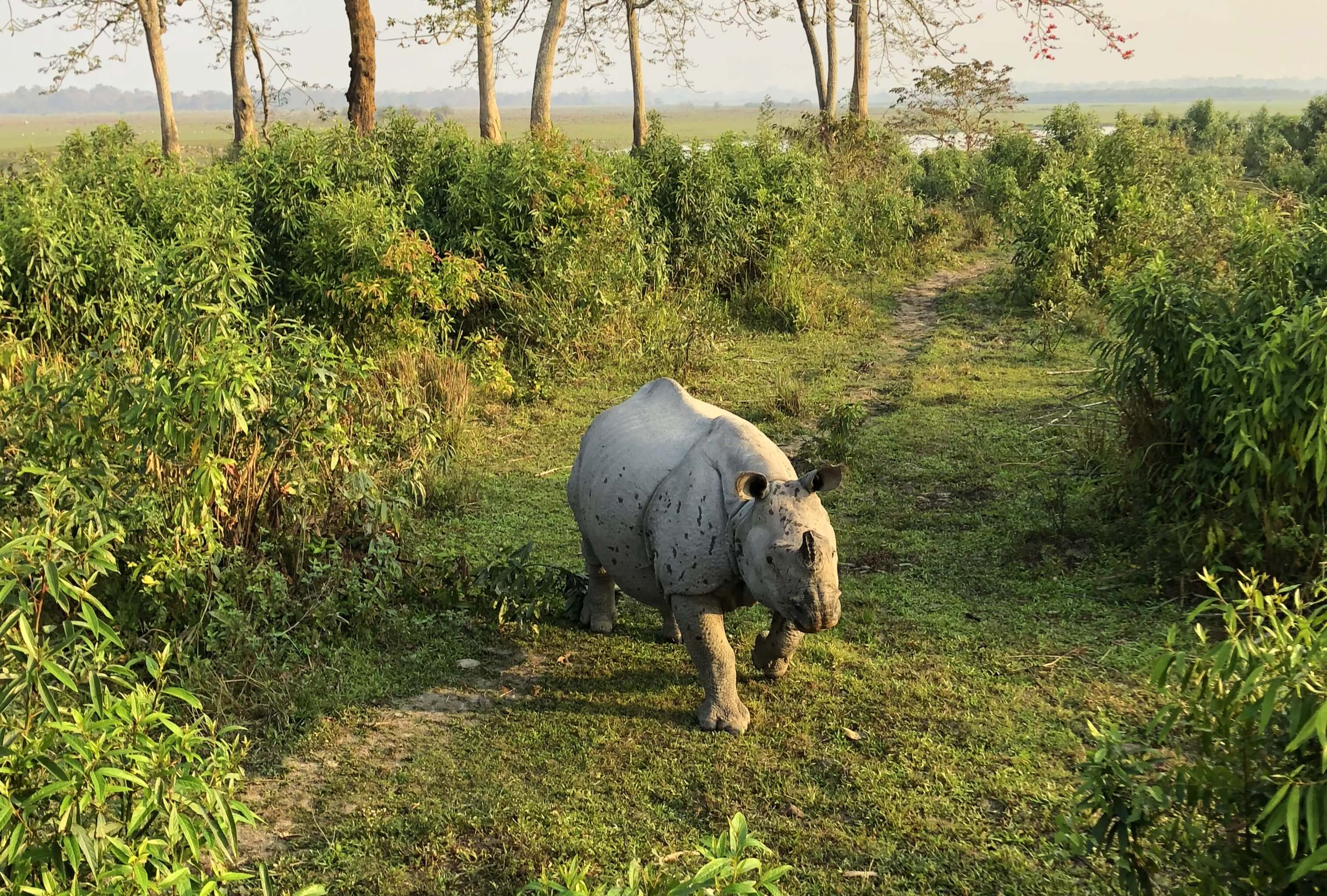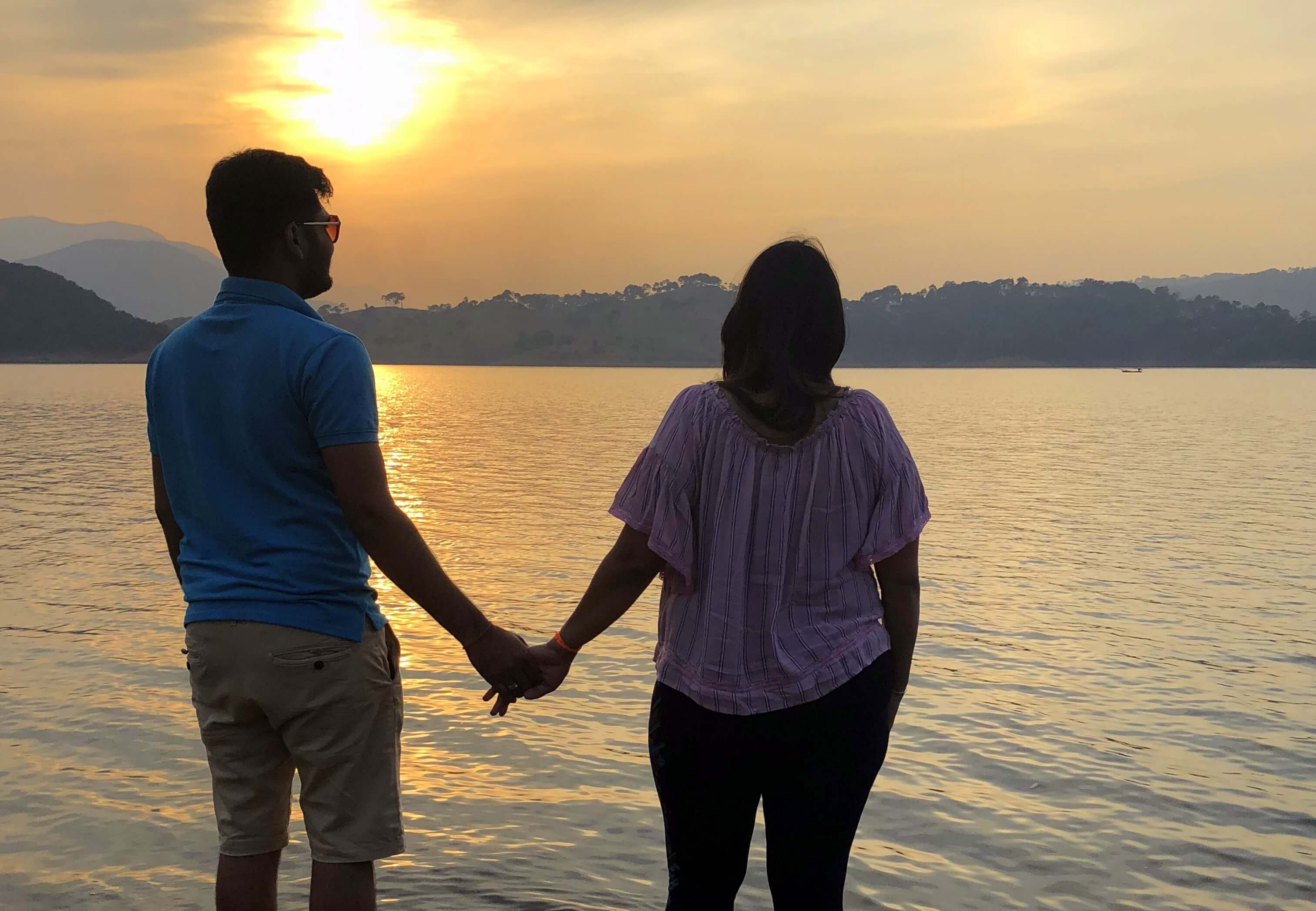 Later, we had our breakfast at the resort itself, and the food was simply delicious. We left for Shillong at around 11:30 AM. We took a halt midway at the Umiam Lake, an artificial lake created due to the dam around Umiam river, acting as Shillong's water supply. Here, we did boating and got our pictures clicked in the traditional Assamese attire.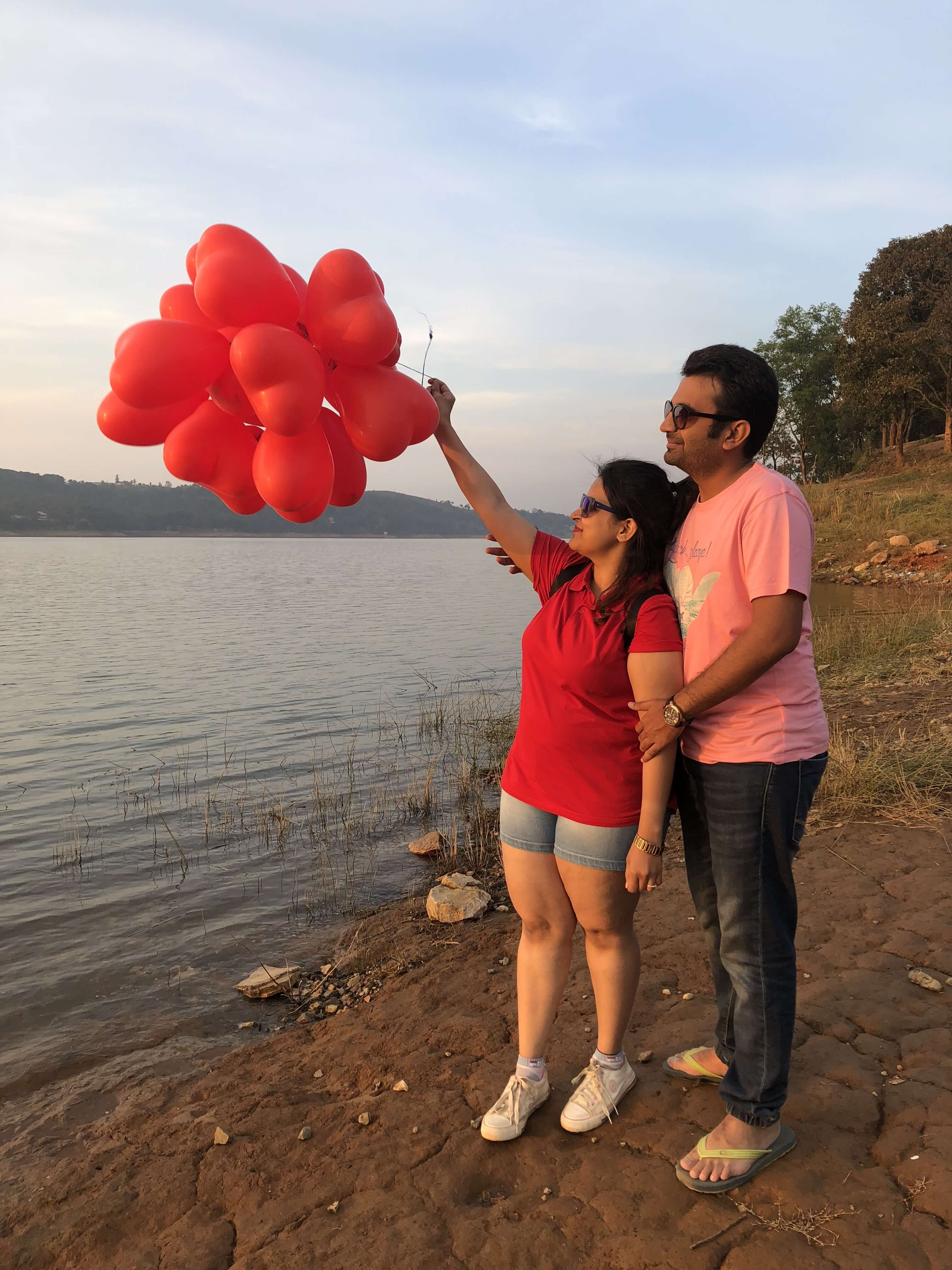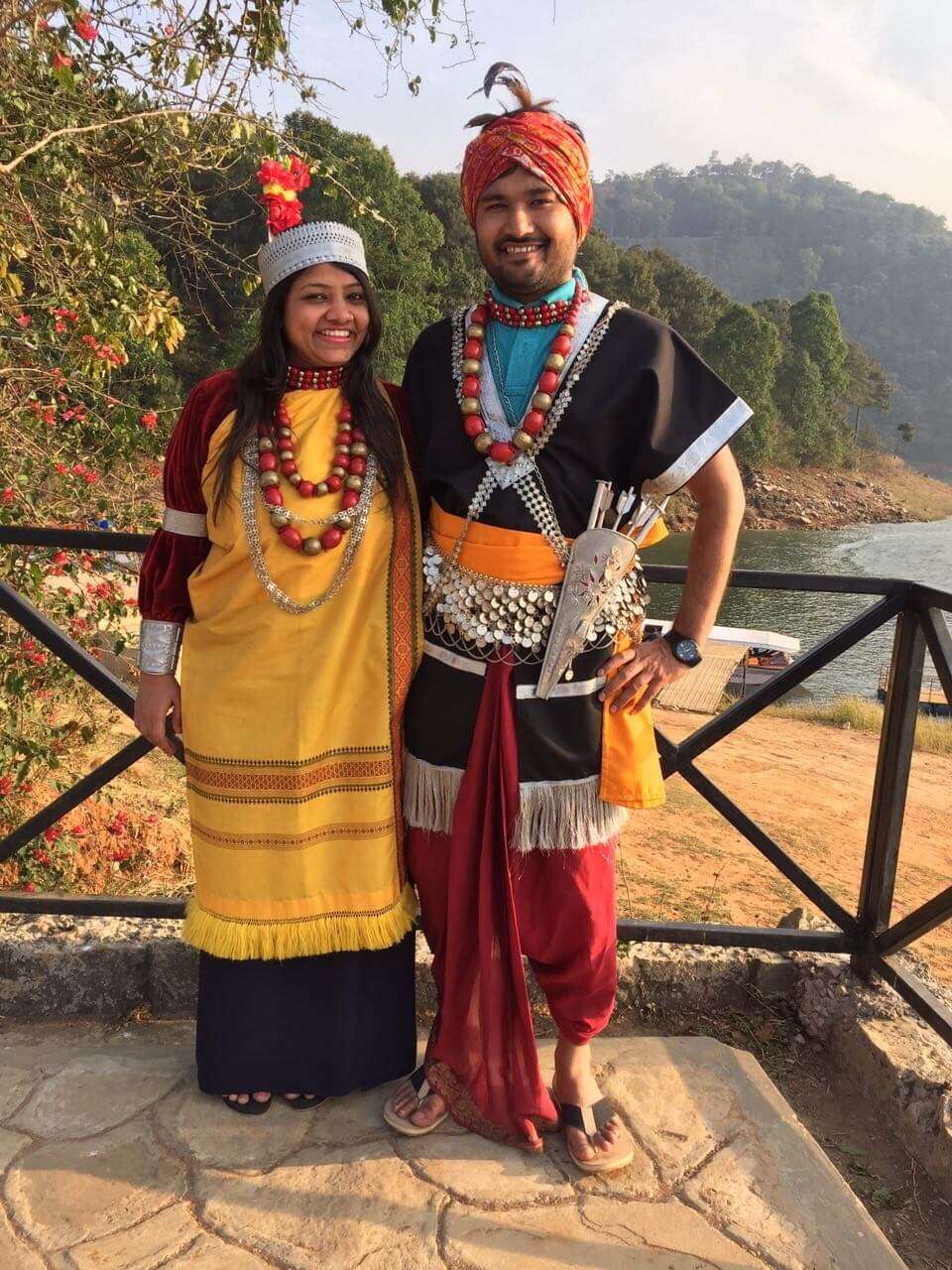 Discovering Unseen Places On A Family Trip To Meghalaya
Once we had reached Shillong, we checked into the Majestic Monsoon hotel and took some rest in our room, before venturing out to explore the local market of this crowded city. We bought ourselves some nice winter wear like jackets and shawls.
DAY 5 | Shillong: Touring the charming attractions of this beautiful city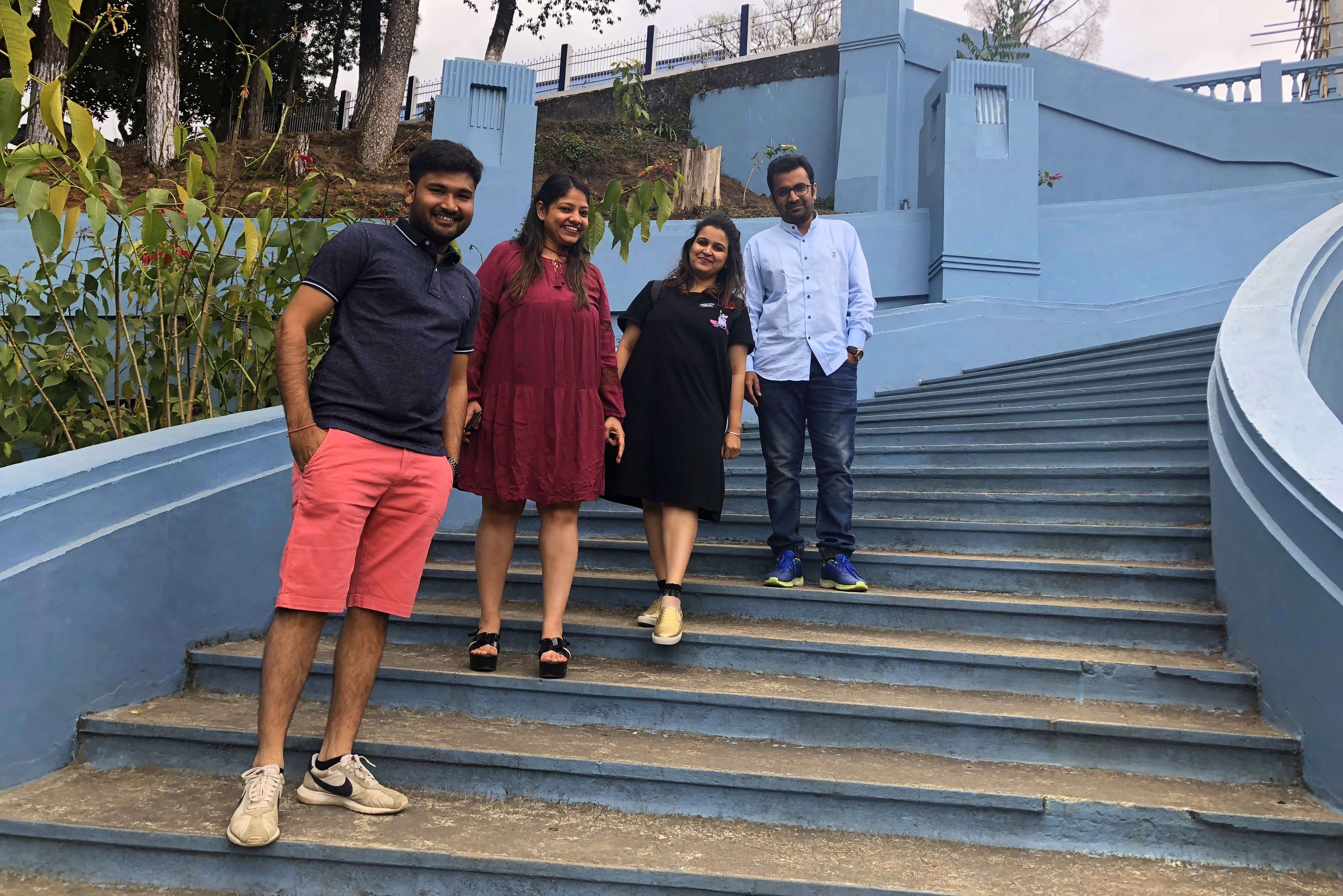 We started at around 10 AM in the morning. The best part of Shillong was that it was cold and pleasant even during noon time. First, we visited the Lady Hydra Park – a typical park with few caged animals, before proceeding for the Don Bosco Museum – a must visit attraction giving visitors an in depth knowledge of the entire North East India in terms of culture, resources, history, etc. The amazing thing about the museum was that we could see the entire city from its top floor, and it looked completely mesmerizing!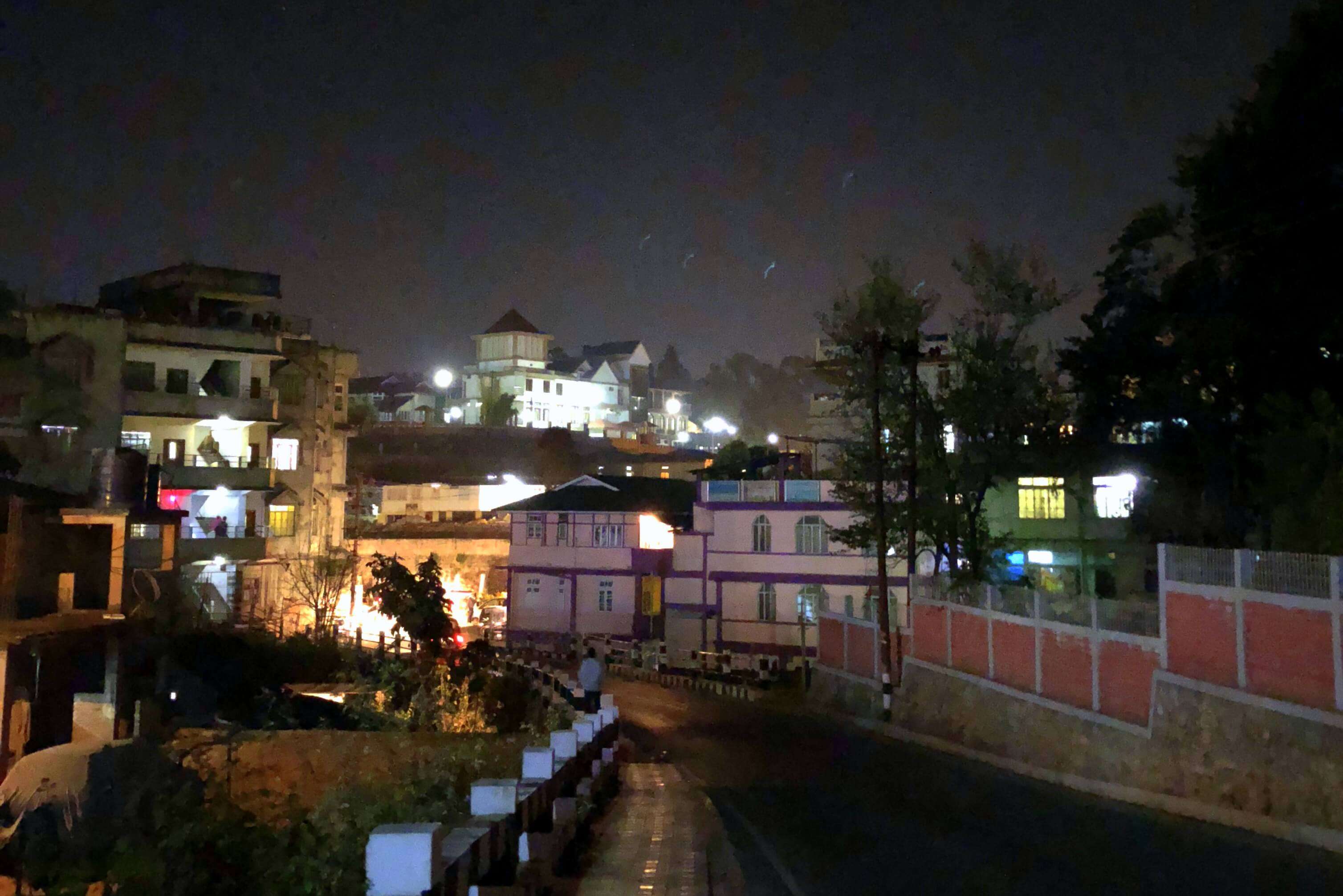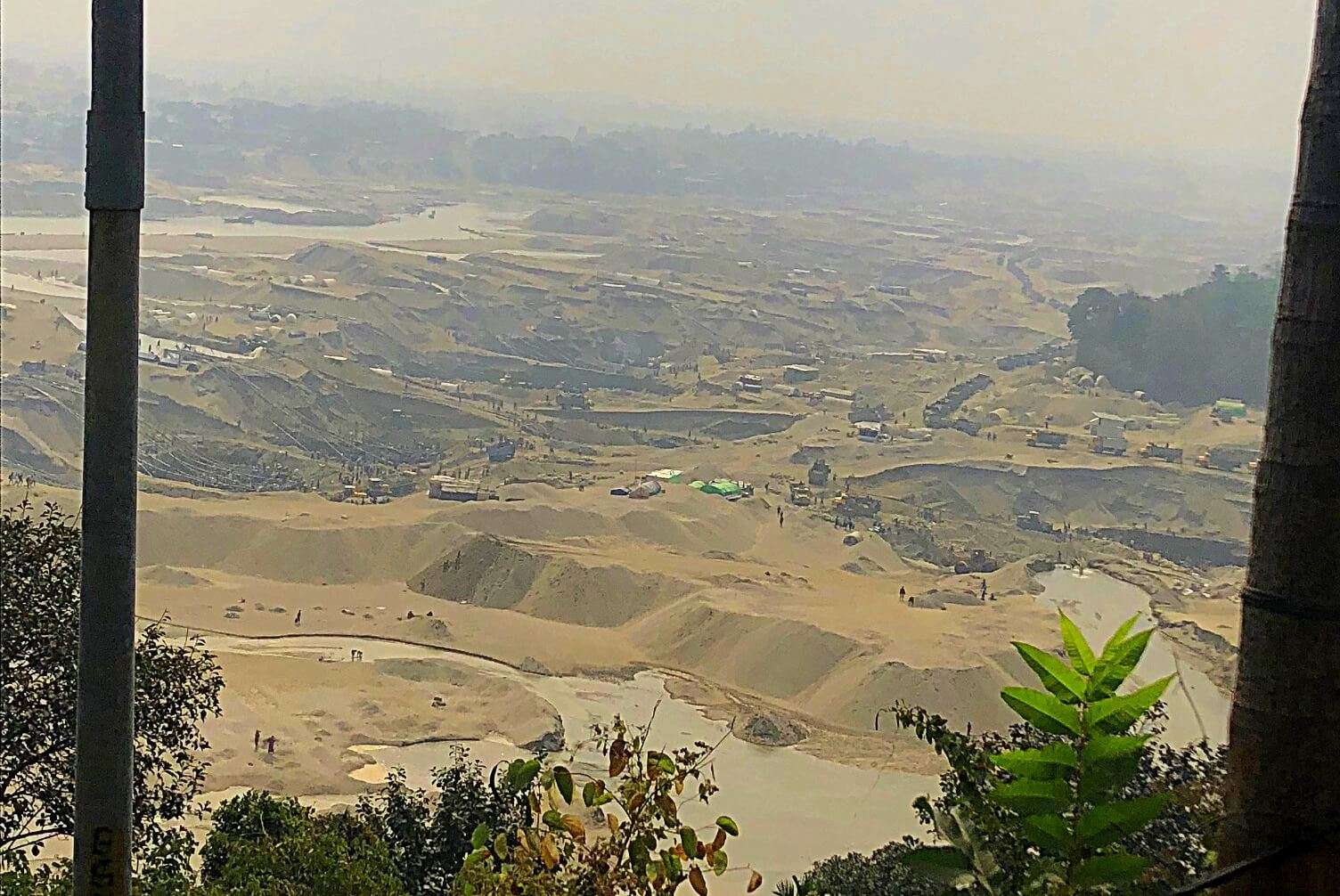 Best Things To Do On A Family Trip To Sikkim And Darjeeling
Later, we went to the Ward's Lake where we did boating while it rained and it was a
wonderfully romantic experience. We also visited a beautiful church on our way back to the hotel.
DAY 6 | Cherrapunji: Walking over the living root bridge and enjoying a bonfire night with whiskey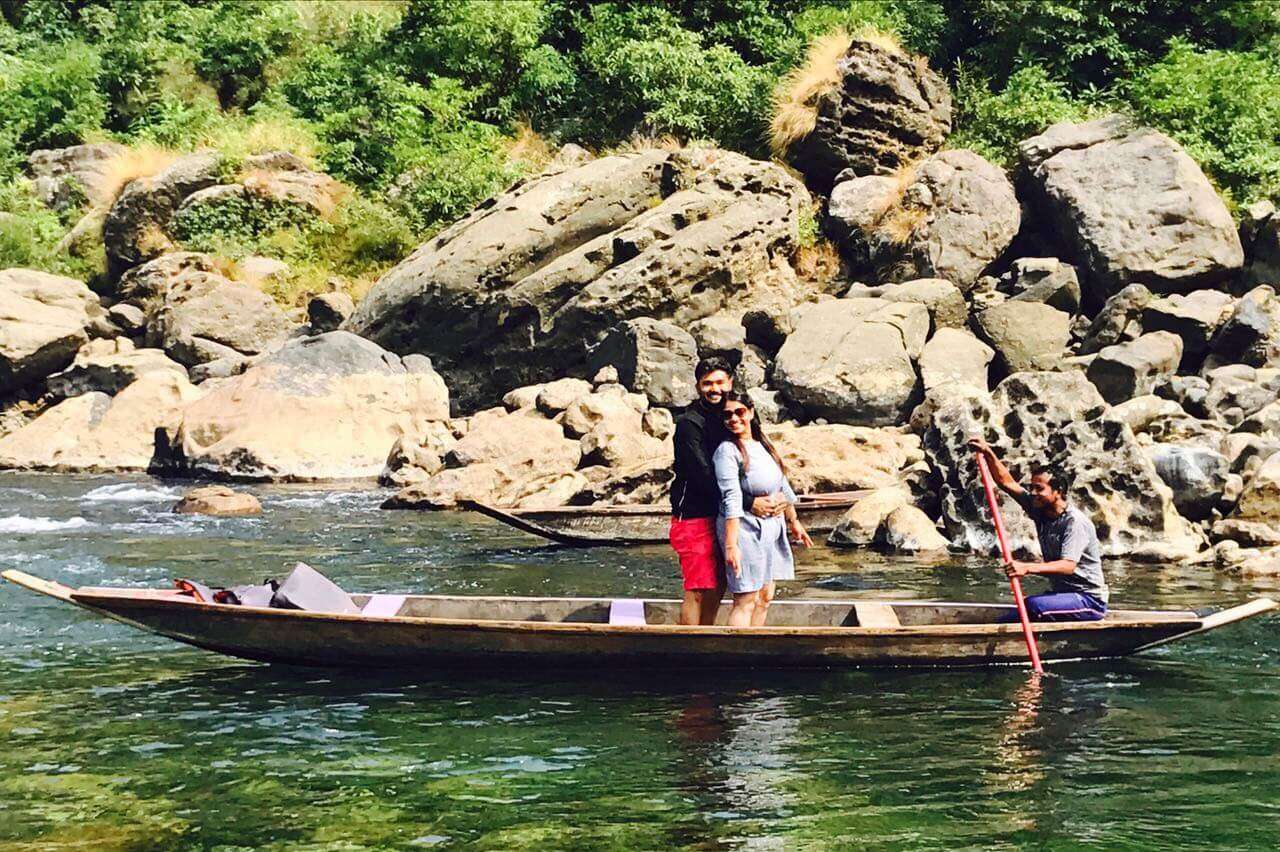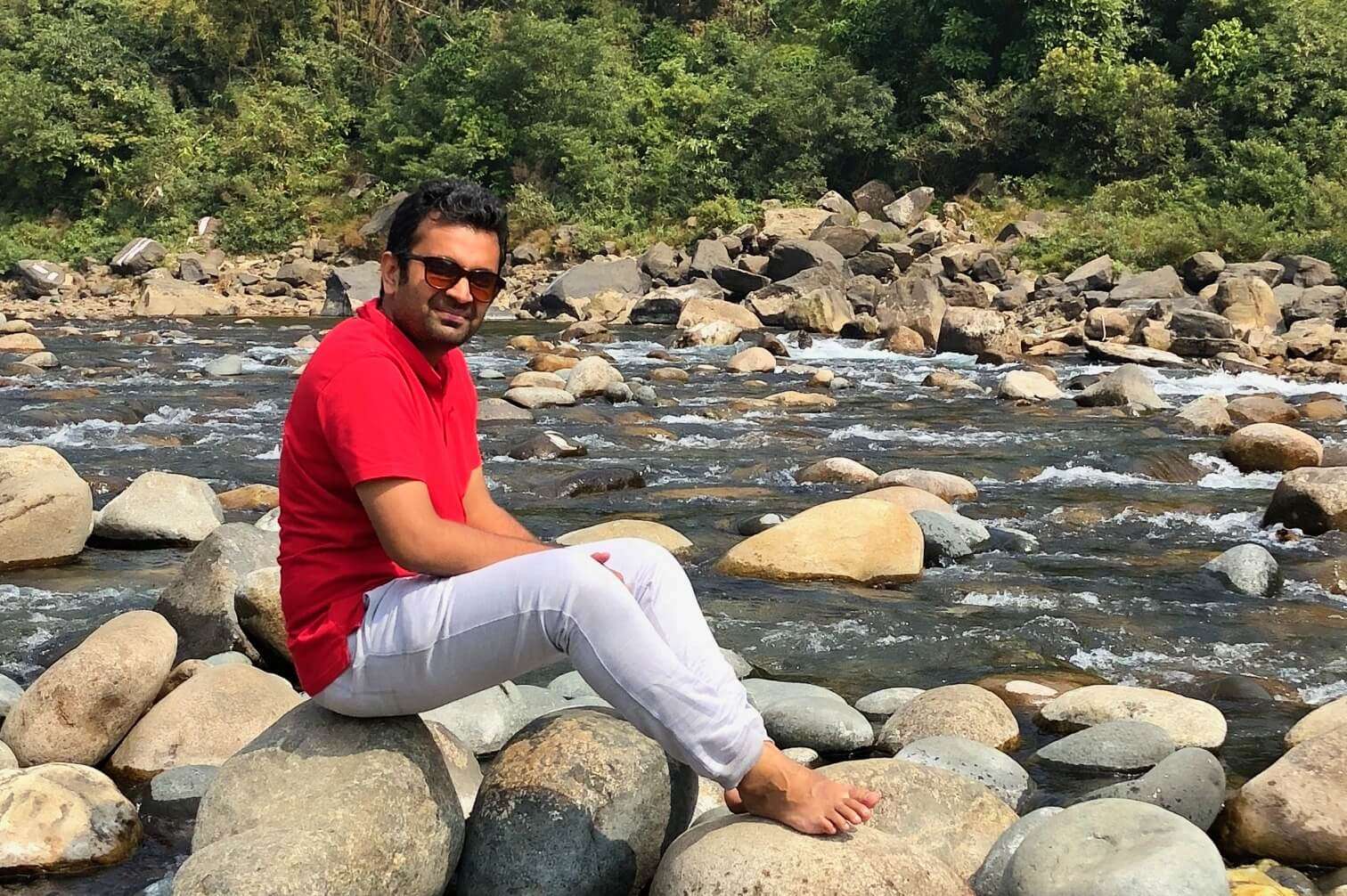 Post a hearty breakfast, we left for Cherrapunji at around 7 AM. We had wanted to visit the Air Force Museum but since we were short on time we had to give it a miss. First, we visited the Elephant Falls en route which owes its name to its shape resembling an elephant. Next, we visited the Dawki river which is a must visit attraction for it provides the clearest views of the water, apart from being an open border between India and Bangladesh. Imagine having one foot in India and the other in Bangladesh at the same time! Yup, you can do that here!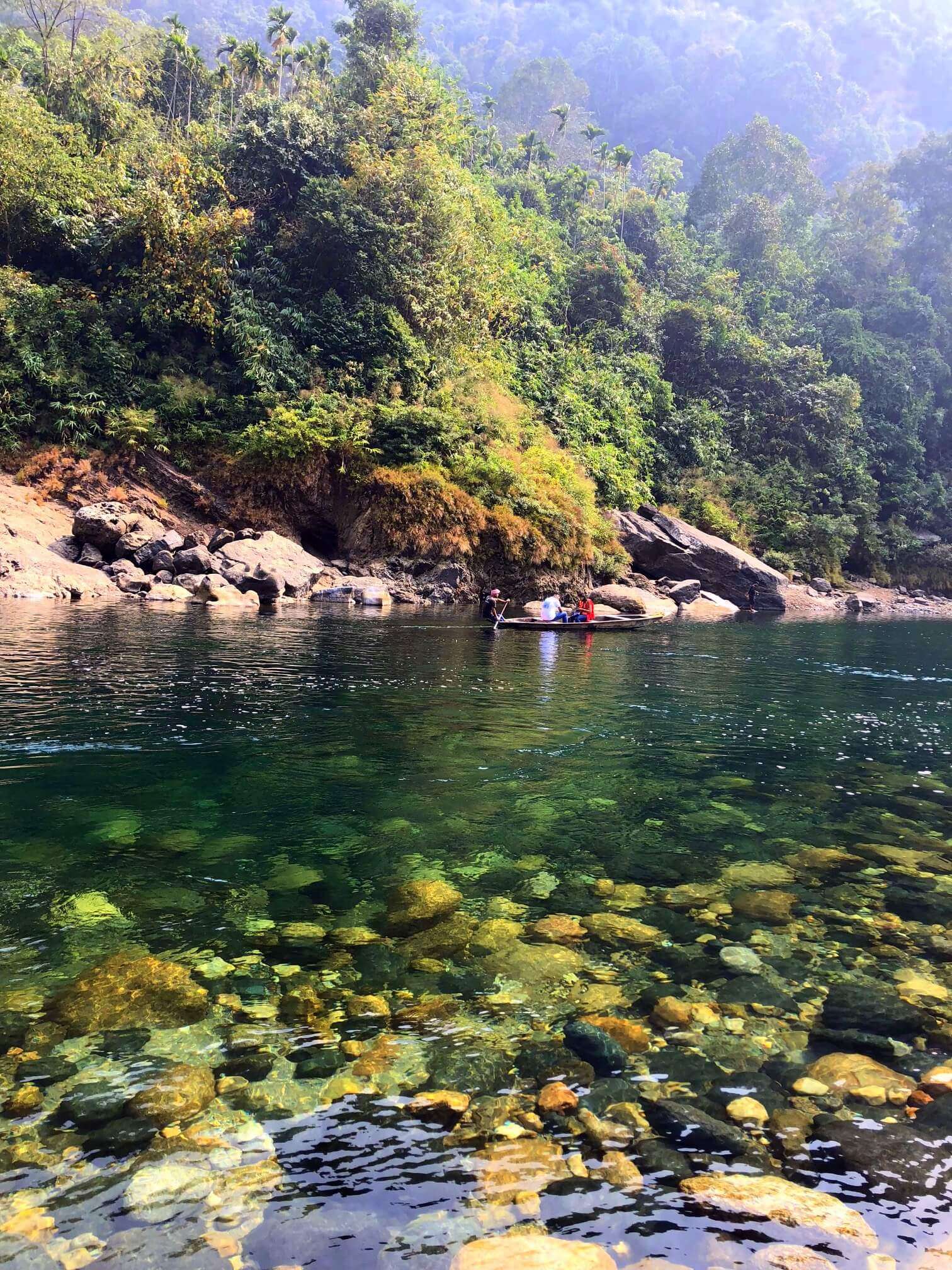 Walking on the living root bridge in Cherrapunji was an experience that can't be put down in words. It is worth a trip to this beautiful city. We also visited the Mawlynnong village – the cleanest village of Asia. It was one hell of an experience to see how people stay here always stay happy and have maintained this city so well. We took great care to not even accidentally drop anything on the roads while here.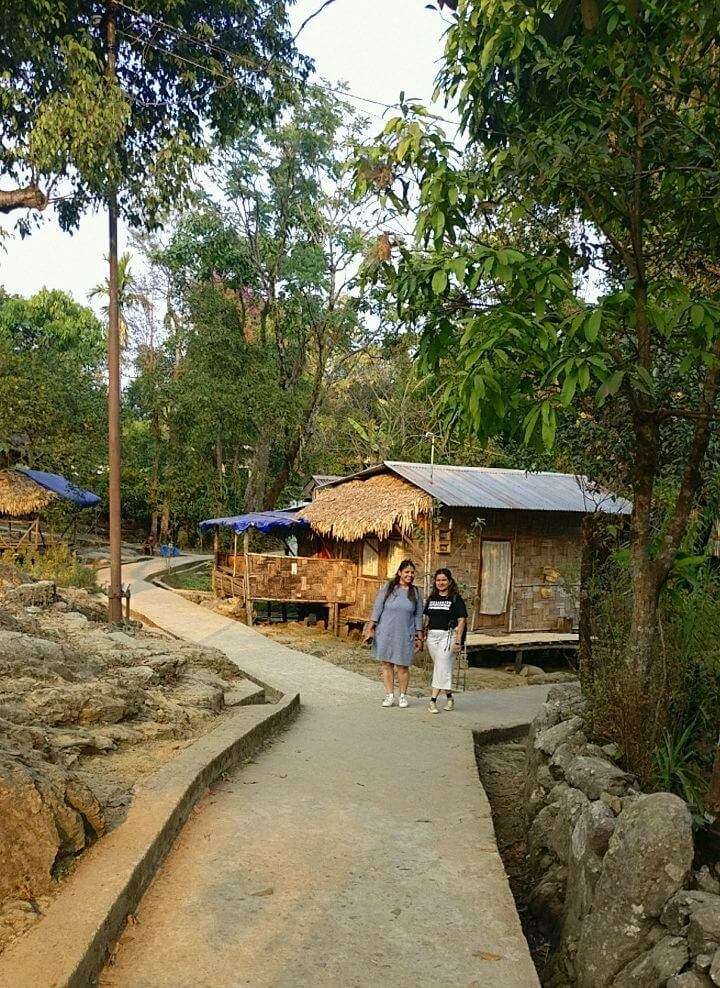 On the way to Cherrapunji, we had lunch at Jiva resort (only veg food is served here) and found that the restaurant was one of the cleanest we had ever seen. Later in the night, we reached the Kutmadan resort where we checked in and took rest. We could see the India-Bangladesh border from our room, owing to the resort's beautiful location.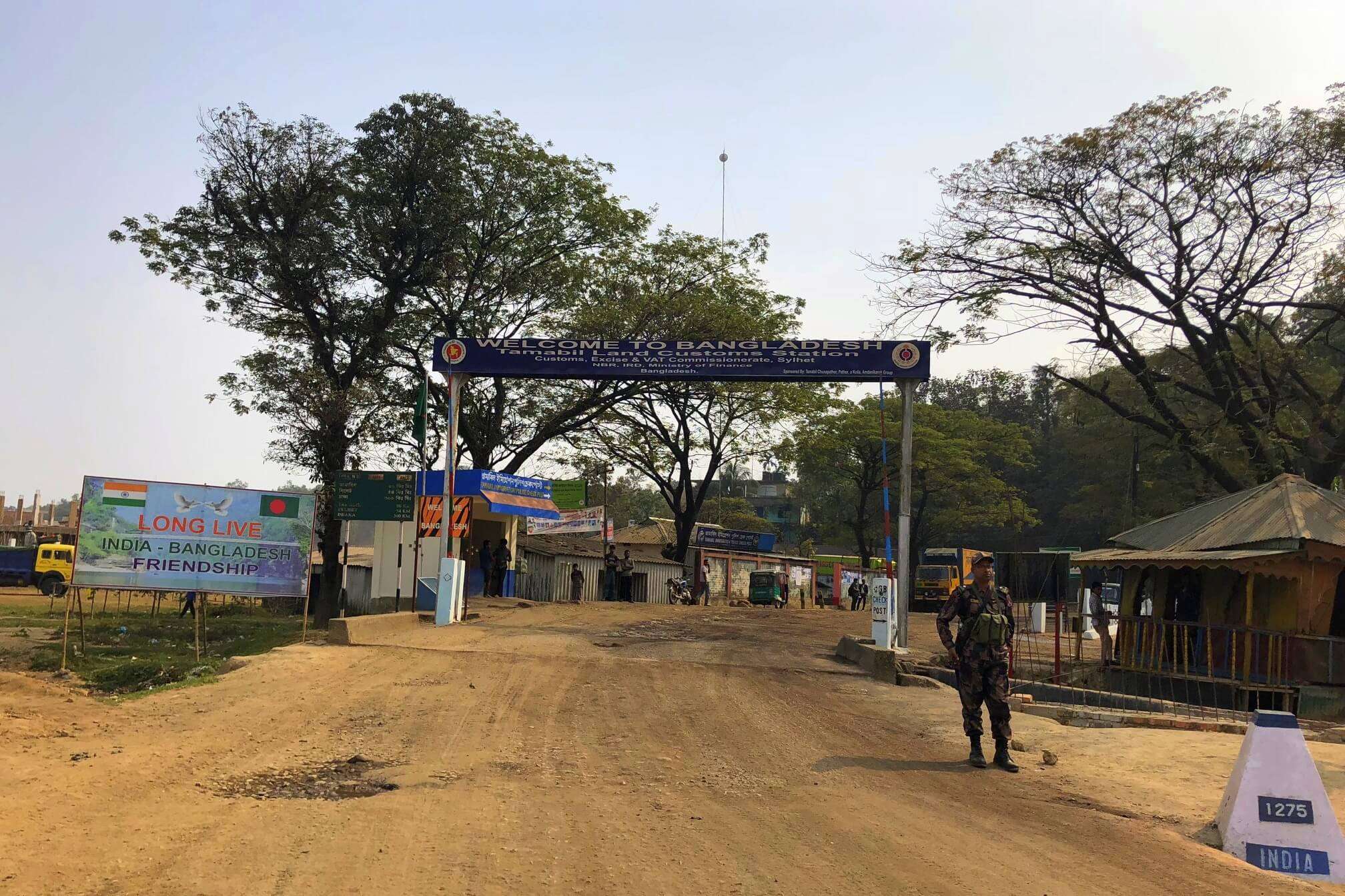 Best Things To Do On A Family Trip To Sikkim And Darjeeling
We enjoyed the bonfire night with whiskey arranged for us here. This place has no mobile connectivity and you can't see a single soul for at least 4 km in the distance, but you'll definitely enjoy being disconnected from the world and your worries!
DAY 7 | Cherrapunji: Scenic waterfalls and enchanting caves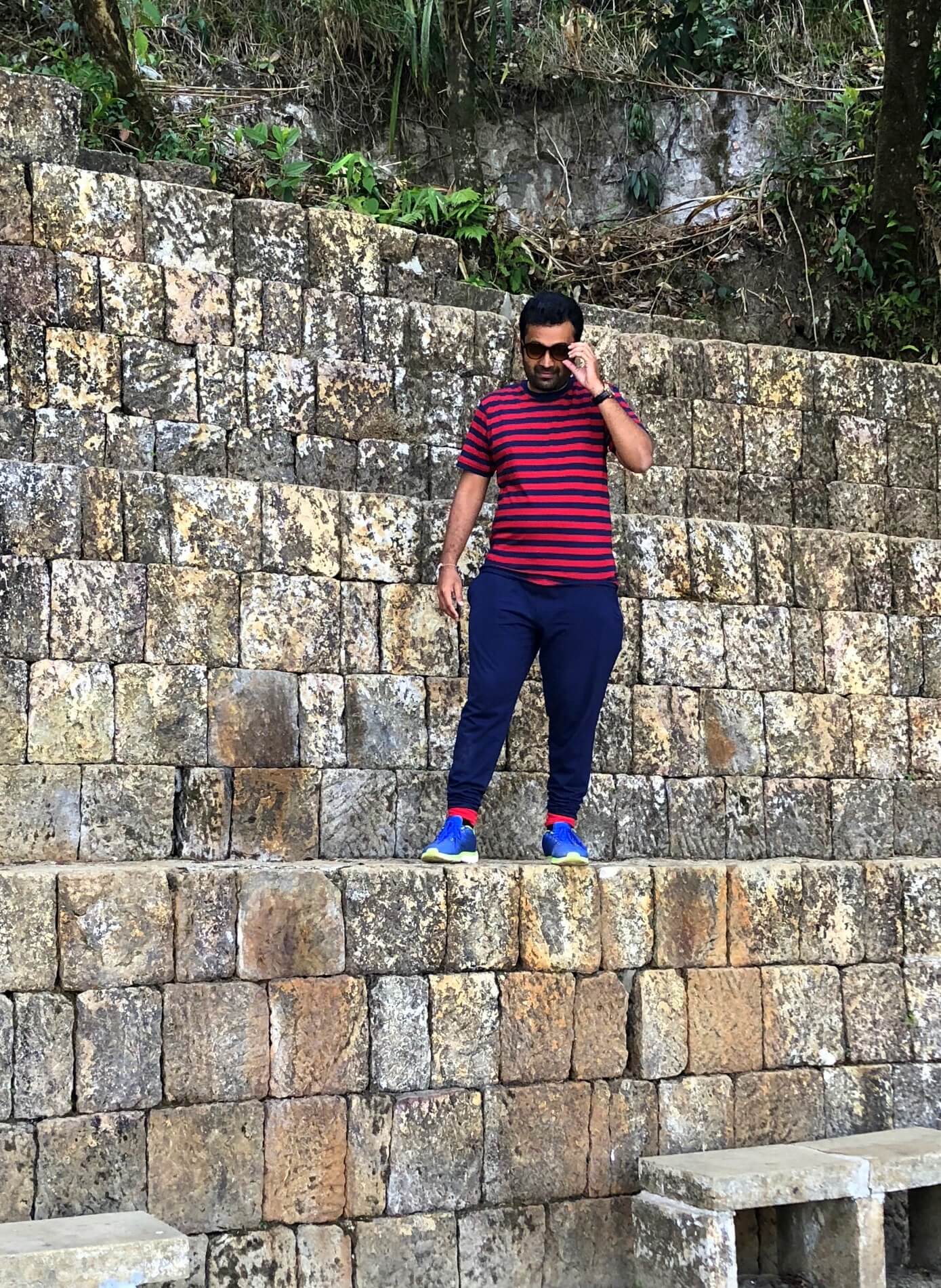 We visited the Eco Park, the Seven Sisters Waterfall, Nohkalikai Falls, each of which proved to be a stunning marvel of nature. The exciting part of this day was our visit to the limestone caves – Arwah and Mawsmai – where we could see the various species that had gotten buried under the stone millions of years ago.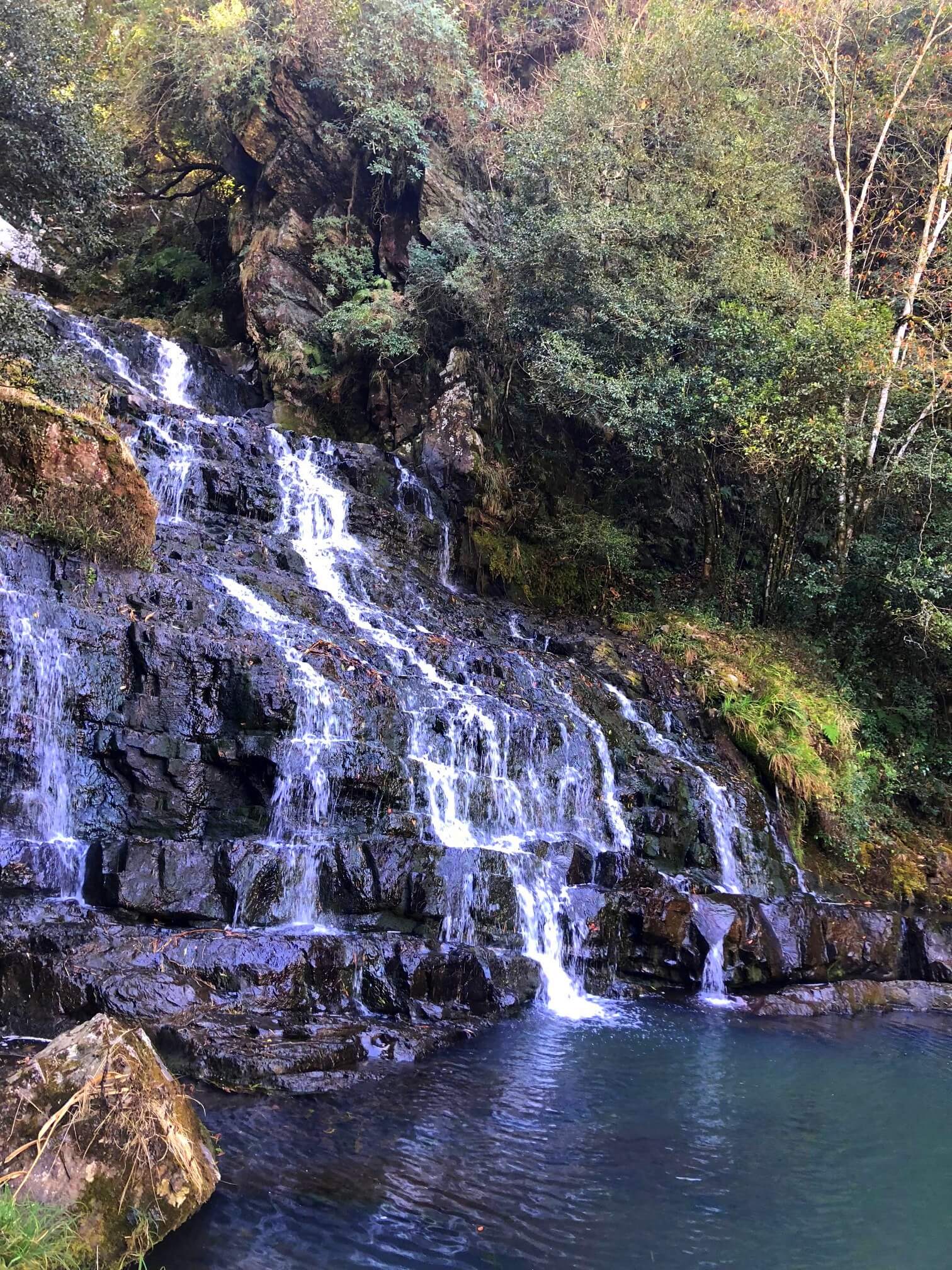 Best Places To See On A Holiday In Northeast
I spotted an octopus inside a stone and it was absolutely thrilling. During the night we enjoyed yet another bonfire while we gorged on some delicious maggi and whiskey.
DAY 8: Departure from Guwahati
It was the last day of our trip and we couldn't shake that feeling of emptiness in our heart at the prospect of leaving. Bidding goodbye to this surreal paradise and going back to our regular lives required one hell of an effort! Since our flight was from the Guwahati airport, we checked out from our hotel and proceed for Guwahati sharp at 8 AM. We reached the airport at 2:30 PM after visiting the famous Kamakhya temple en route. We boarded our flight well in time and bid farewell to this heaven with happy memories of our trip to Assam and Meghalaya.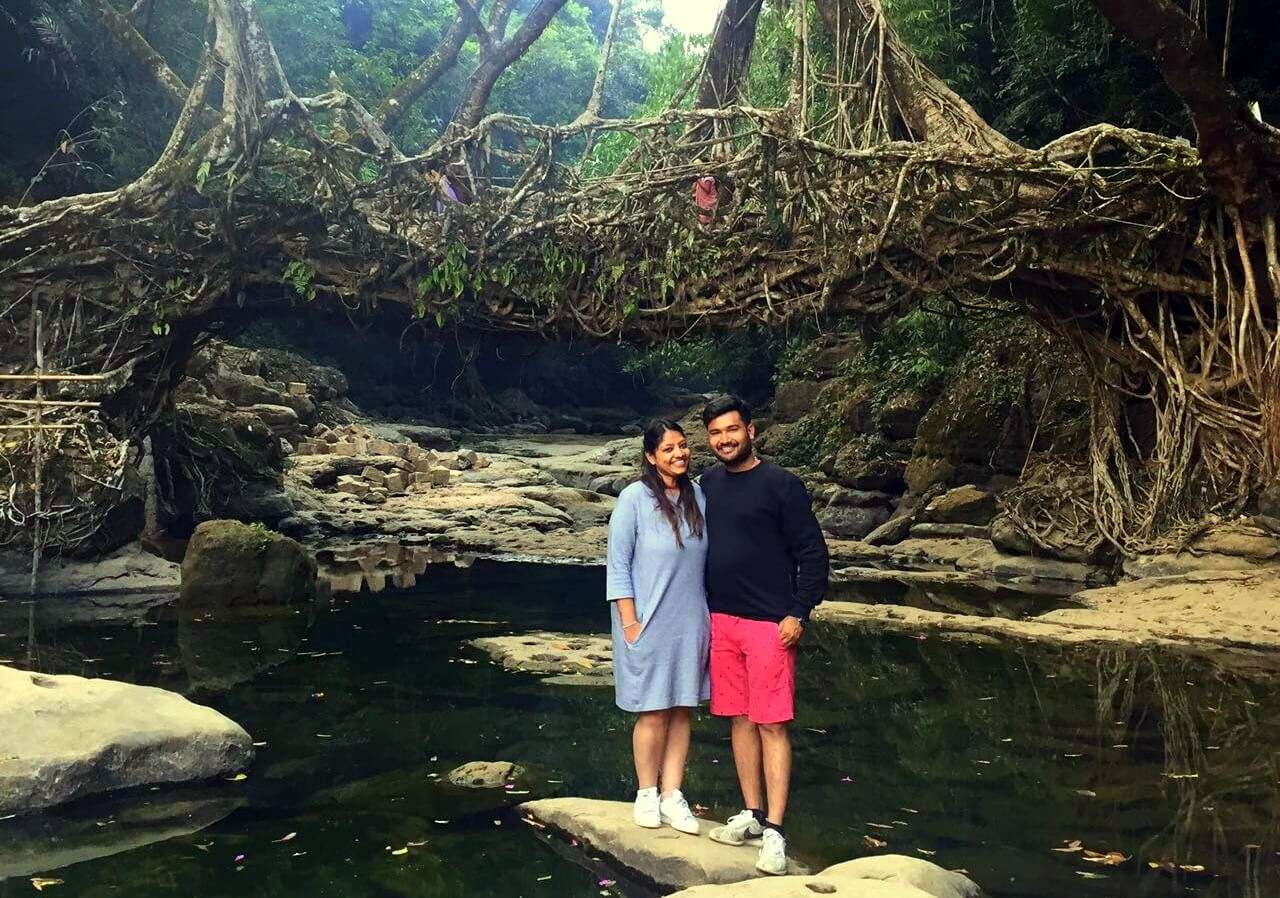 Shantanu's Offbeat North East Family Trip To Pelling And Namchi
Our WOW Moments On The Trip: Nameri town | River rafting at Jia Bhoroli | Cultural dance show at Orchid Park | Boating in Dawki river | The visit to Mawlynnong village | Walking on the Living Root Bridge
Our Not-So-WOW Moments On The Trip: Our stay at Jia Bharoli resort and the callous attitude of manager there
Tips For Future Travelers:
Do not stay at the Jia Bharali resort in Nameri
You need a minimum of 15 days to explore the best of Assam and Meghalaya
You need to ask the hotel staff at Eco Park to arrange a session of river rafting for you. There are no direct vendors for the same
All tourist sites in Shillong close at around 6 PM. Make sure you start your sightseeing tour of Shillong early in the morning
You're not allowed to throw anything in the dustbins in Mawlynnong. Either carry the waste back with you or bring minimum stuff in the first place
One must stay at the Jiva resort in Cherrapunji for enjoying unmatched 7-star services!
To catch your flight from Guwahati, leave from Shillong really early in the morning as you'll be met with horrendous traffic enroute
 Things To Do On A Northeast Holiday For Experiencing Bliss Amidst The Hills
Intrigued already? We bet you too are dreaming of a trip to Assam and Meghalaya! Stop dreaming and get to work. Book your Assam trip with TravelTriangle right away and enjoy the pristine fruits of nature on your offbeat escapade to the North East.
---
Looking To Book A Holiday Package?
Book memorable holidays on TravelTriangle with 650+ verified travel agents for 65+ domestic and international destinations.
---