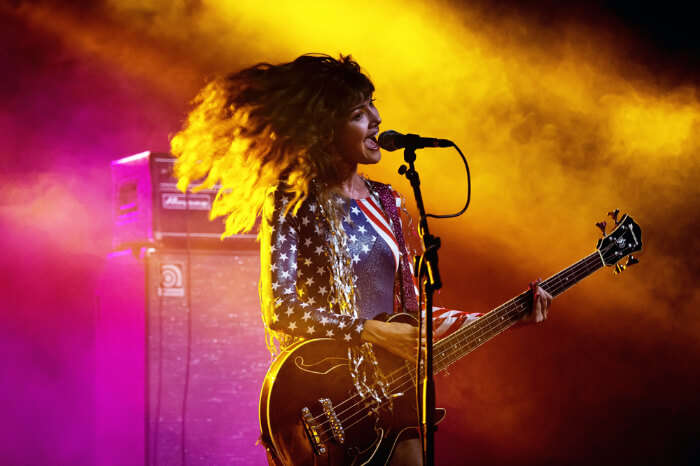 Europe hosts several music festivals every year. Host to diverse cultures you'll find subsequent diversity in its musical styles and genres as well. Music is one of many markers that offer a unique glimpse into a culture. In the contemporary music scene there exist several genres to create a postmodern mix resulting in a thousand different genres, styles, sounds and atmosphere.
The former Soviet countries in Europe also have their own style of folk music that reflects their culture, beliefs, myths, history and so on. One of the most prominent celebrations that take place here are the metal festivals in Europe.
14 Metal Festivals In Europe
Heavy metal and metal music is a grungier style of rock that has much harsher sounds and melodies that developed in the late 1960s and early 1970s with bands like Iron Maiden and Saxon. Some of the more popular bands are Metallica, Five Finger Death Punch, Steppenwolf, Panthera, System of a Down and so on. If you're a metalhead who thrives in mosh pits and loves to bang their heads to the grunge sound given below is a comprehensive list of the metal festivals in Europe that are scheduled to TAKE PLACE this year.
Wacken Open Air
Hellfest Summer Open Air
Resurrection Fest
Nova Rock Festival
Download Festival
Graspop Metal Meeting
Bloodstock Open Air
Rock Am Ring And Rock Im Park
FortaRock Festival
Azkena Rock Festival
Brutal Assault
Midgardsblot
Party San Metal Open Air
Summer Breeze
1. Wacken Open Air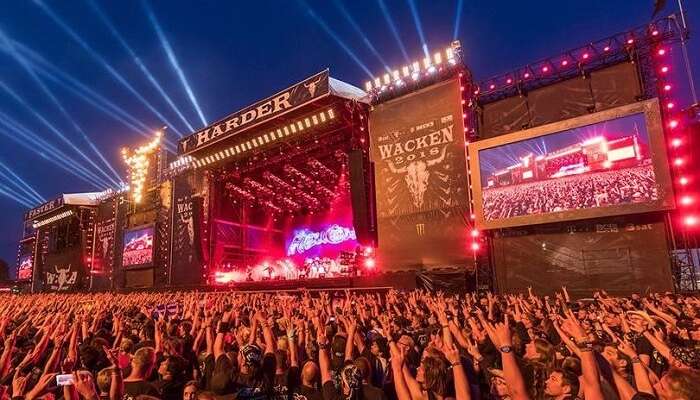 An open – air heavy metal music festival scheduled to take place from 1st to 3rd August in 2019, it will be held in the village of Wacken in Schleswig – Holstein which is located at a distance of 80 kilometers from Hamburg. 75,000 metal heads flock to this famous metal fest in Europe every year. The bands featured this year are Prophets of Rage, Slayer, Anthrax, D-A-D, All Hail the Yeti, Black Stone Cherry, Battle Beast, Beyond the Black, Avatar, Critical Mess, Cradle of Filth, and many more. Although all 75,000 tickets to this year's have been sold, you can check their site for more information.
Location:Wacken, Germany
Dates:1 Aug – 3 Aug 2019
---
Europe Holiday Packages On TravelTriangle
Explore the most beautiful places to visit in Europe, from Paris to the Venice canals and from the Greek islands to the Swiss alps. Book customized packages by expert agents on TravelTriangle. Inclusive of airport transfers, cab, resort, sightseeing and meals. Best holiday experience Guaranteed. Book Now
---
2. Hellfest Summer Open Air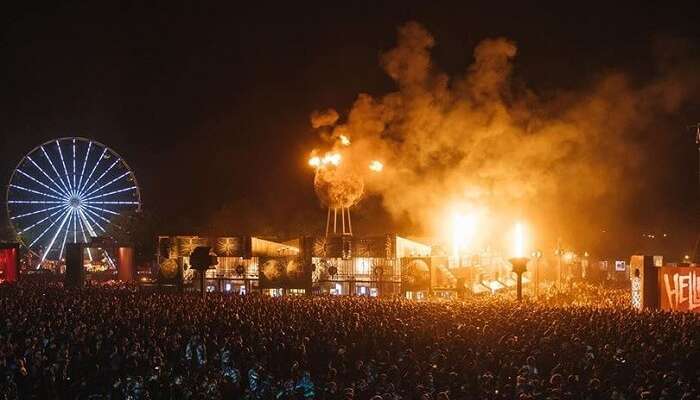 Founded by Ben Barbaud, Hellfest is one of the top metal music festivals in Europe which feature bands from all the sub-genres of metal music such as thrash metal, crust punk, Viking metal, nu metal, and so on. The headliners for this year are Slayer and Manowar. There are many other performers that have been announced and some yet remain to be. You can check their website for more information. It's a French festival that will take place in Clisson from the 21st of June, Friday to the 23rd, Sunday in 2019. There are two packages for reasonable prices. You can check their site for more info.
Location: Clisson, France
Dates:21 Jun – 23 Jun 2019
Must Read: 10 Must-Attend Music Festivals In Hill Stations Of India
3. Resurrection Fest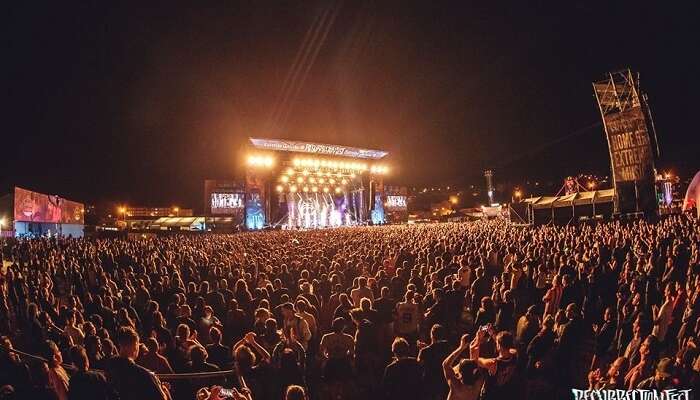 A 4-day event, Resurrection Fest is scheduled to take place from the 3rd of July to 6th of July in Viviero, Spain in 2019. It hosts a performance by punk rock, heavy metal, hardcore punk bands and bands of other sub-genres. The lineup for this year's festival includes bands like Sipknot, Avatar, Brant Bjork, Terror, Lamb of God, Within Temptation, Slayer, Arch Enemy, Berri Txarrak, While She Sleeps, Trivium, Parkway Drive, and so on. The ticket prices for various packages start at 139 Euros and upwards. You can check their site for more information. The festival is in its 13th year, having been held annually since 2006.
Location:Viviero, Spain
Dates: 3 July – 6 July 2019
Suggested Read: Our Trip To Europe In May Was Nothing Less Than A Dream Come True!
4. Nova Rock Festival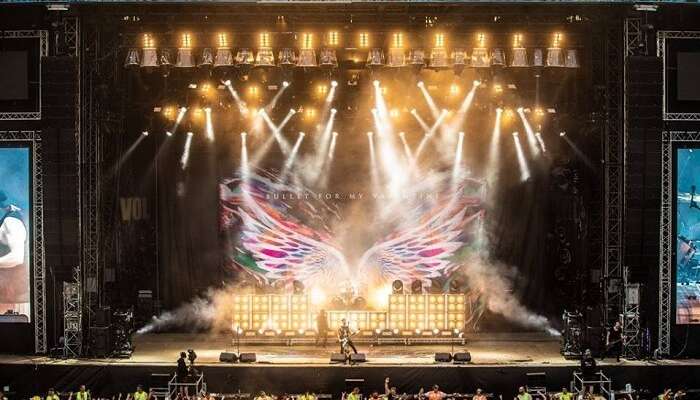 Nova Rock Festival is going to take place for4 days from 13th to 16th June this year at Pannonia Fields 2 in Austria. The festival sees 50,000 spectators attending every year to enjoy the music by acts such as System of a Down, The Prodigy, Green Day and Marilyn Manson. The venue is situated in Burgenland, located near Nickelsdorf and is considered the easternmost state in the country. The 4-day festival pass will cost 179,999 Euros and will include charges for accommodation and parking. The bands lined up for this year are Slash, Smashing Pumpkins, Behemoth, Mono and Nikitaman, Children of Boom, Beartooth, Pussy Riot, Mother's Cake, J.B.O, Papa Roach, etc.
Location:Pannonia Fields 2, Austria
Dates: 13 Jun – 16 Jun 2019
Suggested Read: 11 Boutique Australian Music Festivals To Make Your Feet Tap
5. Download Festival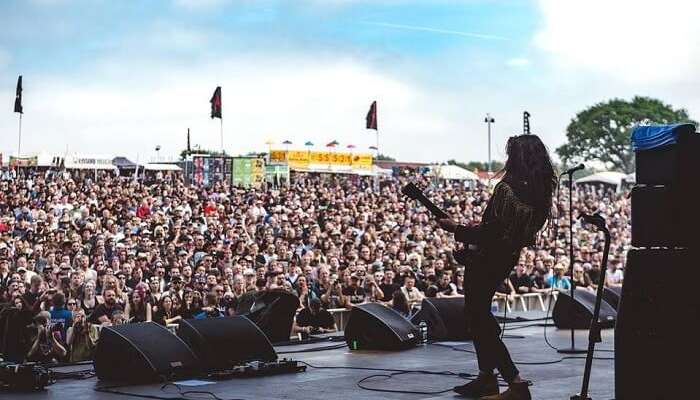 A popular European metal festivals 2019 has been taking place in several locations. In Sydney and Melbourne from 2017, Paris from 2016, and in Leicestershire in England since 2003. This year promises to be just as explosive as the previous ones. It is going to be held in Donington Park Circuit for 3 days from 14th June to 16TH June. It has been dubbed the 'granddaddy of hard rock and metal festivals'. This year's lineup includes bands like Slipknot, Eagles of Death Metal, Tool, Die Antwoord, Jinjer, and so on. Entry ticket prices cost 200 pounds and upwards.
Location:Donington Park Circuit, United Kingdom
Dates: 14 Jun – 16 Jun 2019
6. Graspop Metal Meeting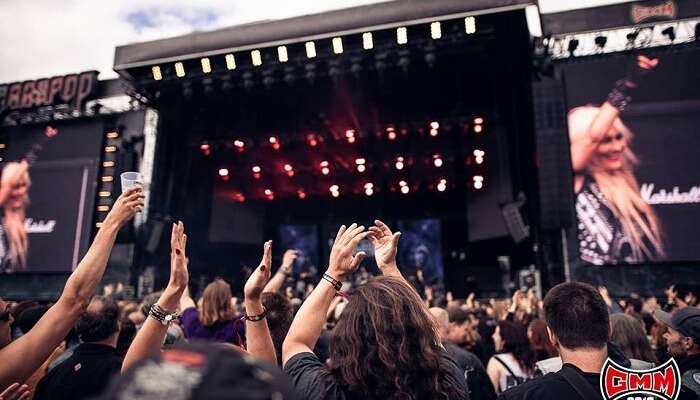 A relatively smaller festival than other bigger ones, the Graspop Metal Meeting draws a large number of visitors from other countries as well amounting to more than 152,000 metal heads headbanging to extreme heavy metal music. It takes place in Dessel in Belgium and is scheduled to take place for3 days in 2019 from 21st to 23rd June. The bands featured this year are Slayer, Rod Zombie, Stone Temple Pilots, KISS, Slipknot, Within Temptation, and so on. Cheapest tickets available cost 99 Euros whereas the VIP ones are somewhere in the range of 335 Euros.
Location: Dessel, Belgium
Dates: 21 Jun – 23 Jun 2019
Suggested Read: India's Most Insane Music Festivals
7. Bloodstock Open Air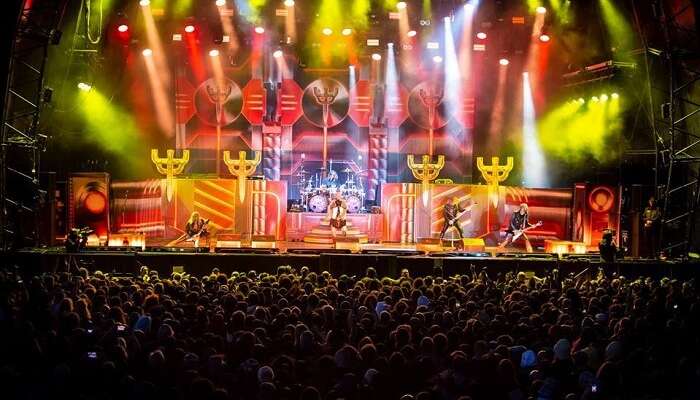 A British heavy metal music festival founded by Paul R. Gregory it takes place annually at Cotton Hall and Parkin Derbyshire. This year it will take place from August 8th to August11th, over the weekend. 2019 is the 14th year this festival will be organized. The bands playing the festival this year include Code Orange, Tesseract, Evil Scarecrow, Powerwolf, Sabaton, Children of Bodom, Dimmu Borgir, Scorpions, Death Angel, Incite, Ross the Boss, Soilwork, Queensryche, Anthrax, Swallow the Sun and Metal Church. The ticket prices start at 152 pounds. It includes charges for camping as well as parking.
Location: Cotton Hall and Parkin Derbyshire
Dates: 8 aug – 11 Aug 2019
8. Rock Am Ring And Rock Im Park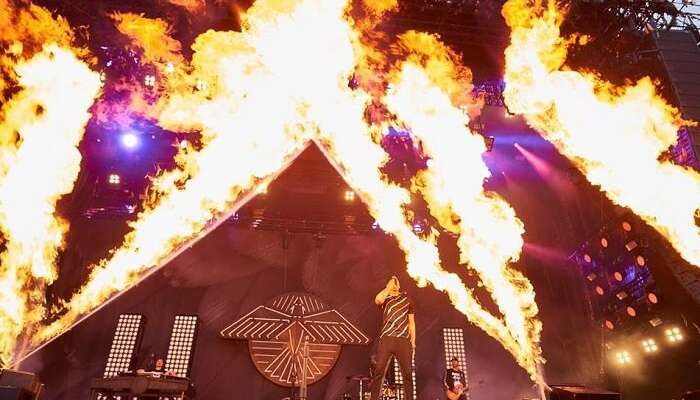 Both these festivals are considered one even though they take place in two different venues. Rock am Ring is held at Nurburgring race track whereas the other festival is held at Zeppelinfeld in the city of Nuremberg in Germany. It draws in crowds of more than 150,000 people every year. The bands that perform at one festival usually proceed to perform at the other the next day. Bands scheduled for this year are Alligatoah, Atreyu, Amon Amarth, Adam Angst, Alice in Chains, Against the Current, Arch Enemy, Architects, Behemoth, Blackout Problems, Badflower, Bastille, and so on. It is going to take place from 7th to 9th June this year. The passes cost 189 EUR and upwards.
Location: Zeppelinfeld, Nuremberg in Germany
Dates: 7 Jun – 9 Jun 2019
Suggested Read: Udaipur World Music Festival: Sing Out Loud Your Love For Music!
9. FortaRock Festival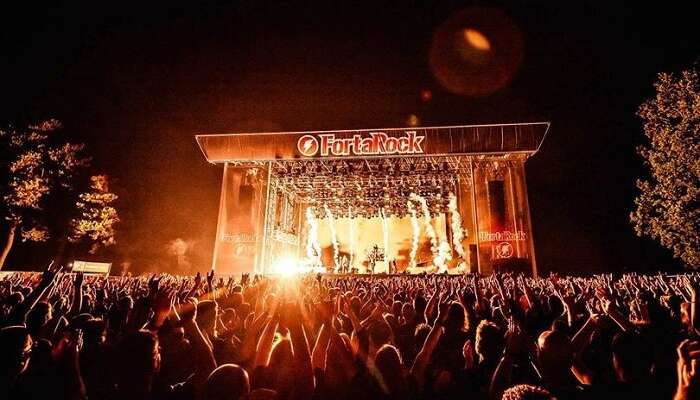 Usually lasting one day, the FortaRock Festival is scheduled to take place over the course of two days this year, the 1st and 2nd of June. Some of the bands confirmed to play this year are Enslaved, Cult of Luna, Symphony X, Amon Amorth, and so on. It will be held in Gofertpark in Nijmegenin, Netherlands. Regular day tickets cost 50 EUR and weekend tickets cost 85 EUR. This is surely one of the best metal festivals in Europe 2019!
Location: Gofertpark in Nijmegenin, Netherlands
Dates: 1 Jun – 2 Jun 2019
Suggested Read: Top 13 EDM Festivals In Europe For The Music Lovers Around The Globe
10. Azkena Rock Festival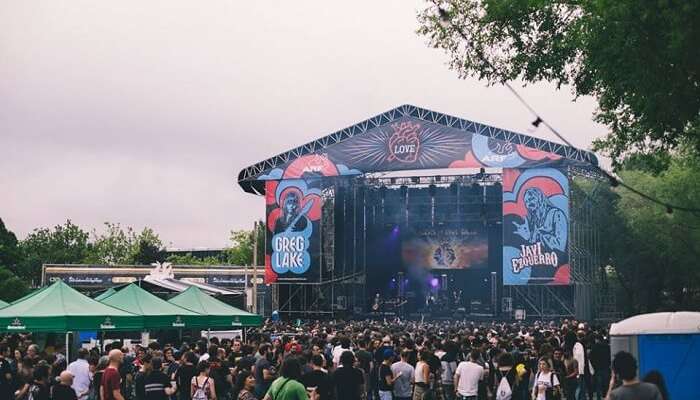 Azkena Rock festival takes place in Vitoria – Gasteiz, in the Biscay province of Spain. This year it is scheduled to last for 2 days from 21st to 22nd June. A 1-day ticket with accommodation costs 130 EUR (65 EUR without accommodation) and 2-day ticket without accommodation costs 120 EUR. You can pay in installments if you like. Bands scheduled to play this year include Blind Rage and Violence, Deadland Ritual, Corrosion of Conformity, Inglorious, Meat Puppets, Lucero, Unsane, and so on.
Location: Biscay province of Spain
Dates: 21 Jun – 22 Jun 2019
Suggested Read: 14 Popular Denmark Festivals To Make You Feel Warmly Welcomed To Europe
11. Brutal Assault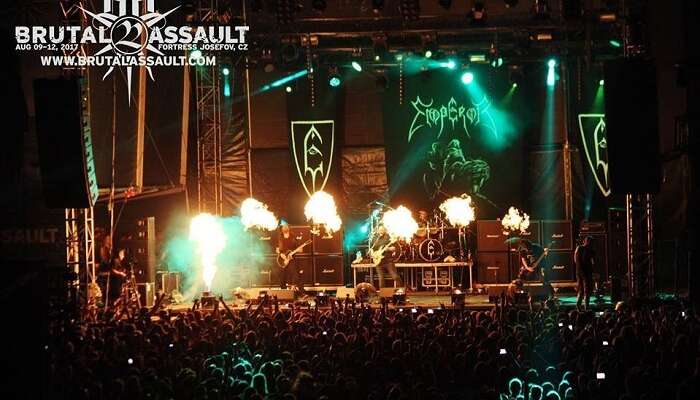 One of the most extreme open-air heavy metal festivals, Brutal Assault takes place in Jaroměř, Czech Republic, in Josefov – an 18th-century fortress. It features over 130 artists on 5 different stages. Some of the acts lined up for this year are Zuriaake, Voivod, Vuur, Violator, Decapitated, Anathema, Anaal Nathrakh, Car Bomb, Hypocrisy, Electric Wizard, Heilung, Higher Power, Sacred Reich, Gorod, Sacred Church, and many others. It's going to take place from 7th to 10th August 2019. The tickets cost 90 EUR. It surely is one of the biggest metal festivals in Europe.
Location: Jaroměř, Czech Republic in Josefov
Dates: 7 Aug – 10 Aug 2019
12. Midgardsblot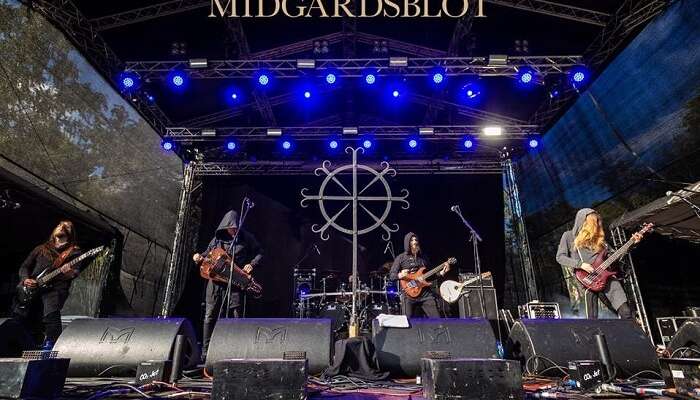 This festival is held annually at Borre National Park in Vestfold, Norway. For 2019, it's scheduled from Wednesday, 14th August to the 18th, Sunday. The tickets cost 250 EUR and upwards. This 5-day event is going to feature renowned acts such as Ivar Bjornson, Enslaved, Dreid, Einherjer, and so on. More metal bands are yet to be announced. Most of the bands playing here are some sort of connection to the Norwegian and Scandinavian roots and therefore there's also a sort of cultural significance to this event.
There are several non-music related activities organized as well such as the Scandinavian martial craft of Glima performed by experts, other activities are held in the village of Kaupangr, there are several temporary tattoo parlors opened up at this event as well in case you feel like getting your favorite band's name or logo pierced into your skin. You can do yourselves a favour and leave your cell phones in your room or tent as they are strictly prohibited at this festival.
Location: Borre National Park in Vestfold, Norway
Dates: 14 Aug – 18 Aug 2019
Suggested Read: 15 Festivals In Europe That Will Up The Fun Factor Of Your Euro Tour In 2019
13. Party San Metal Open Air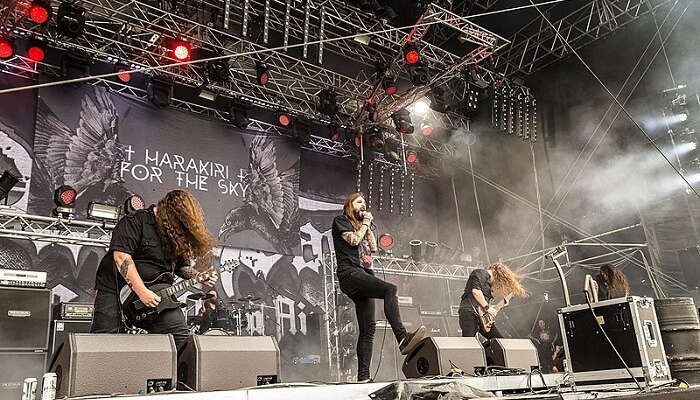 Specialising to the extremes of Metal genre, this festival will offer you some of the finest and also the most edgy performances which includes a higher level of brutality. A hardcore metal fan who wishes to enjoy some death metal, grindcore and black metal can head to one of the most renowned metal festivals in Europe 2019 like this one! Bands such as, Misery Index, General Surgery and Lock Up are some of the main line-ups here.
Location: Obermehler, Germany
Dates: 8 Aug – 10 Aug 2019
14. Summer Breeze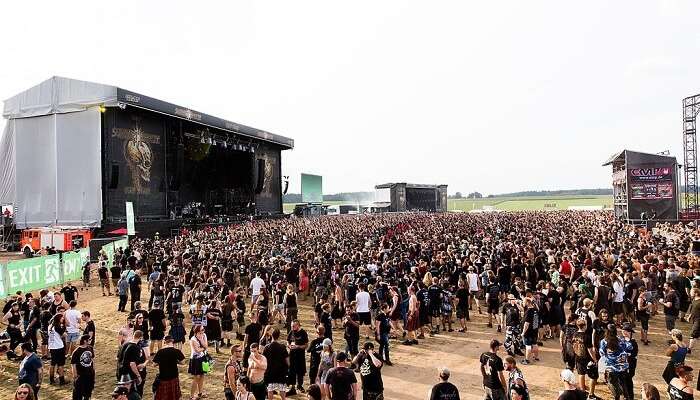 Image Source
Preferred by most metal fans as one of the best metal festivals in Europe, this festival resembles the festivals of Hellfest in more ways than one, especially in terms of a well-rounded approach of genre. Yet, contrary to the Hellfest, this festival in Europe will not have a ZZ Top included in their headline. You can sway to the tunes of main artists like Machine head, Children of Bodom and Slayer. Some of the other performances include Benediction, Watain, Bloodbath and Ghost Brigade.
Location:Dinkelsbühl, Germany
Dates: Aug 14 – Aug 17 2019
Further Read: 12 Things You Don't Need On Your European Packing List
Europe, thus, has a string of metal festivals lined up this year so get ready to bang your head to the extreme music played at these festivals. And if you want to be a part of these exciting metal festivals, you must save the dates and plan a trip to Europe soon. Have a musical holiday!
People Also Read:
Solo Trip To Turkey 7 Days In Turkey Honeymoon Trip To Turkey
---
Looking To Book An International Holiday?
Book memorable holidays on TravelTriangle with 650+ verified travel agents for 65+ domestic and international destinations.
---
Comments
comments