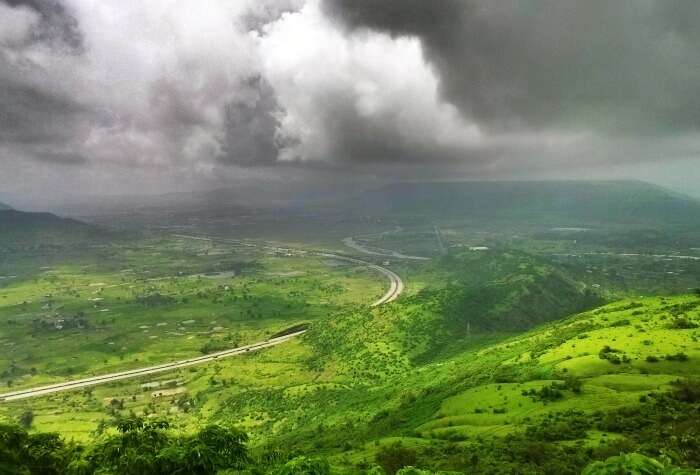 Pune, which is also known as the twin city of Mumbai is a perfect gateway from the maddening rush of Mumbai. Pune not only have loads of places to relax but also have many monsoon destinations just a drive away. You would be flabbergasted how nature has blessed this coastal city with so many vivid landscapes. The getaways near Pune And Mumbai offer immense fun to travelers of all age groups. From visiting a waterfall to indulging in adventure activities to going on a temple tour, there are so many things one can enjoy at these places.
17 Exciting Monsoon Getaways Near Pune And Mumbai
Checking out the best getaways near Mumbai and Pune? Call your friends, because here's a list of 17 fascinating places to explore near Pune and Mumbai that you must check out in monsoon.
1. Thosegar Falls

One of the most beautiful places to visit near Pune in monsooon, the roaring waterfall is in close vicinity to Satara, the valley of flowers in Maharashtra. Kaaswhic is the home to the Thosegar falls. Escalate the picturesque plateau of Kas which is blossomed by diverse types of flowers to enjoy the majestic views.
Distance:
From Pune to Thosegar Falls: 134.7 km
From Mumbai to Thosegar Falls: 277.5 km
Things to do:
Enjoy the stimulating view of the Kaas Lake where several migratory birds often visit
Admire the breath-taking views of flower covered Kaas plateau – one of the best places to visit near Pune or Mumbai during rainy season
Relish the roaring Thosegar falls
Stopover at the Samahdi site of Samarth Ramdas swami, the spiritual guru of Shivaji at Sajjangad
Trek to the top of Sajjangad to view the beautiful flower laden valley.
22 Most Beautiful Waterfalls In India You Need To Explore In Summer 2022
2. Tapola

A one day picnic spot near Pune in monsoon, Tapola is proudly known as the Kashmir of the western coast. It is a pastoral settlement characterized by a splendid lake – Shivsagar. The drive from Mahabaleshwar to Tapola is scenic, fresh and provides a galore of the panorama. This serene place around Pune and Mumbai in monsoon is an amazing getaway to relax and unwind.
Distance:
From Pune to Tapola: 150 km
From Mumbai to Tapola: 300 km
Things to do:
Paradise for trekkers, Tapola offers a great trekking opportunity across thickly forested hills
Enjoy the marvelous views of the dam built on river Koyana and Solshi
Enjoy a bicycle ride from satara pass to Bamnoli to the final destination at the amazing monsoon getaway from Pune and Mumbai – Tapola
Hire a speedboat and enjoy a ride on Tapola's Shivsagar Lake
3. Bhimshankar

Though a religious destination, it is frequented by road trip lovers for its scenic and most gorgeous routes. Bhimashankar which is the home to one of the 12 Jyotirlinga Temples of Lord Shiva. Other than Bhimashankar being a pilgrim center, it is also bestowed by breath-taking natural beauty making it a popular monsoon getaway from Pune and Mumbai.
Distance:
From Pune to Bhimashankar: 127 km
From Mumbai to Bhimashankar: 213 km
Things to do:
Pay homage to the Bhimashankar temple dedicated to the 12 Jyotirlinga Temples of Lord Shiva.
Visit the Bhimashankar wildlife sanctuary to witness some of the most endangered species such as the Giant Indian Squirrel. This is amongst the best monsoon picnic spots near Mumbai and Pune.
Plan a trek from the Shidi ghat to Ganesh ghat which is most enjoyable and adventurous during monsoon season
Relish the most spectacular waterfalls and the spouting streams
37 One Day Picnic Spots Near Pune In Summer 2022 Which Are Must Visit
4. Karnala

Take some time out to experience the refreshing and invigorating monsoon destination near Mumbai and Pune. The city of Karnala is characterized by the sweet melody of the birds chirping. Relish the views of the natural habitat of enriching flora and fauna. Karnala is among the best places to visit during monsoon in Maharashtra.
Distance:
From Pune to Karnala: 124 km
From Mumbai to Karnala: 87 km
Things to do:
Explore the ruins of the Karnala fort, which was once a part of Maratha bastion. It went through a mass change of hands during the medieval times.
Engage yourself in a trek to the famous Karnala Pinnacle which is a well maintained refuge for birds like eagles, vultures and several endangered species.
Adore the bird's eye view of the coastline of Mumbai from the Pinnacle across the dense forest on the Sahyadri hills.
Intersected by the Mumbai-Goa Highway is the Karnala bird Sanctuary is the home to more than 40 species of migratory birds.
5. Kamshet

If you wish to stop over and enjoy the beautiful melody of migratory birds amidst the beautiful nature especially during the monsoon months then Kamshet without a doubt is a perfect getaway. It is undoubtedly one of the places to visit near Pune in monsoon where you can enjoy immense fun with your loved ones. 
Distance:
From Pune to Kamshet: 48 km
From Mumbai to Kamshet: 108 km
Things to do:
Kamshet is a home to several temples such as the Kondeshwar temple which also epitomizes prehistoric Hemadpanthi panache and the Sant Tukaram located on the Bhandar Dongar.
Visit the Bhairi Cave, Karla, Bhaja and Bhedsa Caves
Indulge in some activities such as advance kiting and ridge dancing on the Pavana lake (an artificial lake) formed by the Pavana Dam.
Stroll to the Lohgad, Tikona and Tungi forts is a great way to enjoy the architectural breakthroughs as well as the natural beauty.
Visit the Shinde Wadi Hills and try your hands on paragliding
42 Best Resorts Near Mumbai For A Quick Relaxing Getaway In 2022!
---
Planning your holiday but confused about where to go? These travel stories help you find your best trip ever!
Real travel stories. Real stays. Handy tips to help you make the right choice.
---
6. Sinhagad

One of the top places near Pune to visit in monsoon, Sinhagad is a fort that is situated on the Sahyadri Hills providing you all the reasons to visit here. It's one of the best places to visit near Mumbai in monsoon for a weekend retreat. What better than planning a trek to the fort during the monsoon months?
Distance:
From Pune to Sinhagad-37.4 km
From Mumbai to Sinhagad-180.1 km
Things to do:
A visit to the Sinhagad fort should be a must on your list of places to visit near Pune and Mumbai during monsoons.
Enjoy the rain and pleasant breeze while trekking from Katraj to Sinhagad.
Stopover at Panshet which is a pleasant serene lake created by the Pavana dam on river.
7. Mulshi

Truly Mulshi dam is a hidden gem in luxuriant environs, sited a couple of hours away from Pune. Mulshi Dam is a great destination, especially during monsoon months. You would love the scenic beauty and could sit and relax for hours together.
Distance:
From Pune to Mulshi: 35 km
From Mumbai to Mulshi: 127.1 km
Things to do:
Circumscribed by the Sahyadri Hills, vast forests and forts like Dhangad and Koraigadh are ideal for trekking.
Engage in bird sighting in the charming daintiness of the place is conspicuous.
Pay homage to the 'Vanjai' mata temple which is believed to be a century old.
Go for a drive through the tremendously picturesque valleys and cliffs.
Mulshi is one of the best tourist spots near Pune in monsoon known for its numerous waterfalls
Monsoon In Mumbai: 10 Breathtakingly Beautiful Yet Fun Things To Do In 2022!
8. Kolad

If you are looking for some water sports then Kolad is a perfect escape. It is a perfect idea of a weekend destination as it promises everything from adventure to natural beauty, historic caves and forts, temples, and monasteries.
Distance:
From Pune to Kolad: 120 km
From Mumbai to Kolad: 130 km
Things to do:
Kolad is synonymous with water sports such as rowing, kayaking, rafting, camping, river crossing, rappelling.
Explore the Tala fort & Ghosala Fort, famous for their architecture.
Visit the Kuda caves which are a group of 13 rock caves built by the Buddhist.
Bhira dam and the Dholwal dams is a great stopover to spot some migratory birds.
Tamhini Fall promises a picturesque view, Kansai Waterfalls and hot springs at Uddhar are also located nearby
9. Lonavala-Khandala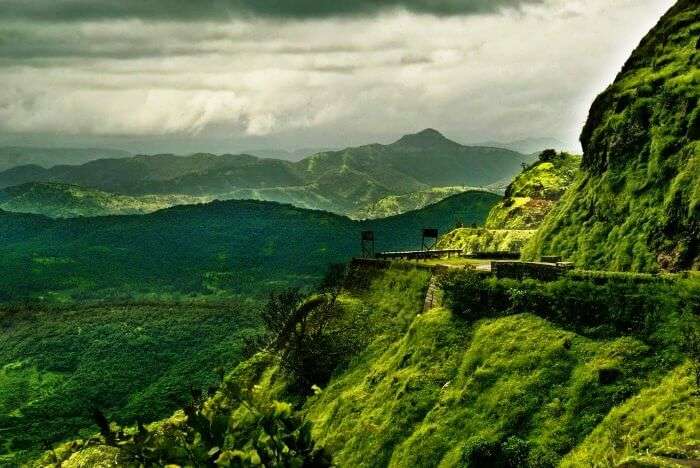 Snuggled up in the heart of the Sahyadri hills, the twin hills stations Lonavala and Khandala are synonymous for their scenic beauty and natural inhabitants. You would be awestruck by spectacular views of the mountain range, sparkling water of the lakes and historic significance of caves and forts. Lonavala is a must on your bucket list of places to visit in monsoon near Mumbai.
Distance:
From Pune to Lonavala-Khandala: 70.1 km
From Mumbai to Lonavala-Khandala: 93.3 km
Things to do:
Escalate the numerous water streams spurting out of the Bushy dam.
The Duke Nose provides the most astonishing scenic beauty of the hill city of Khandala.
A must visit destination is the Sausage hills which resembles the shape of a sausage provides many occasions of spotting unusual birds.
Enjoy some breath-taking views of the Pawna lake which is an artificial lake built by the dam on the river Pawna.
Trek to the outstanding forts such as Tung Fort and the Tikona fort.
21 Hill Stations Near Mumbai To Soothe Your Senses On A Trip In 2022
10. Malshej Ghat

If you are interested in adventure activities then Malshej Ghat does not fall short of activities such as camping, trekking, mountain climbing. Do not miss the opportunity to capture the pink flamingos that migrate during the winters. If you're looking for places to visit near Mumbai in monsoon for 2 days, Malshej could be the place for you.
Distance:
Form Pune to Malshej Ghat-119.6 km
From Mumbai to Malshej Ghat-126.6 km
Things to see:
Malshej falls provide a mystic view and are in full swing during the monsoons.
Engage in some bird watching around the Malshej Ghat.
Engage in trekking, hiking and camping amidst the mountain range.
Photograph the striking flamingoes, in the flamingo resort.
Visit the Shivnero Fort which is the birthplace of the renowned Shivaji Maharaj.
11. Matheran

A monsoon-heaven, Matheran is among the most scenic places to visit near Pune in monsoon. Pollution-free, vehicle-free, and noise-free are the main selling points of this incredible hill station. The views of the lush green valleys after a rainy day leave almost every nature lover awestruck. If you're someone who enjoys photography, you must give Panchgani a shot.
Distance:
From Pune to Matheran: 119 km
From Mumbai to Matheran: 150 km
Things to do:
Admire the breathtaking views of lush valleys from Louisa Point on a rainy day.
Matheran is a paradise for bird watchers, so grab your binoculars and go bird watching.
Go hiking through the jungles of Matheran on muddy trails
One can also enjoy horse riding here
Top 38 Weekend Getaways From Mumbai For The Love Of Traveling
12. Panchgani

A picture-perfect hill station right in the heart of Maharashtra, Panchgani is set amid the gorgeous Sahyadri Mountain Ranges. The high peaks, the gorgeous lakes, and photogenic landscapes make it one of the best places to visit in monsoon near Mumbai and Pune.
Distance:
From Pune to Panchgani: 99 km
From Mumbai to Panchgani: 241 km
Things to do:
Explore the tribal lifestyle at Devrai Art Village in Panchgani
Go boating on Venna Lake for a perfect evening
Behold the spectacular views of Sydney Point
A foodie? Try some mouthwatering vegetarian delicacies at Purohit Lunch Home
13. Alibaug

Located in the Konkan region of Maharashtra, Alibaug is a tiny coastal town that is known for its pristine beaches, historical forts, and the clean, non-toxic atmosphere. With no dearth of places to visit, Alibaug is one of the most fascinating places to visit near Mumbai and Pune that never lets any traveler down. This beautiful little town offers a perfect escape from the busy life schedules, and rejuvenate the mind and soul.
Distance:
From Pune to Alibaug: 144 km
From Mumbai to Alibaug: 95 km
Things To Do:
Witness the surreal sunset and sunrise from Alibaug beach and visit other beaches in Alibaug
Take a trip to the by-gone days at Colaba fort and get an insight into the rich history of Alibaug
Relax the mind, body, and soul while sitting under an orchard of coconut trees and embracing the tranquility of the destination
Take brilliant photographs of mother nature at Kihim beach
15 Places To Visit In Lavasa In Monsoon 2022 To Satiate Your Trip Cravings!
14. Lohagad Fort

Listed as a UNESCO world heritage site, Lohagad Fort is beautifully located at the peak of a hill near Malavali. Exhibiting a magnificent concoction of ancient architecture and marvelous nature, Lohagad Fort certainly deserves a place on the bucket list when traveling to Maharashtra. Built during the times of the Maratha Empire in the 18th century, this fort showcases a massive structure that was used by Chhatrapati Shivaji Maharaj to store the treasury.
Distance:
From Pune to Lohagad Fort: 64 km
From Mumbai to Lohagad Fort: 98 km
Things To Do:
Trek till the peak of the hill and satiate the inner adventurous souls
Explore and learn about the history of the Fort
Witness the panoramic and picturesque views of lush greenery surrounding the Lohagad Fort
15. Vihigaon Waterfall

One of the most mesmerizing places to visit near Mumbai and Pune, Vihigaon Waterfall comes alive, especially during the monsoons. If travelers are seeking for a perfect place to enjoy monsoon to the fullest, Vihigaon waterfalls are the place to be. The refreshing, rejuvenating, and relaxing nature of the falls attract flocks of tourist to this destination.
Distance:
From Pune to Vihigaon Waterfall: 242 km
From Mumbai to Vihigaon Waterfall: 116 km
Things To Do:
Enjoy the thrilling sports like river rafting and rappelling to satisfy your adrenaline rush
Take beautiful pictures of the views with pouring rainfall as the backdrop
Carry food and beverages to enjoy the views while induldging in the meals
Stand under the gushing waterfall and get released of the stress and fatigue
11 Places To Visit In Mumbai In Monsoon 2022 For A Rendezvous With Nature!
16. Mahabaleshwar

Also known as the 'Land of strawberries' or 'Queen of hill stations', Mahabaleshwar houses some of the most picturesque rivers, surreal cascades, and magnificent peaks. This hill station of Maharashtra is also home to a number of ancient temples. The lush green foliage surrounding this little town makes it look right out of a fairytale. Mahabaleshwar is blessed with nature and is nothing less than a paradise for nature admirers.
Distance:
From Pune to Mahabaleshwar: 120 km
From Mumbai to Mahabaleshwar: 263 km
Things To Do:
Witness the beauty of Chinaman's and Dhobi waterfalls
Take in the picturesque views of the lush greenery on the surrounding hills and valleys
Enjoy the heavy and refreshing rainfall pouring generously over the town
Spectate and explore the architectural marvel, the Pratapgarh Fort
17. Lavasa

India's first planned hill station, Lavasa is a little town in Maharashtra that houses beautiful architecture that oozes out the vibes of the Italian town Portofino. Lavasa is a man-made, modern day hill station that is surrounded by the aura of peacefulness and quietness, proving to be an ideal destination to get away from the bustling city culture.
Distance:
From Pune to Lavasa: 65 km
From Mumbai to Lavasa: 200 km
Things To Do:
Enjoy a boatride on the Lakeside Promenade of Lavasa
Go for a family outing on a picnic at Temghar Dam and witness the stunning sunset
Walk along the Lavasa nature trail and embrace the wonders of mother nature
8 Insanely Gorgeous Destinations Near Pune That Managed To Remain Hidden Till Now!
Don't you think these monsoon getaways near Mumbai and Pune are awesome? Share this list with others and plan your trip to Mumbai in the rains with your traveler buddies right away! Book your escapade with TravelTriangle for the best deals on your customized tour. Get ready for an amazing trip with alone or with your loved ones!
For our editorial codes of conduct and copyright disclaimer please click here. 
Frequently Asked Questions About Monsoon Getways Near Pune And Mumbai
Which are the best places to explore on weekends near Mumbai and Pune?
While some of the famous places like that of Lonavala, Khandala, Alibaug, and Lohagad Fort need no introduction to anyone who has the slightest idea of how beautiful the rains look during the monsoons, some of the most offbeat places like Kamshet, Mulshi, Matheran, and Panchgani are also some of the beautiful monsoon getaways near Pune and Mumbai that one can explore easily over the weekends since they are near to both the cities.
Is it safe to visit Maharashtra during the pandemic?
The state has now lifted the travel ban from most of the parts. However, while visiting here, travelers must abide by all the government protocols that include wearing a mask at all times, keeping required social distance, sanitizing hands after certain intervals, and more. Your safety is in your hands, hence take precautions and enjoy your vacation.
Which is the best place to visit during monsoons near Mumbai?
All the places near Mumbai and Pune have their own charm and exude refreshing vibes during the monsoons. However, some of the selected places like that of Lonavala, Malshej Ghat, Kolad, Mahabaleshwar, and Lavasa possess the capability of casting a magical spell on the travelers by treating them to some of the most reviving vistas of the Western Ghats.
Is it safe to visit Mumbai and Pune during the monsoons?
It is absolutely safe to visit both cities during the monsoon season. While both cities have their own pros and cons and so does every season, the nearby places like Lonavala, Matheran, Kamshet, Panchgani, Tapola, Mulshi, Alibaug, and Sinhagad, etc., look absolutely magical during the monsoons.
How far is Lonavala from Mumbai?
If one is opting to travel via road which happens to be the best way to explore the route, one can reach Lonavala from Mumbai in a matter of just two hours. Located at a distance of just eighty one kilometers, Lonavala can be best reached via the Bangalore-Mumbai highway. One can also take a train which cuts down the time by half as it is only a distance of 28 kilometers from Mumbai then.
What places are the best to visit for couples near Pune and Mumbai?
Lavasa, Lohagad Fort, Lonavala, Panchgani, Matheran, and more are some of the best places for couples to visit near Mumbai and Pune.
---
People Also Read:
Monsoon Getaways Near Himachal Pradesh Monsoon Getaways Near Bangalore Monsoon Getaways Near Ooty