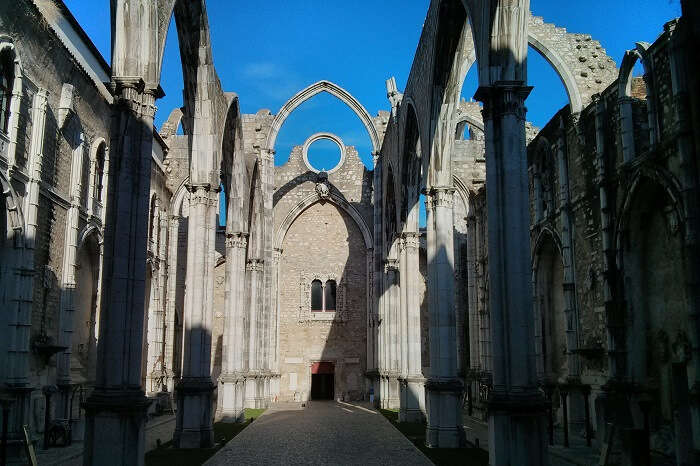 Located in the Atlantic coastline, Portugal is a land of historic discoveries, richly influenced by the various civilizations in the past. It has become a platform for the discovery of the new era world. Being the oldest nation in Europe, Portugal is a place of rich cultural heritage where you will find a blend of cultures from countries like Africa, Asia, and America. From exquisite architecture to monuments and structural buildings, everything is a work of art. We've lined up 12 museums in Portugal that are worth visiting.
12 Best Museums in Portugal
For all those who are a lover of art and are curious about different cultures, you must visit these 12 museums in Portugal. They are worth visiting at least once:
1. Observatorio do Lago Alqueva

It is an astronomical observatory situated close to the medieval village of Monsaraz. In OLA you can take a tour of the marvelous night sky of Monsaraz. They also help you in identifying constellations and know more about the legends and myths behind them. After this tour, you will be able to relate stellar colors with their ages. Also, with the help of telescopes you can observe star clusters, giant nebulas, and distant galaxies. The museum also promotes courses and workshops for young budding students, seniors and everyone else who have their heart set out on outer space.
Location: Cm 1127, Monsaraz 7200-175, Portugal
Google rating: 5
Must Read: Portugal Travel Guide: Here Is All You Need To Know About This Beautiful Iberian Country
2. Monte da Ravasqueira

This place is situated in Arraiolos and is at a distance of an hour drive from Lisbon. This place has been associated with the José de Mello family for ages. Alentejo has 29 plots of vines which produce some of the most delectable wines all over the world. They are a result of conducive geological and climatic conditions. They have invested a great amount of money in setting up vines and modern winemaking equipment in meteorological and plant-health facilities.
Location: Monte da Ravasqueira, Santana do Campo, Arraiolos 7040-121, Portugal
Google rating: 4.5
3. Caravel Art Centre

Art Centre showcases creative and charitable projects and exhibitions. It also features educational services, dancing and musical evenings and also facilitates the group and family routes for intelligent tourism. With mind-blowing paintings to be viewed through 3D glasses, you'll stumble upon some of the greatest artwork by local craftsmen and artists and truly understand the essence of Portugal.
Location: Rua Dom Carlos, Rua de Santa Maria, 60, Funchal, Madeira 9060-051, Portugal
Google rating: 4.5
Suggested Read: 10 Lakes In Portugal: Unwind And Relax In The Beautiful Portuguese Surroundings
4. National Tile Museum

Located in the monastery of Madre Deus, this museum features ancient tiles which date back to the 15th century. This museum showcases ceramic tile work which is a must to know if you come to this museum. Also, if you are someone who is interested in knowing about the specialty of the region, this is the perfect place to come. Here you will discover azulejo--the painted, tin-glazed, ceramic tiles which were brought by The Moors to Portugal and are mostly found in churches, palaces, homes, and even railway stations. This museum displays traditional artifacts from Portugal depicted through their art forms. The chapel is decorated with gold ornamentation, precious gems, and amazing carvings and is worth the visit.
Location: Rua Madre de Deus 4, Lisbon 1900-312, Portugal
Google rating: 4.5
5. National Museum of Ancient Art

This museum features a vast collection of artworks. As you walk through the museum you will see paintings, sculptures, textiles, furniture, drawings, and other decorative arts hanging on the walls. It has been found that these unique pieces date back to the time from the 15th and 19th centuries. Here, you will find a huge influence on the European and Asian art and culture throughout the place. Pay special attention to the large panels depicting members of medieval Portuguese society paying respects to St. Vincent, the patron saint of Lisbon. This work represents one of the first collective portraits in European art and is attributed to one of the most renewed artists of his time artist Nuno Goncalves.
Location: Rua das Janelas Verdes 1249 017, Lisbon 1249-017, Portugal
Google rating: 4.5
Suggested Read: 10 Alluring Castles In Portugal That Are Worth Paying A Visit
6. Museu de Marinha

This museum offers a historical perspective of Portugal's seafaring achievements by featuring more than 17,000 nautical items. It showcases the country's domination of the seas during the Age of Discoveries. The reconstructions of royal barges, 17th-century globes, seaplanes, and firefighting machines are some of the major highlights of this place. A wooden figure of Archangel Raphael that Vasco da Gama took with him on his voyage to India is another tourist attraction of this place.
Location: Praca Imperio, Lisbon 1400-206, Portugal
Google rating: 4
7. Universo de Memorias Joao Carlos Abreu

One of the most welcoming places in Funchal, it opens you up to a great new universe. Old in essence but modern in its tales, this place is quite unexpectedly quirky. Each room is highlighted and decorated with memorabilia, anything, and everything. It's more of a personal collection of all that is extravagant in Madeira rather than a museum. You'll have a wonderful guide, never running out of anecdotes and wonderful stories, enriching your experience every step of the way.
Location: Calcada Pico 2, Centro Cívico e Cultural de Santa Clara, Funchal, Madeira 9000-206, Portugal
Google rating: 4.5
Suggested Read: Haunted Places In Portugal: 10 Places That Will Send Shivers Down Your Spine
8. Museu do Fado

This museum is solely dedicated to the musical tradition o Portuguese featuring melancholic song originating from Alfama, audio-visual presentations and a large collection of musical archives and a re-created workshop for guitar. They also showcase multilingual audio guides, recordings, and biographies of Fado contributors. For an experience way beyond what pleases your visual needs, this wonderful and glorious place caters to all of your senses.
Location: Largo do Chafariz de Dentro 1, 1100-139 Lisboa, Portugal
Google rating: 4
9. Igreja de Sao Roque

This place is known for its splendid, Baroque-inspired interiors. Its origin dates back to the 16th century and is therefore considered one of the oldest churches in the world. As you walk into the church, you will be left spellbound with the awe-inspiring view of the numerous chapels which are adorned in gold, marble and precious stones. The walls and ceilings of this opulent church are embellished with colorful mosaics, statues, and religious paintings.
Location: Largo Trindade Coelho, Bairro Alto, Lisbon 1200-470, Portugal
Google rating: 4
Suggested Read: Summer In Portugal: To Explore The Gorgeous Landscapes And Views On Your Next Vacay!
10. Museu Serralves

This building is decorated in the most minimalistic way possible but is a haven for all things artistic. Being most-visited museum in Portugal, this place features a prominent European contemporary circuit. It is built on 18 hectares of land. It features modern sculptures, the complex includes a 14-gallery museum, farmland, a shop, a bookstore, and several cafes.
Location: R. Dom João de Castro 210, 4150-417 Porto, Portugal
Google rating: 4
11.Museu Calouste Gulbenkian

This place is famous for its exquisite range of artworks which are displayed at this museum. This museum is a haven for treasures from both, the East as well as the West. Here, you will find Chinese porcelain, Western masterpieces, and magnificent Egyptian relics. You get to come across the galleries of paintings, jewelry, furniture, sculptures and what not! A museum in its entire extraordinary splendor, this place will make your visit totally worth it with cultures from all over the world and archaic beauties with mind-blowing intricacy and hues.
Location: Av. de Berna 45A, 1067-001 Libsoa, Portugal
Google rating: 4.5
Suggested Read: Top 5 Adventurous Safaris In Portugal To Dive Into Its Rich Portuguese Biodiversity
12. Carmo Archaeological Museum

This museum is unique in its own ways. It is the only church in Lisbon which is built in Gothic style. The whole church was built in 1423 and was considered to be the most lavish at that time. Here you can see findings that date back to 3500 BCE, from the Roman and Visigoth periods which. It includes tombs of notable persons like as King Ferdinand I and Spanish-Moorish tiles. This one shows you the true history, from the rulers to the serving class, from colonizers to endless wars, it gives you records about the kings and their deeds, their kingdoms, their rules and everything in between.
Location: Largo do Carmo, 1200-092, Lisbon 1200-092, Portugal
Google rating: 4.5
Further Read: 10 Cafes in Portugal To Hang Out With Friends And Enjoy A Cup Of Goodness
Portugal is famous for its awe-inspiring natural sights like soft rolling hills, deep valleys, scenic mountains, and scattered islets. There are in total 18 Portuguese features that have been declared as World Heritage Sites by UNESCO. The long history of Portugal depicts the story of n2umerous cultural and traditional events which date back several centuries. If you are someone who is curious about the culture, history and art, then the museums in Portugal are nothing less than a paradise for you. So what are you waiting for? Book a trip to Portugal now.
---
Looking To Book An International Holiday?
Book memorable holidays on TravelTriangle with 650+ verified travel agents for 65+ domestic and international destinations.
---