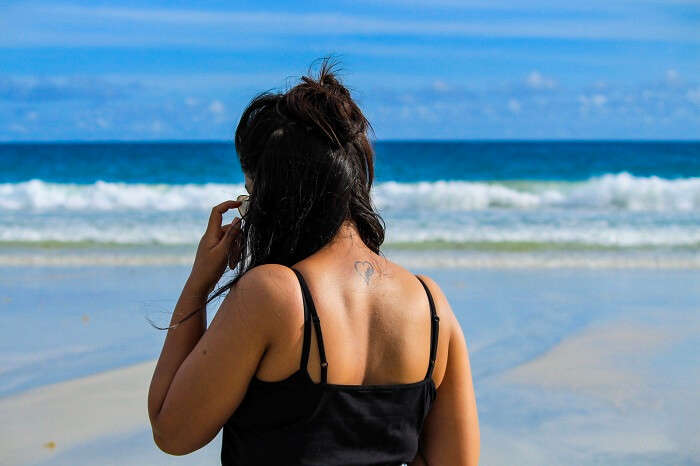 "Pack your bags and leave!" That is what travel means to me and I am happy with its definition in my life. So this time too when my mum, sister, and I decided to take a family trip to Andaman, there was nothing different except for one thing and that was the fact that it was our first beach trip together.
Having always been a mountain child, it was a bit difficult for me to be in the role of a beach baby but one should always be open to experiences, right? Plus, it was Amma's 60th birthday and Andaman was decided after a lot of research and brainstorming – in other words, it was too late to back out now!
But to be honest, my five-day family trip to Andaman was one of the best ones I've ever had and after seeing our pictures and reading about the fun we had, you too would feel the same.
Day 1: Port Blair – Getting in touch with Andaman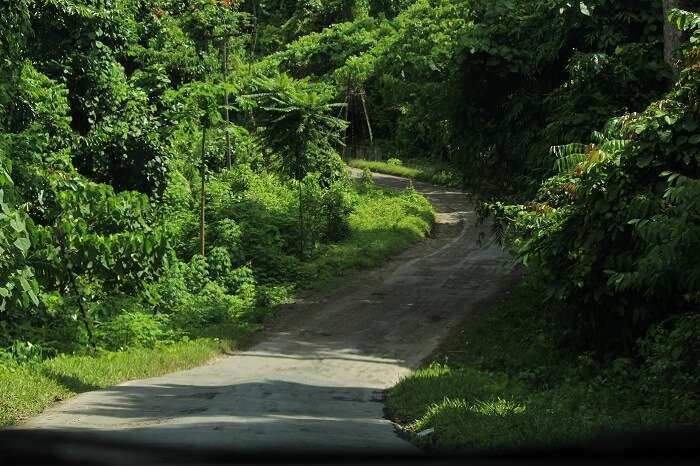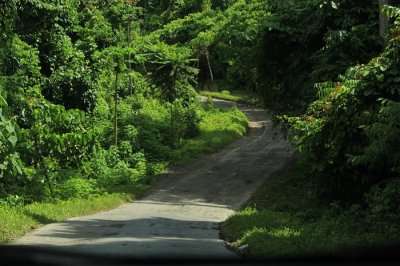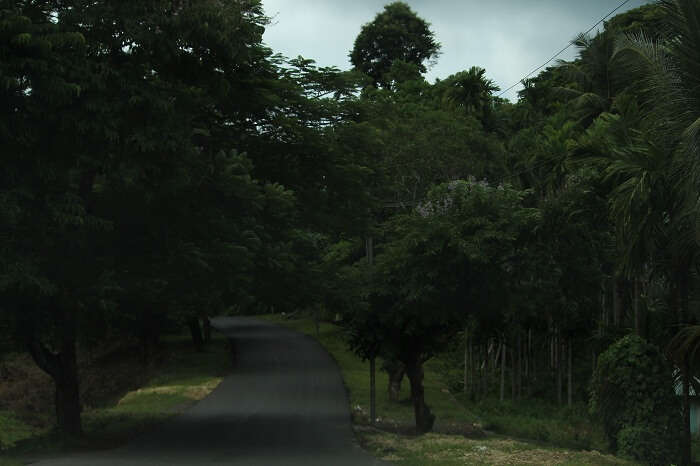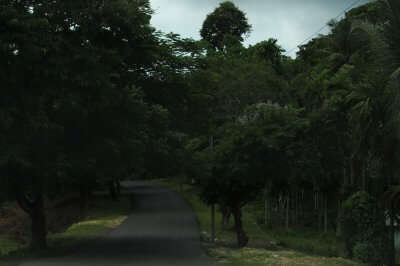 13 Top Sea-Facing & Beach Resorts In Port Blair, Andaman
We had booked our family package to Andaman via TravelTriangle (an online marketplace for agents and travelers) and true to their agent's word, we were greeted by their representative upon our arrival in Port Blair. The airport was small and kind of 'waiting for approval" cool and after a short wait of about 20 minutes, we exited. Later after meeting with our representative Mr. Debashish, our driver for the trip, Mr. Zaheer transferred us to our hotel – J Hotel which contrary to our expectations turned out to be great. The staff was thoughtful, the room was nice with a huge dressing table, and the food was finger licking good! The wifi was bad though!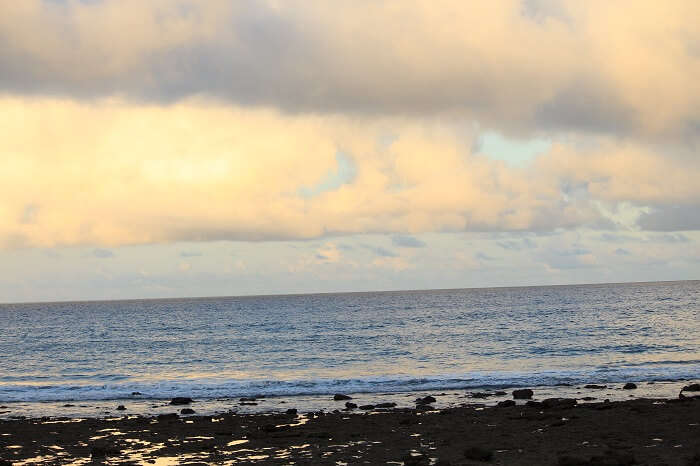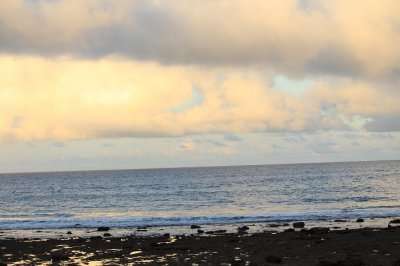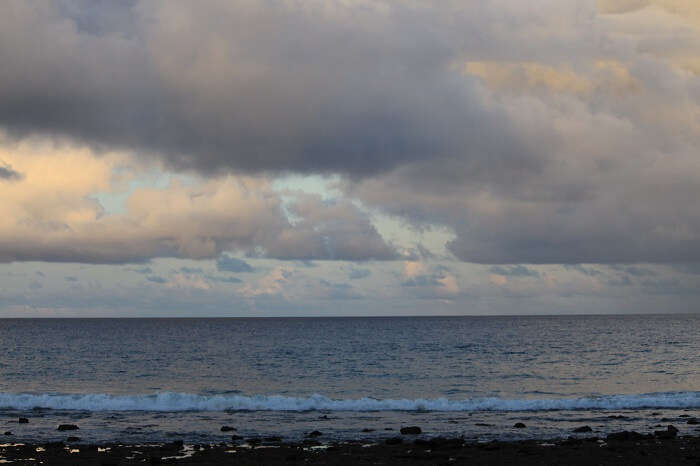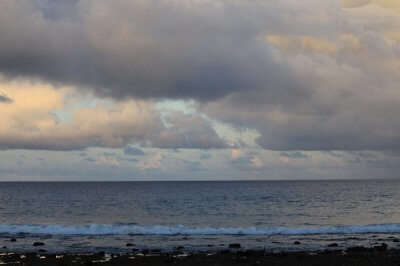 Nonetheless, after resting for a while, we proceeded on to Chidiya Tapu which was a 40-minute drive from J Hotel. This place, which is also known as Bird Island and Sunset Point came after riding through roads that crisscrossed in and out of dense forests and frankly, it was awesome.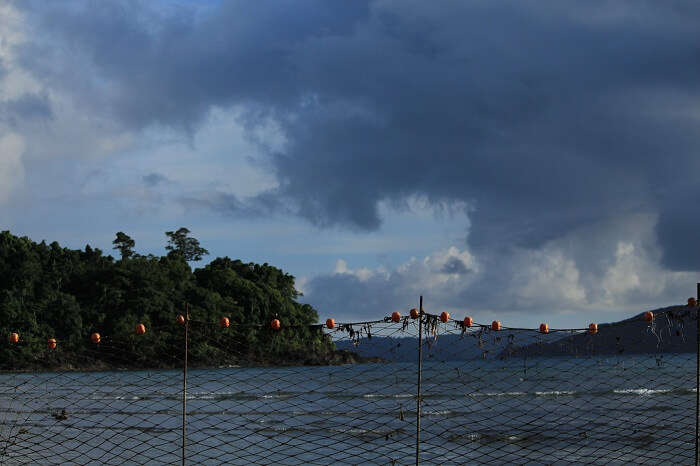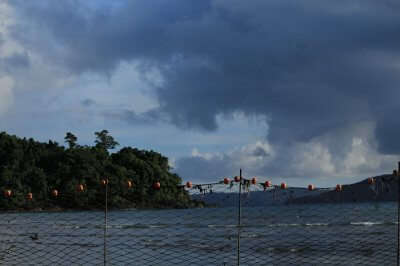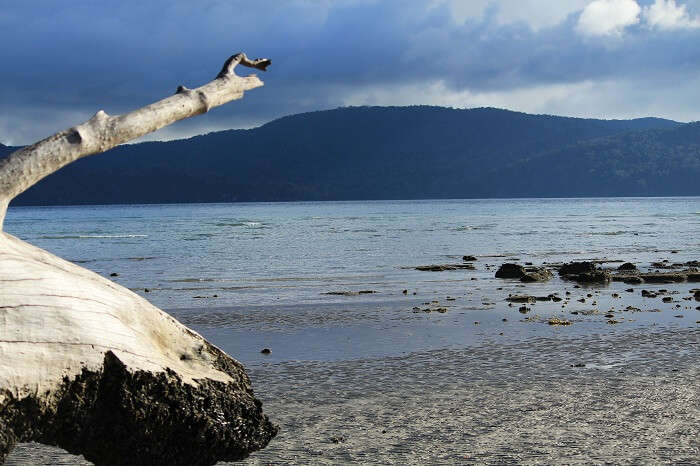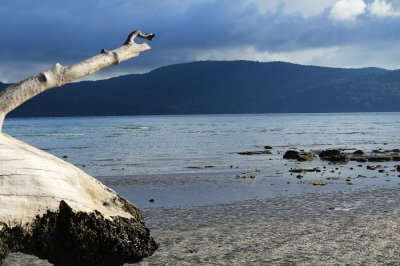 Later, upon reaching the beach, we came across several signs saying "Beware of crocodiles". Our driver, Mr. Zaheer, informed us that these crocodiles were once kept in the zoo but had gotten free after the Tsunami. The authorities had also marked an area for visitors and we were here only. The sun too was blushing on its way out.
Day 2: Havelock – The island and its many charms!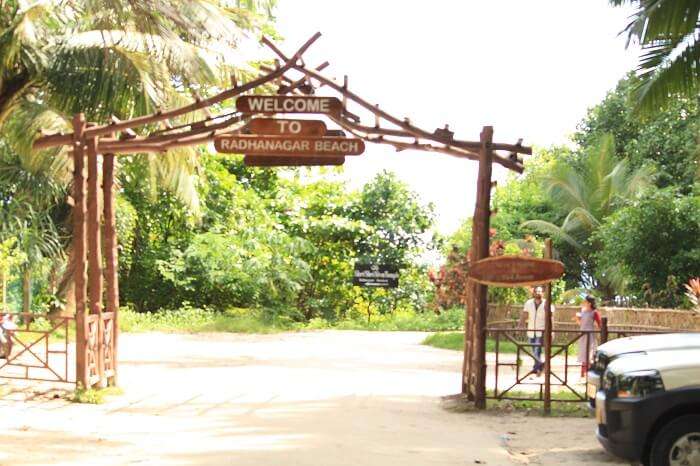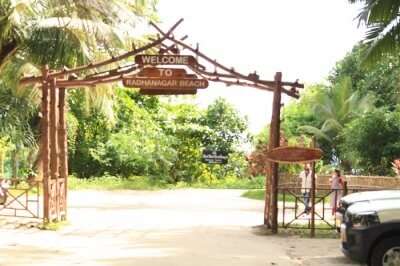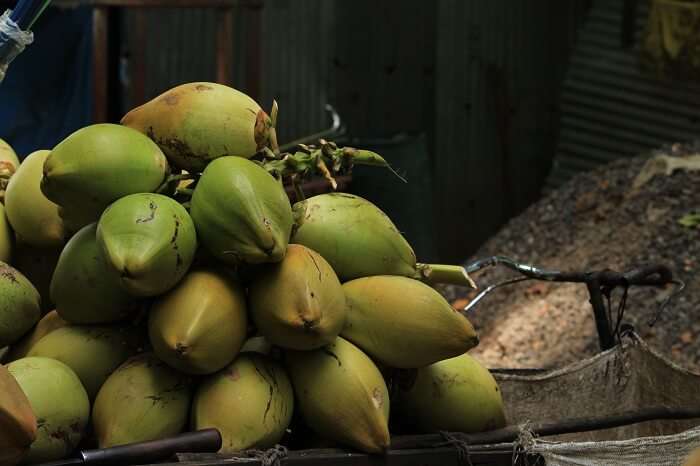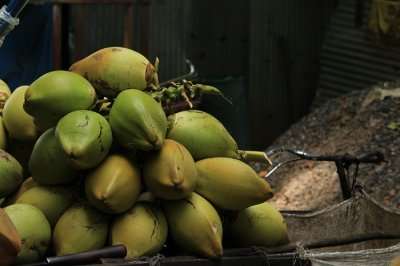 25 Best Beaches In Andaman & Nicobar Islands
We boarded the Macruz today for our transfer to Havelock and boy, it was one hell of a journey. The cruise was a double-decker and came with a decent cafeteria, the snacks and tea of which were not that great. Another highlight of the cruise was its loud crowd. There was a lady singing "Satyam Shivam Sundaram" for straight 40 minutes and by the time it came to an end, I was convinced, India's truly got talent.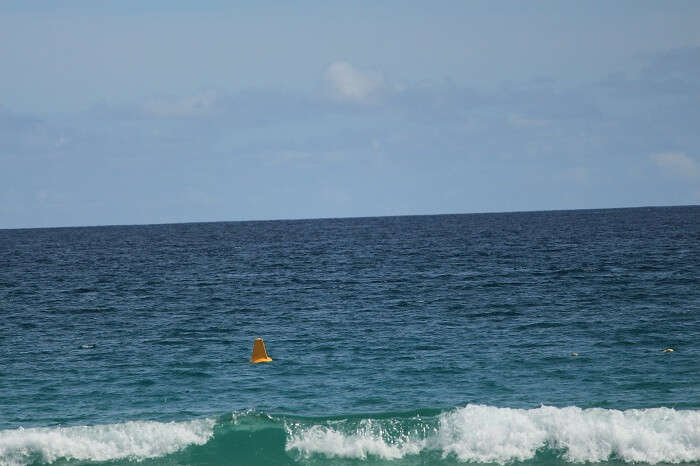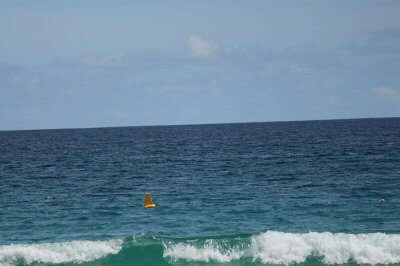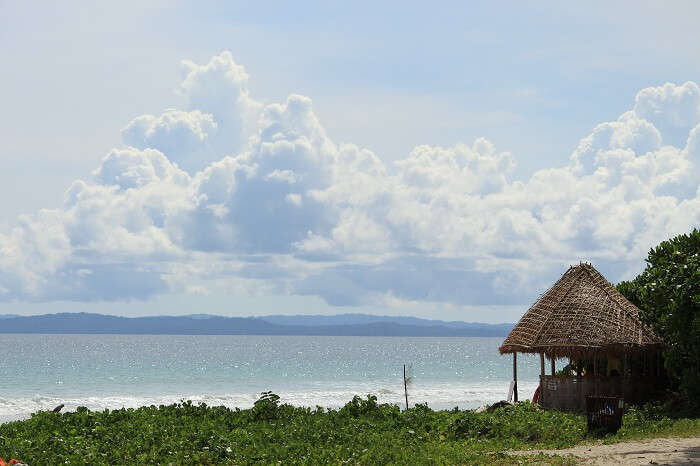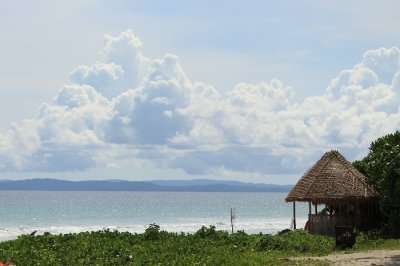 Havelock is the largest island in Andaman and it is named after a British general, Sir Henry Havelock and consists of mainly Bengali settlers.
Upon our arrival here, we were greeted by Mr. Praveen who dropped us to our hotel where after some confusion with at the front office, we finally checked in. Our hotel, Symphony Palms was an excellent property and post a kadak chai, we soon set out to visit the world's best beach in Asia (2004), the Radhanagar Beach.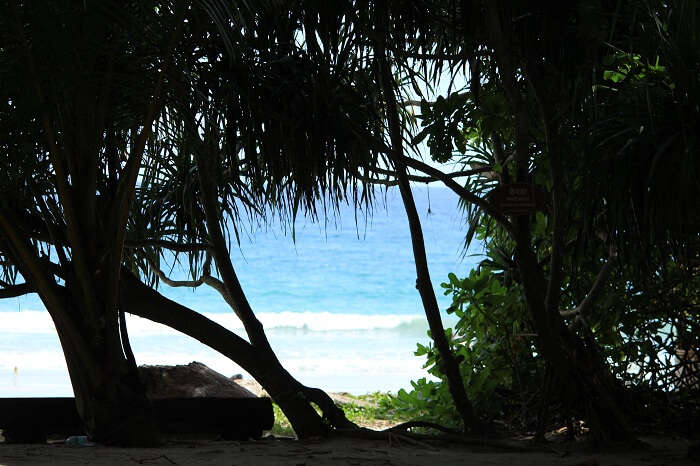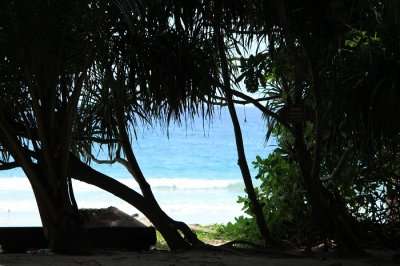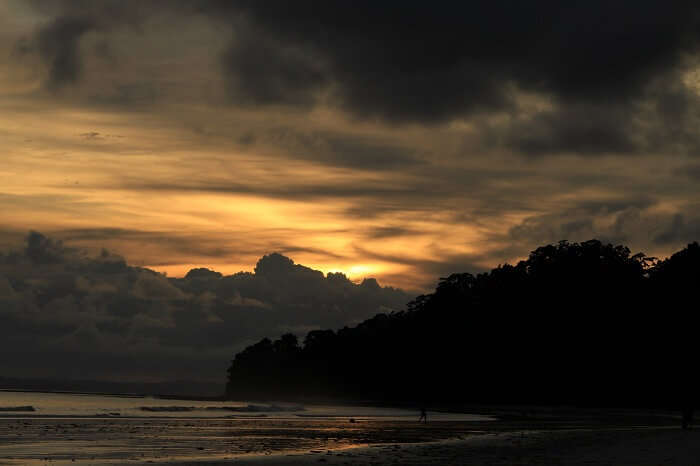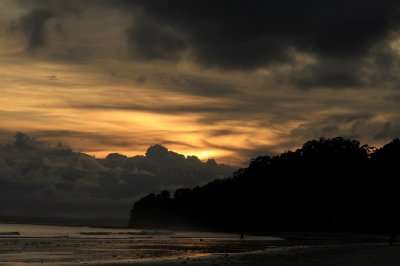 Also known as beach number 7, Radhanagar beach was a divine experience for us. A clean stretch of white sandy land, we loved each and every moment spent here. There were fruit lorries and coconut water sellers here and apart from this, there was also a buffet serving restaurant that opened after 4 pm. Overall, everything felt amazing and we all loved sunbathing, building sand castles and swimming at this paradise.
Back in the hotel, we were served a delicious dinner and since the staff was from Delhi and Uttarakhand, our connection with them was instant. The cherry on top was a sweet delicacy, called Shahi Tukda, which specially made on our request.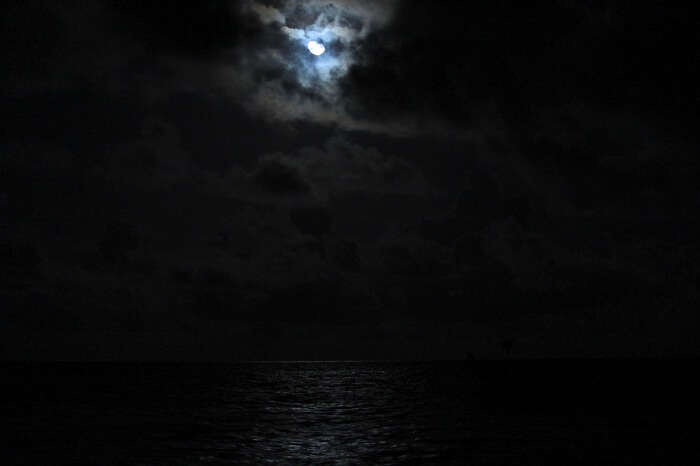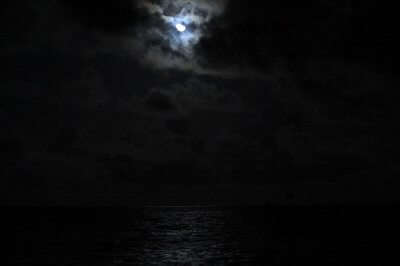 Here's Why Havelock Island Is Nothing Less Than A Slice Of Paradise In Andaman
Later on, with our belly full of food and our hearts full of happiness, we went for a walk on the beach, and here too, the sweet company of moon made sure we had an enchanting experience.
Day 3: Neil Island – A special day for our mother!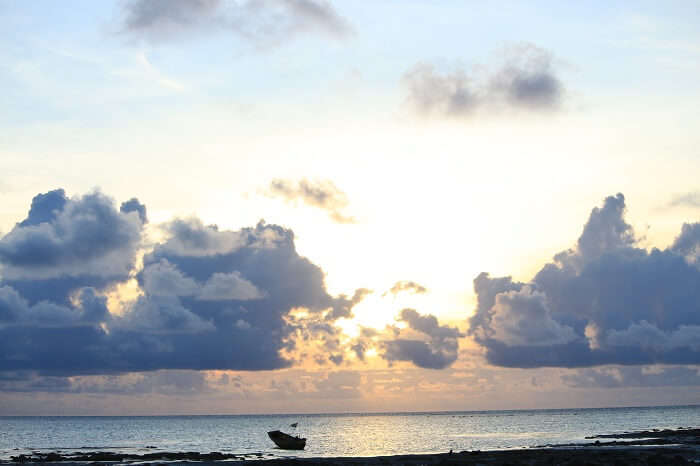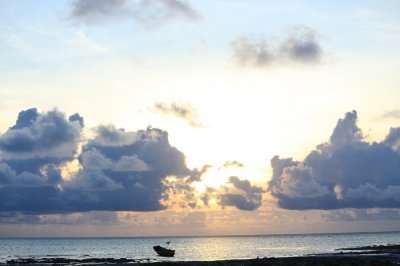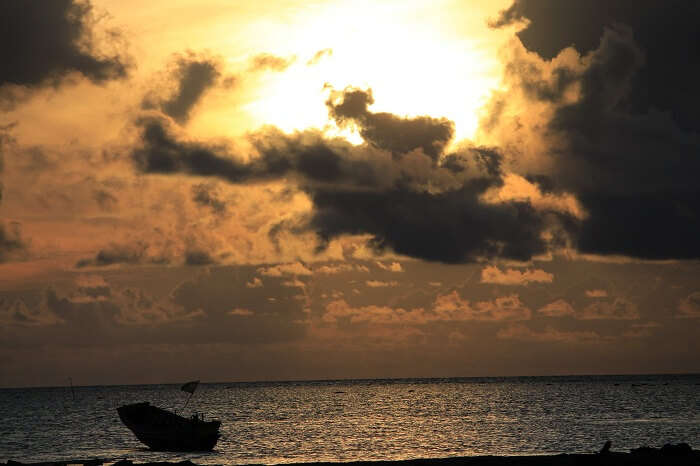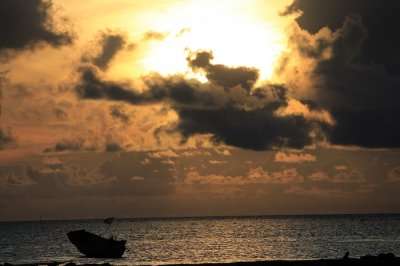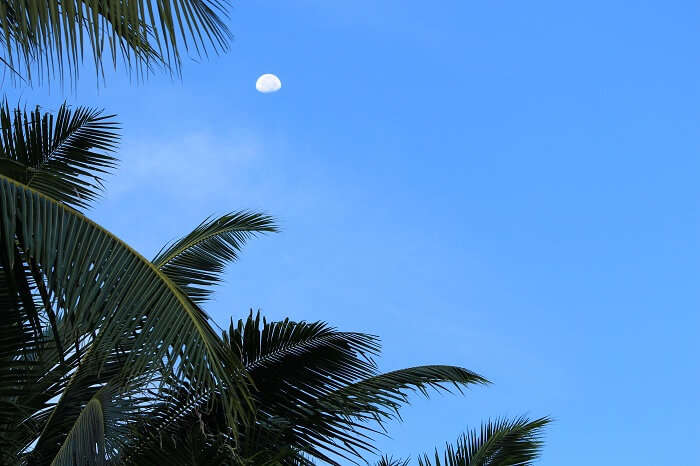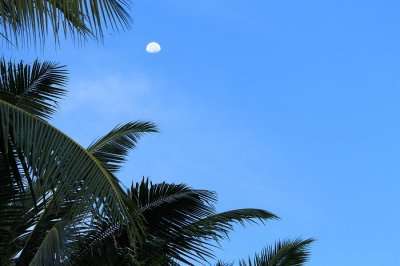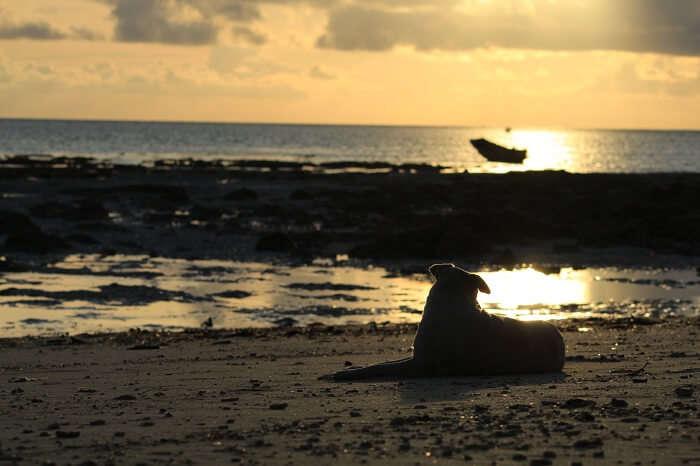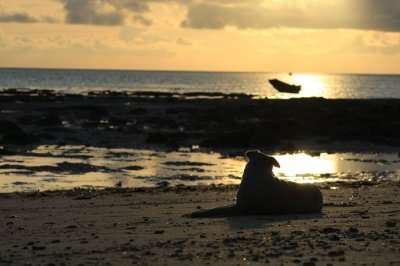 6 Neil Island Hotels & Resorts For An Exotic Vacation In Andaman
To ensure a beautiful start to Amma's birthday today, we all got up at 4:30 am and clicked some mesmerizing sunrise photos. Next up, my sister arranged for balloons to surprise her and in all honesty, seeing her face light up brighter than stars meant the world to us.
Later on, we all went scuba diving and yes, it was super amazing! My sister who is claustrophobic loved it! And me, who is hydrophobic and doesn't know swimming, loved it even more!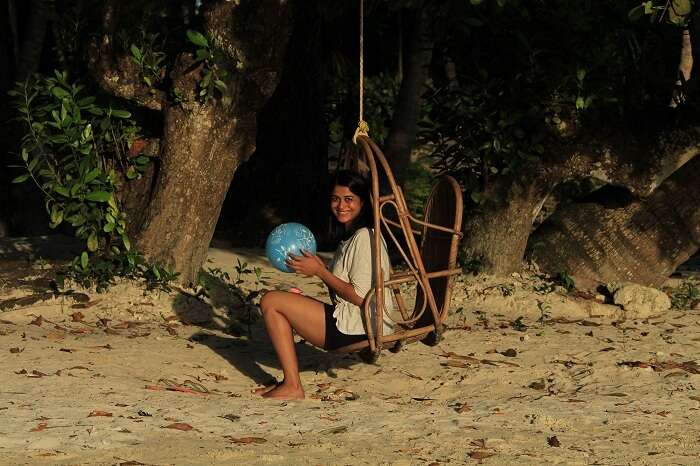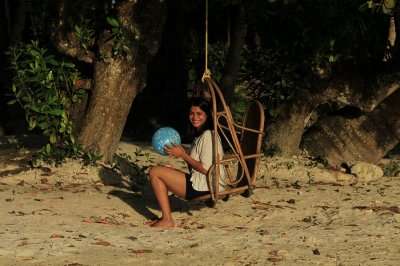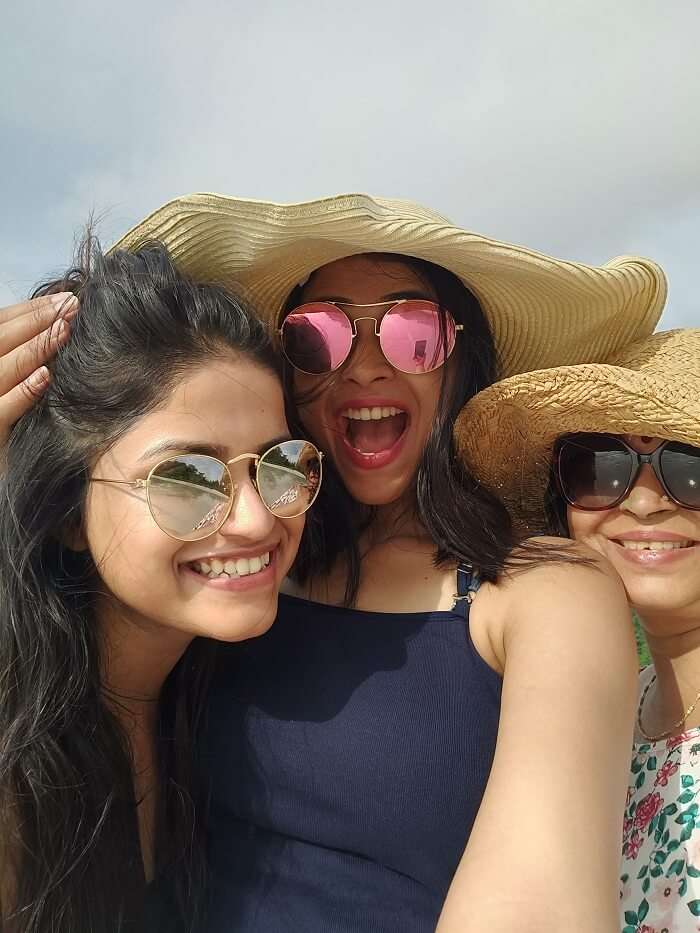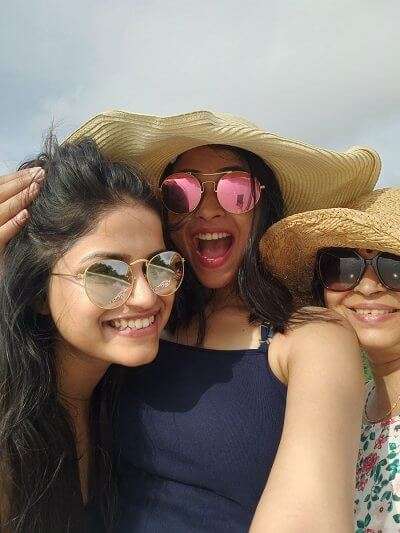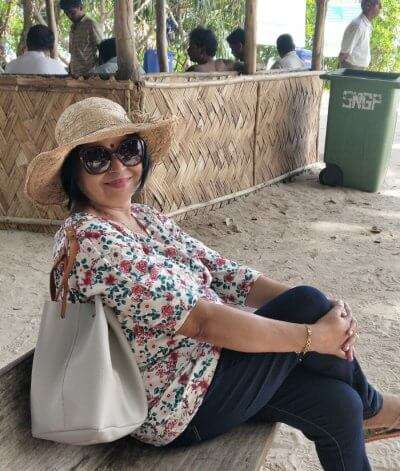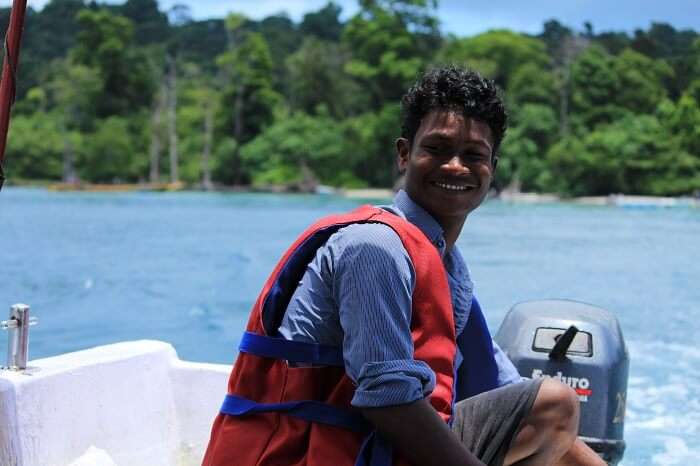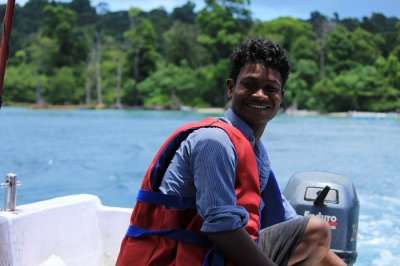 Suggested Read: Scuba Diving In Andaman: 15 Unexplored Sites To Unravel The Colors Of The Ocean
Next up was a delicious breakfast and it was followed by a jetty ride to Elephant Beach. The 30-minute ride was super amazing and passing through the lighthouse on the way was a surreal experience. This beach is an ideal place for snorkeling and has a rich coral reef formation and amazing underwater marine life. The white sand beach and the blue-green water is alluring indeed.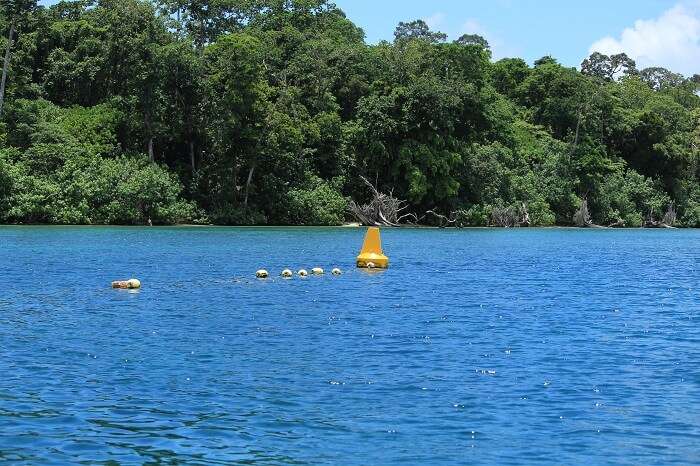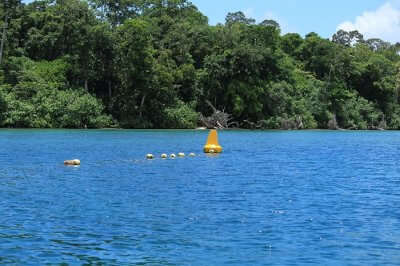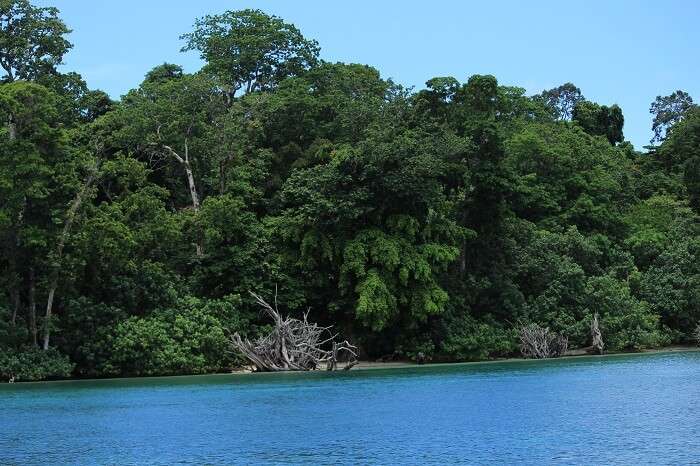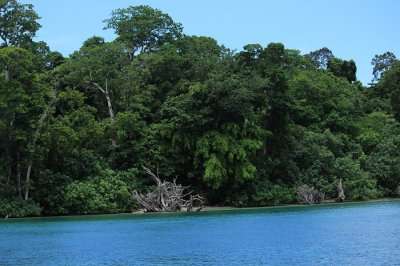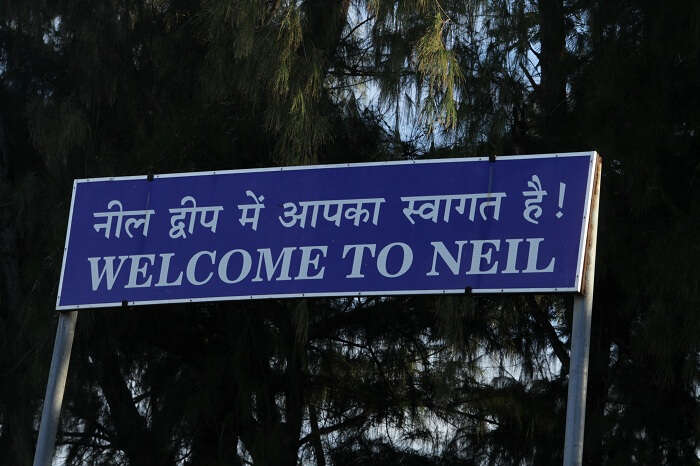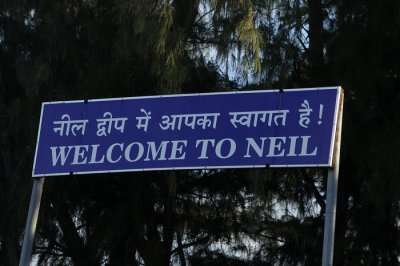 Cruise To Andaman: Guide To Fares And Ferries From Kolkata, Chennai, Vizag
From here, we hopped on the Macruz and headed towards our next destination, Neil Island. This island is filled with tropical vegetation, serene beaches, and unexplored coral reefs. The beaches here are named after mythical characters (like Laxmanpur, Sitapur beach) and the whole island can be finished in 2.5 hours by foot.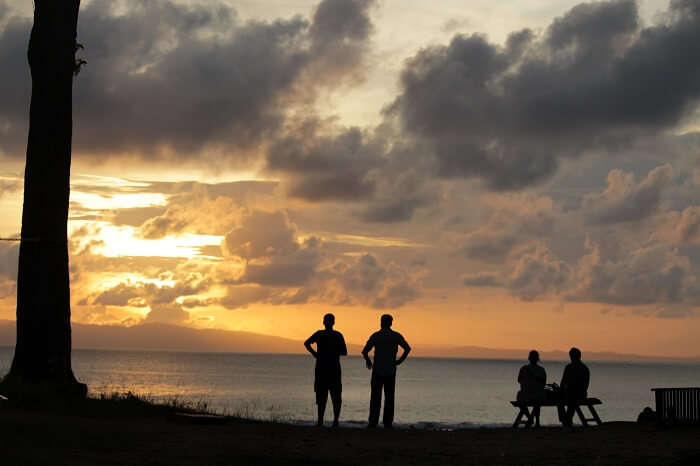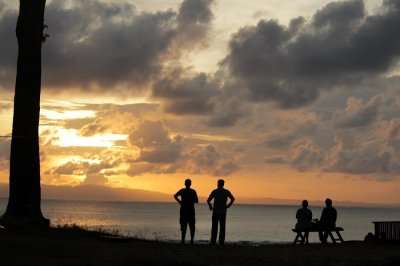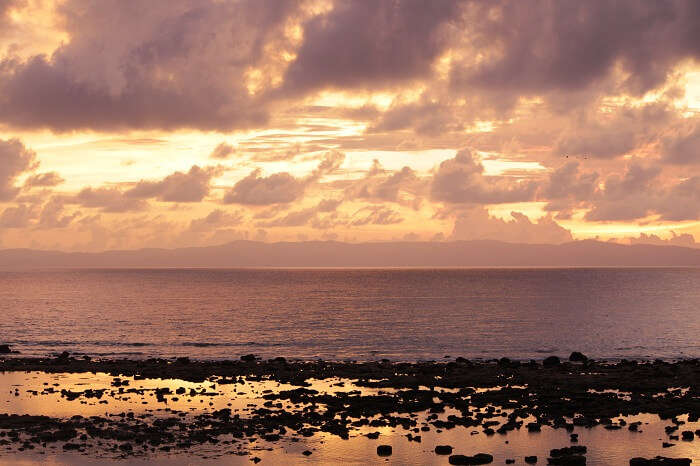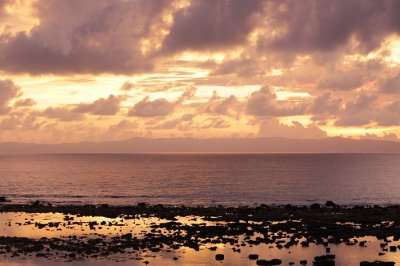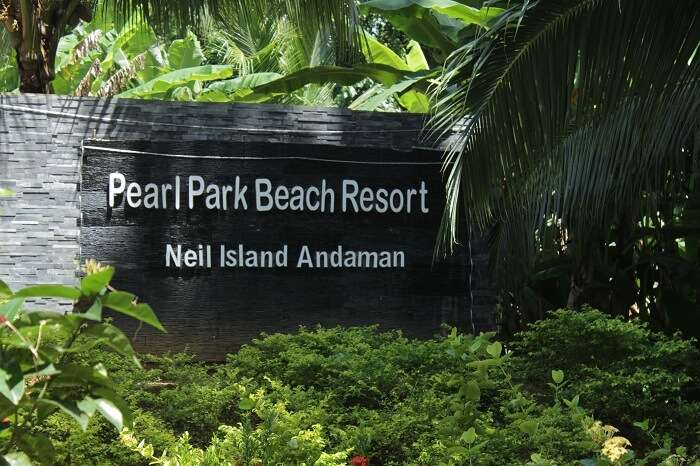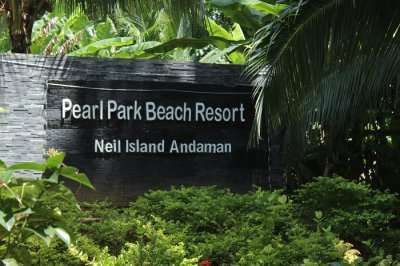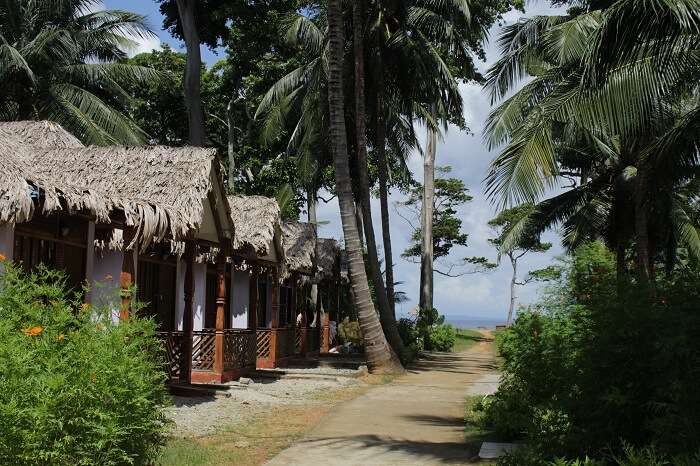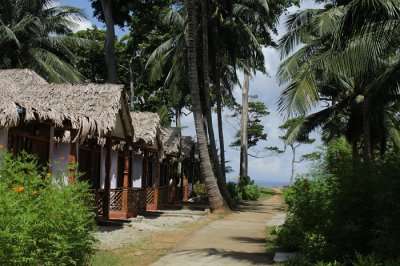 Our hotel, Pearl Park Resort was situated along the Laxmanpur beach and we were allotted sea facing rooms that yes, offered mesmerizing views! The sunset point was a minute away and the evening spent here was simply magical.
"Newton could have rediscovered gravity sitting there and Romeo could have done a better job at romance!"
Day 4: Neil Island to Port Blair – Andaman stands for adventures!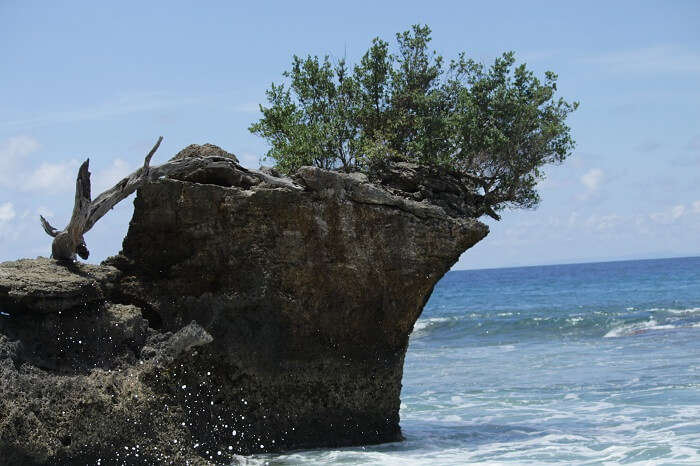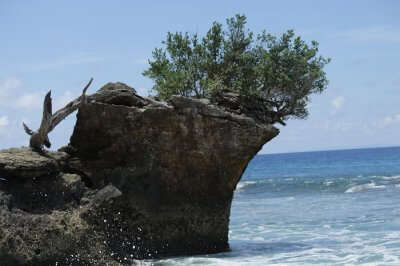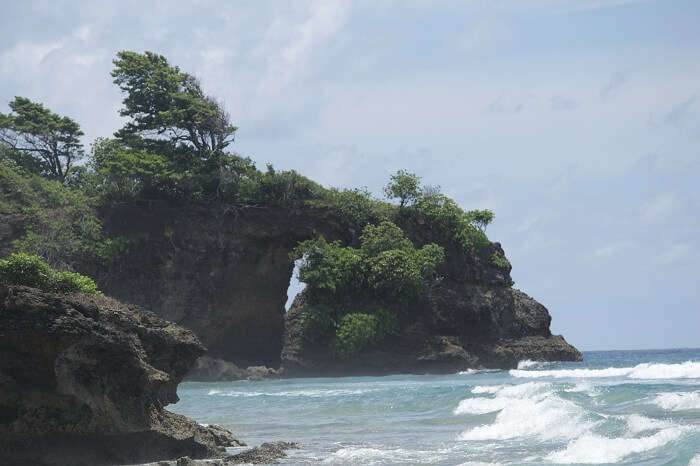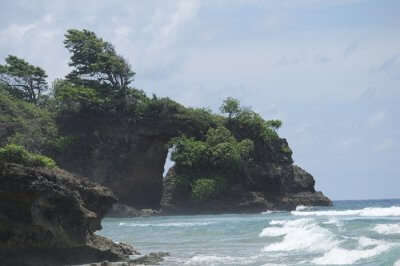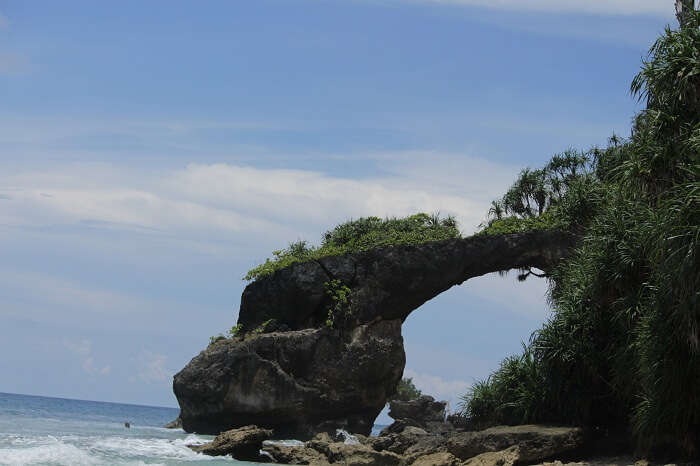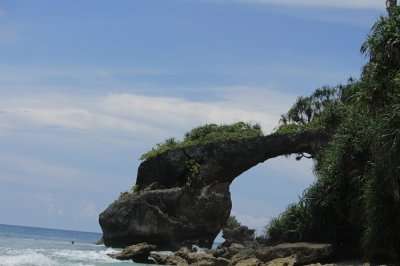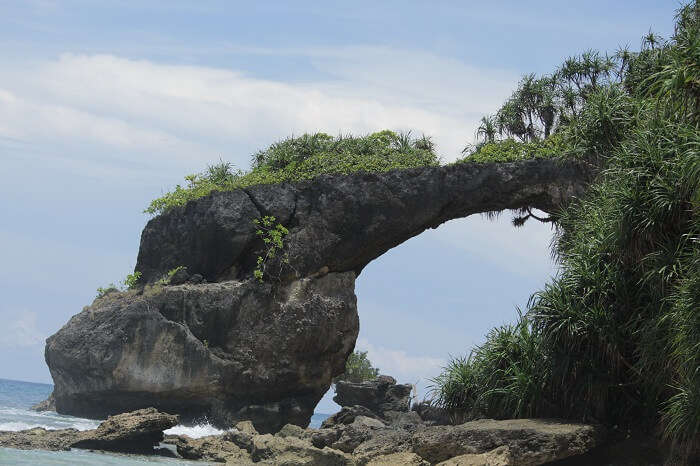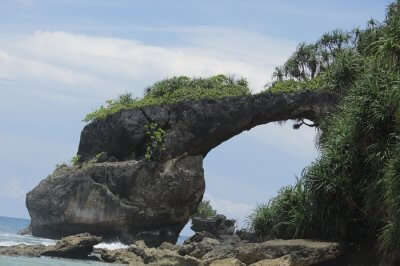 Baratang Island: Nature's Secluded Retreat In Andaman
Today was an epic day for us in many ways and one of them was that I almost got killed (kidding, but it was serious!). Our first stop was the Natural Bridge, also known as the Howrah Bridge which is a naturally shaped bridge like rock that has two living coral reef under it that can best seen on a low tide.
And it was here only while trying to get a good picture that I slipped while running back when the high tide was approaching. Alas, I slipped and before I knew it, the tide was over me and I was left with bruises. But yes, thankfully, my camera was safe!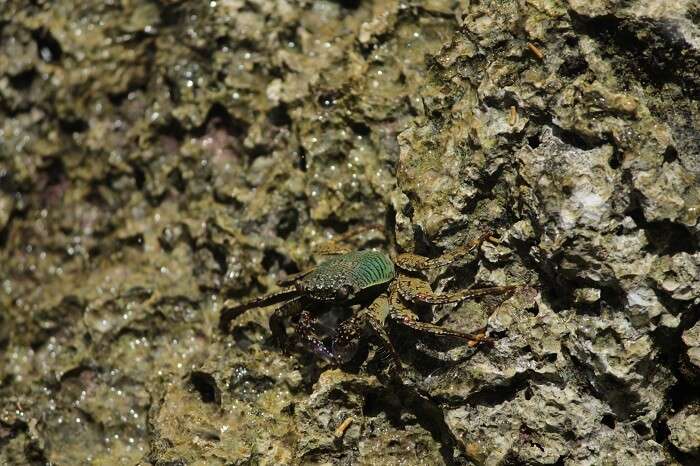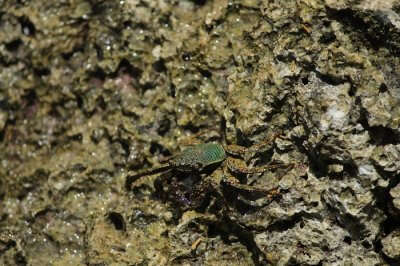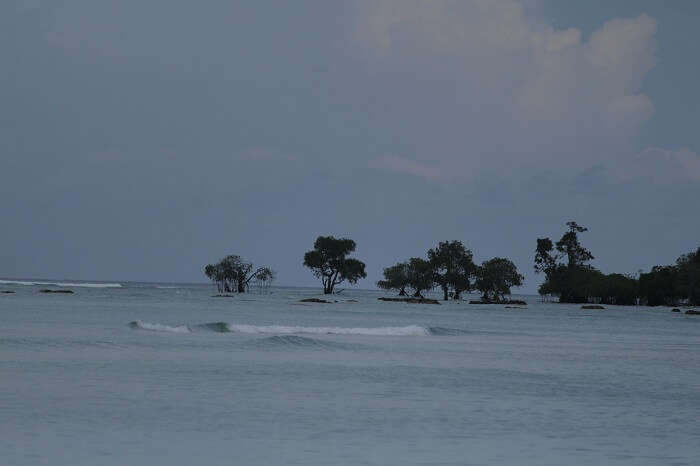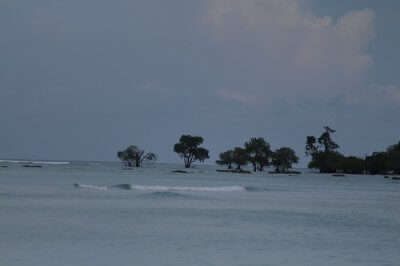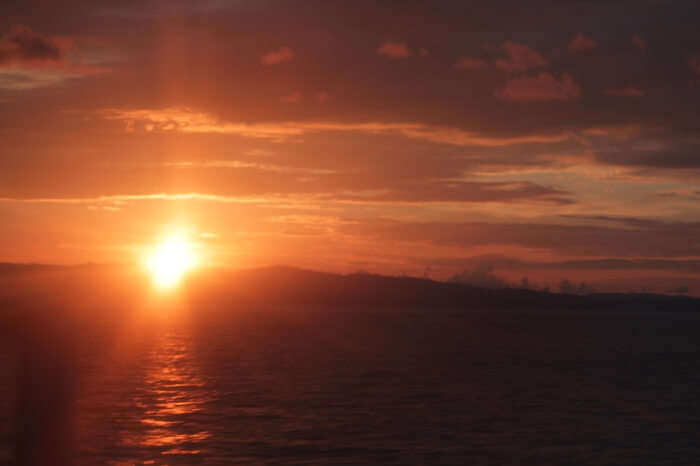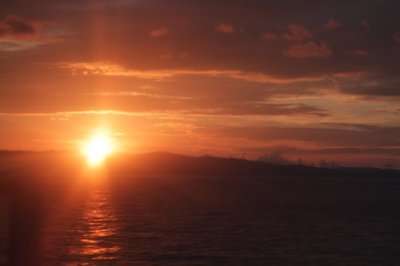 Post this little hiccup, we all proceeded to the Bharatpur beach where instead of indulging in watersports, we relaxed, had a picnic, and made some epic failed sand castles (my sisters was a nice one though).
Later, after a mouth-watering lunch at a nearby Bengali restaurant, we headed back to the port to board our ship back to Port Blair. This time, the seats were nicer and there were sweet melodies from Coke Studio instead of "Satyam Shivam Sundaram".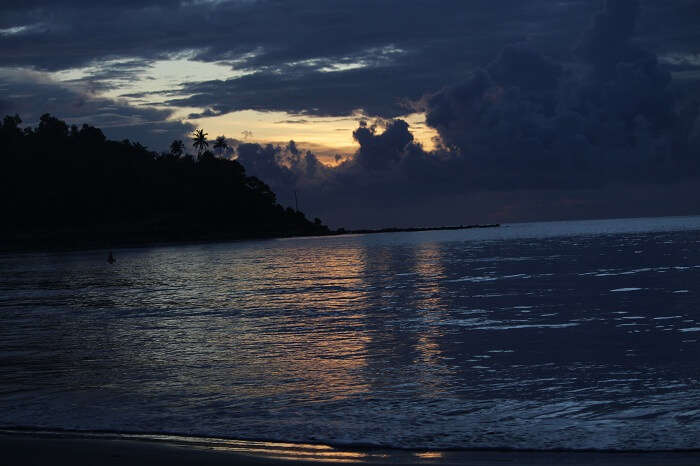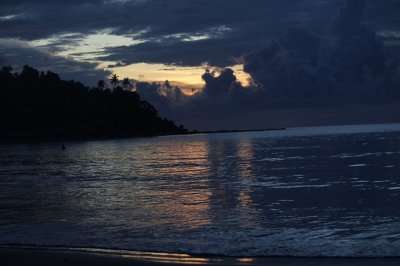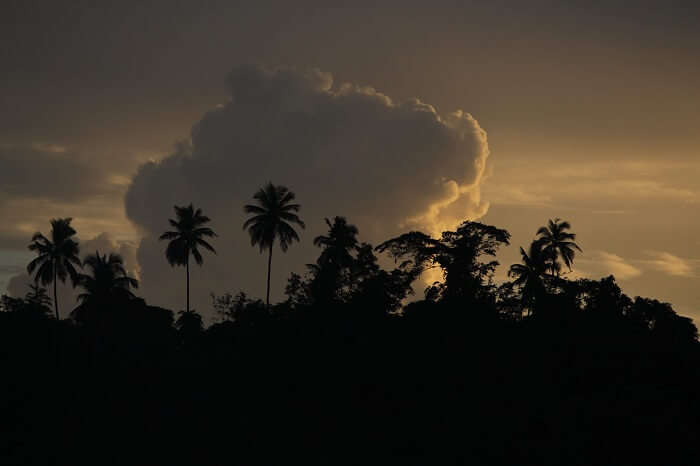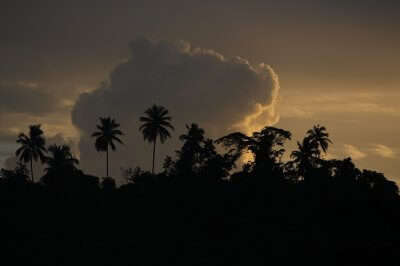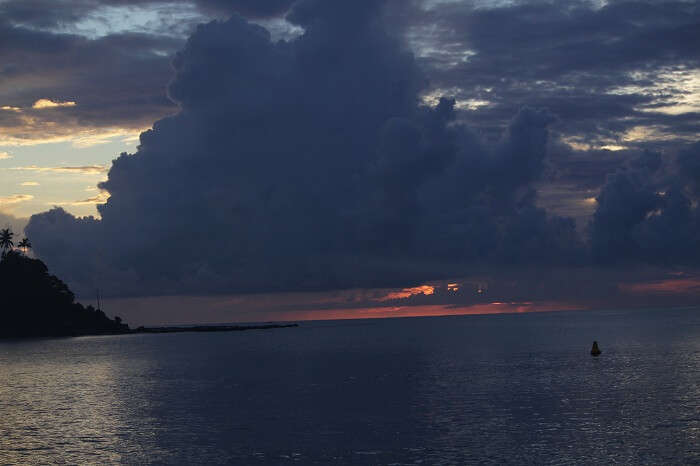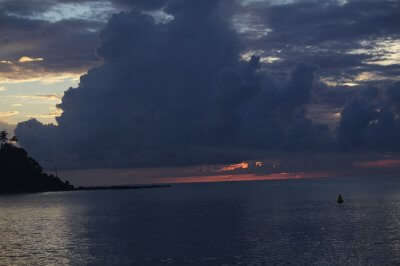 Upon landing in Port Blair, Mr. Zaheer once again picked us up from the airport but this time, took us straight to the doctor to get me a tetanus injection (remember the Howrah Bridge incident?). So yeah, a few moments and a couple of tears later, we were dropped back to our hotel for an overnight stay.
Day 5: Andaman, you shall be missed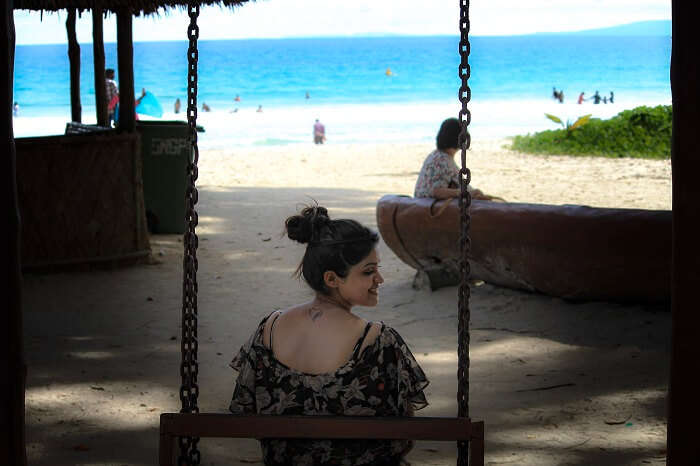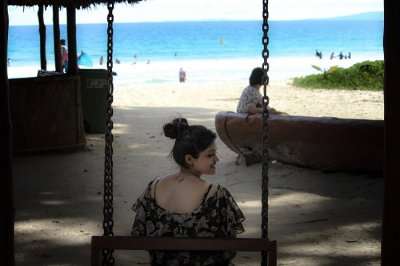 Love, Nature, Peace, & Adventure: Soaking In The Best On A Trip To Andaman
Today, we visited the beautiful Corbyn's Cove beach and believe me, the drive to this place was a visual treat. The beach is encircled by lush green coconut palms and has bunkers that were built by the Japanese Army during World War II. Speed Boating and Jet Ski are two of the common watersports here.
Post our visit, we returned to our hotel, packed our bags, and headed to the airport for our flight back home. The journey had ended but the memories had just begun.
Now that the journey has ended, I can say this confidently, there is no such thing as a mountain person or a beach person for one can have the best of both. But in the end, if given a choice, I would still be a mountain child but I would definitely admit, being a beach baby is pretty damn awesome too! And Andaman stands in testimony to that.
Looking for an awesome holiday experience just like they did? Worry not, simply choose an Andaman Tour Package and let TravelTriangle handle the rest for you!
---
Looking To Book A Holiday Package?
Book memorable holidays on TravelTriangle with 650+ verified travel agents for 65+ domestic and international destinations.
---
Comments
comments