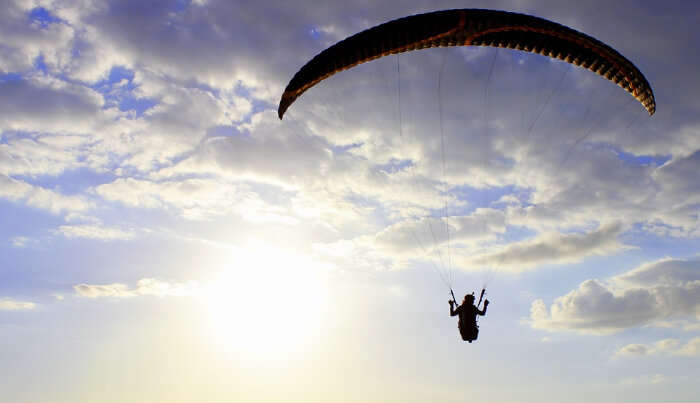 Long-wished to fly high across the vast expanse of Sri Lanka? Try paragliding! One of the famous recreational and adventure sports in Sri Lanka, paragliding is the art of flying lightweight, free-flying, foot-launched glider aircraft, without any rigid structure. Take a bird's eye view of Sri Lanka as you float in the air like a bird. The mountainous regions offer the best experience of paragliding in Sri Lanka while the captivating aerial sights offer you a great thrill. Read here to find out in detail about the same.
Quick Links
Paragliding In Sri Lanka: Flight Types
There are two main actions in paragliding – launching and landing. The wing is aligned with the airstream through running or pulling, and then the wing rises over the pilot to carry the passenger. After a certain safety period, the pilot sits back into his harness. This process is carried out during all the three major types of paragliding with slight modifications.
1. Soaring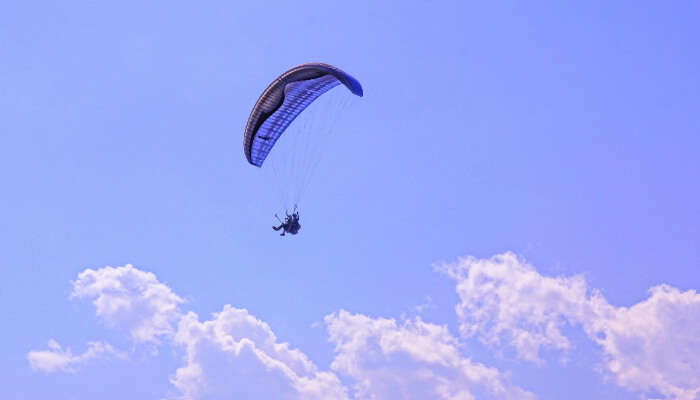 This is the kind of paragliding which is done with the help of wind. In soaring, the wind is directed upwards through a fixed object or dune. The air lift helps the pilot to fly up in the air during this type of paragliding. The flight takes place across the slope and the air provides for the lift. Major contributors in soaring are steady wind and skillful pilot. Sky Club in Bentota and Makuldeniya Ridge are a few places to take part in this activity.
Must Read: Sri Lanka In September: Explore The Eastern And Northern Parts Of This Island Country
---
Sri Lanka Holiday Packages On TravelTriangle
Book your Sri Lanka trip from TravelTriangle: Inclusive of Hotels, Sightseeing, Transfers, & Meals. Best Prices Guaranteed. Get Customizable Package & Free Guidance From Destination Experts. Book Now!
---
2. Cross-Country Flying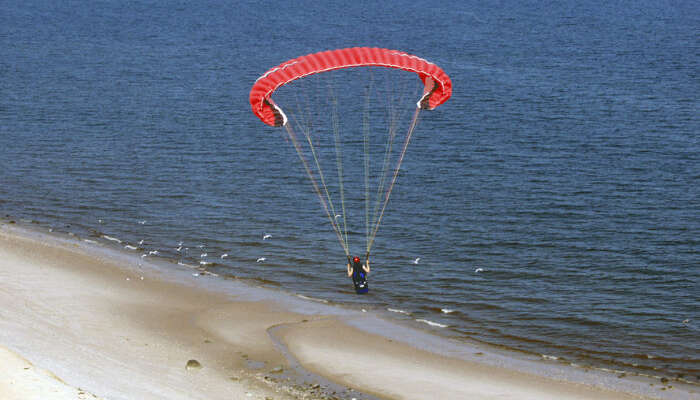 The art of moving from one thermal to the immediate next thermal is known as cross-country flying. From Colombo to Kamshet and Nuwara Eliya, you can indulge in this activity in Sri Lanka. Choice of thermal is not arbitrary in case of this type. The thermal is recognized by the significant land features. This is done at large by the professional or the pilot. Another important factor in cross-country type of paragliding is identification of cumulus (pile) cloud. The presence of cumulus clouds decide where the air is humid and eventually forms the cumulus clouds. It is suggested to have good knowledge of flying regulations, air law and aviation maps for cross-country flying.
Suggested Read: Trips To Sri Lanka From India: An Ultimate Guide For A Lovely Vacation
3. Thermal Flying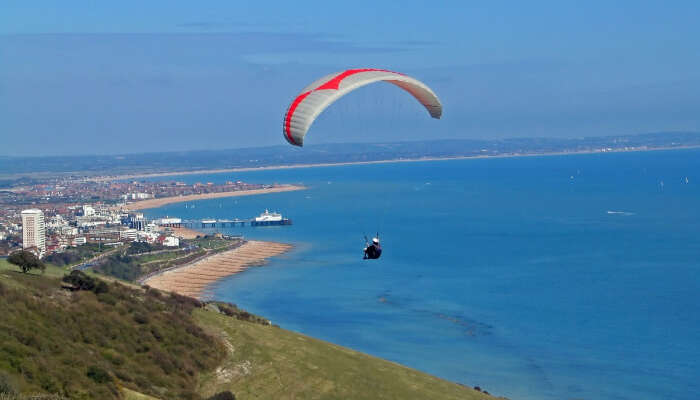 The thermal type of paragliding takes place in a surrounding which includes rocks, building and similar structures. The surrounding becomes hot due to prolonged sunlight. As a result of this, the thermals are laid out which gradually rise with air. While the thermals rise, they are disconnected from the source to form a new thermal. These thermals aid a paraglider to take flights in circle in order to reach the midpoint of the circle where the wind speed is faster. Precision and persistence are the key to mastering thermal flying. Bentota and Ella are perfect grounds to try thermal flying in Sri Lanka.
Suggested Read: 10 Amazing Things To Do In Dehiwala-Mount Lavinia On Your Sri Lankan Vacation
3 Paragliding Places In Sri Lanka
Paragliding is an exciting sport that is done in specific places. While there are so many places to try paragliding all over the world, Ella in Sri Lanka is one of the best places for trying this activity.
1. Ella Adventure Park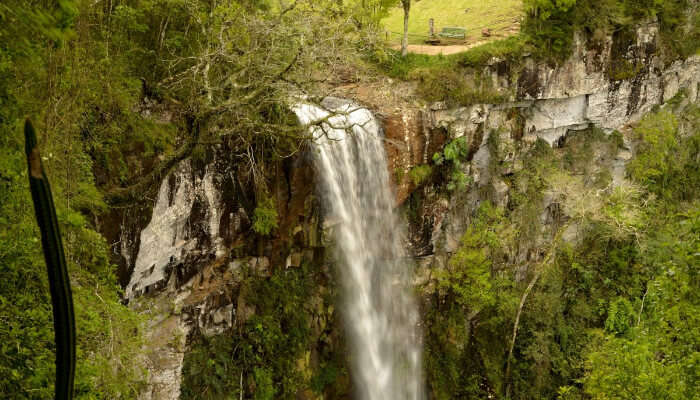 The quaint tropical island of Ella is blessed with an array of stunning landscapes. Ella, referring to waterfall in Sinahelse, is a beautiful village located against the backdrop of various waterfalls which are trickling down the rugged terrain. As it is seated in the southern ridge of the Central highlands, it enjoys a salubrious climate for most parts of the year.
Paragliding in Sri Lanka exclusively takes place in Ella. It is a prime location for hundreds of foreign visitors. Ella Adventure Park, situated in the outer region of Ella, hosts the paragliding sports. The average flight time for intermediate level is usually 25 minutes. An average pilot is assigned for the adventure. Ella Adventure Park is the only provider of paragliding in the island as of now. Although paragliding is conducted over the Makaldeniya ridge, yet it is a rare occurrence.
Suggested Read: Dig Into 10 Sri Lankan Street Food Items That Are Pure Delight!
2. Nuwara Eliya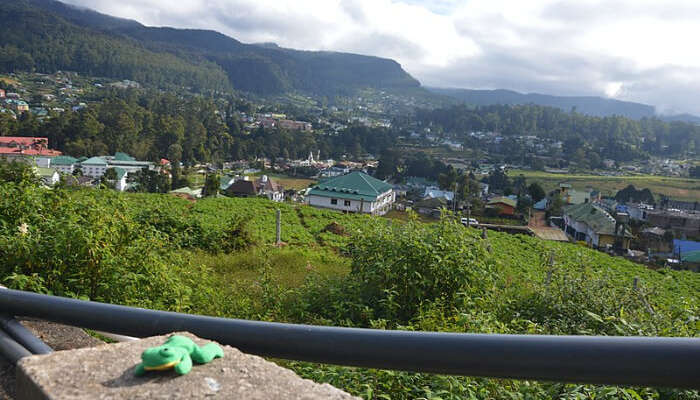 The central mountainous region of Eliya make up for a great spot in Sri Lanka. Cross-country paragliding can be easily done here. You can take up paragliding from central mountain region to the south of Nuwara Eliya. There are hotels and other accommodations to stay nearby. Enjoy the stunning vistas from up above during this activity. The terrains and favourable environmental conditions are often the main factors that work in benefit for adventure lovers.
Suggested Read: Sri Lanka in Winter: A Complete Guide To Plan Your Holidays In Cold
3. Makuldeniya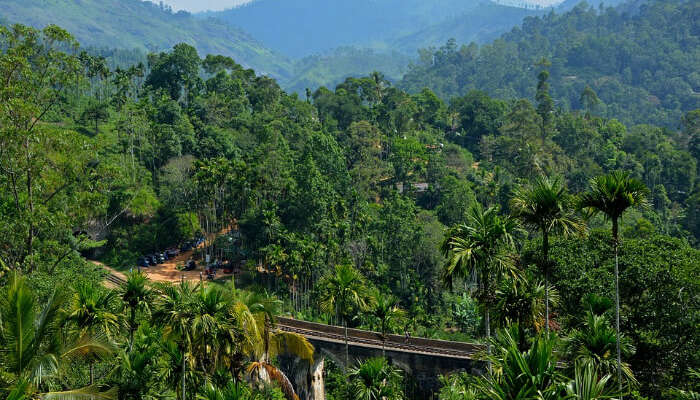 There are two types of paragliding that take place in the Makuldeniya ridge. However, soaring is done at large by a number of travelers who visit Sri Lanka. Professional paragliders offer guidance during the activity. At present, most of the paragliding activities are carried out just above the ridge of Makuldeniya. This also offer a paraglider the chance to soak in the panoramic vistas of the nearby areas.
Suggested Read: Let These 10 Sri Lankan Desserts Awaken Your Taste Buds On Your Next Vacay!
Tips For Paragliding In Sri Lanka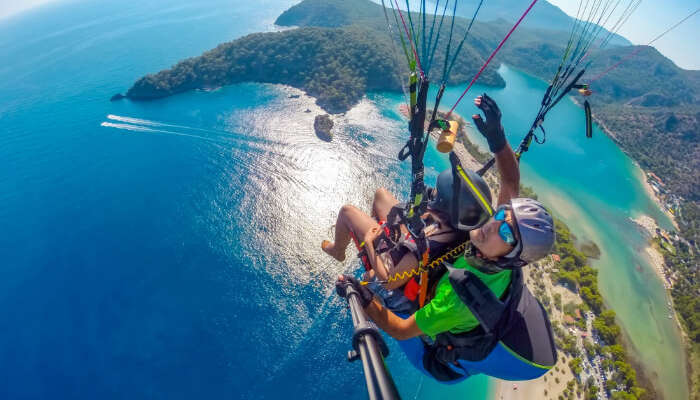 Paragliding, though a recreational activity, must be performed under expert supervision. If you are a beginner, you must not indulge in High Flying. Apart from that, take note of these tips for a safe experience.
For first-timers, it is advised to book a tandem paragliding flight. This will help you fly with a professional without having to worry about controlling the situation while you enjoy a bird's eye view of the stunning landscape.
Join a professional course for paragliding. Make sure you are trained under certified professionals who will help you take a smooth flight from ground to sky, in absolutely no time.
Buy the right set of equipment as the wrong equipment can cause major trouble in the sport very quickly. Follow the instructions carefully and get into the details for a thorough understanding. Also, make sure that you have the right kit for paragliding.
One of the best options to enjoy paragliding is by making friends who are into it as dedicated as you are. You may also join a paragliding club. This will also help you to better your paragliding skills.
Preparing for paragliding much before in advance is the key. You must also note that a few errors occur to experienced pilots as well.
Get an accurate weather forecast before heading out to begin your paragliding adventure.
You must practice all the essential paragliding techniques for both taking-off and landing. Landing is largely propelled by the direction of wind. Therefore, it is necessary to practice landing for paragliding. Try to concentrate on hitting the target, as close as possible.
Further Read: 13 Best Things To Do In Kandy To Bedazzle Your Sri Lankan Vacation
The idea of paragliding in Sri Lanka has always been an exciting prospect. However, there are a set of rules and regulations that must be strictly followed before performing this activity. In order to make your vacation in Sri Lanka livelier, we suggest you try paragliding but with maximum safety. And as soon as you are ready, let your hearts race as you soar through the vast, blue sky.
Frequently Asked Questions About Paragliding In Sri Lanka
Q. Where can I dive in Sri Lanka?

A. After you have visited all the spots for paragliding in Sri Lanka, you can go diving in Sri Lanka at the Bull Dog Reef in Kalpitiya.

Q. Which is the most beautiful beach in Sri Lanka?

A. Hikkaduwa Beach is the most beautiful beach in Sri Lanka.

---
Looking To Book An International Holiday?
Book memorable holidays on TravelTriangle with 650+ verified travel agents for 65+ domestic and international destinations.
---
People Also Read
Paragliding In Gangtok Paragliding in Darjeeling Paragliding In Uttarakhand
Comments
comments