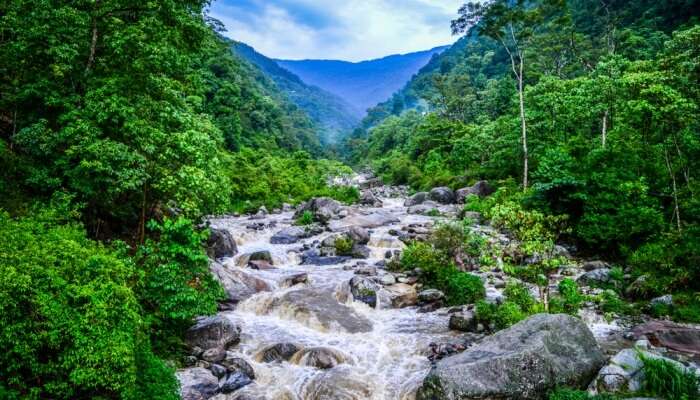 Sikkim is a mountainous kingdom easily found on the northeastern parts of India. The multicultural destination is perfectly filled with Hindu Shrines, Tibetan Monasteries, and cultural sites, not failing to astonish the backpackers out there. It is not known to all that the tropical land of Gangtok and other parts of Sikkim comprises plenty of captivating waterfalls that will surely let your hearts out. As it seems quite a task to witness all of it, we have provided you with the topmost waterfalls in Sikkim that you should count on. While wandering around the vibrant cities, be bewitched by the picturesque natural elevations of Sikkim.
10 Captivating Waterfalls In Sikkim
One could easily find serene, calm, and untroubled places on the barren lands of Gangtok and outer parts of Sikkim in India. Here is a list of waterfalls in Sikkim that one cannot miss out:
Banjhakri Water Falls
Seven Sisters Waterfall
Bhim Nala Falls
Naga Falls
Kanchenjunga Waterfall
Bakthang Falls
Rimbi Waterfall
Sangay Falls
Kyongnosla Waterfall
Kali Khola Waterfall
1. Banjhakri Water Falls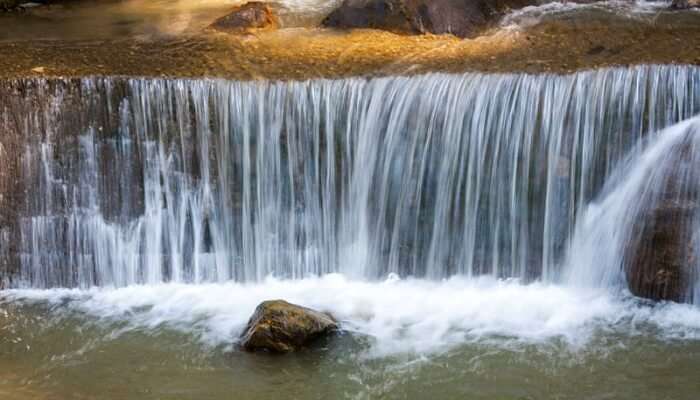 Banjhakri Waterfalls is a mesmerizing tourist hotspot in the province of Sikkim. It is a beautiful sight offering immense peace to the locals and travelers. Being well surrounded by tropical forests, the 70 feet waterfall provided all the reasons to fall in love with it. As known, the hidden meaning of the word, Banjhakri is primitive and woodland saman. Furthermore, Saman is referred to the priests upholding secret powers to control evil and good. One could also rejoice in Ban Jhakri Falls Energy Park, the amusement park close to the falls. If you are in Gangtok, do visit these waterfalls in Sikkim. You will also find hidden waterfalls in south Sikkim that you may explore if you are headed to that part of the state.
Location: Gangtok, Sikkim
Timings: 8 AM to 6 PM
Must Read:28 Top Things To Do In Sikkim For Unbeatable Adventures In Breathtaking Landscapes
2. Seven Sisters Waterfall

The Seven Sisters Waterfall is another scenic waterfall situated on the Lachung Highway in the capital of Sikkim, Gangtok. It is a vigorous mix of seven different waterfalls arranged beautifully side by side on the craggy precipices. During monsoons, the place becomes magical with its cascading water-dropping right from heaven, leaving you awestruck. If you are at the fall, must visit the popular cultural site, notably Tashi Namgyal. It would offer the visitors largely with a panoramic view of rugged cliffs along the Kanchenjunga mountains. There are plenty of waterfalls in west Sikkim too that you can explore in your free time.
Location: National Highway, Gangtok, North Sikkim
Timings: 8 AM to 5 PM
Suggested Read:A-Z Guide To Make Your Honeymoon In Sikkim An Affair To Remember In 2022
Sikkim-Gangtok-Darjeeling Holiday Packages On TravelTriangle
3. Bhim Nala Falls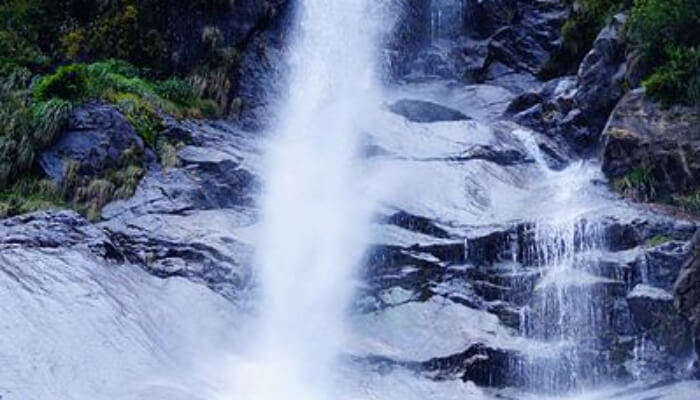 Being located in the lively village of Khedum in the northern parts of Sikkim, the fascinating Bhim Nalal Falls has stolen the hearts of all. It is renowned to be one of the tallest and most popular three staged waterfalls in Sikkim. Way before exploring the destination, one would be blessed by the cascading water heard from a distance. Upon arrival, the wanderers are provided with a golden opportunity to silently gaze at the scenic view and unwind themselves at the mountainous area. You could easily spot petty yet precious tea shops and panoramic views of the falls.
Location: Chungthang, Lachung, Sikkim
Suggested Read:9 Cosy Homestays In Sikkim That Are As Good As Home
4. Naga Falls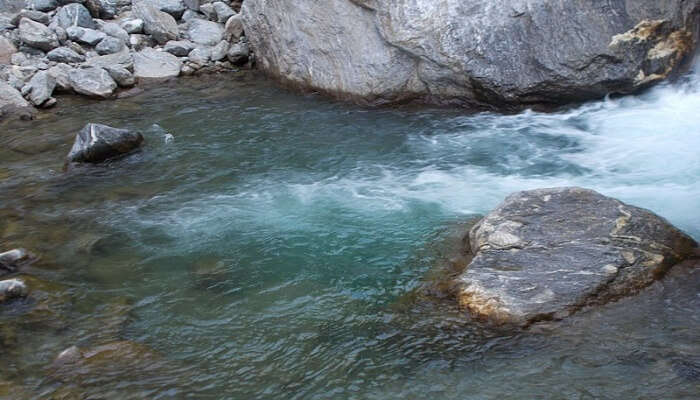 Another picturesque waterfall in the province is the famous Naga Falls, Sikkim. It is considered to be the longest and cleanest falls of all being situated on the Gangtok-Chungthang road, near Lachung in the northern region of the citystate. In ordinance to reach at the peak, one needs to do a long trek on the bumpy and rugged mountainous path to have a glance of the scenic view. As witnessed, the multi tiered fall features an unforgettable eyeshot of the mountains well covered in snow all around. During the blissful time of monsoon, the heritage is at its best despite the vigorous and extremely dangerous water flowing down the river.
Location: Chungthang Road, Gangtok, Sikkim
Suggested Read:Sikkim In June: A Complete Guide On How To Experience It Best
5. Kanchenjunga Waterfall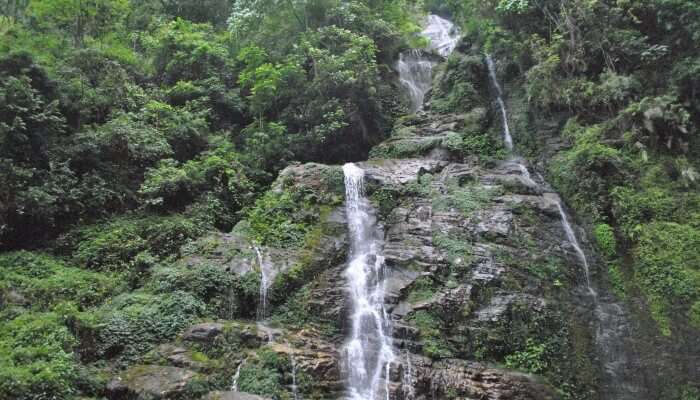 Kanchenjunga Waterfall is one of the best waterfalls in Sikkim found in the lively town of Pelling in the province of Sikkim. The prime waterfall was renowned to be originated from the glaciers of the third largest peak in the world. That is why, its widely known as the major tourist attraction of the city, flocked by tourists in large number every year. According to the researchers, Kanchenjunga falls is one of the largest among all the waterfalls in Sikkim, India. If you are an adventurer, then rejoice in the thrilling activity of rope sliding. To enjoy it to the fullest, discover the hidden hotspots once the monsoon season has passed over these hilly regions.
Location: Pelling, Sikkim, India
Timings: 4 AM to 5 PM
Suggested Read:Private: Sikkim Nightlife: 4 Different Ways To Discover The Gleaming Night
6. Bakthang Falls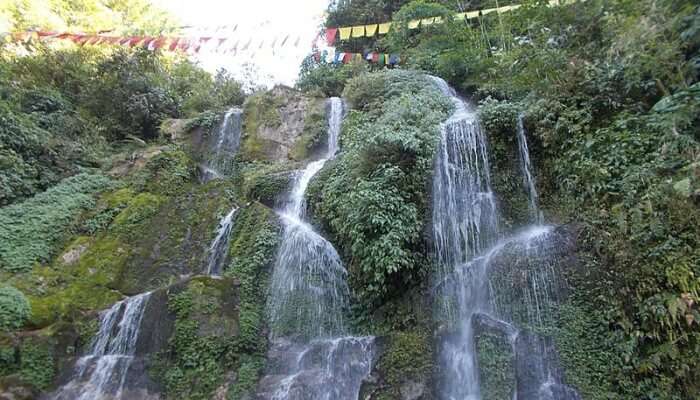 Bakthang Waterfall, Gangtok is a spectacular fall offering memorable Tashi views. Being situated in the Northern Sikkim, the scenic waterfall tends to end in a green canopy. Moreover, Ratey Cu is known to be the coastal river sourcing turquoise waters. It is an ideal place to lay back and relax under the abode of the Gods. Travellers who have isited the amusing hotspot claim it to feature heaven sent sights. Once you have unwind your bodies, hop on to the thrilling activity of rope slides along with your buddies.
Location: Gangtok, Sikkim, India
Timings: 7 AM to 6 PM
7. Rimbi Waterfall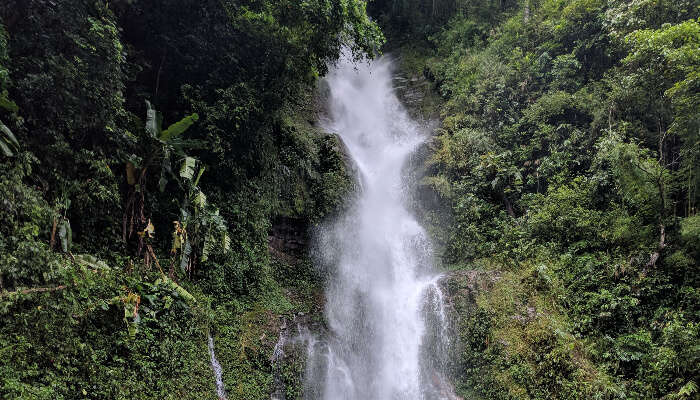 The Rimbi Waterfall is known as one of the greatest gems under the name of waterfalls in Sikkim. It is a picture perfect beauty to be captured near Pelling in the vast region of the religious site in India. The alluring waterfall is witnessed to be fallen down and merge into Rimbi River. Locals residing in the nearby village of Darap indulge in enormous fun activities such as swimming and fishing along with their family members. Another major reason for travellers to love this spectacular place is that it exhibits the charms of the city all round the year. Despite the dangers in monsoon season, one could satisfy their wandering soul in summers and winters by exploring every bit of the holiday destination, amidst the purest form of nature.
Location: Pelling Rimbi Road, Sikkim, India
Timings: 8 AM to 6 PM
Suggested Read:10 Best Resorts In Sikkim You'll Never Want To Leave
8. Sangay Falls
Sangay Falls is more of a roadside fall than gushing waterbody clandestine in woods. You may not be able to enjoy a picnic here but you can surely take a glance to enjoy the views if you are on your way to Pelling. You have not seen anything like this before. It is a unique waterfall in Sikkim and deserves to be captured in your camera. It sure is one of the famous waterfalls in Sikkim when you go to the Pelling side.

Location: 10 Km from Main Town, Pelling, India
Timings: No timings
9. Kyongnosla Waterfall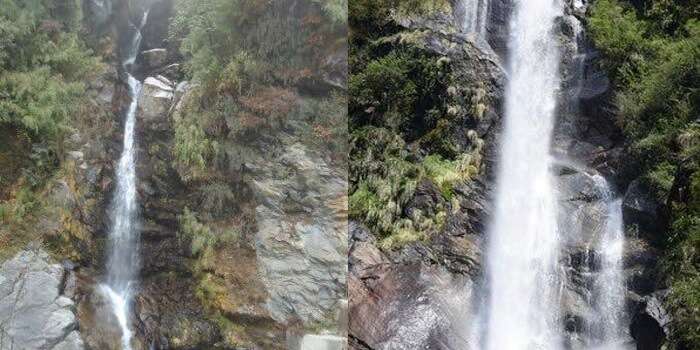 This natural beauty lies on the way to Nathu La and is worthy of taking a detour. The milky waterfall is surrounded by natural beauty. You may to hike a steep climb to reach all the way to this waterfall but it is all worth it. The roads to the waterfall are also a bit rough and rugged but if you are someone who loves waterfalls, then you would not mind visiting this place. Do not forget to take selfies in front of this picturesque waterfall.
Location: Nathula Pass, Gangtok, India
Timings: NA
10. Kali Khola Waterfall
If you like exploring and stumbling upon pretty things, then you would enjoy visiting Kali Khola Waterfall. The mesmerizing views and the sound of gushing water will make you fall in love with the place. It is located on the old Silk Route in Sikkim and is accessible by car. The crystal clear water plunges down on a rock creating a beautiful puddle. You may even take a break and dip your feet in the cool, cool water around the fall.
Location: Rorathang-Rongli Road, Aritar, India
Timings: NA
Further Read:Sikkim In December: Find Exciting Experiences In The Winter Wonderland Of North-East
Are you captivated yet? You would surely want to escalade on these fascinating waterfalls in Sikkim, at the very moment. So, what are you waiting for? Book a ticket to Sikkim with TravelTriangle and get going on endless adventures to the northern paradise. Also, do not forget to share your enthralling experiences with us once you have explored it all.
---
Looking To Book A Holiday Package?
Book memorable holidays on TravelTriangle with 650+ verified travel agents for 65+ domestic and international destinations.
People Also Read
Waterfalls In Gangtok Waterfalls In Thekkady Waterfalls In Nepal