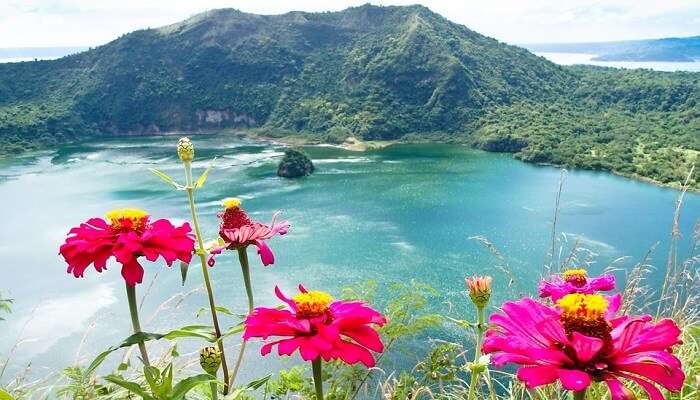 Philippines is an exotic island country that boasts over 7,000 tropical islands to choose from, this destination is a paradise for all the beach bums who would love to explore the white sand beaches and crystal clear blue waters of the surreal ocean. These majestic islands have something for every kind of traveler, from scuba diving to mountain-biking, there are plenty of opportunities to indulge in adventurous activities on your trip to the Philippines. With a tropical and subtropical climate all throughout the year, Philippines observes a wet season during the month of October. Let's find out some of the best places to visit in the Philippines in October that are going to give you a monsoon retreat on your vacation.
Weather In Philippines In October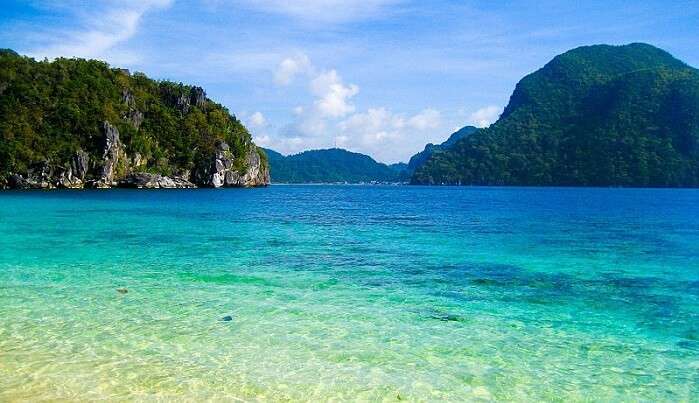 The weather in the Philippines is pretty much the same with a tropical climate all throughout the year. The temperature is relatively high, oppressive humidity and plenty of rainfall. Philippines is best visited during the dry weather when the sun is out between November to March. September and October are often the typhoon season in the Philippines, the average temperature in October ranges around 25-27°C with a slight chance of rainfall. Philippines in October can be treated as a respite from the scorching heat and humidity. Heavy rainfall can be expected in regions like Luzon and the northern areas.
8 Places To Visit In Philippines In October
If you're wondering what are the best places to visit in the Philippines in October then fret not, as we give you a curated list of best places to visit in the Philippines that are going to help you plan a trip to the Philippines in 2022. Get ready for an overwhelming and surreal experience by following this list.
1. Camiguin Island

This island is the second smallest inhabited island in the Philippines, and as the most diverse topography. It has pristine beaches, waterfalls, seven volcanoes and a historic town that features churches from the Spanish era, ruins of old towns and home from the Spanish and American periods. The volcanic eruptions, the majestic waterfalls, and the white beaches almost create a beautiful amalgamation of nature in its best form. This spectacle is worth a visit as the Camiguin island has plenty of hidden spots that are bestowed with scenic beauty and a glorious past.
Highlights: Hibok Hibok Volcano, Katibawasan Falls, Old Church Ruins and Sunken Cemetery
Cebu Travel Guide: For A Peek Into This Beautiful City Of Philippines
2. Chocolate Hills, Bohol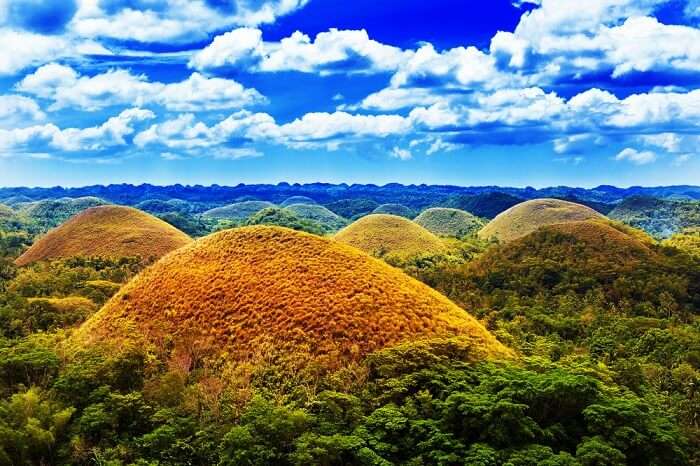 No, these hills are not made of chocolate, although we wish they were. Yes, they look like chocolate from afar and hence, they're called Chocolate Hills! However, there's a lot more to these hills besides the fact that they look one, you can indulge in plenty of adventurous activities like tree top rope challenge, mountain-biking, burma looping, vine walking and camping. Go on a river cruise in Loboc river and spot the Tarsiers, one of the cutest and smallest monkeys in the world at the Tarsier Sanctuary in Corella.
Highlights: River cruise in Loboc River, Tarsier Sanctuary in Corello, Bike Zipping, Camping
 Manila In December: A Handy Guide To Soak In The Philippines Essence
3. Vigan, Ilocos Sur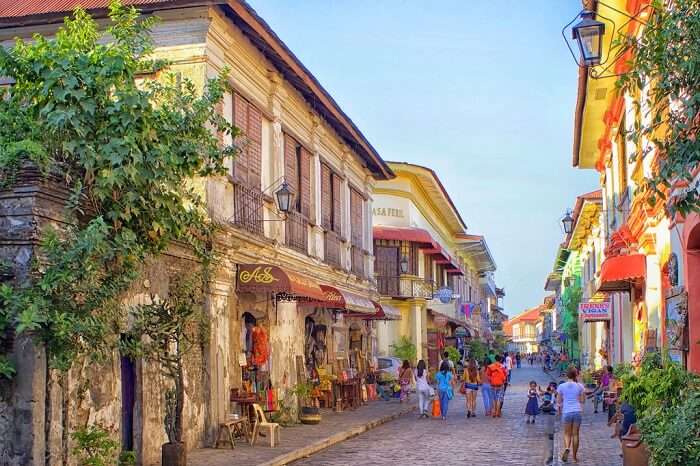 A vintage European-style town, experience the old world charm of this 16th-century town where you'll feel like you're teleported back in time, back to when it was a European trading town in East and Southeast Asia. This town is also listed as the UNESCO World Heritage site that brings you the charm of a few heritage museums to visit and an exquisite cuisine of Ilocano food that you must try on your visit!
Highlights: Ilocano food, heritage museums
 The Perfect Davao City Travel Guide For A Planned Vacation In The Philippines In 2022
4. Batad Rice Terraces, Banaue

Listed as a UNESCO World Heritage Site, this is probably the best place to view the Ifugao rice terraces and marvel at the scenic views of the lush greenery surrounding you. Go hiking towards the Patpat Sitio and be amazed by the beautiful sights, you'll come across a bridge, explore the forest area witness stunning waterfalls and springs on the way, make sure to pause and soak in the breathtaking views of the rice terraces on the way.
Highlights: Swimming in the Tappiya Waterfalls, Hiking towards Patpat Sitio
 7 Mesmerizing Beaches Near Cebu That Will Make You Want To Stay In Philippines Forever
---
Planning your holiday but confused about where to go? These travel stories help you find your best trip ever!
Real travel stories. Real stays. Handy tips to help you make the right choice.
---
5. Cebu City

The second largest city in the Philippines, it is an historic treasure trove with plenty of historic monuments and artistic collections that truly represent the culture of the Philippines. A visit to the Cebu City involves exploring the historic monuments like Casa Gorordo, Fort San Pedro, Magellan's Cross and Lapu Lapu Monument. You can also explore the culinary scene by visiting a few famous eateries and other joints that offer amazing delicacies. The Cebu Taoist Temple is a great place to find peace and tranquility, located on a mountain and overlooking the city, it gives breathtaking views of the city. Marvel at the ancient architecture of the beautiful churches and soak in the history and culture in its every nook and cranny.
Highlights: Lapu Lapu Monument, The Cebu Taoist Temple, Magellan's Cross
 Philippines Islands (2022): 23 Spectacular Spots That Have Been Carved By The Gods Themselves!
6. Batanes Islands, Cagayan Valley

This is the northernmost province in the Philippines that is a spectacle in sight! It offers surreal spots that are going to take your breath away, you can literally experience a slice of heaven on earth as its sheer beauty is going to leave you stunned. Lookout for the majestic lofty cliffs, rolling hills, boulder-lined shores and deep canyons. Apart from this, there are historic stone houses that have a glorious past, unravel the island and leave no stone unturned here!
Highlights: Stone houses in Savidug and Chavayan, Mt. Iraya, Biking
10 Temples In Philippines You Can Visit In 2022 To Correct Your Wrongs!
7. Siargao Island, Surigao del Norte

Known as the surfing capital of the Philippines, this one deserves to be on the list for surfers and beach bums. Get on a bamboo boat and go island hopping, discover the hidden spots, kayak and explore the island by yourself or in the company of your loved ones. Explore the stunning marine reserve and natural cave tunnel, you'll also come across a natural pool with a stunning view, separated from the ocean by a large reef.
Highlights: Surfing, Natural Cave, Natural pool, Kayaking
 Cebu In August: The Perfect Season For A Getaway To The Philippines
8. Hinatuan, Surigao del Sur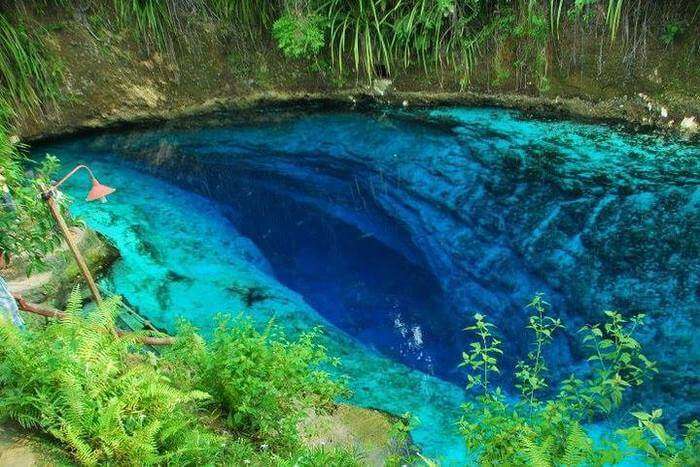 Calling all the water babies to explore this stunning island that is a paradise for adventure enthusiasts. With plenty of things to do, you can indulge in swimming, diving and surfing and explore the lagoon rivers, or take a dive in one of the plunge pools! Make sure you visit the Enchanted river and go on an island hopping adventure.
Highlights: Surfing, Diving, Swimming
 Explore The 3 Island Groups Of The Philippines: Luzon, Visayas, And Mindanao
Philippines is truly a paradise for all the beach bums, iit has many territories that are yet unexplored by mankind. So what are you waiting for? Book your trip to the Philippines right away and make sure you add these surreal places to your itinerary of places to visit in the Philippines in October!
---
Comments
comments