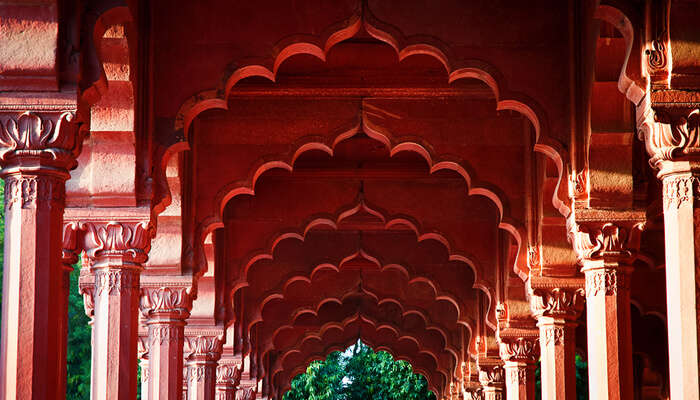 The Phillaur Fort, Ludhiana, originally built by Shah Jahan is situated on the Grand Trunk Road in the Phillaur town of Ludhiana city. The 200-year-old majestic red fort now known as Maharaja Ranjit Singh Punjab Police Academy is a symbol of Punjab's heritage. The fort was as a response to the Britishers and so, holds great historical significance which cannot be missed. This place is home to Pir Baba Abdullah Shah Ji's shrine and also has a museum which displays a lot of antiques and war items.
Table of Content
About Phillaur Fort Ludhiana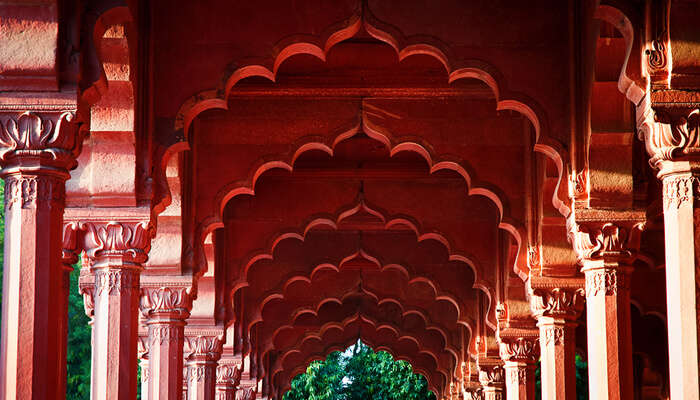 Built by Maharaja Ranjit Singh, it is a magnificent red architectural structure situated on the Grant Trunk Road. The fort is a display of the strength and a heritage symbol of Punjab. The fort houses a museum and a dargah. The architectural style of the fort is what lures the visitors the most. The fort was constructed to serve the purpose of a military fortress for Maharaja Ranjit Singh. You can enjoy the scenic sight surrounding this majestic fort and relish the history it absorbs amidst its walls.
Best Places To Visit Near The Phillaur Fort Ludhiana
Phillaur is a very small town and the fort is the only major tourist attraction over there. But, there are many other places around Phillaur that one can visit and enjoy during their trip to Phillaur, Ludhiana and some have been mentioned below:
1. Rakh Bagh Park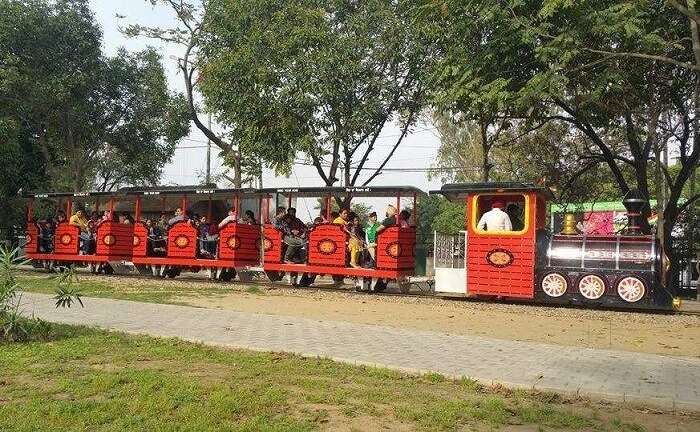 This place is a good picnic and day-out spot. The park has a lot to offer especially for children i.e. toy trains, rides, games and activities. The park also has a beautifully carved out bicycle lane, walking track, eateries with proper security. It is suggested to avoid visiting the park on weekends due to overcrowding.
Where: Club Road, Opp. Guru Nanak Stadium
Timings: Anytime
Visit Nehru Rose Garden In Ludhiana For A Surreal & Fun-Filled Vacation
2. Nehru Rose Garden

Another good place – Nehru Rose Garden named after Pandit Nehru. This park is also a beautiful place to visit with special attractions for children and adults. Another added advantage of visiting this place is, it has a Nehru Planetarium making it a go-to place for many students.
Where: Govt college road, New Prem Nagar, Ludhiana
Timings: Anytime
3. Tiger Safari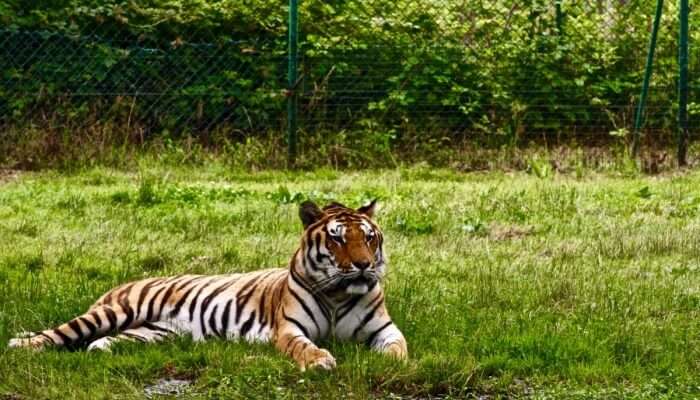 The Tiger Safari is a good place to visit, especially if you're travelling with children they will enjoy it and have a good time. The tickets are quite cheap and the only thing to keep in mind while visiting this place is to have enough time in hand. (Say 2-3 hours)
Where: Ludhiana-Jalandhar Road
Timings: 10:00 am – 5:00 pm (Tue-Sun)
8 Amazing Restaurants In Ludhiana To Relish Scrumptious Food At
4. Guru Nanak Stadium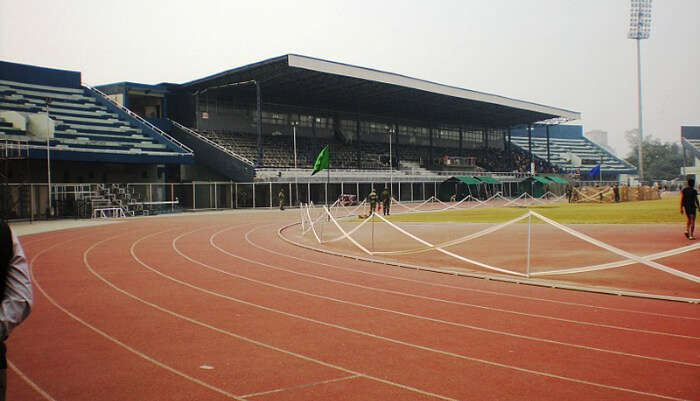 Guru Nanak Stadium is a football stadium situated in Ludhiana. Here, the opening and closing ceremonies of the 2001 National Games of India were held. The stadium is big and well equipped enough for simultaneous sports activities with ongoing events or matches.
Where: Basant Singh Khalsa Road, Ludhiana
Timings: 5:00 am – 7:00 pm (Mon-Sat)
Things To Do During A Visit To The Phillaur Fort
There are few other places, you can visit during your trip to the fort to make your trip even more fun and memorable.
1. Visiting the Pavillion Mall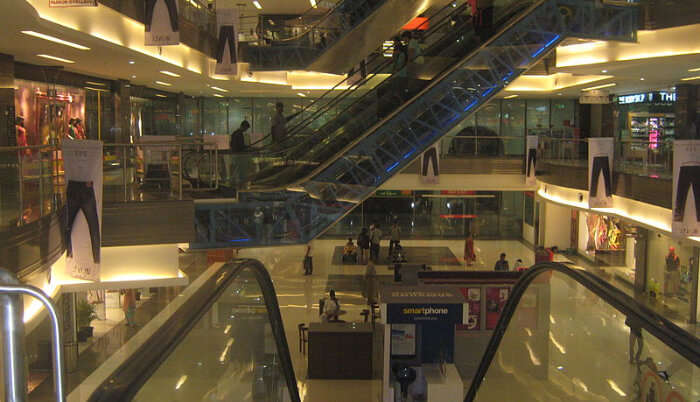 This mall is said to be one of the biggest malls in Ludhiana and has a lot to offer under one roof. Right from shopping to games to food to movies, it has all to make your day full of fun.
5 Best Places To Visit In Nangal To Make Your Punjab In 2022 Trip Worthwhile
2. Mystery Rooms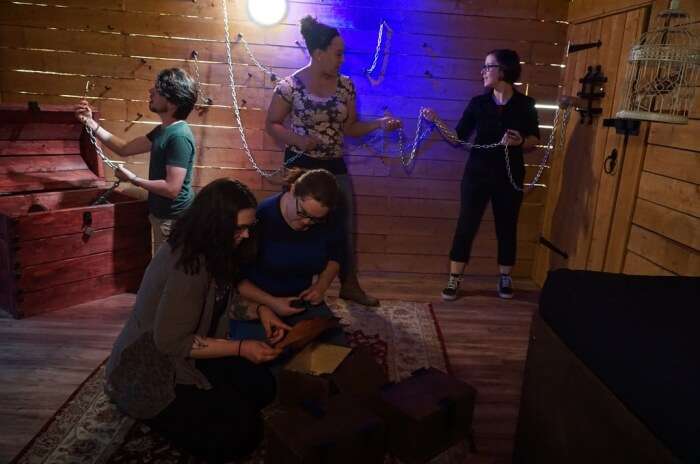 Mystery Rooms is another exciting thing to do when on a trip to the fort. So, it a challenge in the form of a theme based game, where you have 60 minutes to solve the problem and rescue yourself among other team members.
3. Punjab Agricultural University Museum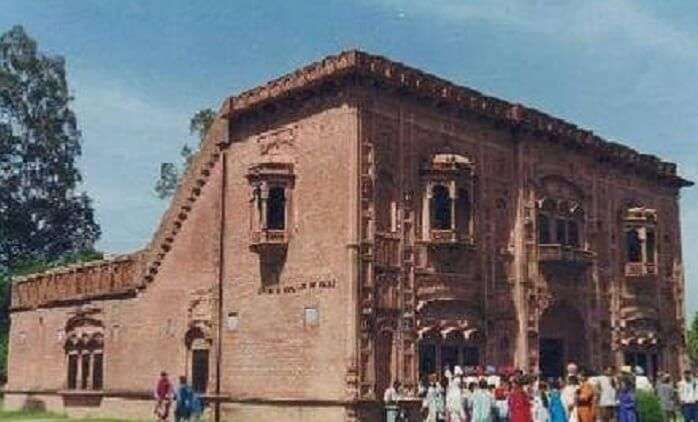 This is a must-do and must-visit place. Punjab Agricultural University Museum has rare antiques on display showcasing the rich culture and traditions of Punjab thousands of years ago.
7 Impeccable Things To Do In Bathinda That Will Take You Down The Punjabi Lanes
Best Time to Visit Phillaur Fort in Ludhiana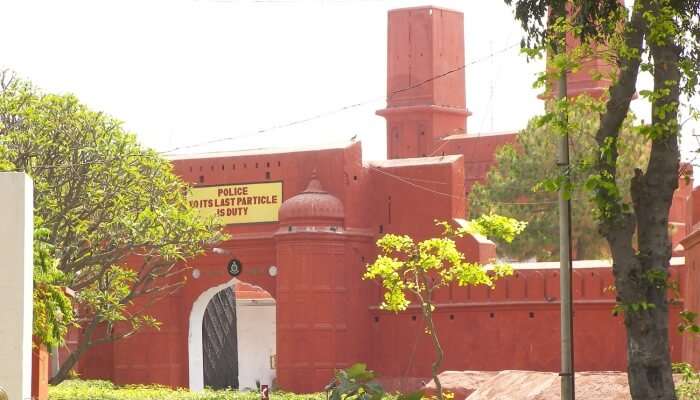 October to March i.e. winters is the best time to visit The Phillaur Fort in Ludhiana. This is considered as the ideal time to visit because the weather during this period is quite pleasant and is best suited for all outdoor activities. However, the fort is open even during the summertime, but it is the hottest during this time of the year as the temperature rises to 38 degrees Celsius. While on the other hand, from October to March, the temperature remains somewhere between 8 to 23 degrees Celsius.
The visiting hours of the fort are from 9:00 am to 5:00 pm. And, the best part is the entry in the fort is free for all.
How To Reach The Phillaur Fort Ludhiana
Road – The most convenient way to reach the Phillaur Fort in Ludhiana is to go through cars, as Ludhiana is well connected by roads. And, one can also find buses and cabs easily. From Delhi, the fort is about 330km away.
Rail – There are 12 direct trains from Delhi to Phillaur. Ndlsasr Express is the most economical way to reach Phillaur (319km) in 6 hours. The railway-station is named Phillaur Junction and from here the fort is hardly at a 5 mins distance. You can reach the fort either by walking or you can also take an auto-rickshaw.
Air – Travelling via air is also an easy and fast way to reach Phillaur. The nearest airport to Phillaur is Sahnewal airport. From here taking cabs and buses are the only possible options to reach the fort. The travel time from the airport is a maximum of 1 hour.
6 Astonishing Places To Visit In Kapurthala In Punjab For An Exciting Vacay
Places To Stay Near Phillaur
It is known that Phillaur is a small town and doesn't have any good places to offer for accommodation. But a place named Malakpur, 11km away has some good options for a stay:
Radisson Blu Hotel Ludhiana
Hotel Nirvana
Hyatt Regency Ludhiana
Hotel Onn
Keys Select Hotel Ludhiana
Restaurants And Cafes In Phillaur
Apart from the fort, Phillaur might not have other places to visit but it surely does have a variety of restaurants, cafes and dhaba's to offer yummy food. And, the best part about all these places are, they are pocket-friendly and available on Zomato too.
1. Bhaini Fast Food

A small yet clean and hygienic food joint. This place serves all the fast food but wraps and sandwiches are the must-haves when eating here apart from other street and fast food that you'll get on the menu.
Price for two: Rs150
Cuisine: Fast food, Street Food, Juices
Address: Nawan Shahar Road Phillaur, Phillaur Locality
Timings: 10:30 am-10:00 pm
13 Places To Visit In Jalandhar To Experience The True Beauty Of Punjab In 2022
2. Healthy and Tasty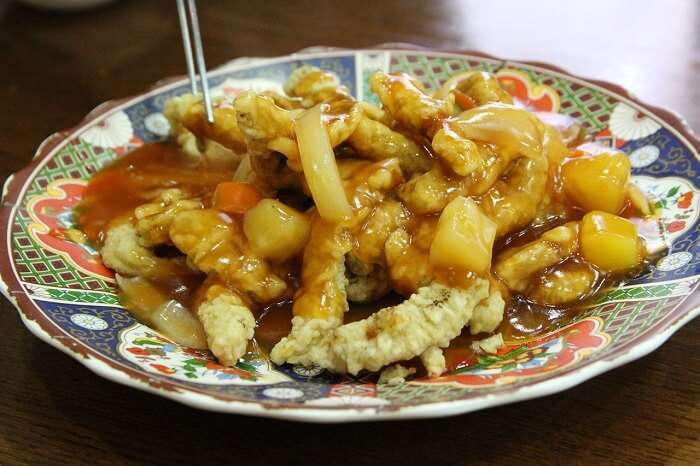 Healthy and Tasty is a small cafe with clean indoor seating. This place serves yummy and delicious burgers and wraps along with other fast food and chinese snacks. Also, they accept digital payments.
Price for two: Rs120
Cuisine: Fast food, Chinese
Address: Puda side market, Shop no. 7, Near SBI Bank, Phillaur
Timings: 12:00 noon-9:00 pm
3. Taj Bar and Restaurant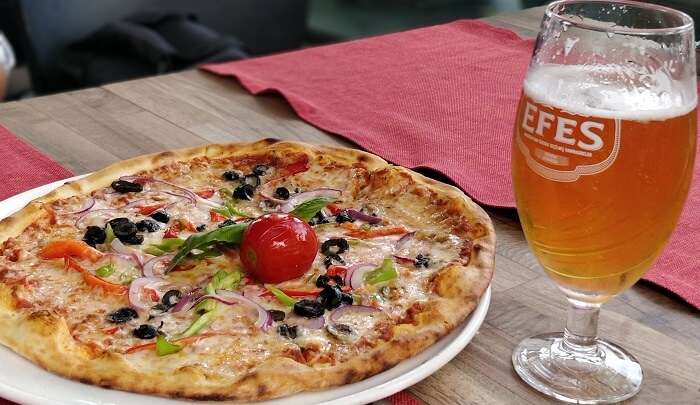 A fine-dining place to for all the non-veg lovers. The place has good ambience and offers good quality food. Roast-chicken and pizza is a must try with other snacks on the menu.
Price for two: Rs250
Cuisine: Fast food, Desserts
Address: G.T. Road, Phillaur, Jalandhar, Phillaur locality
Timings: 10:00 am-9:30 pm
Top 6 Restaurants In Patiala: Let The Foodie In You Relish The Flavors of Punjab
4. Dal Roti.com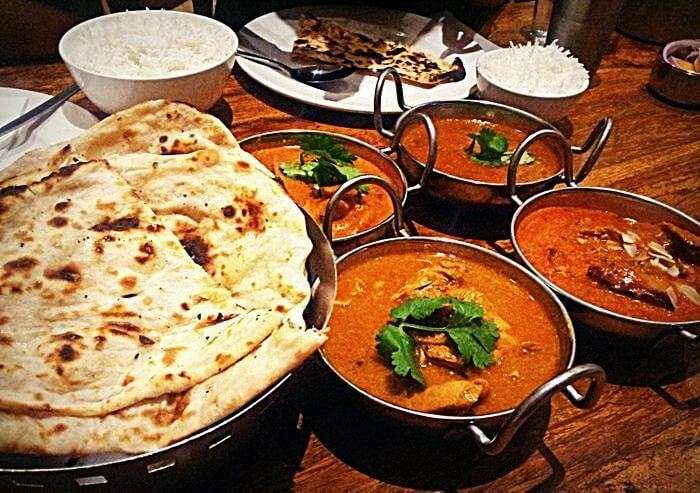 As the name says it all, dal roti a small dhaba serving Indian food. A perfect place for all the people who love delicious North Indian food.
Price for two: Rs100
Cuisine: North Indian
Address: G.T. Road, Phillaur
Timings: 8:00 am-10:30 pm
What To Pack
Carry all the essentials like toothbrush, toothpaste, hand-sanitiser, first-aid kit, sunscreen with SPF, and moisturizer.
Don't forget to carry your Id cards.
Carry all the necessary medicines.
You can also carry a camera with you to capture all the historical stuff that you'll be witnessing over there.
These 13 Resorts In Amritsar Will Make Your Punjab Trip In 2022 Worthwhile
A trip to the Phillaur Fort, Ludhiana is a perfect weekend getaway away from the hustle-bustle of the daily mundane life. This place is definitely a must-visit if you're a history lover and planning a trip to Punjab. Also, it will be one of its kind of experience if you can plan the trip in February so you can visit all the major places and also witness the crazy Kila Raipur Sports Festival.
For our editorial codes of conduct and copyright disclaimer, please click here.
Frequently Asked Questions About Phillaur Fort Ludhiana
What are the timings for the visit to the fort?
The Phillaur Fort is open from 9:00 am – 5:00 pm for visits on all days.
Is there any direct flight to Phillaur?
No, there aren't any direct flights to Phillaur. One must take cabs or bus from the Ludhiana airport in order to reach the town of Phillaur.
Are there good accommodations in Phillaur?
No, since Phillaur is a very small town, it doesn't have good accommodations to offer, But, nearby to Phillaur there is a place named Malakpur which has good accommodation options.
Are there other places than the fort to visit?
Yes, there are many other places that one should visit like the Tiger Safari, Guru Nanak Stadium etc.
Are there any special requirements for attending the Rural Olympics?
No, there are no special requirements as the entry is free for all to visit and attend the sports festival. The only thing to keep in mind is that these are hosted only once a year in the month of February.
Are there good places to eat?
Yes, there are many options to choose from. One can go for a dhaba, cafe or even fine-dining.
People Also Read: