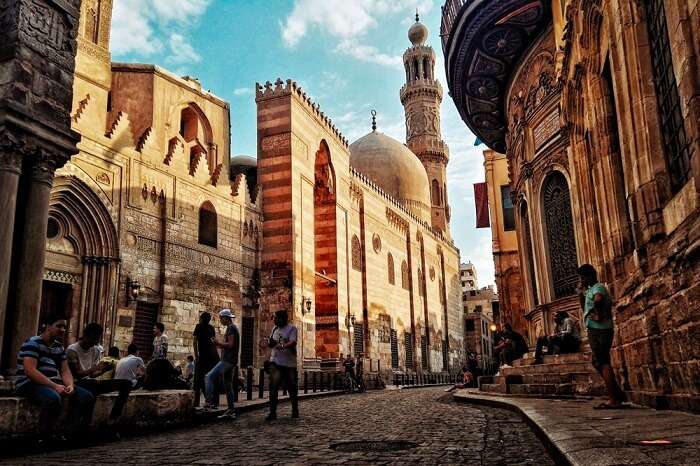 There is no doubt that Cairo is one of the world's megacities which is known for its rich history and beautiful architectures which adorns the streets. Going beyond its pollution and noisy traffics, this modern hub attracts travelers who want to explore the reminiscents of Egyptian history. Filled with all the vigour, a trip to Cairo might seem incomplete without visiting its neighbouring paradises. These places near Cairo are known for their magnificent pyramids, ancient ruins and other things which holds the heritage of the city.
9 Best Places To See Near Cairo One Must Visit
Here are the best places near Cairo which are waiting to be explored by the enthusiastic explorers interested to know the Egyptian history.
1. Saqqara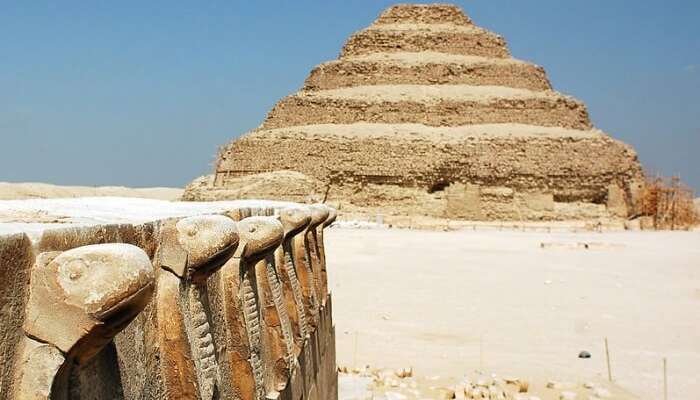 For the people looking out for a day trip from Cairo, Saqqara is one of the best places which is known as the "home to the other pyramids". This trip is as magnificent as gazing at the pyramids of Giza. One of the famous sites of this necropolis is the Step Pyramid which is adorned by the gorgeously painted tombs which are worth exploring. Apart from this, there is a Dahshur's Red Pyramid and Bent Pyramid located down the road which can also be visited if a traveler has a full day to spend.
Distance From Cairo: 30 Kilometres
Must Read: Summer In Cairo 2019: A Guide On How To Embrace & Escape The Egyptian Sun
---
Looking To Book An International Holiday?
Book memorable holidays on TravelTriangle with 650+ verified travel agents for 65+ domestic and international destinations.
---
2. Tanis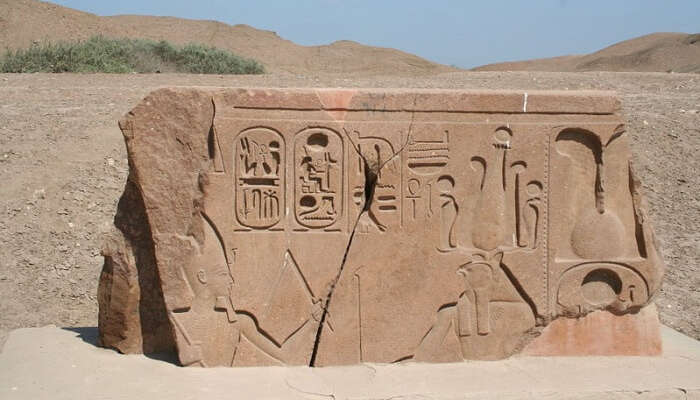 Image Source
Explore the ruins of ancient Tanis which was once a capital of the Tanite kings residing in the 21st and 22nd dynasties. Located at the northeast side of North Delta Region, this place is still partly buried under the ridge. The excavated sites are a treasure to be explored by the archaeologists. Though the Temple Precinct has just the ruins which are still worthy to be explored, whereas the Royal Necropolis and its empty tombs are sights one must enjoy.
Distance From Cairo: 143 Kilometres Northeast
Suggested Read: 5 Stunning Villas In Cairo For A Comfortable & Refreshing Vacation In 2019
3. Al-Fayoum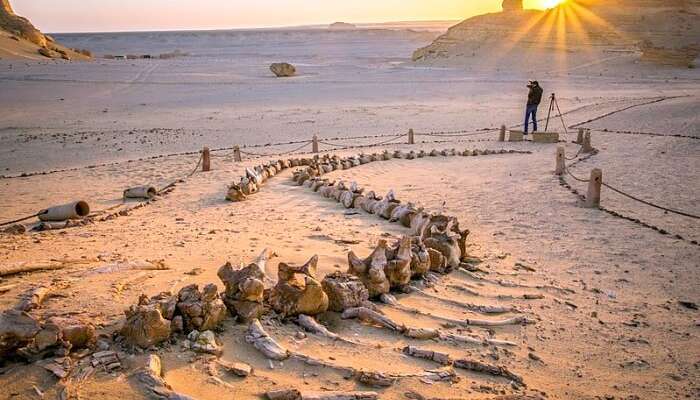 Another natural beauty which is located in the vicinity of Cairo is the Al Fayoum depression. This place is known for its outstanding natural beauty and a list of excellent historic sites which is located just a two-hour drive from the city. There are plenty of tourist sites around which waits to be explored. One of them is Lake Qarun which is the main sight to enjoy a beautiful sight of birdlife residing by the water. Apart from that, there is the artist village of Tunis which is known for displaying Egypt's best pottery. Alongside this, there are the ruins of Medinet Madi which will be a treasure to be explored.
Distance From Cairo: 112 Kilometres south
Suggested Read: 15 Invigorating Things To Do In Aswan For An Exotic Egyptian Vacay
4. Ancient Heliopolis And El-Matariya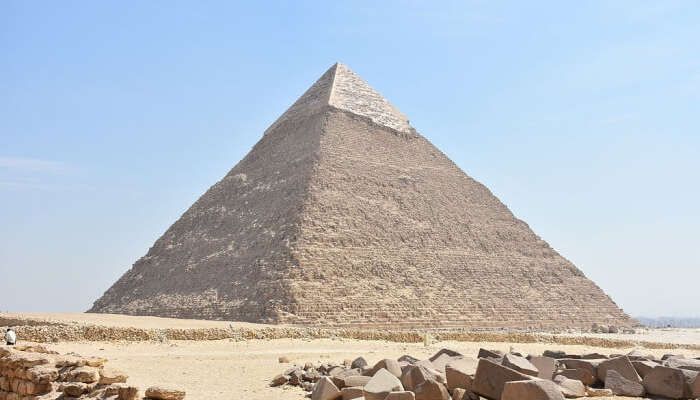 Some might get confused by the name with Cairo suburb but actually ancient Heliopolis was the Egyptian town of Yuno, one of the oldest cities in Egypt and also the spiritual centre of the entire country. The ruins of the Temple of Re-Harakhty offers a great site to explore for the amateur archaeologists. There are still remnants of the temple and its stones were used to build the Cairo city. Only the solitary Obelisk still stands there which is made of red Aswan granite and standing 20 meters high. Alongside this, there is the El-Matariya church which is known for its so-called Virgin tree. archaeologists
Distance From Cairo: 13kms northeast from Downtown Cairo
Suggested Read: A 4000 Year Old Tomb In Egypt Has Just Been Opened For Public & It'll Leave Your Mind-Boggled!
5. Giza Pyramids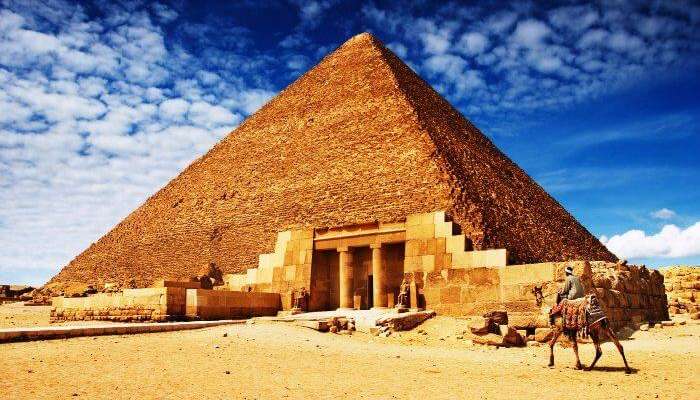 Giza Pyramids are among the most popular places near Cairo Egypt that houses three pyramids, complexes, and the Great Sphinx. It is also known as the Pyramid of Khufu or the Pyramid of Cheops. The main complex of Giza Pyramids has two mortuary temples dedicated to Khufu and the three smaller pyramids to his three wives. Giza Pyramid is the oldest of the Seven Wonders of the World and attracts millions of visitors every year.
6. Bayt Al-Suhaymi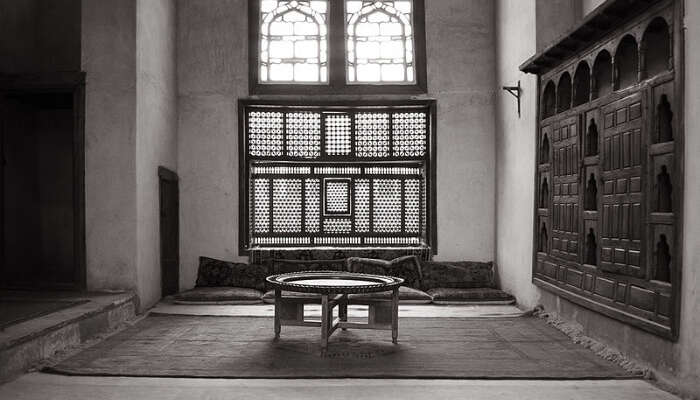 Bayt Al- Suhaymi literally means the 'House of Suhaymi' and is an Ottoman-era house museum in Cairo. It is one of the best places near Cairo to visit and is located in a small alley near Muiz Street. This finest illustration of the historical Islamic houses was established in 1648 by Abdel Wahab el Tablawy. In the later years, this beautiful place underwent numerous modifications that enhanced the structure of this house. There are various classical rooms exhibiting Arabic calligraphy and unique wooden panels.
7. Egyptian Antiquities Museums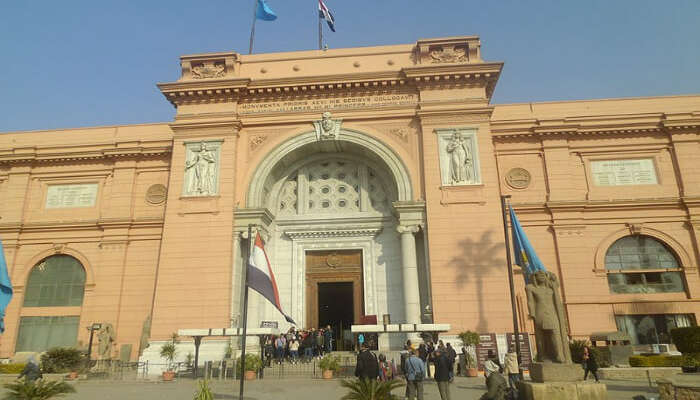 This enormous museum is home to a vast collection of ancient Egyptian antiquities. Egyptian Antiquities Museum features of 107 walls, 1,20,000 items, and the royal mummy room comprising 27 mummies from Pharaonic times. The ground floor of the museum showcases an extensive collection of papyrus and coins from the Ancient world. The first floor has artifacts of the two final dynasties of Egypt.
8. Mohamed Ali Mosque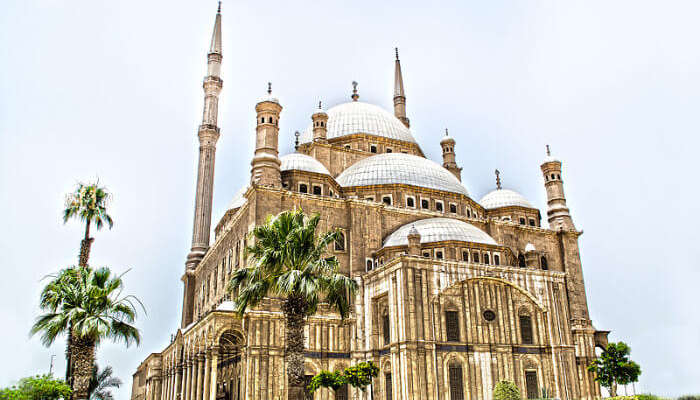 Mohammed Ali Mosque is located in Cairo Citadel that was established by Sultan Selah El Dean El Ayoubi. Later in the year, 1805 this citadel became a palace of Mohammad Ali Basha and then the mosque was commissioned here. This magnificent mosque houses three smaller mosques within its premises along with a palace and museum. The Mohammed Ali Mosque is one of the best places to visit in Cairo, Egypt featuring a panoramic vista of the entire Cairo city and Giza Pyramids.
9. Mosque & Madrasa of Sultan Hussain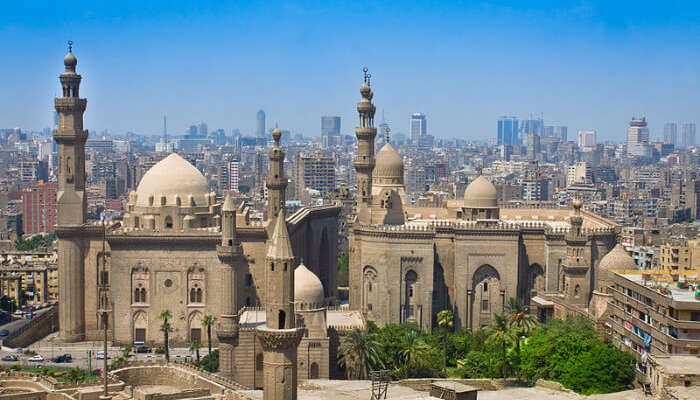 The enormous Mosque and Madrasa of Sultan Hussain is one of the largest mosques in the world that was established to purvey the pleasing sights to the Sultan whenever he looked from his palace. Its vast structure over 150 meters long and 36 meters high. The tallest minaret is 68 meters high and has the same stones used in the pyramids of Giza.
Tips To Remember Before Visiting Cairo
1. Take a Pyramid Tour
An Egypt tour is incomplete without taking a glimpse of the magnificent pyramids which are considered the main highlight. Giza pyramids, Sphinx, Memphis, Sakkara gives you a chance to see these beautiful sights with all the ease. Alongside this also take a tour around the sites which are marked as the World Heritage ruins.
2. Explore The Best Sights Of The City
Apart from the Pyramids, there are other sights in the city which one must visit while in Cairo. All this includes the Egyptian museums, Alabaster Mosque, Khan-el-Khalili which are some of the finest places one cannot miss if they have that zeal to explore the historical heritage of Egypt.
Suggested Read: Recently Opened Egyptian Long Distance Hiking Trail Will Give You Hiking Goals
3. Experience The Nile Cruise
Taking the Nile Cruise is another best things which one must definitely experience while in Egypt. The tour to Luxor in a cruise is something which is quite blissful and one can enjoy the beauty of the longest river of Africa.
Further Read: 15 Invigorating Things To Do In Aswan For An Exotic Egyptian Vacay
4. Book The Best Guide
As you will be holidaying in Cairo for the first time, make sure you book an amazing guide who purveys the best information about the city. You can also check out the details of the nearly or popular attractions on various apps, however, this won't be as illuminating as a local guide.
5. Pack The Right Outfit
Egypt is usually hot throughout the year, so prefer wearing light clothes while holidaying in Cairo. Ladies must not wear revealing clothes unless heading for an exclusive place, bar or nightclub. One needs to walk a lot while exploring Cairo. Don't forget to pack comfortable shoes along.
6. Grab The Local Delicacies
One shouldn't miss out on the scrumptious delicacies of Cairo while vacationing in this mesmerizing city. Cairo offers a wide variety of food, ranging from vibrant street foods to the succulent fine-dining alternatives. One must surely check out the local cuisine here especially, Kebda, Kushari, and Feteer.
Are you excited to take a trip around these less known places near Cairo? If yes, then make sure to add them in your travel list and enjoy a vacation in Egypt like never before. These places are going to give you a serious urge to set out on a road trip right away!
People Also Read
Places Near Alexandria Places Near South Africa Places Near Munich
---
Looking To Book A Holiday Package?
Book memorable holidays on TravelTriangle with 650+ verified travel agents for 65+ domestic and international destinations.
---
Comments
comments