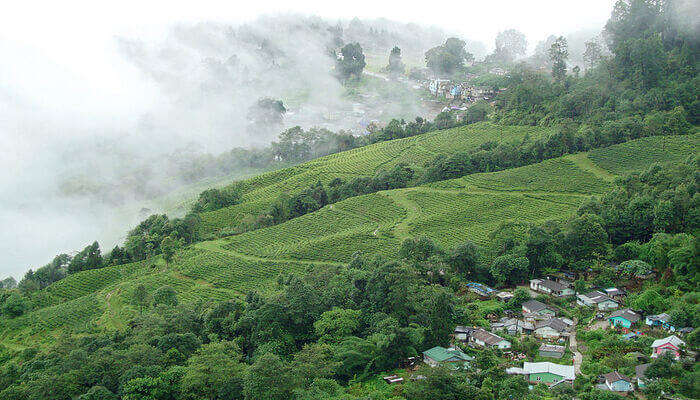 Darjeeling is a heaven for travellers. Everyone, be it an Indian or a native to a distant land, plans to visit this enchanting hill station nestled in the Himalayan foothills in West Bengal. But it's not just Darjeeling offering breath-taking sights, soul-enriching feels and enthralling adventure but also places that are situated close to it. We compiled these close by places into this list of places near Darjeeling that promise an experience that is almost life-changing. You will have a charming time and experience the joy of a refreshing vacation.
15 Best Places Near Darjeeling
Here is the opportunity for you to explore the best of places near Darjeeling that offer with plenty of refreshing vibes and a serene experience. All of these places exude serenity and are worth a visit. Take a look!
1. Kurseong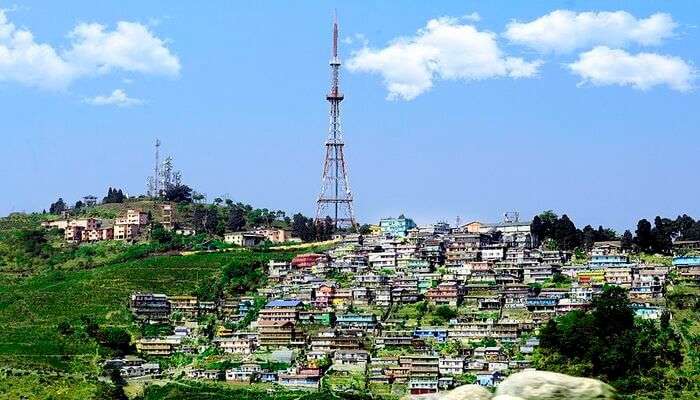 If you like admiring exotic flowers growing in wild nature, Kurseong is one of the places near Darjeeling you should plan your next trip to. It is called the Land of White Orchids! This hill station is bursting with enigmatic waterfalls, lush green landscape and snow covered mountains shining under misty skies. Trek up to its various hill tops and get surprised with abundant white orchids greeting you with their blooming smiles. This place is also home to temples, churches, museums and Buddhist universities.
Ideal Duartion: 1 Night/2 Days
Distance from Darjeeling:32 km
Must See Attractions: Eagle's craig, Tea gardens, Deer Park, Forest museum and Ambotia Shiv Mandir
5 Best Cottages In Darjeeling Where You Can Soak In Ultimate Bliss & Luxury
2. Kalimpong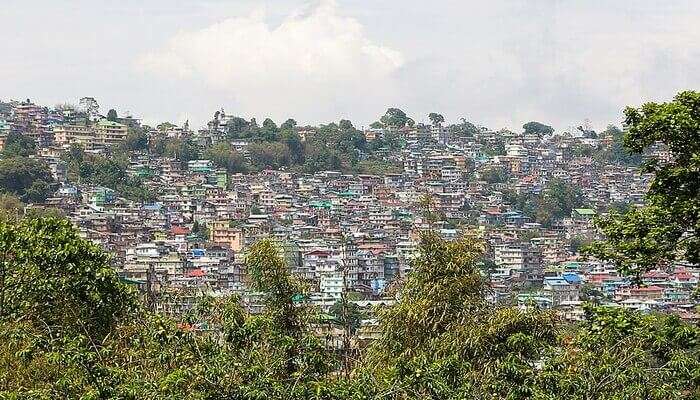 Kalimpong is situated on the foothills of the Shivalik range overlooking the Teesta Valley. It is one of the offbeat places to visit near Darjeeling. The height of Kalimpong is 1250 feet which gives it its enchanting mistiness and jaw dropping panoramic view of the green valley. The entire hill station is bustling with Buddhist monasteries, centuries old churches and temples that possess a calm which is deeply stirring.
Places To Stay: Hotel Parijat, Komfort Inn, Hotel Tres Kalimpong, Chhibo Inn, Monarch Hotel Kalimpong
Ideal Duartion: 2 Nights/3 Days
Things To Do: Deolo Hill: Pay A Visit To The Magnificent Location, Shanti Kunj: Spend A Day Amidst Greenery, St Teresa's Church: Seek Blessings, Durpin Dara Hill: Absorb The Breathtaking Vistas
Distance from Darjeeling:52 km
Must See Attractions: Durpin dara hill, Cactus nursery, Morgan house, Deolo hill, Galingka, and Dong Palriffo Brang Gompa
3. Gangtok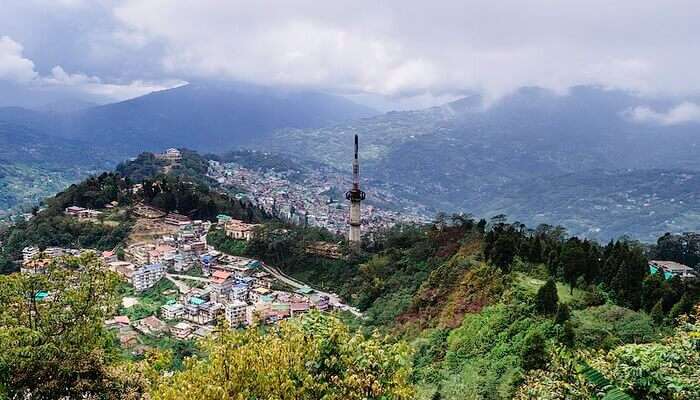 Gangtok, often referred to as The Gateway to Sikkim, needs to be visited again and again. Why? Because its pristine natural beauty, its spectacular views and places of attractions never leave your mind and heart and compel you to make a comeback and soak in it again. Gangtok is abundant with green pastures, shimmering lakes, and viewpoints. It is also the base for trekkers going to Himalayan mountain ranges and offers an attractive view of Mt. Kanchenjunga. It is among the popular places to visit near Darjeeling. 
Places To Stay: Maya Baas Villa, Debrung, Orchid Glade, Kunzang Villa, Cherry Villa
Ideal Duartion: 3 Nights/4 Days
Things To Do: Cable Ride – Witness Gangtok At A Glance, Paragliding – Feel Like You Are On Top Of The World, M.G. Marg – Indulge In Local Cuisine, Lal Bazaar – Spend Some Bucks On Souvenirs
Distance from Darjeeling:98 km
Must See Attractions: Ban Jhakri Falls, Tsomgo Lake, Tashi View Point, Teesta River, and Enchey Monastery
Festivals In Darjeeling: 8 Popular Celebrations On Queen Of The Hills
4. Mirik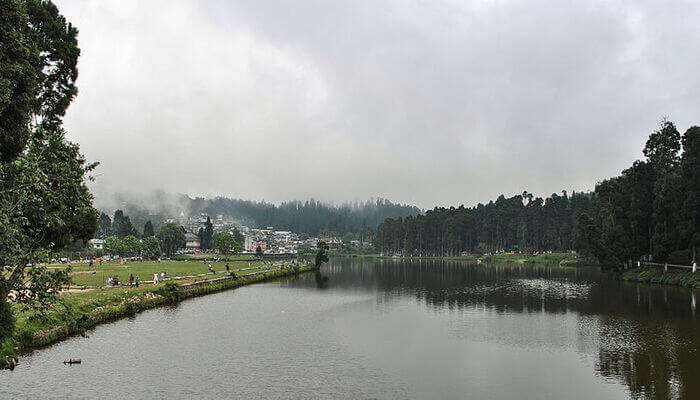 The name Mirik is derived from Lepcha words Mir-Yok, which mean 'Place Burnt by Fire'. It is also fondly called as the 'Valley of The Sun'. This beautiful and shining town near Darjeeling offers an exciting and rejuvenating gateway for families, just married couples and solo travellers. Head to this scenic place and rediscover your passion for nature, indulge in enthralling activities like boating, catch long moments of tranquillity, and shop to your heart's content in the traditional bazaars.
Ideal Duartion: 1 Day
Distance from Darjeeling:60 km
Must See Attractions: Mirik Lake, Deosi Dara, Tingling Viewpoint, Bunkulung, Mirik Tea Gardens, Bokar Ngedon Chokhor Ling Monastery, Pashupati Nagar, and Orange Orchards
5. Lataguri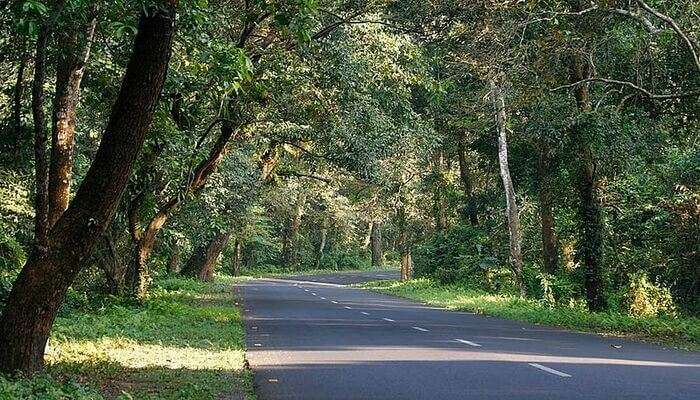 For a wildlife aficionado, Lataguri is a dream come true. Located near Gorumara National Park, Lataguri is a very exciting place for spotting exotic flora and fauna. Being in this place feels like being amidst the wild jungles. It is thrilling, captivating and something to lodge in your memories forever.
Ideal Duartion: 1 Day
Distance from Darjeeling:103 km
Must See Attractions: Gorumara National Park, Chapramari Wildlife Sanctuary, Murti River, and Buxa Tiger reserve
Darjeeling Temples: A Personal Guide To Soak In More Bliss On Your Holiday
6. Dooars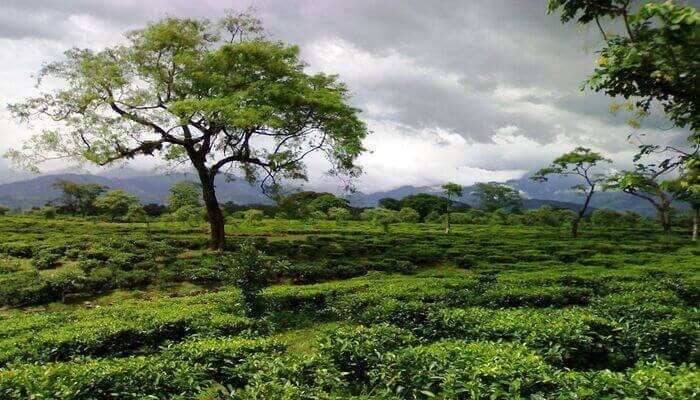 Dooars is derived from the word Door. This place has as many as 18 corridors or ways that run between it and Bhutan. And so one of its famous names is Gateway To Bhutan. This place is thriving with natural wonders that include mystifying mountains of Eastern Himalayan ranges, thick forests, lakes, wide variety of plants and animals, etc.
Ideal Duartion: 1 Night/2 Days
Distance from Darjeeling:140 km
Must See Attractions: Mahananda Wildlife Sanctuary, Latpanchore, Sumsing and Suntalekhola, Chapramari Wildlife Reserve
7. Aritar

Aritar is a lesser known place near Darjeeling. It is a town situated in the East and is home to virgin natural beauty, ancient temples and monasteries. One advantage of these lesser known natural paradises is you get to explore the place minus the crowd. The more the crowd the more difficult it gets to experience the calm and peace of such a place.
Ideal Duartion: 1 Day
Distance from Darjeeling:90 km
Must See Attractions: Lampokhari, Parbateyswar Shivalaya Mandir, Nirmal Dham, Aritar Gumpa and Dak Bungalow
Darjeeling In October: An Ultimate Guide For A Rejuvenating Vacation
8. Jalpaiguri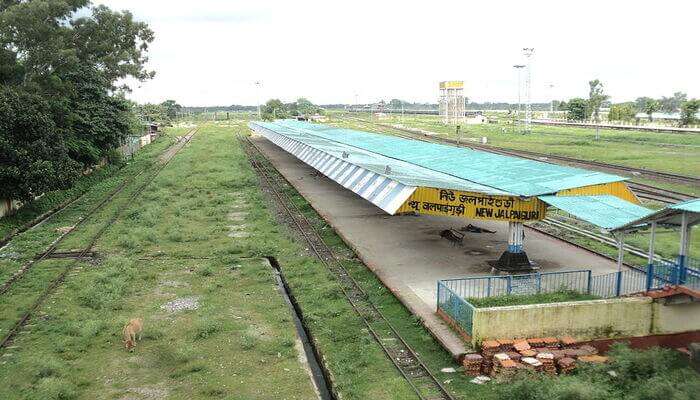 Jalpaiguri is a place that has a rich plantation of olives. That's why the name Jalpaiguri, which means Town of Olive. Bordered by Bhutan and Bangladesh from the north and south respectively, Jalpaiguri is a cute little town that will find a special spot in your heart. The place is filled with tiny rivulets and small hilltops that almost makes it look like an alive miniature version of a hill station.
Ideal Duartion: 1 Day
Distance from Darjeeling:116 km
Must See Attractions: Mendabari fort, Gorumara National Park, Buxa Duar Trek, Murat River
9. West Sikkim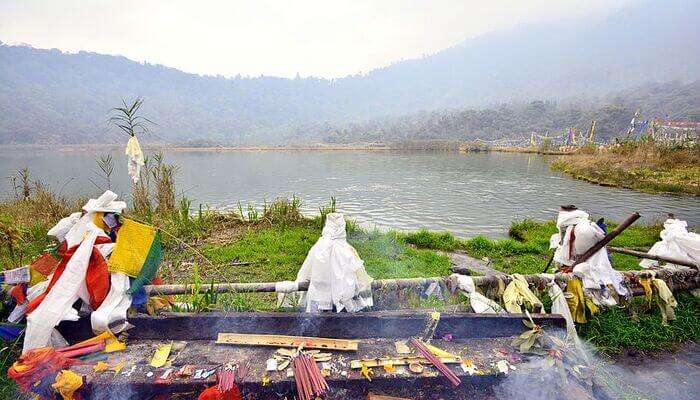 West Sikkim is a place situated at the base of Mount Kanchenjunga and offers what can be considered a picture-perfect shot of the third highest peak's Southeast face. This place is a meeting point of tranquil nature and religiously rich monasteries. This amalgamation of nature and divinity oozing monasteries have the power to soothe even the most disturbed of minds.
Ideal Duartion: 3 Nights/4 Days
Distance from Darjeeling:74 km
Must See Attractions: Khechuperi Lake, Sangachoeling and Pemayangtse monasteries, Pelling, Geyzing, Yuksom and Yangtey
13 Honeymoon Places In Gangtok And Darjeeling For Your Romantic Trip
10. South Sikkim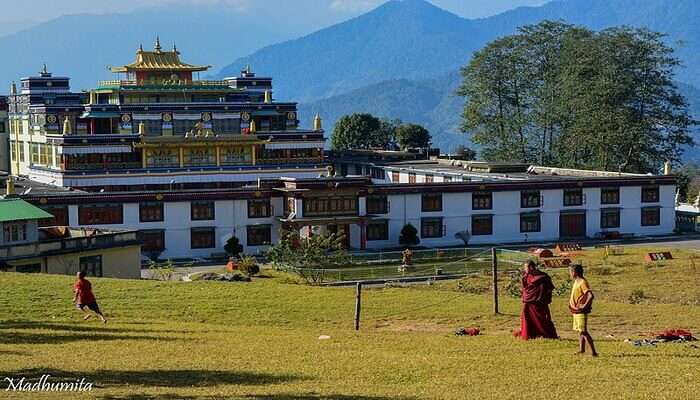 South Sikkim is a popular destination for divinity seekers owing to its rich monasteries and stupas. But this place is also a haven for nature lovers with its alluring forests and hills that leave you spellbound and speechless.
Ideal Duartion: 2 Nights/3 Days
Distance from Darjeeling:86 km
Must See Attractions: Namchi, Ravangla, Solophok, Borong, Maenam Wildlife Sanctuary, Tendong Hill, Temi Tea Garden, and Ralang Monastery
11. North Sikkim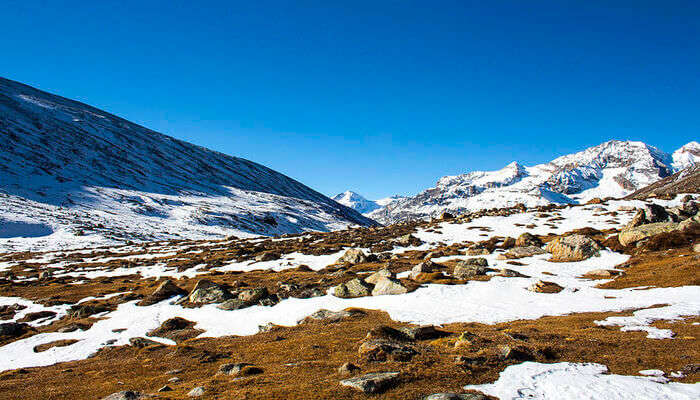 Sharing its boundary with China and Nepal, North Sikkim wears the look and feel of a deserted town due to its lack of many inhibitors. The reason is due to its extreme weather. North Sikkim is home to one of the highest lakes of India, Gurudongmar Lake. North Sikkim has the kind of charm that seems to be singing an ancient tune. Listen if you can!
Ideal Duartion: 3 Nights/4 Days
Distance from Darjeeling:199 km
Must See Attractions: Gurudongmar Lake, Lachung, Mount Katao, Lachen, Yumthang Valley and Lachung
Top 11 Hill Stations Near Darjeeling Known For Their Mesmerizing Beauty
12. Jaldhaka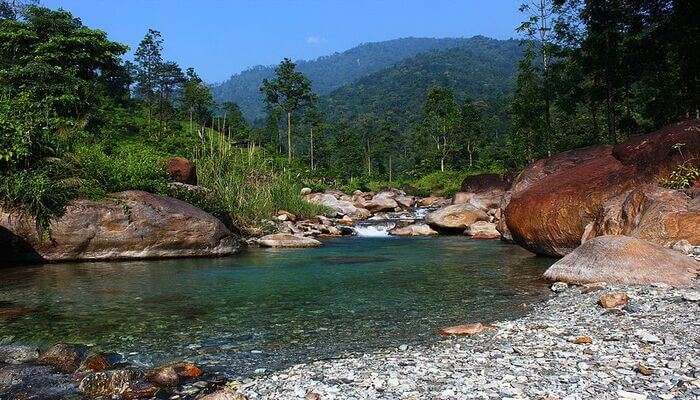 Hidden in the hills of Darjeeling, besides the river valley, Jaldhaka is a town that will remind you of the good old times with its unspoiled nature that were the norm in the by gone years. Jaldhaka offers relaxing natural beauty and nature inspired adventurous sports.
Ideal Duartion: 1 Day
Distance from Darjeeling:102 km
Must See Attractions: Jaldhaka river valley, Coronation bridge, Gorumara National Park, Chapramari Wildlife Sanctuary and Jaldapara National Park
13. Cooch Behar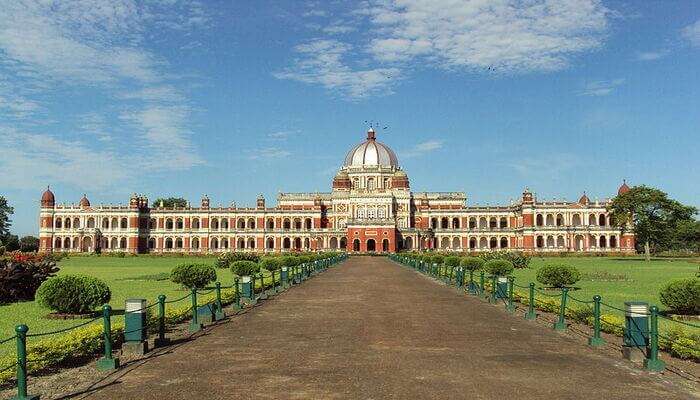 Cooch Behar is a tiny, planned town in North West Bengal. Once a province of the Koch dynasty, this place is brimming with history. If you are visiting Darjeeling, you can include this place in your list as it is just a 5 hour drive from the hill station and can be explored within one day. This is amongst the best tourist places near Darjeeling.
Ideal Duartion: 1 Day
Distance from Darjeeling:201 km
Must See Attractions: Cooch Behar Palace, Rajbari, Madan Mohan Temple, Sagardighi and Baneswar Siva Temple
10 Darjeeling Guest Houses That'll Ensure A Splendid Vacation
14. Rajabhatkhawa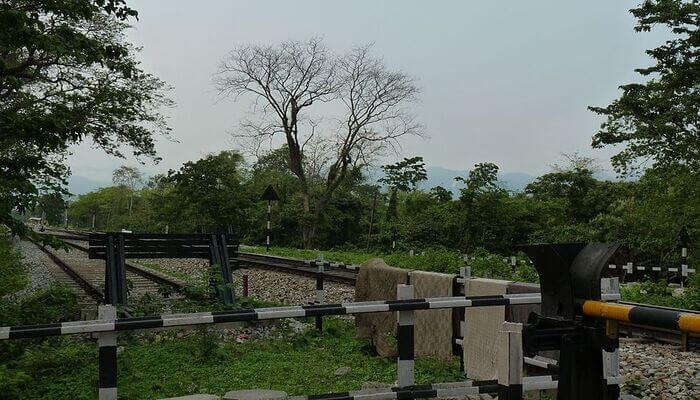 Rajbhatkawa is situated very close to the popular Buxa Tiger Reserve. But seldom does any visitor visiting the tiger reserve give this town even a first glance! But we hope that changes soon as this place has a lot to offer right from unadulterated nature to ancient temples and beautiful monuments.
It is also a place for thrilling activities like trekking and camping. So don't miss visiting Rajabhatkhawa when in Darjeeling and sharing your story to let avid travellers take notice of this beautiful place.
Ideal Duartion: 1 Day
Distance from Darjeeling: 193 km
Must See Attractions: Jayanti River, Buxa Fort, Nature Interpretation Centre, Park Safari, and Mahakali Caves
15. Jaldapara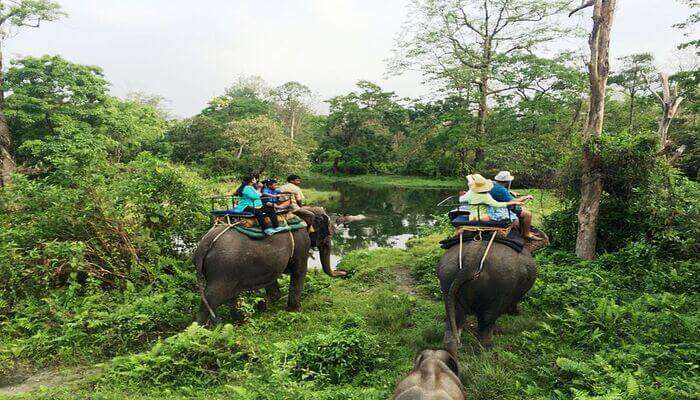 Jaldapara is situated in the Eastern foothills of the Himalayas. It is most famous for its wildlife sanctuary that houses animals like tigers, rhinos, deer, wild boar, elephants, eagles and many more. You can also enjoy a safaris perched atop an elephant.
Ideal Duartion: 1 Day
Distance from Darjeeling:154 km
Must See Attractions: Jaldapara Wildlife Sanctuary, Chilapata Forest, and Gorumara National Park
7 Best Things To Do In Darjeeling In June Which One Must Experience To Enjoy The Best Of The Tea State
We hope our list of 15 places near Darjeeling has proven an informative and delightful read to you. Travel Triangle is here to help you plan your trip to these places. So contact us today and get your well planned itinerary. Also, do not forget to share you wonderful travel experience with us!
For our editorial codes of conduct and copyright disclaimer, please click here.
Frequently Asked Questions About Places Near Darjeeling
Which is the most beautiful place in Darjeeling?
Darjeeling is home to numerous places worth exploring on a holiday. Ghum Monastery, Peace Pagoda, Happy Valley Tea Estate, Darjeeling Ropeway, etc. are counted amongst the most beautiful places to visit in Darjeeling.
Is there snowfall in Darjeeling?
Snowfall in Darjeeling is a very rare event. It usually happens in the month of December, January and February. Tsomgo lake in Gangtok receives abundant snowfall during these months. It is ideal to plan a getaway in winters if you wish to capture snowfall experiences.
What are the things to purchase in Darjeeling?
There are interesting marjets in Darjeeling and you can check out hand knitted items like sweaters and other winter wears, low priced electronics, Tibetan art flaunting carpets, teas, etc.
What is the best time to visit Darjeeling?
The best time to visit Darjeeling is between April to June as the days are sunny and weather remains pleasant during this time, making sightseeing a comfortable experience. However, Darjeeling is known for its winter too and you can also plan a getaway between October to December for an ideal winter vacay.
How many days are enough for Darjeeling?
You must plan a trip for at least 4-5 days to Darjeeling for an ultimate experience. Darjeeling and its nearby places hosts memorable experiences to travelers from across the country.
People Also Read:
Places Near Jog Falls Places Near Pahalgam Places Near Cuttack