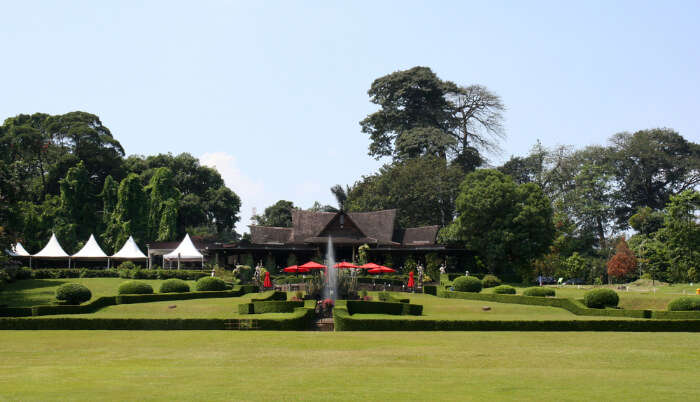 The capital of Indonesia, Jakarta offers a lot in terms of sightseeing tour and modern city life. From history to shopping, art and architecture to vibrant party places; Jakarta has it all. Once you have visited all the historic city's landmarks, explore the exotic places near Jakarta. Head to the hills, eco-park to discover Indonesia's jungles and the beauty during your visit to any of these 8 wonderful places we have shortlisted for you.
8 Best Places Near Jakarta
These are the list of 8 stunning places near Jakarta and its surrounding areas for a fun-filled weekend getaway.
1. Macan Eco Resort, Thousand Island

Macan Eco Resort is one of the best places to visit near Jakarta Indonesia for travelers who like snorkeling. With a variety of colorful coral reefs, the underwater view is enchanting. The water is crystal clear and hence fish are easily seen from the surface. The scenery on the island is so mesmerizing that it leaves the tourists with the best experience. They can also simply sit on chairs while enjoying the view. If you are in North Jakarta, Macan Island can be reached in about 2 hours if you board a boat from Marina pier.
Distance from Jakarta: 75km
Must Read: Winter In Jakarta: A Detailed Guide To Explore One Of The World's Greatest Megapolis
2. Botanical Garden, Bogor

Bogor, one of the best tourist places near Jakarta has a very large city park called Bogor Botanical Garden. It is a city with cool weather and there are numerous activities you can indulge at Bogor Botanical Gardens. Each year the area comes up with new tourist attractions. The main attraction here is the natural water cycle. You can see it as well as the latest natural use technologies. To enter Bogor Botanical Garden, you can buy tickets with a price of INR 70 per person. The timing of the park is from 08.00 AM to 5.00 PM daily.
Distance from Jakarta: 56km
Suggested Read: Street Food In Jakarta : 7 Must-Visit Places For All Food Lovers
3. Safari Zoo, Puncak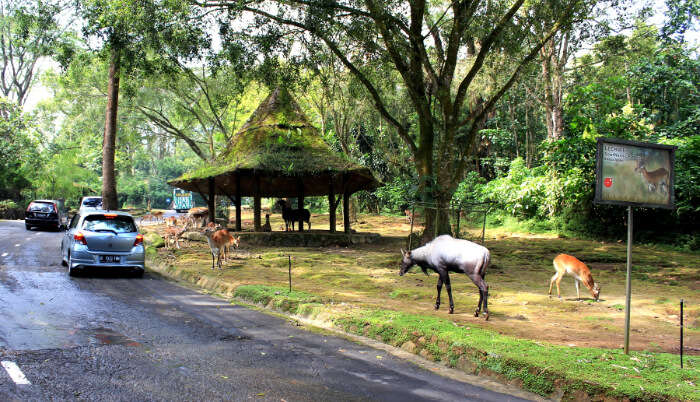 Safari Zoo, Puncak is one of the best tourist places around Jakarta Indonesia. Founded in 1980, it is a pioneer of Indonesia's tourist attraction. The 50-hectare park is the first Safari Park in the country and now, Taman Safari has expanded to reach 168 hectares. People are attracted towards this famous tourist place as it offers various recreational and educational facilities. When visiting the safari zoo, plan to stay at Safari Lodge hotel in order to take a tour of both daylight safari and night safari.
Distance from Jakarta: 74km
Suggested Read: Jakarta In December: 6 Exciting Things To Do For An Unforgettable Holiday!
4. Sri Baduga Fountain, Purwakarta

Sri Baduga Fountain situated in Taman Sri Baduga, Purwakarta is the largest fountain park in South East Asia. It is a mere 2 hour drive from Jakarta. If you like urban attractions, it is worth the visit. The fountain has light effects which attract tourists. There lies a lake near the fountain called Situ Beleud. For the best experience, visit on Saturday and Sunday night to witness the coolest fountain light effect.
Distance from Jakarta: 98km
Suggested Read: Jakarta Nightlife: 10 Best Places To Groove To The Indonesian Beats!
5. Gunung Padang, Cianjur

Gunung Padang is the largest megalithic site in Southeastern Asia. It is one of the best tourist places to visit around Jakarta for those who love ancient relics. This site is thought by archaeologists to date older than the age of the Egyptian Pyramid. It offers different views at different levels and certain rules are there which must be followed here like not throwing garbage in the core area. However, one can eat on the edge of the core zone side. The timing to visit the place is from 7 AM to 5 PM.
Distance from Jakarta: 135km
Suggested Read: New Year In Jakarta: Welcome 2022 With A Bang At These Extravagant Party Places!
6. Geopark Ciletuh, Sukabumi

A new tourist spot, Geopark Ciletuh situated in Sukabumi is amongst the good places near Jakarta. The place boasts many things – natural beauty, such as waterfalls, beaches, fields, hills and many other enchanting views. The geopark expands across eight sub-districts and its most favorite entrances is from Ciemas. From Jakarta, one can take public transportation, or drive on their own. It takes around four to six hours from Jakarta, depending on the vehicles opted.
Distance from Jakarta: 167km
Suggested Read: 8 Best Indian Restaurants In Jakarta So You're Not Deprived Of Desi Food
7. Kamojang Ecopark, Garut

Kamojang Ecopark is one of the famous tourist places near Jakarta. Located in Kamojang pine forest on the border between Garut and Bandung, Kamojang Ecopark offers various adventure activities. You can ride all-terrain vehicles, swing with flying fox and more. Don't forget to bring your camera along. The cliff area is where you can take really good pictures with natural scenes.
Distance from Jakarta: 198km
Suggested Read: 15 Places For Shopping In Jakarta That Will Give You A Shopaholic's High!
8. Ranca Upas, Ciwidey, Bandung

A 3 hour drive from Jakrata, Ranca Upas in Bandung is one of the popular places to visit near Jakrata. For those who want to enjoy a fun-filled day with friends or family amidst nature, must-visit this place. The natural freshness and greenness is a natural remedy to calm your mind. Ranca Upas, Bandung, Ciwidey are the natural remedy you can experience here. To add, there are hot spring baths that are perfect amidst the Ciwidey air.
Distance from Jakarta: 180km
Further Read: 10 Jakarta Beaches That Are Bound To Make Your Indonesia Trip All The More Fun
If you are in Jakarta and have some time to explore Indonesia, immediately plan to visit several beautiful places near Jakarta. Now that you know the happening places around the city, pack your bags, plan a trip to Jakarta and have an amazing time with your friends and family. The trip is sure to refresh your mind and recharge your energy.
Comments
comments