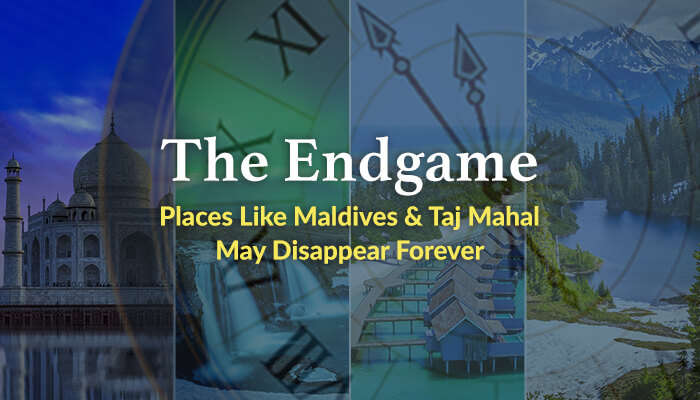 You may have to scrape off these places from your bucket list even though you haven't visited them yet. Why, you ask? Well, because they will cease to exist real soon. Still wanna wait for the right moment to plan a trip? Well, don't. Pack up and check out all these gorgeous places to visit before they disappear…forever!

WARNING: Make sure you grab a box of tissues before you scroll down!
26 Breathtaking & Popular Places To Visit Before They Disappear
We bet you'll refuse to believe at first that these places will disappear pretty soon. Once you're done weeping, make sure to book your tickets to your favorite destination right away.
26. Jakarta – Indonesia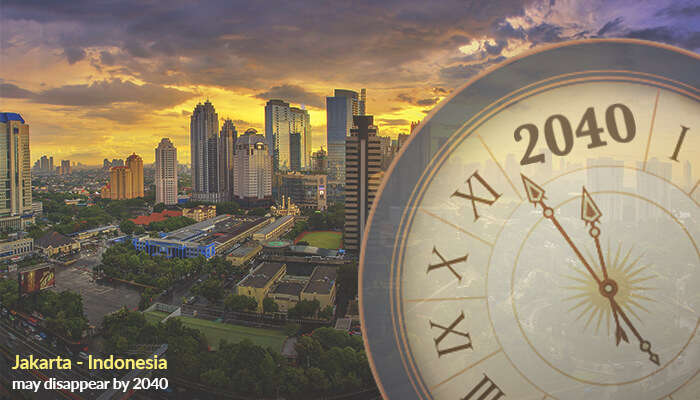 Excessive groundwater pumping has been causing the sea water to seep into the mainland, and the rising of population in the coastal areas only aggravated the situation. Another reason is poor structural planning and overpopulation. Currently, about 47.2 million people are living in the dangerous coasts of Indonesia's fast sinking capital.
Best Time To Visit: July-October
Must Read: 15 Places For Shopping In Jakarta That Will Give You A Shopaholic's High!
25. Komodo Island – Indonesia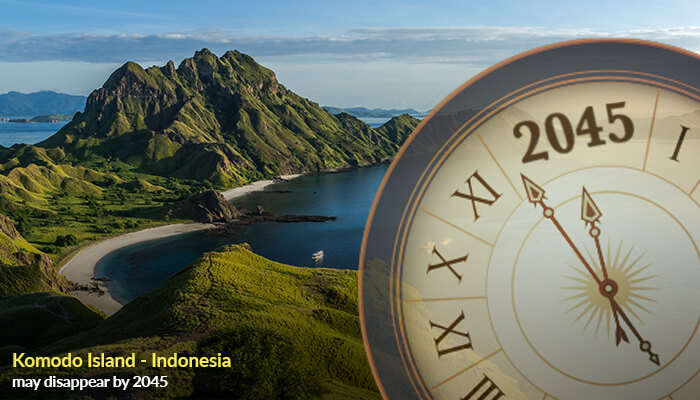 The home of the deadly Komodo Dragons, this Indonesian island has some of the most awesome diving spots in the world. The island is enriched with spectacular coral reefs and fish, adding to its beauty and natural diversity. Wondering what landed it in the list of the top places to visit before they disappear? Well, environmentalists say the reef will soon succumb to the growing acidification and rising temperatures.
Best Time To Visit: September to November
Suggested Read: Komodo Island: An Ultimate Guide To Explore Indonesia's Land Of Dragons
24. Majuli Island – India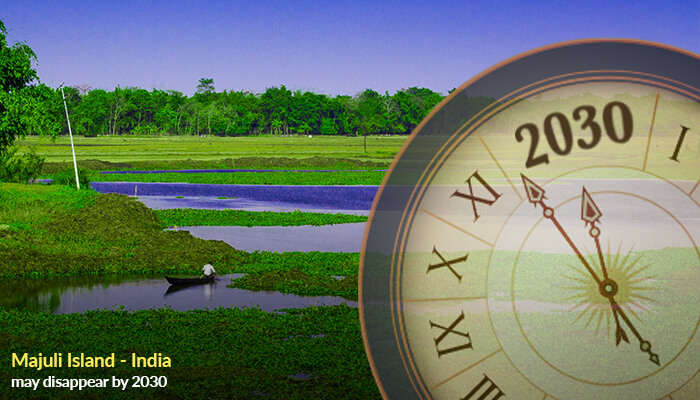 The once largest river island with a stretch of 1200 sq km, Majuli Island is now less than a miserable 400 sq km. Disastrous flooding and massive erosions have led to the submerging of the island. Don't miss this melt-pot of Assamese culture and stunning beauty. It might just be a mention in the books very soon.
23. The Dead Sea – Jordan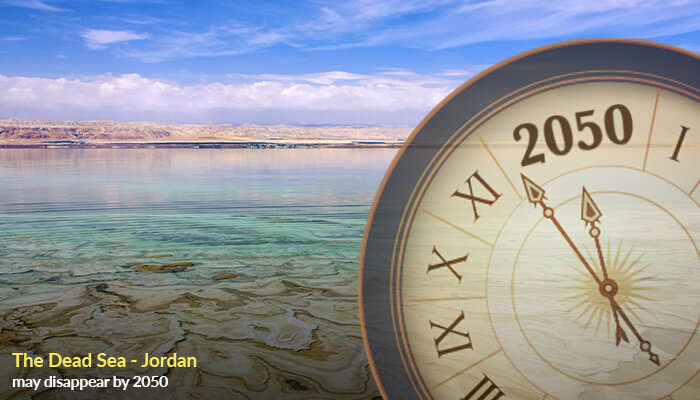 Saying 'the Dead Sea is dying' may sound funny to some, but the situation is far from it. The Dead Sea has long allowed people to "magically" float over its water that is high in salt content. In addition, it also has various curative properties that draw people here. But all of that will soon be gone thanks to rapidly falling water levels (3 ft per year!) and the emerging sinkholes.
Suggested Read: Dead Sea In Jordan Is A Traveler's Paradise In The Middle-East
22. Amazon Rainforest – South America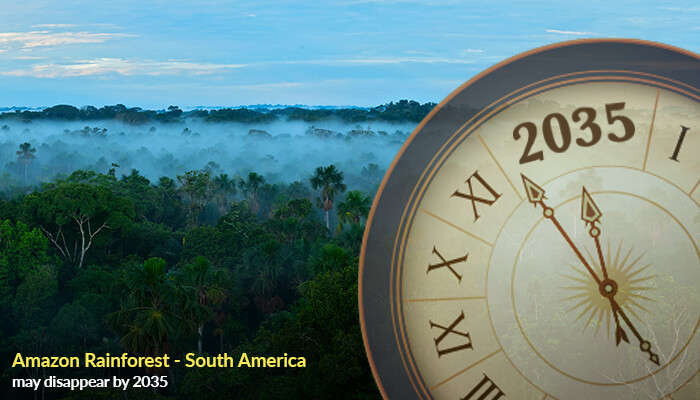 The Amazon Rainforest is the largest tropical rainforest in the world and is home to over 20% of the world's bird species. It is so enormous that many regions, as well as species of flora and fauna inside the forest, still remain undiscovered. The sad part is, they may always remain undiscovered with the present rate of deforestation, global warming, mining, and forest fires in Amazon that are causing these forests to slowly erode away. We bet you were already aware of these reasons that have made Amazon one of those many places you need to visit before they disappear, weren't you?
Location: Brazil, Peru, Colombia, Venezuela, Ecuador, Bolivia, Guyana, Suriname, France (French Guiana)
Suggested Read: 10 Best Things To Do In Brazil For A Wild & Unforgettable South American Sojourn
21. Madagascan Rainforest – Madagascar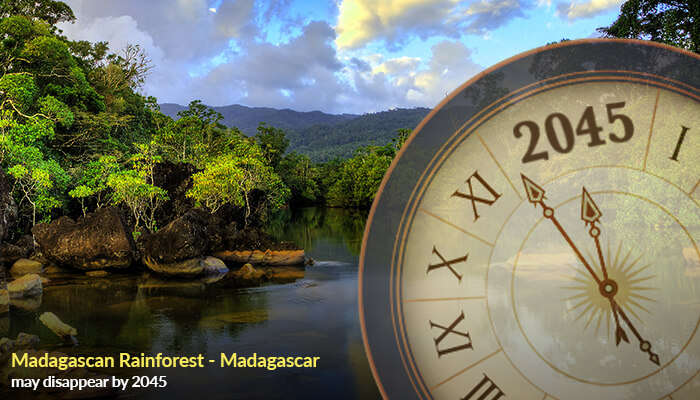 The humongous island nation in Africa that is home to peculiar species like lemurs, chameleons, and giraffe weevils might not be there for a long time. Owing to multitudes of forest fires and mass deforestation, this mecca for nature and wildlife lovers is predicted to only last as long as the next 30 years.
Suggested Read: 10 Most Luxurious Madagascar Resorts For A Perfect Staycation
---
Planning your holiday but confused about where to go? These travel stories help you find your best trip ever!
Real travel stories. Real stays. Handy tips to help you make the right choice.
---
20. Olympia – Greece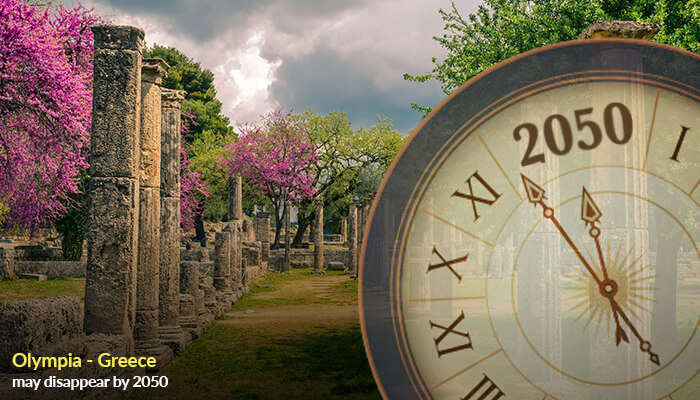 It may not be one of those famous places to visit before they disappear, but Olympia has had a major contribution in shaping the history of the world. Every history geek's first love, the ancient city of Olympia is Greece's top archaeological sites. It also is the site where the first-ever Olympic Games were held in 776 BC. This prehistoric city has fallen prey to rampant wildfires in recent years caused by hot and dry summers and low rainfall levels that are even threatening to destroy the ancient ruins here.
Suggested Read: Top Things To Do In Greece For An Epic Mediterranean Vacation!
19. Galápagos Islands – Ecuador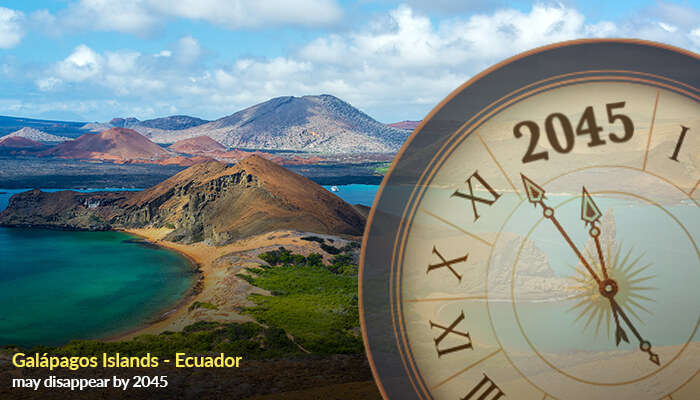 It was this very island that had helped Charles Darwin understand where humans came from. And now it is these humans and their callous ways that are set to destroy this paradise. Owing to a rising population and four busy airports, it'll soon be time to bid farewell to this beautiful land that is home to a humongous range of plant, animal, and bird species.
Suggested Read: Top 15 Places To Visit In Ecuador For A 2022 Megadiverse Tour In South America
18. Salar de Uyuni – Bolivia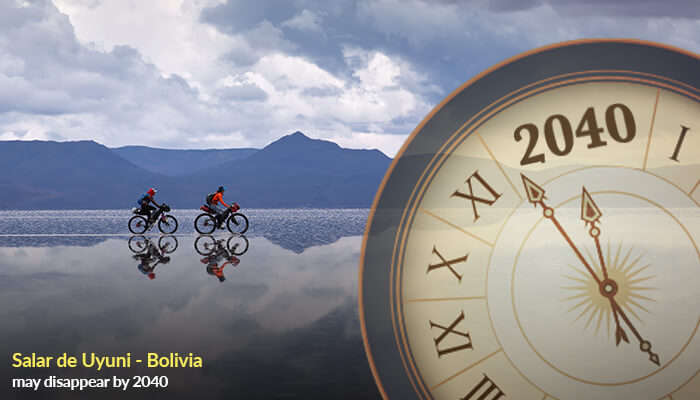 Attracting travelers and photographers with its unique mirror-like surface, these are the largest and most enchanting salt flats on earth. But this picture-perfect land is facing near-destruction as the Bolivian government is indiscriminately extracting lithium reserves from under it.
17. Bangladesh – Asia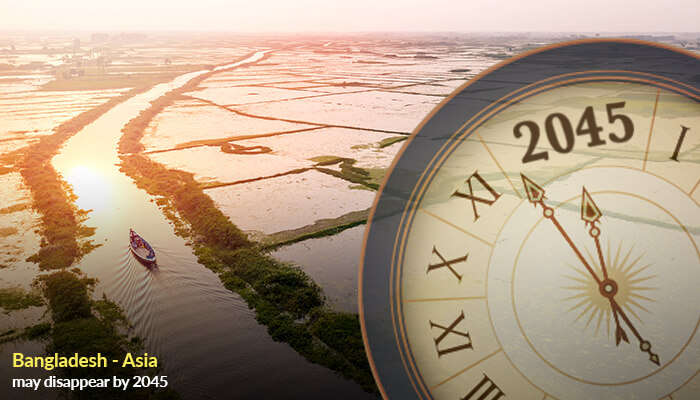 Just a meter rise in sea level, and we could lose 50% of Bangladesh to water. Researchers say that in the next 30 years, we might not get to visit the beauty of Bangladesh at all. Owing to its rich culture and heritage, it is among the best places to visit before they disappear for Indians.
Suggested Read: 20 Best Places To Visit In Asia In October 2022 That Make For The Best Tourist Destinations!
16. Swiss Alps – Europe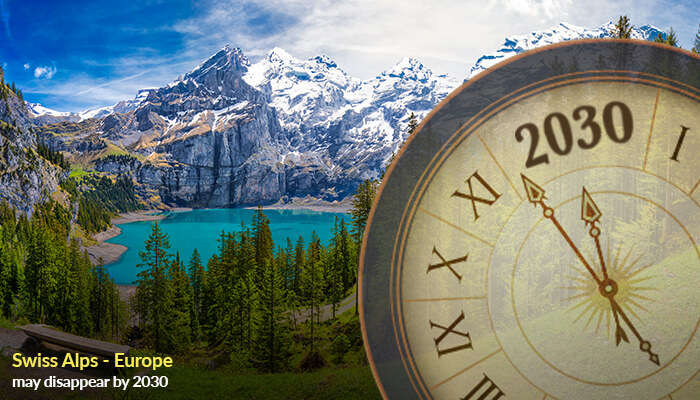 The European Alps sit at a lower altitude than the Rocky Mountains, and their glaciers and ski resorts are more susceptible to the effects of global warming.
Suggested Read: 8 Luxurious Cruises In Europe For A Perfect European Experience In 2022!
15. Franz Josef Glacier – South Island, New Zealand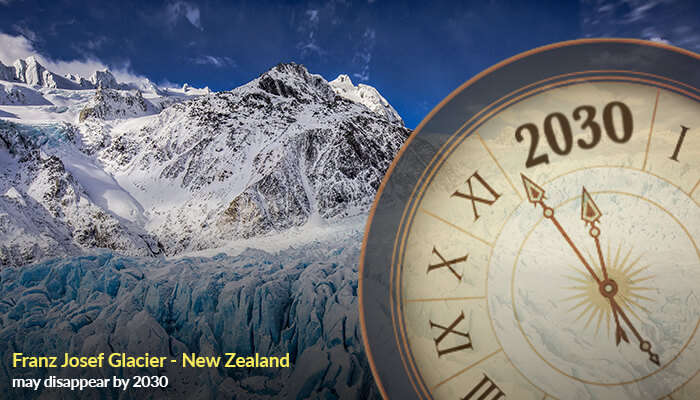 While it may still be a less explored gem in New Zealand, that doesn't change the fact that it's one of the most breathtaking glaciers in the world. But not for long! Glaciers around the world have been sinking since 2000 and have lessened by 38% on average has, losing 25% of their land area.
14. South Australia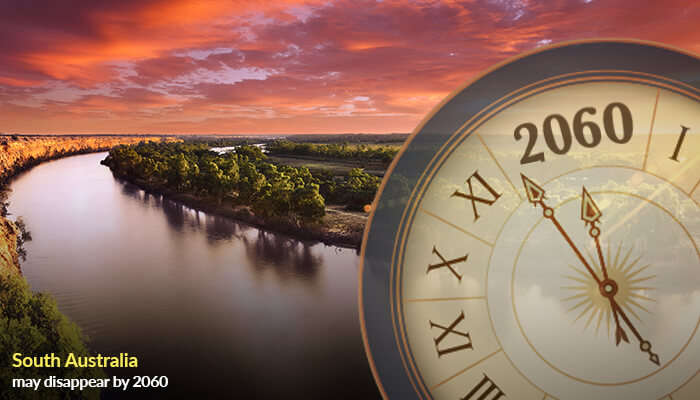 Desertification is threatening this gorgeous piece of land. Dried up water resources parched landscapes add to the threat. Visit the beauty before rapid wildfires and depleting ecosystem eat up this gorgeous region in the next 35 years.
Suggested Read: Beaches In Adelaide: 11 Top Beaches In This Cosmopolitan City Of South Australia
13. North Africa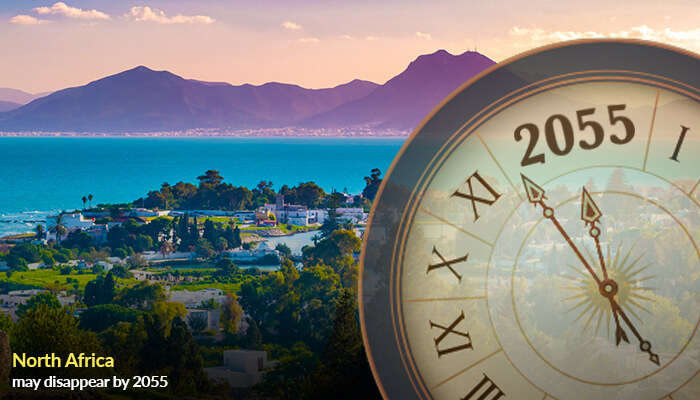 The Sahara Desert in northern Africa is growing at an alarming rate of 0.8 kilometers per month. Just pray it doesn't consume the whole of North Africa in the next 35 years, as claimed by researchers. It would be a shame if we lost it, to the wrath of nature.
12. Northern Tundra – Alaska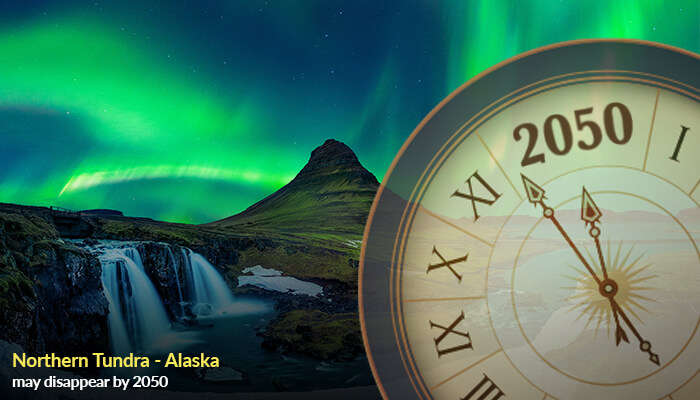 Did you know that the stunning beauty of Alaskan Tundra is short-lived? It is proved that global warming affects the Arctic twice as harsh as the rest of the world, landing this paradise in this list of places to see before they disappear. You just have to visit it to realize how somber it will be to lose such a beauty at the hands of global warming.
Suggested Read: Christmas in Alaska 2022: Top 9 Places To Visit To Witness The Best Of Christmas
11. Glacier National Park – Montana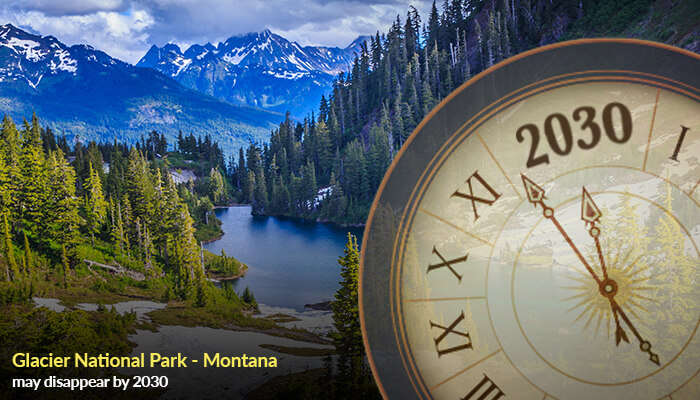 These enchanting glaciers might not be there in the next 15 years. They have decreased from a huge 150 to a dipping 25 in the last 80 years. As per research, it could be completely gone in the next 15 years. Such a loss of beauty!
Location: Montana, United States
Suggested Read: 17 Things To Do in Montana: The Ultimate Montana Travel Bucket List
10. The Sundarbans – India & Bangladesh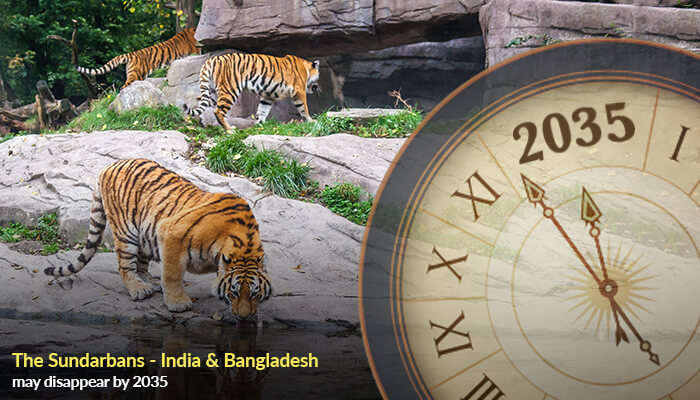 Apart from being a beautiful network of mangroves, the Sundarbans also provide shelter to a wide variety of endangered species, including tigers. You think it's one single reason that's taking away our beautiful wealth of forests in western India? Nope! Factors like constant erosion, deforestation, pollution, poaching, and unchecked extraction of fossil fuels are all together causing rising water levels here.
Best Time To Visit: Sep-Mar
Suggested Read: 35 Exotic Places To Visit In December In India 2022 To Enjoy A Surreal Vacation!
9. The Pyramids – Egypt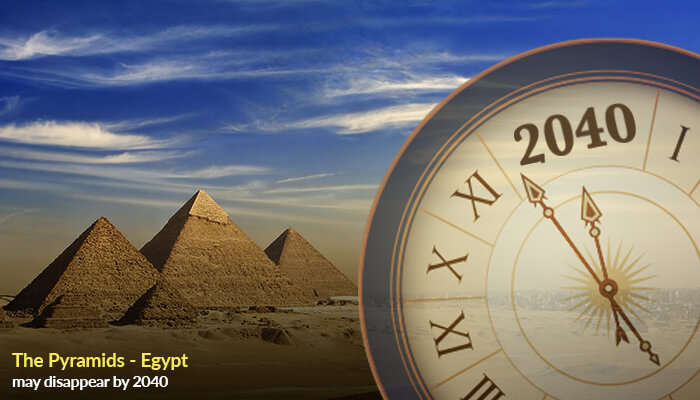 The Pyramids Of Giza, along with The Sphinx, are on everybody's bucket list. But not for long, as this massive Wonder of the World is facing a major threat. Sewage and pollution are slowly eroding the plates that they stand on, and if the required steps aren't taken in time, these structures might collapse.
8. Great Wall Of China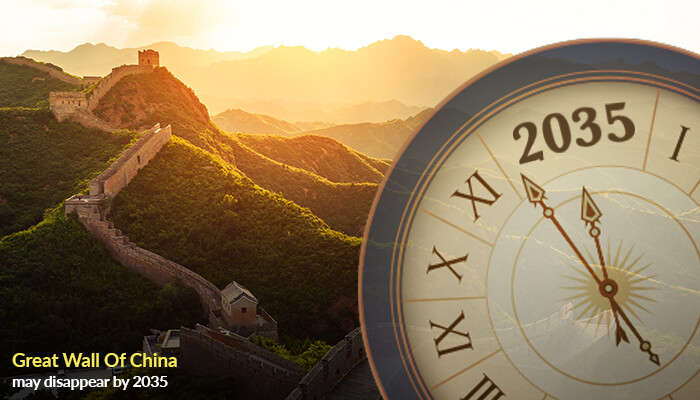 The heritage site which has been conserved well for over 2000 years, is now at the verge of turning into just dilapidated ruins. Over-farming and air-pollution are the main reasons. You have got just less than 20 years to visit this beautiful display of craftsmanship.
Location: Huairou District, China
Suggested Read: 10 Best Restaurants In China To Indulge In A Dreamy Fine Dining Experience
7. Mount Kilimanjaro – Tanzania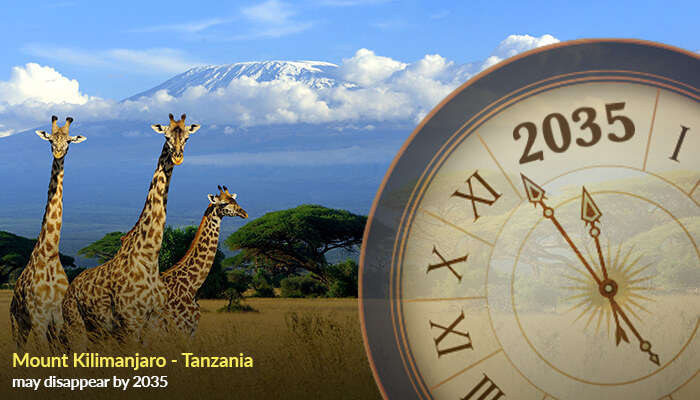 In the last 90 years, Kilimanjaro's ice sheet has reduced by a gigantic 85%. It is said that it might not be there at all in the next 20 years. Buckle up and plan the trip, you really wouldn't want to miss this charisma.
Suggested Read: Visit Tanzania In March: Plan For A Vacay In The Season Of Wildlife Safaris In 2022
6. The Seychelles – Africa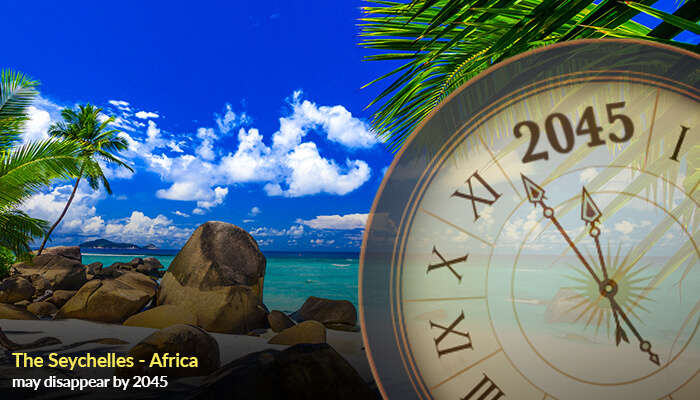 Seychelles has been a 'dream destination' for many, but with the ongoing trend, it may just forever stay in our dreams only. Rising water levels are causing the islands to slowly sink, also killing the corals in the process. These group of islands has some of the most breathtaking landscapes in the world, along with a bizarre set of flora and fauna including the Giant Tortoises, all of which will be gone once these islands sink. It is one of those unique and special places to visit before they disappear that you must not miss at any cost.
Best Time To Visit: April to May and September – October
Suggested Read: A Guide To uShaka Marine World: Africa's Largest Marine Theme Park
5. The Grand Canyon – Arizona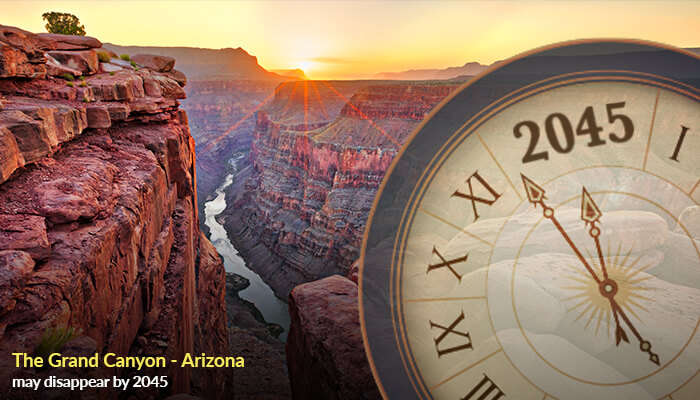 Oh yes! We'd soon lose the Grand Canyon too if tourist activities continue at the current rate. There are also talks of building a tramway here to carry 10,000 tourists to and fro. With all these "developments" happening over the canyon, we might have to bid goodbye to this stunning creation of nature sooner than we expected.
4. The Great Barrier Reef – Australia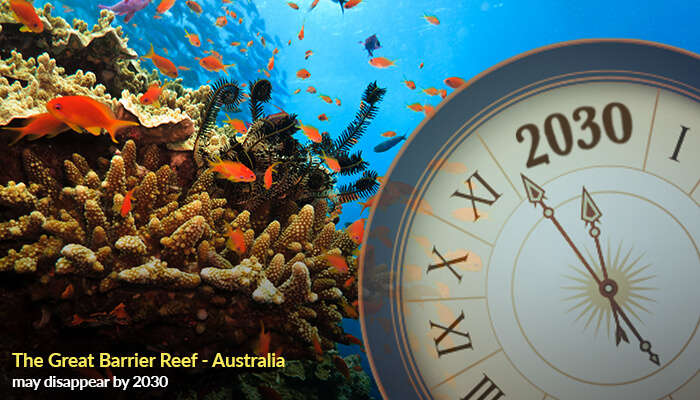 The size of this world's largest coral reef has decreased by more than 50% of its original size. Now imagine these vibrantly colorful corals suddenly turned white. Phew, what a grief it would be. Visit before we lose it completely in the next 15 years.
Location: Queensland, Australia
Best Time To Visit: June to November
3. Maldives – Asia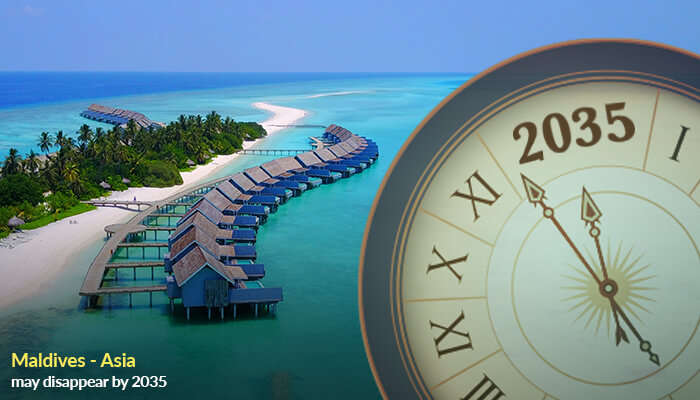 The Maldives, besides being a country of heavenly beauty, can earn another title! It could be the first country to submerge in the ocean due to global warming. It's the only country in the world with an average of 2.3-meter ground level and 1.4 meters above sea level. Bet, you didn't know this? Hurry up, because your dream holiday destination might not be there in the next 20 years.
Best Time To Visit: Mid December – April
Suggested Read: Baros Island Guide: Visit This Resort Island In Maldives In 2022
2. Venice – Italy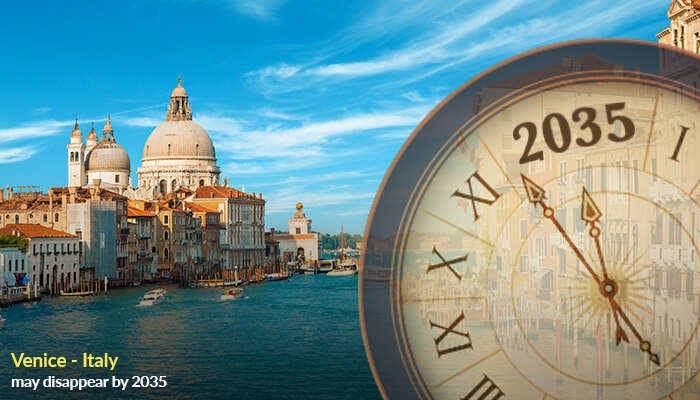 It's no longer a secret that the romantic city, Venice, is slowly submerging. Its dramatic canals are sinking. Now if you miss this, it would be blasphemous. No more gondola rides, no more cozying up in the water canals, no more romantic evenings in the water in the next 20 years. The loss to the romantic world will be irreplaceable.
Best Time To Visit: April, May, September and October
1. Taj Mahal – India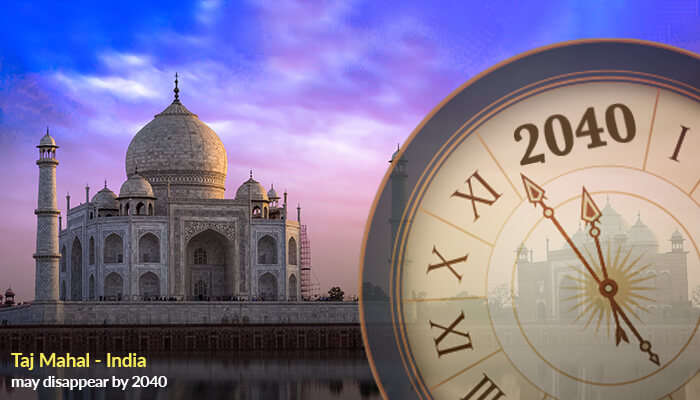 While this may come as a surprise to many, the world's favorite symbol of love too won't last long. Factors like corrosion, pollution, and continued exposure to acid rain has weakened its structure. It has been predicted that the base of the Taj Mahal will collapse in the next 50 years, reducing the gorgeous structure to nothing but a pile of white debris.
Location: Dharmapuri, Forest Colony, Tajganj, Agra, Uttar Pradesh 282001
Further Read: Diwali Celebration In India 2022: An Extensive Guide To The Festival Of Lights
Hurry already! Or you may never know what it is like to have seen these beautiful places with your own eyes! Take a trip to as many of these places to visit before they disappear forever. And while you're at it, don't forget to be a responsible traveler and do your bit to save them.
---