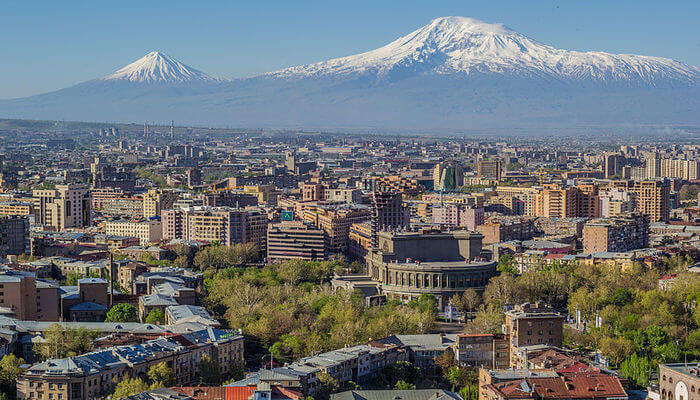 If you are planning for a memorable trip and anxiously exploring some top-notch destinations, you have every reason to set your eyes on Armenia. As one of the oldest existing nations, Armenia was the first country to declare Christianity as its national religion and enjoys having a glorious 3,500 culture.
Boasting on a myriad of tourist destinations, Armenia is excelled-in as a paradise for visitors for letting them explore lots of things—be it beholding the breath-taking views of mountains, spectacular landscape, scenery or engaging with plenty of interesting activities.
Interesting Places To Visit In Armenia
Let's explore some of the most interesting places to visit in Armenia that are rich in culture, history and as beautiful as any popular tourist destination.
1. Enjoy Incredible Architecture in Yerevan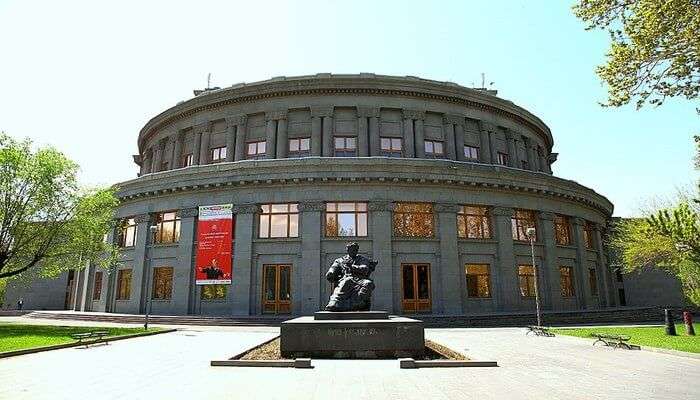 While talking about the hottest places to visit in Armenia, it's good to start with none other than the capital city, Yerevan, that came into existence in 782 BC. Visiting the city of Yerevan rejuvenates visitors, whether they flock here for the first time or have visited several times. The city is famous for featuring world-famous architecture, which first-time visitors cannot afford to miss. Also known as 'the city of the cafes,' Yerevan is home to restaurants, cozy cafes, parks, etc.
Things to Do in Yerevan: Visit Republic Square, Yerevan Cascade, etc.
Best Time to Visit Yerevan: June to August and December to February
How to Reach Yerevan: By plane, rail, car, etc.
Must Read: 25 Best Places To Visit In Southeast Asia In 2020!
2. Behold the Beauty of Lake Sevan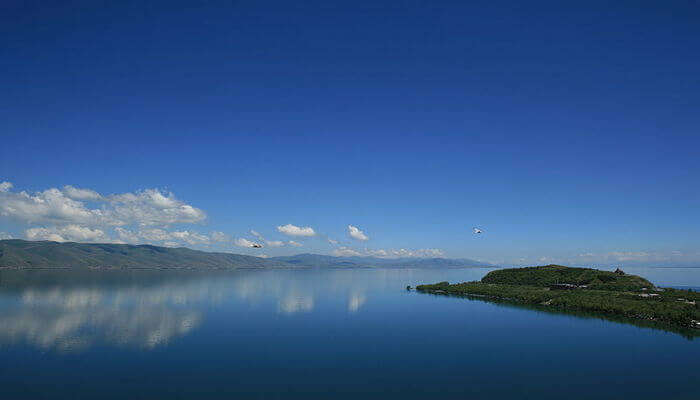 Another exciting destination to explore on the course of your Armenian trip, Sevan is blessed with the mind-blowing beauty invigorated by the Lake Sevan that titillates the minds of visitors. Anyone seeking to experience a real natural beauty should not miss a visit to Lake Sevan, located 66 km from Yerevan.
Spread over a total area of 1,900 m, Lake Sevan, popularly pronounced as the Pearl of the Armenian Nature, is the right spot for everyone. You can enjoy BBQ, cruising, getting an exciting glimpse of the mind-blowing scenery, and lots more.
Things to Do in Lake Sevan: Visit Sevanavank, Sevan Island, Hayravank Monastery, etc.
Best Time to Visit Lake Sevan: Mid summer and winter seasons.
How to Reach Lake Sevan: From Yerevan, take minibus, vans, metro, etc.
Suggested Read: 14 Honeymoon Destinations In Asia In December 2019 To Celebrate Your Love Story
3. Visit the Classic Temple in Garni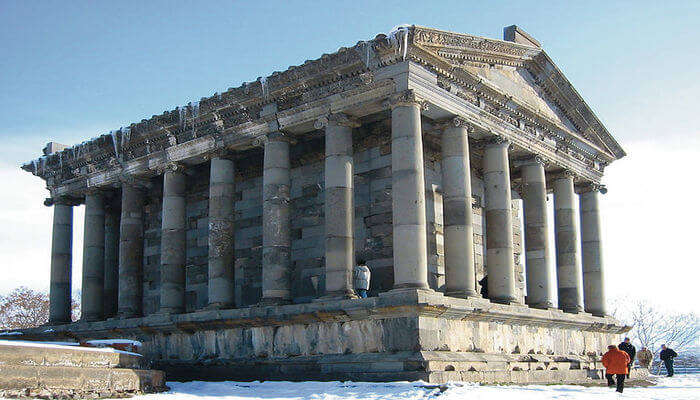 The majority of tourists enjoy making their way to the villages on the course of their journey. If you are one of those and looking for the best village to explore in Armenia, Garni is the right option for you to explore. Situated in the Kotayk Province in Armenia, Garni is a much-talked about tourist destination for featuring the classical temples and other popular attractions. They include ruined Khumarazham Church, Mashtots Hayrapet Church, The Havuts Tar Monastic Complex, and lots more.
Visit Garni Gorge; Geghard; Temples, etc.
Best Time to Visit Garni: All months
How to Reach Garni: By taxi, torbus, etc.
Suggested Read: Hong Kong Itinerary For 7 Days: Our One Of A Kind Experience In Asia's World City!
4. Visit the Mystery Place Karahunj
Located at a distance of 200 km from the capital city of Armenia, Karahunj is the next village that you will come across while searching for the most visited places in this country. Visitors who flock this place can get puzzled with the mystery of the 200 stones, each having holes with a diameter of 5 cm. This is a mystery for many scientists in terms of its use, origin, etc.
Things to Do in Karahunj: Visit Khndzoresk Bridge; Medieval Goris Cave Dwellings, etc.
Best Time to Visit Karahunj: All months
How to Reach Karahunj: By taxi, bus, etc.
Suggested Read: Kyrgyzstan Visa For Indians: Explore The Unexplored Lands Of This Asian Country!
5. Explore the Unexplored Shikahogh State Reserve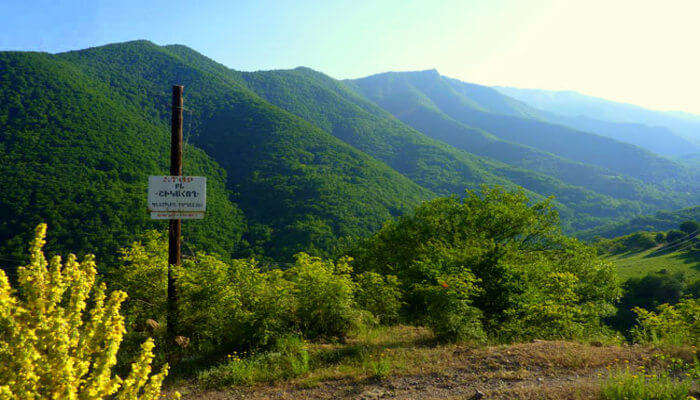 Shikahogh State Reserve is one of the hidden places in Armenia. Covered with lush green mountains, Shikahogh State Reserve is still unexplored as it's covered with dense forests containing 1,100 species of plants. It is one such reason why it's known to be an unexplored city. If you are a nature and animal lover, then Shikahogh State Reserve has lots to offer for you. The forest houses different animals such as wild goats, bears, leopards, etc.
Things to Do in Shikahogh State Reserve: Visit Mount Khustup; See animals, etc.
Best Time to Visit Shikahogh State Reserve: All months
Suggested Read: 10 Best Places To Visit In August In Asia For An Easy-Breezy Holiday In 2019!
6. Engross Into the Natural Beauty of Jermuk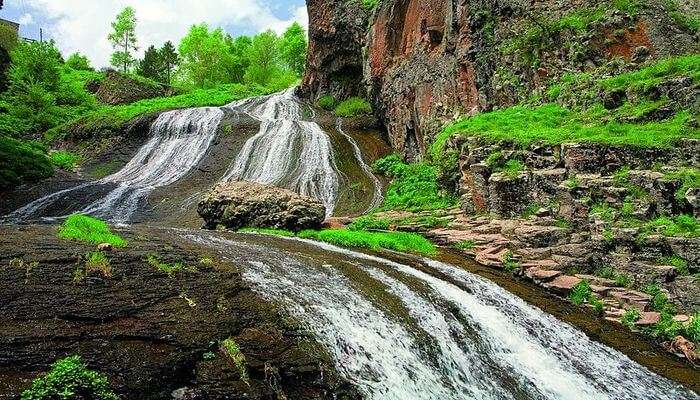 The mild climate, healing mineral water, and marvelous natural beauty are something that contributes to making Jermuk as the most inspirational place for tourists to explore and popularize among them as a famous spa city in Armenia. While visiting this place, never forget tasting the healing mineral water, which you can do by visiting the Gallery of Water.
Visiting Jermuk will never complete without beholding the exquisite view of none other than Jermuk Waterfall, Armenia's second-largest waterfall. The water falling from a height of 70 m gives you an exhilarating experience that engrossed into the melody of nature.
Things to Do in Jermuk: Visit waterfall; Mineral water gallery, etc
Best Time to Visit Jermuk: All months
How to Reach Jermuk: By buses, mini buses from Yerevan.
Suggested Read: 20 Best Places To Visit In Asia In October 2020 That Make For The Best Tourist Destinations!
7. Discover Peaceful Moments in Dilijan National Park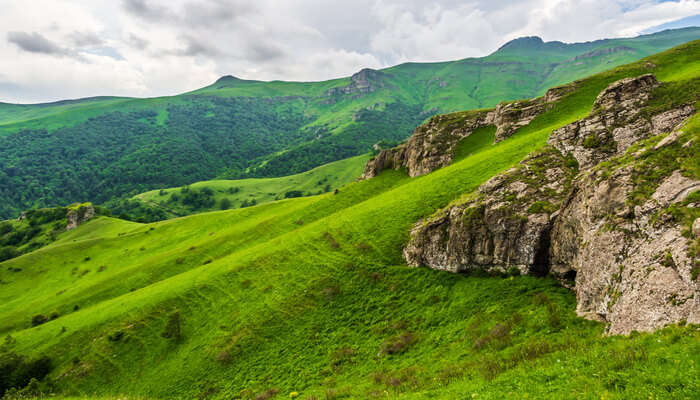 The Dilijan National Park, built in the year 2002, is another amusing place for the visitors by letting them explore lots of things such as natural monuments, medicinal mineral water springs, and lots more. Getting an exciting glimpse of Armenia's culture is something that grabs the attention of a majority of visitors. Dilijan National Park is a one-stop destination to explore this. The park features a plethora of cultural locations like Goshavank Monastery, Haghartsin Monastery, Jukhtak Vank, etc.
Things to Do in Dilijan National Park: Visit Lake Parz, Matosavank, etc.
Best Time to Visit Dilijan National Park: All months
How to Reach Dilijan National Park: By taxi, van minibuses, etc.
Suggested Read: 5 Cafes Near Pulau Ubin In Singapore For The Authentic Asian Cuisine
8. Behold an Incredible Beauty of Mount Aragats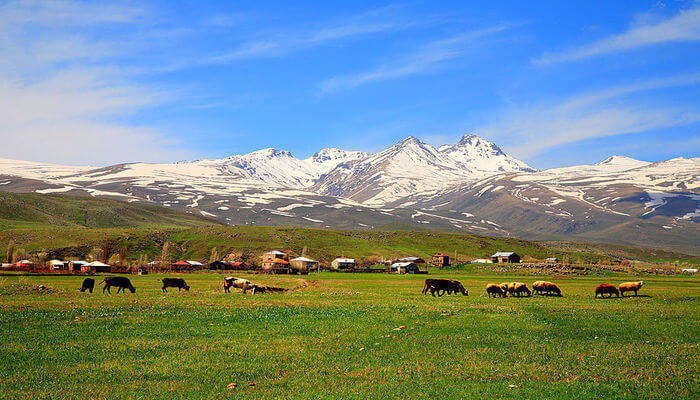 Another most visited place in Armenia, Mount Aragats welcomes tourists from across the globe, especially those who are nature lovers and seeking to behold the flamboyant beauty of nature. Being the highest peak in Armenia, Mount Aragats lets you enjoy a lot of rock arts that include human alike paintings, animal paintings, etc.that date back to approximately 100 years.
Snow-covered peak magnifies the beauty of mount Aragats to offer unforgettable experience of those of adventure lovers who can enjoy climbing it in the month of July, August, and September. Those seeking to climb the mountain smoothly can pick the southernmost peak, while others who love challenges can opt for the northern peak.
Things to Do in Mount Aragats: Visit Alphabet Park, Arshakid Mausoleum, etc.
Best Time to Visit Mount Aragats: All times
How to Reach Mount Aragats: By bus, minibus, etc.
Suggested Read: 20 Most Affordable Yet Amazing Beaches of South-East Asia In 2020
9. Behold the Beauty of Mamrot Qar Waterfall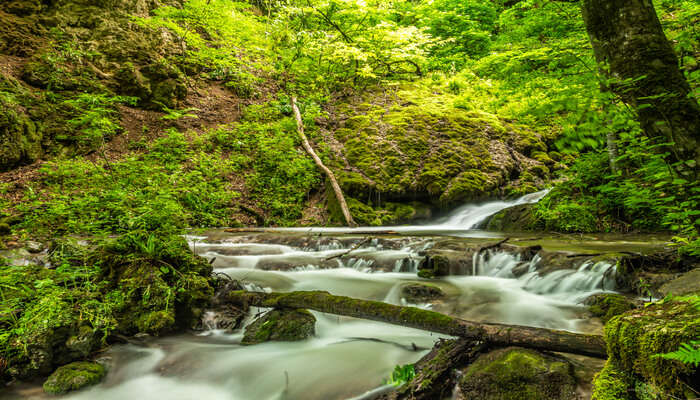 On your visit to Armenia, you can also spot some less discovered places, apart from top-notch tourist destinations. One such place you will come across is the popular Mamrot Qar Waterfall. Located in Nagorno-Karabakh in the eastern part of the country, it beholds the umbrella form of waterfall thus lets visitors get a completely rejuvenating experience. Mamrot Qar Waterfall is one of the most visited natural sights in Armenia. So, you should never miss to get a fascinating glimpse of such an incredible gift of nature to human beings.
Things to Do in Mamrot Qar Waterfall: See exotic waterfalls
Best Time to Visit Mamrot Qar Waterfall: All months
How to Reach Mamrot Qar Waterfall: By bus, minibuses, etc.
Suggested Read: 6 Places To Visit In Asia In November: An Escape From The Snow Into The Tropics
10. Explore Tatev Monastery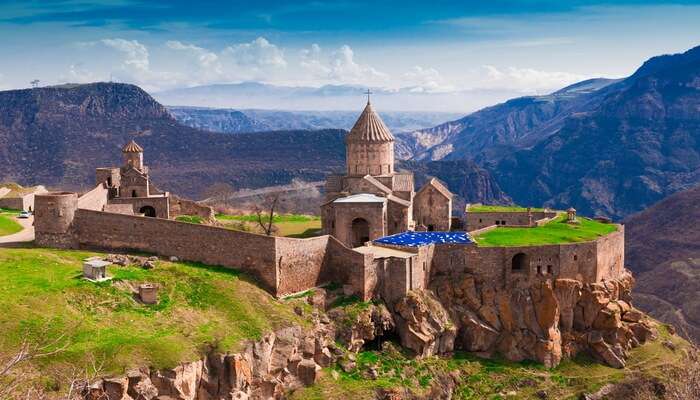 Located approximately 253 km from Yerevan, Tatev is another exciting place to explore on the course of your Armenian trip. This place is easily accessible by the tourists – all you need to do is to hire a taxi from Yerevan and make your way into this place. Visiting Tatev Monastery lets you explore a stunning medieval structure built around 9th century AD.
Beautified with peasant surroundings and complemented with mountainous landscape, Tatev Monastery has every reason to lure visitors to let them enjoy the fantastic scenery. To access this place, you can take the cable cars, which is known to be the longest in the world.
Things to Do in Tatev Monastery: Visit monastic complex; dum of the church, etc
Best Time to Visit Tatev Monastery: All months
How to Reach Tatev Monastery: By bus, minibuses
Further Read: 3 Places To Visit Near Asian Civilisations Museum That Are Perfect For The Explorers!
These are some of the much-talked about places to visit in Armenia, though this country houses lot of other tourist destinations. It's really difficult to choose, as all have equal craze among the tourists. To explore all such places, you need to plan your trip to Armenia accordingly in terms of how many days you wish to spend in Armenia. A long trip to this place will let you explore everything about Armenia.
Frequently Asked Questions About Places To Visit In Armenia
While on the trip to Armenia, you may have some questions about these places in terms of attractions, safe travel, etc. We have mentioned here most frequently asked questions along with the answers to match some of your queries.
Q. What is popular in Armenia?
A. Well, Armenia is popular for accommodating snow-capped Mount Ararat, which is popularized as the principal national symbol of the country. The country is also popular for the longest ropeway, ancient cuisine, mountain mineral water, and more.
Q. Is Armenia a beautiful country to travel to?
A. Yes, Armenia is one of the most beautiful countries in the world. Visiting here lets you explore the breath-taking natural sights, taste a variety of cuisines, and engage with  history.
Q. Is Armenia expensive to travel?
A. No, Armenia is an affordable tourist destination as only limited numbers of tourists flock here. So, you can easily find the best hotels here at an affordable rate, which is approximately INR 718/- per night – even if you opt for a luxury hotel, you have to spend a maximum of up to INR 7175/-.
Q. What is the best time to visit Armenia?
A. You can visit Armenia from late May to early June. During these months, the weather condition of this place is quite pleasant and makes tourists feel relieved.
Q. How many days are sufficient to explore Yerevan?
A. 3 days are sufficient to explore Yerevan and enjoy your journey there. So, you should plan your Armenia trip accordingly.
Q. Do you need a visa to travel to Armenia?
A. Only the US citizens are allowed to travel to Armenia for a maximum of 180 days every year. If they need to stay here for more than 180 days, they need to apply for a residency permit.
People Also Read:
Places To Visit in Georgia Places To Visit in Turkey Places To Visit in Azerbaijan
Comments
comments