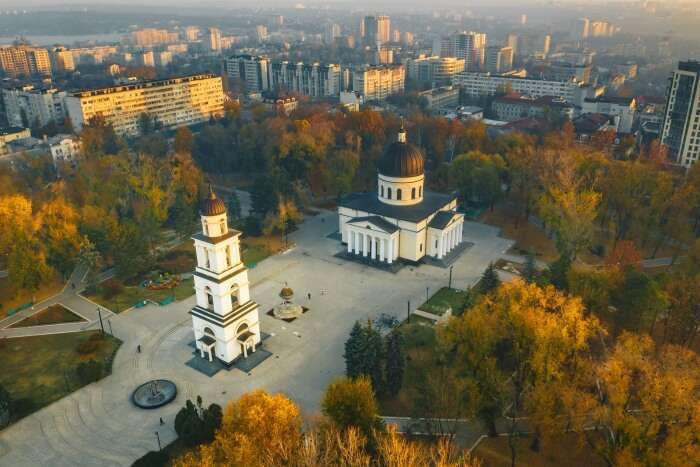 Chisinau is a metropolitan city and the capital of Moldova, located in the Eastern Europe. This urban city features an upscale market which consists of high-end malls and classic restaurants. This tantalizing city in flux is extremely rich in varied cultural heritages. This is a vibrant city full of love, life, and adventure. It is a gem discovered only by a few visitors so far. As a result, this place is less crowded and quite peaceful.
Being among the most beautiful European capitals, Chisinau houses some renowned historic museums, archaic churches, lush green parks, and delightful food joints. The food delicacies and the wines of Chisinau are some of the most talked about things in the entire Europe and is a major reason for attracting tourists.
Since there are a number of embassies and other government offices, the places to visit in Chisinau can be considered as the safest in the entire country. Also, the locals of this place are so warm and welcoming that you would want to come again. So, make sure you visit this city which is full of life and has so much to offer to its visitors.
12 Places To Visit In Chisinau
It is important to cover all the renowned spots of this city in order to get introduced to its culture.and for that this list of some of the best places to visit in Chisinau that we have curated would be of help to you.
Cricova Winery Underground Wine Cellar
Valea Morilor Park
Zentrum Aparthotel
Nativity Cathedral Chisinau
National Museum Of History Of Moldova
Parliament Of The Republic Of Moldova
National museum of Fine Arts
Ștefan cel Mare Central Park
Triumphal arch, Chișinău
Chișinău Botanical Garden
Chisinau ZOO
Aqua Magic
1. Cricova Winery Underground Wine Cellar

Moldova has a long history of wine production and selling because of which, in today's date, Moldova produces two-third of the wine consumed in all over the Soviet Union. Being the second largest world cellar in the world, your visit to this beautiful city would be considered incomplete if you don't come here. This underground wine cellar has a history dating back to the 15th century and is assumed to be spread over 120 km of caves and tunnels.
Witness this thrilling experience of taking a tour of this underground wine city and make it comprehensively fun by engaging in some wine tasting. Also, make sure you check out the private wine collection of Putin and Angela Merkel. Visiting Cricova should be the first thing in your priority list.
Location: Strada Alexei Şciusev 96, Chișinău 2012, Moldova
Contact: +373 22 220 377
2. Valea Morilor Park

This is a park which is one of its own kinds. The beauty of this park not only attracts the locals but also the people from other land so that they can behold an awe-inspiring view of the sunset from top of the hill. This is what makes it one of the tourist attractions in Chisinau, Moldova. The lake is yet another attraction of this park, easily making it one of the most alluring places in the city.
Visit this park and indulge in some sporting events like kayaking, running, or even fishing. You can also feed the ducks while chatting with the locals. It features a theater and a playground. It even has a sandy beach where you can bask in the sun and a small amusement park for the kids.
Location: Strada Grigore Alexandrescu, Chișinău, Moldova
Must Read: 10 Best Norway Restaurants To Try All Delicacies On Your Next European Vacation!
3. Zentrum Aparthotel

Reflecting the elegance of Chisinau, this hotel adds more beauty to this already beautiful city. The hotel is designed keeping the artistic theme in mind. They have ornated the entire hotel with art pieces and sculptors from artists all over the world. The rooms are so well maintained and have a luxurious vibe at every corner.
This whole place is well-flourished with modern amenities and awe-inspiring art pieces by artists like Sevastia Balabanov. Also, their incredible breakfast buffet is something you must try whenever you come here. So, you can enjoy their savory food delicacies while appreciating the exquisite works of art.
Location: 31 August 1989 St 103, Chisinau 2012, Moldova
Contact: +373 600 77 322
4. Nativity Cathedral Chisinau

Being the main cathedral of the Moldovan Orthodox Church, this is basically the heart of Chisinau, a place that you must visit. It was built in the Early 1830s and is a paradigm of a neoclassical building. As you walk into the cathedral, you find yourself surrounded by a serene ambiance, rich in moments of spirituality and an aura as pure as that of the paradise.
The fine architecture of this building and great interiors add even more positivity to this place. No wonder why it is regarded as the ultimate center of faith for all the people of Moldova.
Location: The Great National Assembly Square 12, Chisinau, Moldova
Contact: +373 22 226 194
Suggested Read: The All You Can Fly Pass In Norway Is Giving You Unlimited Flying For Two Weeks
5. National Museum Of History Of Moldova

Located in the central region of Chisinau, this museum is more like a memory lane taking you back in time as you dig deeper into the past. It is one of the most significant museums in Moldova. Visit this museum to have a close look at the 165,000 different types of items which are related to the national heritage.
Here, you can have an insight into the history of Moldova by watching the intriguing exhibits and thought-provoking masterpieces. Their impressive historical collection ornate the historic walls of this museum and gives you a complete knowledge of all the events that happened in the history of Moldova.
Places To Stay: ZENTRUM Hotel, Capsule HOSTEL, Mon Ami Villa, apartament in the cetre of Chisinau, The Very Center Apartments
Location: 31 August 1989 St 121 A, Chisinau 2012, Moldova
Contact: +373 22 244 325
6. Parliament Of The Republic Of Moldova

This is a place worth visiting as you get to know about the various political views held around here. The architecture of the parliament is quite impressive and something worth taking a look at. Other than that you can also visit their beautiful garden which is a very serene and peaceful place.
Location: Stefan cel Mare si Sfant Boulevard 105, Chisinau 2073, Moldova
Contact: +373 22 233 012
Suggested Read: A View From This Europe's Tallest Skyscraper Will Leave Your Jaw Dropped!
7. National museum of Fine Arts

For all those who are lovers of art, this is the ultimate dream destination. Here, you spend hours wandering through the breathtaking white marble-floored art galleries, looking at some of the most exquisite works. This art gallery is one true hidden gem which you simply can't afford to miss.
The interiors of this place, including walls and floors, are white, which create a perfect contrast with colorful wall-hanging artistic painting spanning different genres and ages. Even if you are not much into art, you can come here to witness some of the most creative and beautiful interiors of the world. If you ever come to Chisinau, you have got to come to this place!
Places To Stay: Bank Hotel, a Member of Small Luxury Hotels, Lydmar Hotel, Residence Perseus, Hotel Kungsträdgården, Grand Hôtel Stockholm, Executive Living Old Town Unique
Location: Stefan cel Mare si Sfant Boulevard, Chisinau, Moldova
Contact: +373 22 241 303
8. Ștefan cel Mare Central Park

Spread over 7 hectares of area, this is the oldest park in the whole country of Moldova and one of the largest parks in the city of Chisinau. Featuring beautiful fountains, ample of birds, and lush greenery all around, this park is totally sunk in a serene and romantic ambience. The whole ambience is so peaceful and soothing that once you enter into this park, you may lose track of time.
Due to its romantic ambience, this park is also known as the 'Park of Lovers', as it is a famous meeting spot for the couples. Also, if you ever visit this park, make sure you check out the 'Alley of Poets' and 'Alexander Pushkin's bust'.
Location: Stefan cel Mare si Sfant Boulevard, Chisinau 2012, Moldova
Contact: +373 22 201 707
Suggested Read: 31 Festivals In Europe That Will Up The Fun Factor Of Your Euro Tour In 2022
9. Triumphal arch, Chișinău

Located in the heart of Chisinau, this 13m long, white stone arch was built in 1840. This historic monument was built to pay homage to the brave soldiers of the Russian-Turkish war.
A place worth visiting, it is one of those fine architectural monuments on\ which the people of Chisinau feel immensely proud. Also, you can witness the beautiful snow or lighting effects at night, which will leave you spellbound.
Places To Stay: Center Arena Design Apartments, Kastel Garten Top Center Apartments, Twins Idola Apartments, Twins Idola Apartments, Polai Panorama Apartments
Location: The Great National Assembly Square, Chisinau, Moldova
Contact: +373 22 253 917
10. Chișinău Botanical Garden

This is a large botanical garden opened in 1973. Spread over an area of 76 hectares, this botanical garden is a haven to over 10,000 species of plants. It also has different species of flowers like that of rose, lotus, and a lot more.
It is a wonderful place to come at and walk amidst the lush green plants and alluring bright, colourful flowers. The ambience of this place is quite lively.
Location: Gradina Botanica, Chisinau 2002, Moldova
Contact: +373 22 550 443
Suggested Read: This European Country Will Be Offering Visa Free Travel For 30 Days. Guess Which One?
11. Chisinau ZOO

This zoo is a must-visit place in Chisinau, as it is a habitat to some of the most rare and endangered species of wildlife. Other than that, it shelters other sundry species of flora and fauna.
Moreover, it also features a beautiful lake with waterfall and aviary. This zoo is one of the safest places to visit in Chisinau, Moldova with kids.
Location: Bulevardul Dacia 50/7, Chișinău 2072, Moldova
Contact: +373 22 763 733
12. Aqua Magic

It a famous water park in Chisinau, featuring thrilling water sliders, jaw dropping rides, pools and lounging chairs and small yet cute cafeterias. It is a nice getaway from the hustle and bustle of the city where you can enjoy some nice quality time with your family or friends.
The cafes here are also a must try as they serve some delicious pizzas and other food delicacies. Overall it is a great place to come over on weekends and have a fun time.
Location: Chișinău 2072, Moldova
Contact: +373 799 95 885
Further Read: These Iconic 3D Sketches Of Famous European Landmarks Will Blow Your Mind!
Chisinau is a vibrant city with rich historical as well as cultural significance and extremely friendly, generous people. Since it hasn't been explored much, this city is less crowded, clean, and quite affordable. So, if you ever plan to visit this beautiful city, make sure that you consider this list of amazing places to visit in Chisinau and make your vacation in Europe memorable!
People Also Read:
Places To Visit In Moldova Places To Visit In Latvia Places To Visit In Czechia
---
Looking To Book An International Holiday?
Book memorable holidays on TravelTriangle with 650+ verified travel agents for 65+ domestic and international destinations.
---