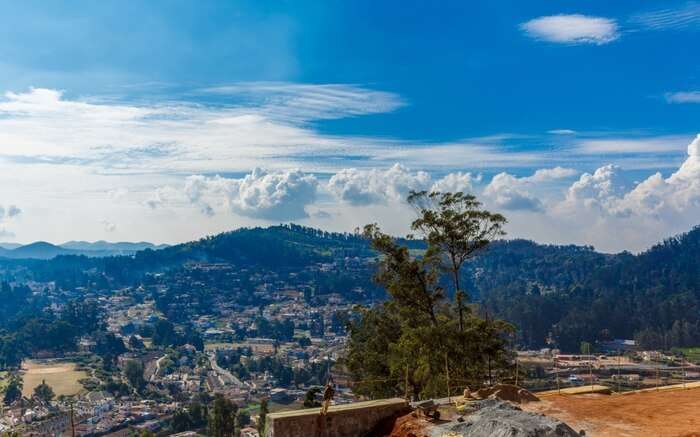 Coimbatore in Tamil Nadu is a place that is enclosed by the magnificent nature around. Tucked in the deep environs of the Ghats, Coimbatore is a place encircled with the best of South India. Ooty, Tiruppur, Palakkad, Pollachi, and Mettupalayam the places encompassing the best tourist places near Coimbatore. The popular hill station in the South India is studded with nature and its stunning spectacle from all sides. With plenty of rainforests, valleys, waterfalls, and gushing rivulets Coimbatore has a lot in the offering.
If you are planning a trip to the south, plan a pit stop in Coimbatore. While the mist infused nature, smelling of coffee and spices, and its surroundings fill your soul, the multitude of tourist attractions around Coimbatore make for a tourist hotspot. Spend a few days and plan a day trip to these exciting places in the vicinity of Coimbatore. These places are easy to reach and would leave you enthralled. Here are the best 10 places near Coimbatore that would compel you into a visit soon!
Monkey Falls
Catherine Falls
Law's Falls
Siruvani Waterfalls
Vaidehi Falls
Anamalai Tiger Reserve
Silent Valley National Park
Ketti Valley
Malampuzha Dam & Gardens
Amaravathi Dam
Beypore Beach
Kappad Beach
Top Tourist Places Near Coimbatore: Waterfalls
If you're planning to have a serene holiday experience amid the stunning views and gorgeous landscapes of Coimbatore and revive your senses with the charming waterfalls, scroll down to know more about the list of tourist places near Coimbatore!
1. Monkey Falls – The Best Of Anamalai Hills Range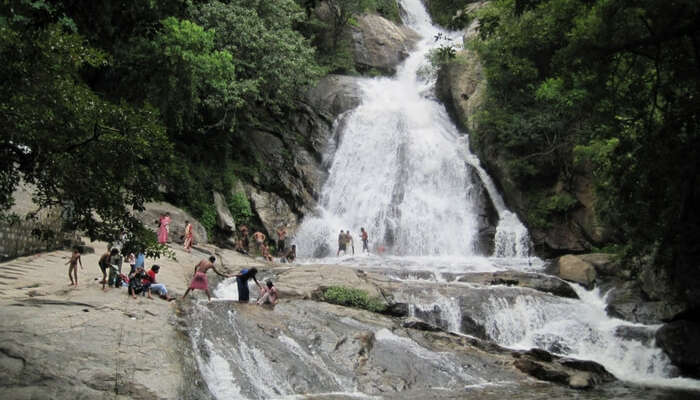 Located near Aliyar Dam off the Valparai Road, Monkey Falls is one of the most exciting weekend places near Coimbatore for an exciting day off. The place boasts of chilled water, some exciting rapids making for a grand spectacle. Anamalai Hills Range and the evergreen forest around is the perfect enabler for any distressed soul. One must take permission from the forest department officials in Pollachi to enter the waterfall area. 6 pm is the deadline time to enter the waterfall area. This place is ideal for trekking and picnic and is one of the best tourist places near coimbatore within 200 kms
Entry charges: INR 15
Be mindful of the surroundings, the area near the waterfall is slippery.
Distance & time taken from Coimbatore to Monkey Falls: 71.1 km & 2 h 12 min
Popular tourist attractions: Azhiyar dam, wildlife safari, and Chinnar Wildlife Sanctuary
Must Read: 20 Best Tourist Places In Tamil Nadu That Prove That The State Is A Crown Studded With Gems
---
South Weekend Holiday Packages On TravelTriangle
A trip to South India has a lot to offer – from tranquillity of forests to charm of sizzling beaches and from lost kingdoms to chills of a hill station. Visit Kerala, Coorg, Ooty, Mysore, or Kodaikanal. Book holiday packages inclusive of airport transfers, cab, resort, sightseeing, and meals.
---
2. Catherine Falls – Double Cascading Delight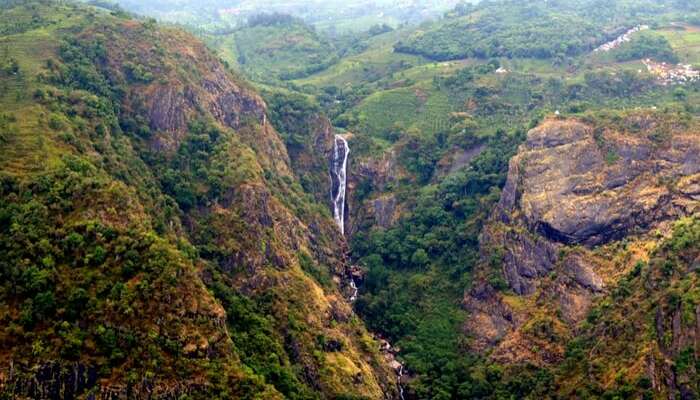 Ever heard of Dolphin's Nose? It's a popular viewpoint in the Coonoor district in Tamil Nadu that stands 1000 feet above sea level. From here one can easily spot Catherine Falls – the 2-tier waterfall that cascades down 250 feet into a pool of water and creates a mesmerizing spectacle around. One must take a diversion at Aravenu on Kotagiri – Mettupalayam road to reach the waterfalls. If you're looking for places to Visit near Coimbatore within 100 kms, then this is the one yous should definitely consider.
Distance & time taken from Coimbatore to Catherine Falls: 66.5 km & 2 h 6 min
Popular tourist attractions: Dolphin's Nose, Lambs Rock, Toy Train Coonoor, and Sims Park
3. Law's Falls – Of Views And Viewpoints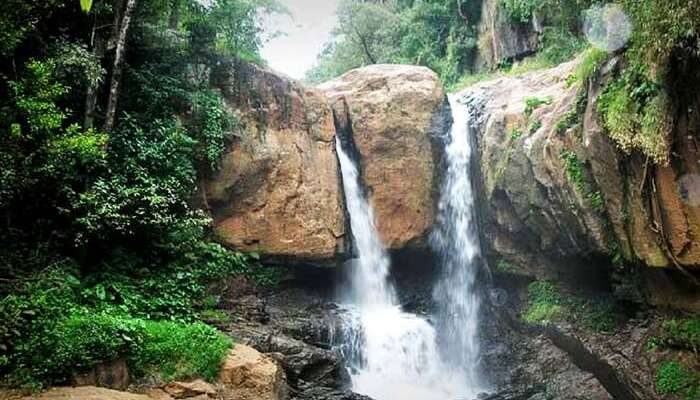 30 feet above the ground, into the untarnished nature settings around Ooty, 26 km precisely, is where you can find the Law's Falls. The waterfall is one of the most sought-after places near Coimbatore for one day trip. A highly rated place near Coimbatore, the waterfall is named after Col. Law – the person who constructed the Coonoor Ghat. As small as the waterfall looks, it is a major attraction for the crowd. The month right after monsoon is ideal to plan a trip to Law's Falls.
Distance & time taken from Coimbatore to Law's Falls: 91 km & 2h 45 min
Popular tourist attractions: Dolphin's Nose
Suggested Read: 15 Majestic Places To Visit In South India In August That Bring Out The Best Of Monsoons!
4. Siruvani Waterfalls – Cutting Through The Thick Western Ghats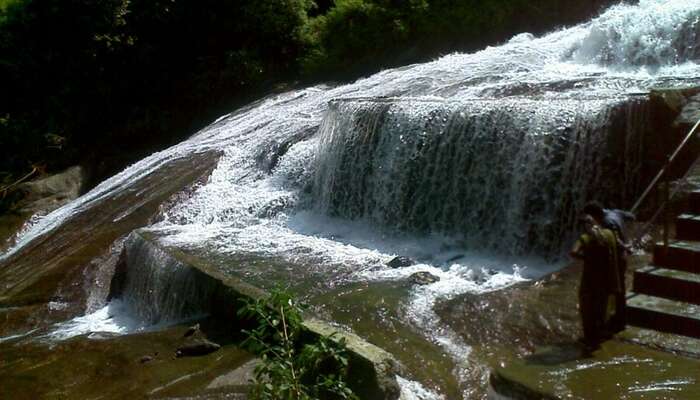 Siruvani Waterfalls is another of the popular places to visit near Coimbatore if you are considering a quick trip into the Ghats. Located to the west of the Ghats in the Nilgiri Range, Siruvani Waterfalls flows past the Attapady area in Coimbatore. The free-flowing streams of the waterfall is a treat to watch and is considered as one of the sweetest waterfalls in the region. You must consider this one if you are looking at tourist places near Coimbatore within 200 km. One must have a permit from the forest department to visit this waterfall.
Distance & time taken from Coimbatore to Siruvani Waterfalls: 35.3 km & 1 h 14 min
Popular tourist attractions: Trekking, bird watching, and jungle safari (upon special request to the forest department), and Siruvani Dam
5. Vaidehi Falls – A Wonderful Picnic Spot Near Coimbatore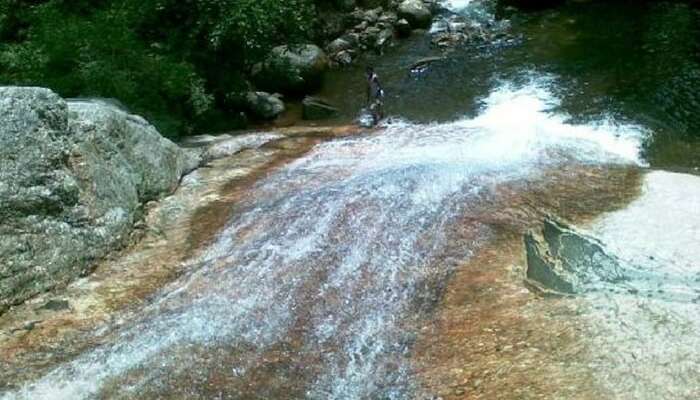 Located in the Narasipuram village near Coimbatore, Vaidehi Waterfall is too good for an idyllic escape in the Nilgiris. There is a wonderful picnic spot by the waterfalls which makes an ideal place to hang around with family or friends. The good news is there is a natural waterslide near the waterfalls. A perfect day out in the woods reckon.
Distance & time taken from Coimbatore to Vaidehi Falls: 28 km & 40 min
Popular tourist attractions: Narasipuram Village
Suggested Read: 10 Best Hotels In Coimbatore That Redefine Class, Luxury, And Design
Valleys And National Parks Near Coimbatore
If you're a wildlife enthusiast, a visit to the gorgeous valleys and soothing landscapes of the national parks is essential for you. So, while you're out and about in this land, make sure you check these out!
6. Anamalai Tiger Reserve – Amidst Tropical Forest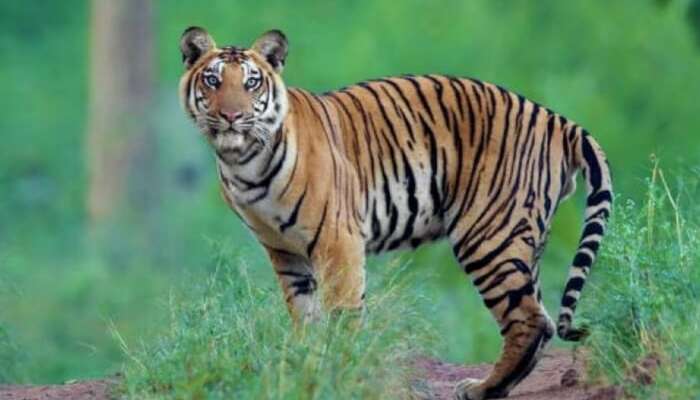 The tropical jungle of the Western Ghats has plenty to offer. Anamalai Tiger Reserve is a 950 sq km protected reserve comprising of the wonderful biodiversity of the South India. If you are lucky you may come across leopards and the elusive tigers. Some of the most prominent animals spotted in the park apart from tigers are lion-tailed macaques, peacocks, langurs, spotted deer, elephants, and crocodiles at Amaravathi Crocodile Farm. Topslip is the place where you find all the relevant information related to bookings and stay.
Address:
The Wildlife Warden
Silent Valley Division,
Mannarkkad.P.O, Palakkad,
Kerala, India – 678582
Distance & time taken from Coimbatore to Anamalai Tiger Reserve: 111.0 km & 3 h 44 min
Popular tourist attractions: Parambikulam Tiger Reserve, Topslip
Suggested Read: 5 Best Resorts In Coimbatore And The Neighboring Areas
7. Silent Valley National Park – Soaking In The Nature And Silence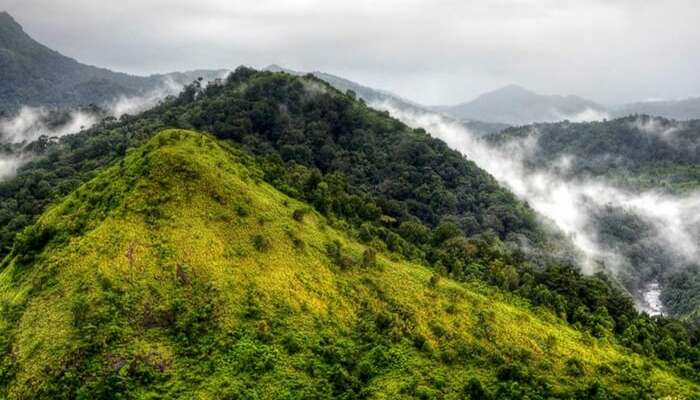 Welcome to the best South India. Certainly one of the best places to visit near Coimbatore, Tamil Nadu the Silent Valley National Park has plenty of attractions and biodiversity in the offering to cheer you up. This valley is counted amongst the best Coimbatore tourist places near railway station with Palakkad Railway Station being the nearest railhead. The national park region forms a major chunk of the Nilgiri Biosphere Reserve with Nilgiris Plateau in the north and Mannarkkad in the south.
Silent Valley is a biodiversity-rich place and boasts of 110 species of orchids, close to 34 mammals, about 200 butterflies, 400 moths, and 128 species of beetles. The nature park is a perfect place to explore and savor the vivid wildlife of the park.
Distance & time taken from Coimbatore to Silent Valley National Park: 100.4 km & 2 h 48 min
Popular tourist attractions: Watch Tower, Hanging Bridge, lion-tailed macaque, and trekking trail
8. Ketti Valley – The Valley Of Views And Rustic Environs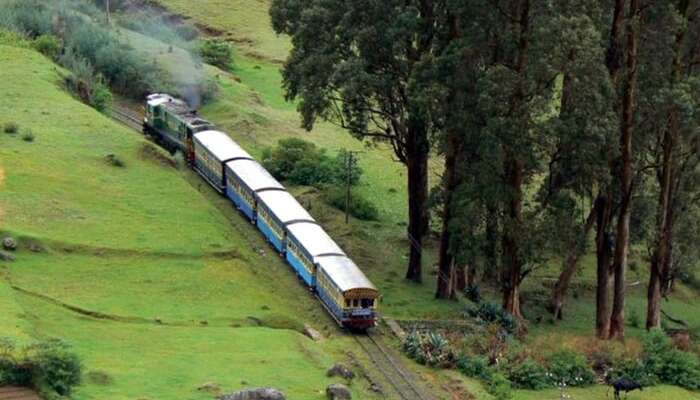 Moving through the lush green mountains in the Western Ghats you come across Ketti Valley – a place surrounded by tea estates, sweeping views, and exemplary surroundings. Ketti Valley, located in the Nilgiris district, is the place you come across while coming back from Dodabetta Peak. Rent a private vehicle or a motorcycle, this place has the best surroundings around Ooty. Certainly one of the best tourist places nearby Coimbatore that you mustn't miss.
Distance & time taken from Coimbatore to Ketti Valley: 76.2 km & 2 h 33 min
Popular tourist attractions: Book a ride in Nilgiri Mountain Railway, marvel the tea gardens and pine trees around
Suggested Read: 14 Ultimate Things To Do In Coimbatore On An Epic Trip To India's Manchester City In South!
9. Malampuzha Dam And Gardens – In The Foothills Of The Ghats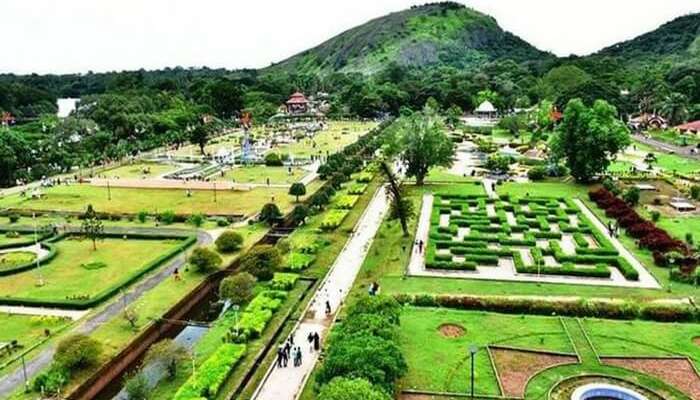 The Western Ghats is full of wonders of nature and Malapuzha is one of them. Located on the banks of River Malampuzha this quaint town cuts a beautiful picture of lush green environs. There are a dam and a garden that makes for one of the popular tourist places near Coimbatore. The park is interesting because of the fact that it has been intricately designed with obsolete materials like plastics, can, bottle, and tiles. The unique design of the park and perfect setting around makes it a must-visit attraction.
Distance & time taken from Coimbatore to Malampuzha Dam & Gardens: 50.4 km & 1 h 19 min
Popular tourist attractions: Trekking trails, beautiful gardens, and amusement park, ropeway showing the aerial view of the park, boating in the lake adjacent to the dam
Timings: 9 am – 8 pm
10. Amaravathi Dam – Nature's Show In The Wildlife Sanctuary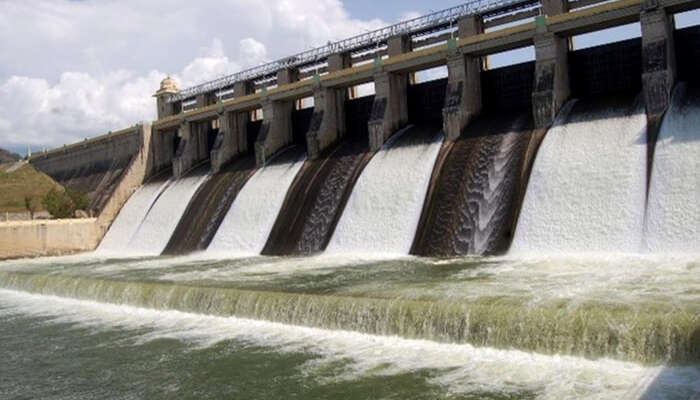 Located in the lush green environs of Indira Gandhi Wildlife Sanctuary, Amaravathi Dam is a must-visit attraction in Tiruppur district in Tamil Nadu. The dam, primarily used for flood control and irrigation in the region is known for its huge contribution in the region. Also, the dam and lake adjoining it is a popular place for Mugger Crocodiles living inside its reservoir. The dam has been in news for its growing popularity among tourists.
Distance & time taken from Coimbatore to Amaravathi Dam: 94.1 km & 2 h 27 min
Suggested Read: 11 Mystical Temples In Coimbatore: A Must-Visit On Your Trip To Tamil Nadu In 2020!
Top Tourist Places Near Coimbatore: Beaches
People look for tourist places near Coimbatore airport, but forget that the real places of beauty are the stunning beachfronts. While a holiday in Coimbatore is incomplete without a visit to the stunning beaches of the land, scroll down to know what all awaits you in this gorgeous paradise!
11. Beypore Beach – Astounding Peace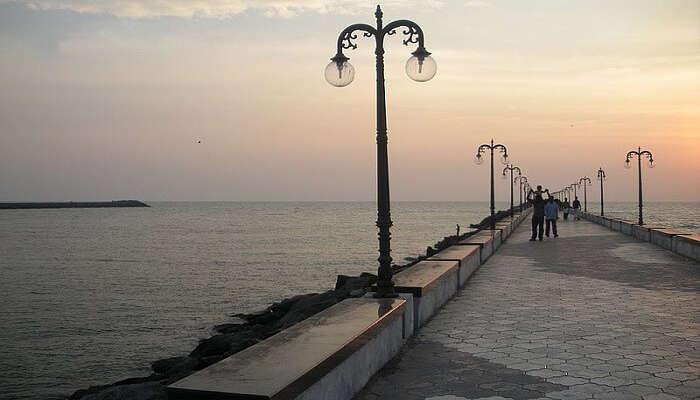 Located at the opening of Chaliyar river, the Beypore beach is known to be a major port and fishing harbour and was an important site in times of early Chinese and Arabs travelers. In close proximity to the Kozhikode Railway Station, this beach attracts many tourists for the famous Pulimoodu bridge which is a 2 km long stone bridge. This place definitely tops the list of budget tourist places near Coimbatore!
Distance and time taken from Coimbatore to Beypore Beach: 172.8 Kms & 4 h 57 min
Popular Tourist Attractions: Kadalundi Bird Sanctuary and fishing harbor
12. Kappad Beach – Serenity's Blanket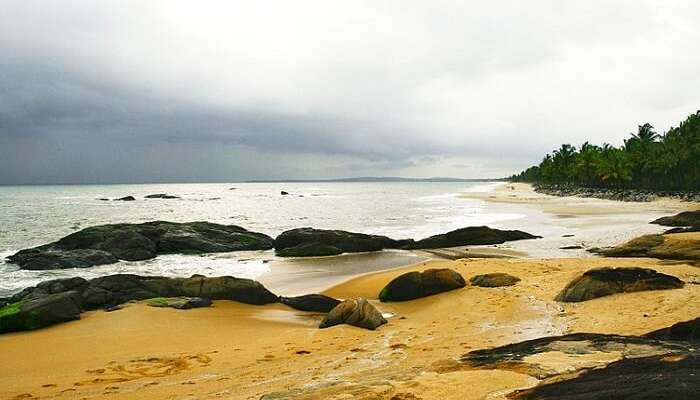 A renowned charming beach in Kerala, this place is surely going to sweep you off your feet with soothing waves touching your feet every time you step towards the ocean. It is known that Vasco da Gama had first set foot on this beach in 1498, which lead to a new era establishing firm relationships between Indians and Portuguese lasting approximately to 5 centuries! So, are you ready to visit one of the most serene tourist places near Coimbatore yet?
Distance and time taken from Coimbatore to Kappad Beach: 193.7 Kms & 5 h 30 min
Popular Tourist Attractions: Karappula River and Devi Temple
Further Read: Best Places To Visit In Coimbatore And Around For Tourists Of Every Interest
Coimbatore has surroundings and mesmerizing nature around! Sparing 4-5 hours to explore these beauties shouldn't be much of a task for a traveling enthusiast. Plan a trip to Tamil Nadu for an amazing holiday experience like never before and don't forget to pack a few extra clothes in case you wish to extend your soothing vacay!.
Frequently Asked Questions About Tourist Places Near Coimbatore
Q. How can I go to Ooty from Coimbatore?
A. There is no direct train or bus from Ooty to Coimbatore. If you have to go directly, your only option is taking a cab. However, there are some modes of transportation but you will have to change the bus or take a connecting train. The best way is to travel to between Coimbatore and Mettupalayam and then board the toy train to Ooty.
Q. What can you do in Coimbatore?
A. Some of the most amazing and adventurous things to do in Coimbatore are: 
1. Trekking
2. Camping
3. A visit to the Amusement Park
4. Exploring the various flavors of local cuisines
5. Shopping At Brookefields & Fun Mall
6. Meditation At Dhyanalinga
7. Watch A Racing Event At Kari Motor Speedway.
Q. Which are the best places to stay in Coimbatore?
A. Vivanta by Taj, Radisson Blu, The Residency Towers, and Le Méridien are a few of the best hotels to stay in Coimbatore.
Q. What is famous in Coimbatore for shopping?
A. Nalli Saree Store, Shantiniketan Silks and Oppanakara Street are a few of the places that are famous when it comes to shopping in Coimbatore. There are more but completely depend on your shopping preferences.
Q. Why Coimbatore is called Kovai?
A. Coimbatore's original name was Kovanputhur. In Tamil, it is a standard way to shorten names. Tirunelveli is called Nellai while by adding an -ai to it. Hence Kovanputhur got shortened as Kovai.
Q. Is there any beach in Coimbatore?
A. Kochi Beach, Kozhikode Beach, Beypore Beach, Kappad Beach, and Cherai are a few of the most popular beaches in Coimbatore.
Q. When is the best time to visit Coimbatore?
A. Coimbatore experiences a hot and humid summer so July to March is the best time to visit as the weather is quite pleasant.
Q. Does Uber ply in Coimbatore?
A. Yes. You can avail Uber service in Coimbatore.
People Also Read :
Tourist Places Near Indore Tourist Places Near Guwahati Tourist Places Near Hyderabad
Comments
comments