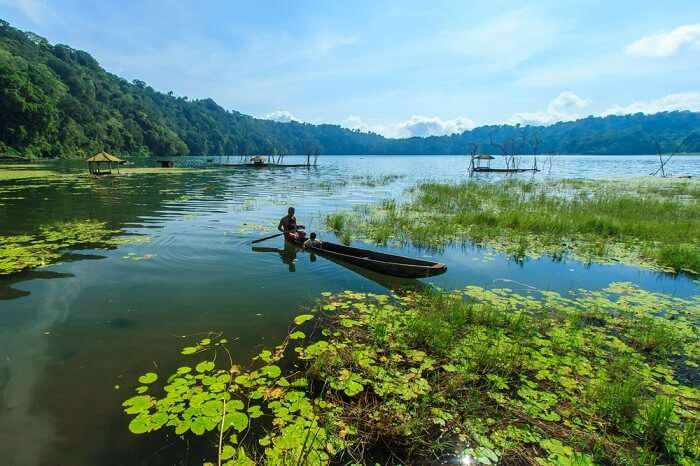 Bali is an ideal destination for living it up and experiencing the island life, especially for all the beach bums who love the sun and the ocean and can't get enough of it. With millions of tourists flocking around the pristine beaches of Bali all year round, here are a few places to visit in Jembrana Regency Bali in September, the best time to visit Bali.
Jembrana Regency is located in Northwestern part of Bali where you'll find several mesmerizing spots to have a good time in Bali. You can take a ferry from Java to Bali, and witness the majestic mountain in the north along with the beaches. You will find most of the tourists in the month of August and during the Christmas and New Year.
Places To Visit In Jembrana Regency Bali In September
Check out this list of places to visit in Jembrana Regency Bali in September to enjoy the island and create beautiful memories while unraveling all these offbeat places.
1. Bunut Bolong
Bunut Bolong is a giant hollow Banyan tree in the village of Manggisari in Jembrana, Bali. This giant tree signifies a natural landmark that's sanctified by the locals and is centuries old. You'll see temples at both ends of the banyan tree adorned in yellow and white to signify its importance. The unique feature of the tree is the giant hollow at its base that is curved meeting on both sides of the road.
Location: Desa Manggisari, Manggissari, Pekutatan, Kabupaten Jembrana, Bali 82262, Indonesia
2. Pantai Yeh Leh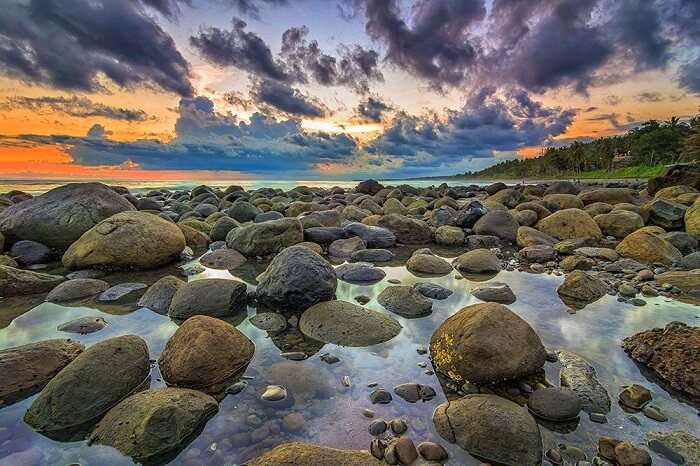 Yeh Leh is a beautiful enchanting beach that is a major attraction in Bali. The beach is adorned with black rocks which makes it look more appealing and unique. When the sea water recedes, the rocks here stand out in various dazzling sizes.
Location: Jl. Raya Denpasar – Gilimanuk, Pengeragoan, Pekutatan, Jembrana Regency, Bali, Indonesia
3. Pemuteran Beach
This beach is absolute hideaway that is tucked away in the Northern Bali. The beach is ideal for diving or snorkelling and swimming as well. The gentle lapping of water and the gushing sound make for a tranquil environment that travellers would love to be enveloped around along with indulging in some water borne activities. The stunning backdrop of the volcanic mountain against the sea makes for a picture perfect moment at this beach.
4. Blahmantung Waterfall
This hidden gem is tucked away within the majestic landscaped of the north-western region of Bali. Enjoy a two hours hiking trail to travel to the waterfall where you'll be treated with pleasant views of the scenic terrain and the rice paddy fields along the way. You'll be greeted with the gushing sound of the water and rustling leaves of the trees on reaching the waterfall.
Location: Pujungan, Pupuan, Tabanan Regency, Bali 82163, Indonesia
5. West Bali National Park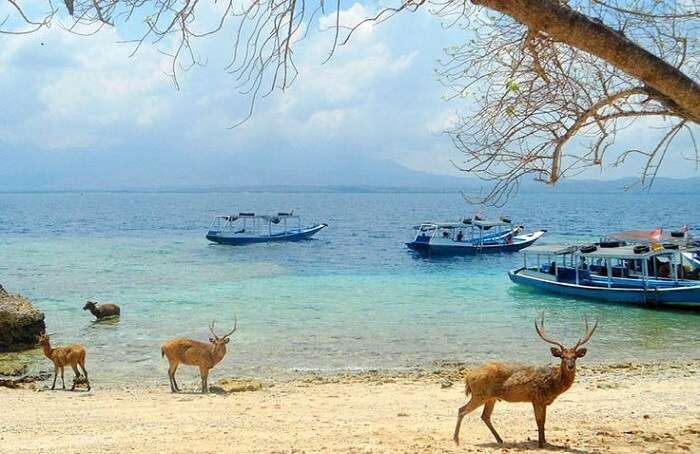 When you're in Bali, take your time to explore its national parks, wildlife reserves, forest, mountains, and gardens, that will let you explore the island in an unique way and make your journey more rewarding.
West Bali National Park in Bali is one of the most famous places in the world. Also known as Taman Nasional Bali Barat, this forested region is a conservation area which makes up the majority of central-western Bali. Founded in 1941, West Bali National Park was originally a Dutch initiative to protect the endangered Bali Starling bird, and the last remaining native animal from which most cattle in Bali descent is the wild banteng. Found in the westernmost part of the island, the park now has a total area of over 46000 acres.
Details About West Bali National Park
Best Time to Visit: August to December
Entrance Fee:
IDR 40,000 per person
A local guide must be hired for hiking, which costs about IDR 350,000
Location:Northwest Bali, Main Office – Jalan Raya Cekik-Gilimanuk Road, Jembrana
The boundary of West Bali National Park, located in the north-western part of the island, includes mangrove swamps, dense rainforests, wide open savannahs, and coral reefs. Off the north coast of Bali, there is also a small island reserve named Pulau Menjangan, also known as 'Deer Island'.
This little island is home to the rare menjangan or Javan rusa, and attracts visitors from across the globe for its excellent snorkeling and diving.
Keep in mind that if you want to go on a West Bali National Park tour, you must have a park permit and be accompanied by an official guide.
Over 37,000 acres of Bali West National Park is made up of overland terrain while more than 7,000 acres are marine areas.
The park is managed in a zoning system, which consists of the Main, Jungle, Marine Protected, Religious and Historical, Cultural, Utility, Special, and Traditional Zones.
If you are looking forward to a snorkeling adventure, you should head to Menjangan Island. This is where you will find acres of vibrant coral reef gardens, making it an ideal destination for diving and snorkeling.
At the end of the last century, the marine reserve at Bali Barat National Park recorded 110 coral species belonging to 18 families and of these species, 22 belong to the mushroom coral family.
Only 29 mushroom coral species are recorded worldwide. However, there are at least 27 Acropora coral species found in an area as big as only 4 acres. Needless to say, you will have an amazing time exploring the coral reefs at one of the best national parks in Bali.
Home to about 160 different species of birds, make sure you get a glimpse of the mascot of the Bali Barat National Park – the Bali Starling
Sea and shore birds like Lesser Frigate, and White Starlings are the most common types found in the park.
National Parks In Bali: All You Need To Know About The Terrific Two Escapes!
Bali is an ideal destination if you want to unwind and relax on the beach, sipping on a cocktail and witnessing the breathtaking moment of the sun setting into the far horizon. Imagine all of this and more on your trip to Bali. Make sure you add these places to visit in Jembrana Regency Bali in September and have a blissful Balinese vacation.