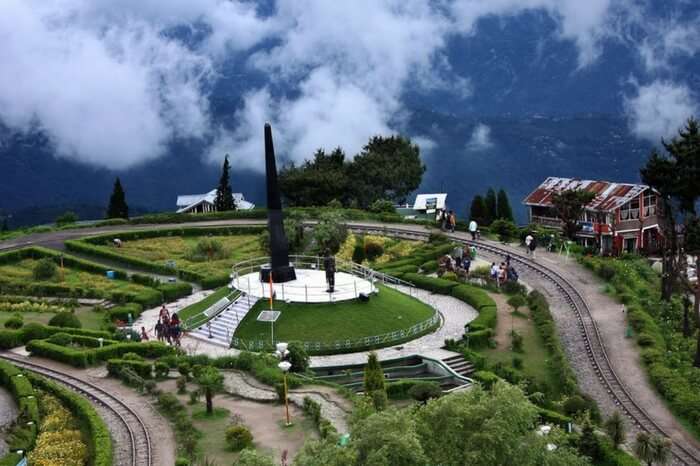 Thrilling and heavenly, a trip to Kalimpong is a sublime experience. This old little town, nestled away in the far northeast, is a visual delight and should be placed high on your bucket list if you love the hills. And the long list of places to visit in Kalimpong ensures that you have ample options of sightseeing. While holidaying there, you will fall in love with the hills and get a blissful and peaceful experience like never before. So, do plan a trip to Kalimpong!
30 Places To Visit In Kalimpong
Whether you're looking for a relaxing vacation or an adventurous escapade, these places to visit in Kalimpong, Sikkim has everything at something for every kind of traveler.
1. Tharpa Choling Monastery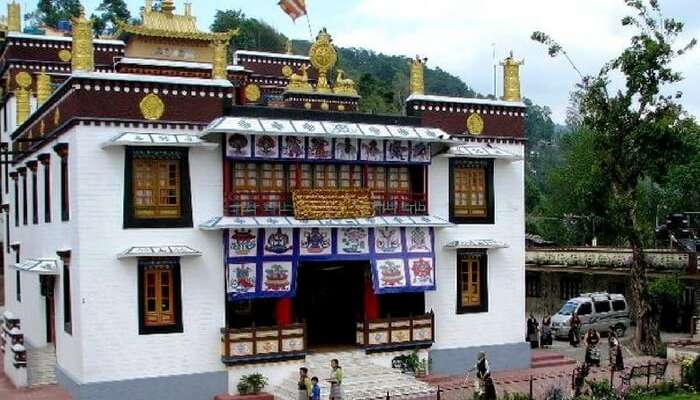 Looking for tourist places to visit in Kalimpong? Kalimpong is a religious center of Buddhism, mostly include monasteries and temples. One such ancient, spiritual place is the Tharpa Choling Monastery situated off the KD Pradhan Road. If you are a peace lover, this place will be of your interest. Visit the Tharpa Choling Monastery for its vibrant colors, tranquility, and calm.
Timings: 9 am – 6 pm everyday
Entry: Free
Tip: Don't forget to visit the museum.
---
Sikkim-Gangtok-Darjeeling Holiday Packages On TravelTriangle
Visit Sikkim and explore Yumthang valley, Tsomgo Lake, Gangtok, Nathula Pass, and Pelling. Experience peace and tranquility while exploring Buddhist monasteries, snow-capped mountains, and wildlife sanctuaries. Book packages inclusive of airport transfers, cab, resort, sightseeing, and meals.
---
2. Thongsa Gompa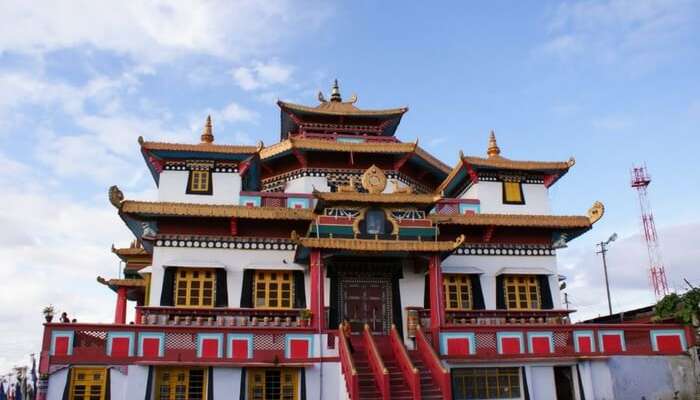 Also known as the Bhutanese monastery, Thongsa Gompa should definitely be on your Kalimpong sightseeing list. It is the oldest monastery in the area and boasts of a serene and spiritual ambiance. Apart form giving you a surreal experience it will let you taste the thrill in Kalimpong.
Things to do: Tourists can attend the prayer services that the monks carry out.
Fact: Thongsa Gompa has 219 prayer wheels, unlike the usual 108 at most other monasteries.
Must Read: 12 Places To Visit In Sikkim In 2019: Extraordinary Realms In The North East
3. Zong Dog Palri Fo Brang Monastery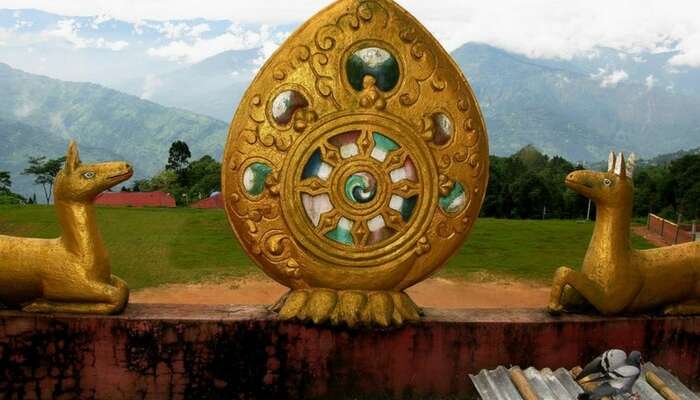 Located atop Durpin Hill, the Zong Dog Palri Fo Brang Monastery was established in 1970 and consecrated by His Holiness Dalai Lama six years later. Visit this place for its striking architecture and a splendid view from the Durpin Hill. It is undoubtedly one of the best places to visit in Kalimpong, Sikkim.
Timings: 9 am – 5 pm everyday
Entry: Free
Suggested Read: Travel Tips For Himachal Pradesh: 11 Things You Need To Know Before Visiting This Paradise In 2019
4. Mangal Dham Temple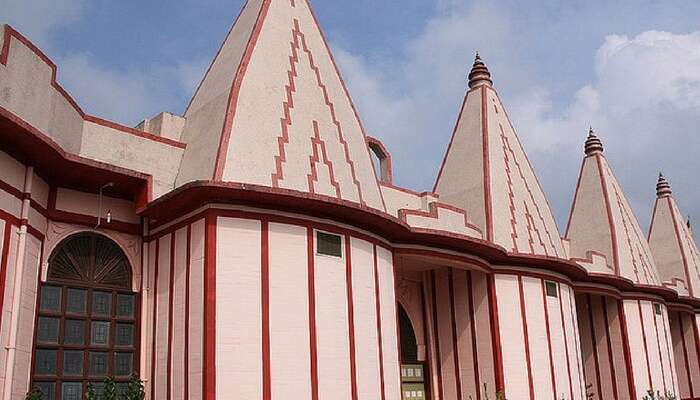 Built over an area of two acres, the Mangal Dham Temple is among the popular tourist places in Kalimpong. The prayer hall of the temple is on the upper floor, as on the ground floor lies the samadhi of Guruji Shri Mangaldas Ji. The many paintings in the temple depict various scenes from Krishna Leela. It is a well-maintained temple and the religious tourists mostly flock to this place.
Suggested Read: 12 Best Places To Visit In Sikkim In Summer 2019 To Witness Nature's Grandeur!
5. Hanuman Temple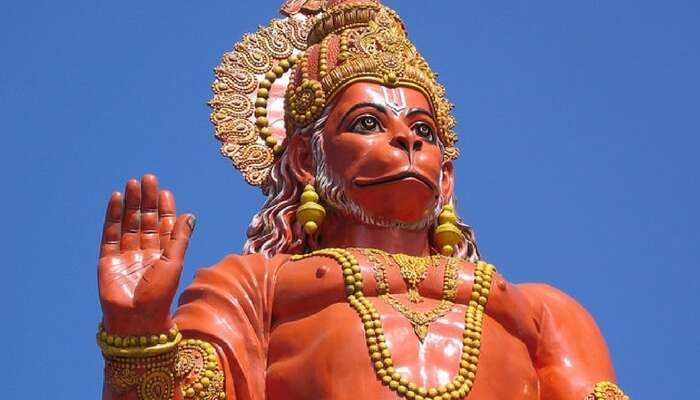 Located on the way to the Deolo Hill, the Hanuman Temple in Kalimpong is another quick stopover. You need to climb a set of stairs to reach the Hanuman statue which is the tallest in northeast India. Being one of the best places to visit in Kalimpong, India, you must add this to your itinerary while holidaying there.
---
Planning your holiday but confused about where to go? These travel stories help you find your best trip ever!
Real travel stories. Real stays. Handy tips to help you make the right choice.
---
6. Durga Mandir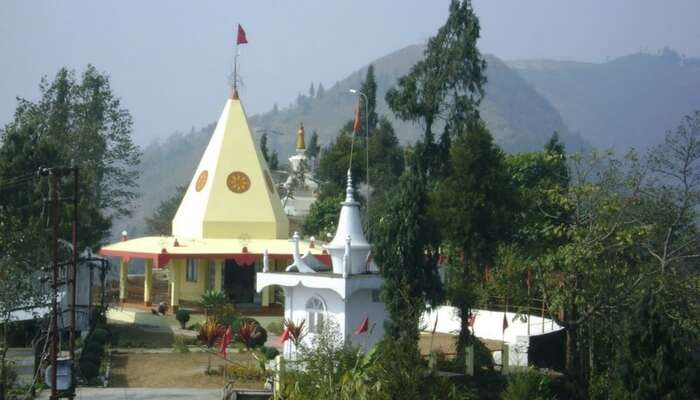 Dedicated to goddess Durga, this mandir is a few yards from the Hanuman temple. The temple is small, but boasts of a beautiful garden. The surrounding hills add to its aura and charm. Seek your blessings here. When looking for places to visit in Kalimpong in one day, this temple shouldn't be missed out from your itinerary. This is one of the most-visited temples and will add a religiously peaceful touch to your fun trip!
Suggested Read: 5 Resorts In Lachung For A Comfortable & Memorable Sikkim Trip
7. Kali Mandir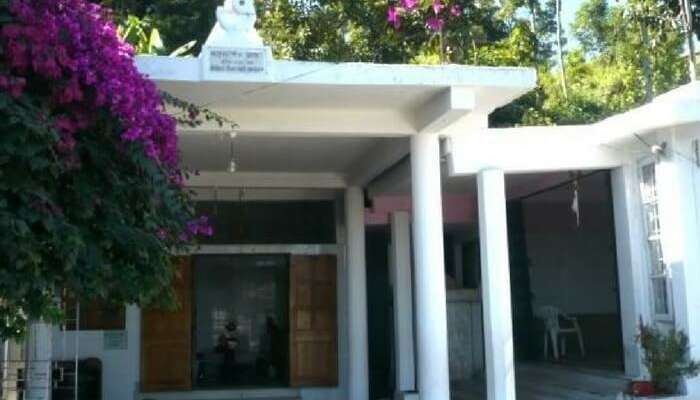 The Kali Mandir is yet another place that should be on your Kalimpong sightseeing list. Tourists here offer their gratitude and prayers to Goddess Kali. The Kali Bari has an open terrace and offers an enchanting view of the town. This is one of the places to visit in Kalimpong, Sikkim if you are traveling with your family. Renowned in town, this temple is mostly visited by those who are staunch believers of the goddess.
8. MacFarlane Memorial Church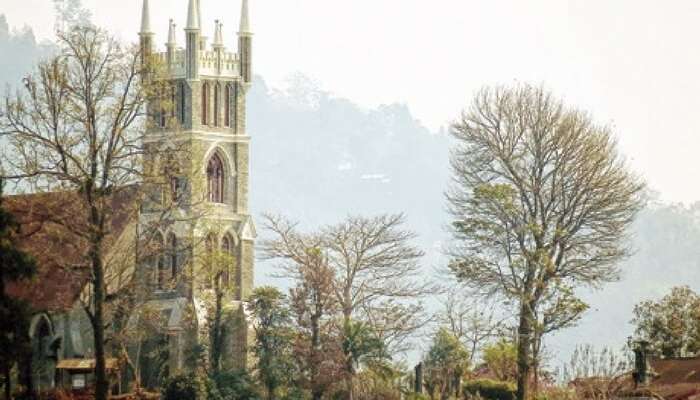 Constructed by a Scottish missionary in the 1890s, the MacFarlane Memorial Church is a prominent landmark and amongst the famous places to see in Kalimpong. Built on an elevation, it is visible from across the town and is strategically located.
Best time to visit: 9 am – 5 pm on Sundays
Note: Photography, eating, and drinking are not allowed inside the church.
Suggested Read: Sikkim In December: Find Exciting Experiences In The Winter Wonderland Of North-East
9. Pine View Nursery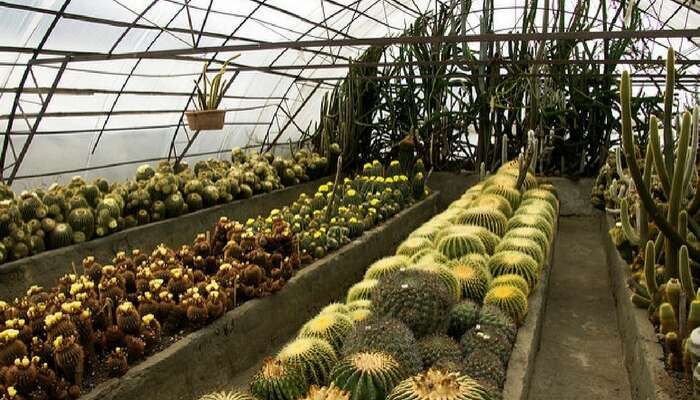 The ever fascinating and ever splendid northeast is home to some of the most beautiful nurseries in the country and the Pine View Nursery in Kalimpong is one of them. For all you nature enthusiasts out there, this should definitely be on your Kalimpong sightseeing list.
Fact: There are hundreds of varieties of cactus on display at the Pine View Nursery.
Tip: The exotic flora and lush greenery is best enjoyed with a piping hot cup of tea.
10. Nurseryman's Haven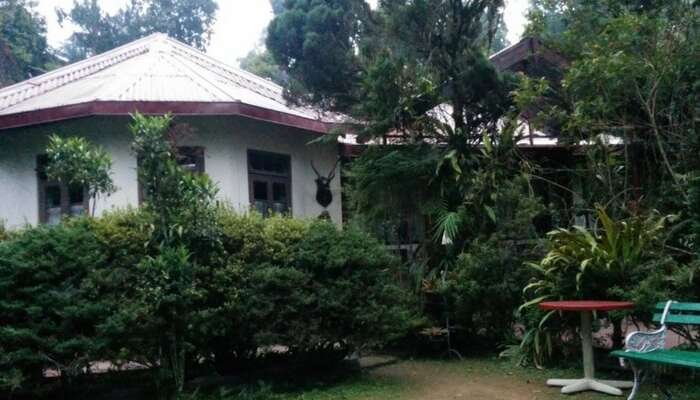 Holumba – right across Mount Kanchenjunga – is spread over two acres and is water fed by a natural spring. Nurseryman's Haven is an orchid nursery in Holumba that would definitely remind you of a British countryside. They specialize in Indo-Burmese orchids and exotic tubers, rhizomes, and seeds.
Tip: You can choose to rest in the Holumba homestay after visiting the Nurseryman's Haven and savor your senses with local food, books, and tea.
Suggested Read: 10 Offbeat Things To Do In Lachen, Sikkim's Undiscovered Paradise
11. Shanti Kunj Nursery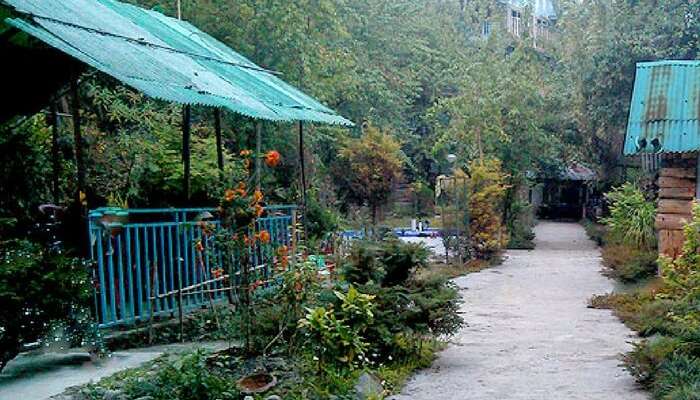 Located near the Bong Post Office, the Shanti Kunj Nursery produces and exports cacti, gladioli, and succulents. The best time to visit most of these nurseries is during the flower festival in October. If you are interested in nature and you are a nature lover, then do visit this nursery!
Timings: 8:30 am – 12 pm and 1:30 pm – 4 pm on all days except Saturday
12. Shahid Park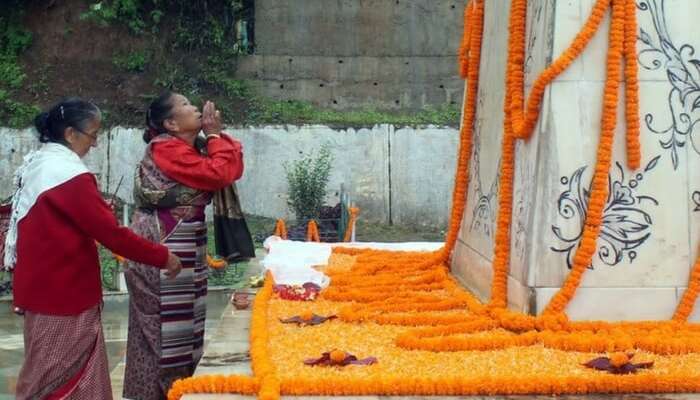 A small monument and park, Shahid Park was established in the memory of the 1200 Gorkhas who died fighting for Gorkhaland between 1986 to 1988. Holding a cultural and historical significance, this park is a must visit for those who are curious about the historical aspects. Moreover, it is the perfect spot where you can take your kids. Ideal for a leisure stroll, this park can be visited in the evening and can also be added to your list of places to visit in Kalimpong in one day.
Fact: Shahid Diwas is held on 27th July every year to remember the Gorkhaland martyrs.
Suggested Read: With Pakyong, Sikkim Opens The Doors Of Its First Airport For Tourists
13. Rishi Bankim Chandra Park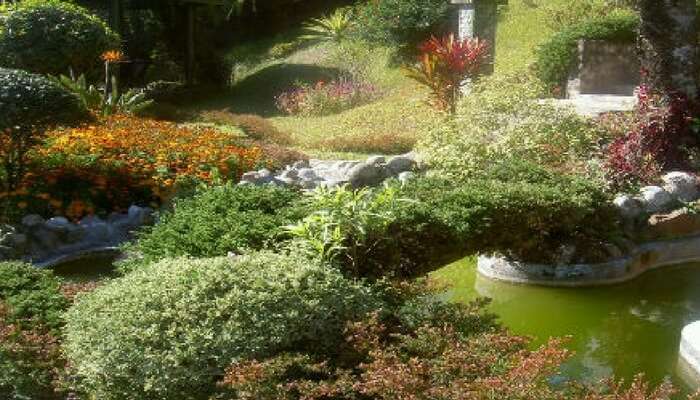 Preferred by both the tourists and locals alike, Rishi Bankim Chandra Park is one of the many popular places to visit in Kalimpong. Revel amidst the pine trees and the sweeping landscapes, the mere sight of which should rejuvenate you.
Tip: You can also stop by at the Army Golf Course, which is considered to be the most beautiful golf course in India, and take in the awe-inspiring landscape.
14. Neora Valley National Park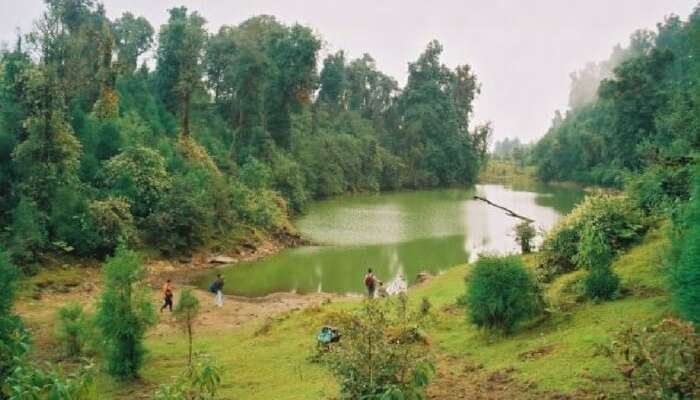 Your Kalimpong trip is incomplete without a trip to the Neora Valley National Park – one of the richest biological zones in northeast India. The endangered species of the Red Panda and the Black Asiatic Bear inhabit this place.
What to expect: Pristine landscapes, lush greenery, exotic wild animals, and rare species of birds.
Fact: Rachela pass, the highest point of this park, forms a boundary with Sikkim and Bhutan.
Note: An entry permit that is available at the forest range office is required to visit this park.
Tip: The park remains closed during monsoons. So, you might want to plan accordingly.
Suggested Read: 10 Fantastic Things To Do In Pelling For A Taste Of The True Sikkimese Heritage
15. Jelepla Viewpoint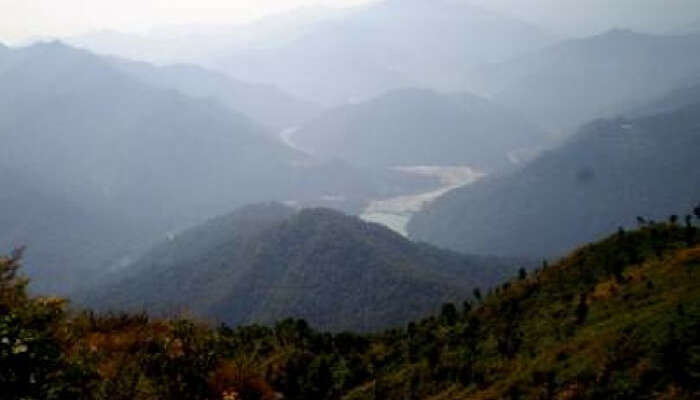 Listed among the major tourist places in Kalimpong, the Jelepla Viewpoint is maintained by the Indian Army. The daunting roads and confluence of the rivers Teesta, Relli, & Reang can be viewed through wired fences. Jelepla Viewpoint also offers a splendid view of the snowcapped Mount Kanchenjunga and the Jelepla Pass that was once used for trade with Tibet.
16. Deolo Hill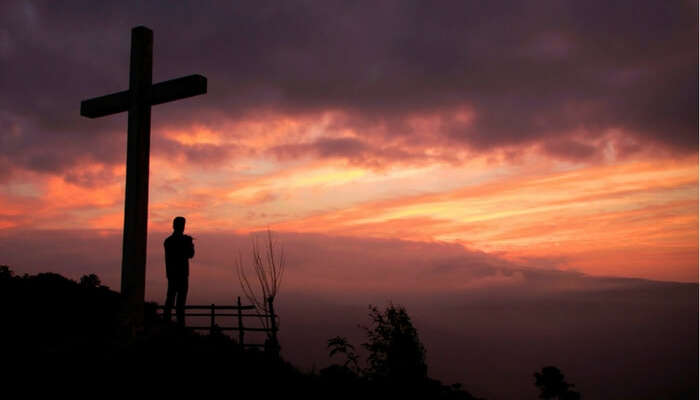 The Deolo Hill is the highest point in town and is among the famous Kalimpong tourist places. On a clear day, you can view the mighty Himalayas, the neighboring states, and the surrounding villages of Relli & Teesta valley.
Tip: The park located atop this hill is an excellent picnic spot. Relax amidst the mountains and the beautifully landscaped gardens.
Suggested Read: 10 Monasteries In Sikkim Exhibiting The Best Of India's Cultural Heritage
17. Dr. Graham's Home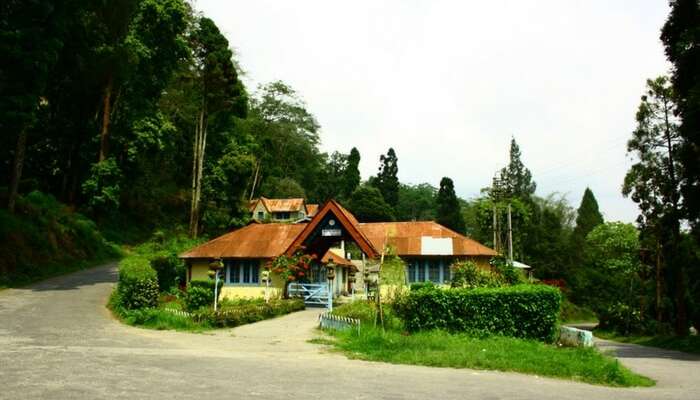 Founded in 1900 by Reverend Dr. John Anderson Graham, this school is considered to be a mini town in itself. Sprawling over approximately 500 acres, Dr. Graham's Home is situated on the lower slopes of Deolo Hill. You can visit the museum & the library, catch a football match in the ground (people here love football), or simply take in the grand old colonial architecture.
Tip: Don't forget to treat yourself at the bakery outside.
18. Pratima Devi Tagore House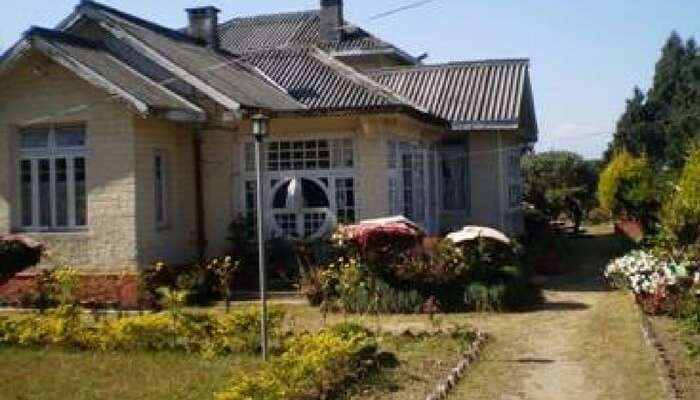 The Pratima Devi Tagore House was built in 1943 by Pratima Devi, Rabindranath Tagore's daughter-in-law. The house pays homage to the Nobel Laureate. Although the house is well maintained, it is usually overlooked and does find its way to the Kalimpong sightseeing tours for most tourists.
Also visit: Another place for the Tagore enthusiasts is the Gouripur House where he penned some of his memorable verses. The house is in a dismal state and requires restoration.
Tip: You can also watch local theatre groups perform at the Town Hall.
Suggested Read: On A Solo Trip To Sikkim, Krishna's Lens Captured The True Beauty Of The Himalayas
19. Crookety House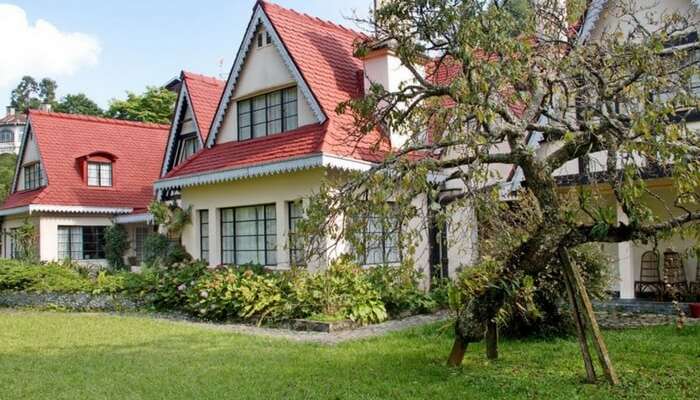 It was at the Crookety House that the famous Russian philosopher and writer Helena Roerich spent the last 7 years of her life. The house, today, is among the Kalimpong tourist places. Thronged by people aiming to escape the stifling expat bubble, the building is known for its colloquial European architecture.
20. Morgan's House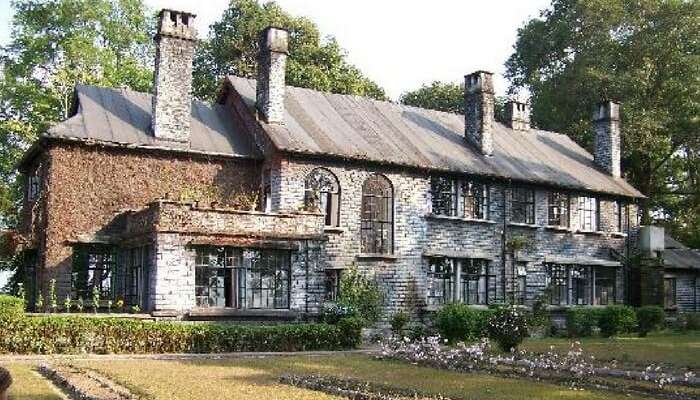 Now a tourist lodge under the West Bengal Tourist Development Corporation, Morgan's House is an old British bungalow. This sprawling haveli should be visited for its beautiful architecture and for the rare varieties of birds that may be spotted in the vicinity. But watch out! Locals claim it to be one of the most haunted hotels in India.
Suggested Read: 15 Top Things To Do In Sikkim For Unbeatable Adventures In Breathtaking Landscapes
21. Lepcha Museum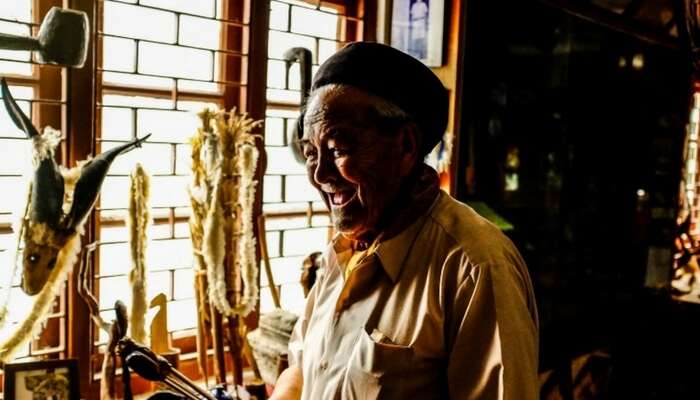 Approximately 2 km from the main city, the Lepcha Museum is the cultural centre of Kalimpong. It houses various articles of worship, musical instruments, and clothing; thus upholding the traditions & the heritage of the Lepcha community.
Timings: 10:30 am – 4:30 pm from Monday – Friday and 10 am – 12 pm on Saturday
22. Nature Interpretation Centre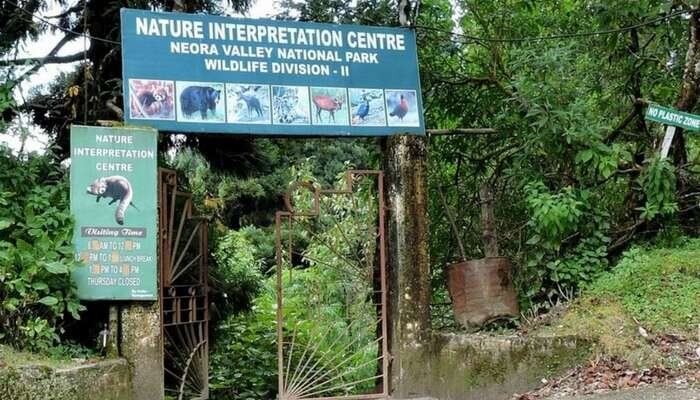 A great initiative by the Forest Department, the Nature Interpretation Centre situated on Ringking Pong Road is among the popular places to visit in Kalimpong. The museum works towards spreading awareness about various environmental hazards. Photographs, books, and sculptures are available here for the same.
Timings: 10 am – 4 pm; Friday – Wednesday
Entry: Free
23. Haat Bazaar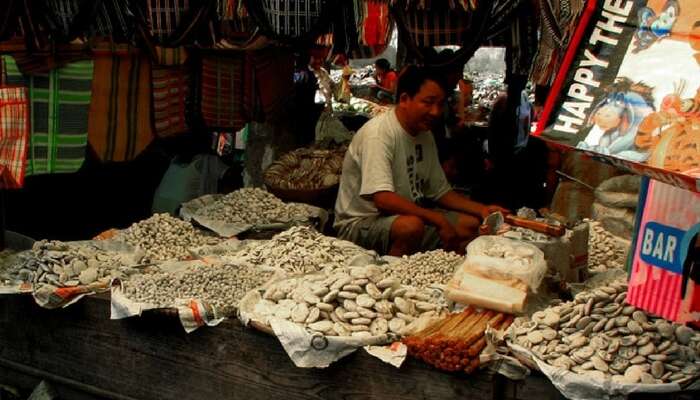 A market held only on Wednesdays and Saturdays, the Haat Bazaar is your answer to cheap shopping in Kalimpong. People splurge on food, clothes, accessories, and other everyday products. Drop by if you happen to be in town if only to take in the vibrant street shopping atmosphere.
Where: Between Relli and RC Mintri Roads
When: Wednesday and Saturday
Don't miss: The thukpa and momos here are mouth watering.
Suggested Read: Why Visiting Darjeeling In Monsoon Is Among The Best Travel Decisions Ever!
24. Lava And Lolegaon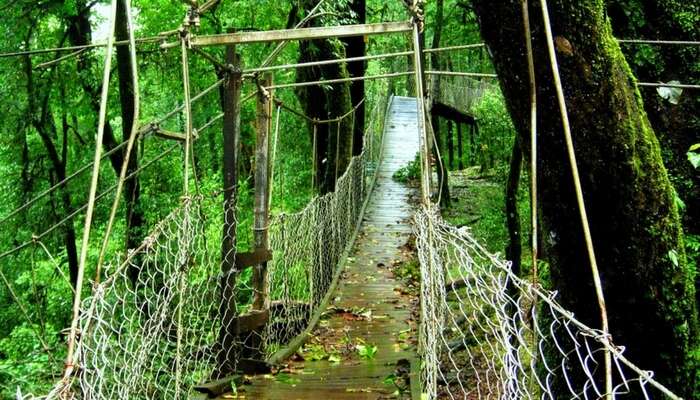 Surrounded by forests, Lava is a beautiful mountain village that can be reached in an hour and a half from Kalimpong. It is a delight for nature lovers and bird watchers. Popular tourist places in the vicinity include the Neora Valley National Park, Silviculture Research Centre, and Changey falls.
At an approximate distance of 24 km from Lava, Lolegaon is another small mountain village hidden away in the quaint hills. It is locally known as Kaffer and can be covered along with Lava in one day. Tourists can take a canopy walk or simply enjoy spectacular views of the Kanchenjunga range from Lolegaon.
Suggested Read: 12 Scenic Tourist Places In Darjeeling In 2019
25. Tiffin Dara Viewpoint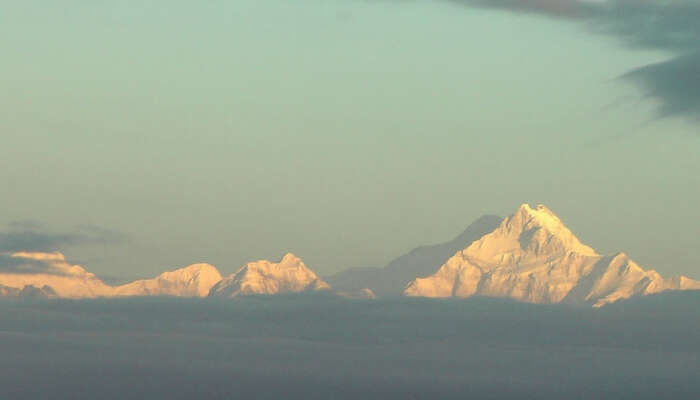 The second highest spot in West Bengal, the Tiffin Dara Viewpoint is a 3 km uphill trek from Rishyap and is a must see among places to visit near Kalimpong. It gives a magnificent view of the Himalayas, the Nathula Pass, and the Jelepla Pass. One of the top places to visit in Kalimpong, this tourist attraction is ideal for the purpose of trekking. Adventure lovers must consider adding this place to their itinerary when visiting Kalimpong.
Things to do: Trekking and sightseeing
26. Pedong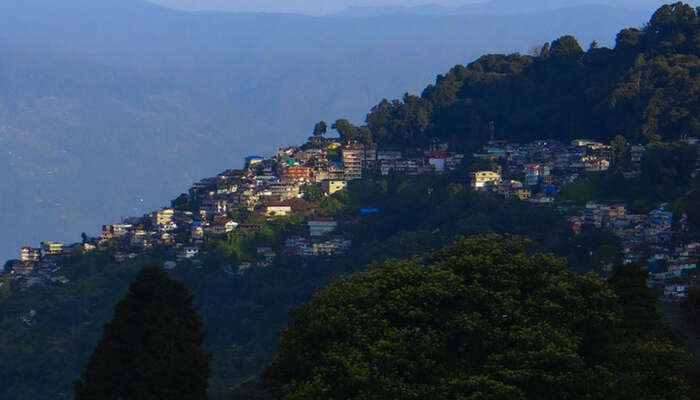 Pedong lies 20 km east of Kalimpong on the historic Silk Road. The ageless hills offer a blend of history, nature, and culture. Popular tourist places in Pedong include Pedong monastery, Damsung fort, Silence valley, Cross hill, Rikisum, Ramitey view point, and Tinchuley view point.
Things to do: Hang gliding and paragliding
Note: Ramitey offers the longest and the best view of river Teesta.
Suggested Read: Darjeeling Honeymoon: Romance Amid The Stunning Himalayas
27. Lamahatta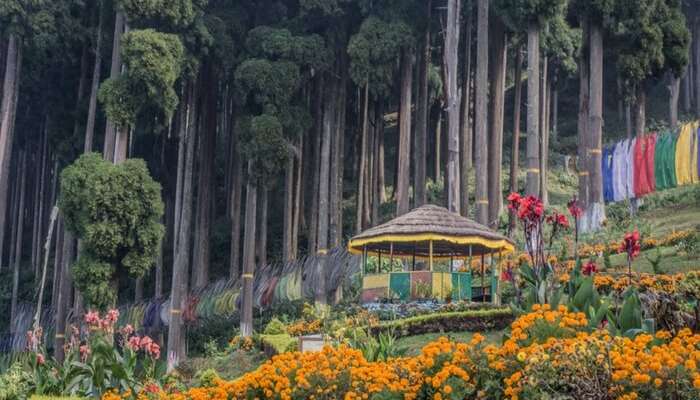 Approximately 31 km from Kalimpong, Lamahatta is a serene getaway. It is known for the tea estates and the Roadside Garden which are amongst the many famous tourist spots near Kalimpong. Tourists can simply sit and relax in the wooden gazebos at the Roadside Garden and take in the view of the thick canopy and colourful prayer flags. There's a sense of calmness lingers in and around Lamahatta that makes up for a peaceful holiday. If you're looking for offbeat places near Kalimpong, then this should be on the top of your list!
28. Siliguri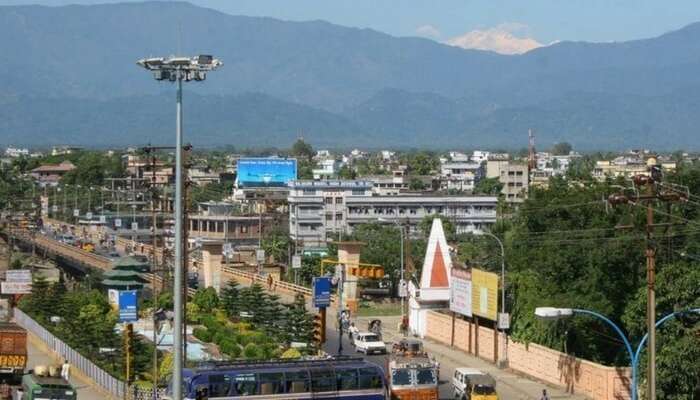 Known for its tea and timber, Siliguri is an important town as it connects northeast India with the rest of the country. It is a cosmopolitan city with modern amenities and boasts of diverse places to visit near Kalimpong. Jaldapara Wildlife Sanctuary, Iskcon Temple, Coronation Bridge. and Salugara Monastery are only some of the popular sightseeing places in Siliguri. And then there is the colorful Hong Kong market where tourists can indulge in shopping.
Suggested Read: 15 Resorts In Darjeeling You'd Never Want To Leave From
29. Kurseong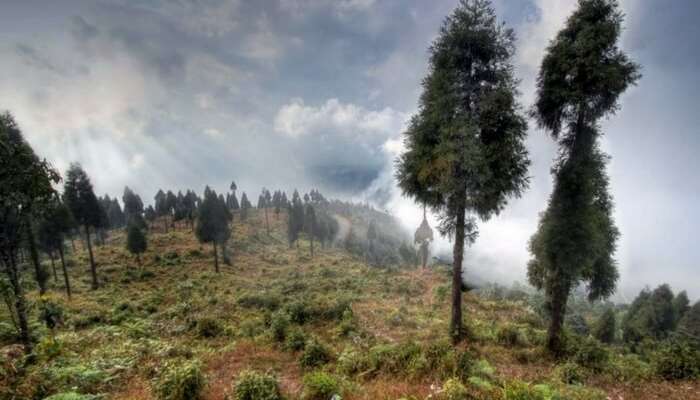 At an approximate three hours' drive from Kalimpong, Kurseong offers idyllic scenery, sprawling tea estates, and quaint settlements. Popular sightseeing spots in Kurseong are Eagle's Craig, Giddapahar Viewpoint, and Dow Hill.
Tip:Take the toy train for a breathtaking view of the hills.
Note: Lookout for the cannabis plantations across the town. Yes, you read us right.
30. Teesta Bazaar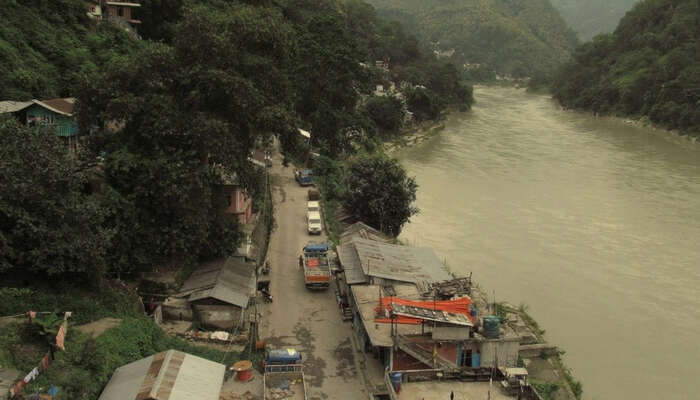 Famous for its local splendor, the main market is among the popular tourist places near Kalimpong. Shop for local items and collect souvenirs to fondly remember your trip. The Teesta Bazaar is famous for crockery, Tibetan jewelry, footwear, scrolls, lanterns, handmade wallets, and food items.
Tip: Indulge in white water rafting and try thukpa & other local dishes.
Best Time To Visit Kalimpong
Kalimpong enjoys a temperate climate and 5 distinct seasons. It can be visited throughout the year. April – June and October – November are the peak tourist seasons. You can avail discounts on tour packages during January and February.
How To Reach Kalimpong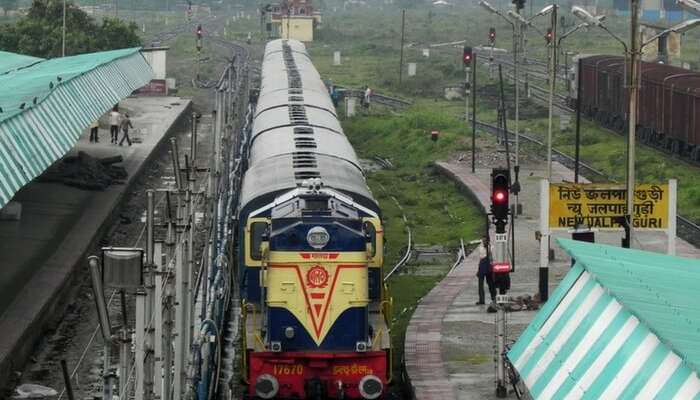 The nearest airport is Bagdogra Airport, approximately 80 km from Kalimpong. Private taxis are available from inside the airport. You can also take a taxi to Siliguri Junction (15 km) and then a bus. Buses ply frequently from Siliguri to Kalimpong.
New Jalpaiguri (about 10 km from Siliguri) is the nearest railway station and is connected to almost all major cities in the country.
Further Read: 8 Honeymoon Places In Gangtok And Darjeeling That Will Spark Up Your Romantic Escapade
Aesthetically pleasing, Kalimpong is a treat to the senses. It is a place waiting to be discovered. So go pack your bags now and visit the rustic town. Make your trip to Darjeeling memorable and hassle free by adding the above-mentioned places to your itinerary. These places to visit will definitely make for an amazing travel experience. and get going on a holiday like never before.
Frequently Asked Questions About Places To Visit In Kalimpong
Q. How can I go to Kalimpong from Kolkata by train?
A. Take the train Darjeeling Mail from Kolkata and deboard at Sivok railway station which is nearest to Kalimpong. It will take 12 hours by train.
Q. Does it snow in Kalimpong?
A. No, it doesn't snow in Kalimpong at all.
Q. What is the height of Kalimpong?
A. Kalimpong is situated at the elevation of 1247m.
Q. What is Kalimpong famous for?
A. Kalimpong is famous for temples and other tourist atrractions.
Q. How many blocks are there in Kalimpong?
A. There are 3 blocks in Kalimpong.
Comments
comments