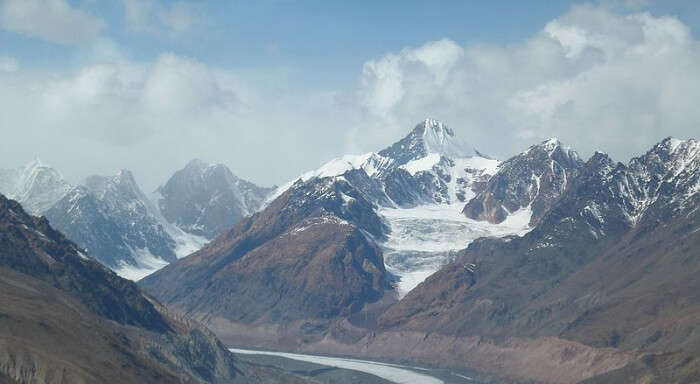 Kaza is the main city of Lahaul and Spiti Valley district in Himachal Pradesh. Commonly referred to as "Little Tibet," the district is a virtual heaven on earth. Despite being a sprawling cold desert, it is a breathtaking place to visit and explore at least once in a lifetime. Situated at about 12,500 feet above the sea level and surrounded by huge mountains, Kaza is worth visiting for those who want peace and enjoy a peaceful vacation.
You can explore numerous places in Kaza and its surroundings. It is a picture-perfect location wherein you can explore magnificent monasteries, deep gorges, ravines, snow-capped mountains, lush green forests and stunning lakes that dot the entire territory of Kaza as a paradise.
Places To Visit In Kaza, Himachal Pradesh
Let us take a look at the top 10 interesting places to visit in Kaza. The ideal time to visit Kaza would be from June to September when day temperature levels are at an average of 25 degree Celsius and at night it dips down to 3 to 4 degree Celsius. Once snowfall begins in November, roads are closed for travel till summer sets in. Plan your trip accordingly to savor nature at its best. Have a blessed tour of the following places and experience bliss.
1. Key Monastery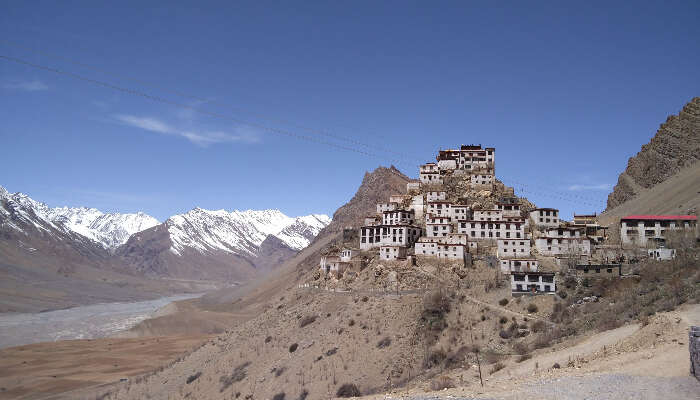 Located at an awe-inspiring altitude of 4,166 meters, Key Monastery is a noted Buddhist Monastery in the district of Lahaul & Spiti. It is the largest monastery in the region where approximately 300 Lamas get their education – a reason this institute remains one of the most important places to visit in Kaza.
Key Monastery was subjected to repeated external attacks and had to be rebuilt several times over the centuries. Consequently, its architectural beauty went for a toss and the present structure looks like an arrangement of irregular boxes. The monastery preserves rich art & craft through beautiful paintings and murals.
Location: About 190 km from Manali
How to Reach: Reach Kaza from Manali by bus and take a private bus or cab to the Monastery
Must Read: New Year Party In Himachal: 9 Exciting Events To Welcome 2020 In The Mountains
2. Chandra Taal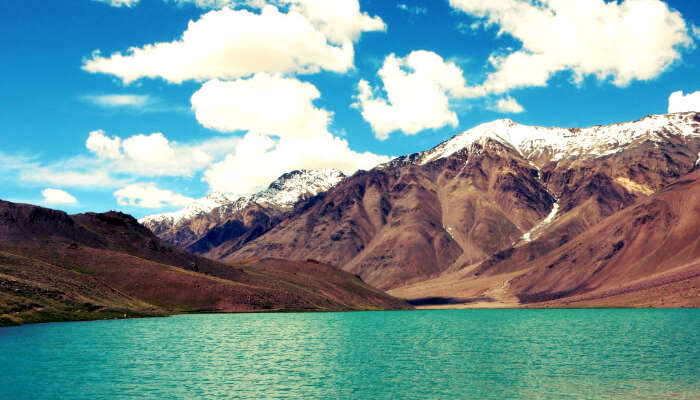 Chandra Taal derives its name from its crescent shape. It is at an altitude of 4,300 meters above the mean sea level and is on a plateau called Samudra Tapu in the Himalayas. It is a popular destination for trekkers. It also attracts hundreds and thousands of enthusiasts and adventurists from across the globe.
The place has a mythological significance for it is said that Lord Indra picked up Yudhishtira, the eldest son of Pandava, from this very place. A speciality of this lake is that the water's colour alternates between red, orange, blue and green during the day. It is an ideal place for camping, while trekking route from Batal to Chandra Taal is at about 6,000 meters high but worth the risk.
Location: Near to Kunzum Pass
How to Reach: Motorable road up to 2 km from the lake. Alternatively, it can also be reached by car from Manali in 2 hours.
Suggested Read: 7 Best Things To Do In Khajjiar For A Refreshing Holiday In Himachal Pradesh
3. Dhankar Lake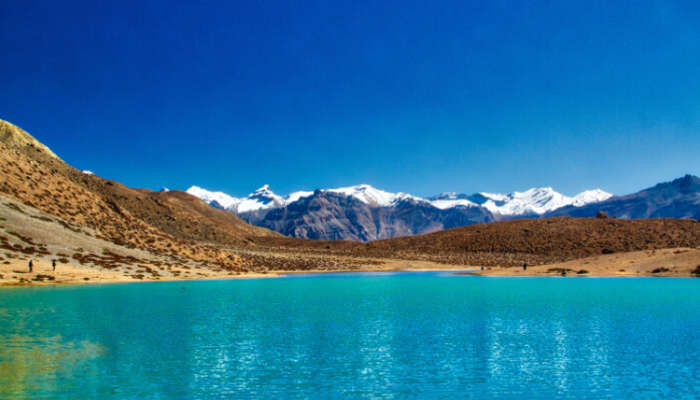 One more high altitude lake and one of the best places to visit in Kaza, Dhankar Lake is visited by a large number of people throughout the year. Situated at an elevation of 4,140 meters from the mean sea level, this lake is about 5 km away from its namesake Monastery. Also known as Sur Kund Lake, Dhankar Lake presents a rare spectacle to its visitors. The lake waters reflect the changing colours of the overhead sky at every few hours interval. Keep your cameras handy and it is undeniably a top priority among the list of places to visit in Kaza.
Location: About 32 km from Kaza
How to Reach: From Manali, reach Kaza (12 km) by bus and from Kaza to Dhankar Lake, you can take a cab that takes about 45 minutes to reach Dhankar Lake.
Suggested Read: 15 Places To Visit In Himachal Pradesh In December 2019
4. Baralacha Pass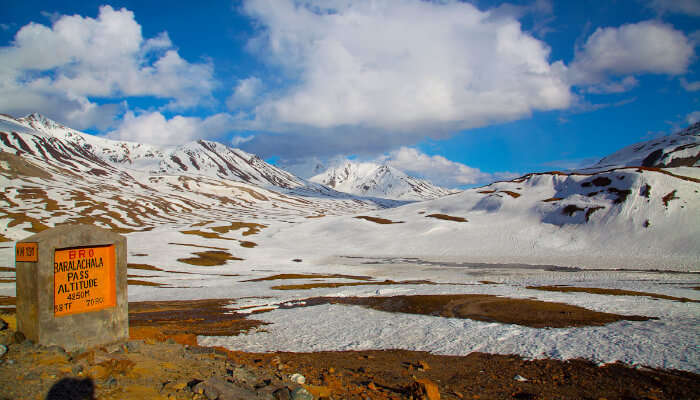 Baralacha pass is an exhilarating pass in the high altitude Zanskar Range of Mountains. This mountain range connects Lahaul with Leh in the Ladakh region and has an interstate highway connection. It is a highly challenging trek for adventurists, therefore, remains an intersecting point for 3 mountain ranges namely Pir Panjal, Zanskar and the Himalayan Mountains.
Ranked as one of the top places to visit in Kaza, Baralacha Pass is ideal for camping and trekking beside mountain biking.
Suggested Read: 8 Best Places To Visit In Himachal In January For A Blissful Retreat
5. Kunzum Pass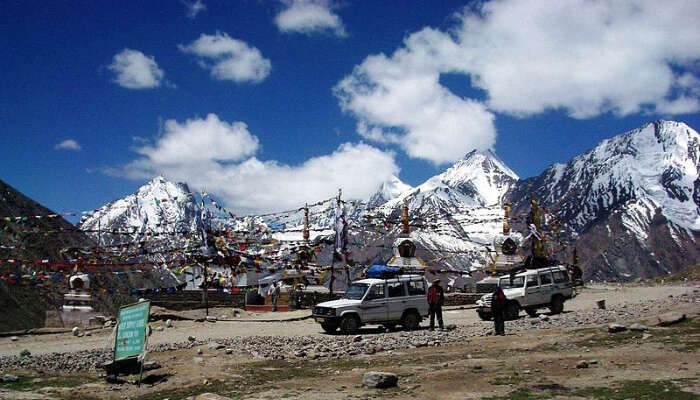 Located on the eastern Kunzum Range of Himalayas, Kunzum Pass is considered to be one of the highest motorable mountain passes in India. Sitting lofty at an altitude of 4,551 meters above the sea level, this pass provides you with a breathtaking view of the second largest glacier in the world namely Bara-Shigri Glacier. This pass is notorious for one of the most hazardous hairpin bends on the roads. Indeed, 15 of them test the driving skills of even the most experienced navigators. Vehicle owners consider it an auspicious one to take the blessings of the Kunzum Mata, a local deity, before embarking on this thrilling journey. There is a local custom here to go around the temple in a vehicle.
Location: About 122 km from Manali, on the route to Kaza from Manali.
How to Reach: 15 km from Kaza.
When to Visit: Kunzum Pass is open from June to September. Heavy snowfall forces the authorities to stop travel on this pass during wintertime.
Suggested Read: Top 10 Resorts In Himachal For A Truly Spoiling Holiday
6. Pin Valley National Park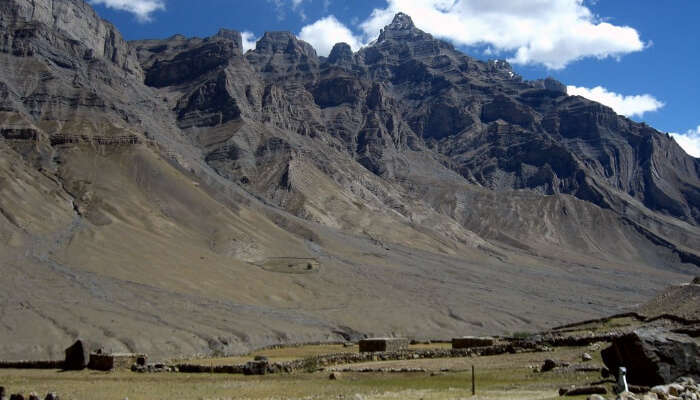 Pin Valley National Park is a sanctuary to experience rare flora and fauna varieties. It is located in the desert habitat of the Spiti region of the Himalayas. The park elevation range is between 3,500 meters to 6,000 meters above the mean sea level. It is a visual treat for bird lovers as some of the very rare birds such as Himalayan Snowcock, Snowfinch, Snow Patridge etc. are found here.
The park is also home to several endangered livestock and animals like Snow Leopard and the famed Siberian ibex. The area abounds twenty-two varieties of medicinal herbs out of which most are endangered besides alpine and Himalayan Cedar trees. The park is a favourite spot for adventurists and trekkers due to rough terrain.
Location: 27 km from Kaza
How to Reach: Car or bus takes tourists from Kaza to the National Park in 2 hours.
Suggested Read: 12 Snowfall Places In Himachal Pradesh: A List For Your 2020 Trip
7. Kibber Village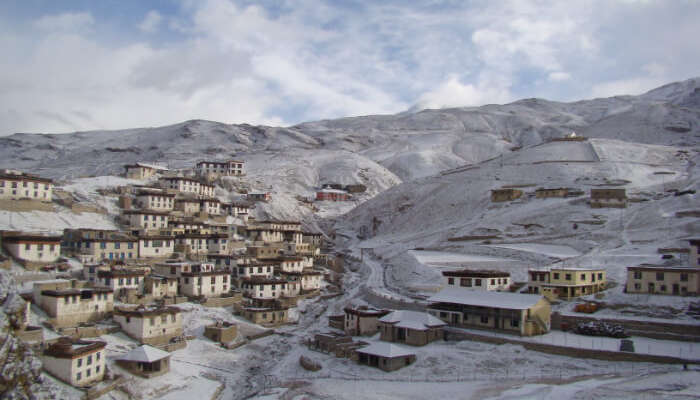 Kibber is a village in the high altitude range of 4,270 meters above mean sea level in the Himalayas. It is noted for a monastery and Kibber Wildlife Sanctuary. Lush green fields abound this area. Uniqueness of this village is that less than one hundred families live in it! That is why it remains one of the sought after tourist places to visit in Kaza. Indeed, Kibber Wildlife Sanctuary is spread over a sprawling 2,220 sq. km. whose medicinal herbs are extensively popular. This sanctuary is home to nearly 30 snow leopards as well.
Location: 20 km from Kaza
How to Reach: Regular bus services from Kaza are available during the summers. During the rest of the seasons, private cars are available from Kaza to this village.
Suggested Read: 11 Travel Tips For Himachal Pradesh That Will Come In Handy For Your Trip In 2020
8. Triloki Nath Temple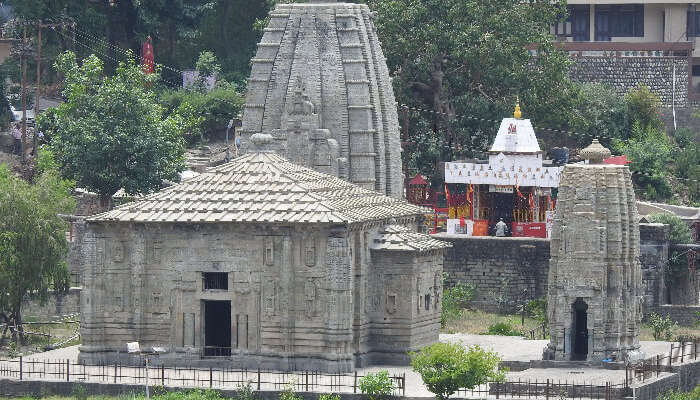 Triloki Nath Temple is a sacred abode to both Buddhists and Hindus. It is located in a village of the same name and is on the left bank of Chenab River. The shining white temple stands on a cliff at an altitude of 2,760 meters above mean sea level. Though the name suggests it to be a Hindu temple, locals consider it a Buddhist Vihara. In the earlier days, this temple had a marble idol of a Buddhist god which was reportedly stolen and has been replaced by a granite idol. Buddhist architecture and temple practices are visible here. Though not one of the popular tourist places to visit in Kaza, it is still frequented by the travellers for this temple.
Location: About 45 km from the District Headquarters Keylong and about 146 km from Manali.
How to Reach: Tourists reach here by road in the summer season while the helicopter is the source of transportation during winters. Himachal Pradesh Road Transport Corporation (HRTC) runs buses to & fro Triloknath.
Suggested Read: 13 Monuments In Himachal Pradesh For Your Vacay In The Snow Laden State!
9. Gandhola Monastery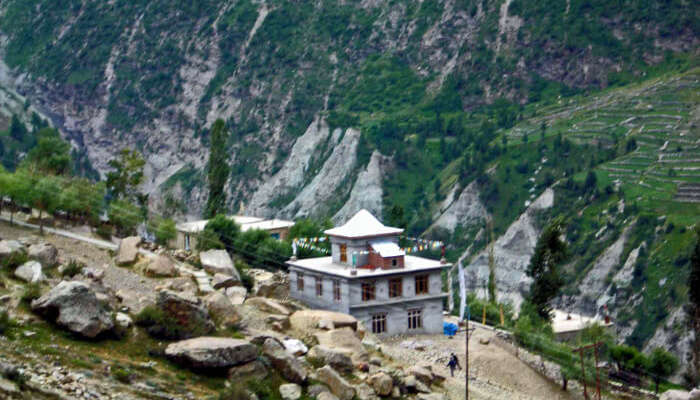 This 8th-century monastery is located on a hill at a pious junction of Chandra and Bhaga Rivers. It is perched at an altitude of 3,160 meters above mean sea level. Considered to be the oldest monastery founded by Padmasambhava, it is famous for wooden idols instead of the usual stone idols. Gandhola Monastery is equally famous for its towering seven-floor fort. It is built with alternating layers of stone and timber. It was once the abode of the local chieftain but now remains an abandoned place which is frequented by the visitors.
Location: About 18 km from the district headquarters of Keylong.
How to Reach: Private cars are available in plenty from Keylong to this monastery.
Suggested Read: 7 Scintillating Places To Visit In Himachal Pradesh In Monsoon In 2020!
10. Suraj Tal Lake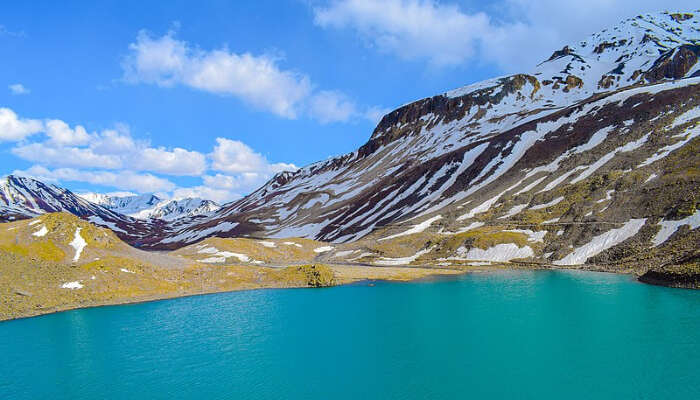 Suraj Tal Lake means the Lake of Sun God. It lies below the Baralacha Pass and is considered the 3rd highest lake in India. This lake gets its water from the glaciers stemming from the Baralacha Pass. It is located in the upper reaches of the Himalayas. Being a high altitude region, this place is surrounded by mountainous terrains and is a fond destination for hikers. Also, when the area is motorable, bike expeditions are undertaken by the tourists.
Location: Suraj Tal is 65 km from the district headquarters of Keylong and Lahaul Spiti districts.
How to Reach: The district is accessible by road via National Highway NH 21, popularly known as the
Leh-Manali Highway. The road leading to Suraj Tal Lake is around 3 km short of the Baralacha-La Pass.
Further Read: Himachal Pradesh In May: 10 Places To Escape The Busy Life In Summer 2019
Touring to some of the exciting places to visit in Kaza offer innumerable experience to travelers. From temples to Buddhist monasteries and lakes, the region has enough diversity to offer. Adventure lovers find it a great challenge to accept and trek to some amazing high mountains.
Frequently Asked Questions About Places To Visit In Kaza
Q. How far is Kaza from Manali?
A. The distance between Kaza and Manali is about 203 km by road.
Q. How to reach Kaza from Manali?
A. Kaza is accessible from different destinations by road, rail and air routes. Journey through bus or taxi from Manali takes 2 days. Alternatively, tourists can fly from Kullu, Dharamshala, Dehradun or Shimla.
Q. What is the spoken language in Kaza?
A. Hindi is spoken by a majority of people in the area. The Tibetan Language called Bhoti is also extensively in use as it is taught in the Buddhist Monasteries. The locals associated with the tourist department can follow English.
Q. What is the local cuisine of Kaza?
A. Being of a predominantly Buddhist area, Tibetan cuisine is the most served and consumed food in Kaza. The steaming hot food is quite tasty.
Q. What type of clothing should the tourists carry while visiting Kaza?
A. Kaza is a cold climate region and winters as well as nights witness harsh climatic conditions. However, the day temperatures during the tourist season are usually in around 25 degree celsius while night temperatures slip down up to 3 degrees. It makes necessary to pack both, woollens as well as normal.
People Also Read:
Beautiful Destination in Himachal Pradesh Himachal in Monsoon Himachal and Himalayas
Comments
comments