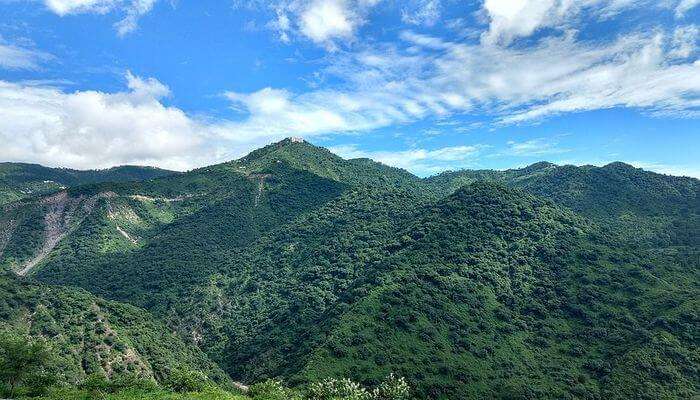 Cover Image Credit: Wikipedia
Parwanoo is situated in Solan district in the north Indian state of Himachal Pradesh. It is a beautiful hill station with attractive orchards, greenery and hills surrounding it. Because of the landscape of Parwanoo, this place is considered an ideal destination for trekking and nature walks. There are quite a few popular trekking trails which can be used for a day-long trek around the wonderful hills and forest areas. Also, the largest fruit processing unit of HPMC is a popular tourist attraction in Parwanoo besides several other attractions.
Places To Visit in Parwanoo, Himachal Pradesh
Here are 10 famous places to visit in Parwanoo for an ideal, relaxing vacation – to enjoy a much needed break from the hustle and bustle. A tour here would be holy, peaceful and set you apart on your next vacation.
1. Pinjore Gardens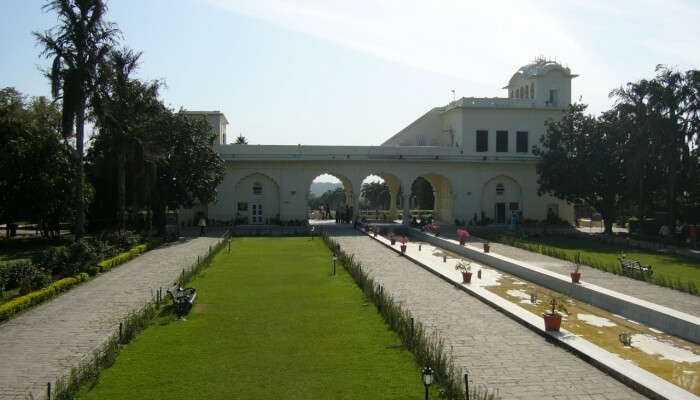 Pinjore Garden is located roughly 15 kilometres from Panchkula and is spread over an area of 100 acres. It is said that work for creating this garden had begun back in the 17th century. The garden also serves as the venue of the annual event – Mango Festival during Baisakhi. The garden houses historic places, a mini zoo, nursery, Japanese garden, and a number of picnic spots. Due to such reasons, it is also considered as the best sightseeing places in Parwanoo.
Location: 6 km from Parwanoo City Center
Must Read: 7 Stunning Lakes In Himachal Pradesh That Are Absolute Natural Wonders
2. Kali Mata Temple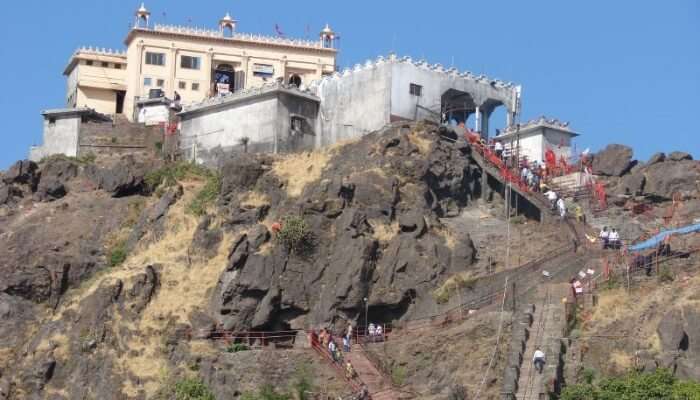 Kali Mata Mandir is among the famous tourist places in Parwanoo, especially for Hindus. It is an ancient temple dedicated to Goddess Kali and is located only 2 km from the region. The temple is visited by a large number of pilgrims during the Navratri festival. It has been known to believe that the Pandavas, the characters in the Hindu epic Mahabharata, built this temple during their exile as a shelter.
Location: 2 km from Parwanoo City Center
Suggested Read: Himachal Pradesh In May: Top 10 Places To Escape The Busy City Life In Summer
3. Mansa Devi Temple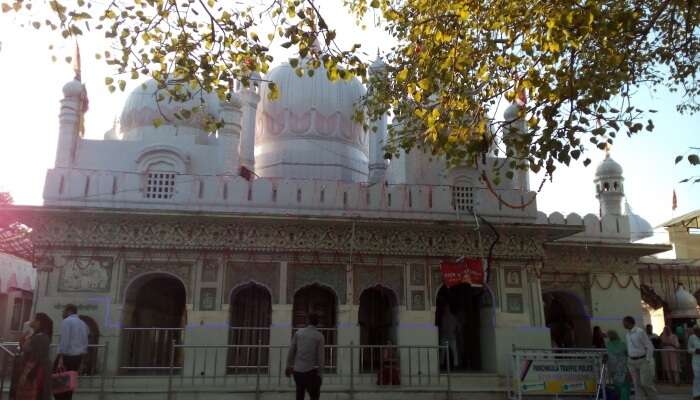 Located in the foothills of the Shivalik Mountain ranges, Mansa Devi Temple is spread over an area of 100 acres. The temple borders the village of Bilaspur in Panchkula district of Haryana and has preserved the holiness of being a significant shrine for worshipping Shakti. It is among the most famous tourist places in Parwanoo as the divine feminine personification of the inborn cosmic energy that is said to symbolize and rule the forces of the universe, in Hinduism and Shaktism.
The main attraction of the temple is a tree, around which devotees tie the holy threads to get their prayers answered. This temple is extremely popular among devotees from all over India, mainly during Navratri. This Mansa Devi Temple is situated against a picturesque backdrop and among some of the beautiful, lush green lawns. This temple is a must-visit for you if you're looking out for peace in your life. To reach the main temple, you need to climb quite a few stairs.
Location: 16 km from Parwanoo City Center
Suggested Read: Travel Tips For Himachal Pradesh: 11 Things You Need To Know Before Visiting This Paradise In 2019
4. Shri Balaji Temple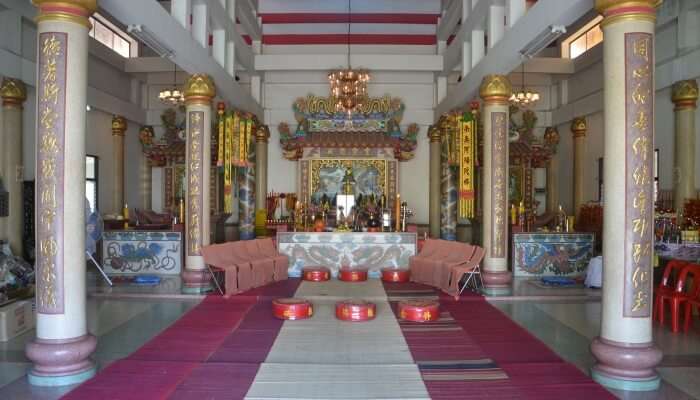 Shri Balaji Temple is an ancient Hindu temple located in a small village in Parwanoo and a major attraction of the town is the Bhairo ka Ser. Interesting fact about this temple is that it was suppressed in the earth until it was mined in the year 1988. Since then, the temple fascinates the tourists in large numbers.
Location: 21 km from Parwanoo City Center
Suggested Read: 10 Best Places To Visit In Himachal Pradesh In December 2018 For A Snowy Retreat!
5. Gurudwara Nada Sahib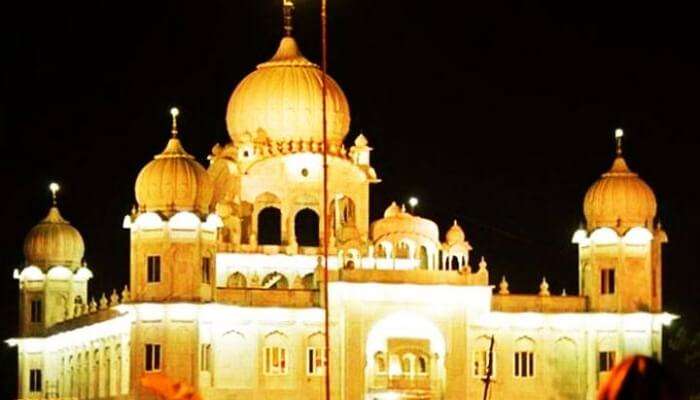 Gurudwara Nada Sahib is a religious place to visit in Parwanoo for Sikhs and is located in the Panchkula district almost 20 km away from the Parwanoo. A holy place with a substantial past, this Gurudwara houses a large courtyard as well as housing for the pilgrims. As per the legends, it is said that Guru Gobind Singh stayed here for a while. The Gurudwara is always packed with devotees but the number of pilgrims increases many folds on full moon day.
Location: 20 km from Parwanoo City Center
Suggested Read: Top 5 Waterfalls In Himachal Pradesh That Treat Your Eyes To The Best Sights Ever!
6. Dagshai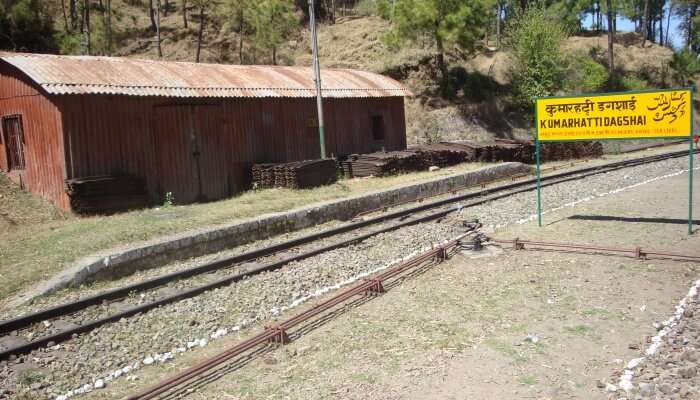 Dagshai is a small town in the hilly terrains of Solan district of Himachal Pradesh and is located on the top of a hill 5,689 feet above the sea level. While visiting this place, you'll get a taste of what real, offbeat attraction feels like. Dagshai was founded by the East India Company in the year 1847 when they took over the five villages of Jawag, Badhtiala, Dabbi, Chunawad, and Dagshai from Bhupinder Singh, the Maharaja of Patiala. Also, the town contains a prison where the rebellion of the Irish soldiers in the year 1920 was imprisoned.
Dagshai is now a cantonment area for Indian army and has abundant buildings from British Era. Some exciting attractions to the place are church and the Dagshai Cellular Jail in the town, which make the visit fun-filled as well as enlightening. You can find a lot of spots for spending a fun picnic with family and loved ones. From some of the points located here, you can view Panchkula and Chandigarh lights at night.
Location: 10 km from Parwanoo City Center
Suggested Read: Kerala Vs Himachal For Honeymoon: Which Is The Ideal Retreat For Newlywed Couples?
7. Cactus Garden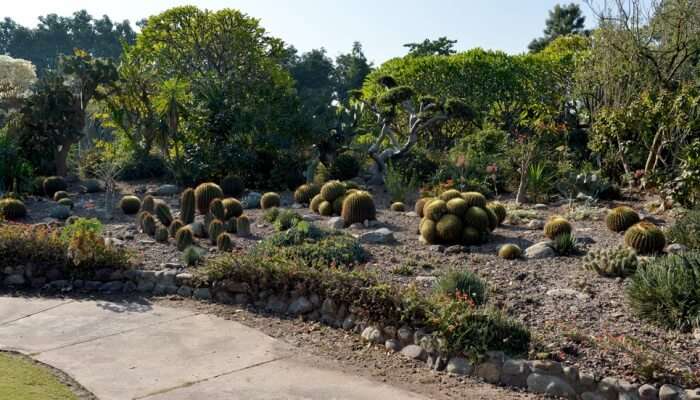 Cactus Garden is among the best sightseeing places in Parwanoo which was established by Dr. J.S. Sarkaria. It is a fascinating place with the wider collection of Indian succulents and is also the largest garden in the world.
Location: 19 km from Parwanoo City Center
Suggested Read: Delhi To Himachal Pradesh With Friends? Take Tips From This Gang's Budget Trip To Dharamshala!
8. Gorkha Fort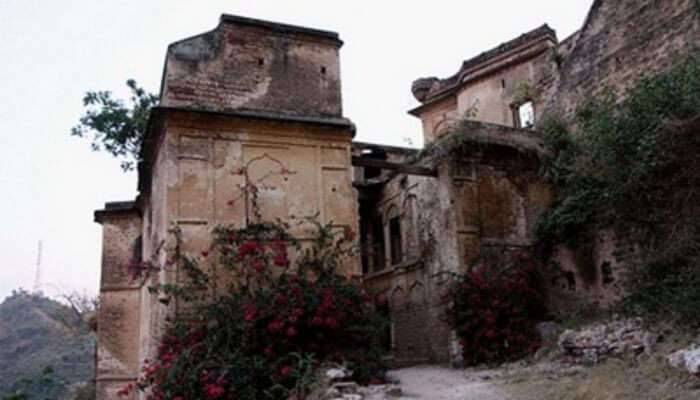 Gorkha Fort is a place for people who are captivated by the past and history. It is situated on a small hill named Subathu which is located just 16 kilometres away from Parwanoo. It is believed that the fort was established by the Gurkha Army Chief, Amar Singh Thapa to fight against the British. Also, the fort today exhibits strength even through its ruins. With a spectacular view of dense forest all around, it is among the most famous places to visit in Parwanoo. Travellers can also visit the Gurkha Museum to observe the area's past – dating back to the year 1815.
Location: 16 km from Parwanoo
Suggested Read: 12 Snowfall Places In Himachal Pradesh: A List For Your 2020 Trip
9. Fruit Orchards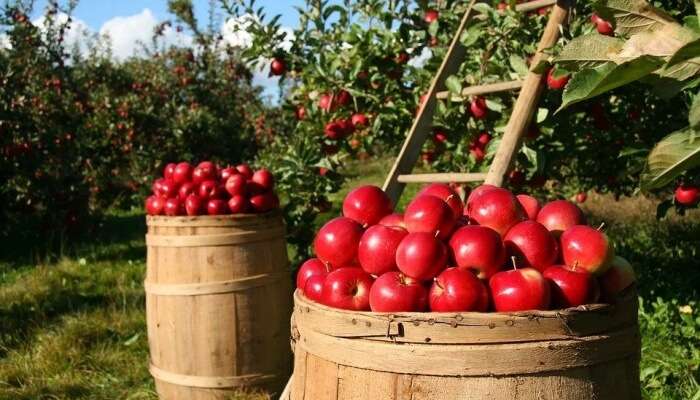 Fruit orchards are the best places to visit in Parwanoo as the small town offers a special treat to its travellers in the form of its lovely orchards. Situated in the lap of Shivalik Range, this place experiences wonderful weather which is appropriate for the production of apples and peaches.
Pickles, jams, jellies and other fruit-made products are very famous in this area. The town also provides numerous panoramic views that makes this place a perfect picnic and relaxing spot.
Location: 70 km from Parwanoo City Center
Suggested Read: 7 Best Airbnbs In Himachal Pradesh For One Of The Coziest Staycations Ever/a>
10. Timber Trail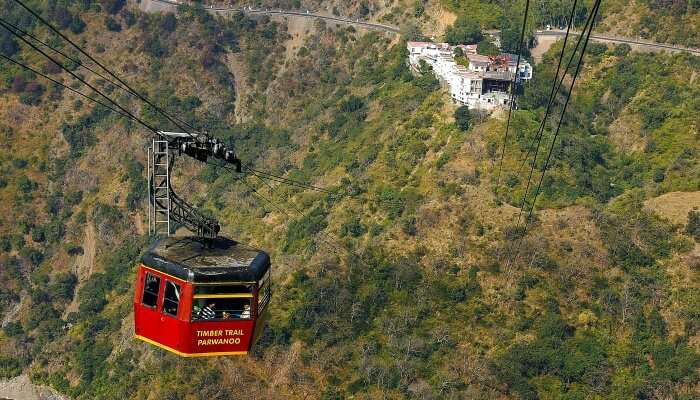 Timber Trail is wrapped in the quiet charms of the city of Kasauli in Himachal Pradesh. The destination is a bright green beauty with many pine and coniferous trees all around. Perhaps, most sought-after place to visit in Parwanoo, Timber Trail is preferred among the backpacker community and students alike. Well within the bounds of the city and away from it, this place is perfect for people looking for peacefulness.
The vision from the heights of the Timber Trail is breath-taking in every aspect. The main attraction to this place is its ropeway ride – sliding through mountain ways while enclosed by unbelievable natural beauty. The deep valleys right below the ropeway will give you an unbelievable adrenaline rush without even moving your feet! If you are looking out for the perfect place to stay over and enjoy the virgin charms of this destination, then there are a few attractive hotels available in the area.
Location: 2 km from Parwanoo City Center
Suggested Read: 13 Monuments In Himachal Pradesh For Your Vacay In The Snow Laden State!
Best Time To Visit Parwanoo
The weather in Parwanoo, Himachal Pradesh remains fairly comfy throughout the year. Summers are not too hot and are perfect for a visit. Winters are pretty cold and the mercury dips quite a bit. Parwanoo is mostly preferred by the travellers, be it family, kids, and couples. Travellers must visit the area to learn about the places to visit in Parwanoo, and explore this place using a map and read sightseeing reviews.
Further Read: 10 Best Homestays In Himachal Pradesh That'll Make You Fall In Love At First Sight!
Recently reviewed tourist places in Parwanoo, are Pinjore, Kalka, and Timber Trail. Parwanoo can be visited throughout the year may it be summer, monsoon, or winter. If you are looking for an offbeat vacation, then think no more and visit Parwanoo – a peaceful, satisfying and soothing destination in Himachal Pradesh.
Frequently Asked Questions About Places To Visit In Parwanoo
Q. What is the best time to visit Parwanoo?
A. The weather in Parwanoo remains fairly comfortable. During summer, the weather in the day remains sunny and warm while the evenings are cool. Winters are pretty cold as the mercury dips quite a bit.
Q. What are the places to shop in Parwanoo?
A. Parwanoo is a small town and does not offer many great shopping places. You may find its well-known fruit-based products such as jams, pickles and marmalades.
Q. Is cable car ride suitable for everyone?
A. Cable car ride offers some breathtaking views of the area and if you are looking for an adventurous challenge, then go for it.
Q. Why Kali Mata Mandir is a famous tourist spot in Parwanoo?
A. Kali Mata Mandir is a famous tourist place in Parwanoo asan ancient temple dedicated to Goddess Kali. It is believed that the site of the temple was built by the Pandavas during their exile.
People Also Read:
Places to Visit in Diu Places to Visit In Uttarakhand Kashmir in June
Comments
comments