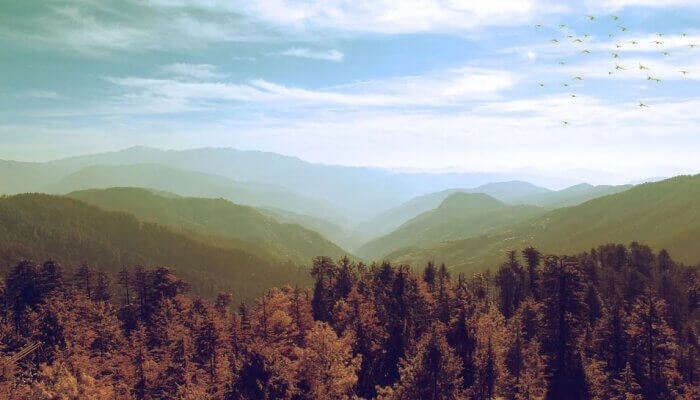 Kufri is heartily admired as one of the most picturesque hill stations in Himachal Pradesh. A paradise for photographers, sightseeing in Kufri will prove that nature is at its best here. Apart from being a lover of nature, if you are a dauntless adventurer longing for stunning action, this place is just the best! The numerous places to visit in Kufri are the ideal spots to revel in the marvel of diverse wildlife and to engage in a spectrum of fun activities.
Being in the vicinity of Shimla, Kufri provides a more refined experience for you. The numerous Kufri tourist places will definitely prolong your Himachal holiday whilst providing beautiful memories. Here is how you can spend entire weekends just in Kufri.
14 Best Places To Visit In Kufri
While there are numerous places that you can visit in this charming city in Himachal, we have a curated list of the best places to visit in Kufri that are known for their picturesqueness and culture. Explore these dainty tourist places in Kufri and lose yourself to the scenic splendor of mountains, valleys, and lakes.
1. Mahasu Peak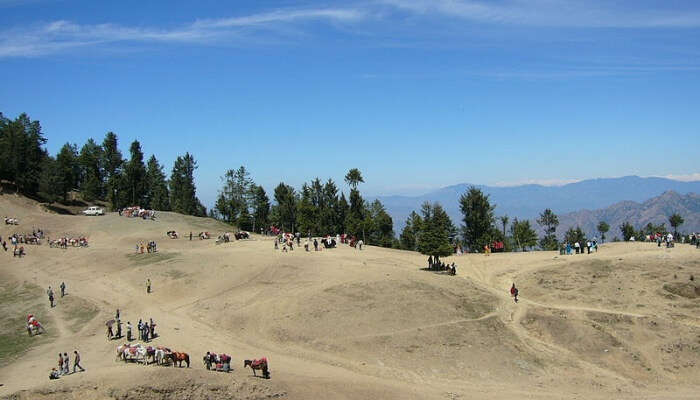 Image Source
Situated at the core of Kufri, and 13 km away from Shimla, the pinnacle point of Mahasu Peak endows you with the miraculous opportunity to spectate the Badrinath and Kedarnath ranges and is among the best places to see in Kufri. Being the best places to visit in Kufri, you get a glorious and quaint landscape of the entire region which can be watched across the peak. You can lose yourself to the grandeur of Mahasu Peak from dawn to dusk.
Location: Thirteen kilometres from Shimla
Timing: Dawn to Dusk
Entry Cost: ₹ 650 per ride on a horse or mule
14 Best Adventure Sports In Himachal Pradesh For Couples That Will Make Your Heart Skip A Beat
---
Himachal Holiday Packages On TravelTriangle
---
2. Green Valley

Image Source
With absolutely free entry to this spiffing park, the Green Valley remains one among the best visiting places in Kufri. This decadent valley is trussed with pines and cedars. As you make an entry between the permissible hours of 6:00 AM – 6:30 PM, you would be greeted by grazing Yaks and lushly plantations. Much true to its name, this Green Valley is the perfect potion to satiate your thirst for wanderlust. There also plenty of homestays in cottages in Kufri located at this point to give you a unique feel of living in the midst of nature's freshness!
Location: Thirteen kilometres from Shimla
Timing: 6:00 AM – 6:30 PM
Entry Cost: Free
 14 Surreal Hill Stations Near Pathankot One Must Explore To Get The Best Vibe Of Himachal Pradesh!
3. Himalayan Nature Park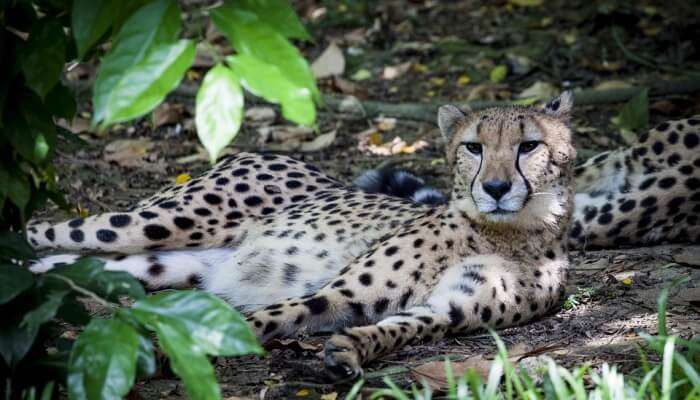 Image Source
Lodging numerous, diverse, and rare species the Himalayan Nature Park stands as a famous spot in Kufri sightseeing. Ensconced amidst the colossal Himalayas, this park gives you an astounding picturesque view of Kashmir Stags and Red Jungle Fowls. A wildlife and bird tour in this park will definitely be one of the most thrilling things to do in Kufri in May.
You can even spot Muntjacs and Bharals on site. Besides this, a vast variety of birds find their habitat in the Himalayan Nature Park. Awake the botanist and the zoologist in you! This is the dream destination for all wildlife lovers.
Location: Twenty kilometres from Shimla
Timing: 10:00 AM – 4:00 PMa
Entry Cost: ₹ 20 per adult, ₹ 10 per child
 7 Best Places To Visit Near Mcleodganj On Your Next Trip
4. Indira Tourist Park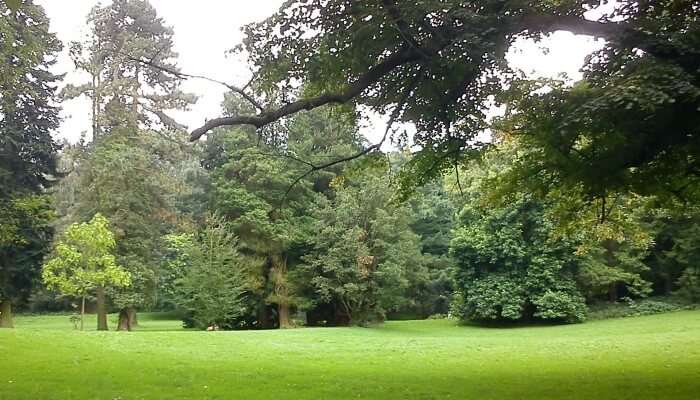 There is more to this memorial park than just being a tourist spot. It was named in honour of our late Prime Minister Mrs Indira Gandhi when she visited the area to sign the Shimla Agreement. You would be surprised at the fact that this is listed among the most visited Kufri tourist places. Set foot into the alluring green park and enjoy the rounds of gaming and bask by the ice-cream parlours.
Location: 19 km from Shimla, Kufri, 171012
Timing: 9:00 AM – 6:00 PM
Entry Cost: ₹ 10 per adult and ₹ 5 per child
 55 Hill Stations Near Delhi One Must Visit For A Peaceful Getaway!
5. Kufri Fun World

Image Source
Stir the adventurer in you at the Kufri Fun world. With enchanting fun activities, this is classified as the most amusing place to see in Kufri. Are you game for wild excitement? The Kufri Fun World offers you Zip-lining, Bungee Jumping, Sky Swinging, and many more adventure activities in Kufri to spice up your life. You can also take part in snow skiing and go-karting amongst other fun expeditions, and feel young once again, forever.
Location: Top of Mahasu Peak
Timing: 9:30 AM – 5:30 PM
Entry Cost: Varies depending on the adventure rides
 15 Places To Visit In Himachal Pradesh In December
6. Fagu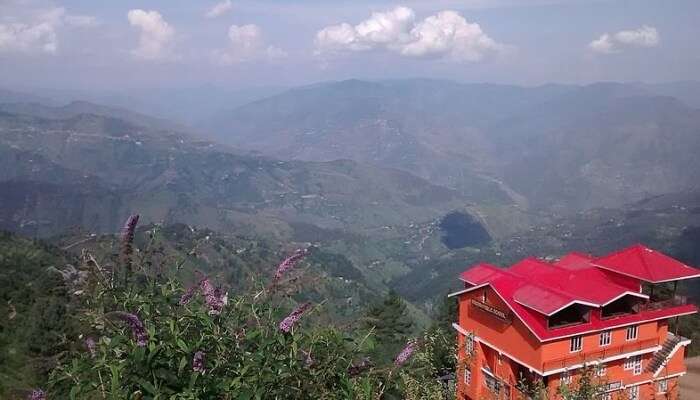 Image Source
Dribbling untold beauty, the Fagu claims a coveted spot in the must-visit places in Kufri in summer. Cedars and fog caressing the land in Fagu extend a heavenly sojourn and make it one of the most charming Kufri tourist places. Stretching to an altitude of 2,450 m, the fanciful landscape makes your heart thump out of excitement and awe. As the chill breeze tickles your face and smoothes your hair, you would reach the state of euphoria.
Location: Thirteen kilometres from Shimla
Timing: Dawn to Dusk
Entry Cost: Free
 Kufri In December: Your Little Guide To A Winter Holiday
7. Jakhu Temple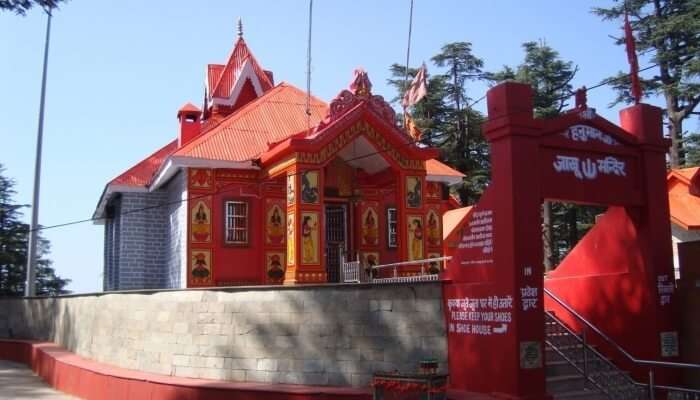 Frolicking spirituality in its every aspect, the Jakhu Temple, is famous among the spiritually thirsty sightseers. The temple encompasses a statue of the deity Hanuman which is famed for being one among the tallest of statues in the world. Folks seek refuge in this temple for peace and self-discovery.
Location: Top of Jakhu Hill
Timing:8:00 AM – 1:00 PM and 3:00 PM – 6:00 PM
Entry Cost: Free
 Honeymoon In Shimla: Guide To A Romantic Escape For Newlywed Couples
8. Hip Hip Hurray Amusement Park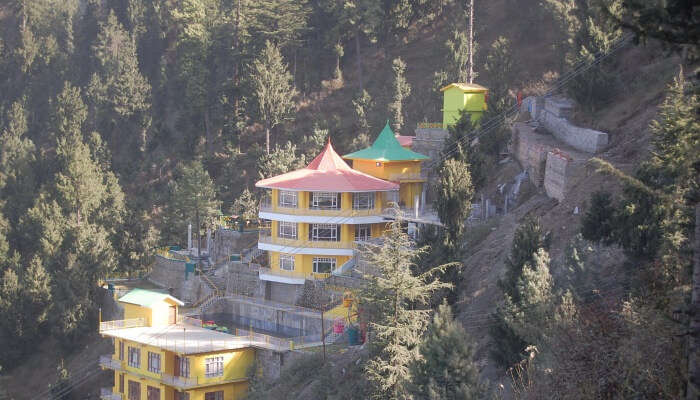 This is yet another decadent park to the adventuristic blood. Sprawling over 5000 sq. m. This park has indeed amused its inmates since its establishment. Whether you are looking for a physical adventure or a VR adventure, Hip Hip Hurray has it all. It's time to unleash the adventurer within at Hip Hip Hurray!
Location: Sixteen kilometres from Shimla
Timing:10:30 AM – 6:00 PM
Entry Cost: ₹ 100 for entry; ₹ 350 inclusive of rides
 Snowfall In Kufri: A Guide For Those Planning A Winter Vacay Here
9. Rupin Pass

Image Source
The Rupin Pass in Dehradun offers a classic trekking experience to the tourists. Commencing at Dhaula, Uttarakhand and terminating at Sangla in Himachal Pradesh, the Rupin Pass is the trekker's haven, especially when it is covered in snow during January and December in Kufri. Spanning for a high vertical distance, and housing a vibrant group of biotic species, the Rupin Pass dazzles the trekkers. Waterfalls, rivers, and meadows at the Rupin Pass are a sight to behold while trekking. The following are a few notable places that call for a moment of stay:
Jhaka Village
Kinnaur Temple
Kinner Kailash
Though the trekking in itself is a challenging task, there is nothing compared to the joy that is achieved at the end.
Trekking Route: Starting at Dhaula, Dehradun and winding-up at Sangla in Himachal Pradesh
Timing: Trekker's Choice
Entry Cost: Free
 10 Awesome Things To Do In Kufri That'll Enrich Your Himachal Travel Experience
10. Chini Bangla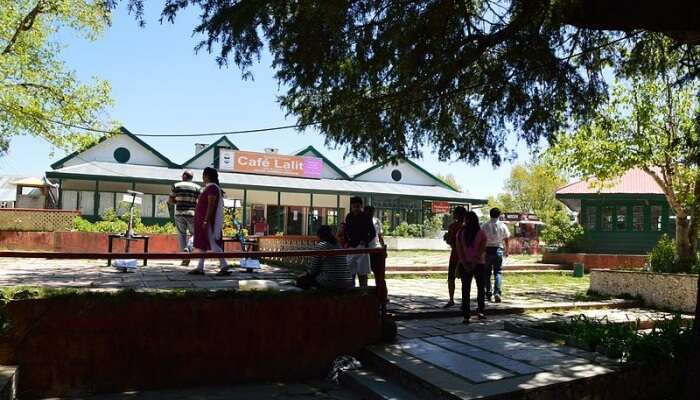 Renowned for its architectural marvel, the Chini Bangla, forms an integral component of Kufri sightseeing. Constructed in British fashion, the Chini Bangla attracts visitors from India and abroad. It is a stunning view as the lawn unfolds the residence forefront. The mountains and hills, green leaves and colourful, in the background, make the Chini Bangla a mystical place for sightseeing.
Location: Twenty kilometres from Shimla
Timing: 10:00 AM – 6:00 PM
Entry Cost: Varies depending on package
11. Shimla Water Catchment Wildlife Sanctuary – Catch Nature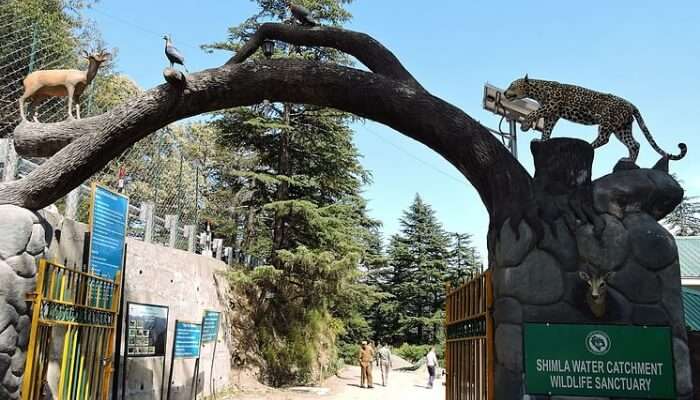 It is one of the finest places to visit in Kufri where you can catch the breath of fresh air along with some natural splendor. Supported by around 9 perennial streams, the sanctuary was created as a water reserve for the city of Shimla. The protected forest around has an area of 940 acres and has stood strong for 125 years now! The Chail sanctuary is connected to the south which means you can catch wildlife like pheasants, Indian red fox, goral, jackal and more.
Location: NH 22 Charabra Mashobra, Himachal Pradesh 171012
Timing: 8:00 AM – 6:00 PM
Entry Cost: ₹ 25
12. The Retreat Building – Royal Of A Place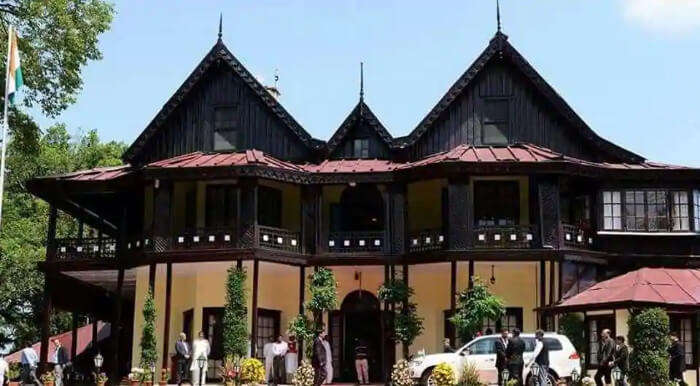 The Retreat Building is the official residence of the President of India. What makes this one of the grand and royal places to see in Kufri is the fact that the president visits here for 2 weeks during the summers and conducts official business. The building was built in the year 1850 and the architecture has been widely appreciated over the years. An amazing feature of this building is that it is purely made out of wood with a dhajji wall construction.
Location: The Retreat Building, Charabra, Himachal Pradesh 171012
Timing: 9:00 AM – 4:00 PM
Entry Cost: NA
13. Kufri Main Bazar – For Long Stay Requirements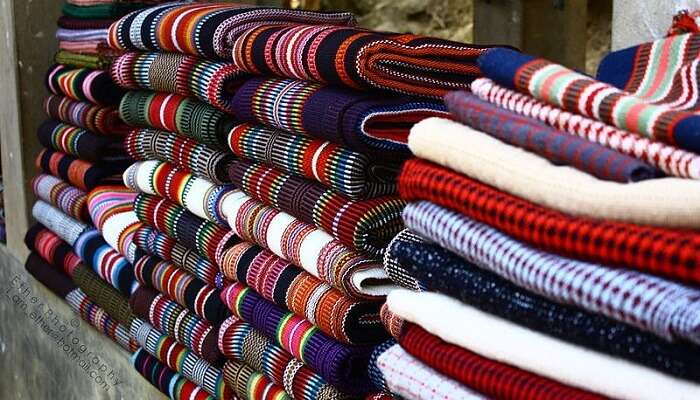 Hey, here's one for all the shoppers in town! Kufri main bazar is a place where you find all essential and general items. On a weekend visit, that might not be the case, but on a long trip, would you always like to rely on your hotel or you'd want to look forward to a market selling items at cheap prices. Therefore, not just shopaholics but all those with a prolonged can consider to be the best of places to see in Kufri. Garments, electronics, footwear, gift shops and some amazing street food vendors complete the list of many shops in the main bazar. 
Location: Kufri, Shimla, Himachal Pradesh 171012
Timing: 9:00 AM – 8:00 PM
Entry Cost: None
14. Kufri Zoo – Glimpse Of The Fauna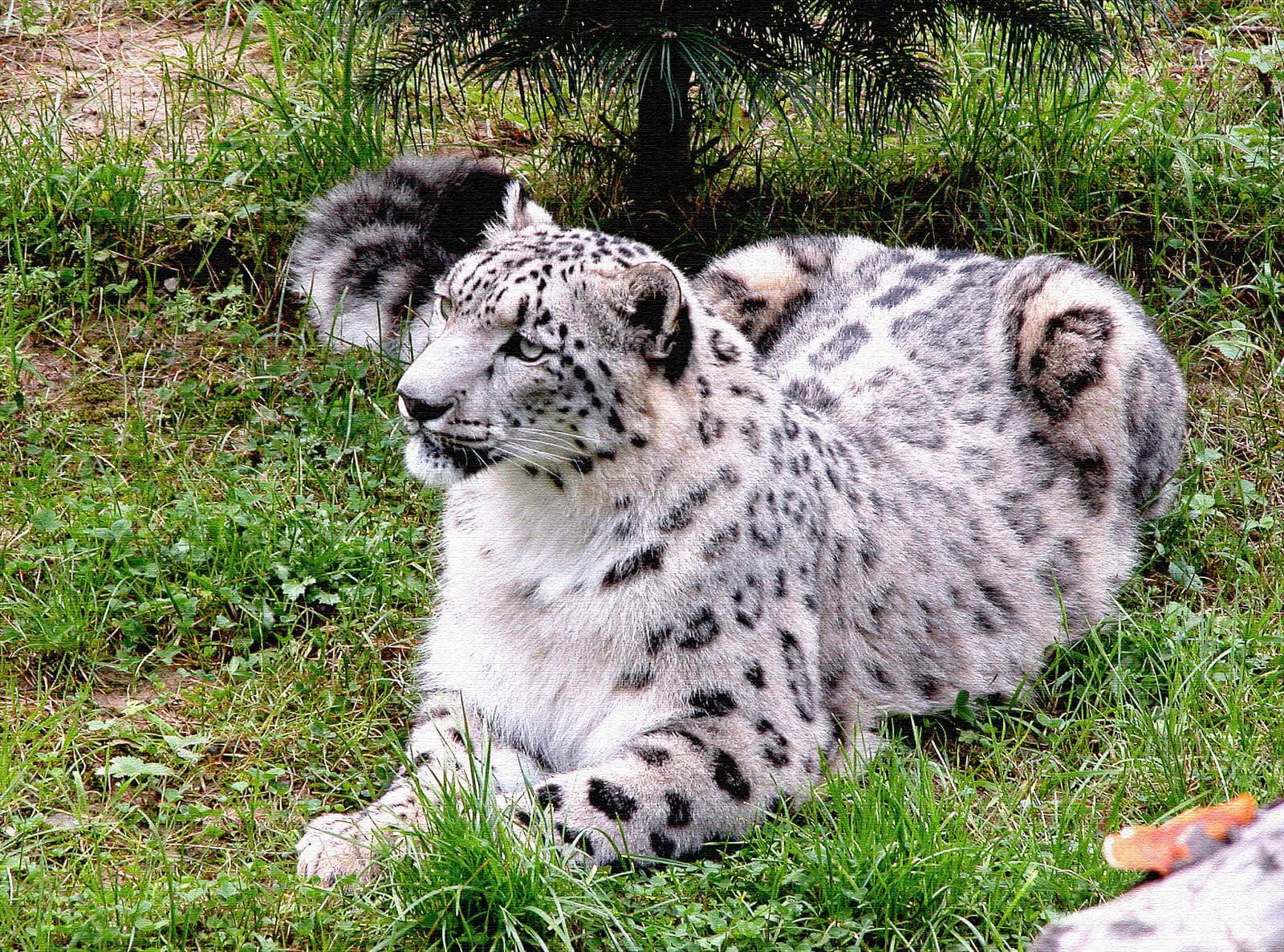 Here is another area where you can catch a break from cities. The zoo houses an amazing range of rich fauna including pheasants, patient kites, snow leopard and the rare antelopes. What makes it one of the most amazing places to visit in Kufri is that it houses a lot of birds and so birdwatchers will enjoy this paradise. Watch the exquisite nature unfold in front of your eyes, the well-maintained zoo will make you lose the count of time. It's that amazing! 
Location: Kufri, Himachal Pradesh 171012
Timing: 10:00 AM – 6:00 PM
Entry Cost: ₹ 25
Further Read: Homestays In Kufri: 11 Best Home Like Places Which Offers The Best Experience!
Each of these places to visit in Kufri are known for their local culture apart from the natural beauty. The welcoming locals of this hill town will make your trip to Himachal all the more intriguing as well as fulfilling. Do add most of these places to your itinerary if you're planning a visit to Kufri.
Frequently Asked Questions About Places To Visit In Kufri
Is Kufri worth visiting?
If you are a nature lover and adventure yearner, Kufri is your dream destination. The soft, white snow, the gentle breeze, the purple sunsets, and orange sunrises, are all few of the decadent treats you can relish during your sojourn in Kufri.
How can I go to Kufri?
By Flight
While Kufri doesn't house an airport, you can get down at the nearest one, which is Chandigarh Airport, away by 61 km. The next closest airport is the Bhuntar Airport in Kullu, Himachal Pradesh, away by 94 km.
By Train
You may take a train to Shimla. Then drive for about 11 km to reach Kufri.
By Bus
The nearest bus stand is Shimla and there are no bus routes from other major cities to this euphoric hill station.
Is there snowfall in Kufri?
While summers are calm and graceful in Kufri, there is no snowfall during that time. So, the best time to visit Kufri would be between November and March, whence there shall be abundant snowfall.
What is the best time to visit Kufri?
The months of April and June are the most suitable to enjoy adventurous activities and sightseeing. The months of December, January and February are the most suitable to enjoy skiing and snowfall.
What is famous in Kufri?
Trekking and Hiking
Skiing and Tobogganing
Nature Parks and Picnic Spots
What are the important places to visit in Kufri?
Some of the major places are:
1. Mahasu Peak
2. Kufri Valley
3. Himalayan Nature Park
4. Indira Tourist Park
5. Kufri Fun World
6. Fagu
7. Jakhu Temple
8. Hip Hip Hurray Amusement Park
9. Rupin Pass
10. Chini Bangla
What should I wear in Kufri?
There is no typical dress code in Kufri. However, the following are suggestions and reminders of what you need to be equipped with.
Summers:
Light clothing for the days, and warm clothing for the nights.
Winters:
Woollen clothing such as jackets, sweaters, monkey caps.
Other Accessories:
Sturdy shoes, Sunscreen, Sunglasses.
When can we see snow in Kufri?
During December, January and February you can witness snowfall in Kufri.
---
Looking To Book A Holiday Package?
---
People Also Read:
Places To Visit In Manali Places To Visit In Dalhousie Places To Visit In Kasol