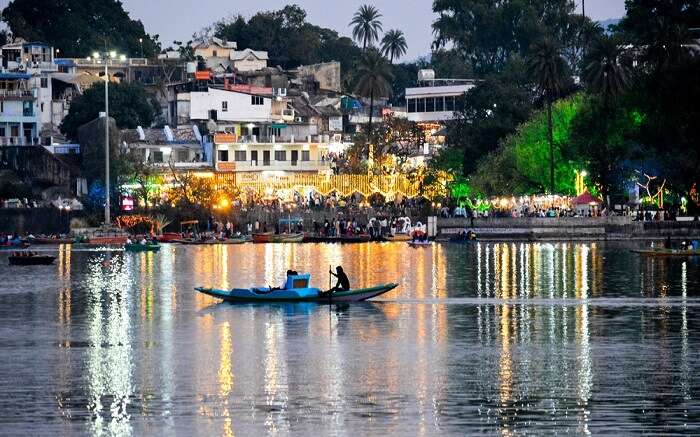 Rajasthan's only hill station and an all-year-round destination, Mount Abu is a traveler's paradise in every sense. Mount Abu is located in the lap of Aravalli Mountain, at the border of Rajasthan and Gujarat offering refreshing views and complete peace of mind to tourists of all kinds. With picturesque places to visit, Mount Abu also has a plethora of activities that will surely spoil you with choices. The list of best things to do in Mount Abu is quite extensive and long. Fret not! We have it sorted for you.
15 Things One Must Try While In Mount Abu
Mount Abu is the jewel of Rajasthan that blankets numerous experiences that one would never forget in their lifetime. Here is a list of 15 best things to do in Mount Abu which are some of those similar experiences that one would definitely cherish and crave for as long as one shall live.
1. Sightseeing: Explore The Hill Station

Owing to many cultural and historic landmarks and natural splendors, sightseeing is one of the best and most popular things to do in the beautiful Mount Abu. With places like Dilwara Jain Temple, Nakki Lake, Toad Rock, Guru Shikhar, Achlagarh Fort, Peace Park and Mount Abu Wildlife Sanctuary, sightseeing in Mount Abu is not only engaging but also thrilling at the same time.
Time: 24 hours
Charges: N.A
2. Nakki Lake: Engage In Boating

One of the best things to do in Mount Abu is to take a tour of sprawling Nakki Lake and enjoy boating there. Located at the heart of Mount Abu and popularly known as Nakki Jheel, this place is famous for paddle boats, row boats and shikhara. Boats are available for 30 mins to 1 hour for one group. Sail through this expansive water body and enjoy the surrounding beauty of lush green hills and forests. Other than boating, one can also enjoy zorbing and horse riding, on the bank of the lake.
Time: 8 am to 6 pm.
Charges: INR 50/person for 30 minutes ride in paddle boats and INR 100/person for 30 minutes ride in Shikhara.
3. Guru Sikhar: Trekking To Highest Peak Of Aravalli

Guru Sikhar is the highest peak of Aravalli, located at a distance of 15 kms from Mount Abu. Guru Sikhar is at an elevation of 1722 m and a trek to this fascinating spot is among the most exciting activities in Mount Abu. With the famous Guru Dattatreya temple on the road, the trek to Guru Sikhar is thrilling and moderately challenging but once you reach the point, the view of entire Mount Abu and surrounding region will simply make your jaw drop.
Time: 9 am to 5 pm
Charges: N.A
Suggested Read:21 Best Hotels In Mount Abu
4. Mount Abu Wildlife Sanctuary: Witness Wildlife

Visiting Mount Abu Wildlife Sanctuary and spotting exotic wildlife and birds is a matter of delight and excitement for people of all age groups. Sprawling over 290 sq. km, Mount Abu Wildlife Sanctuary boasts of endangered species of flora and fauna and make a perfect paradise for bird and wildlife lovers. Enjoy thrilling jungle trek and feel the thrill of spotting leopards, jungle cat, sloth bear, jackal, hyena, wolves, sambhar and wild boar, along with more than 250 species of birds, including nearly extinct grey jungle fowl. Undeniably, this is one of the most enthralling things to engage in, while holidaying in Mount Abu.
Time: 9:30 am to 5:30 pm
Charges: N.A
5. Aravali: Enjoy Trekking And Camping

Aravalli Mountain is known for trekking and camping and it is needless to say that Mount Abu is the hotspot for the same. Most of the trekking trails and camping grounds are found in and around Mount Abu Wildlife Sanctuary. Of all the experiences to encounter in Mount Abu, this is probably the most adventurous one. Trekking through forest trails and camping overnight in tents is relaxing and revivifying and make the vacation exciting and daring. One can also try other adventure activities like rock climbing and rappeling. Do not forget your camping equipment, appropriate apparels and trekking shoes.
Time: 24 hours
Charges: N.A
Suggested Read:25 Enthralling Places To Visit In Mount Abu
6. Sunset Point: Watching Sundown

At a distance of 3 km from Nakki Lake, a moderately steep ascend will take you to Sunset Point. Famous for most photogenic sunset views, this place allures nature lovers and peace seekers to a great extent. One can take a cab from Nakki Lake, hike uphill or ride on horseback to reach this viewpoint. Of the many things to do in Mount Abu, viewing sundown from Sunset Point is a must.
Time: 24 hours
Charges: N.A
---
Planning your holiday in Rajasthan but confused about what to do? These Rajasthan travel stories help you find your best trip ever!
---
7. Bailey's Walk: Enjoy Hiking

For all those seeking a relaxing but engaging trail, amid luxuriant surroundings, taking Bailey's Walk is one of the best things to do in Mount Abu. The walkway from Nakki Lake to Sunset Point involves hilly trails, zigzag roads and flights of stairs to ascend and it is always advisable to wear appropriate footwear during the hike.
Time: Dawn to dusk
Charges: N.A
Suggested Read:20 Things To Do In Rajasthan That Make It The Ultimate Vacation Destination
8. Travors Tank: Crocodile And Bird Watching

Named after a British engineer who constructed this, Travors Tank is a man-made reservoir, infested by crocodiles and fishes. Plus, Travors Tank is much famed for bird watching and you can easily spot hoards of peacocks and partridges. Located on Guru Sikhar Road, this place is surrounded by verdant forests and rocky outcrops and promises amazing views and overwhelming serenity. If you are a wildlife enthusiast; watching gigantic crocodiles, fishes and birds at Travors Tank should be on the top of your list of things to do in Mount Abu.
Time: 9 am to 5 pm
Charges: INR 30/person
9. Caving: Enjoy Spelunking At Various Hill Caves

If you love adventure and are in dilemma about what to do in Mount Abu other than trekking and camping, make sure you include spelunking or adventure caving in your list of activities. The place has many mountain caves like Champaa Caves and what's better than engaging in a thrilling cave exploration trip. Enjoy the hike, take photographs, feel the thrill and make fond memories of a lifetime. Doesn't matter, if you have never tried spelunking before; Mount Abu is the perfect place for you to give the first attempt.
Time: 24 hours
Charges: N.A
Suggested Read:68 Places To Visit In Rajasthan: A Glimpse Of Rajputana Splendor
10. Nakki Lake Market: Indulge In Retail Therapy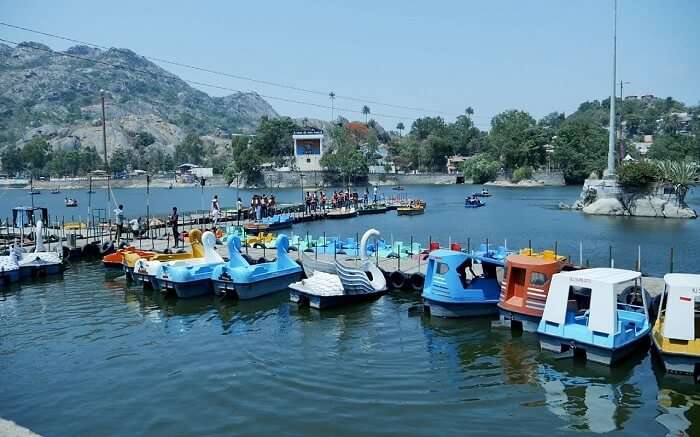 Do not leave Mount Abu without picking souvenirs and other knick-knacks for your loved ones. The area surrounding the Nakki Lake is lined with shops and shacks of local specialties. Nakki Lake market impresses every visitor with its wide collections of Rajasthani and Gujarati handicrafts, bangles, tie and dye textiles, Kota sarees, Jaipur quilt, linen with Sanganeri print and decorative items made of marble, sandstone, and wood. Fill your bags with items of your choice but do not forget to bargain.
Time: 8 am to 8 pm
Charges: N.A
Suggested Read:Savor The Local Food Of Rajasthan With These 15 Iconic Dishes
11. Rock Climbing: Satiate The Adventurous Soul

Image Source
Hiding an extremely adventurous sport for both pros and amateurs, Mount Abu is nothing less than heavenly for those travelers that are seeking to engage in some thrilling activity. Hair-raising and blood pumping activity, rock climbing, is one experience that makes one use all of their strength and remember it for the lifetime. This activity is carried out by professional trainers and supervisors and seems super easy even for the people who are trying it for the first time.
Time: 24 hours
Charges: N.A
Suggested Read:A Complete Guide To Mount Abu Summer Festival For First Time Visitors

12. Achalgarh Fort: Embrace The History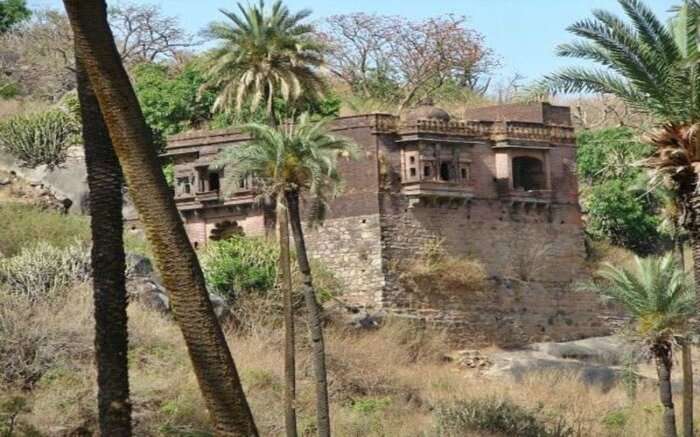 Exhibiting some of the finest elements of ancient architecture, Achalgarh Fort was under the reign of the Paramara dynasty. In the ancient days, this fort was used as a watchtower to keep an eye on the movement of intruders. Sitting at the top of a peak, this fort can be easily reached after climbing an easy trail. The ever so stunning and gorgeous Mandakini lake that is located nearby happens to be the perfect backdrop for some perfect captures.
Time: 24 hours
Charges: N.A
Suggested Read:18 Best Hotels In Mount Abu For Honeymoon Couples

13. Dhrudhiya Waterfall: Feek The Refreshing Vibes

Paying a visit to these magical and enchanting waterfalls would definitely turn out to be a worthwhile experience. If one is seeking the hidden and unexplored jewel, Dhrudhiya Waterfalls is definitely the answer. The milky white and chilly waters of these falls makes a perfect spot to get refreshed and relax the mind, body, and soul. This waterfall, nestled in the dense forest, is nothing less than paradise on earth for nature lovers and admirers.
Time: 24 hours
Charges: N.A
Suggested Read:25 Enthralling Places To Visit In Mount Abu On Your Vacation

14. Raghunathji Temple: Soak In The Spirituality

Image Source
Built-in the ancient times of the 14th century, Raghunathji Temple is dedicated and devoted to Shri Raghunathji. An incarnation of Lord Vishnu, the temple of Shri Raghunathji attracts numerous devotees of God. It is believed that this incarnation of Lord Vishnu helped save the followers and believers from numerous calamities and hence, has religious significance latched to itself.
Time: 24 hours
Charges: N.A
Suggested Read:Mount Abu Honeymoon Point: Witness The Mystical Beauty Of Nature

15. Toad Rock: Witness The Natural Marvel

Image Source
One of the famous sightseeing attractions and the mascot of Mount Abu, the shape of Toad rock totally justifies the name. Located at the peak of a hill, the height of this rock is also another favorite feature amongst locals and tourists alike as it exhibits some magnificent and breathtaking views of the entire hill station.
Time: 24 hours
Charges: N.A
Best Time To Visit Mount Abu

Mount Abu has a pleasant climate throughout, hence attracts tourists round the year. Summer months from April to June are pleasant and comfortable, with temperature ranging between 23-33 degrees Celsius. If you wish to enjoy the rain and relish the luxuriant surrounding, visit Mount Abu between July and October. Probably the best time to explore this scenic hill station in winter, from November to February.
The weather is extremely soothing and temperature fluctuates between 12 to 30 degrees Celsius. Moreover, the cool winter breeze soothes and rejuvenates the mind and body and this comfortable cold season make Mount Abu, a perfect choice as a winter retreat.
How To Reach Mount Abu

By air: Maharana Pratap Airport at Udaipur is at a distance of 210 km and is the nearest airport to Mount Abu. One can also get down at Sardar Vallabhbhai Patel Airport at Ahmedabad, 221 km away. Both these airports are connected with all major cities of India.
By train: Nearest railhead is at Abu Road- 32 km away. There are regular trains to Abu Road from Delhi, Mumbai, Ahmedabad, Jaipur and other major cities.
By road: Regular buses (Both private and state government) ply between Mount Abu and Udaipur, Jaipur and Delhi.
Suggested Read:10 Mount Abu Resorts For A Blissful Vacation In The Aravallis
With the list of best things to do in Mount Abu, now plan a vacation to Mount Abu, the hilly retreat, right away. Along with exploring beautiful places of Mount Abu, indulge in some of the fun and exciting activities and make the most of the holiday.
For our editorial codes of conduct and copyright disclaimer, please click here.
Frequently Asked Questions About Things To Do In Mount Abu
Is Udaipur better than Mount Abu?
Mount Abu is a beautiful hill station located amid the stunning hills of Aravali, on the other hand Udaipur is a city filled with museums, lakes, forts and great architectural sights. Both the places have their own charm and you can pick out the destination as per your choice.
What is famous in Mount Abu?
Mount Abu is a destination that is home to some of the most beautiful and eye-catching attractions and memorable experiences that one tends to cherish forever. There are numerous famous places to witness in Mount Abu including Guru Shikhar, Toad Rock, Aravali, and many others.
Is Mount Abu Open?
Yes, Mount Abu is open for travel. But make sure to take all the necessary precautions needed and follow all the guidelines issued by the government like wearing masks at all times, maintaining social distance and sanitizing yourself. Also before travelling get yourself vaccinated with both the doses to stay safe and avoid any spread of virus.
What should I buy in Mount Abu?
There are a lot of things that you can consider buying from the markets of Mount Abu. you can find various bangles, sarees, quilts, sandstone, sandalwood, marble decor items, and some exclusive souvenirs.
What is famous in Mount Abu?
Mount Abu is a destination that is home to some of the most beautiful and eye-catching attractions and memorable experiences that one tends to cherish forever. There are numerous famous places to witness in Mount Abu including Guru Shikhar, Toad Rock, Aravali, and many others.
How many days are required in Mount Abu?
In about 2 days and 2 nights you can make the most of your trip to Mount Abu. 2 days are enough to cover maximum attractions in this hill station.
What is the best time to go to Mount Abu?
Even though it does not snow in the hill station of Rajasthan, Mount Abu, you must plan a visit to this place during the winter season, between the months of November and February. You can also visit the hill station in the monsoon season.
Is Mount Abu safe?
This city is considered to be one of the safest places in India. Here, the crime rates remain quite low and walking on the streets anytime of the day or night is extremely safe in this hill station. If you are planning a solo trip in Rajasthan, then a visit to this place is a must. However, do take care of your belongings.
---
---
People Also Read:
Things To Do In Goa Things To Do In Calicut Things To Do In Coimbatore