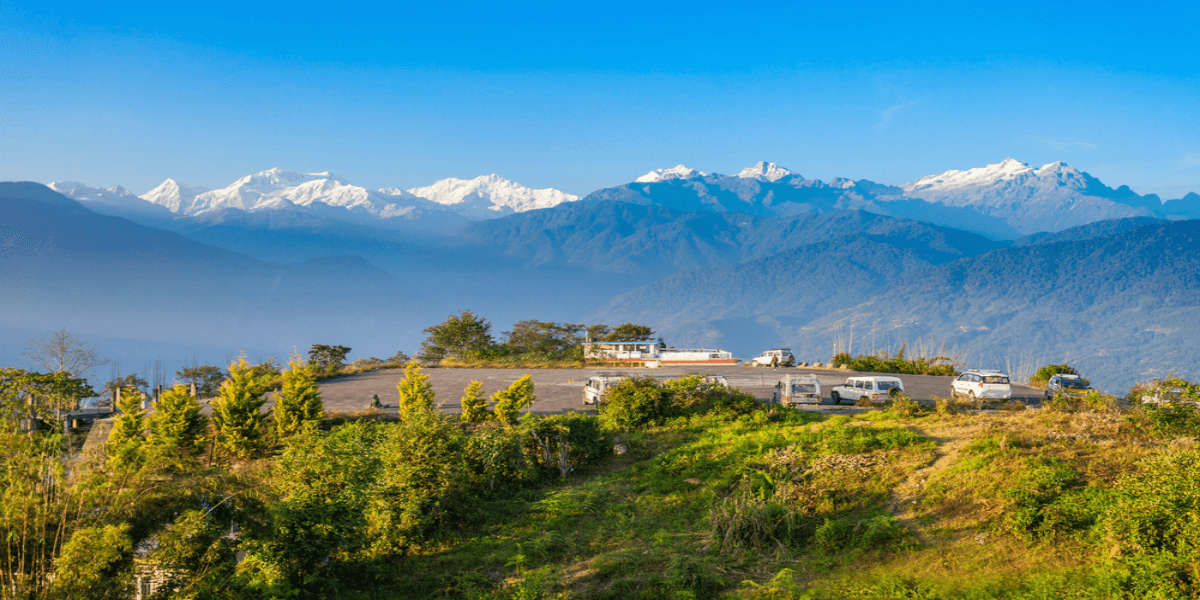 Nestled in nature's lap, in West of Sikkim, Pelling is a cultural extravaganza and a serene hideout at the same time. It is a lovely hill station that must feature in your Sikkim tour itinerary. Take out a day or two to explore its beauty and attractions. Though you might want to simply glance at the snow-capped Kanchenjunga range from the balcony while sipping on hot tea, as your favorite song plays in the background, the attractions in our list of places to visit in Pelling will urge you to get going and explore this Himalayan wonder.
From laid back travelers to adventure seekers, Pelling and its tourist attractions cater to all! It has historical ruins that make you picture the olden days, natural beauty that soothes the soul, and gushing waterfalls that make perfect music for a lullaby. In winters, it lures with patches of snow that add a dash of white to the already vibrant hill-station.
Best Time To Visit Pelling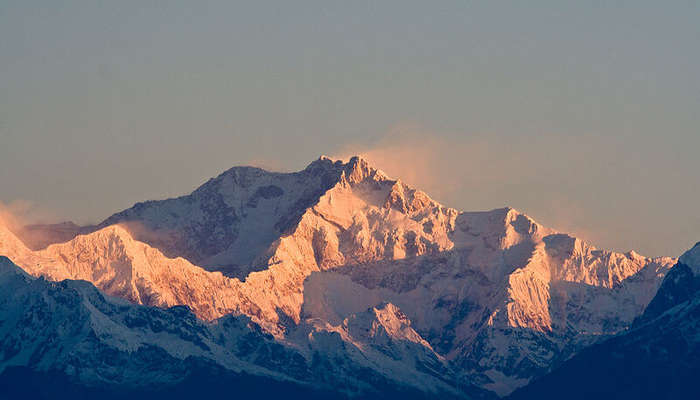 With ample attractions in each season, Pelling has its arms wide open to welcome travelers all around the year. Still, to narrow it down, the best time to visit Pelling can be split into two durations:
Mid February to June – Perfectly pleasant to enjoy clear views of the mighty peaks. Also, the snow has melted by this time and greenery starts to cover the mountains.
September to December – Just before the winter season, it is pleasant to enjoy all day tours comfortably.
During summers the weather is at its best, and you can enjoy a clearer view of Mount Kanchenjunga. Winter is, however, perfect for snow lovers, as most of the times the region gets carpeted with snow.
P.S. Despite these best spans, each of the places to visit in Pelling have a specific period when it looks the best. Look out for specifications as you read on.
Suggested Read: 12 Places To Visit In Sikkim In 2019: Extraordinary Realms In The North East
---
Sikkim-Gangtok-Darjeeling Holiday Packages On TravelTriangle
Visit Sikkim and explore Yumthang valley, Tsomgo Lake, Gangtok, Nathula Pass, and Pelling. Experience peace and tranquility while exploring Buddhist monasteries, snow-capped mountains, and wildlife sanctuaries. Book packages inclusive of airport transfers, cab, resort, sightseeing, and meals.
---
Top Tourist Attractions In And Near Pelling
Explore everything ranging from stunning landscapes to religious points of interest.
1. Sangachoeling Monastery – A Buddhist Pilgrimage Highlight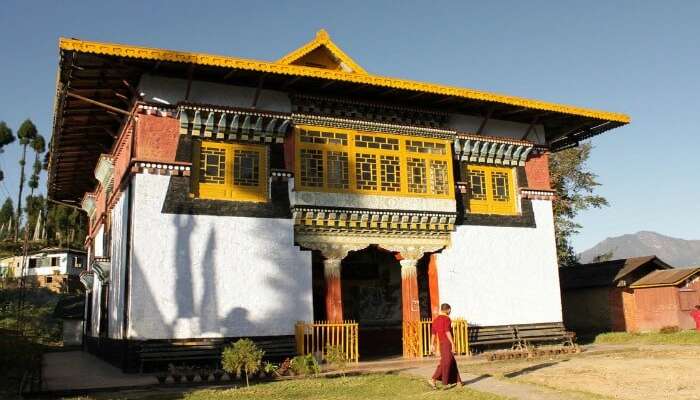 Sangachoeling Monastery was built in 17th century and is an important highlight of the Buddhist pilgrimage circuit. The route to this monastery takes you through rich forest cover and hilly terrain. On reaching the Monastery, the view makes the trek worth it. The most popular among many places to visit in Pelling, Sangachoeling must be on your Pelling itinerary.
Distance from Pelling: 8.5 km
2. Darap Village – A Paradise With Quaint Homestays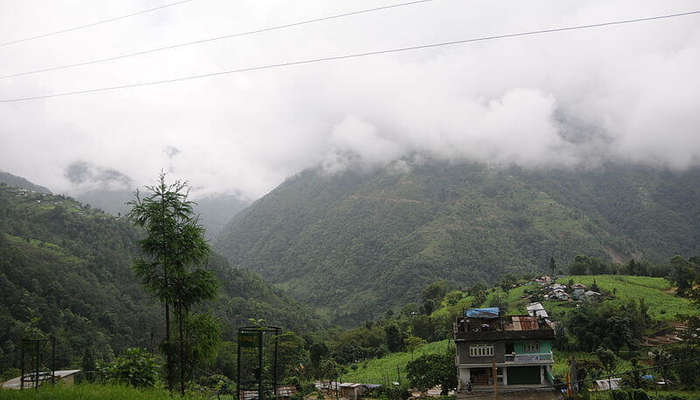 Image Source
A culturally rich village, Darap is soon emerging as a popular homestay destination among tourists visiting Pelling. The village is inhabited by many ethnic communities like Bhutias, Tamangs, Chhetris and Gurungs, among others. The area is developing gradually and owing to its pristine beauty and easy connectivity, it is quickly becoming travelers favorite.
Activities to try: You can relax in the beautiful homestays, or if you plan to head out – indulge in various activities such as hiking, visiting the 2 centuries old Limboo house, bird watching, and splashing water in the many streams in Darap.
Distance from Pelling: 14 km
Suggested Read:12 Best Places To Visit In Sikkim In Summer 2019 To Witness Nature's Grandeur!
3. Sewaro Rock Garden – An Awesome Picnic Spot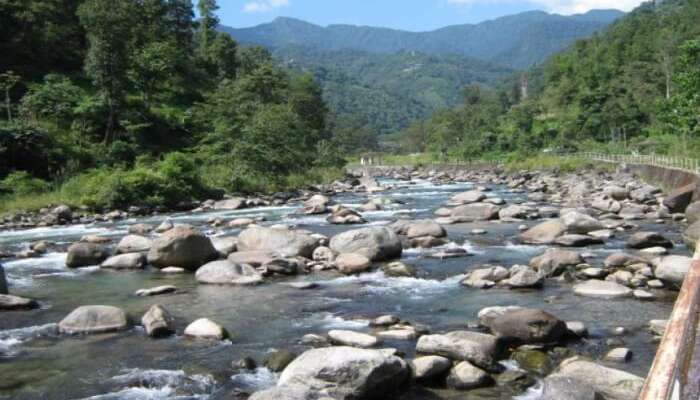 Sewaro Rock Garden is a preferred picnic spot and among the important places to see in Pelling. Dotted with streams, fountains, gardens and more, it is the perfect spot for families, couples and friends to have a gala time, click pictures and simply listen to the song of nature.
Best time to visit Sewaro Rock Garden: Dont miss the Maghe Mela held on 14th January. Maghe Mela or Maghe Sankranti is an important festival for locals. It is primarily a religious festival wherein people take holy bath in the stream. Also, tourists can enjoy various adventure activities that are a part of the festivities.
4. Singshore Bridge – The Highest Bridge In Sikkim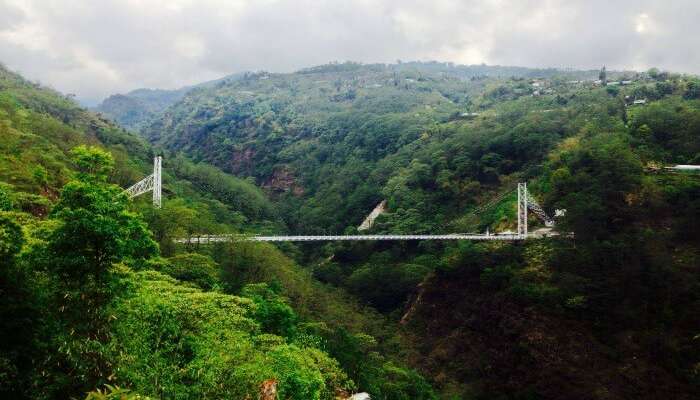 Singshore, the highest bridge in Sikkim, has an elevation of 198 m above the ground. Assuring spectacular views and incredible clickable sights, it also happens to be among the highest gorge bridges in Asia. Since it is encircled with lush green hills that are dotted with waterfalls, Singshore Bridge has become a popular attraction among tourist places in Pelling.
Distance from Pelling: 28 km
Suggested Read:31 Reasons Why You Should Never Visit North East India
5. Rimbi Waterfall – The Fall Will Make You Fall In Love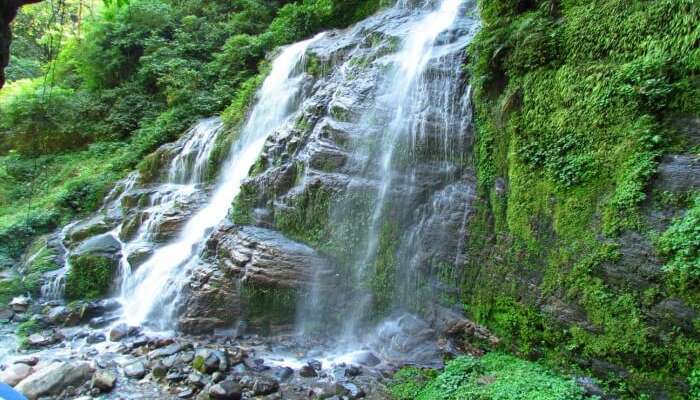 Rimbi Waterfall, another one of beautiful places to visit in Pelling, is more than just a treat to the eyes. The glinting waterfall turns into Rimbi River, which is frequented by locals and tourists for various recreational activities like swimming and fishing. Whether you go fishing or not, do try a local preparation of Assala – a variety of fish found only here.
Best time to enjoy Rimbi Waterfall and River: Both summer and winter are perfect for enjoying Rimbi. It is during monsoon, that the water current in the river and around the fall increases. It is suggested not to visit the fall around this time.
6. Kanchenjunga Fall – The Milky Stream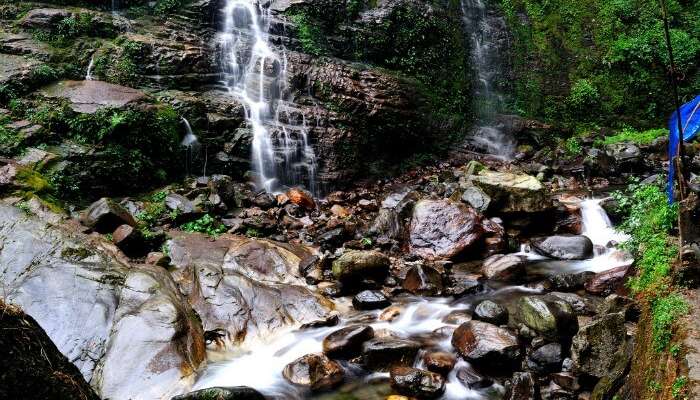 As this Himalayan stream gushes down to the ground, it sings a song youd want to put on repeat mode. Kanchenjunga Fall, being an important tourist attraction of Sikkim, is a must visit when youre in Pelling. Its just an hour away and takes you through a truly scenic route. The rocky path leading to the fall lets you get closer to nature.
For adventure-junkies, there is an option of rope sliding.
Best time to visit: Being a perennial waterfall, Kanchenjunga Fall can be visited anytime. The best time, however, is after the monsoon season.
Distance from Pelling: 30 km
Suggested Read:Sikkim In December: Find Exciting Experiences In The Winter Wonderland Of North-East
7. Khecheopalri Lake – Where Tranquility And Divinity Blend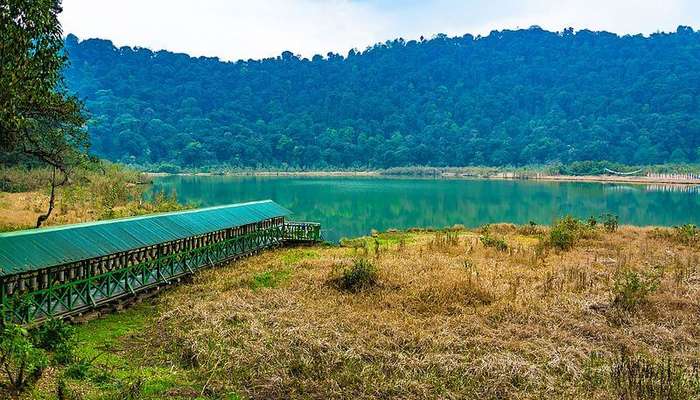 A serene and scenic attraction, Khecheopalri Lake holds religious significance as well. Buddhists and Hindus both consider this lake a divine one. Also, for trekkers and explorers, it is one of the best places to visit in Pelling, Gangtok. You can spend a night in the nearby lodges that allow quick access to the lake.
Best time to visit Khecheopalri Lake: The lake is best visited anytime! Try not missing Maghe Purne Festival celebrated by chanting hymns floating diyas on the lake and offering food. This 2-day festival is organized in March/April.
Distance from Pelling to Khecheopalri Lake: 32 km (takes an hour to reach). The lake is an important highlight of the Yuksom-Pelling trek that passes through hamlets, woods and cardamom fields.
8. Kanchenjunga National Park – One Step Closer To Nature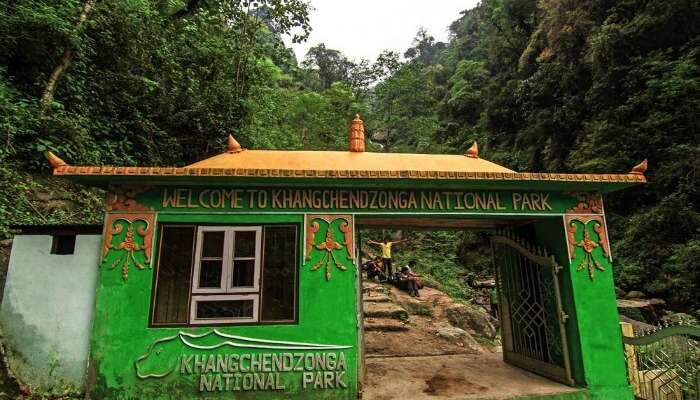 How about catching sight of snow leopards, musk deers and other wild animals while on your trip to Pelling- Best idea ever! Kanchenjunga National Park covers about 849 km sq. of area, which is affluent in terms of flora, fauna, avifauna and even glaciers. Trekking in Kanchenjunga National Park is a refreshing experience, but make sure you obtain the permit from Wildlife Education and Interpretation center at Yuksom.
Best time to visit Kanchenjunga National Park: April to May is the time when this tourist attraction sees the best weather for safari, with maximum chances of spotting rare species.
Stay facilities: The forest department has introduced rest houses located in Yumthang and Lachung.
Distance from Pelling: 32 km
Suggested Read:10 Fantastic Things To Do In Pelling For A Taste Of The True Sikkimese Heritage
9. Kaluk – In Natures Lap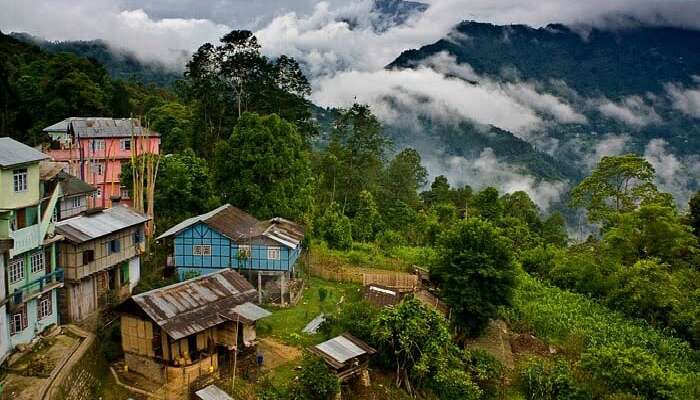 Kaluk – another one of stunning places to visit in Pelling,Sikkim, is an unexplored haven inhabited by Lepcha tribe. This is a perfect spot for those who seek to live close to nature in a peaceful ambiance. Dont forget to visit Bersay Rhododendron Sanctuary for a lovely experience and beautiful pictures.
And just 2 km away from Kaluk is Rinchenpong. A short trek from Kaluk to Rinchenpong is highly recommended. It is a refreshing trek that takes you through lush meadows and woods filling you with calmness and tranquility.
Distance from Pelling: 35 km
10. Pemayangtse Monastery – Admiring The Buddhist Heritage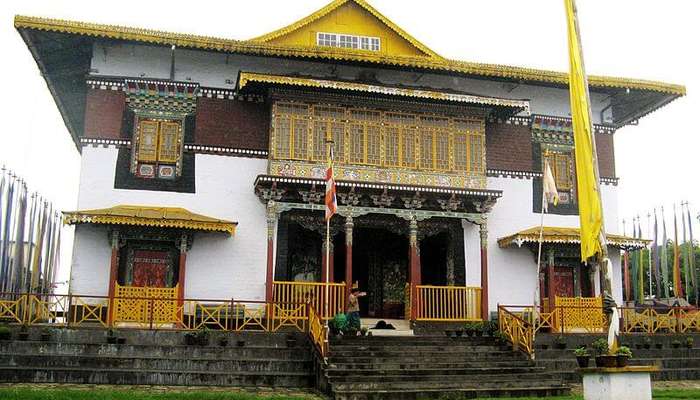 This three-storied aesthetic structure dates back to the 17th century and is among the most important places to visit in Pelling. Sculptures and paintings adorn the monastery, but the highlight is the seven-tiered model of Guru Rimpoche, made of wood and decorated with rainbows and fairies.
Perched at an altitude of 6840 feet, Pemayangtse Monastery is a treasure trove of various Buddhist scriptures, antiques, sculptures and other artforms youd want to glance at.
Best time to visit Pemayangtse Monastery: To make the most of your time here, visit the Monastery during colorful Cham Festival (Jan-Feb)
Distance from Pelling: 36 km
Suggested Read:15 Top Things To Do In Sikkim For Unbeatable Adventures In Breathtaking Landscapes
11. Rabdentse Ruins – History With A Magnificent View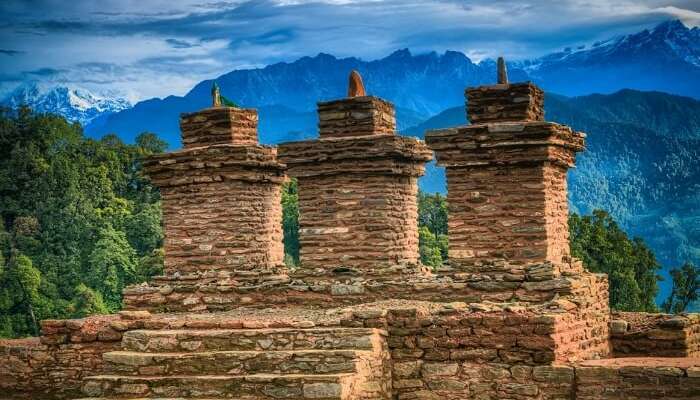 Just at walkable distance from Pemayangtse Monastery, surrounded by thick woods and lakes, is where youll find Rabdentse Ruins – a popular tourist attraction in Pelling. The sight is of national importance, as announced by Archeological Survey of India. Chadok Namgyal established it in 1670 post shifting his capital from Yuksom. All of Chadoks establishments in the city were destroyed by Gurkha army, only the chortens and the ruins were left behind.
Your Pelling sightseeing is incomplete without a visit to these ruins with history dating back to way before 1800s.
Timings of Rabdentse Ruins: The Ruins are open through the week, from 6 am to 6 pm. Try visiting during daylight.
Distance from Pelling: 36 km (approx)
12. Tashiding Monastery – A Buddhist Pilgrimage
Found in 1641, Tashiding is counted as one of the most pious Buddhist monasteries in Sikkim. The premises is prettified with 41 chortens – known as Chortens of Enlightenment. Though the monastery is beautiful in every sense, the charm elevates during the Bhumchu Festival. During the festival, the holy water kept inside the Monastery is put to public display and lovely Buddhist traditions can be witnessed and understood. If you like cultural celebrations, this monastery must be covered during sightseeing in Pelling.
Best time to visit Tashiding Monastery: Visit during February/March when Bhumchu Festival is held.
Distance from Pelling: 36 km
Suggested Read:10 Monasteries In Sikkim Exhibiting The Best Of India's Cultural Heritage
13. Yuksom – Home To Clean And Calm Lakes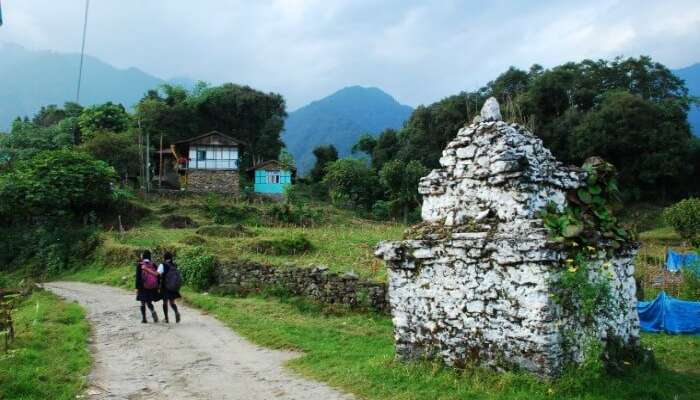 Yuksom is a rather popular attraction of Sikkim and is located just 40 km from Pelling. It houses Dubdi Monastery, which was built in 1701 and is an important part of Buddhism pilgrimage. Other than the monastery, Yuksom has some of the cleanest lakes. Just sit by any of lakes to enjoy the serenity and quietude of the surroundings.
Distance from Pelling: 40 km
14. Changey Waterfall – Bliss Amidst The Hills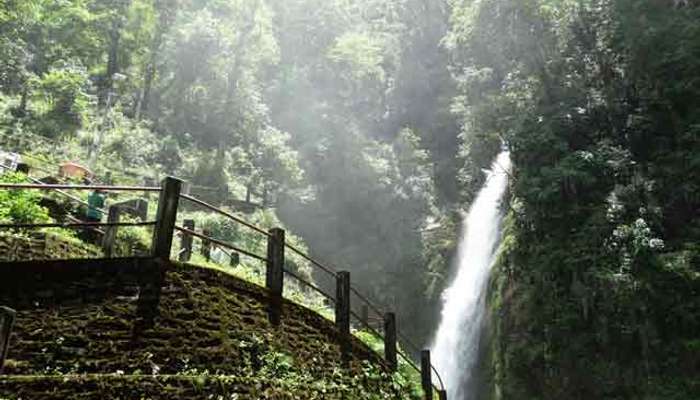 Changey Waterfall looks pretty much like a white line, emerging from dense greenery falling from a height of 300 m. In fact, this piece of nature comes with a topping of cheese. Cheese lovers must not miss the cheese factory located in the nearby Dentam Village.
Suggested Read:12 Places To Visit In Sikkim In 2019: Extraordinary Realms In The North East
15. Ravangla – A Whole New Paradise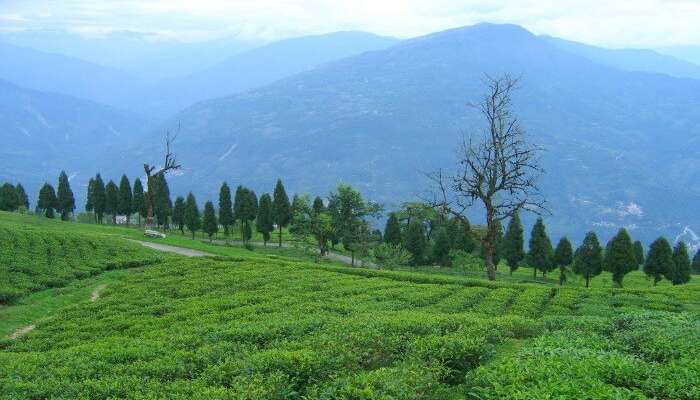 Heading off to Ravangla from Pelling is like opening yet another door to a whole new world. This town is quite popular among avid travelers and is well connected to Gangtok, Pelling and other places. Other than being a sheer delight to the eyes, Ravangla offers a spectacular view of various major peaks such as Kanchenjunga and Kabru. A bird-lover would want to stay here forever, as you can spot Verditer Flycatchers, Blue Whistling-Thrush and a few other birds.
Also, Ravangla is the starting point of the ultimate trek to Maenam Wildlife Sanctuary. From monastery-hopping to adventure activities, Ravangla is the boss of all.
Distance from Pelling: 49 km (approx)
How To Reach Pelling
Depending on time and your location, you can reach Pelling via air, rail or road.
Nearest airport from Pelling: Bagdogra Airport is the nearest airport from Pelling, located about 160 km away. It is connected to Delhi, Mumbai and Kolkata. One can hire a cab or take a shared cab from Siliguri to reach Pelling.
Nearest railway station from Pelling: New Jalpaiguri Station, at a distance of 152 km. It is, again, connected to Delhi, Kolkata and Mumbai. Taxis are easily available outside the station.
The roads in Pelling are in a nice condition, and thus taking a bus or a rented/private vehicle is a good idea. However, owing to high elevation it's better visited in Sumo or similar vehicle.
Further Read: A-Z Guide To Make Your Honeymoon In Sikkim An Affair To Remember
Now you know how to plan a perfect holiday in Pelling for a surreal and out of the world experience. Isn't this the ultimate list to chalk out your plan for sightseeing in Pelling? If not, drop a comment to add more popular or offbeat places to the list! And for now, book your tickets to Sikkim, head to Pelling and treat yourself!
Frequently Asked Questions About Places To Visit In Pelling
Q. Does Pelling have snow?
A. You will be able to see snow in Pelling in the winter months only. Pelling is usually covered with a blanket of crisp white snow in the months of December and January, while the snow stays till February. When you're in Pelling in the winter season, you can indulge in many snow sports like skiing, sledding, snowboarding, and more. If adventure is not your cuppa tea and you just want to relax, you can hang out at the markets, enjoy the delicious food, and make snowmen in the snow.
Q. What is the best time to visit Pelling?
A. The most suitable time to take a trip to this captivating town of Pelling is between the months of September to May. September is the autumn season here and it's a great tie to witness the natural beauty of this place. The winter season begins in November and brings in snow in the months of December and January, offering stunning views of this white wonderland and various snow sports. The onset of the summer season is the most favorable time to visit Pelling since there is lush green foliage around and lots of sunshine, letting travelers indulge in various activities like sightseeing. Monsoon happens to be the least preferred season to visit Pelling owing to the torrential rains, slippery roads, and high chances of landslides.
Q. How far is Pelling from Bagdogra?
A. Bagdogra is located around 140 km away from Pelling. The airport at Bagdogra is the nearest airport to Pelling, while the New Jalpaiguri Junction railway station located in Siliguri is the nearest railway station to it. So, if you wish to travel to Pelling, you will need to get down at either of these (by a flight or train, of course!) and take a bus or taxi from there to reach Pelling.
Q. How do I get to Pelling from Bagdogra airport?
A. The nearest airport to Pelling is the Bagdogra Airport located at Bagdogra in Siliguri. It is approximately 140 km away from Pelling city center and you can easily get a taxi or a state-run bus from here for your onward journey to Pelling. This airport manages a regular air traffic to and fro all the major cities of India. You will easily be able to get a flight to Bagdogra from cities like Delhi, Mumbai, Chennai, and Kolkata on your preferred date of departure via some of the most popular domestic airlines.
Q. How do I get to Pelling from NJP?
A. The New Jalpaiguri Railway Station is the nearest railway station to Pelling. It is super easy to get to Pelling from this station since there are plenty of taxis available right outside the station along with the North Bengal Tourism rental cars willing to take you to Pelling in a low fare. You can also hop into any of the state-run or private buses going towards Pelling designated bus stands near the railway station. It takes about 5 hours 30 minutes to reach Pelling from New Jalpaiguri Railway Station.
Q. How far is Pelling from Gangtok?
A. Pelling is located at a distance of 120 km away from Gangtok which can be covered in a 5-6 hours drive.
Comments
comments