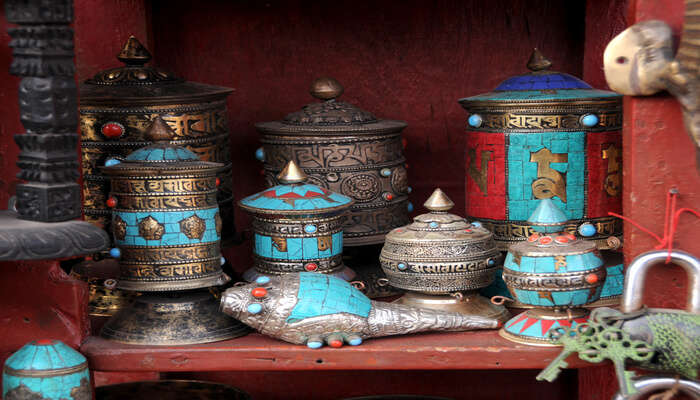 A picturesque hill station nestled in the mesmerizing mountains of Sikkim, Pelling has always been quite famous among tourists because of its scenic beauty. However, its quaint natural charm is not the only thing that attracts wanderers to this place. There are also various other things which make Pelling irresistible. Among them, shopping in Pelling is one of the most prominent factors that lures people here. Let us tell you the best places for shopping as well as what to buy in those markets and bazaars.
3 Best Places For Shopping In Pelling
Here are the best markets and shopping avenues in this charming hill station that you can visit for a light and enjoyable shopping spree. Shopping at these places will surely make your trip more enjoyable.
1. Geyzing Bazaar
2. Lama Tenzing Wangdak Place
3. Rural Artisan Marketing Center
1. Geyzing Bazaar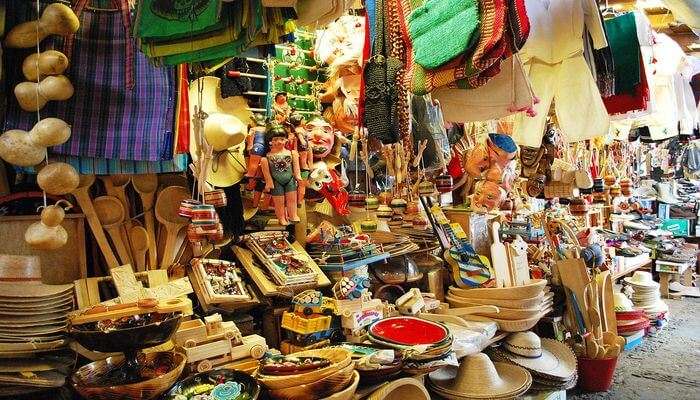 Geyzing Bazaar is a small region in Sikkim that is situated only 10km away from the center of Pelling. Established more than 100 years ago, this place is known to be one of the biggest and oldest shopping places in Pelling as well as Sikkim. Geyzing Bazaar was established by a monk of Pemayangtse Monastery and, primarily, served as shopping for the residents of the village. However, now, it houses every kind of shops and stores, from where you can buy anything and everything.
Most of the local people usually come to Geyzing Bazaar for doing their daily shopping, such as vegetables, rice, and other stuff. However, here, you can also find numerous artifacts' shops, from where you can buy exclusive Tibetan Carpets, Wall Hangings, and the world-famous Sikkim Tea.
Address: Geyzing, Sikkim 737111
Timing: 8:30 AM to 7:30 PM
Must Read: 11 Fantastic Things To Do In Pelling For A Taste Of The True Sikkimese Heritage
2. Lama Tenzing Wangdak Place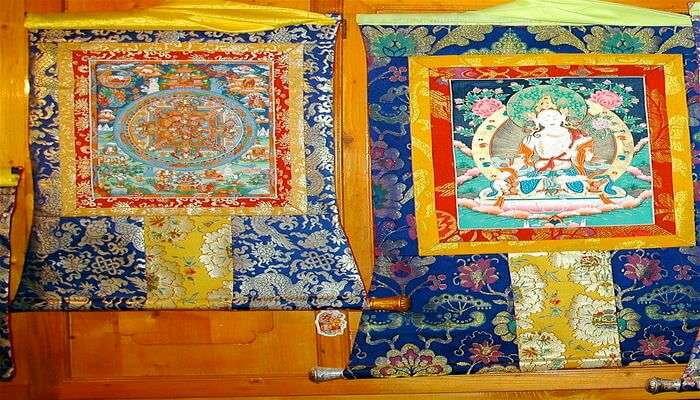 When talking about the best shopping places in Pelling, the first name that comes to mind is Lama Tenzing Wandak Place. Located beside the Hotel Sonamchen of Pelling, this place has an excellent collection of handmade Tibetan Thangkas and offers them at affordable pricing.
Aside from that, you can also get numerous other touristic souvenirs from here, such as Tibetan Carpets and various types of artifacts.
Address: Hotel Sonamchen, Pelling, Sikkim, India
Timing: 9:00 AM to 7:00 PM
Suggested Read: 20 Bewitching Places To Visit In Pelling And Its Vicinity In 2022
3. Rural Artisan Marketing Center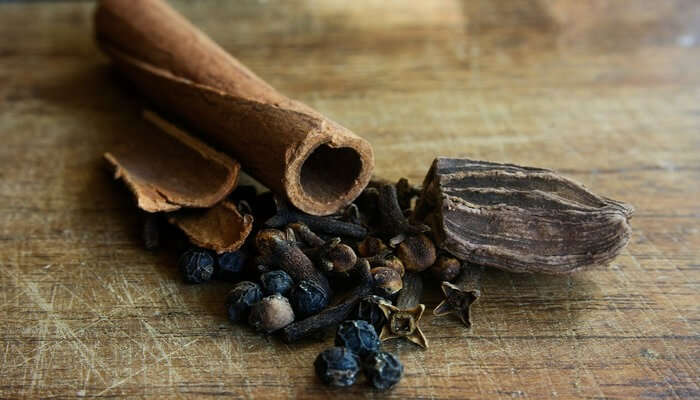 Like the other two shopping markets in Pelling, the Rural Artisan Marketing Center also houses traditional costumes and local crafts stores. Besides that, you can also find various organic products here like walnuts, Tibetan tea, and cardamoms. The market also has various traditional Buddhist handcrafted items, which are aesthetically quite beautiful. So, if you want to, then you can also take them to your home as souvenirs. You can also buy Tibetan prayer flags and Lepcha weave shawls from here.
Address: Pelling, Sikkim, India
Timing: 8:30 AM to 7:00 PM
Suggested Read: 6 Amazing Things To Do In Yuksom On A Culture Trip To Sikkim In 2022
10 Best Things To Buy In Pelling
When it comes to the places to do shopping at Pelling, the small town does not have many options. However, if you want to, then you can buy a lot of things and souvenirs from here. The following are some of them.
1. Tibetan Carpets
2. Thangkas
3. Silver Jewelry And Precious Stones
4. Jams And Juices
5. Tibetan Masks
6. Local Liquor
7. Choksee
8. Prayer Flags And Figurines
9. Wall Hangings
10. Sikkimese Teacups
1. Tibetan Carpets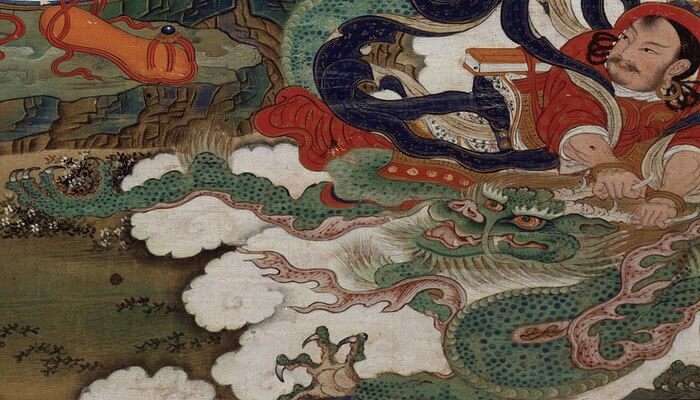 Tibetan Carpets are one of the best home décor items that you can buy in Pelling. These products come with a lot of exotic color options. Therefore, you will surely be able to find at least one carpet that goes perfectly with the decoration of your home. There are numerous shops in Pelling that can provide you high-quality Tibetan Carpet at an affordable price. However, if you want to get even more discounts on these, then make sure to visit the stores of the Geyzing Market.
Suggested Read: Top 7 Things To Do In Sikkim In 2022!
2. Thangkas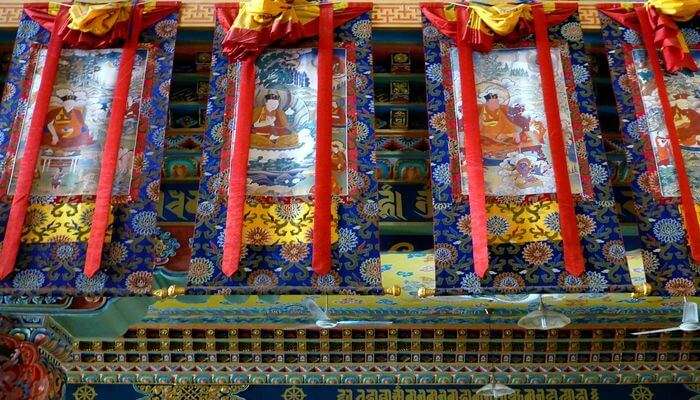 Thangkas, also pronounced as Thankas, are a type of miniature painting that is very famous both among the locals and the tourists of Pelling. The paintings upon these art pieces usually narrate the story and special events from Buddha's life and the deities of Buddhism. While making a Thanka and painting upon it, the artists usually use silk and cotton materials. However, in Lama Tenzing Wandak's Place, you might also find the Thangkas that are made of paper. They are usually a little bit fragile than the silk and cotton options, but a lot more cost-efficient than them.
Suggested Read: Gangtok Honeymoon: A Handbook About This Ultimate Paradise In Sikkim!
3. Silver Jewelry And Precious Stones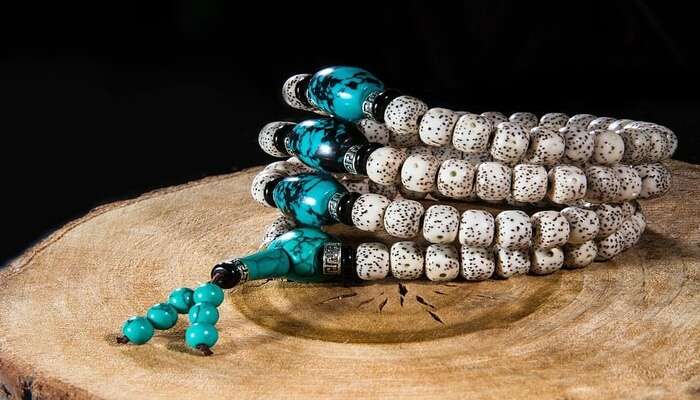 Jewelry items, especially precious stones and dragon jewelry, are quite famous among both the tourists and the locals of Pelling. These items usually come with a lot of color options. Therefore, the female members of your family will surely love them. If you love to collect precious stones and silver jewelry, then you would have to visit the Geyzing Bazaar in Sikkim.
Suggested Read: 18 Best Places To Visit In Sikkim In December 2022: Find Exciting Experiences
4. Jams And Juices

Aside from handcrafted items, Pelling is also quite famous among the tourists because of fresh bottles of juices, jellies, marmalades, and jams. So, whilst you are here, make sure to pick a jar of one of these things to keep your taste buds content. Make sure you only buy the ones that come in airtight containers if you wish to take them home to gift someone or for your own consumption.
Suggested Read: Gurudongmar Lake: Visit This Pristine Lake In Sikkim In 2022
5. Tibetan Masks

Like the Tibetan Carpets, the masks are yet another bygone handicraft item, which exhibits the cultural beauty of Pelling. Made from Zaru wood, these masks come with the shapes of various animals' and deities' faces. So, when shopping in Pelling Sikkim, make sure to visit Rural Artisan Market Center at least once to get some authentic masks for you.
Suggested Read: 20 Drool-Worthy Restaurants In Sikkim For A Scrumptious Retreat
6. Local Liquor

The cities of Sikkim, especially Pelling, are quite famous for its flavorsome beverages. Here, in the liquor stores of the city, you can find different types and flavors of liquors, such as paan, ginger, cardamom, and orange. All of these drinks are quite mild and, therefore, can be enjoyed with everyone.
Suggested Read: 15 Vibrant Sikkim Festivals To Enjoy On A Vacation In 2022
7. Choksee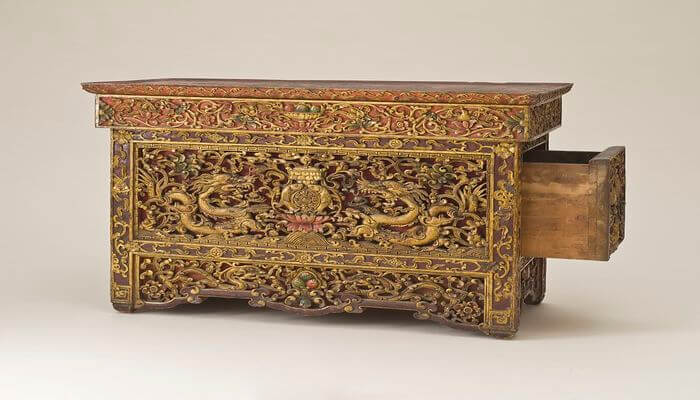 Choksee is a type of Tibetan table that exhibits traditional paintings. The designs of these tables are also quite unique and can suit almost any kind of home décor. Just like other wooden articles that Pelling is famous for, even these can be found in various small and bigs shops and stalls across Pelling, but make sure to buy only from an authentic place.
Suggested Read: Paragliding In Sikkim: 6 Spots Where You Should Definitely Try Out This Thrilling Activity
8. Prayer Flags And Figurines

To make things a little bit more traditional, you can also buy the prayer flags and Buddhist figurines from the shops of Pelling. Both of these items come in different sizes and colors. Therefore, you surely can find anything that will suit your home decoration and make it look even more beautiful.
Suggested Read: 20 Incredible Local Sikkim Food Options To Gorge Upon In 2022
9. Wall Hangings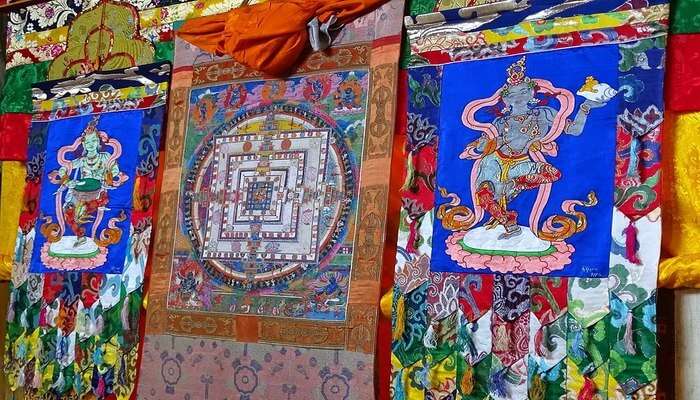 Another essential home décor item, which you can buy from Pelling, is the wall hangings. Almost all of these items are handmade and cost around INR 150 to INR 200, which is quite cheap and affordable. Make sure you buy these only from authentic vendors for the best quality product and reasonable pricing.
Suggested Read: 10 Best Resorts In Sikkim You'll Never Want To Leave When You Visit In 2022
10. Sikkimese Teacups

The Sikkimese teacups are made of ceramics and come with a variety of designs and arts painted on them. Therefore, you can either use them as gifts or, you can also utilize them pouring a fresh cup of tea for yourself in it. You can get these items from Geyzing Bazaar at an affordable price.
Further Read: 7 Lakes In Sikkim Which Are No Less Than A Magical Dream Of A Traveler In 2022!
Pelling is one of the most popular tourist destinations in Sikkim. So, you may find these handcrafted items here to be quite expensive. But while you're shopping in Pelling, do remember that these items are the sole livelihood of many people here, and you may not find such beautiful handmade goods anywhere else! You can indulge in a little bit of bargaining but don't go too far. And don't forget to enjoy the experience of shopping here during your holiday in Sikkim!
Disclaimer: TravelTriangle claims no credit for images featured on our blog site unless otherwise noted. All visual content is copyrighted to its respectful owners. We try to link back to original sources whenever possible. If you own rights to any of the images, and do not wish them to appear on TravelTriangle, please contact us and they will be promptly removed. We believe in providing proper attribution to the original author, artist or photographer.
Frequently Asked Questions About Shopping In Pelling
What should one buy while shopping in Pelling?
When talking about the things to buy, the small city of Pelling comes with a plethora of choices. However, if you have gone to the place for the first time, then make sure to bring back Wall Hangings and Tibetan Woolen Carpets from there.
What is the best shopping place in Pelling?
Geyzing Bazaar is known to be one of the best shopping places.
What is the best season to travel to Pelling?
Because of its beautiful location, the city of Pelling enjoys calm and serene weather throughout the year. So, if you want to savor the real beauty of this place, then make sure to come here during winter or the beginning of summer. However, if you want to avoid all the traveling inconvenience, then be sure not to come here in the rainy season.
What are the best points of interest in Pelling?
There are numerous things that you must see if you are visiting Pelling for the first time. Here are some of them. 1. Pemayangtse Monastery 2. Darap Subba Village 3. Rabdentse Ruins 4. Sewaro Rock Garden
What are some of the must-try foods in Pelling?
The Tibetan cuisines are known to be full of fresh vegetables. Therefore, you can find various vegetarian dishes here.
People Also Read: