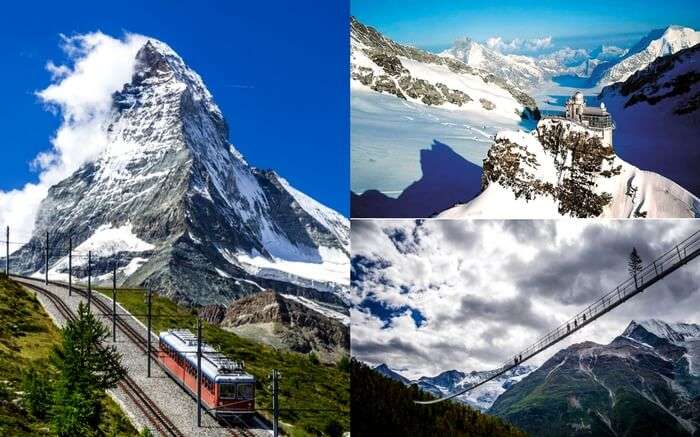 Mountains never disappointed a single soul! Whosoever ventured into its vast embrace was duly rewarded with comforting sojourn thriving amidst its secret charm. Geographical locations and accessibility of mountains in Europe have made them popular and mainstream. And Switzerland mountains tower above them all! If you are eyeing the winter magic in Northern Hemisphere, Switzerland is the place to be.
Be it a leisure holiday, solo backpacking trip, or a romantic honeymoon, Switzerland mountains have a proposition for everyone! I'd term it as the Mecca for the thrill and extreme adventure in Europe. Therefore, it is highly recommended not leave without Switzerland with visiting a mountaintop or two. As you look at the vibrant mountain spaces, pristine lakes, historic chapels and museums, and gourmet restaurants would account for lovely time spent.
To ensure smooth and hassle-free movement in the mountains in Switzerland, the tourism department runs cable cars, funiculars, and cogwheel trains making the ride smoother.
Here's how you can make the best of your time in the Switzerland mountains!
Table Of Content
Best time to visit Switzerland mountains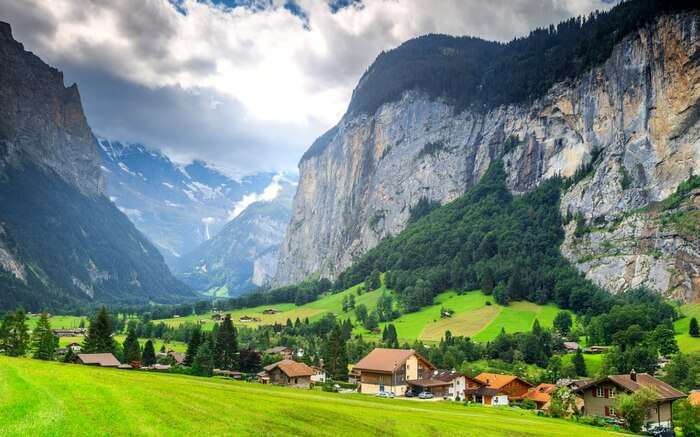 If you are a snow lover December – March is the perfect time to visit Switzerland. With snowfall at its peak and views of spotless white around this is the time that attracts the tourists the most. April – May is the low season with not too many ski resorts around but all the hiking trails are opened and this is the perfect time for solo travellers and backpackers to explore! July – September is the summer season in Switzerland and an ideal time for outdoor activities. Further, October – November is the low season for tourism! Make your choice, Switzerland is a year-round destination.
Most Popular Places In Switzerland Mountains
1. The Matterhorn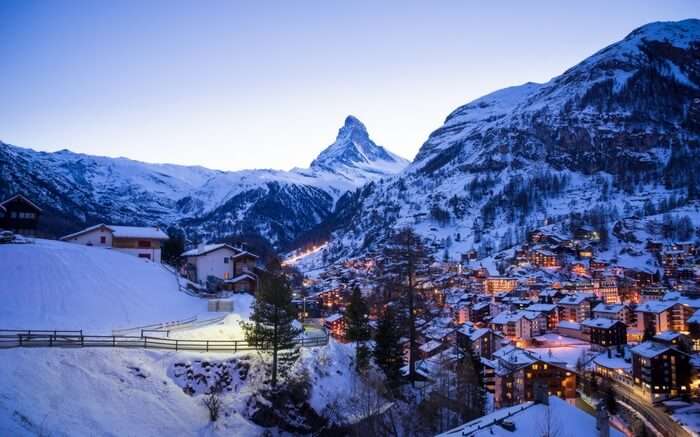 The quaint little town of Zermatt is known for its breathtaking views and vibrant houses. One of the most stunning places to visit in Switzerland mountainside, Zermatt will make you fall for it at the first sight. is a car-free town, which means you must leave your car in Taesch, a little village close to Zermatt. Hailed as the glacier paradise, Matterhorn boasts of stunning mountain peaks.
As many as 38 of them are 4000 meters plus. On a good day, you can also get lucky with the views of Mont Blanc – the highest mountain in Europe. If you are looking for more action the ride the highest cable car station in Europe at Klein Matterhorn. It is 4,000 meters high.
How to reach Zermatt: Zermatt is a 3.5 hours ride from Zurich and 4 hours ride from Geneva. Glacier express also runs directly to the Zermatt town. Tasch is the last accessible point by automobile. From there on shuttle plies every 30 minutes to the foothills of the town. Hiking and cycling are the other options preferred by travelers to reach the mountain resort town.
Popular attractions in Zermatt: Flower shops in Zermatt Town, Gorner Gorge – 220 million years old, Vispa River, and Glacier Palace Museum
Places to stay in Zermatt: Hotel Matthiol, Sunstar Style Hotel Zermatt, Schlosshotel Life & Style, Best Western PLUS Alpen Resort Hotel, and Alpenlodge
15 Best Day Trips From Lucerne One Must Experience For An Exquisite Swiss Holiday In 2022!
---
Europe Holiday Packages On TravelTriangle
Explore the most beautiful places to visit in Europe, from Paris to the Venice canals and from the Greek islands to the Swiss alps. Book customized packages by expert agents on TravelTriangle. Inclusive of airport transfers, cab, resort, sightseeing and meals. Best holiday experience Guaranteed. Book Now
---
2. Jungfrau region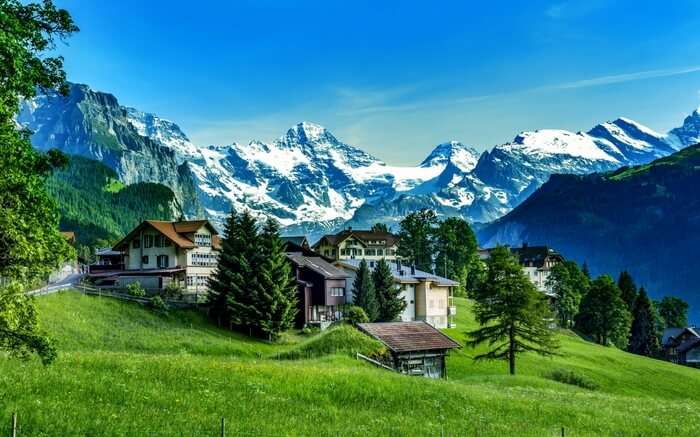 The sparsely populated land of Jungfrau has everything special about it. Talk about its vast meadows, picturesque towns, hamlets and the famed glacial straddle, and you won't feel like stopping. Interlaken is the most popular of them all as nature's wonderous escapades and vantage points adorn it subtly. Jungfraujoch is the highest train station in Europe almost 700 meters below Jungfrau Peak.
How to reach Jungfrau region: Cogwheel mountain train plies every half an hour from Kleine Scheidegg to Jungfrau. Kleine Scheidegg can be reached from Grindelwald which is again half hour journey by train. Grindelwald is well-connected with Zurich International Airport by road or train.
Popular attractions in Jungfrau region: Jungfrau Park, Brienz and Thul Boat Tours, Hoheweg, Lauterbrunnen & Lauterbrunnen Waterfalls, Schilthorn, Gimmelwald, Wengen, Grindelwald Ski Resort – watch out for World Snow Festival if you are traveling here in January, Gletscherschlucht (Glacier Ravine)
Places to stay in Jungfrau region: Hotel Eiger, Hotel Jungfrau Hotel, Eiger Guesthouse Mürren, and Hotel Spinne Grindelwald.
3. Château De Chillon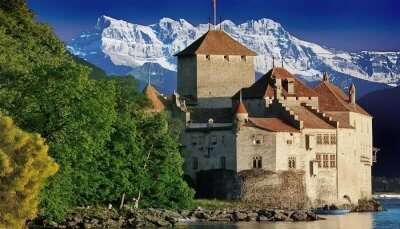 This beautiful castle from medieval times is meticulously outlined by the gorgeous Lake Geneva. The iconic building has been revamped and reconstructed over the years and yet exudes lazy elegance. The castle serves as the perfect choice for a day tour in the Switzerland mountains. Stay in a mountain cabin there to marvel the incredible views of Lake Geneva. Don't forget to ride a Swiss Chocolate Train!
How to reach Château de Chillon: Direct trains are available from Geneva to Montreux. Château de Chillon is 4 km far from Montreux station. You can walk along the lakefront or take a local bus or train to reach Château de Chillon. Besides, Geneva to Montreux can also be reached by train, car, or a bus.
Timings: 10 am – 4 pm (November to February), 9:30 am – 5 pm (October – March), 9 am – 6 pm from (April – September)
Tariff: CHF12.50 for adults & CHF6 for children aged 6 to 16
Places to stay in Château de Chillon: Hotel & Spa Bristol, Hotel du Grand Lac Excelsior, Golf-Hotel Rene Capt, Hotel Victoria, and Hotel du Quai
10 Street Foods In Switzerland: Pamper Your Gastronomic Craving (2022)
4. St. Morit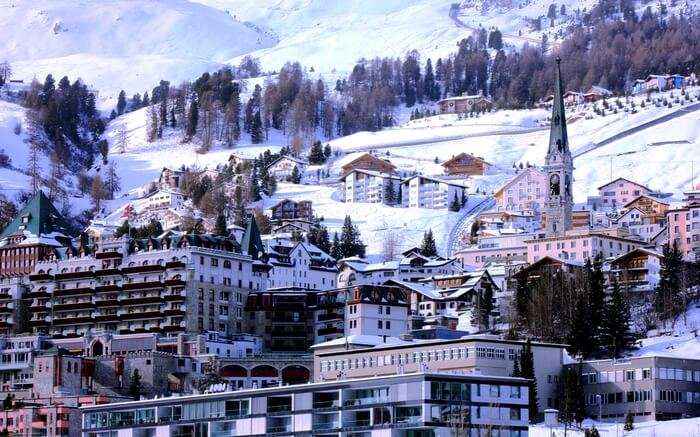 Take a walk by Lake Staz early morning and feel the crisp Swiss mountain air, St. Moritz is the place for nature seekers. Shrouded in a sheet of white, this place could rightly be the highlight of your memorable trip to the Switzerland mountains. If you are on an exploration spree, head to the historic churches and museums, and do take a note of the fine architecture around.
How to reach St. Moritz: It takes 2 hours and 45 minutes from Zurich or Milan to St. Moritz, and 4 hours from Munich by road
Popular attractions in St. Moritz: Cresta Run ride, Segantini Museum, Muottas Muragl, Engadine, Diavolezza, and The Leaning Tower Engadin
Places to stay in St. Moritz: Hauser Hotel St. Moritz, Crystal Hotel, Hotel Schweizerhof, and Art Boutique Hotel Monopol
5. Stanserhorn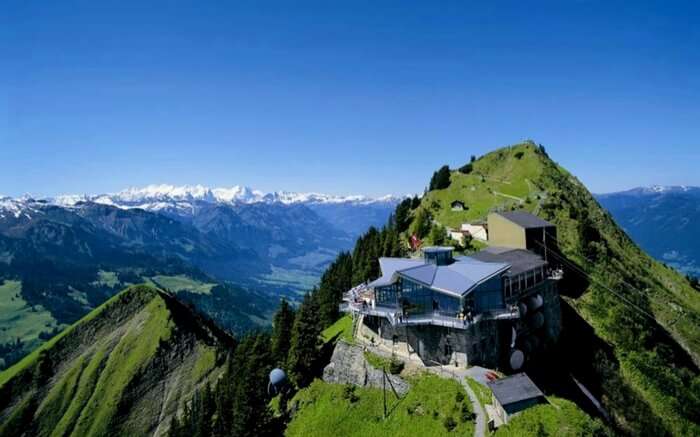 Incredible experiences are what this Switzerland mountain town is made up of! Be it scenic dining, memorable hiking, or an exciting funicular ride, Stanserhorn rightly suffices for a wonderful Switzerland mountainside.
How to reach Stanserhorn: Stanserhorn is a 20-minute drive from Lucerne and can be reached by train or car easily. Lucerne is well connected to Zurich and Bern by air as well as rail.
Popular attractions in Stanserhorn: Candlelight dinner at CabriO, double-decker cable car ride in CabriO, boat ride and water sports at Lucerne Bay, and Richard Wagner Museum
Places to stay in Stanserhorn: Hotel Engel, Hotel Stanserhof, Hotel Winkelried, Seehotel Pilatus, and Seehotel Belvedere
Also, the Swiss National Park, the Canton Vaud wineries, Jura Mountains, Vaudoise Alps, the city of Lausanne, and Lugano are the keepers of some amazing heart-warming attractions that make them a hot favourite for every traveller visiting Switzerland! Mark them!!
Of Alpine Beauty And Lakes: Best Hotels In Switzerland For The Most Picturesque Holiday Ever
Activities in Switzerland mountains you shouldn't miss
And while there are a lot of famous places to visit around the Switzerland mountains, there are many adventurous activities which the travellers can enjoy.
1. Go Skiing At Mt. Titlis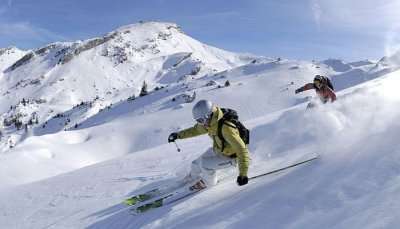 Image Source
Mt. Titlis is famed for the vast 82 km stretch of snow, and it awaits you in Engelberg. Spotless white is everywhere around and doesn't really matter if you are a novice or a pro. The mountains welcome everyone alike for a skiing stint. The fun starts here in October and lasts until May, and is a perfect time to plan a Switzerland mountain vacation.
Location: Poststrasse 3, Engelberg 6390, Switzerland Map.
Timings: 08:30 a.m – 04:30 p.m
You can buy your ski passes online here
Fact: Engelberg – Titlis boasts of the largest skiing & snowboarding area in Central Switzerland with 82 km ski slopes, 40 km long cross-country ski runs, and 3 sledding runs
Popular resorts in Mt. Titlis: Ski Lodge Engelberg, Hotel Bellevue-Terminus, Hotel Schweizerhof, and Ski Lodge Engelberg
10 Best Ski Resorts In Switzerland
2. Dine At The World's Highest Revolving Restaurant In Mittelallalin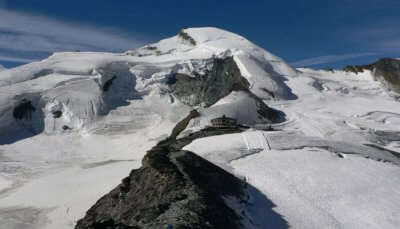 A scenic dining experience at Revolving Restaurant Allalin could be the fanciest ever. Located next to the Ice Pavillion, the restaurant provides a spectacular view of the Saas Valley mountains and glacier world. Tickets can be purchased at Gondola Valley Station in Saas-Fee. I would still push for a rail-pass, it will get you a discount. Are you in for a 360-degree view dining here?
Location: 3906 Saas-Fee, Switzerland
Timings: 8:30 a.m to 4:00 p.m
Travel to Saas-Fee by bus or a car. Remember, Saas-Fee is a car-free place, so you need to park your car at the entrance of the village.
Reservations, and inquiries about the restaurant can be done here
3. Enjoy Cogwheel Train Ride To Jungfraujoch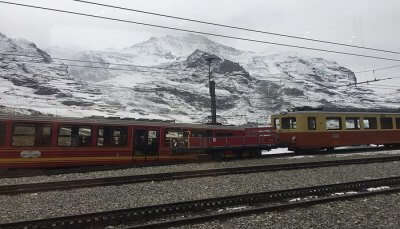 Jungfraujoch is the highest train station in Europe located in the Jungfraujoch region. And by highest it clearly means that plenty of views await you here. At 3454, Jungfraujoch station is tucked between Mönch and Jungfrau. UNESCO has declared the Jungfrau-Aletsch area in the Swiss Alps a protected zone. Zurich is just 100 km from here.
Location: NA
Timings: NA
7 Best Switzerland Road Trips That You Must Take This Year
4. Take A Revolving Cable Car In Mt. Titlis At 3032 m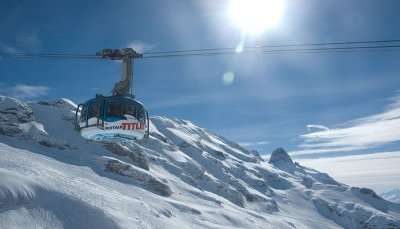 At 3000 meters above sea level, Titlis makes the heart and soul of the popular tourist attractions in the Switzerland mountains. Take a ride in a Rotair cable car and head to the snow-wrapped summit of Mt. Titlis. The views from the top of the revolving car would make you wobbly and enthralled at the same time. And the panoramic views from the top is incomparable.
Location: Poststrasse 3, Engelberg 6390, Switzerland Map.
Timings: 8: 30 a.m to 4:50 p.m
5. Ride The Glacier Express Connecting St. Moritz And Zermatt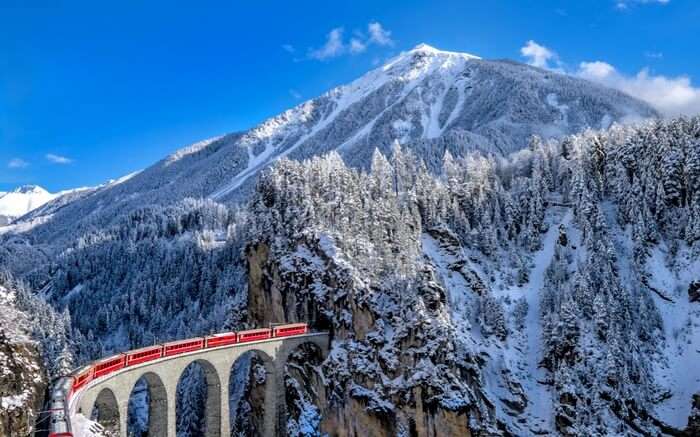 The Glacier Express is also known as the slowest express train in the World! And this iconic train would take you through bottle-necked valleys, hairpin bends, tunnels, and bridges – 291 to be precise! Would you ride this one of the most beautiful train journeys in the world?
Location: NA
Timings: NA
Top 20 Things To Do In Switzerland On Your Europe Holiday In 2022
6. Walk the Charles Kuonen Suspension Bridge In Zermatt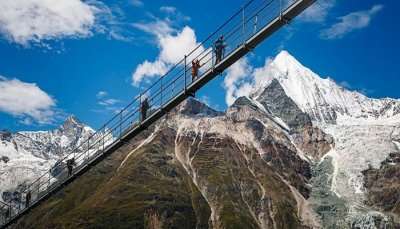 Image Source
Zermatt is the ultimate sojourn for all the thrill-seekers. It takes a lot of guts to walk on this longest hanging bridge for pedestrians. Especially when you know that it is 494 meters long.
Location: Randa
Timings: NA
Things To Keep In Mind When Traveling In Switzerland Mountains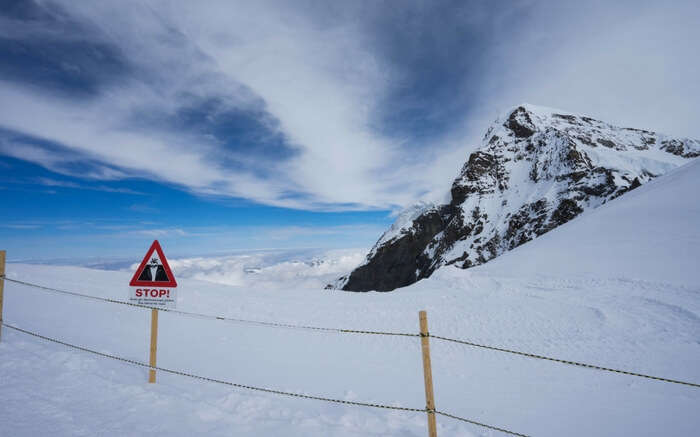 Be wary of the temperature, it changes in mountains in a flash. Be equipped with adequate clothes.
Get a Swiss rail pass. It will save you a lot of money.
Morning is the best time to travel to the Swiss mountains.
If you plan to visit a peak in excess of 2000 meters, consult a doctor before doing so.
Before taking any outdoor activity listen to the instructions from the guides and stick to it.
Don't venture into an avalanche-prone area or a caution zone.
Top 10 Villas In Switzerland For An Exotic Holiday
Switzerland mountains are exciting and easily accessible! It doesn't require you to be a hardcore mountaineer. Pristine surroundings and clear skies await!
For our editorial codes of conduct and copyright disclaimer, please click here
Frequently Asked Questions About Switzerland Mountains
Which are the most beautiful places in Switzerland?
Zermatt, St. Moritz, Stanserhorn, and Jungfrau are some of the most beautiful places in Switzerland.
What are some of the most important mountains between Italy and Switzerland?
Some of the most important mountains between Italy and Switzerland are Nordend, Punta Gnifetti, Mischabel's Dom, Lyskamm, and Mont Cervin.
What are the two major mountain ranges in Switzerland?
The two major mountain ranges in Switzerland are the Alps and the Jura which are seperated by a Swiss Plateau.
What can you see in Switzerland in 3 days?
For 3 days in Switzerland one can explore the Matterhorn, Chatteau De Chillon, The Jungfrau Region, and Swiss National Park are some of the best places to go.
---
People Also Read:
Trip To Switzerland 9 Days In Switzerland Mountains In Europe