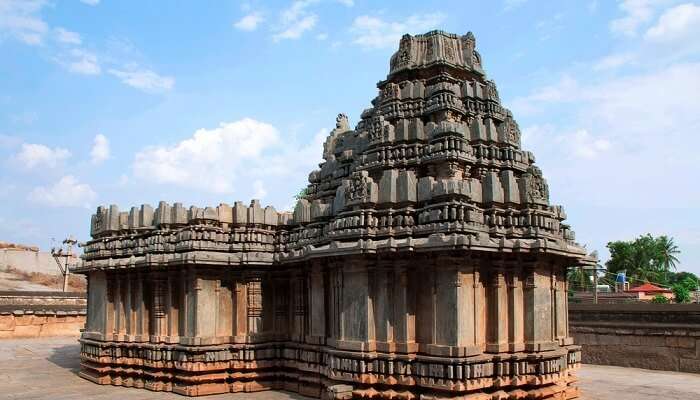 Shravanabelagola is a city in Karnataka nestled between the famous Vindhyagiri and Chandragiri hills. The city holds within itself numerous Jain centric temples or as the locals prefer to call it, Basadis. The hills are the starting points, for tourists, to explore countless places to visit in Shravanabelagola. This beautiful city is home to many Basadis, caves, inscriptions, and stories that are mostly based on Jainism. The massive height of the hills provides for a panoramic view of the city from both sides. So, here is a list of the most beautiful places that you must not miss out on in Shravanabelagola.
Top 6 Places To Visit In Shravanabelagola
There is no doubt that the city in Karnataka, Shravanabelagola, has scenic and aesthetic places that deserve your time and visit. However, it makes sense to check out the finest and the first 6 places to visit in Shravanabelagola.
1. Chandragupta Basadi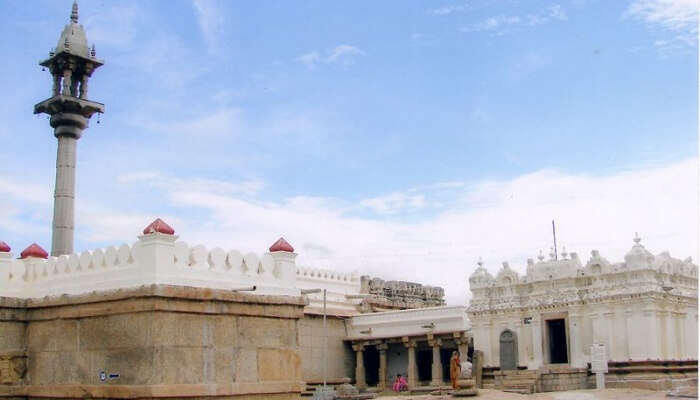 This 12th-century monument was originally built by King Ashoka in memory of the valiant King, Chandragupta Maurya. This is one of the prime tourist attractions in Shravanabelagola due to its enamouring architecture ideas very similar to the Chola type. However, the ornamental door, decorative screens, and figurines of significant persons from the Jain history give way to its uniqueness as a Jain temple and monument. The Chandragupta Basadi is also rumored to have been built by Chandragupta Maurya himself but the locals are convinced that it was made for the latter, not by the latter. It might be one of the smaller Basadis on the Chandragiri hills, but it emits the aura of a well-revered masterpiece of the golden era.
Must Read: 12 Hill Stations In Karnataka In 2019 To Rejuvenate Yourself
---
South Weekend Holiday Packages On TravelTriangle
A trip to South India has a lot to offer – from tranquillity of forests to charm of sizzling beaches and from lost kingdoms to chills of a hill station. Visit Kerala, Coorg, Ooty, Mysore, or Kodaikanal. Book holiday packages inclusive of airport transfers, cab, resort, sightseeing, and meals.
---
2. Gommateshwara Statue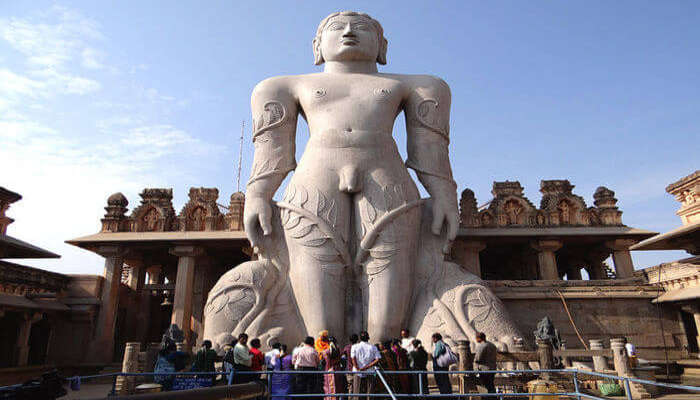 After climbing 600 stairs on the Vindhyagiri hill, you will come face-to-face with the tallest monolithic statue of the much revered Bahubali. The 58 feet statue seems to have its eyes opened with no such emotional attachment shown on its face. This is also one of the best places in Shravanabelagola if you happen to catch it during the Mahamastakabhishekam festival which is held once in 12 years. The festival brings together many devotees who pour curd, ghee, sugar, Kesar, and flowers. The festival last happened in 2018, be sure to catch the next eventful festival in 2030.
Suggested Read: Karnataka Cuisine: 15 Popular Karnataka Dishes For A Flavorful Culinary Journey
3. Chandragiri Hill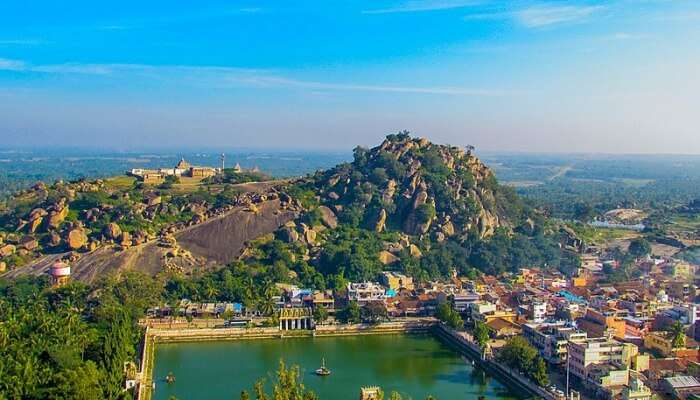 Chandragiri hills are of immense value in Shravanabelagola. It not only houses numerous Basadis but also provides for a panoramic view of the whole of Kathmandu. It has been named as one of the best places to visit around Shravanabelagola because it connects Hindu, Buddhist and Jain places of worship. It is one of the hills surrounding Shravanabelagola and that has systematic tourist pick up spots. The tour of the hills takes a few hours but the information leaves you wide-eyed and is a must try if you visit the beautiful city in Karnataka.
Suggested Read: This Private Island Homestay In Karnataka Is A Treasure & You Won't Doubt It!
4. Akkana Basadi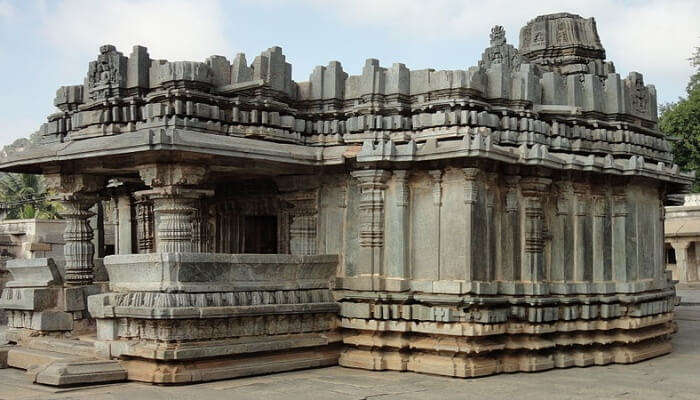 If you are wondering what makes this Basadi different from all the other Jain temples, it is the unique architecture that is inspired by the Chalukyas. The temple is completely made of soapstone and was designed and constructed by Achala Devi. it is mainly dedicated to Parshwanath and has a simple dome-like structure that is named as the main shrine. The temple is a must visit because of its inscriptions and genius architectural design. It is located on the Chandragiri hills and one of the first Basadis that comes into view after a few steps.
Suggested Read: 6 Itineraries Including Best Honeymoon Places In & Around Karnataka
5. Bhadrabahu Cave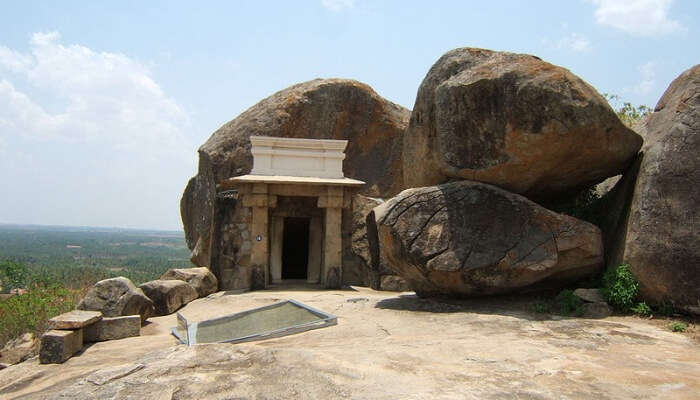 Bhadrabahu is one of the most respected saints for the Jains. This was the exact place where he spent the final days of his life and coincidentally the same place where Chandragupta came to meditate after being initiated into the Jain family. This is an ideal place for Jain darshan with its rich history in Basadis and a cool atmosphere. The sacred place has stood the test of time and still has the footsteps of Chandragupta when he was undergoing his stay at this place. It is not architecturally designed however, the rocks at the entrance and the aura of spirituality make up for the raw design and provide for a good place to visit.
Suggested Read: Monsoon In Karnataka: Fabulous Experiences That Will Cast A Spell On You!
6. Kambadahalli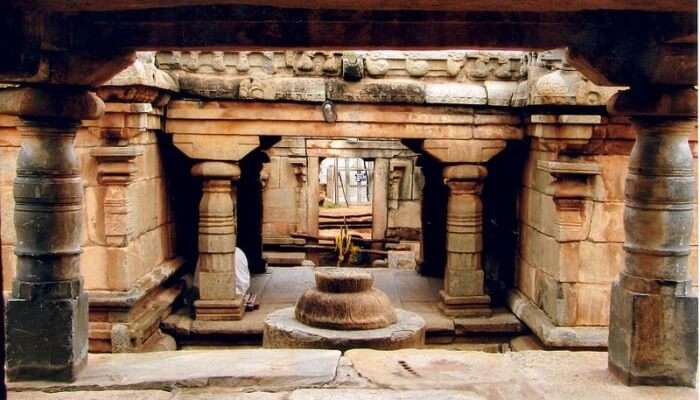 This 10th-century Panchakuta Basadi is called as Kambadahalli because of its famous Bramhadeva pillar which is colloquially called as Kamba in Karnataka. The Basadi is similar to Dravidian style architecture and leaves its visitors awed because of its informational scriptures telling us about the male benevolent spirits and their female counterparts. The inscriptions in this monument have not only given it the status of a 'National Monument' but are also labeled as one of the best places to visit in Shravanabelagola. It is one of the medium-sized Basadis but also the oldest Basadi in the systematic cluster of the Jain Basadis.
Further Read: 10 Fascinating Temples In Karnataka That Are All About Architectural Grandeur!
Be it temples or forts or hills, there are numerous places to visit in Shravanabelagola. Karnataka has so many places to visit in and near Shravanabelagola and holds one of the highest tourist visits in India. Shravanabelagola is rich with traditional and historical sights that deserve so many visits. The beautiful city of Karnataka is the ideal spot for your next pilgrimage visit. So, the next time your grandparents or family want to go on a memorable teerth yatra, plan a trip to Karnataka and experience the famous Basadis, forts and scenic hills in Shravanabelagola.
People Also Read
Places To Visit In Indore Places To Visit In Kerala Places To Visit In Visakhapatnam
---
Looking To Book A Holiday Package?
Book memorable holidays on TravelTriangle with 650+ verified travel agents for 65+ domestic and international destinations.
---
Comments
comments