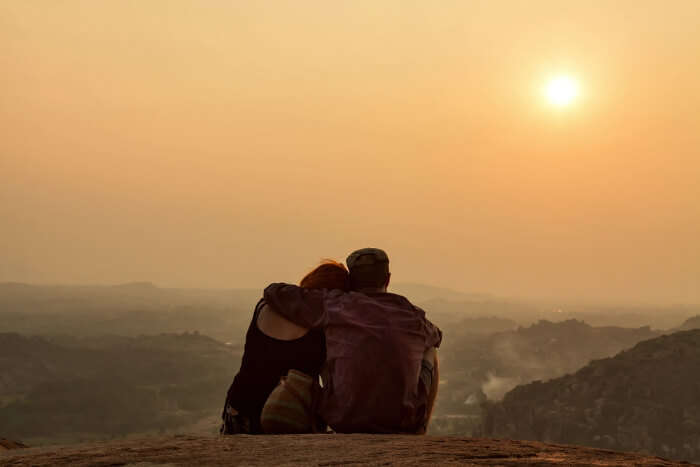 Hola, to all the married couples who want to mark their beautiful beginning in a special and a unique way. These romantic honeymoon places in and around Karnataka will capture some splendid memories in your heart which will never fade away. The place offers cold and snuggly hill stations to make each other warm along with the serene beauty, the unexplored beaches and the fascinating historical remains to for an adventurous start with your spouse! For all these experiential moments, we have listed the most romantic itineraries that will take you to the other world away from the hurly-burly. Take a sneak!
Tip: Coorg, one of the most beautiful places in Karnataka, is a quintessential part of most of the romantic itineraries! Make sure you add the hill town to your list.
14 Best Honeymoon Places In And Around Karnataka
From majestic hills to serene beaches, there are many places in and around Karnataka that are perfect for honeymooners. We have crafted the best itinerary for your honeymoon. Let's have a look!
Bangalore-Ooty-Coorg
Mysore-Coorg-Kabini
Bangalore-Coorg-Wayanad
Mysore-Coorg-Bandipur
Hampi-Udupi-Gokarna
Bangalore-Chikmagalur-Dandeli-Kodaikanal
Madurai – Coonoor – Ooty
Ooty – Madurai – Kodaikanal
Hampi – Udupi – Chikmagalur
Mangalore 
Halebeedu 
Kudremukh 
Kemmanagundi
Badami
1. Bangalore-Ooty-Coorg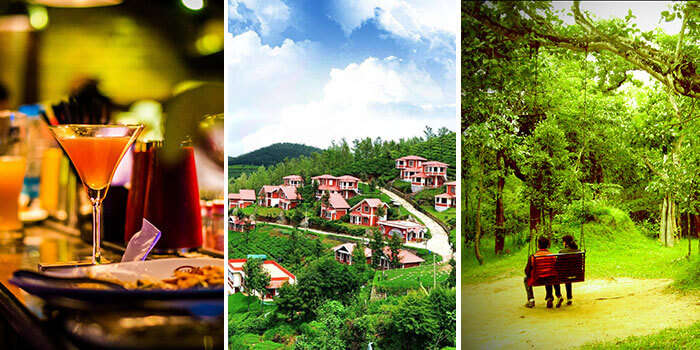 Love birds searching for a happening nightlife, tranquil moments and a calm paradise should pick this one!. The nightlife of the metropolitan city, Bangalore, which marks around 365+ pubs is the most happening destination in Karnataka. Up next, Ooty, will take you away from the hustle bustle of the city. The picturesque view of the hills and secluded environment will make your mushy closer to you. Visiting Coorg will be best fitted in the itinerary for those who are nature lovers as there are many places to visit in Coorg that offer a view of nature. The lush green beauty and the settings is so calm that you can listen the heart beats of your love!
Romantic Experiences:
Bangalore: Take a ride to the Cubbon park to touch the aquatic life without dipping in the water
Ooty: An adventurous trip to the Mudumalai National Park for a different experience, stand and hear the voice of the wind hitting the hills of Ooty to understand the love of the nature.
Coorg: Click a picture near the beautiful Irupu Waterfalls and enjoy every moment with your wifey
Romantic Resorts: Wonderla Resort, Sabol Holiday Resorts, Orange County Resort in Coorg and Coorg Cliffs Resort
Must Read: 24 Places To Visit In Dandeli For Unforgettable Adventure
---
South Weekend Holiday Packages On TravelTriangle
---
2. Mysore-Coorg-Kabini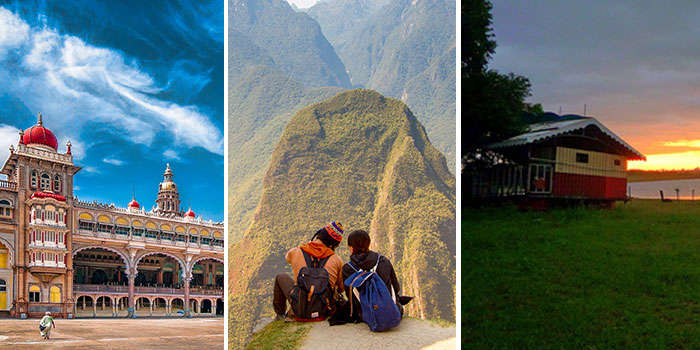 Take this sojourn of adrenaline rush which covers three different experiences while planning for a perfect honeymoon in Karnataka. Start from the second biggest city, Mysore, exploring the spectacular historical and cultural heritage Head towards the tiny little quaint town offers a perfect weather. One of the best honeymoon places in Karnataka offers calm, enriching and secluded affairs which are exclusive to this state only. The Coracle ride and visit to the tribal villages of Kabini will be a fine option to spend tranquil time with your lover.
Romantic Experiences:
Mysore: Experience the magnificent royalty  at the grand Mysore palace and the ferocious fort.
Coorg: Enjoy the serene beauty riding coracle with your bae.
Kabini: Hold hands of your beloved and lie on the with the lush green surface as you gaze at the sky above!
Romantic Stays: Oriole Resorts, Windflower Resort and Spa and White Orchid Resort
Suggested Read: 5 Best Places To Visit In Chikmagalur In May To Absorb The History Of Karnataka!
3. Bangalore-Coorg-Wayanad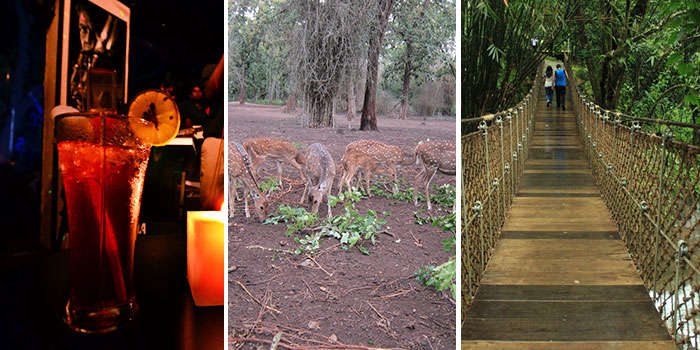 This itinerary should be on the list of all newlyweds looking for a little adventure, historical outlay and the splendid beauty of South India. The city life with a vibrant nightlife and freshly brewed beer will never make you feel away from home. Coorg is well known for bird and wildlife sanctuaries, which are so beautiful that you might fall in love with the nature along with your husband as well. Wayanad, in the state of God's own country needs no explanation. Spend some cloistered time with your sweetheart to shoot the perfect day of love.
Romantic experiences:
Bangalore: Groove with your partner at the best pubs of Bangalore & try some freshly brewed Beer.
Coorg: Observe the natural beauty of the extremely beautiful Coorg at Pushpagiri Wildlife Sanctuary.
Wayanad: Don't forget to miss out the one and only love lake in India at Chembra!
Romantic Resort: Mango Mist Resorts, Coorg Resorts and Rain Country Resorts
Tip: If you're the adventurous kinds, book a tree house for sure.
Suggested Read: 34 Wayanad Tourist Places For An Extended Vacation In God's Own Country
4. Mysore-Coorg-Bandipur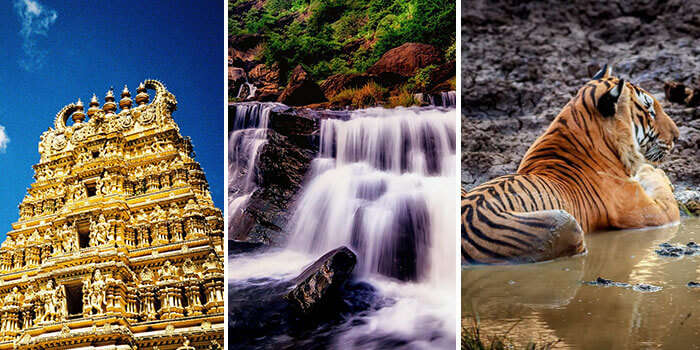 It is the true amalgamation of adventure and bygone ruins in one itinerary for the vagabond couples. Mix of vagabondage and romance is possible in these perfect honeymoon destinations in Karnataka. Starting from the ancient monuments to understand to explore the cultural heritage, to the aromatized coffee plantations of Coorg, to thrilling water sports and a  jeep ride in wildlife sanctuary are the highlights of this perfect itinerary.
Romantic experiences:
Mysore: Enjoy the royal palaces and the natural lake at the foothills of picturesque city with your mushy.
Coorg: The serene beauty with loads of wildlife and bird sanctuary with your husband will capture best times of your lives.
Bandipur: The famous tiger reserves and the bird sanctuary are perfect for newlyweds who wish to spend valuable time amidst nature.
Romantic Resort: A stay at Serai Bandipur is a must.
Suggested Read: 18 Places To Visit In Bidar To Admire The Beauty Of Karnataka
5. Hampi-Udupi-Gokarna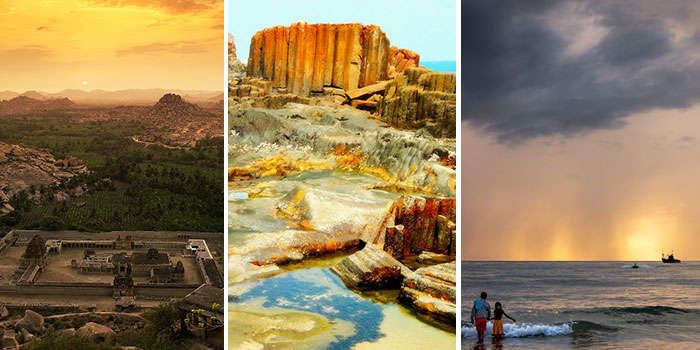 This one of a kind honeymoon itinerary is designed for the lovebirds who want to start their new lives spending some secluded time near the historical wreckage and some tranquil beaches. The curves of the architectural designs will bring you closer to your soulmate. These places are amongst the best and most offbeat honeymoon places in Karnataka. Mystical settings and the grandeur of the place will never let you leave the pristine South Indian state. Sweet aroma and the calm environment will spare you from the hustle life of the city.
Romantic experience:
Hampi: Enjoy clicking pictures of the Ratha at the Vijaya Vittala Temple with your dovey.
Udupi: Spend some time at the pristine Malpa beach and enjoy riding a camel in the evening.
Gokarna: The beach view near the Gokarna beach are stairways to heaven to deepen your love
Romantic Resort: Hampi's Boulder, Wild Wood Spa and Resorts and Om Beach Resort
Suggested Read: 3 Resorts In Belgaum That Let You Experience The Calmness Of This Laidback Town
6. Bangalore-Chikmagalur-Dandeli-Kodaikanal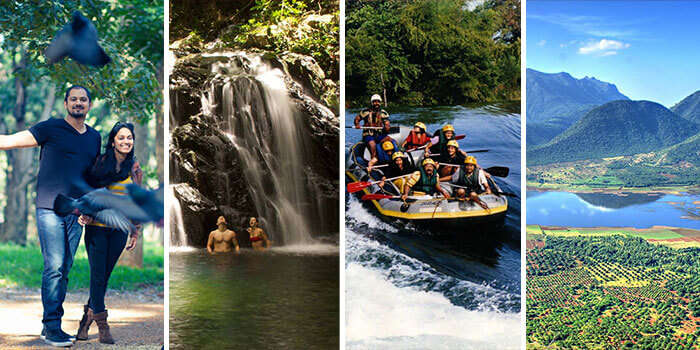 Idyllic fusion of thrill and city life will bring you to this itinerary for an impeccable honeymoon. Groove your bodies in the arms of your sweetie pie with the flickering neon lights in Bangalore! The three other destinations will be filled with zeal and zest for the lovers who have itchy feet. Sit near the waterfalls after the adventurous trip and enjoy the droplets falling on your faces. Chikmagalur, the place which is full of splendid waterfalls will make your journey more memorable. Caves stay and the invasion will fill your heart with passion towards your lovey-dovey.
Romantic experience:
Bangalore: Visit Café Mezzuna for a perfect pub party at inexpensive rates to enjoy to the fullest.
Chikmagalur: Spectate one of the most beautiful waterfall in South India, Hebbe Falls, with your beloved.
Dandeli: Take turns in the beautiful Cavala caves for a pretty invasion.
Kodaikanal: Go boating in the beautiful lake and spend hours staring into the eyes of your better half
Romantic Resort: Hotel Villa Retreat, Magenta Resort and The Seari
Suggested Read: 21 Historical Places In Karnataka Every History Buff Should Visit
7. Madurai – Coonoor – Ooty

These three honeymoon places in Karnataka will take you on a trip that will not only get your adrenaline pumping, but also provide you memorable memories for years to come. Madurai is the third largest city in Tamil Nadu and one of the best places to start your honeymoon trip and indulge in various  . This place offers a peek into the history of Indian culture, along with some really beautiful places to enjoy. Next up is Coonoor, where you can visit the beautiful botanical gardens, Dolphin's Nose and more. Explore the places to visit in Ooty, and you will witness nature at its best form. The majestic hills will give you a warm welcome.
Romantic Experience:
Madurai: Visit the Jain caves for a truly memorable and romantic experience
Ooty: Take a trek to the Doddabetta peak and experience what it feels to be in the lap of nature. The hills offer a bird's eye view of the city, and the misty clouds surrounding the hills offer a romantic getaway.
Coonoor: Visit the Lambs' rock situated on the slopes of Nilgiri hills. The hills offer an amazing and breathtaking view of the tea estates, Coimbatore plains, and coffee plantations.
Romantic Resort: Heritage Madurai, Elk Hill Resort, Gateway Coonoor – IHCL SeleQtions
Suggested Read: 15 Best Places To Visit In Karnataka In Winter: Take Your Pick!
8. Ooty – Madurai – Kodaikanal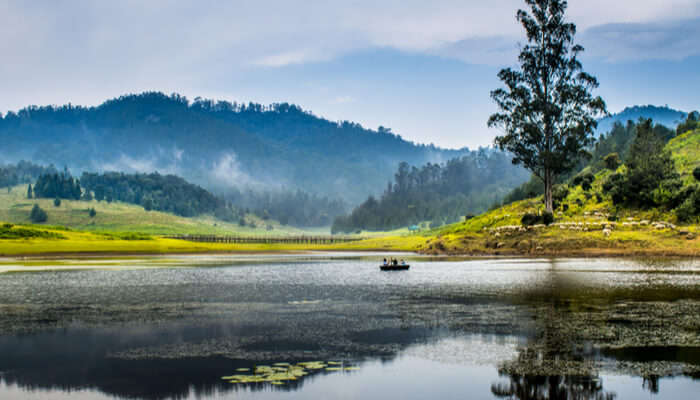 Prepare yourself for an experience of a lifetime when you visit these three romantic places in Karnataka on your honeymoon. These three top honeymoon destinations will ensure that you have an amazing time on your honeymoon while you explore these beautiful places. In Madurai you can witness the amazing temples, in Ooty you can fall in love with exquisite views, and Kodaikanal will offer you amazing views of nature and the surroundings.
Romantic Experience
Ooty: You can visit the Mudumalai National Park with your better half and explore the wilderness and wild animals in the park.
Madurai: Visit the temples of Madurai with your partner and seek the blessings of Gods.
Kodaikanal: Indulge in trekking on the Perumal Peak in Kodaikanal with your partner and get an amazing view of the picturesque valley, and the lake situated here.
Romantic Resort: JC Residency, British Club Cliff Resort, Villa Retreat
Suggested Read: Top 10 Tourist Places Near Jog Falls To Witness The Impeccable Beauty Of Karnataka
9. Hampi – Udupi – Chikmagalur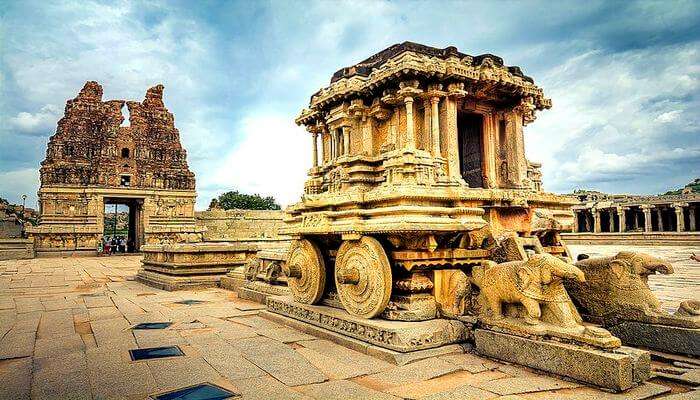 For those who love spending some time surrounded by the historical architecture, and pristine beaches; this is the perfect itinerary for their honeymoon travel. These places are the perfect spots to get away from the urban lifestyle, and spend some quality time with your partner. These offbeat honeymoon destinations offer mystical backdrop coupled with a taste of South India. There are many places to visit in Hampi, loads of things to do in Udupi, and lot of new experiences in Chikmagalur.
Romantic Experience
Hampi: Enjoy the Carcol boat ride in Hampi rivers with your partner, and bask in the beauty of the Hampi.
Chikmagalur: You can enjoy the toy train with your loved one, take a stroll through the Rose garden, and indulge in reliving the history through historic places.
Udupi: Definitely visit the St. Mary's Island with your partner and enjoy some quality romantic time whilst taking walks on the beach, partying at shacks, and trying out cuisines.
Romantic Resort: Heritage Resort, Samanvay Boutique, Trivik Hotels and Resorts
Suggested Read: 15 Top Hill Stations In Karnataka To Rejuvenate Yourself
10. Mangalore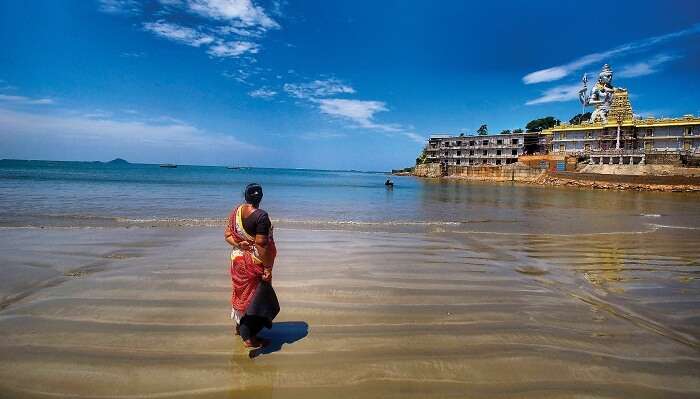 Often called the 'Gateway of Karnataka', Mangalore is a beautiful city of South India which is unlikely known as one of the romantic places for the newly weds. Surrounded by the beaches where the surreal sunsets can be captured, this city is no less than a beautiful journey with your partner alongside.
Romantic Experiences
Witness the sunset at the beautiful and pristine beaches like Someshwar beach and Panambur beach
Feel lost amidst the lush-greenery of the Kumar Parvatha
Take a beautiful and religious tour of the majestic churches
Romantic Resorts: Wild Wood Spa and Resorts, Malpe Sea Front Cottages, Eka Resort Hallibyle Village, The Serai Chikmagalur
Suggested Read: Monsoon In Karnataka: Here's 15 Places You Must Visit During Monsoon
11. Halebeedu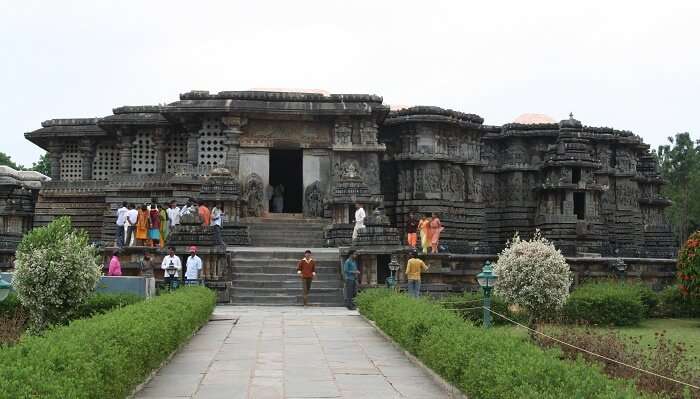 This city which still holds the ruins of the past is quite an exotic place for spending time with your partner. For the people who are inclined towards photography and exploring the places, this should definitely be on the list. The granite formed temples and architectures are the highlights of this place which is worth exploring and indulging into a journey to the rich past.
Romantic Experiences
Explore the beautiful yet ruined architecture
Witness the magnificent sculptures and the architectural marvels
Romantic Resorts: Hoysala Village Resort, Hotel Mayura Velapuri, Hotel Mayura Shantala
Suggested Read: Karnataka Cuisine: 22 Popular Karnataka Dishes For A Flavorful Culinary Journey
12. Kudremukh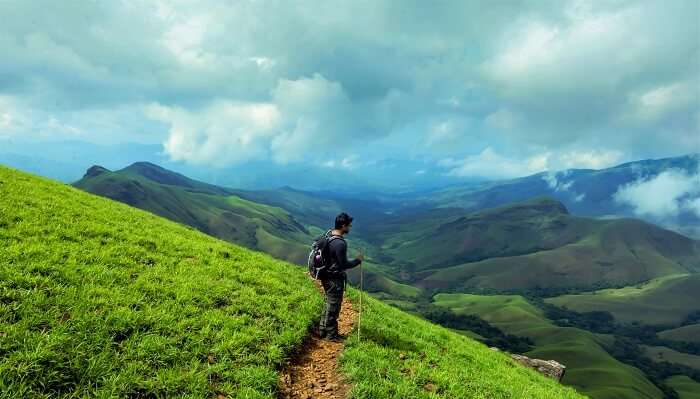 What can be more romantic than spending time with your partner amidst the lush-greenery and mighty peaks. Kudremukh is a beautiful hill station which is located at the Chikmagalur district in Karnataka. Resting at a height of 1,894 m and named Kudremukh because of its strong resemblance to the mouth of a horse. This is a perfect place to enjoy a romantic time away from the hustle bustle.
Romantic Experiences
Witness the enchanting views of the Hanuman Gundi Waterfalls
Enjoy a sun-kissed vacation at the beaches
Romantic Resorts: Upasana retreat, Silent Valley Resort, The Kanive, Isiri Holiday Homes
Suggested Read: 12 Best Places To Visit In Karnataka In March For A Fulfilling Vacay
13. Kemmanagundi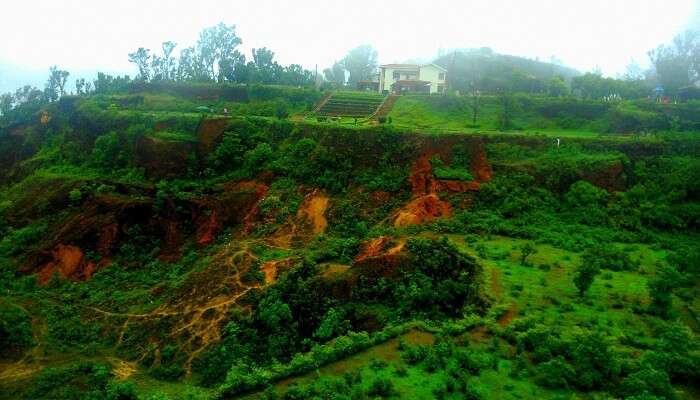 This is a beautiful hill station located in South India which is surrounded by the lush-green valleys, waterfalls and lakes to explore. The main highlight of this place is the Bhadra Dam which is a perfect place for the honeymooners. Alongside that the waterfalls are also a romantic location to enjoy a great time away amidst the lush-greenery.
Romantic Experiences
Spend time enjoying a boating experience and have a great time
Watch the beautiful view of the gushing water from the dam
Romantic Resorts: Honeydewwz Exoticaa, The Blossom Resort, The Last Resort
Suggested Read: 13 Picnic Spots Near Mysore Will Help You Discover The Rich Flora & Fauna Of Karnataka
14. Badami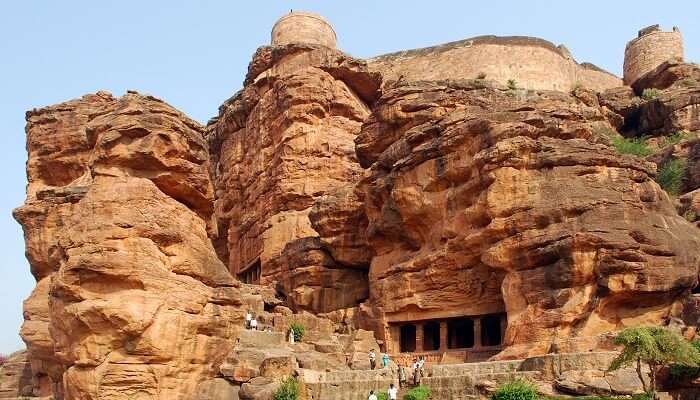 Badami is one of the gems of Karnataka which is known for holding the ruins of history in the most beautiful way. Giving a break from the commercial chaos, this place is a soothing getaway for the newly wed couples. Offering a wide array of things to explore like the historic temple and the architectural sculptures, this place is a true delight to visit..
Romantic Experiences
Explore the beautiful monuments
Admire the beauty of the well-designed temples
Romantic Resorts: The Heritage Resort, Krishna Heritage Hotel
Further Read: 38 Romantic Honeymoon Places In South India That Cast Utter Magic
Are you in love with these itineraries? Book tickets and take your beloved to these best honeymoon places in and around Karnataka for a perfect start of your life. From admiring the nature's beautiful landmarks to exploring the historic treasures, there is a lot to do. 
Disclaimer: TravelTriangle claims no credit for images featured on our blog site unless otherwise noted. All visual content is copyrighted to its respectful owners. We try to link back to original sources whenever possible. If you own rights to any of the images, and do not wish them to appear on TravelTriangle, please contact us and they will be promptly removed. We believe in providing proper attribution to the original author, artist or photographer.
Frequently Asked Questions About Honeymoon Places In & Around Karnataka
Q. Which place is best for honeymoon in Karnataka?
A. Ancient ruins, pristine beaches, and magnificent palaces make up the state of Karnataka, and with so many amazing places to explore there are a couple of options that one has for a honeymoon in Karnataka. Some of the best places to head here are Gokarna, Mysuru, and Hampi.
Q. Which is the best place for honeymoon Ooty or Kodaikanal?
A. If one is looking for honeymoon places around Karnataka, then Ooty and Kodaikanal are two great options, and both these cities have unique experiences for couples. With forested valleys and beautiful lakes, Kodaikanal is a great option for those who love nature. On the other hand, those looking for a hill station destination can choose Ooty and explore its aromatic tea plantations.
Q. Which is the best place for honeymoon in India in October?
A. October is the month with a pleasant climate almost everywhere in India, and therefore there are a lot of places that one can visit during this month. Some of the best honeymoon options in India are Udaipur, Thekkady, Alleppey, Ooty, and Coorg.
Q. Which are the best honeymoon places in South India in December?
A. Some of the best honeymoon places to visit in December in South India are Goa, Gokarna, Hampi, Ooty, Coorg, Alleppey, Munnar and more. All of these cities have amazing experiences to offer to couples.
Q. Is Gokarna good for honeymoon?
A. If a beach honeymoon is what one is looking for, then Gokarna has some of the most beautiful beaches. This beach town is peaceful and the environs are beautiful.
Q. What can I do in Mysore on a honeymoon?
A. Mysore is a beautiful historic city in Karnataka. If one is headed here for a honeymoon, then they should definitely visit the Mysore Palace and Mysore Garden. Brindavan gardens with their fountain show, is another attraction of this city.
Looking To Book A Holiday Package?
---
People Also Read
Honeymoon places In Kerala Honeymoon Places In Tamil Nadu Honeymoon Places In Madhya Pradesh