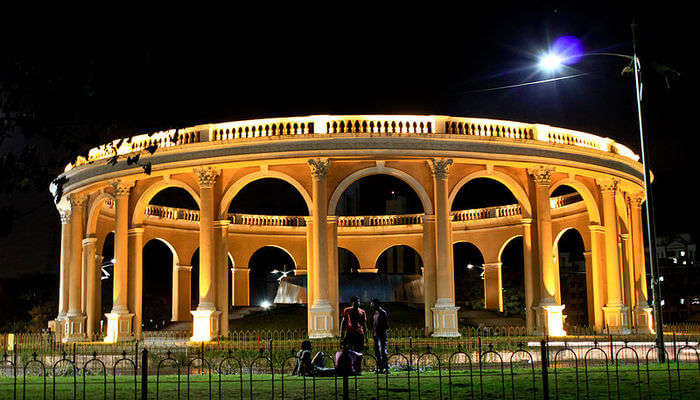 Cover Image Credit: Wikipedia
Situated at the node of the largest planned city on the planet (Navi Mumbai), Kharghar is the city's own private hill stations. Boasting a heady mixture of planned town area, a close proximity to the main city, and a collection of natural marvels, the place has long been an outing favorite of the locals. The node also coincidentally falls on the route to Pune and thus, attracts a number of tourists looking to let themselves loose in the lap of nature from both the cities.
With that said, there is only so much to do and see in the small area that is Khaarghar. If you are in the area, or even planning a visit, and are on the lookout for more tourist places to visit near Kharghar, you've come to the right place.
Top 8 Places To VIsit Near Kharghar
Kharghar is surrounded by numerous gorgeous attractions that ensures a perfect vacation. Read on to know about our pick of top 10 places to visit near Kharghar:
1. Pandavkada Waterfalls – 9.9 Km From Kharghar
2. Palm Beach Marg – 11 Km From Kharghar
3. Sagar Vihar Garden – 12 Km From Kharghar
4. National Gallery Of Modern Art – 41 Km From Kharghar
5. Khanderi Fort – 46.7 Km From Kharghar
6. Gadeshwar Dam – 24 Km From Kharghar
7. Castella De Aguada (Bandra Fort) – 38 Km From Kharghar
8. Juhu Beach – 37 Km From Kharghar
1. Pandavkada Waterfalls

With 107 meter plunge, the Pandavkada Waterfalls is a true marvel of Mother Nature. One of the top tourist destinations in the area. Best viewed during monsoon and soon after, Pandavkada Waterfalls is the perfect place for hiking enthusiasts as they are accessible only after a bit of a walk through the lush green surroundings.
Just a short bus ride from Kharghar, Pandavkada Waterfalls are a great way to lose your day in the lap of nature. If that's not enough, the place also has mythological importance associated with it. It is said that the mountain (where the water falls) houses a cave which was accessed by the Pandavas during their exile mentioned in the Hindu Epic of Mahabharata. The legend states that the group stopped for some rest at the falls and showered in the waterfall. This legend is the reason the place is called Pandavkada.
Speaking of bathing in the waterfall water, it is extremely dangerous and should be avoided at all costs. Thanks to tourists failing to observe these warnings, there have been a number of fatal accidents at the site.
Distance From Kharghar: 9.9 Kilometers
Entry Fee: Rs 50 per head
Timings: 9 AM to 7 PM
Must Read: 24 New Year Parties In Mumbai 2022: Top Venues & Events
2. Palm Beach Marg

Joining the nodes of Vashi and CBD Belapur, the Palm Beach Marg looks like it came right out of a movie based in a beach city of The US. The 10 kilometer, 6 lane stretch of road running alongside the ocean and some truly breathtaking residential and commercial complexes, the Palm Beach Marg is an absolute bliss among petrolheads.
However, even if you are not much of an automobile enthusiast, you'll find a drive across the Palm Beach Marg relaxing and enchanting at the same time. With views so good and a road so smooth, don't be surprised if you find yourself taking a u-turn and doing another lap across the blissful Palm Beach Marg.
Distance From Kharghar: 11 Kilometers
Entry Fee: Free Entry
Timings: Open All Day
Suggested Read: 15 Breathtaking Pre-Wedding Photoshoot Locations In Mumbai In 2022
3. Sagar Vihar Garden

Officially known as Veer Savarkar Udyan, the garden is a government maintained garden that faces the Thane Creek. Rich with greenery and a variety of rare plants, the Sagar Vihar Garden is a hot favorite when it comes to places to visit near Kharghar for family.
Visitors can enjoy a walk in the park, a relaxing afternoon picnic with their loved ones, and even boating in the Thane Creek. The park is also a popular destination for bird watching enthusiasts as it attracts a variety of migratory birds every year.
While the park is well maintained since it is the responsibility of the local government, the greenery is in full bloom during the monsoon season and the months that follow.
Distance From Kharghar: 12 Kilometers
Entry Fee: Free Entry
Timings: 5 AM to 10 PM
Suggested Read: 50 Super Amazing Things To Do In Mumbai On Your 2022 Vacay
4. National Gallery Of Modern Art

The younger counterpart of the famous National Gallery Of Modern Art in Delhi, the one in Mumbai is no less important, especially for those who understand the importance of art as a reflection of the current state of our society. Moreover, since modern art has always been a silent expression of the society, the artworks present in the museum from different eras allow visitors to take a peek into the life of a common man from a different time.
The National Gallery boasts paintings and sculptures depicting the state of our society in the past one hundred and fifty years, with some of them dating back to as early as 1857.
Distance From Kharghar: 41 Kilometers
Entry Fee: Rs 10 per head
Timings: 10 AM to 5 PM (Closed On Mondays)
Suggested Read: 11 Romantic Beach Restaurants In Mumbai For A Dreamy Dinner Date In 2022
5. Khanderi Fort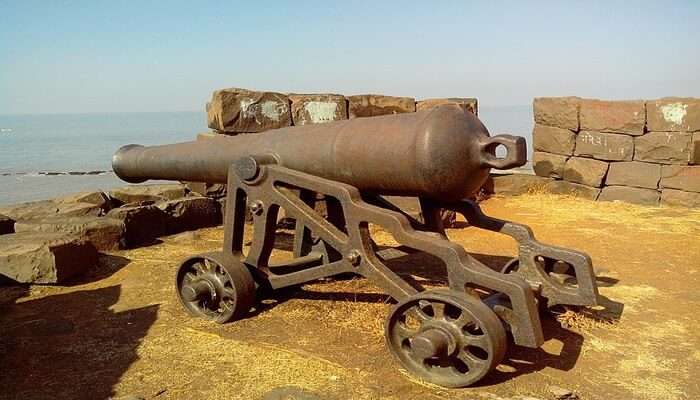 Khanderi Fort was constructed in 1678 by Maratha ruler Shivaji. The fort is situated on top of an island is the counterpart of another island fort called the Underi Fort. The fort, as one can imagine, holds great historical importance.
The island that houses the fort is also home to a temple of Lord Vitthal. The temple is a highly revered place of worship for Hindus and especially the fishermen living near the fort. Most fishermen in the area would tell you that they are supposed to remember Lord Vitthal every time their boat passes from near the island.
The island is situated just off the coast of Alibaug, which is easily accessible by road and state transport buses. From there, visitors are expected to hire a boat to reach the island. Thanks to the views of the expansive ocean and the solitude offered by the island, it is one of the best places to visit near Kharghar for couples.
Distance From Kharghar: 46.7 Kilometers
Entry Fee: Free Entry
Timings: 5 AM to 9 PM
Suggested Read: 27 Honeymoon Destinations Near Mumbai For Those Romantic Short Trips In 2022
6. Gadeshwar Dam

A beautiful, small, and little known dam near Navi Mumbai, Gadeshwar Dam is the perfect destination for nature lovers that are looking from a break from everything metropolitan. The dam is still unexplored among tourists and is easily accessible from Kharghar by road and public transport.
The dam, which is almost two kilometers in length, is surrounded by greenery and a hills that offer superb views to the visitors. Moreover, there is also a lake in the vicinity which makes for a perfect picnic spot.
While the dam is a great place to spend a short day away from the city, it is only so in the monsoon and winter months. During summer, the area gets extremely hot and humid. Moreover, if you are visiting the dam, it pays to remember to carry your own food and water as there are no restaurants or shops near the dam.
Distance From Kharghar: 24 Kilometers
Entry Fee: Free Entry
Timings: Open All Day
Suggested Read: Top 38 Weekend Getaways From Mumbai For The Love Of Traveling In 2022
7. Castella De Aguada (Bandra Fort)

Built by the Portuguese to fend of the Britishers, the Bandra Fort, which was originally known as Castella De Aguada is a famous attraction near the Kharghar area. Situated in the posh locality of Bandra, the fort is especially popular for local college students and couples looking for solitude coupled with a great view.
The castle is also home to a beautiful garden and offers unmatched views of the newly opened Bandra Worli sea link expressway. There is also a variety of Maharastrian street food to be had around the Bandra Fort, making it perfect for a quaint evening with your loved ones or significant other. With that said, the fort can get a little too crowded during the weekend and thus, taking time out to spend a weekday evening here is a great idea.
Distance From Kharghar: 38 Kilometers
Entry Fee: Free Entry
Timings: 10 AM to 8 PM
Suggested Read: 10 Best Food Trucks In Mumbai Which Are A Foodie's Paradise
8. Juhu Beach

If you have watched a Bollywood Film featuring the city of Mumbai, you have probably also seen (and know about) the Juhu Beach. The Juhu Chowpatty is famous for the variety of street food it sells, and creates a superb juxtaposition with the upmarket gated localities and 5-star hotels across the road.
While swimming isn't allowed at the beach, visitors may find plenty of entertainment in the form of Bollywood film shooting or simply a great chance to sunbathe in the evening. Since the Chhatrapati Shivaji Airport is in the vicinity, visitors can also engage in a bit of plane-spotting. The Juhu beach is easily the most famous places to visit near Kharghar and if you have the time, is definitely worth a visit.
Distance From Kharghar: 37 Kilometers
Entry Fee: Free Entry
Timings: Open All Day
Further Read: Nightlife In Mumbai: 20 Coolest Experiences That Will Make You Fall In Love With The City In 2022!
As you can see, there is no shortage of places to visit around Kharghar for those willing to go the extra mile to quench the thirst of wanderlust. With that said, it pays to keep in mind that this is all very limited information about the destinations and you must conduct more research before you embark on your journey. Plan your trip to Mumbai with TravelTriangle and enjoy an exclusive itinerary drafted according to your preferences.
Disclaimer: TravelTriangle claims no credit for images featured on our blog site unless otherwise noted. All visual content is copyrighted to its respectful owners. We try to link back to original sources whenever possible. If you own the rights to any of the images, and do not wish them to appear on TravelTriangle, please contact us and they will be promptly removed. We believe in providing proper attribution to the original author, artist or photographer.
Please Note: Any information published by TravelTriangle in any form of content is not intended to be a substitute for any kind of medical advice, and one must not take any action before consulting a professional medical expert of their own choice.
Frequently Asked Questions About Places To Visit Near Kharghar
How do I reach Kharghar?
Since Kharghar is a node of Navi Mumbai, which is a part of the Mumbai Metropolis, reaching here isn't a challenge (unless you run into bad traffic). For those travelling from outside the state, the closest airport is the Chhatrapati Shivaji Airport which lies at a distance of about 39 kilometers. A number of state transport buses and cabs are available at the airport, to take you to Kharghar. For some bus routes, you may have to switch buses from Navi Mumbai. Kharghar has its own railway station that is frequented by the Mumbai local, which is perhaps the best way to reach Kharghar. From Chhatrapati Shivaji Terminus, it takes about 65 minutes to reach Kharghar, that lies on the Harbour Line route. For those driving to Kharghar, it lies at a short distance of 5 kilometers from Navi Mumbai city center.
How do I travel within Kharghar?
Kharghar is a small area, about 10 square kilometers, and has a strong network of cabs and other modes of public transport.
What is Kharghar famous for?
The most noteworthy thing to do in Kharghar is to take a hike in the Kharghar hills. At the peak, one can witness panoramic views of the planned city of Navi Mumbai. Kharghar is also home to Utsav Chowk which contrary to its name, depicts Greek architecture that positively complements the charm of this planned city. There is also another point of interest from the hiking enthusiasts, the hike to Owe Dam. Bottom line, it is enchanting natural and man made beauty that attracts scores of local and outside tourists to Kharghar.
What is the best time to visit Kharghar?
While the Kharghar Hills are sometimes closed during the monsoon season, the area is especially in full bloom during this time. Thanks to the rain, the vegetation in the area is in full bloom and thanks to the migratory season, the area is also rich with avian fauna. If the monsoon is too heavy and it is unsafe to go to Kharghar, the next best time to visit is right after the monsoon recedes from the area.
How much time do I need to explore Kharghar?
Kharghar is not a big area to explore and all the main attractions can be covered in a short time. Typically, tourists spend between one and two days at Kharghar. However, this is also because a majority of the tourists that visit the area live in Navi Mumbai and other areas of Mumbai which are a short drive away.
How much does accommodation cost in Kharghar?
Since it is a known tourist destination, accommodation is a little pricey in the area. On an average, a night stay in a 3 star hotel can set you back by upwards of Rs 2700. On the other hand, if you choose a 5 star property, a basic room averages at a little over Rs 5200. Since the destination is especially popular during the weekends, accommodation costs can shoot up during this time.
---
Looking To Book A Holiday Package?
---
People Also Read:
Places To Visit Near Shirdi Places To Visit Near Delhi Places To Visit Near Nainital