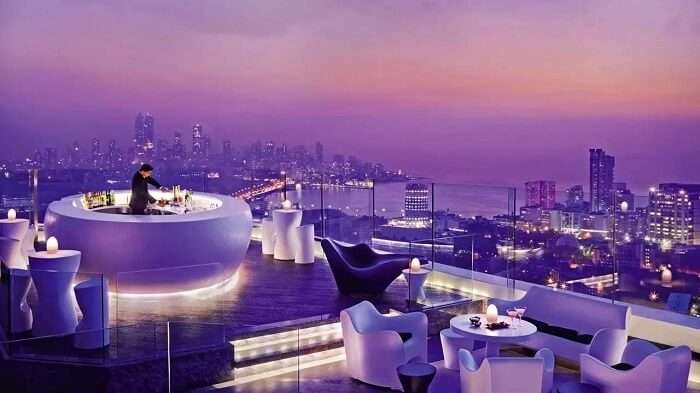 The city that never sleeps, the city that makes you feel safe at night, and the city that makes every dream come alive, is also the city that parties all night! The nightlife in Mumbai is dazzling enough to make anyone fall for it, be it the usual party freaks or the people in pursuit of peace. Right from the moment the stars come out to the time moon finally bids goodbye, there are a lot of things to do in Mumbai at night.
And the best thing is that there's no specific best time to visit the city to experience the Mumbai nightlife, but whenever you feel like. But, before you plan your Mumbai trip and get to your toes to dance away the night here, have a look at what the nightlife of Mumbai has in store for you!
Hang Out Zones To Admire The Citylights
The streets of Mumbai have a lot to wow you, especially during the wee hours. Be it the late night munching spots or the sea lanes, all you have to do enjoy the nightlife in Mumbai is head out and stay out!
1. Marine Drive – Nariman Point
Suggested Read: You Must Get To Mumbai At Once: Bioluminescence Turns Juhu Beach Blue
Irrespective of whether you're alone or with your favorite squad, Marine Drive is a great spot to visit at midnight and even after. If the monsoon in Mumbai makes this place a hotspot for couples, the night makes it a great place to hang out with friends and family. It is undoubtedly the best place in the city that makes you believe that nobody sleeps here. From vendors selling bhuttas (roasted corn) and chai late at night, and people soaking in the beautiful views to the early risers who arrive here for their morning workout, this place is never at rest. You can listen to your favorite beats here, catch up with your old friends, or get your guitar and get into the jamming mode with your friends around.
Stays open throughout the day and night.
2. Juhu Chowpatty
If you like staying out under the stars yet appreciate a little crowd around, this is the place for you to experience the nightlife in Mumbai. From families to couples, and group of friends, everyone can be spotted here. Take a stroll and unwind as the waves kiss your feet or spend the night indulging in the most talked about street food of the city. This famous beach has a lot of stalls that offer everything from Pav bhaji to chuski.
You can spend time at the chowpatty till 12 AM.
3. Bademiya In Colaba
Suggested Read: 15 Must Try Delicacies Of Street Food In Mumbai
This is by far the best late night munching spot if you're a non vegetarian at heart. Of course, it does offer a scrumptious variety in vegetarian as well. But, to spend your night out on the streets of Mumbai, having lip-smacking tandoori tikkas and kebabs is a dream for many. And Bademiya located right behind Hotel Taj Mahal in Colaba, ensures your dream comes true. It's among the best places to head to when looking for a great nightlife in South Mumbai.
And you know what's more special, it stays open till 3 AM and even delivers at your doorstep!
Best Nightclubs And Pubs To Live Like A Party Freak
We're sure you've heard a zillion times about the party places in Mumbai, and why wouldn't you? Starting from Taproom to Olive, Social and Hoppipola, to Prive', Hype, and local bars like Sunlight and Gokul, this city has something to suit everyone's pocket. But, out of all the best nightclubs in Mumbai, these a few handpicked ones to make sure you experience the best of all during your visit here!
4. Trilogy In Juhu
Trilogy is a much-hyped yet one of the top nightclubs in Mumbai, located in Juhu's Hotel Sea Princess. The sizzling red couches along with the long wooden bar showcasing exotic cocktails and wines makes this club a popular attraction. While the first level of the club offers you the drinks of your choice, the next one has a throbbing dance floor. Get ready to have the best night of your life if Trilogy is the club you're planning to visit.
Except for Sunday and Monday, this nightclub stays open on all the days from 10 PM to 3 AM.
5. AER In Four Seasons Hotel, Worli
Suggested Read: 12 Romantic Places Near Mumbai For A Secluded Slip
Set up on the 34th floor of the Four Seasons Hotel, this is the grandest and the most posh rooftop bar and club of Mumbai. If you're someone who admires a fancy dinner over drinks on the rocks, this is definitely your place to experience the best of nightlife in Mumbai. You can visit here with your family and even your special someone. There's enough room for everyone to savour the mesmerizing views of the city that this place offers.
You can chill at AER on any day of the week from 5 PM to 2 AM.
6. Toto's Garage In Bandra
You might have second thoughts for once because of the name of this place if you're not the one who loves exploring. But believe us, this is the place to go if you're looking for a pocket-friendly yet best pubs in Mumbai. Just like the name, even the décor has been designed like a garage with the body of a VW Beetle suspended above the lounge and the Dj mixing some great numbers in a Maruti Van! It's a fun place that serves toothsome delicacies like chilli paneer and chicken in 'mesh wires! If you're someone who fears the crowd, don't count on this place! Without a doubt, it's among the best spots to check out the Mumbai nightlife for singles.
The pub can be visited at anytime between 6 PM and 1 AM.
Entertainment, Entertainment, And Entertainment To Destress
There might be a long list of the best nightclubs in Mumbai, but there's nothing that beats the comfort and joy of entertainment at night with your favorite people around. From live music performances to theatre plays, this Bollywood city has something to tickle everyone's fancy!
7. Live Music At Blue Frog In Lower Parel
Must Read: 17 Monsoon Trekking Destinations Near Mumbai & Pune You Have To Start Planning For Right Away
Blue Frog, located in Lower Parel has revolutionized the concept of live music in the city and there's no reason, but this that makes it the best place to see the nightlife in Mumbai. This high-end club is often a hub for celebrities like Lucky Ali, Priyanka Chopra, Farhan Akhtar, etc. who not only visit the venue, but also perform here. It has an egg-shaped seating arrangement, modern LED screens, and great food & drinks along with an endless list of high-profile visitors.
The club remains open from 6 PM to 1.30 AM from Tuesday to Saturday. Also, you can enjoy a free entry if you visit before 9 PM (only if it's not a specially priced event or night).
8. Late Night Movie Scenes At Metro Or Regal
Mumbai is the best city for not just partying at night, but also to enjoy late night movie shows at the popular theatres. Be it the fancy Inox or the old Metro cinemas, you'd absolutely love the experience if you're a movie buff. The cost of the tickets is quite pocket-friendly, especially during weekdays, and the crowd is a mix of family, couples, and friends, which only makes you feel more secure.
9. Canvas Laugh Club In Lower Parel
There's no better way to experience the nightlife in Mumbai than starting with a dose of laughter. Visit the Canvas Laugh Club at the Palladium Mall in Lower Parel, and witness the best of comedy right in front of your eyes. From famous comedians like Kanan Gill and Kenny to newcomers like Abhishek Upmanyu, the stage here is the best platform to enjoy an evening full of entertainment.
All the performances here happen between 7 PM and 10:30 PM on all the days of the week.
Fun Activities To Calm The Thrill Seeker In You
Who says Mumbai is all about partying? There's an endless number of things to do for those who are crazy and adventurous. To calm the adventurer in you, you can take a cruise tour or go for moonlight kayaking nearby if you're searching night out places near Mumbai.
10. Midnight Cycling Tour
Suggested Read: 10 Breathtakingly Beautiful Monsoon Getaways Near Pune & Mumbai
What can be a better way to explore the nightlife in Mumbai than to see the city on the wheels. Don't forget to ride through the beautiful route of the city, and stop by at all the popular spots such as Marine Drive, Shivaji Park, and many more. This amazing ride will come to an end at Bandstand and help you unravel a totally different Mumbai with this delightful midnight cycling trip.
11. Sundown Parasailing
Yes, you read it right. Parasailing actually happens in Mumbai at night. You can avail a service at Water Sports Complex situated on Marine Drive, and whilst enjoying a bird's eye view of the entire city. This should definitely be on your list of must do things here if you want a smashing experience of the nightlife in Mumbai Marine Drive.
12. Driving Through Sea Link
Driving on the empty roads in Mumbai is no less than a dream. Take a smooth drive through the Worli sea link to experience the true jewel of a time. It is located on one of the calmest sea fronts of the city and you will get to gaze at the beauty of the city like never before. While heading out on a romantic drive sounds perfect, this is also one of the ways to experience the nightlife in Mumbai for singles.
Sweet Spots For Your Sweet Tooth
It's astonishing how some of the famous dessert places in Mumbai hasn't changed even a bit. From famous patisserie to ice cream parlours, there are a lot of spots offering delectable delights for everyone to relish.
13. Bachelorr's
Suggested Read: 10 Romantic Beach Restaurants In Mumbai For A Dreamy Dinner Date
Located right opposite to the Chowpatty seaface, this place serves the best fresh juices and ice cream sundaes. Anyone passing by stops here at midnight to satiate their hunger pangs with the light delicious bites, and enjoys the nightlife of Mumbai by indulging in the unique taste that this place offers.
It stays open from 10 AM to 1:30 AM.
14. Theobroma
The popular yet famous bakery and patisserie in Mumbai is the best place to visit if you want to see the sweeter side of the nightlife in Mumbai. Located in Colaba and Bandra, this place usually stays open till 12 AM. The choco chip brownies, red velvet pastries, and chicken sandwich are a must have here!
Theobroma remains open until 12 AM on all days of the week.
15. K Rustom's Ice Cream
Image Source
Ever been a fan of homemade ice creams? Well, this age old place at Churchgate serves scrumptious ice creams, which literally leaves you licking your fingers. This is the oldest Iranian parlour in the city, despite which it keeps on adapting the flavors over the years, out of which the sandwich is the best!
The ice cream parlour remains open from 9:30 AM to 11 PM on all days except for Sunday, on which it opens at 3 PM to 11 PM.
And while the city has so much to offer to each one of you, it also lets you party at your own house till the morning if you prefer staying indoors. Right from the alcohol to the delicious food, you can get anything delivered at your doorstep, and make the most of the nightlife in Mumbai.
Suggested Read: 15 Best Picnic Spots Near Mumbai For The Summer Of 2019
So which one of these experiences suit your interests, and makes you want to book your customized trip to Mumbai with TravelTriangle right away? Tell us in the comments below! And don't forget to share with us your experiences of trying out these awesome places to hangout in Mumbai at night!
Frequently Asked Questions About Nightlife In Mumbai
Comments
comments