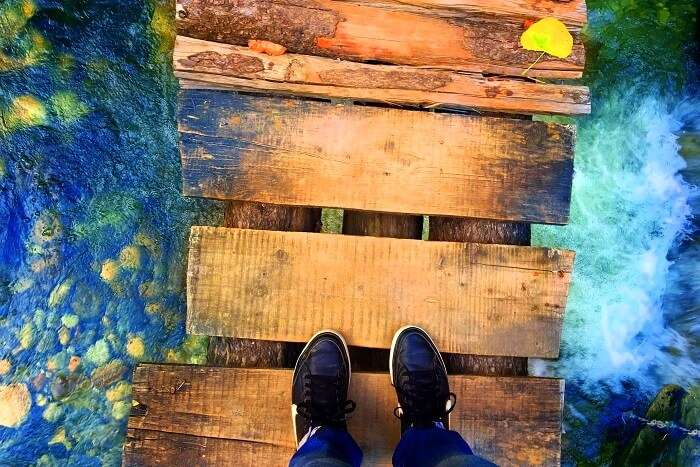 My solo trip to Kasol and Kheerganga was a spur of the moment decision. One week before the Independence Day weekend, I decided to venture out into the wild and enjoy some alone time on my own. In the next two days, I finalized everything regarding the trip booking.
Now you must be wondering what happened all of a sudden that drove me to a solo trip, well, life! Wanting to get away from the hustles of the city life, I realized it was now or never and since there were a bunch of holidays for me to avail, I went for it. All I knew was that I had to travel, but where, I had no idea. But that soon got sorted when I saw one of TravelTriangle's Facebook ads for a weekend trip from Kasol to Kheerganga.
My 3-Day Itinerary for Kasol to Kheerganga Trek
Day 1: Kasol – The camps by the river, Israeli food, trance music
Day 2: The Kheerganga Trek
Day 3: Part two of the Kheerganga trek – the exit!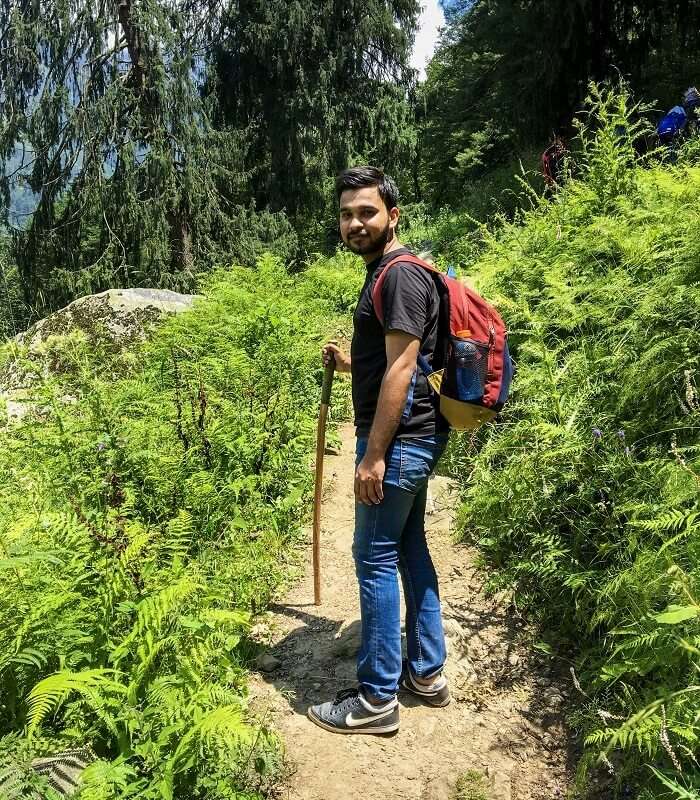 A First-Timer's Guide To Kasol: Things To Explore, Eat And Experience In 2022
Without thinking much about it, I went for it and in the next couple of days received a golden ticket to the mountains. I had an intuition that this trip was going to change everything, and I was right!
This was one of those choices where I thought from my heart and that made all the difference! Heart>Mind!
Coming back to my  Kasol Kheerganga trip, as mentioned earlier, I booked a long weekend trip package from TravelTriangle and just to give you an idea what all was included in it, here are its details:
Kasol Kheerganga Itinerary
Trip Type: Adventure
Cost: INR 5500 per person (quad sharing basis)
Duration: 2N/3D (11th to 14th August)
Inclusions: 2 breakfasts, 2 dinners, sightseeing in Kasol, camping (both in Kasol and Kheerganga), transport, and taxes
Exclusions: Lunch and other personal expenses that were not part of the itinerary
Note: Although the trip costed INR 5500 (perfect price for someone who wants to go on a budget for Kasol to Kheerganga trek), I ended up spending an additional INR 3000 more, mostly on food and stuff, which I know is on a higher side!
And now, the trip
We started from Jhandewalan metro station at around 7:30 pm on Friday, 11th of August, and after our coordinator, Nishant, had done a head count, there was an introductions round. It was nice to know so many people from different backgrounds post which an inhouse entertainer from TravelTriangle, Abhinandan, began playing guitar and engaging everyone in a game of Antakshari.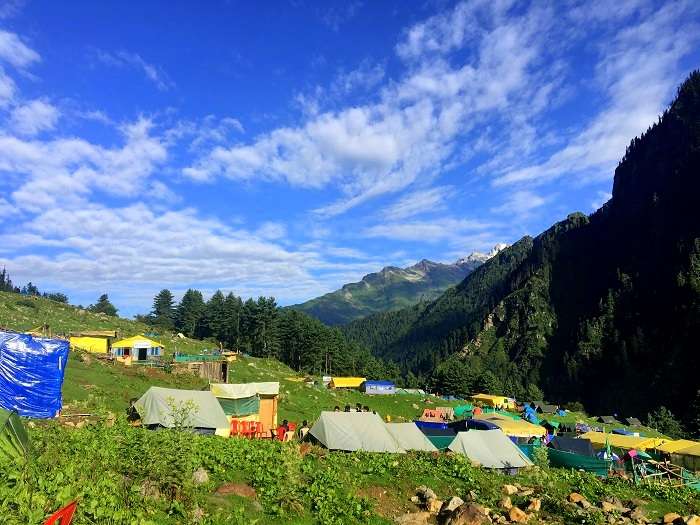 I however, resisted :P Nonetheless, it was an incredibly fun session and was followed by dinner at 70 Miles Dhabha in Murthal. This dhaba was equally happening and had music, bhangra, and oh, so many people! The food was awesome too (I had a stuffed aloo parantha with a butter slab so huge, I almost gave up on counting its calories!).
We traveled through the night and the morning and the day to finally reach Kasol. During our bus journey, we had to stop three times, one because there was an issue with the AC, second because, the driver needed to take some rest, and third, for breakfast!
The results of these stoppages and traffic led to a 5 hour delay but I didn't mind much since I was busy with my music and books (finally finished "The Old Man And The Sea").
All That You Want To Know About Kasol
Day 1: Kasol – The camps by the river, Israeli food, trance music, and much more!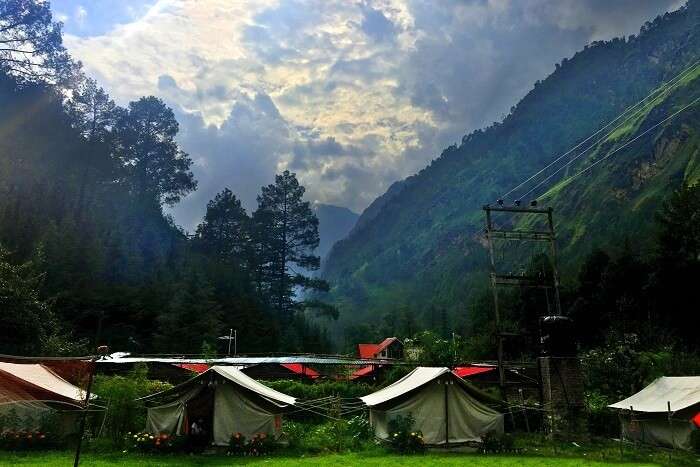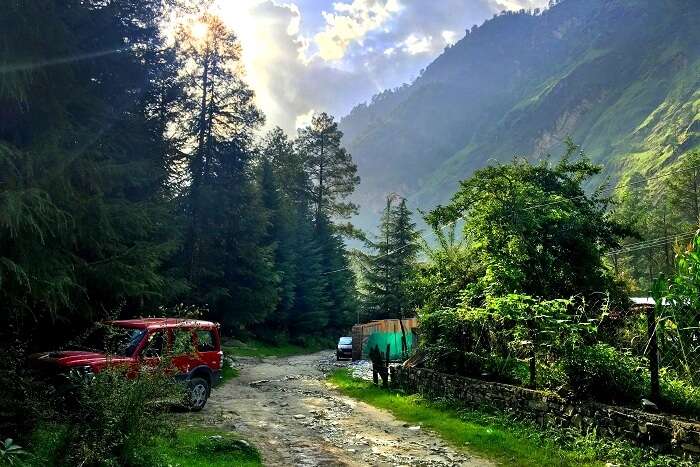 Parvati Woods Camps was love at first sight for me. Surrounded by lush green mountains, these camps were located in the valley between and had the sweet company of Parvati River. The natural whirring sound of the river, combined with a nice in house cafe (that served delicious Maggie and omelettes) was like paradise for me. I had the best of nature and food around me, it was blissful!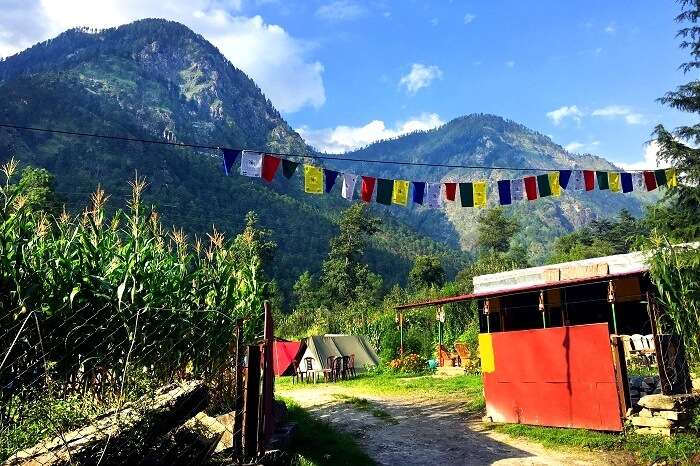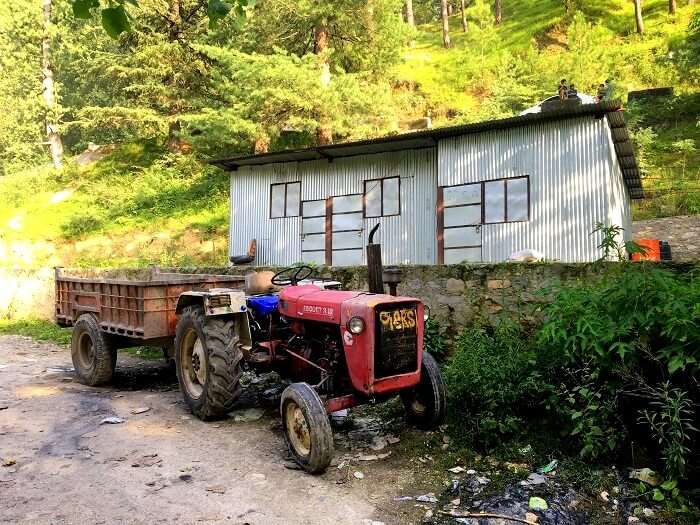 Later, after freshening up, me and three of my new found friends, Aman, Nishant, and Vasul set out for Kasol and Chalal trek on our own. For this, we took a shortcut from our camps (or so we thought), crossed a stream, and ended up getting stuck at a dead end (just 100 meters away from our camp, wow!). Later, after asking directions from a few locals, we were back on track to Kasol and Chalal.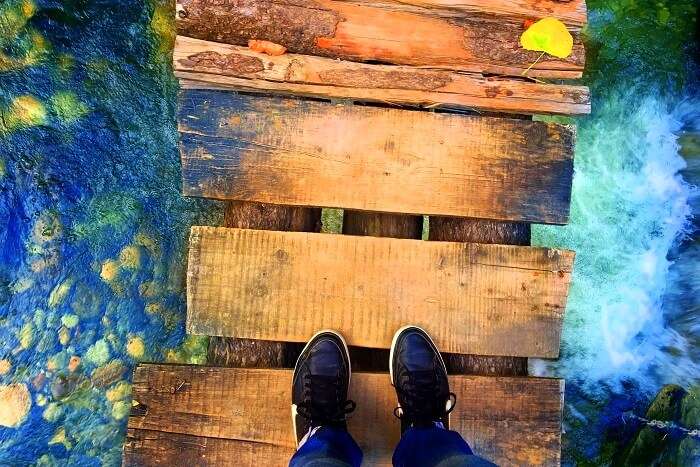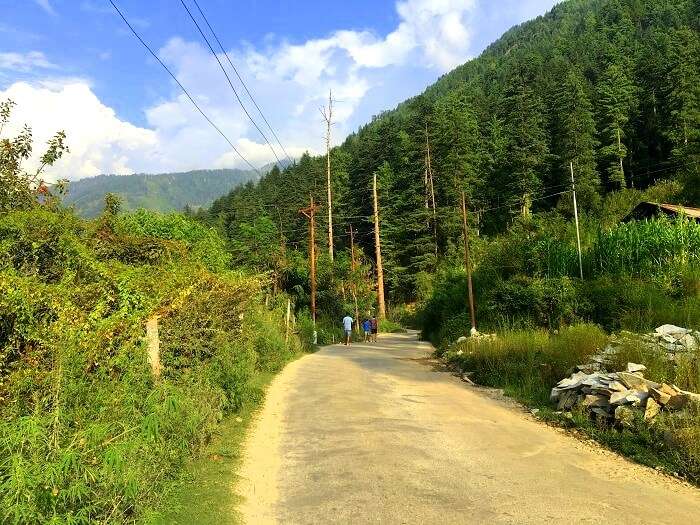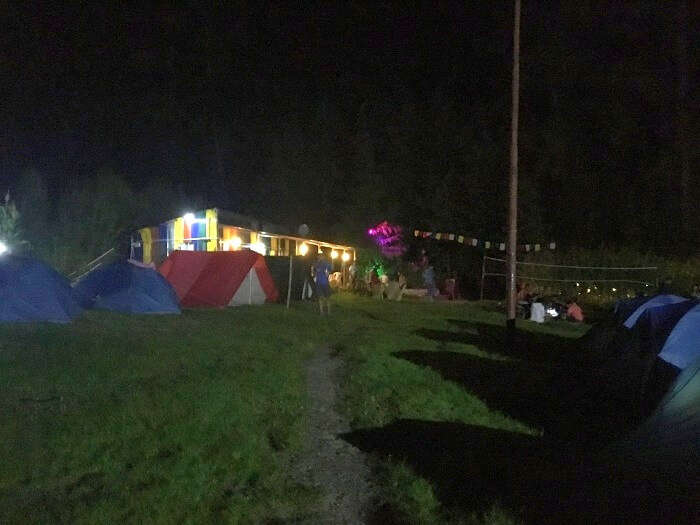 It was here that I received a call from my grandfather informing me that two of my other cousins should also be reaching Kasol any minute (why would they do that? :P), and that I should meet them if I can.
Later, after speaking to them on phone, I did spot their car in Kasol and met them for an hour. It was nice knowing that even on a solo trip, my family had my back!
Later back with my new found friends who had gone to arrange something, we proceeded to dine at one of the famous Israeli Cafes of Kasol.
Note: Kasol and its nearby areas have a lot of Israeli tourists who often spend their time getting high on nature. To accommodate such a large influx of foreign tourists, there are may famous Israeli Cafes in Kasol that serve authentic cuisine along with trippy trance music, giving the whole place a very psychedelic vibe.
After researching a bit about the best cafes in Kasol, we chose the Evergreen Cafe for our evening snack session.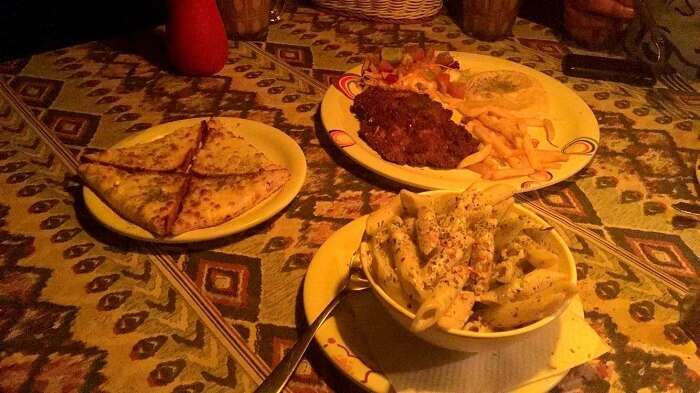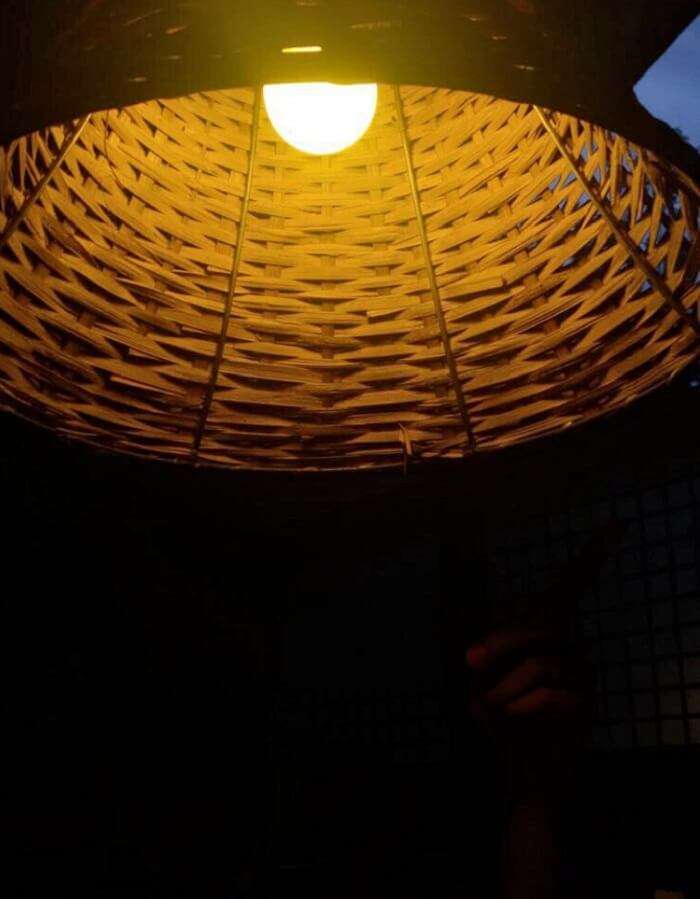 Evergreen Cafe was a trippy option for us and was dimly lit with candles. It had three areas to dine, one was an indoor option, the other was a separate room (where mostly Israelis were dining), and the third was a veranda with chairs. There was trance music and quite frankly, I loved its vibe!
Tip: INR 400 per person is the average cost for a meal here and in similar cafes.
Must Try Dishes: Schnitzel (Israeli), Pasta, Oreo Shake, and Bruschetta
Later back in the camps, there was a bonfire arranged for us along with a DJ. The food was nice and after a few drinks, everyone was super chill including me! There was a ghost story session that followed later on and I admit, I did get scared for a while!
Note – even though I was on a quad sharing basis, which meant I had to share a camp with someone, I managed to find a solo camp for myself both the days!
 18 Cafes In Kasol That Have Everything You Need For An Ultimate Food High In 2022!
---
Himachal Holiday Packages On TravelTriangle
Head to Himachal to witness lush valleys surrounded by snow-capped hills. Indulge in skiing, paragliding, and other adventure sports. Book holiday packages inclusive of airport transfers, cab, resort, sightseeing, and meals to Shimla, Manali, Kasol, Dharamshala, and more.
---
Day 2: The Kheerganga Trek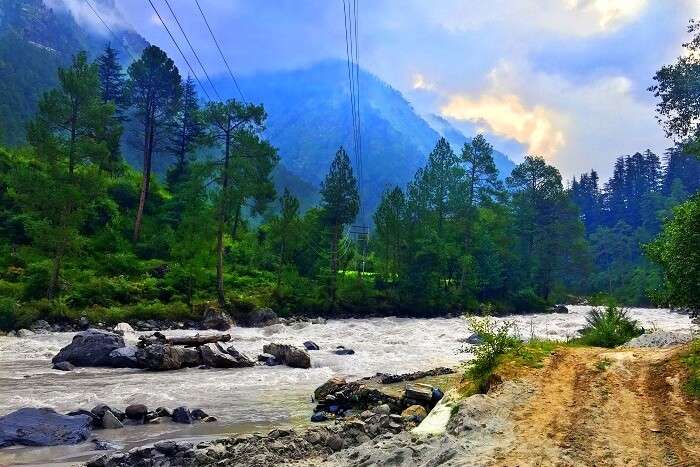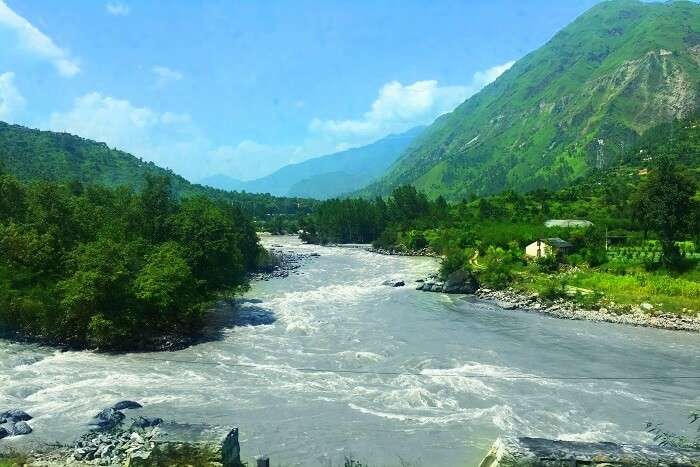 This was the most exciting moments as I was heading for Kasol to Kheerganga trek. We left our camp in Kasol at 9am and proceeded for Barshaini, the base for Kheerganga trek from Kasol. It took us about an hour to reach here and on our way, we also crossed Gurudwara "Manikaran Sahib" (famous for its hot springs) that we were scheduled to visit the next day while traveling back.
Upon reaching Barshaini, we were advised to purchase a rain coat for it could rain and also a sturdy wooden stick, that would help us in our trekking! I purchased the stick (30 bucks) but could not get my hands on the raincoat since they soon got out of stock.
Kheer Ganga Trek 2022: Whispers From The Parvati Valley!
Trekking begins!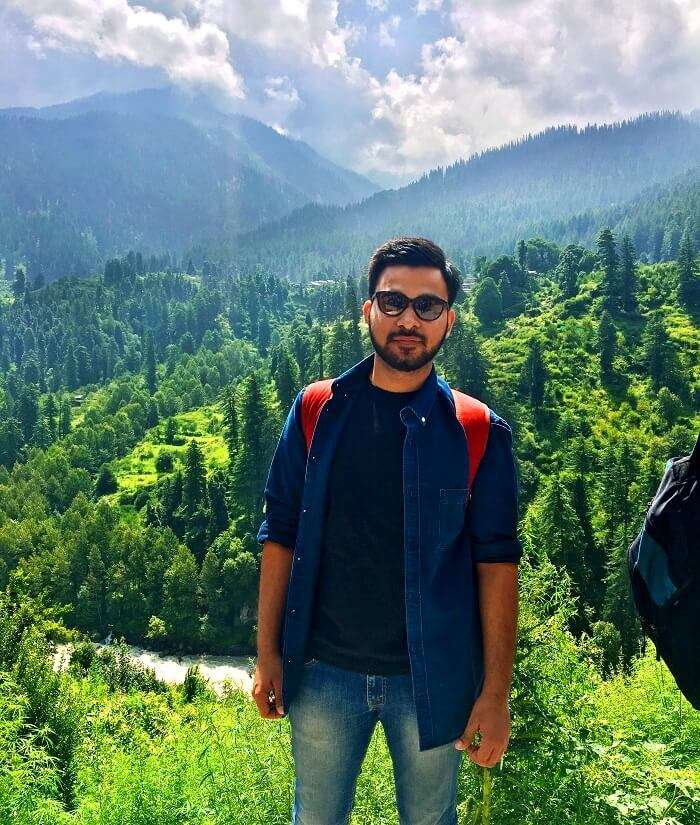 This was my first solo trek to Kheerganga and I was scared. I had no idea what kind of a path I was going to encounter and since this was also the first "real" trek for me, anxiety was also on a higher side!
Tip: Kheerganga trek is an 11 km trek (one way) and has quite a few tricky paths up its sleeve. It can be treacherous if one is not careful. For first timers, it is recommended that they take the regular path which is a bit longer but has less obstacles than the shortcut one.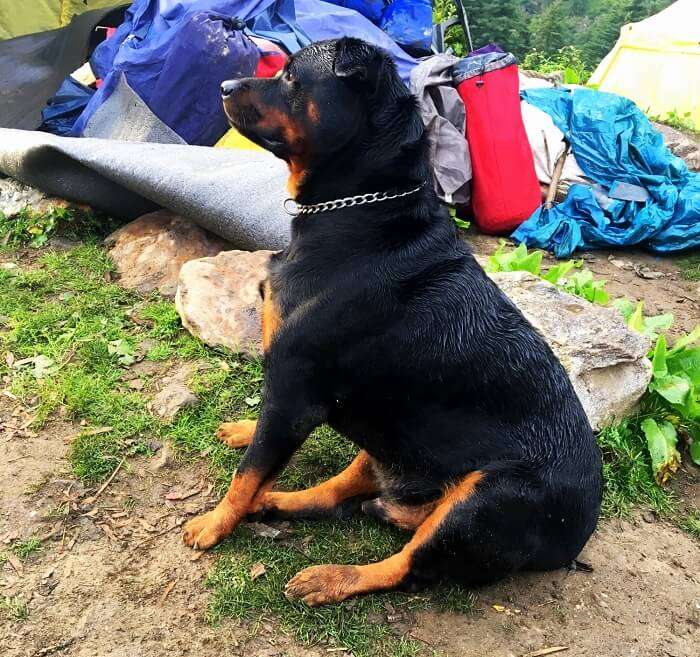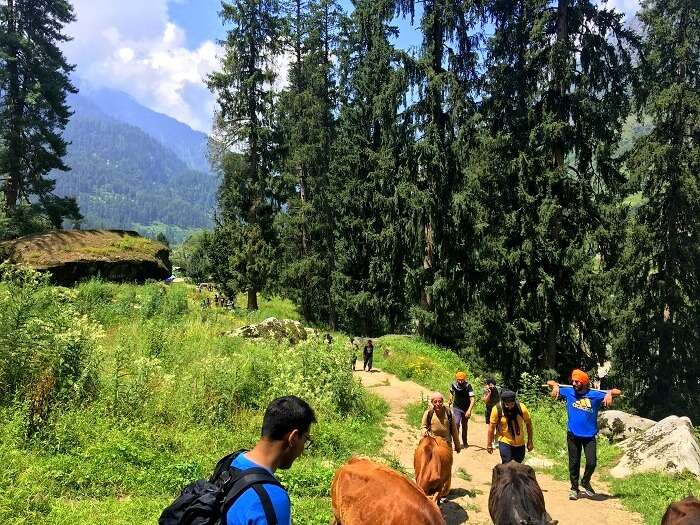 Unfortunately, I took the shortcut!
I soon understood why this path was only for the brave hearts for I had to literally climb on rocks, brave the donkeys and cows, slippery ground, waterfalls, and more, to reach my destination – Kheerganga!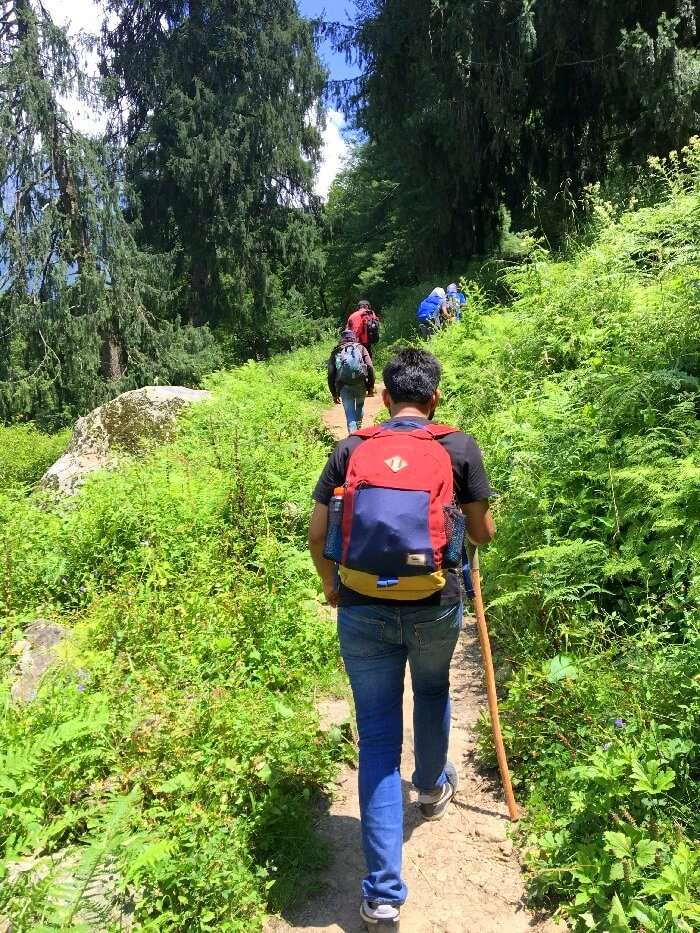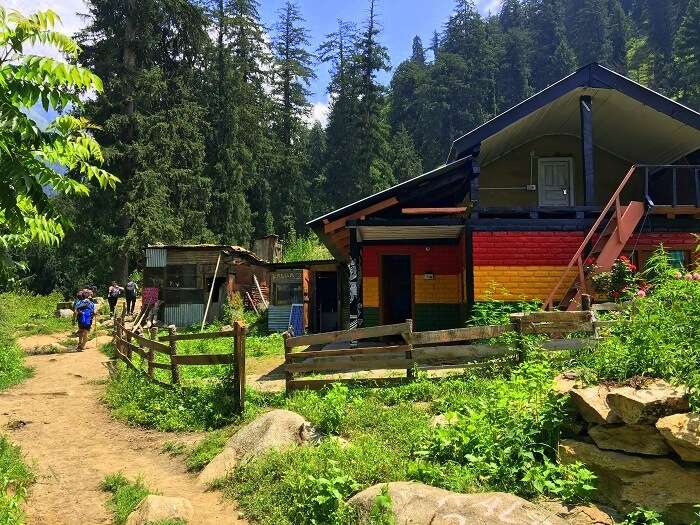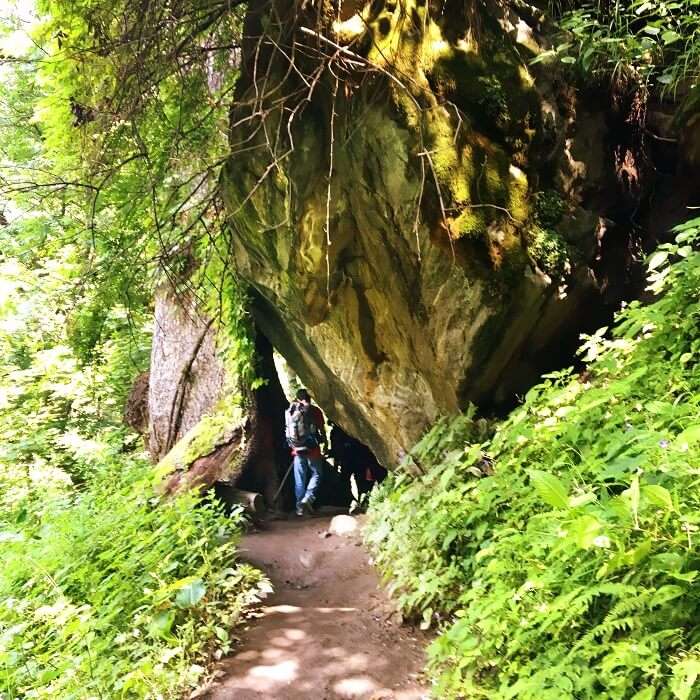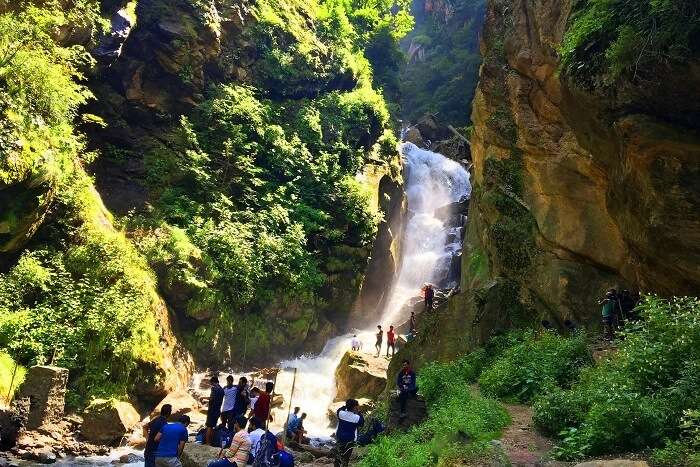 Fortunately, there were 8 major points of relaxation during our trek and these were filled with small eateries offering everything from maggie to gatorade to chocolates.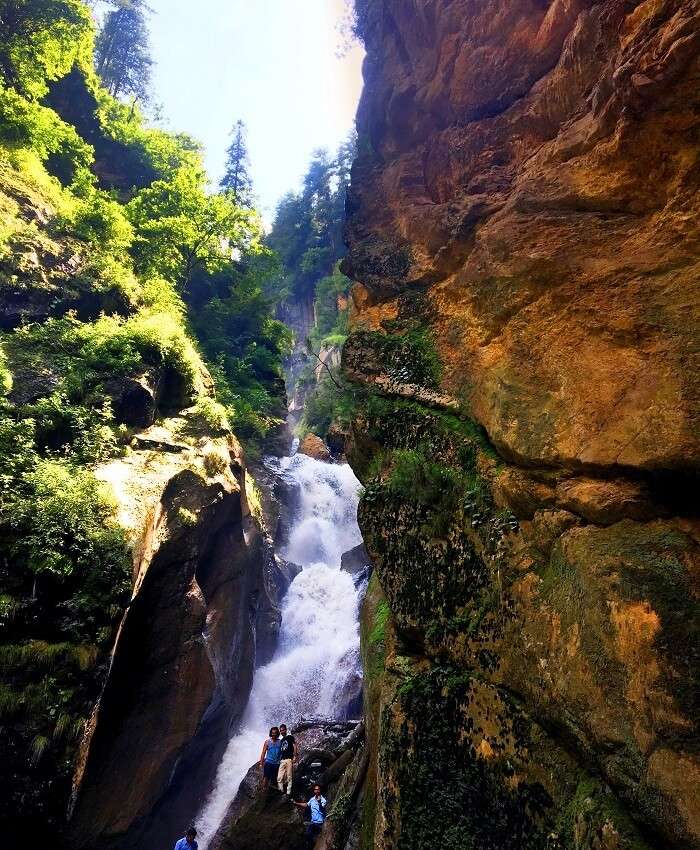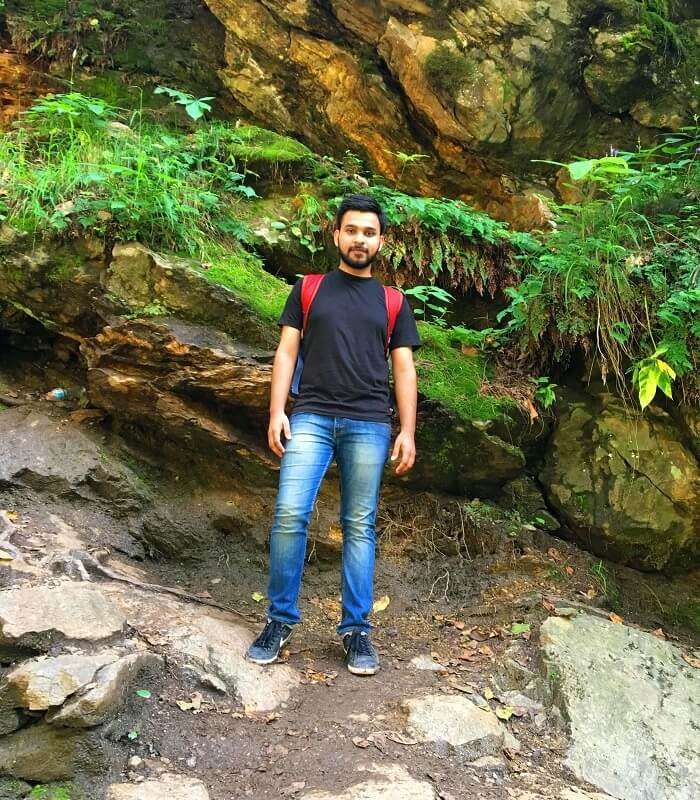 Barring the danger, the trek was extremely fun and had a lot of tourists going along the journey listening to music on their portable speakers. Listening to Coldplay, Kygo, and Pink Floyd was something I had not expected on a trek!
Surprisingly, everyone I met was in high spirits and were paying no heed to how tiring the path was. I too, soon was lost in the music of the valley and continued on like it was my final destination.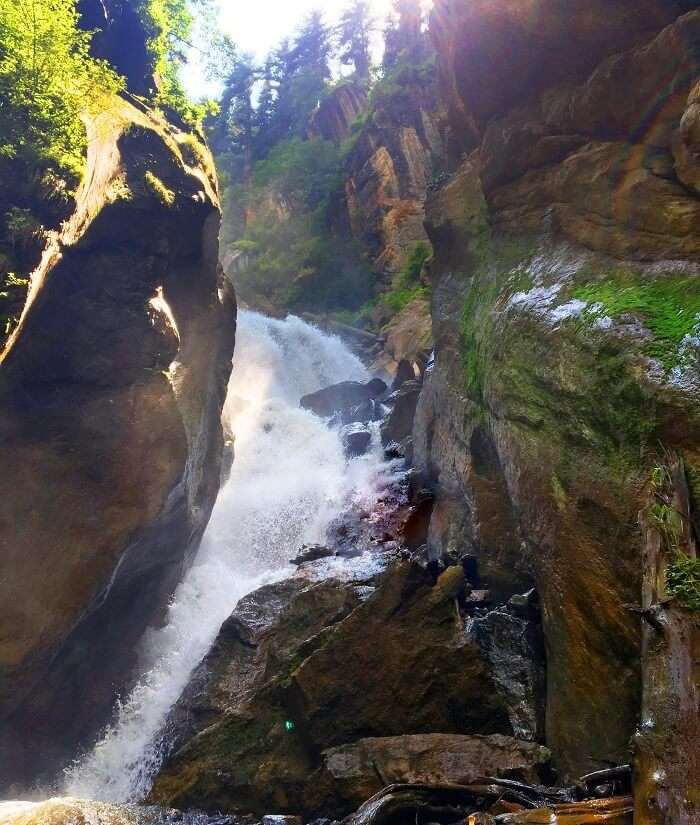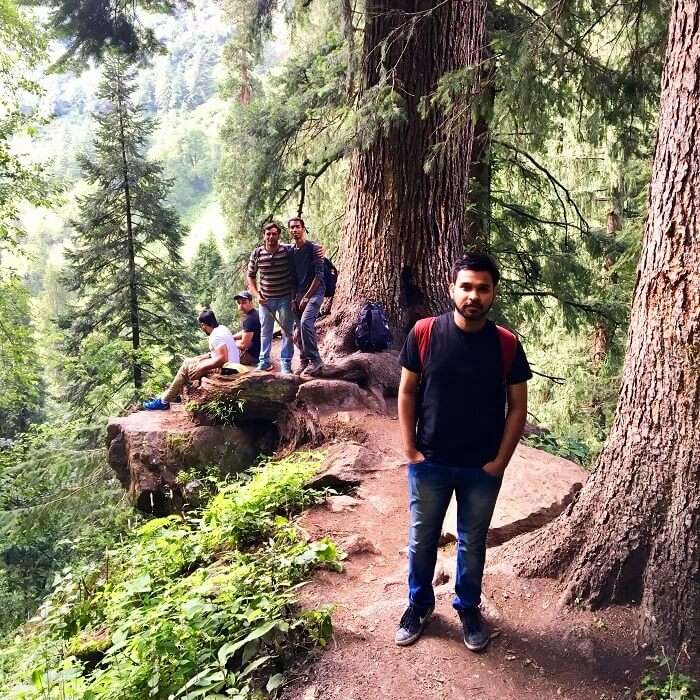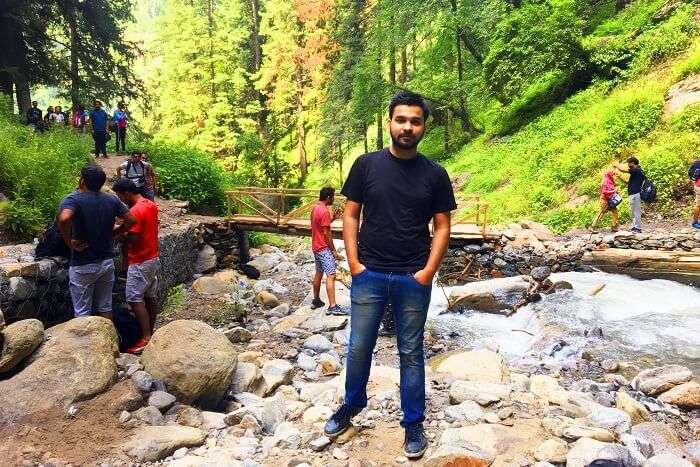 The Kheerganga trek taught me a lot about life. It was one of those journeys where the path was difficult and you had to use your wits to overcome it. At every point in the trek, whenever I took a breather, I realized, that I had almost reached my check point! From this, I understood that when the times are hardest and you feel like giving up, that is the time, you should not, for once you're back on your feet, the destination isn't far away!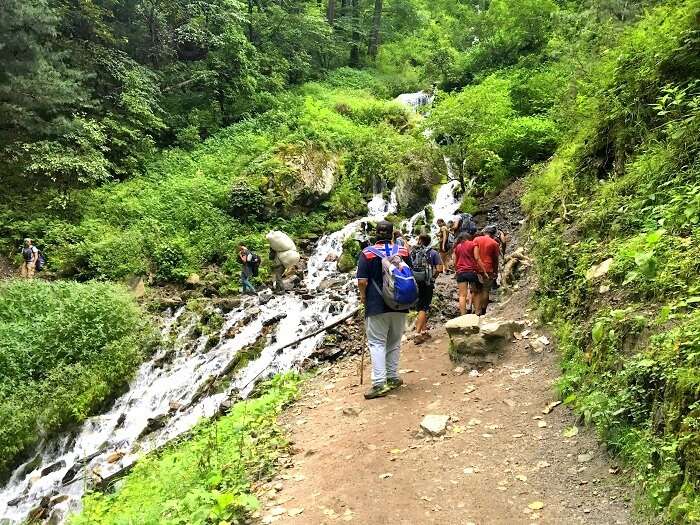 I finally reached Kheerganga after 6 hours of trekking and I am proud to say, it was an amazing experience! No matter how tiring it was, or how much I wanted to give up, the joy of finally achieving your goal was worth it! (just like life, again!)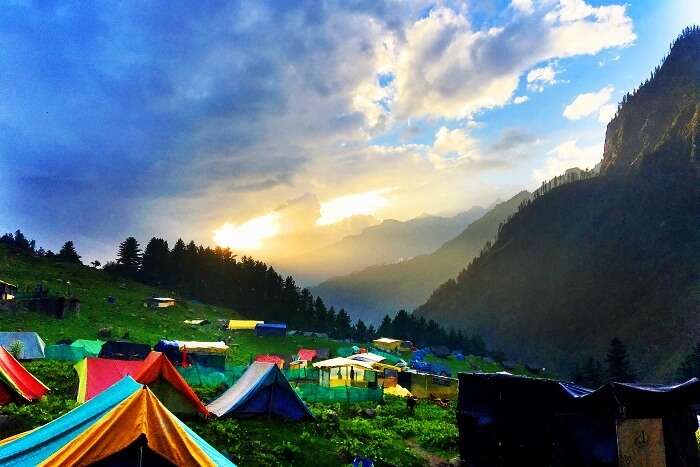 The view of the mountain top was mesmerizing and I was immediately enchanted by the rainbow that was floating just above me.
It was incredibly rewarding and after we had reached our camps "Shiv Shanti Camps", we were served tea and Maggie in a cozy cafeteria that also had blankets to keep us warm. Everything was trippy here, the people, the music, and yes me too!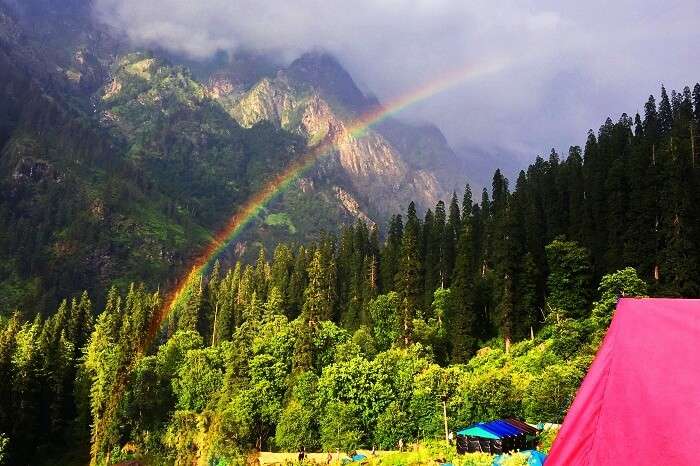 Feeling The Love Of Nature On An All Girls Weekend Trip To Kasol
In the night, I went for a walk in the clearing and saw a great many cafes serving delicious snacks. There was a temple on the top and it also had a hot water spring just like "Manikaran".
Later, I returned to my camp, had dinner, and then retired for the night! My introverted self desperately needed some alone time to recharge!
Day 3: Part two of the Kheerganga trek – the exit!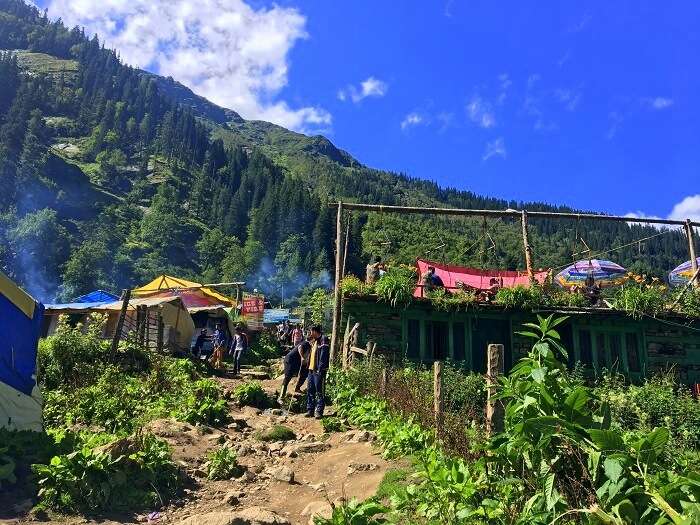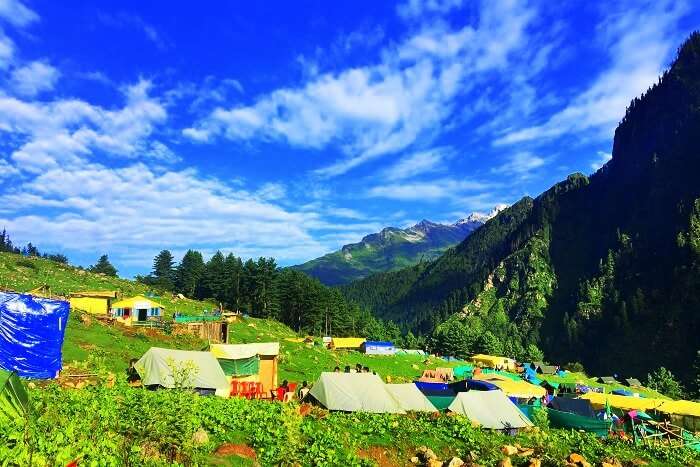 Kheer Ganga Trek 2022: Whispers From The Parvati Valley!
I woke up to a beautiful sunrise and after freshening up, proceeded to the temple on top for a bath in the hot water springs! These waters are known for its healing properties and after taking a bath here, I soon understood why, for all my fatigue had vanished!
I rested for a while on the slope here and then went back to the camp for breakfast (Chole Puri). Since most of the people before me had already left for Barshaini, I along with three of my new friends and two coordinators were the last to leave for the downward trek.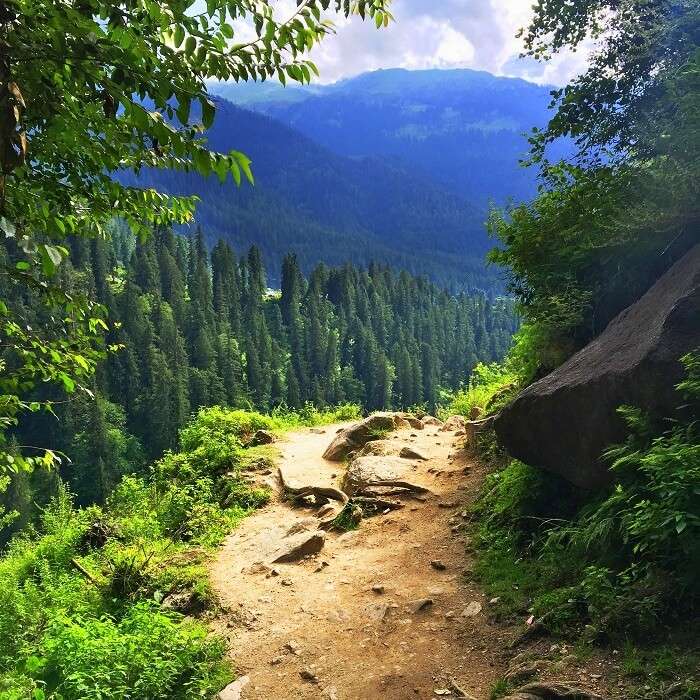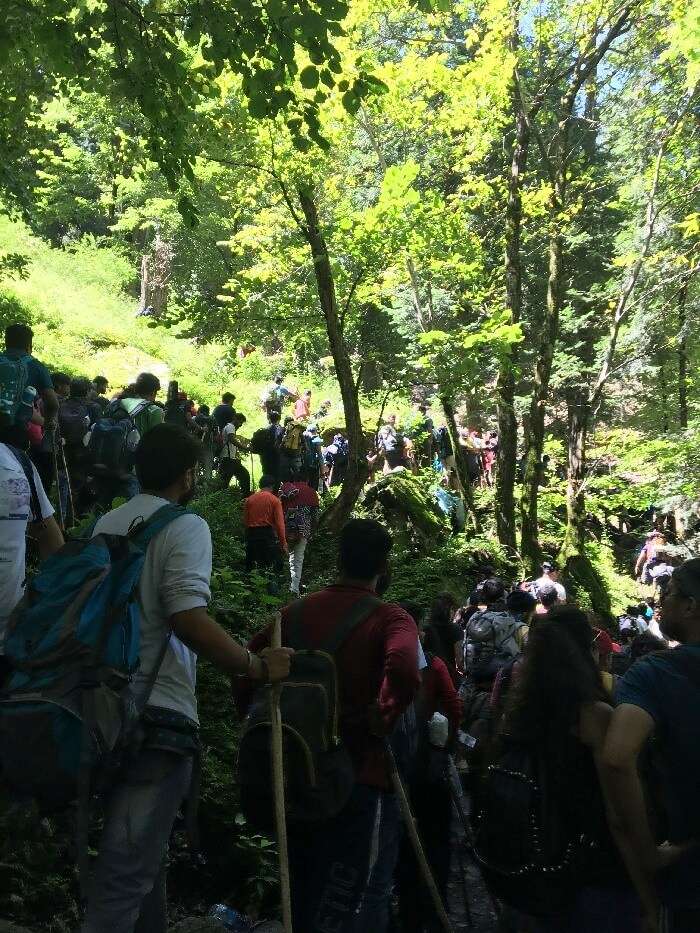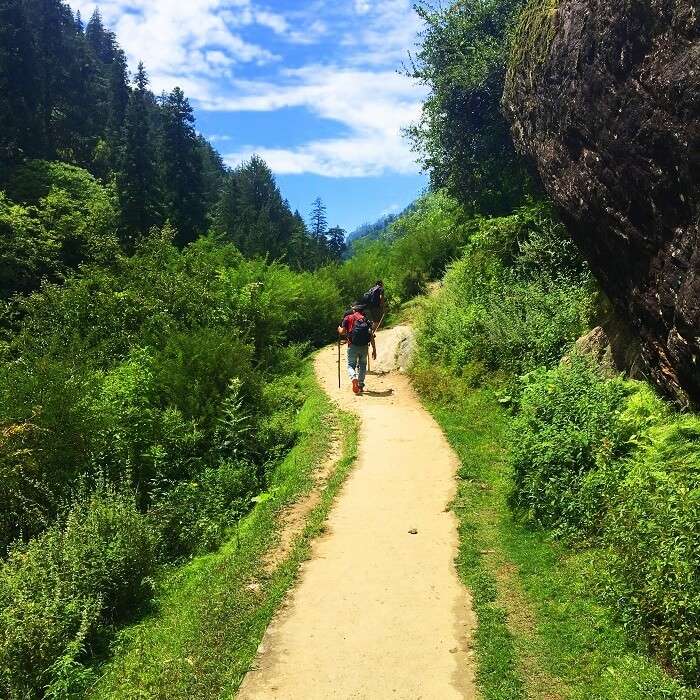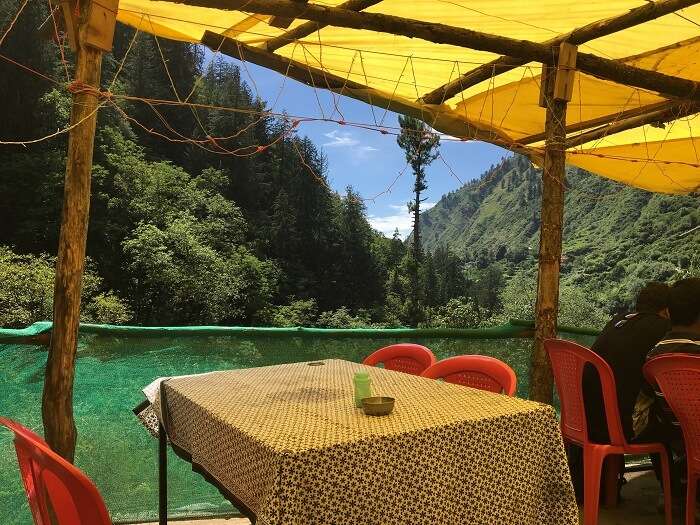 But as luck would have it, there was a landslide and we were struck for at least two hours on the edge of a cliff along with hundreds of trekkers. It was a slow way out but in the end, we managed! The rest of the path was a solitary one for me. It was music, me, and my wits to carefully trod the downhill journey.
After a span of 5 hours including the landslide delay, I finally reached Barshaini, and then from there walked another 2 km towards the bus parking. The adventure had ended!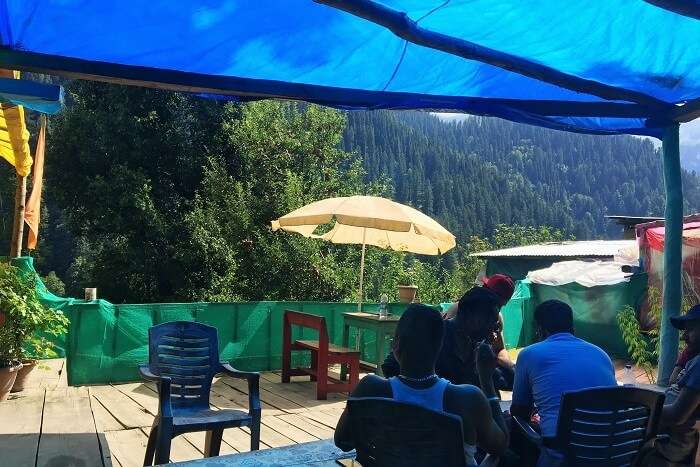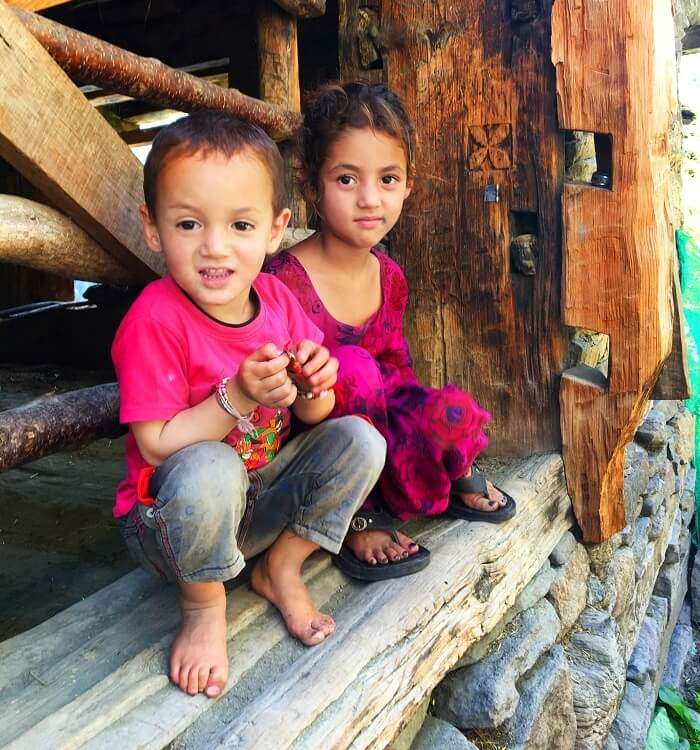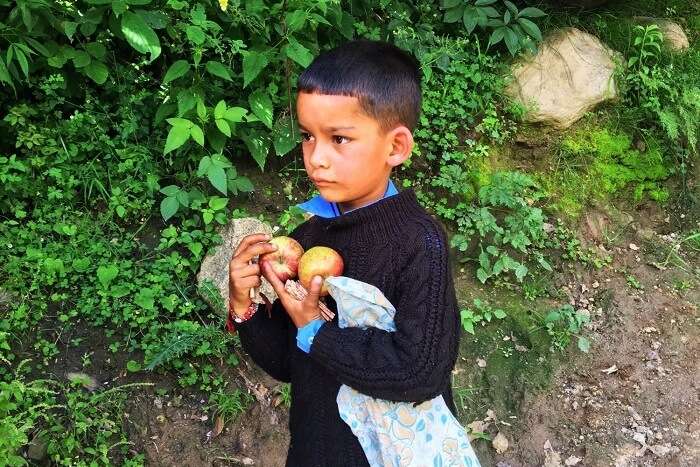 Why Kasol Is Not An Ideal Weekend Getaway
After about half an hour, we also sat in the bus and continued our journey towards our last stop, the "Manikaran Sahib Gurudwara". Since most of us had already visited the hot water springs in Kheerganga, we decided to skip this one except for a Sikh couple who wanted to pay their respects. So as they were visiting the gurudwara, I was out savoring the street food and enjoying the some local nimbu lemon. This was essential for a foodie like me after an adventurous Kasol solo trip.
Later, as we continued the journey, we stopped for dinner and breakfast before concluding everything at Jhandewalan metro station!
Here is what Pranav shared for our future travelers!
Is Kheerganga trek difficult?
This 11km trek (onw way) has got some tricky paths as I mentioned above. You need to be careful while trekking. Many trekkers take the regular path which is a bit longer but is safer than the one I took.
What did you bring to Kheerganga Trek?
Here is a list of things I carried to Kheerganga for my trek:
A water bottle
Some munchies and energy bars
Trekking shoes
Torchlight
Hand Sanitizer
Sunscreen
Trek route Map
A First-Aid Kit
Final thoughts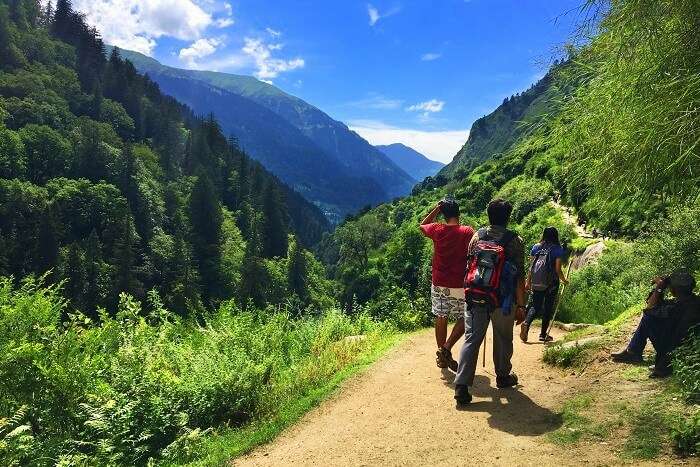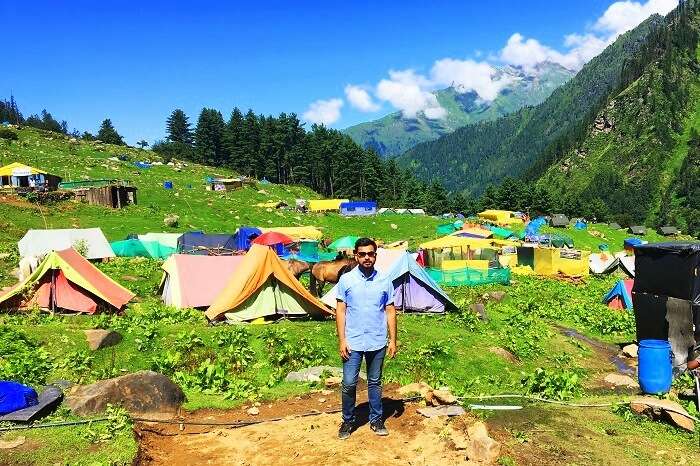 Feeling The Love Of Nature On An All Girls Weekend Trip To Kasol
From battling landslides to overcoming fears, fatigue, and obstacles, my solo trip and the  Kasol Kheerganga trek taught me a lot of things! Some about life, some not so much. In the end, as a wise man once said and I learned, "danger is real but fear is a choice". And that is true for everything in life!
---
Looking To Book A Holiday Package?
Book memorable holidays on TravelTriangle with 650+ verified travel agents for 65+ domestic and international destinations.
---