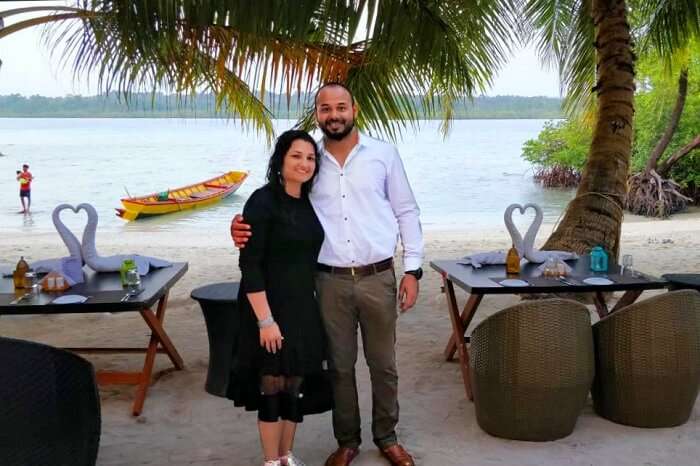 "Travel and change of place impart new vigor to the mind." Seneca
Rahul believes travel brings him peace and rejuvenates the mind by calming it down and adding fresh enthusiasm. Without holidaying, he feels that one's machinery i.e. the body begins to rust which makes travel an important part of his life and him a compulsive traveler. This being his honeymoon trip was really special and ended with giving him a storehouse of memories.
Trip Type: Honeymoon
Trip Duration: 6 Nights 7 Days
Trip Cost: INR 60,500/-
Agent Name: Experience Andamans
Inclusions: Breakfast, Airport Transfers, Private Ferry Transfers, Watersports, Honeymoon Freebies, Government Taxes and Service Charges
Exclusions: Lunch, Dinner, Airfare
I am a software engineer by profession and with my everyday routine, life gets too monotonous if there is no travel involved. Traveling brings me serenity and a honeymoon trip with my beloved wife was a cherry on the cake as it soothed both my mind and heart. I booked a honeymoon trip to Andaman from TravelTriangle to escape to the white sand beaches and the surreal palm-lined shores.
When I was young, I used to travel a lot with my family. I think that was what instilled in me the love and passion for traveling. Travel to me is irresistible and I always grab the first chance I get to go explore a new land alone, or with friends and family. Traveling is that potion that keeps my body and soul functioning.
Why I and my wife chose TravelTriangle
I came across TravelTriangle earlier when I was planning a trip to Kerala. I had gotten some amazing deals back then, so when my wife decided to go to Andaman for our honeymoon, I knew where to book our package! In no time at all, we received an amazing deal from 'Experience Andamans' and we proceeded with our bookings.
The Amazing Time We Had On Our Honeymoon Trip To Andaman
Here is what we did on our romantic 6 nights 7 days honeymoon getaway to Andaman.
DAY 1: Arrival at Port Blair
We arrived at Port Blair at 11 AM in the morning. The transfers were easy as our travel executive was already waiting for us at the airport with our names on the placard. After arriving at the Driftwood Hotel & Resort, we rested for a while and went to have lunch at our hotel's restaurant.
After lunch, we were informed that our car had arrived and we proceeded to Corbyn's Cove. The beach was clean and beautiful. It wasn't crowded and there were jet skis all around.
We had lots of fun on the jet ski. It wasn't a new experience but each time you do it, it is fun. As the beach wasn't too crowded we could enjoy quality time with one another. We got so carried away in each other's company that we lost track of time and our cab driver called to remind us of our next stop.
Then we headed to the Cellular Jail. It was crowded but our travel agent had booked our tickets in advance and so we didn't have to wait a lot. We hired a local guide inside the jail who walked us through the history of this wonderful place. The stories were intriguing as the jail was a part of the freedom struggle our ancestors fought. The light and sound show was splendid!
6 Villas In Andaman That Guarantee A Gorgeous Stay And Sunset!
We headed to the Port Blair market next and there was a fair which added to our enjoyment! After dinner, we went to our hotel which was hosting a live concert that night. The singer was amazing and was also accepting requests from the public.
My wife dedicated a song to me! It was a total surprise for me hearing my name being called out aloud and it left me flustered! We ended our day on a melodious note enjoying old Kishore Kumar songs. It was one great start to our honeymoon trip.
DAY 2: Transfer To Neil Island
The next day we had an early morning ferry to Neil island. The hotel packed us our breakfast as we had informed them about our plan the previous night. Our cab was there right on time as the drivers there are very punctual. The ferry was clean and nicely maintained. We enjoyed the ferry ride for a while and then fell asleep as we were really tired. Neil island was a totally breathtaking sight with sparkling blue water all around. As we descended from the ferry, we saw that our cab was already waiting for us. It took us to Pearl Park Beach Resort.
The island is tiny and serene! We liked that there was no hustle and bustle of city life. There was a beach right next to our resort adding a cherry on our cake. We straightway rushed to the beach and had an amazing time there. Later, we returned to our room to rest.
Next we headed to the Ramnagar beach in our cab. We were very hungry by the time we reached there but the place did not have a lot of eating options. But that didn't dampen our excitement of diving into the sea and swimming amid the fishes!
Holiday In Andaman: Kiran's Quest For The Best Places To Visit At This Beach Paradise!
After having fun at the Ramnagar Beach we visited the Sitapur and Laxmanpur Beach. It has the largest natural bridge which was a beautiful thing to lay eyes upon. After a long day of beach hopping, we returned to our resort. Close to our resort was a sunset point where we watched the orange sun setting into the blue sparkling waters.
It was very relaxing sitting on the cushy chairs arranged by our resort, watching the sunset and listening to songs at the beachside. After a scrumptious buffet dinner at our resort, we headed to our room.
DAY 3: Excursion to Radhanagar Beach post arrival at Havelock
On this day, we went to a Sunrise Point close to our resort. We had the beach all to ourselves for a good two hours as there was no one else there that early in the morning. Later, we had breakfast at our resort and our cab transferred us to the jetty to go to Havelock island. It was prettier than Neil but a bit crowded too. Our cab, as usual, was waiting for us and took us to Havelock Island Beach Resort.
The resort had a beautiful private beach and an open-air restaurant right next to it. After soaking in all the beauty of the environs we went to our room to rest.
Honeymoon Trip To Andaman: 3 Romantic Yet Adventurous Experiences For All!
Post lunch, we went to Radhanagar Beach. We did snorkeling there and had lots of fun! In the evening, we returned to our resort. After dinner, we sat at the open air cafe on the beach where the DJ was playing some amazing music. We stayed there till late in the night, reveling in each other's company!
DAY 4: Leisure day at Havelock
This was our leisure day. We had no plans for the day so we had the luxury to spend it the way we wanted. And we did just that!
Honeymoon Trip To Andaman: Must Experiences For A Couple To Enjoy On A 4N/5D Vacation!
We went to the resort's private beach in the morning and enjoyed some refreshing coconut water. The place was so serene that we spent the entire day with each other on the sandy beach. The resort arranged for our lunch at the beach itself and we relaxed there till evening. We spent a great amount of quality time with each other and that is one of the best memories we have of our honeymoon trip to Andaman!
DAY 5: A visit to the Elephant Beach
We were very excited about this day. We had planned to go scuba diving on the 5th day of our Andaman honeymoon and it was a totally new experience for us. The trainers were friendly and gave us all the instructions as we changed into our scuba suits. After an initial discomfort of a few minutes, I and my wife plunged into the sea and our fears were instantly replaced by awe. It was an out of the world experience. Underwater, we encountered nature at its best. This was also the main highlight of our entire trip. Those 45 minutes just flew like mere seconds and left me craving for more.
Next, we headed to the Elephant Beach. Though we had to wait for an hour to board the ferry due to overcrowding, that 30-minute ferry ride turned out to be an amazing experience and totally worth the wait! It gave us ample time to gaze at the scenic beauty all around. All I could think of was how big and beautiful this world is! Our existence was a mere speck in front of this vast expanse of nature. With all these thoughts in my mind, we reached the Elephant Beach, one of the best of Asia.
We enjoyed the complimentary snorkeling we were provided as part of our Andaman honeymoon package. Once the beach had closed down at 5 PM, we headed back to our boat to return to the resort.
6 National Parks In Andaman That Lets Every Traveler Get Up & Close With Nature!
We ended our day with the most romantic candlelight dinner at the resort's private beach. Arranged by the hotel staff, it was the best kind of surprise we could have received to make our honeymoon trip all the more special.
DAY 6: Back to Port Blair
We were to return to Port Blair on this day. It was 26th January and Driftwood Hotel & Resort was decorated in tricolor balloons. After having breakfast, we headed to the beach for one last time. I wanted to make the most of my trip before returning to our monotonous schedules.
Best Things To Do On A 5N 6D Honeymoon Trip To Andaman
We took the ferry back to the city where our cab transferred us to the same resort we had earlier stayed at. Post lunch, we went on an excursion to a small island known as Chidiya Tapu. One can get the most amazing sunset views from there. After that, we explored the local markets and I pampered my wife with shopping.
DAY 7: Bid adieu to Andaman
18 Best Restaurants In Andaman That Prove The Island Has A 'Paradise' For Every Foodie!
We bid adieu to this beautiful place with a heavy heart. We woke up late and had a tantalizing breakfast in our hotel. Later, our cab dropped us to the airport. With a bagful of memories, we bid goodbye to Andaman.
Our Wow Moments During The Trip:
The visit to Cellular Jail and seeing the Veer Savarkar prison cell where he actually used to stay
Live music concert at Driftwood Hotel & Resort
Witnessing the sunset at the Pearl Park Beach Resort's beach while listening to old melodies
Spending time with each other at the gorgeous Radhanagar Beach
Scuba Diving
Candlelight dinner on the Havelock Island Beach Resort's beach
Taking a stroll on the Chidiya Tapu while watching the sun set
Future Tips For Travelers
Don't buy food at the beaches as it's too costly for the quality they offer. You can ask your hotel to pack you a meal instead.
Stay at Havelock for a minimum of 3 days to explore the beautiful island to the fullest.
Ferries have fixed timings, so don't miss it or your entire day would get wasted.
Cellular network isn't always available, which actually is a boon in disguise as it would give you more time to appreciate and enjoy nature.
Nightlife In Andaman: 6 Phenomenal Ideas To Enliven Your Vacay
Doesn't this make you want to book a trip to the beautiful island of Andaman with your beloved? Book your romantic getaway to Andaman with TravelTriangle now and avail amazing deals on our customized packages!
Comments
comments