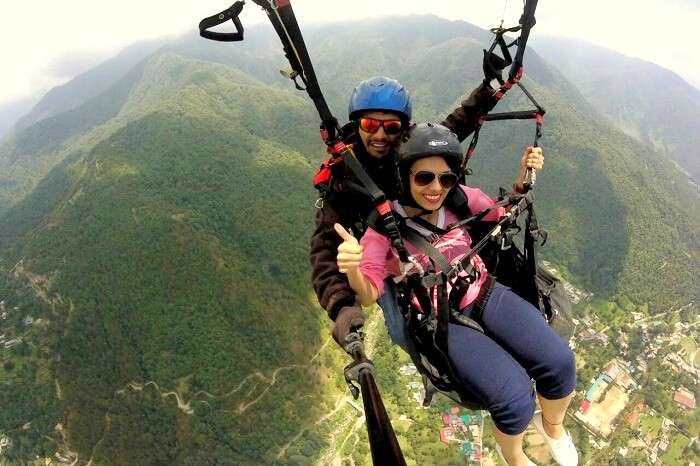 'Everything amazing starts out a little bit scary.' and my first solo trip to Bir Billing is a testimony to this statement. The self-fulfilment and satisfaction that I got from traveling solo for the first time were completely unreal. My weekend getaway was lot more than just a memorable adventure getaway. It was an epiphany that would change my life forever.
Like every other adult in their 20s nowadays, traveling solo had crawled up my bucket-list too. It was one experience I was determined to go through regardless of the outcome. Approaching a new idea with a 'why not' instead of a 'why' mentality definitely helped me convince myself to pack my bags and venture out solo.
Those TravelTriangle ads that appeared on my Facebook feed gave me a reference point as to where I should start looking for a solo trip. The TravelTriangle page was filled with multiple weekend getaways from which I could choose where to go. A solo trip to Bir Billing seemed the most adventurous out of all the options available. I booked the package (which had limited seats) quickly, as it was well within my budget and offered really interesting adventure activities.
Trip Cost: INR 5,999 per person
Trip Duration: 1 night/ 2 days
Inclusions: All transfers, accommodation, meals, sightseeing, paragliding, camping, trekking, and GST
Exclusions: Entry fees, and additional expenses (if any)
Going out on trips for adventure sports had not been my thing until now, but I thought it wouldn't do much harm to try. Moreover, paragliding in Bir Billing had existed for a long time in the shadows of popular adventure sports tourist destinations in India like Manali and Rishikesh. It was about time I witnessed the upcoming himalayan adventure hub myself.
                             Thrilling Paragliding On A 2 Day Weekend Trip To Bir Billing
Curiosity before the big solo adventure trip
Not only was I traveling solo, but I was about to spend a weekend with 15 unknown travelers. Due to that, my anxious mind had thought of all the possible scenarios that could happen on this weekend adventure.
I had already displayed more than my share of concerns of whether anything could derail this seemingly perfect ride. However, I had to do the sensible thing by thinking about all the amazing people I would meet, and the jaw dropping activities we were about to do.
Breaking the ice with other solo travelers
The coordinators from TravelTriangle did a great job in breaking the ice as soon as we boarded the bus at 9 pm from Majnu ka Tila, New Delhi. They invited us all for a quick intro and as luck would have it, I soon found out that I wasn't the only solo traveler; there were two other first time solo travelers in our bus.
Talking to other solo travelers instantly relieved me of all my anxiety. I felt I could relate to them on so many levels despite coming from different walks of life.
Let the high-flying adventures begin!
After a 10-hour long bus ride, we arrived in Bir Billing. I was slotted in the first group of people to go for paragliding. The coordinators wanted all of us to complete our paragliding sessions on the same day, since the weather forecast for Sunday showed scattered rainfall throughout the day.
So, I strapped on the safety equipment, absorbed the last minute guidelines given to me by my instructor, and took the leap off the mountain into the lush green Kangra valley. Not for a single second did I feel frightened or uneasy. It was one of the most thrilling and exciting moments of my life. To get a literal perspective of a bird's-eye view was truly special.
   Trip To Bir Billing & Paragliding: Neha Discovers New Horizons In An Off-Beat Adventure!
Tales around the campfire
My solo trip to Bir Billing had a lot more to it than just paragliding. The undertone of the weekend might have been an adventure, but throughout the trip, there were plenty of delightful musings.
The evening started with a lovely bonfire at our campsite accompanied with dinner. As the night went on, all of us gathered around the campfire and hummed soothing melodies to the strumming of a guitar. Before we could realize, it was 2 am and I wasn't still done chatting with my new found buddies.
           Yash Writes About His High-On-Adrenaline And Acrobats-Filled Paragliding Adventure In Bir Billing!
Suggested Read: Paragliding In Bir Billing: Soumya's Adventure-Packed Weekend Getaway Will Blow Your Mind
A fresh morning and a rejuvenating nature trek
As expected, the next morning it started to rain. Good thing that we were done with our paragliding in Bir Billing. Going back home without having experienced that would have been a total bummer.
However, as soon as the rain stopped, we ventured out into the forest for a nature trek. The rain helped freshen things around and motivated us to complete the uphill climb. After the trek got over, we had lunch and proceeded to the pick up point from where we began our return journey to New Delhi.
Are all solo trips this awesome? Do all of them end up with so much of learning? Do we always meet so many awesome people? Why didn't I think of this much earlier? A barrage of questions raided my mind as we made our way back to New Delhi.
I did not have answers to those questions at that time, but I was sure of the fact that the solo trip to Bir Billing worked wonders for me. This weekend getaway provided me with a much-needed surge of motivation, an increased sense of enthusiasm towards my life goals, and a completely different perspective towards travel.
Camping & Paragliding On A Trip To Bir Billing: Aman's Passionate Adventure Will Have You Daydreaming About The Hills
High points:
Gliding over the hills in Bir Billing was a memory I will hold dear to my heart.
I had a lot of interesting conversations with fellow solo travelers on the trip.
Low points:
The quality of food served in Bir Billing was average
The high flying adventures sound their calling. Book your Bir Billing weekend getaway and live life on the edge!
Frequently Asked Questions for a weekend trip to Bir Billing
How is the weather in summers in Bir Billing?
In the summer, the temperatures are moderate with a few hours of daily hot weather afternoons.
Is paragliding in Bir Billing safe for beginners?
Yes. Everyone goes for tandem paragliding to enjoy a safe adventure sports experience.
---
Long Weekend Trips Starting @ Rs 3499/-
Take a trip to spend the upcoming long weekend with your buddies.
✓ Stay at 4 star rating hotels with local sightseeing, meals and transfers.
✓ Travel in AC coach round trip (from Delhi).
✓ All Inclusive Deal– Camping, Jeep Safari & Trekking as per itinerary
✓ Sign up NOW to celebrate the long weekend out of town!
---