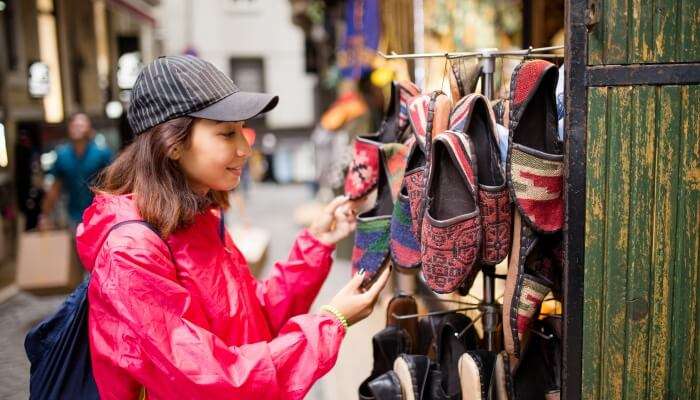 Manipur is commonly known as the "Jewel of India" and it is quite true because this north-eastern state is breathtakingly beautiful. With different categories of landscapes situated all around the state, Manipur is extremely popular among tourists from all over the world. The entire state is filled with exotic lakes, beautiful waterfalls, lush greenery of thick forests and others.
But apart from the natural beauty, travelers also love to try shopping in Manipur as it is famous for different categories of items that are not found elsewhere in the country. If you are planning a trip soon and want to indulge in shopping, then read along to know about it in detail!
Shopping In Manipur: 5 Best Places
The shopping places included in the list are widely popular and the tourists who visited Manipur recommended these. All of the popular ones are provided in the following section of the blog.
Paona Bazaar – The Most Visited Place
Khwairamband Bazaar – A Diverse Market
Tera Bazaar – For Gorgeous Accessories
GM Hall – A Shopping Center
Ema Keithel Market – Run By All Women
1. Paona Bazaar – The Most Visited Place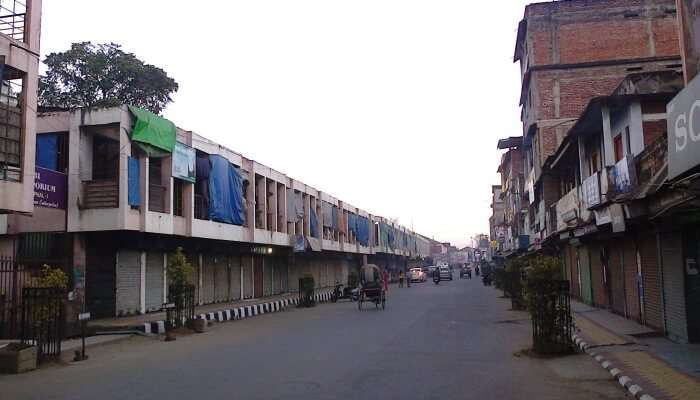 Paona Bazaar is one of the most visited markets in Manipur and one of the best places to visit in Imphal. The reason behind this market's popularity is that it sells items like silk saris, handicrafts, hand-woven shawls, ivory and bamboo items at an affordable rate. As you may have already known Manipur is quite famous for the said items and in any other place in India, they would cost you a lot. Another exquisite item that is sold in Paona Bazaar is papier-mache products that is not sold anywhere in the country.
If you are willing to buy authentic Manipuri garments or pieces of jewelry, then you must visit the Handicrafts development corporation of Manipur located in the market. Over there you will find items like Lanshingpee Manipuri blanket, Tangkhul scarves, bamboo artifacts, , colorful mats, and others.
As much as the market offers, it is quite exclusive to finding some of the best gift items in Manipur. Being exclusive to the region, then you can buy gifts here. There are several different souvenirs available there as well that are perfect for you to gift to your loved ones.
Location: Imphal, Manipur 795001
Timings: 9 am to 9 pm
Must Read: 6 Best Waterfalls In Manipur That Will Make You Take A Splash Of Freshness
2. Khwairamband Bazaar – A Diverse Market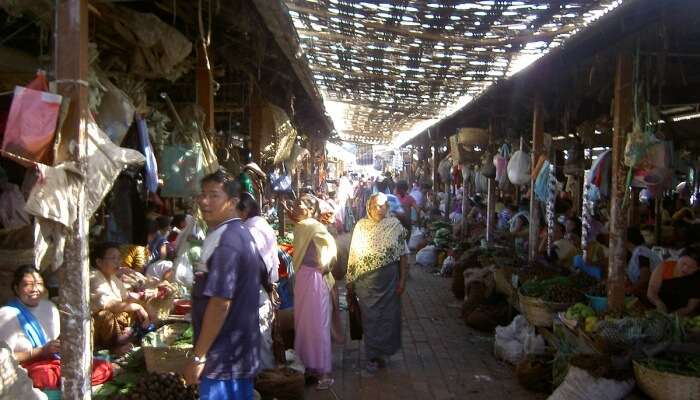 Khwairamband Bazaar is one of the most important places for shopping in Manipur because it is completely run by women. The market is commonly known as Nupi Keithel market and it is located in Imphal. It is the oldest and the most diverse market located in Manipur. With more than 3000 different shops and stalls, the Nupi Keithel market is the largest market run by women in India. There are not many things which you will not find in this massive market. From fruits and vegetables to clothes and shoes; from spices to natural ointments; this market has it all.
Some of the best restaurants in Manipur are located near the market. If you genuinely want to taste Manipuri cuisine, you will be not disappointed in Khwairamband market because over there you will find different Manipuri dishes that are extremely tasty at a surprisingly low price. Also, you will be able to shop for decorating items made of bamboo or ivory over there at affordable rates. There are different stores selling woolen garments, hand-woven shawls and shoes as well which will not make a hole in your pocket. Also, do not forget to capture the day through photography as the market is quite unique.
Location: Thangal Bazar, Imphal, Manipur 795001
Timings: 4:30 am to 7 pm
Suggested Read: 13 Popular Manipur Festivals That Show The Cultural Diversity Of The Northeast In 2022
3. Tera Bazaar – For Gorgeous Accessories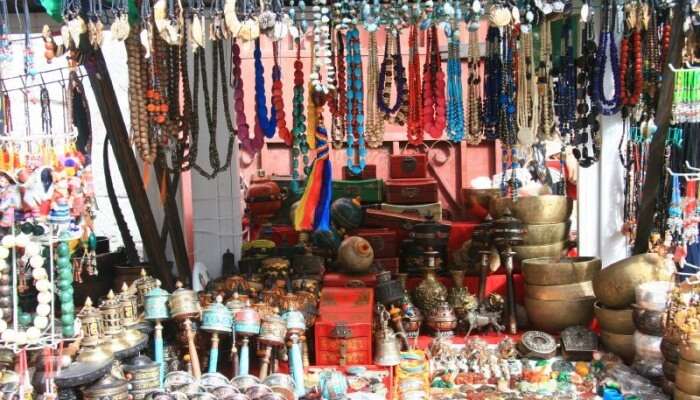 Tera Bazaar is one of the most beautiful places for shopping in Manipur because it has shops that sell gorgeous accessories that are immensely colorful. The market is located in the central part of Imphal in Manipur and is open for the entire year. Over there, you will be able to find shops over there that sell authentic handicraft items made by the talented artisans creating the greatest Manipur art and craft items at affordable prices. If you are not willing to spend a lot of money on gifts or shopping while visiting Manipur, then Tera Bazaar is the perfect place for you. Because almost all items over there are quite reasonable.
Apart from fashion accessories, you can also buy different household products for your home. You can also have a little break after all the shopping and have some of the delicious dishes that are available in the roadside stalls out there. It is one of the many enchanting tourist attractions in Manipur that will give you a prime experience. It would be better if you do not visit the market on Sunday or any other holiday, as during those times, the market is pretty crowded by the local people of Manipur.
Location: Nouramthong Road, Imphal, Manipur 795004
Timings: 10 am to 6 pm
Suggested Read: 6 Best Temples In Manipur To Attain Spiritual Peace & Solace
4. GM Hall – A Shopping Center
GM Hall is quite different from the other markets included in the list because it is a proper shopping center that has a lot of branded and non-branded stores which sell several different categories of items. But remember, all the items sold over there cannot be bargained. All the prices of the products sold over there are fixed. Though the products are of much higher quality than the ones sold in the other markets in Manipur. You will be able to shop for shawls, woolen garments, shoes, clothes, home-decorating items, and others while you visit there.
As there are different restaurants located in GM hall, do not forget to have a nice lunch out there with your loved ones. Try to taste the authentic Manipuri dishes out there. The market is not only famous among tourists but also among the local residents of Manipur as well.
Location: Indo Myanmar Road (NH-39), Thangal Bazar, Imphal, Manipur 795001
Timings: 10 am to 5 pm
Suggested Read: 10 Exciting Things To Do In Nagaland To Explore The State To The Fullest In 2022!
5. Ema Keithel Market – Run By All Women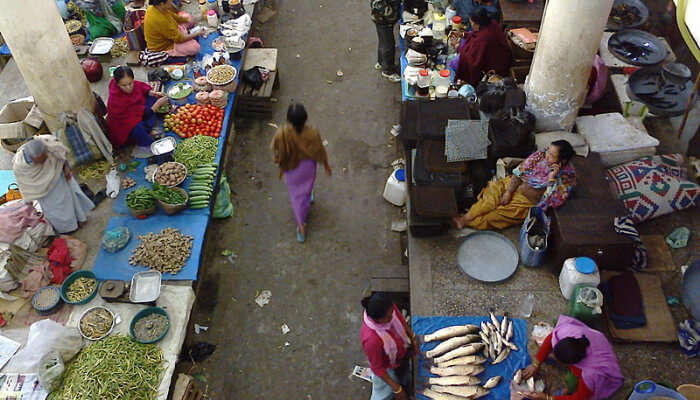 Image Credits: PP Yoonus for Wikimedia
It's not just a market but a century-year old tradition that the locals have preserved over the years. Literally translated as "Mother's Market", Ema Keithel is Asia's largest all-women run market. All the shops are run by almost 5000 female vendors who sell anything from top Manipur art and craft items to  traditional clothes, shawls, utensils, toys and flowers. Yes, the overall scope of a women-run market is special and while it is astonishing it is also one of the best places to visit in Manipur.
The commercial center in Manipur was established in the 16th century. The market has a turnover of almost 40-45 crores in a year. This is one of the very places quite special in Manipur as far tourism and economic development are concerned.
Location: Thangal Bazar, Imphal, Manipur 795001
Timings: 4:15 am to 6 pm
Suggested Read: 20 Unbelievable Experiences In India That You Must Add On Your Bucket List To Enjoy An Offbeat Escape In 2022!
What To Buy In Manipur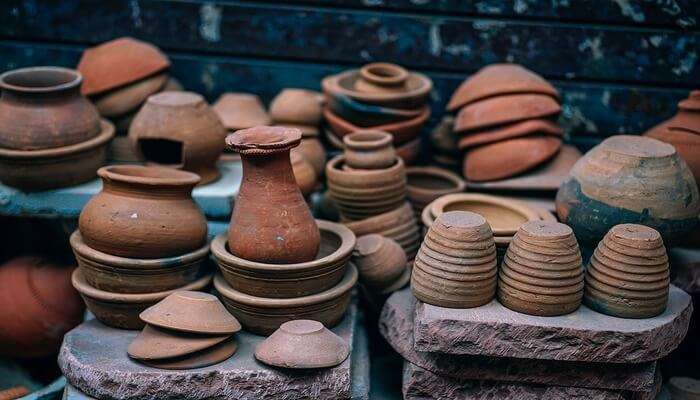 There is something special in Manipur for everyone to buy. If you are looking for fashion, home decor, household items, gifts, jewelry, it's there. The good part is that they are pretty exclusive to Manipur which means they are quite rare, so are you ready to get your hands on these special items:
Phaneks: Phanek is a Manipuri sarong typically worn by the women. They are locally made, hand-woven and available in block colors or stripes. A phanek is usually coupled with a shawl also known as innaphi. If you are looking to surprise someone, then the phaneks are of the loveliest gift items in Manipur.
Handicrafts: Perhaps, one of the biggest sales in Manipur is of the handicrafts. Being a unique culture, the traditional items are just great if you are looking to buy souvenirs from Manipur. The hand-crafted Manipuri blanket is a masterpiece. The bridal doll is another popular item you can buy. Items such as bamboo, cloth, clay, wood, cotton and cane are some of the best raw materials used to craft showcase items.
Blackware: The Longi village in Ukhrul district is the popular spot for creating Blackware. Kettles, Manipuri trays, bowls, cooking pots and frying pans are made up of blackware. 
Further Read: Foreigners Can Now Travel To Nagaland, Mizoram & Manipur Without A Permit!
All the places for shopping in Manipur that is included in this blog are quite famous among not only tourists but also the local people over there as well. In case you visit Manipur, do not forget to visit the places included in the blog to fulfill your shopping requirements. So, without thinking too much, start planning for your trip to Manipur right now.
Disclaimer: TravelTriangle claims no credit for images featured on our blog site unless otherwise noted. All visual content is copyrighted to its respectful owners. We try to link back to original sources whenever possible. If you own rights to any of the images, and do not wish them to appear on TravelTriangle, please contact us and they will be promptly removed. We believe in providing proper attribution to the original author, artist or photographer.
Frequently Asked Questions About Shopping In Manipur
What are the top places to shop in Manipur?
Though there are not many places in Manipur that are quite popular for shopping, there are some spots that are visited quite frequently by travelers from not only India but all around the world. Some of them are Khwairambad Bazaar, Paona Bazaar, Nagampal market, Tera Bazaar and many more.
What are the most popular items to buy in Manipur?
Manipur is quite famous for several different categories of shopping items. Some of the more popular ones are Kauna Mat, Textile weaving items, Stone-carved utensils, Wood-carved handicrafts and many more.
What is the famous Paona Bazaar popular for in Manipur?
Paona Bazaar is one of the most popular markets in Manipur and it is quite famous for items like silk saris, hand-woven shawls, ivory items and others that are available at a cheaper rate.
Where is Khawairamband bazaar located in Manipur?
Khawairamband is located in the Nupi Keithel area of Manipur and it is quite famous in the state.
What is the apt time to visit Manipur?
As most of the time, the weather in Manipur is quite pleasant, and you must visit there between October to march. It is best to avoid the monsoons to explore Manipur comfortably.
How many days are enough for exploring Manipur?
You will be able to explore Manipur quite easily if you visit there for six to seven days at most.
What is famous in Manipur?
Manipur is famous for its natural beauty, hand-woven crafts, markets, vibrant culture and heritage and the fact that it enjoys being a secluded part of India. On that part, the Loktak Lake and the Khonghampat Orchidarium are some of the best tourist attractions.
People Also Read:
Shopping In Siliguri Shopping In Varanasi Shopping In Palakkad
Comments
comments