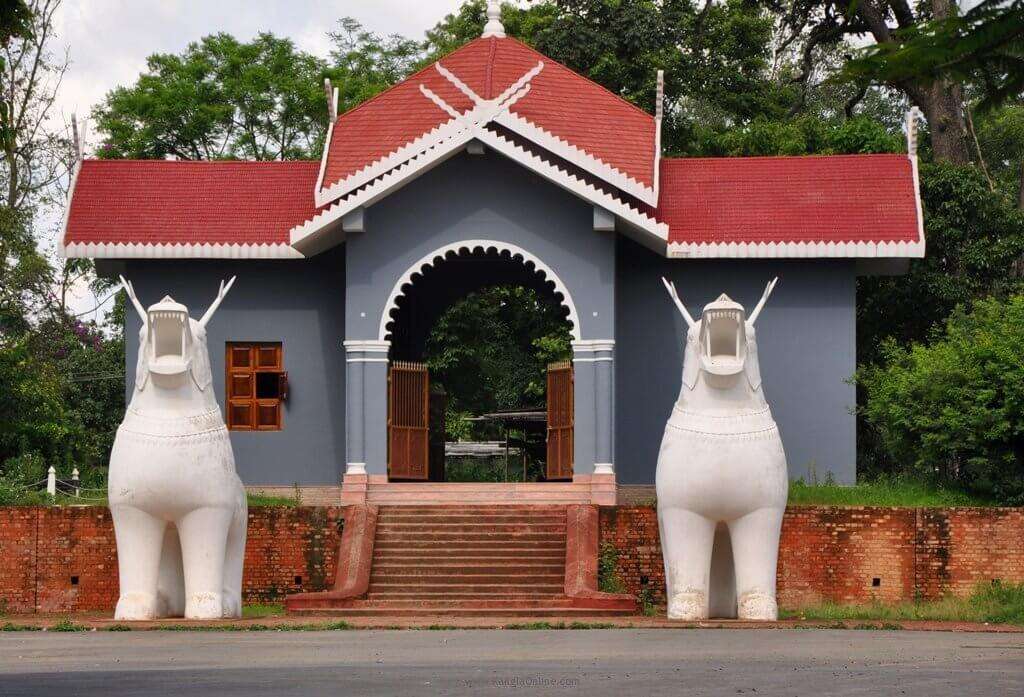 A spectacular offbeat tourist destination in India, Manipur is bestowed with lush green meadows, hills, rugged streams, waterfalls and aromatic tea estates. The state is a true gem of the north-east. If you're planning an enthralling trip to this scenic wonder, here are the tourist attractions we recommend to all our travelers.
Best Time to Visit Manipur: October to April
How to Reach Manipur:
i. By Air: Imphal has its own airport. Regular flights operate from Silchar, Kolkata, Delhi, Aizwal, and Bangalore to Imphal.
ii. By Train: Nearest railhead is Daotuhaja, Assam, located 91 km from Imphal.
iii. By Road: Regular buses ply from different parts of Manipur and other neighboring states to Imphal.
Tourist attractions in Manipur you just can't miss!
1. Loktak Lake – The only floating lake in the World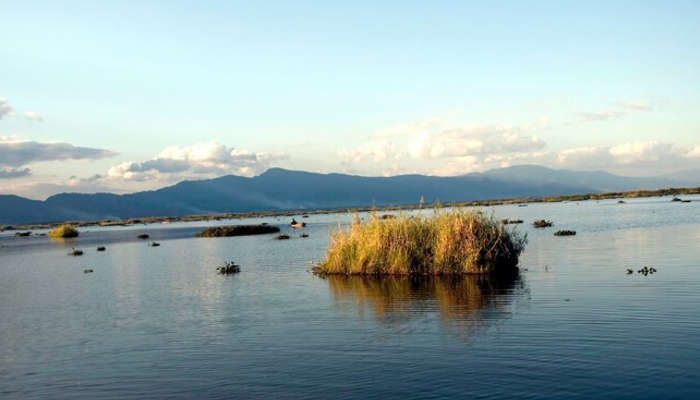 Loktak Lake is one of the most famous tourist attractions in Manipur, located 53 kms from Imphal. Considered as one of the largest freshwater lakes in India, Loktak boasts of circular floating swamps, which is locally called phumdis. Sendra Island of Manipur is situated amid the lake and spread over 300 square mt, which makes it popular for boating, picnic, and photography. It also supplies water for irrigation and hydel power to nearby areas.
Suggested Read: 12 Enchanting Places To Visit In Manipur In 2019 For A Rejuvenating Holiday
---
Sikkim-Gangtok-Darjeeling Holiday Packages On TravelTriangle
Visit Sikkim and explore Yumthang valley, Tsomgo Lake, Gangtok, Nathula Pass, and Pelling. Experience peace and tranquility while exploring Buddhist monasteries, snow-capped mountains, and wildlife sanctuaries. Book packages inclusive of airport transfers, cab, resort, sightseeing, and meals.
---
2. Keibul Lamjao National Park – Exploring the wilderness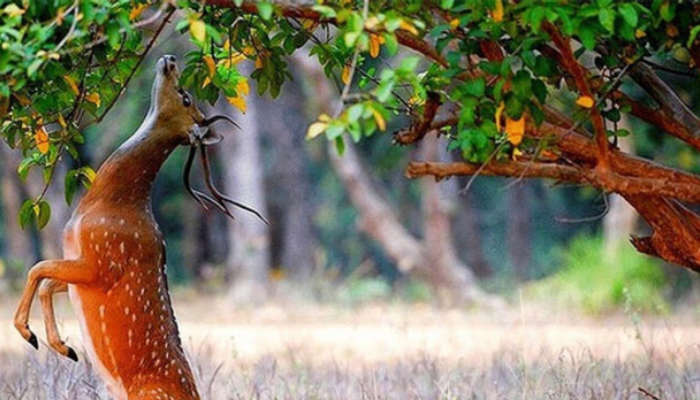 Encircling the Loktak Lake, Keibul Lamjao National Park is best known for floating flora of phumdis and endangered brow-antlered deer or sangai. Offering mesmeric views of the lake, this national park, sprawling over 40 sq. km is one of the most beautiful Manipur tourist attractions. Moreover, Keibul Lamjao National Park is also known to be World's only floating sanctuary and quite popular amongst nature lovers, wildlife enthusiasts, and ornithologists.
Besides being home to animals like sambar, wild boar, hog deer and jungle cat, this place boasts of a large number of endangered as well as common bird species like East Himalayan pied kingfisher, spotbill duck, ruddy shell-duck, Burmese pied Myna, and Indian white-breasted waterhen.
3. Tharon Cave – For thrill and fun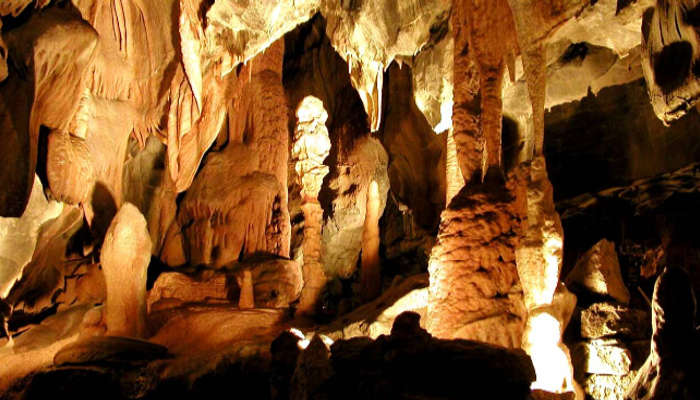 Tharon Cave or The Uluan Cave is among the fascinating tourist attractions in Manipur. Located near Tamenglong, this 650 m long cave tunnel consists of carvings and excavations of Hovnanian Culture of North Vietnam. Featuring 5 exits and 34 joints, this cave is a favorite amongst trekkers and adventure junkies. Manipur State Tourism Department organizes cave expedition program every year, where people enjoy the thrill of walking through the dim tunnels.
Must Read: 10 Festivals That Show The Cultural Diversity Of Manipur
4. Kangla Fort – Speaking of regal heritage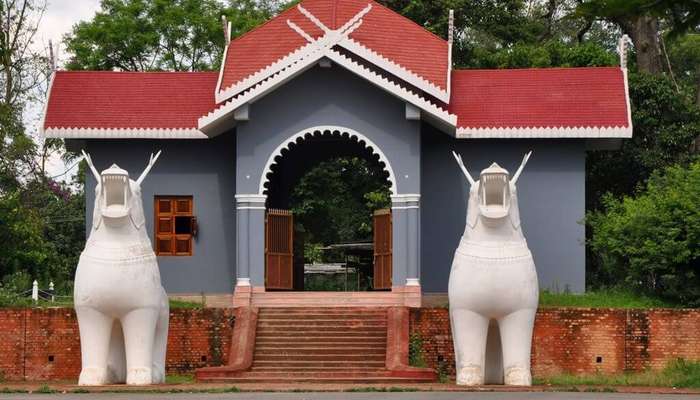 Kangla Fort, which is also known as the Palace of Kangla is located close to Imphal River. Kangla Fort was the administrative seat of various Manipur kings from Nongda Lairen Pakhangba to Maharaja Kulachandra. The remains of the fort speak of Manipur's rich history and heritage. Comprising of temples, citadel and coronation halls, Kangla Fort is a hot favorite tourist site in Manipur among history buffs, photographers, and architectural enthusiasts.
Opening hours: 9:00 am to 5:00 pm. The fort is closed on Wednesdays.
Charges: INR 2/person
5. Singda Dam- Scenic and serene
Snugly located at about 920 m above sea level, Singda Dam is the highest mud dam in the World and a sight to behold. Overlooking serene Singda Lake, this dam acts as a multi-purpose irrigation project for entire Manipur. The dam is surrounded by lush green paddy fields and hills and is considered as one of the ideal tourist spots in Manipur for picnics, day trips, trekking, and hiking.
Must Read: 15 Secrets Of North East India Locals Have Been Keeping To Themselves
6. INA Memorial Complex – Revisiting history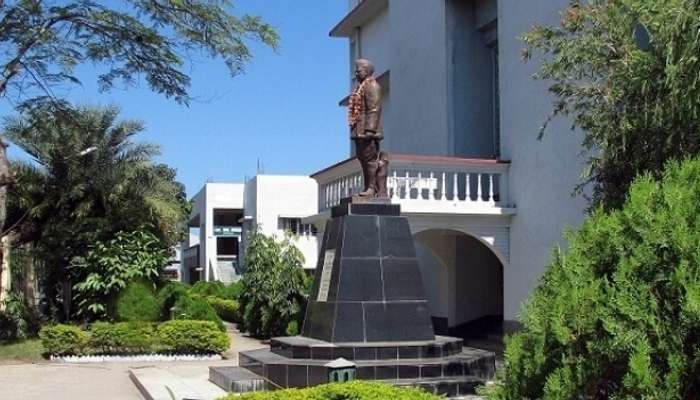 Built in the fond memories of Bravehearts of Indian National Army (INA), who sacrificed their lives for the country, the INA Memorial Complex should be on your bucket list while holidaying in Manipur. The complex comprises of a huge bronze statue of Subhas Chandra Bose, a replica of INA War Memorial of Singapore, and stone monument to mark the first unfurling of the Tri-colour flag of Independent India. Moreover, there is a war museum within the complex, displaying photographs and archives of World War II and freedom movement.
7. Shree Govindajee Temple – The beautiful white dome structure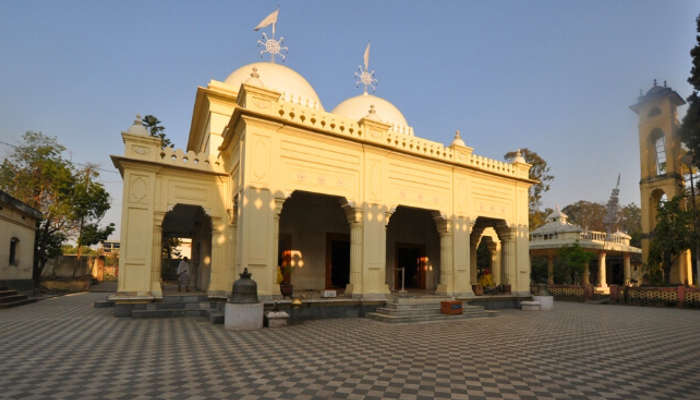 One of the most famous Manipur tourist places and most visited temples of Manipur, Shree Govindajee Temple is dedicated to Radha, Krishna, Jagannatha, Balarama, and Govinda. The idol of Govindajee is placed in the central chamber, while other Gods are seen in different chambers in all the four sides of the temple. Located near the Royal Palace, this temple has a red-brick structure and Nagara style of architecture and attracts tourists round the year.
Opening hours: 5:00 am to 12 noon and 4:00 pm to 9:00 pm
Suggested Read: 50 Places To Visit In India Before You Turn 30
8. Manipur Zoological Garden – Must-visit for travellers of all kinds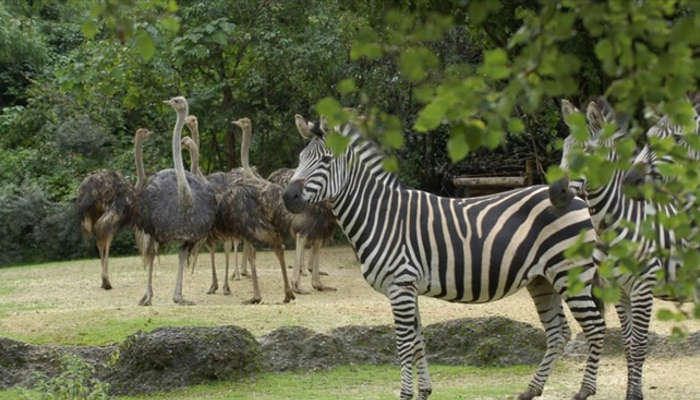 Established in 1976, Manipur Zoological Garden is among the popular tourist attractions in Manipur, especially among families and kids. Located in Lamphelpat, near Imphal, this zoo sprawls over 8 hectares and surrounded by lush green mountains. This is the habitat of many common as well as rare animals like Sangai, Wild boar, deer, hog deer, bear and almost 55 species of birds. Visiting this zoo, spotting wildlife, and enjoying the peaceful ambiance is one of the top things to do in Manipur
Opening hours: 10:00 am to 4:00 pm. The zoo is closed on Sundays.
Charges: INR 4/person
9. Manipur State Museum- Discovering Manipur's rich legacy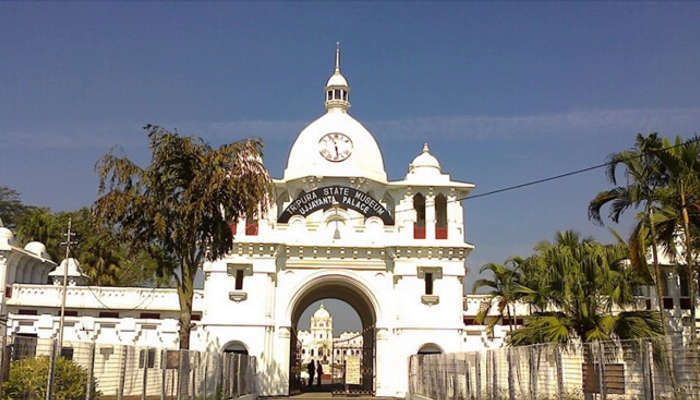 The State Museum is one of the most popular tourist attractions in Manipur. It houses various artifacts, tribal items, ornaments, weapons, textiles, pictures, and sculptures. Established in 1969, Manipur State Museum comprises of many galleries and sections, displaying the heritage of Manipur city. It is also popular for hosting awareness programmes, thematic exhibitions, and cultural appreciation courses. The major attractions of this museum are a 54-feet long royal boat called Hiyag Hiren and a gold-plated human mask with a skull.
Opening hours: 10:00 am to 4:00 pm
Charges: INR 3/Indians and INR 20/foreigners
Suggested Read: 31 Reasons Why You Should Never Visit Northeast India
10. Ima Keithel Woman's Market- A unique all-woman bazaar of Manipur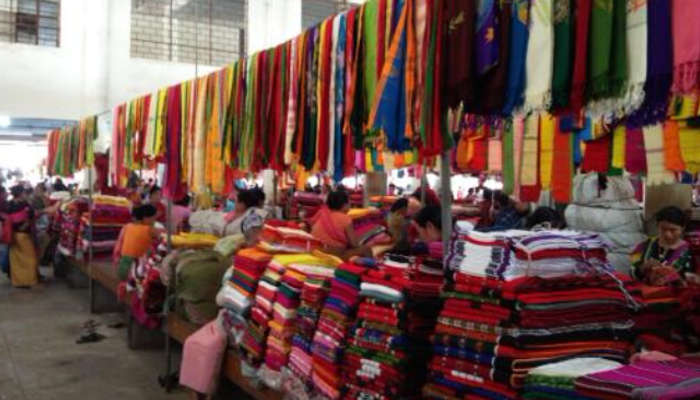 Ima Keithel, locally translating into mother's market is a beautiful place to see in Manipur. This is a 500-year-old vintage market, where almost 5000 women traders sell various products like Manipur textiles, ornaments, grains, cereals, home décor, spices, dried fish, and household items. This is one of the unique markets, not only in India but in the entire Asia, which is managed and run by only women force.
Opening hours: 3:00 am to 7:00 pm
Further Read: Seven Sisters Of India – An Introductory Guide
Manipur is packed with tourist attractions and places to visit that'll leave you speechless. Let us know how many you've been to.
Frequently Asked Questions About Tourist Attractions In Manipur
Q. What is Manipur famous for?
A. Manipur, a state rich in tradition, culture, and ethnicity, is famous for its natural beauty. Among other natural landmarks, the famous Loktak Lake is in Manipur.
Q. Is it safe to travel to Imphal?
A. Imphal, the capital city of Manipur, is safe for travelers but it is advised for one to not head out late at night or to go to the outskirts of the city.
Q. What is Imphal famous for?
A. Imphal is one of the ancient cities of India and it is known for its natural beauty. The scenic landscapes here are what the city is noted for. Some of the must visit places in Imphal which makes the city famous are Kangla Palace, Loktak Lake, and more.
Q. Which are the must visit places in Manipur?
A. Some of the top Manipur attractions are Loktak Lake, Keibul Lamjao National Park, Tharon Cave, and Kangla Fort.
Q. What is the famous food dish of Manipur?
A. Rice and fish majorly form the staple diet of Manipuris. Chamthong or Kangsho which is a stew prepared from seasonal vegetables is one of the most commonly prepared food dishes here.
Q. Where can I stay in Imphal?
A. Some of the best accommodation options available in Imphal are Classic Grande, Magen, The Classic, Hotel, and Eco Heritage Villa.
Q. How many days are good for Imphal?
A. 2-3 days are good to explore Imphal and the beauty of the state of Manipur. It is a great state to visit with one's partner or family.
Q. What is the best time to visit Manipur?
A. The best time to visit Manipur is during the winter season. The temperature is pleasant to set out and enjoy the scenic beauty of this state then. One can plan a trip from September till April which is the beginning of the summer season here.
Looking To Book A Holiday Package?
Book memorable holidays on TravelTriangle with 650+ verified travel agents for 65+ domestic and international destinations.
---
Comments
comments