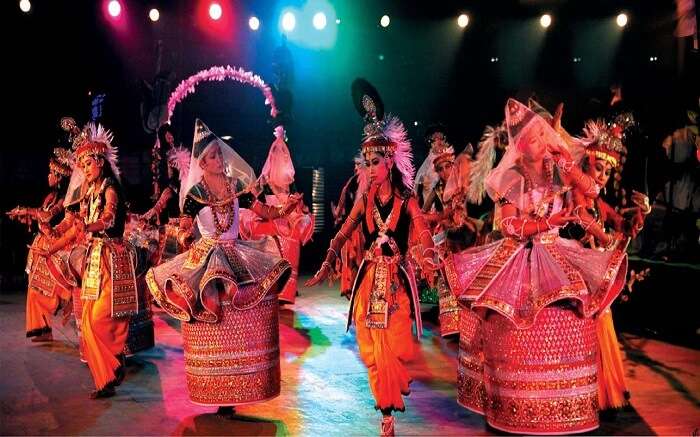 Manipur, a happy land of many vibrant festivals that'll make you visit it over and over again. Hardly a month passes by without a joyous festival in this hilly town. Kut, Lai Haraoba, Yaoshang, or Chumpha, all these Manipur festivals show the spirit, rich culture, and togetherness of the people of Manipur. If you're someone who wish to explore the rich heritage and culture of this hill district, then you must visit Manipur during one of these festivals.Kids wearing santa caps on stage
1. Christmas – Jingle all the way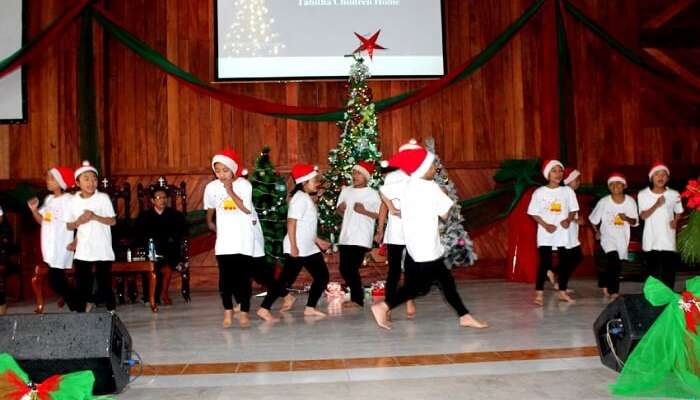 Among the most famous festivals of India, Christmas in Manipur is not only celebrated within Christian communities, but everyone in Manipur indulge in the celebration of bright and colourful Christmas- one of the best Manipur festivals. This gala winter festivity is celebrated by singing Christmas carols and reading Gospel and Bible. Moreover, Christmas brings friends and families together. People organise get togethers, decorate houses, put in Christmas trees, bake cakes, cook Christmas delicacies and children receive surprise gifts from Santa Clause.
Key attractions: Midnight masses in churches.
Date: 24th and 25th December 2017
Suggested Read: 12 Enchanting Places To Visit In Manipur In 2019 For A Rejuvenating Holiday
---
Sikkim-Gangtok-Darjeeling Holiday Packages On TravelTriangle
Visit Sikkim and explore Yumthang valley, Tsomgo Lake, Gangtok, Nathula Pass, and Pelling. Experience peace and tranquility while exploring Buddhist monasteries, snow-capped mountains, and wildlife sanctuaries. Book packages inclusive of airport transfers, cab, resort, sightseeing, and meals.
---
2. Cheiraoba Festival- The new year celebration for the locals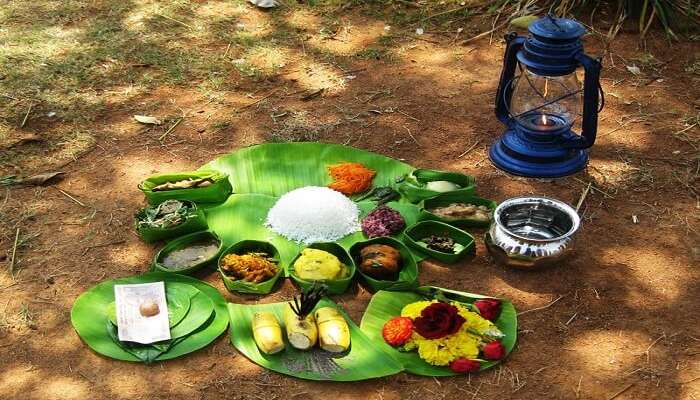 One of the most popular Manipur festivals, Cheiraoba is celebrated on the 1st day of Sajibu month (March-April). This is also known as Spring Festival in Manipur. During this festival, people dress up in traditional outfits, visit friends and relatives, exchange greetings and gifts and cook local delicacies. The regional goddess Sanamahi is also worshipped during Cheiraoba festival.
Key attractions: People climb up Cheiraoching hill top, located in Imphal during this festival. Local folks believe that climbing this hillock signifies the rise of human civilisation.
Date: To be announced
3. Yaoshang (Holi)- Stunningly colourful and bright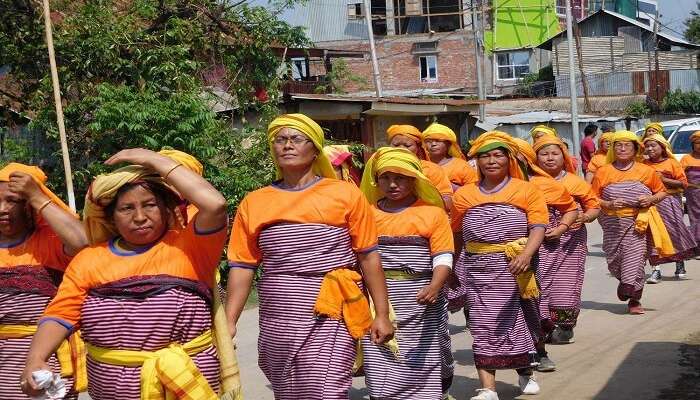 From the full moon day of Phalguna month (February-March), the celebration of Yaoshang or Holi starts in Manipur and continues for 5 days. This is one of the major Manipur festivals as well as entire north-eastern region of India. People throw and spray dry and wet colours on each other, sing songs and dance together. Children collect money from each and every household and organise feasts, parties, sports and games in the localities.
Key attractions: Thabal Chongba- Manipuri folk dance where boys and girls hold hands and dance in circles.
Date: 1st March to 5th March 2018
Must Read: 31 Reasons Why You Should Never Visit Northeast India
4. Lai Haraoba- In the honour of sylvan deities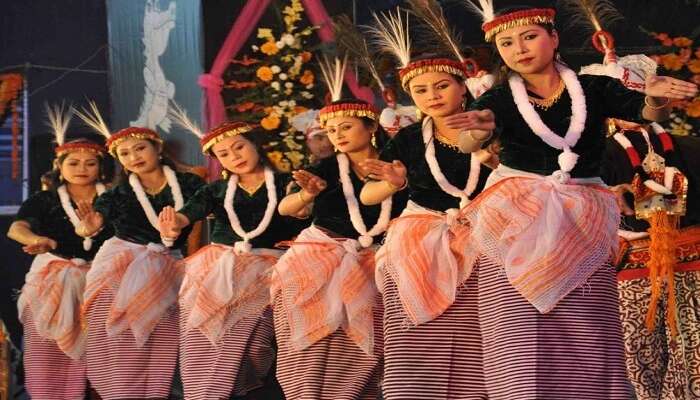 Featuring the worship of local gods and goddesses, Lai Haraoba is among the widely celebrated festivals in Manipur. Here people also worship their ancestors with great devotion and zeal. Literally translating to 'festivity of Gods', this festival is rejoiced by worshipping local deities like Sanamahi, Nongpok Ningthou, Leimarel, Pakhangba and 364 Umang Lais or Jungle deities. Both men and women present folk dances, enact in drama and perform Thoibi and Khamba- a popular Manipuri folklore before the traditional deities. Already excited to visit Manipur? You can create your own tour package to experience the best of Manipur you way.
Key attractions: Procession around the locality where the deity is carried in a palanquin.
Date: Manipur festivalsIn the month of May. Dates not yet declared.
5. Kang Festival- The splendid Rath Yatra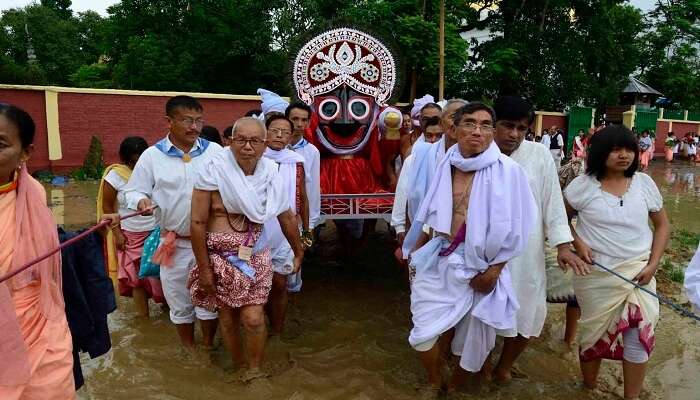 Kang Festival or Rath yatra, takes place in Govindjee temple in Manipur, every year. Here, the idols of Jagannatha, Balarama and Subhadra are taken in kang (local word for rath or chariot). Devotees with immense enthusiasm and fervour pull the kang and play nahal, gongs, bells, drums and conch. They also offer barti, which are cotton balls soaked in ghee to the gods during the yatra. Community feasts are organised in the evening as well. This is a 10-day long celebration and undeniably one of the important festivals in Manipur.
Key attractions: Kirtan Khubakisei by the devotees in the procession.
Date: 14th -24th July 2018
6. Heirku Hindongba- The popular boat race of Manipur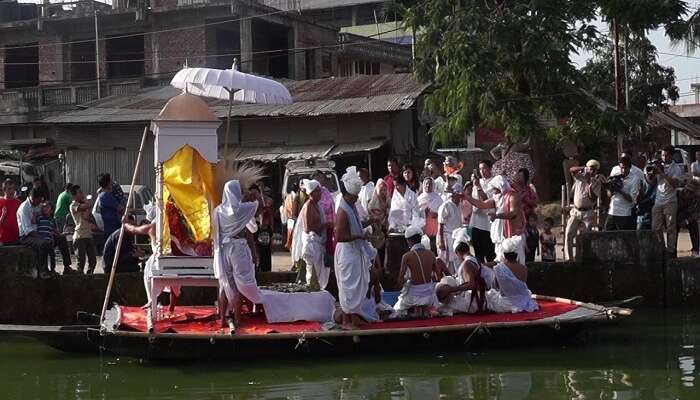 Heirku Hindongba, celebrated on 11th day of Langbal month (September), is another name in Manipur festival list. This is a boat race on the canal of the Bijoy Govinda area in Manipur. Local youths participate in this thrilling boat race with zeal, enthusiasm and team spirit. On the eve of the festival, the boats are cleaned and purified with holy shlokas and decorated with garlands. Temporary tents are also erected by the canal for spectators from all parts of the state.
Key attractions: The idol of Shri Vishnu is placed by the canal with the belief that God will supervise the race and preside over the festival. More over Brahmins offer gold and silver to the deities before commencement of the boat race.
Date: To be announced
Suggested Read: North East Trip: Exploring The Soul-Stirring States Of Seven Sisters, One Brother, And A Neighbor In India!
7. Kut Festival – The beautiful autumn festival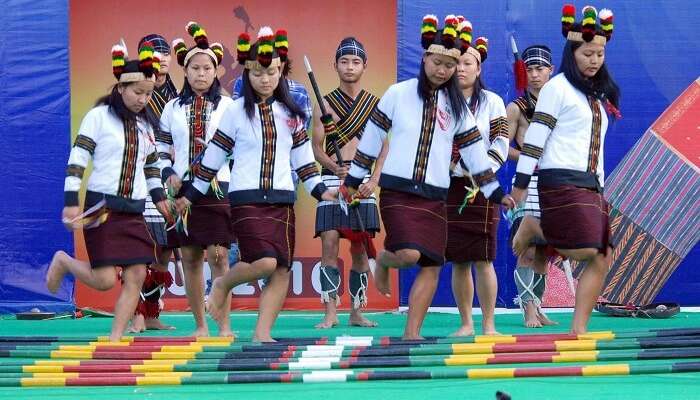 One of the most bright and colourful festivals in Manipur is Kut- celebrated by Kuki-Chin-Mizo tribe. Kut festival in Manipur has gradually evolved as a celebration for peace, harmony, communal ties and friendship. Also known as Chavang-Kut or Khodou, this festival is meant to celebrate the generous food stock of the year. People offer thanks to Gods for the bountiful produce by singing, dancing and merrymaking.
Key attractions: Miss Kut- a beauty pageant organised during the festival.
Date: 1st November 2018
8. Manipur Sangai Festival – The most buzzing cultural extravaganza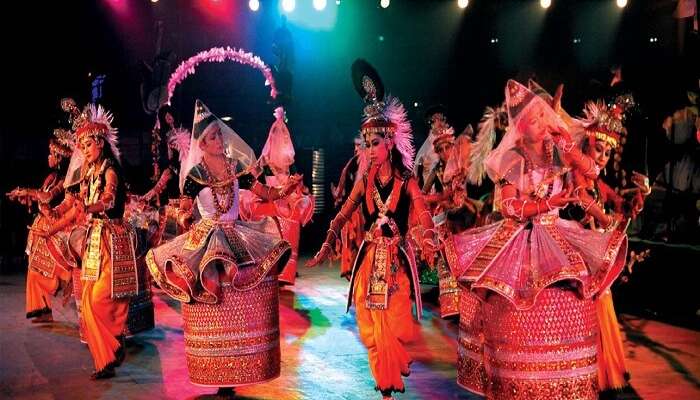 One of the most vibrant festivals, Sangai Festival is celebrated every year in November. Manipur Sangai Festival started in 2010 and has evolved as a significant platform to showcase the state's indigenous art and culture. One can enjoy spectacular performances of dance, music and sports of Manipur and exhibitions of local handicrafts and food. Manipur Film Festival is also organised jointly by MSFDS and Film Forum Manipur, as a part of Manipur Sangai Festival. Here movies and short films by local directors are screened. This initiative helps to promote Manipur film industry nationally and internationally.
Key attractions: Dance forms like Kabui Naga Dance, Raas Leela, Bamboo Dance and Khamba Thoibi Dance are performed. Various native sports like Yubi-Lakpi (a game like rugby, played with greased coconut), Thang Ta (a blend of spear and sword skills), Sagol Kangjei (Manipur version of Polo) and Mukna Kangjei (a unique game that combines hockey and wresting) are also showcased. People can buy local handlooms and handicrafts and indulge in Manipuri delicacies like Nga Thongba or fish curry, Paknam or cake and Eromba- a special dish made of boiled vegetables and fermented fish.
Date: 21st to 30th November, 2018
Suggested Read: 30 Gorgeously Surreal Landscapes of India You Have To See To Believe
9. Ningol Chakouba – One of the most unique festivals of Manipur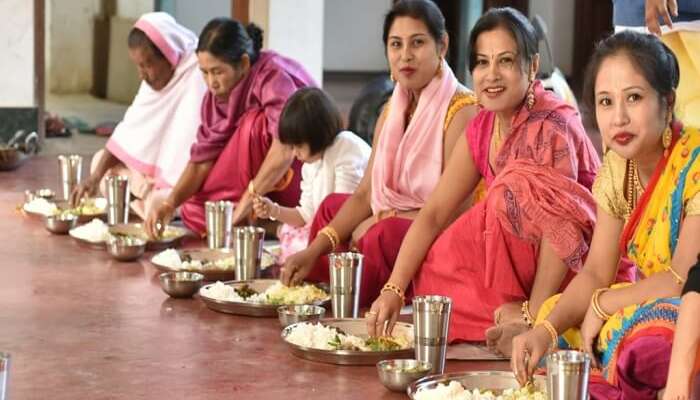 Manipur festival ningol chakouba, a celebration of Meiteis or the Vaishnavites, is one of the most famous social festivals of Manipur. Nowadays, this event is also observed by the Manipuri Muslims as well. Through this festival, married woman, who live in remote places after marriage, are invited with children to their parent's house. They are greeted with immense warmth and love and treated with lavish meals. They spend the entire day with their parents, get pampered and return to their marital homes with blessings and gifts.
Key attractions: Special dishes like Pan Thongba, Chagempomba, Champhut and Iromba are cooked.
Date: Yet to be announced. Ningol Chakouba is celebrated on the 2nd day of the New Moon in the Manipuri month of Hiyangei which usually falls in November.
10. Chumpha Festival- To celebrate harvest of the year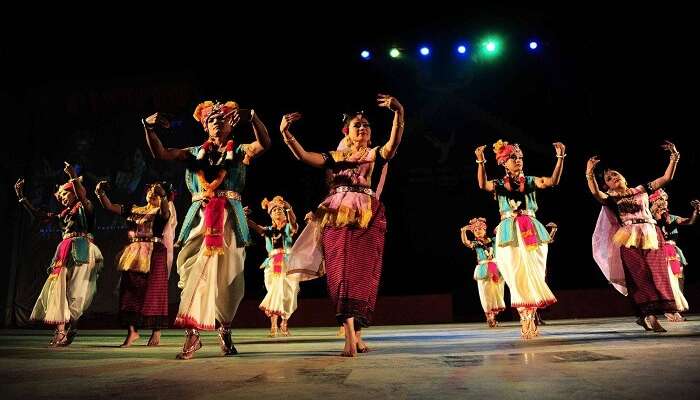 Observed by the tribal community of Tanghul Nagas, Chumpha is one of the popular Manipur festivals, celebrated for 7 days after the harvest. People rejoice the annual produce and celebrate with merriment and social gatherings with friends and families, particularly on the last three days. The festival ends on the 7th day with a grand rally in the village.
Key attractions: This is one of the unique festivals of Manipur, where women take active participation in every ritual.
Date: To be announced
If you're someone who enjoys being a part of different festivals and love the cultural diversity of the nation, then you must visit northeast to experience the real diversity.
Further Read: 15 Popular Harvest Festivals Of India
---
Looking To Book A Holiday Package?
Book memorable holidays on TravelTriangle with 650+ verified travel agents for 65+ domestic and international destinations.
---
Comments
comments