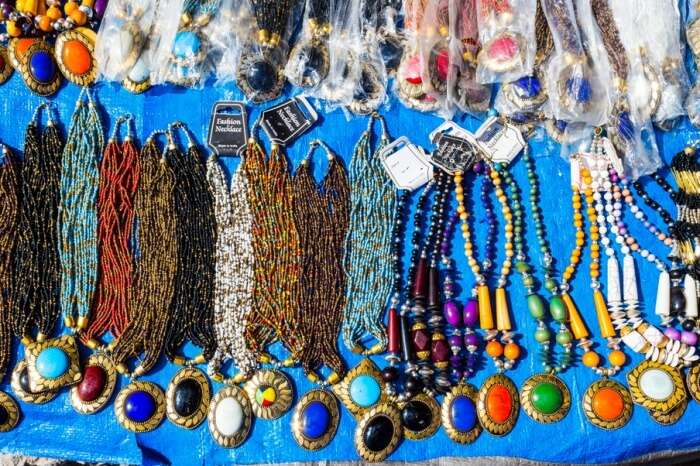 Uttarakhand is already an established tourist destination in India where people from all over the world come to experience the ethereal beauty. Whether you are an adventure enthusiast or spiritual person, 'Dev Bhoomi' offers you myriad experiences. Shopping in Uttarakhand is another thing you can enjoy since you will find a lot of unique and extraordinary things to buy here.  Handicrafts, utensils, handloom, jewelry, you can easily go on a shopping spree. It is suggested that you make some time (and even budget) to go on a shopping spree whenever visiting any of the famous towns in Uttarakhand. But first, let's begin with what all you can buy in Uttarakhand.
Shopping In Uttarakhand: Famous Shopping Items
If you are wondering Uttarakhand is famous for what, then here is a list of a few indigenous items which you will in all the popular towns of Uttarakhand, but only in Dev Bhoomi. Do not miss buying these items while shopping in Uttarakhand.
1. Jams & Pickles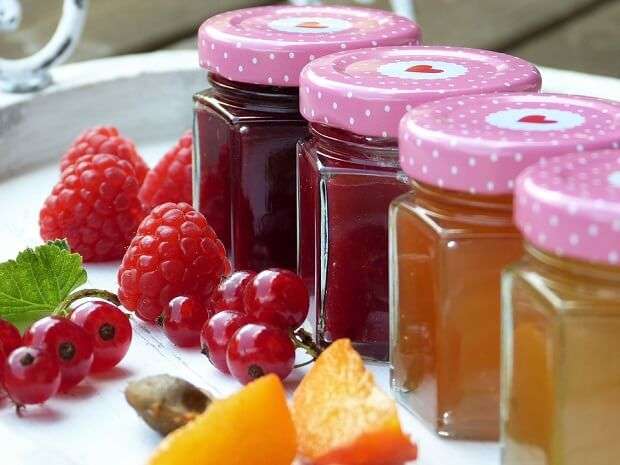 One of the famous things to buy while shopping in Uttarakhand is the fresh jam. It is way more delicious and fresh than the ones you buy from those shelves in supermarts. Once you taste these jams, you will feel like you are actually eating fruit. The variety of jams is galore too. You have mixed fruit, apple, strawberry, blueberries, mango, etc. You can even buy fresh pickles in Uttarakhand. Some of the best pickles to buy are mushrooms, lotus stem, and mixed pickle.
Must Read: Top 44 Amazing Places To Visit In Uttarakhand
2. Local Wine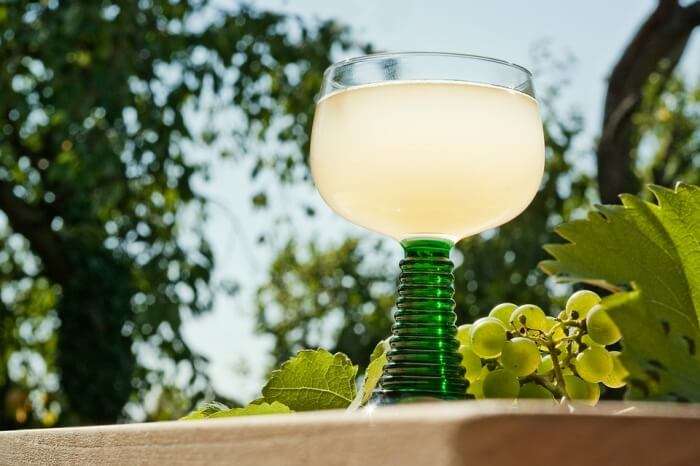 If you are a wine connoisseur, then you should try the local wines made in the wineries of Uttarakhand. Sure, they don't taste better than Sula or those expensive French wine, but they will definitely get you tipsy. These wines are made with a variety of sources like apple cider and grapes. It is worth a try. They are not very expensive either. You will find local wine shops easily in the streets and markets from where you can buy as many bottles of wine as you want.
Suggested Read: 13 Fabulous Places To Visit In Pauri Uttarakhand
3. Honey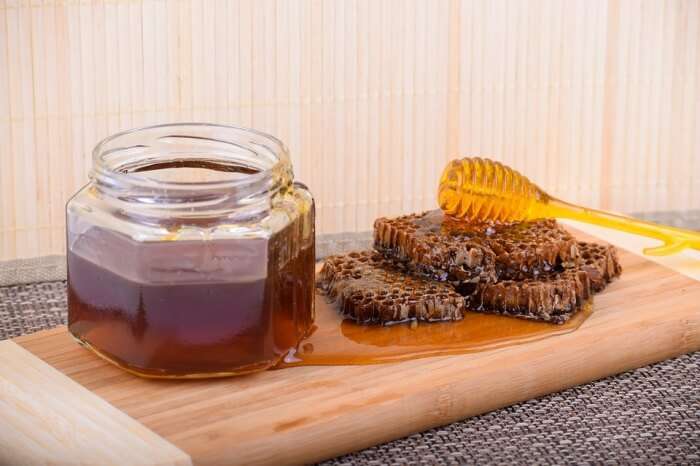 Honey is another thing you should buy while shopping in Uttarakhand. Why not when Uttarakhand has a lot of beekeeping farms. Taste the freshness and sweetness in every drop of that natural honey. The best part is that it is organic. There is no adulteration or additives added into honey which is why it stays perishable for years. You will find a variety of flavors too, like litchi flavored honey.
Suggested Read: 13 Honeymoon Places In Uttarakhand For An Idyllic Escape Right After The Wedding!
4. Woolen Clothing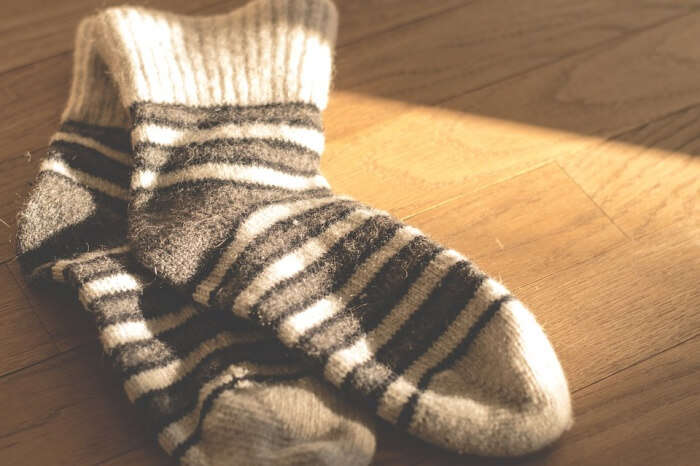 One of the best things to buy from any hill station is woolen clothing. Buy hand-knitted scarfs, socks, sweaters, and shawls from the handicraft bazaars of Uttarakhand. These woolen items will keep you safe from the harsh winters on the hill station. There is no other way. Also, you will remember for years how you bought that sweater or scarf on your trip to Uttarakhand. These woolen items also make nice souvenirs to gift to your loved ones.
Suggested Read: 41 Amazing Hill Stations In Uttarakhand For An Adventurous Escapade
5. Handicrafts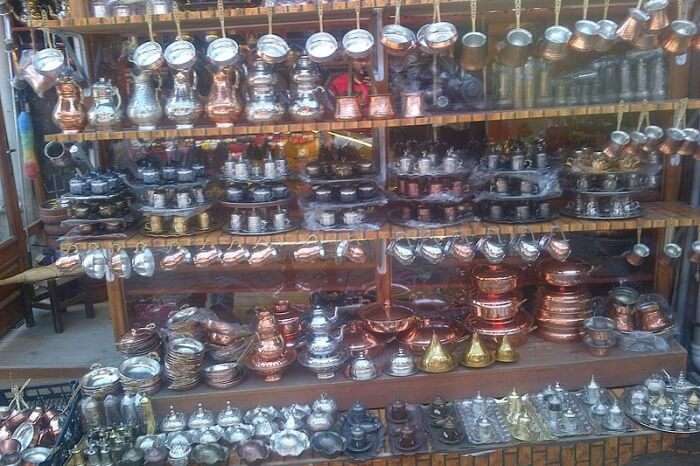 Uttarakhand is famous for its handicrafts too. These handicraft items have well preserved the Kumaoni and Garhwali culture of Uttarakhand. Each district in Uttarakhand is famous for one thing or another. Aipan is a traditional local art in which intricate white color designs are made against block red background. The paste is made from rice flour and this art form belongs typically to the Kumaon region. You will also find a variety of natural fibers like Raambaan, Jute, and Ringaal. Copperware and wooden craft of Uttarakhand are equally famous too. Almora is famous for its Angora and pashmina items.
Suggested Read: 17 Places To Visit In Badrinath For A Memorable Visit To This Uttarakhand Town
6. Ringaal Handicraft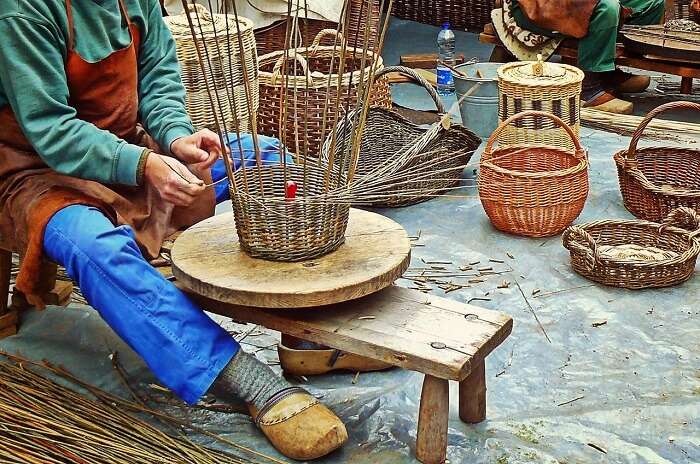 One of the things Uttarakhand is famous for is bamboo handicrafts made by Ringaal people in the Kumaon region. These beautiful bamboo art pieces are 100% eco-friendly and last long. You will find bags, purses, lampshades, furniture, and what not, all spun out of bamboo. Everything is crafted so well that you will not be able to help yourself from buying. There are kitchen utility items, carpets, and even cute baskets made from bamboo. Get one of these for yourself on your next vacation.
Suggested Read: 7 Best Wildlife Sanctuaries In Uttarakhand Of Where One Can Closely Admire The Wildlife!
7. Rambaans Handicraft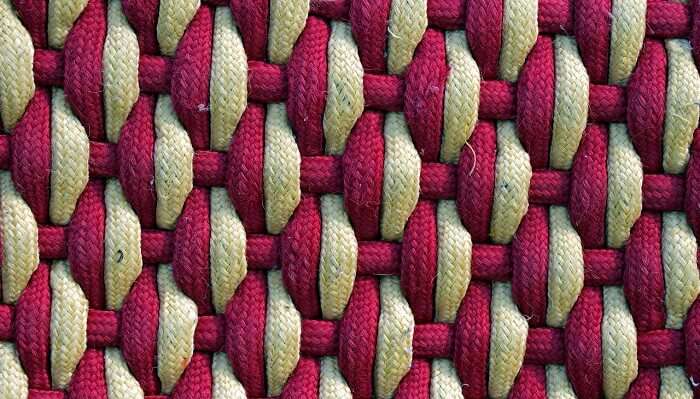 Local people in Uttarakhand are very talented. Who would have thought that they would weave something out of jute and hemp? Rambaans is a local art form made using hemp and jute fiber. You will find bags, purses, wall hangings, and showpieces hanging at the shops in various markets in Uttarakhand. Again, these items are more sustainable and upcycled products. So, buying them will make you feel good, and using them will make you happier.
Suggested Read: Explore 13 Best Temples In Uttarakhand For A Perfect Vacation In 'Devbhoomi'
8. Angora & Pashmina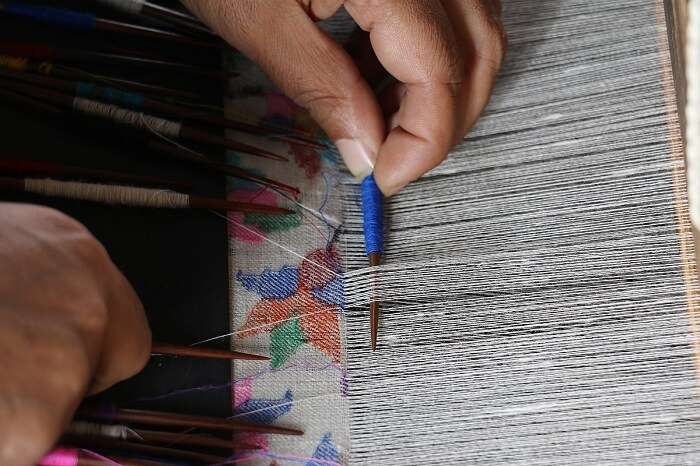 One of the things that you should buy while shopping in Uttarakhand is Angora or pashmina shawls. Angora and pashmina fabrics are woven from the hair of mountain goats and these fabrics are the warmest clothing you can have. You will find beautiful shawls with intricate embroidery at various shops in Uttarakhand. To test whether it is real pashmina or not, pass the fabric through your ring. If it does, it is real.
Suggested Read: 16 Rivers In Uttarakhand: Enjoy These Gorgeous Beauties
9. Wooden Crafts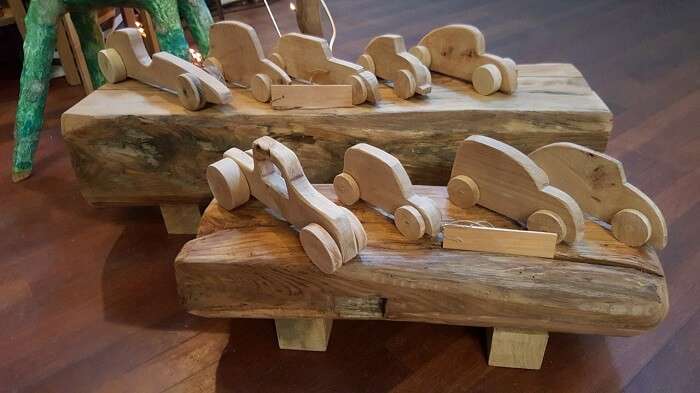 There is one thing that you will find in abundance in Uttarakhand and that is a wooden craft. In fact, the Himalayan state excels in the art of woodwork. The Gunjyal tribe is known for its excellent craftsmanship and they can create anything out of wood. Buy walking sticks, jewelry boxes, animal figurines and other useful items made from the wood of mountain trees.
Suggested Read: 12 Places To Visit In Haldwani On Your Trip To This Gem In Uttarakhand
6 Best Markets For Shopping In Uttarakhand
Here is a tiny guide helping you out with shopping in Uttrakhand. Know the best shopping places in Uttarakhand and its famous towns.
1. Haridwar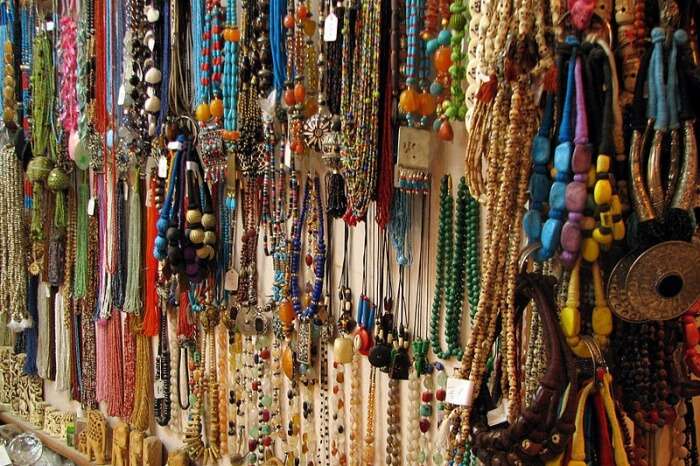 Since it is a pilgrimage city, Haridwar is famous for spiritual stuff, stones, and jewelry. You will find markets around Har ki Pauri. There is a whole bazaar from where you can buy utensils, holy items to keep in temples, idols of deities, and the most special thing, bottles to store pious water from the river. Everyone who visits Haridwar buys these bottles of different volumes and fill them with the holy water to take back to their homes. You can also buy pretty stone jewelry and glass bangles for your lady friends and family members. Rudraksha is another important thing people buy for themselves. You will also find an array of wooden products in these markets too.
Famous Markets: Bada Bazaar, Jwalapur Market, Moti Bazar, Kankhal Market
2. Dehradun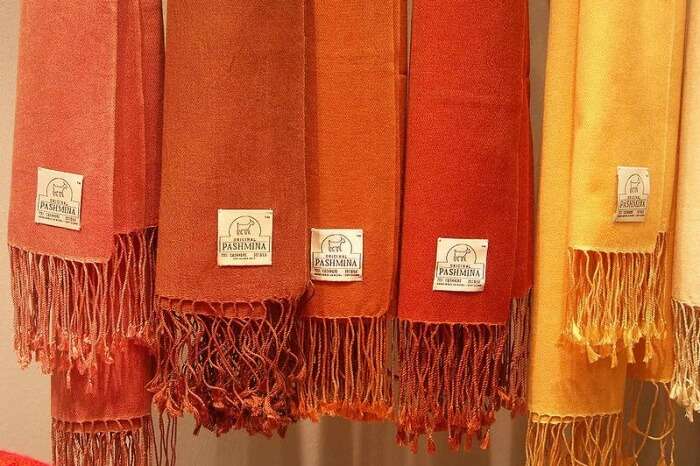 If you think there are no shopping malls in Uttarakhand, Dehradun will prove you wrong. From clothing, cosmetics, to electronics, you can buy anything from these malls. Pacific Mall is one of the most famous malls in the hilly town. Crossroads is another where people go to buy luxury items. However, if you want to do budget shopping, then visit the street markets of Dehradun which are famous for brassware, knick-knacks, artifacts, and shawls. Visit these markets for an experience of the best shopping in Uttarakhand.
Famous Markets: Paltan Bazaar, Tibetan Market, Astley Hall
Suggested Read: 28 Offbeat Places In Uttarakhand: Explore The Hidden Himalayan Gems
3. Nainital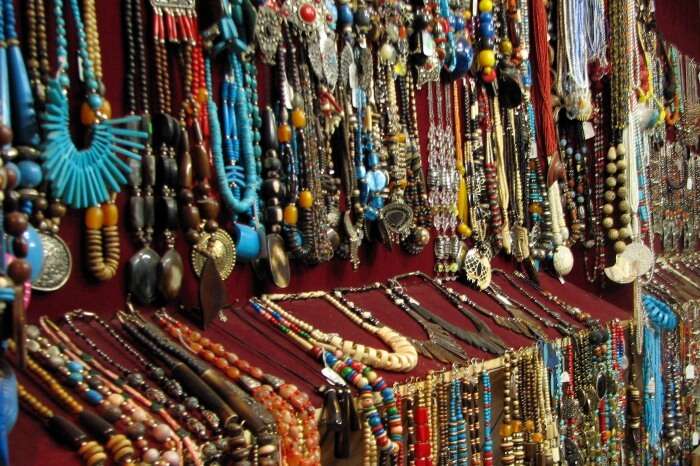 Every hill station in Uttarakhand has mall roads lined up with a variety of shops. Nainital is no exception. You will find a long tail of shops that sell wooden handicrafts and woolen handloom. Tibetan Market near Naina Devi Temple is a bargainer's paradise. You will find fine-looking scarves, stylish bags, and warm clothes at this market. If you get hungry while shopping, have a plate of delicious steamy momos which are a specialty here. Bara Bazaar in Nainital is where you will find fresh fruits like strawberries, apples, cherries, and litchis. Get some for you and your friends. You can't get enough of shopping in Nainital, Uttarakhand.
Famous Markets: Bara Bazaar, Paltan Bazaar, Tibetan Market,
4. Almora

The best place to go shopping in Uttarakhand is Almora. Though it lacks in swanky shopping malls in Uttarakhand, this is where you will find 200-year old shops sermonized by the kings that sell stupendous traditional crafts and items. Buy precious stones, jewelry, Angora cloth, and local craftwork. Copperware and brassware are other famous items you can buy in Almora. Pashmina shawls and woolen jackets are other amazing takeaways from the markets of Almora. Khadi is also a thriving industry in Almora.
Famous Markets: Johri bazaar, Lal Bazaar, Tamta Mohalla, Mall Road
Suggested Read: Top 22 Places To Visit In Uttarakhand In Summer To Dial Down The Heat
5. Badrinath

If you are going on Char Dham pilgrimage to Badrinath, Kedarnath, Yamunotri, or Gangotri, then it is a great opportunity to buy spiritual and religious stuff. Since all these places are tiny, you will find small markets just near the shrines from where you can buy things like idols of gods, incense sticks, tiny metal lamps, and beads and trinkets. The miniatures of 'Silgram Sila' or the sacred stone of Lord Vishnu is a must-buy when in any of the holy towns.
Famous Markets: local markets near the shrine
6. Mussoorie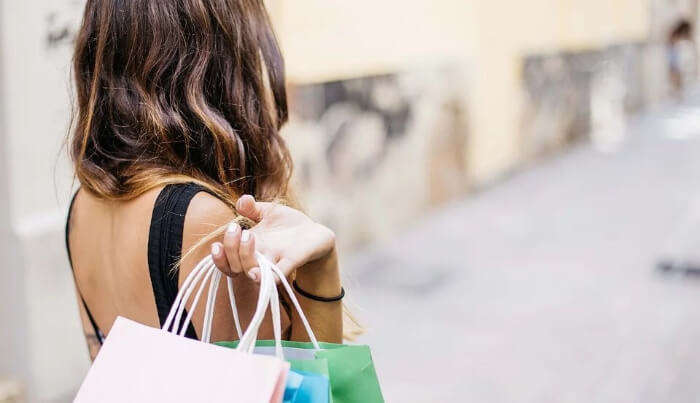 A vacation in Mussoorie is incomplete without shopping. From woolen garments to wooden and brass items and from tiny trinkets to silver jewelry, the markets in Mussoorie offers a lot to all shopaholics. You can buy prayer wheels, porcelain items, lampshades, and junk jewelry on your shopping spree. Some of the markets that you must stop by are the Mall Road, Library Bazaar, and Tibetan Market. If you are thinking about carrying souvenirs back home for your family and friends then you must explore these markets.
Famous Markets: Kulri Bazaar, Sisters Bazaar
Further Read: 6 National Parks In Uttarakhand That Calm Your Adventurous Side
Uttarakhand is not only a paradise for nature lovers but also shopaholics. These items listed above are something you will only find in this beautiful town. Even if you are not a big-time shopper, you must get these items as souvenirs from your trip to Uttarakhand.
Disclaimer: TravelTriangle claims no credit for images featured on our blog site unless otherwise noted. All visual content is copyrighted to its respectful owners. We try to link back to original sources whenever possible. If you own rights to any of the images and do not wish them to appear on TravelTriangle, please contact us and they will be promptly removed. We believe in providing proper attribution to the original author, artist or photographer.
Frequently Asked Questions Shopping In Uttarakhand
What is Uttarakhand famous for?
Uttarakhand is famous for a lot of things like wine, woolen items, and handicrafts. There are local tribes which are skilled in art like Ringaal, Rambaans, wooden craftsmanship, etc. So, if you want to buy something, you should buy these indigenous items.
What Dehradun is famous for?
Dehradun is famous for Basmati rice, jewelry, woolen clothing, etc. You will find the bazars in Dehradun studded with so many shopping articles.
What can I buy in Dehradun?
Buy brass items, Tibetan knick-knacks, handloom, local produce and spices from the markets in Dehradun.
What are the best things to buy from organic stores in Uttarakhand?
It is advisable to buy honey and jams from organic stores in Uttarakhand. They are the original ones without any adulteration.
Are woolen fabrics the best to buy during the Uttarakhand tour?
Woolen fabric shopping in Uttarakhand is the best to buy after landing here. You will get the original sheep wool hand-knitted woolen dresses and accessories.
Can one buy religious ornaments once on a pilgrim tour in Uttarakhand?
Yes, you can find many authentic religious ornaments in flea markets near to the Hindu shrines. You can also give them as gifts to your friends and relatives. They are handicraft ornaments made of wood, jade, and metals.
When do the shops in Uttarakhand open and close?
Most of the shopping malls are open from 10:00 AM to 11:30 PM. The other shops and flea markets are open from 10:00 AM to 06:00 PM in Uttarakhand.
Do shops in Uttarakhand accept credit cards from foreign tourists?
Yes, there are many shopping malls and other stores, who accept credit cards from foreign tourists. It is advisable to check for Visa, Master, and Amex logos on the storefront.
Do shops in Uttarakhand accept Traveler Cheques from foreign tourists?
Yes, Uttarakhand is an international tourist destination for pilgrimage and hill stations. Most of the shopping malls accept Traveler Cheques from foreign tourists.
Which is the best place to go shopping in Uttarakhand?
Dehradun is the best place for shopping once in your Uttarakhand tour. It has shopping malls, street markets, and flea markets.
Are shopping malls in Uttarakhand family-friendly?
Yes, most of the shopping malls in Uttarakhand are with kid's area, entertainment places, and food courts.
---
Looking To Book A Holiday Package?
---
People Also Read:
Shopping In Kasauli Shopping In Pune Shopping In Rameshwaram