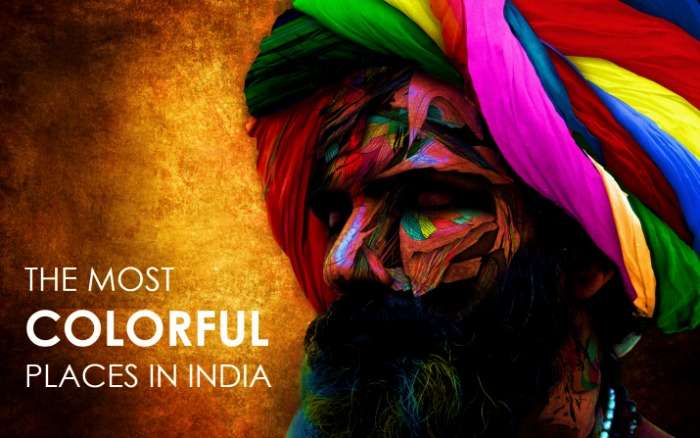 With dazzling combination of natural beauty, fascinating festivals and a mélange of traditions, India is truly full of experiences for every traveler. So, here's a list of 38 most colorful places in India that will make your heart skip a beat.
1. Valley of flowers in Uttarakhand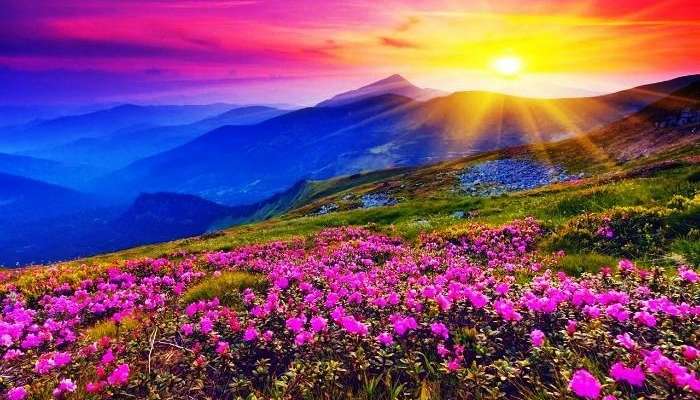 Image Source
Without doubt, Valley of flowers is one of the most colorful places in India and the world. A popular meadow for endemic alpine flowers and dazzling natural beauty, it is home to the rare and vivid flowers such as orchids, poppies, primulas, marigold, daisies and anemones. The beautiful flowers cover the entire landscape and cloud the mind with their vivid colours.
Plan A Trip To Uttarakhand With TravelTriangle!
---
Looking To Book A Holiday Package?
Book memorable holidays on TravelTriangle with 650+ verified travel agents for 65+ domestic and international destinations.
---
2. Varanasi Ghats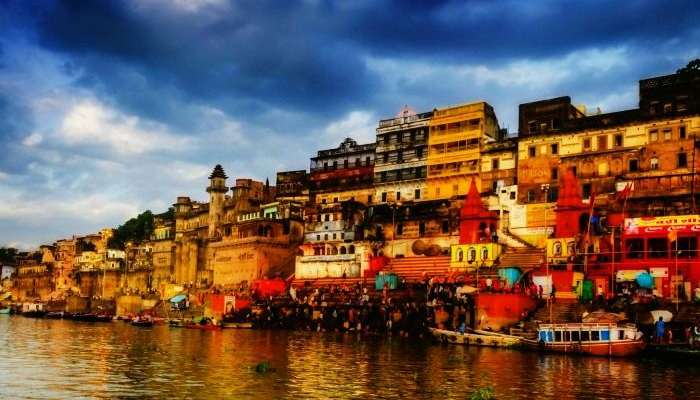 Image Source
Number two on our list of colorful places in India are the ghats that are home to a diverse range of entrepreneurs, vendors, priests, sadhus, and families, all united by a deference to Ganga. The Ganga Aarti here is an experience that must not be missed.
Must Read: 15 Places To Visit In India While You Are Still Young
3. Jodhpur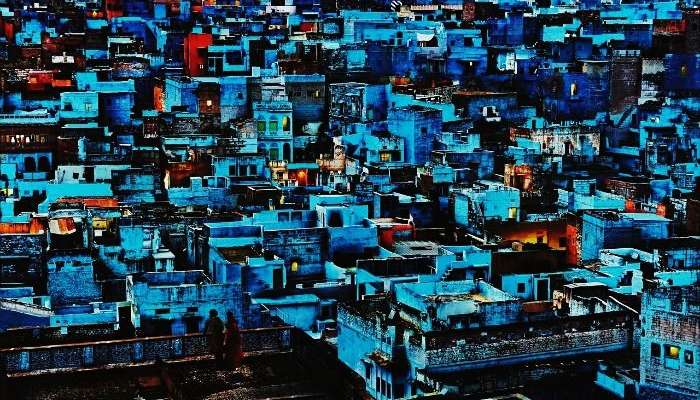 Image Source
A curiously blue construct on the edge of the desert, Jodhpur looks striking from the beautiful Mehrangarh Fort perched above the city. While in Rajasthan, Jodhpur has to be on your list of colorful places to visit in India.
4. Sandakphu Trek in West Bengal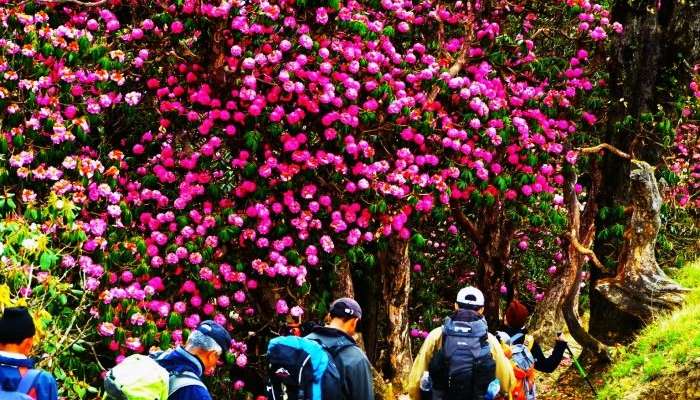 Image Source
Sandakphu Trek is popular for viewing four of the tallest mountains in the world. But during the months of April and May this trail is filled with bright pink Rhododendron flowers that stretch for many miles turning the forest hills into a surreal combination of pink and green.
5. Kanchendzonga Dance in Sikkim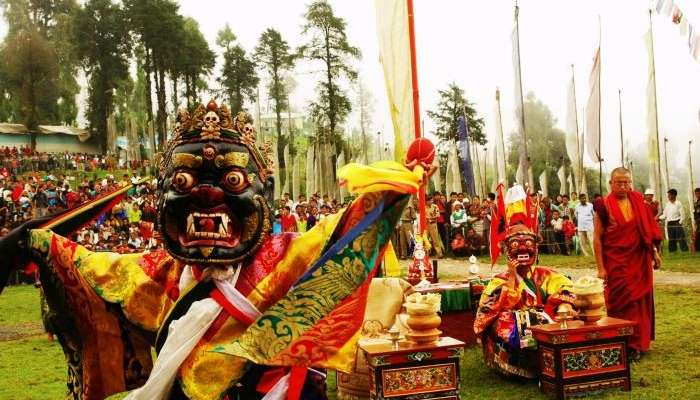 Image Source
The vivid Kanchendzonga Dance in Sikkim displays the dancers performing in a lion costume that represents the snow lion. This masked dance is performed during the worship ritual of the snowy range of Kanchenjunga and is truly a spectacular sight.
Must Read: 20 Must Visit Places When Travelling to the North East
---
Planning your holiday but confused about where to go? These travel stories help you find your best trip ever!
Real travel stories. Real stays. Handy tips to help you make the right choice.
---
6. Pipli, Orissa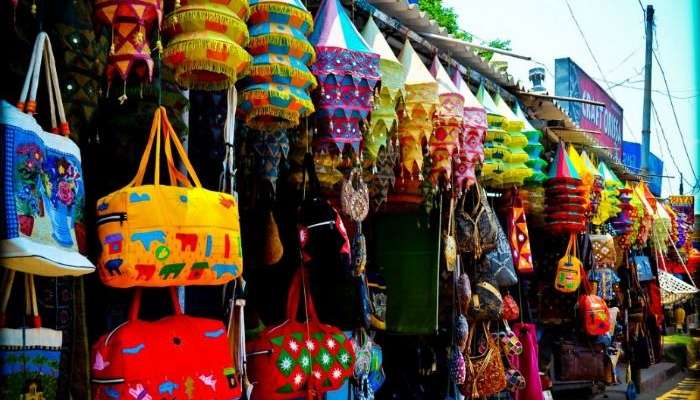 Image Source
Peepli is on the list of the most colorful places to visit in India for all the craft lovers. A walk into the Pipli Village is the same as being hit by a loud burst of color. Shops after shops in this village sell beautiful appliqué work for the annual Jagannath Yatra and are famous for experimentation with color for non-ceremonial items such as bags, cushion covers and bed sheet.
7. Rann Utsav in Kutch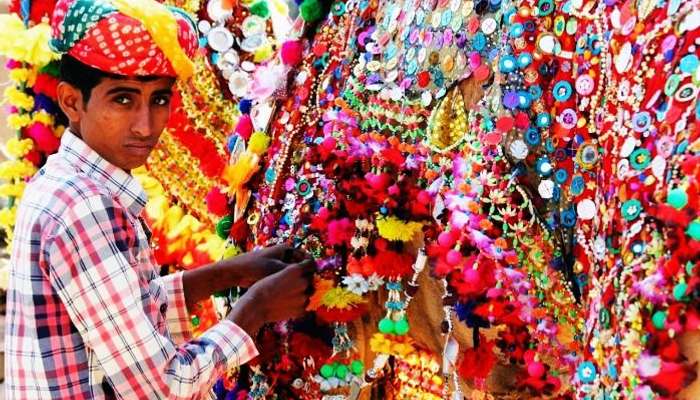 Image Source
Nothing treats your eyes better than the vibrant hues spread across the surreal white salt land – Rann of Kutch, indeed is one of the most colorful place in India. Visit the Rann Utsav Festival in December and experience the amazing array of activities including the desert festival, folk dances, hot air ballooning, camping and camel safaris.
8. Lathmar Holi in Barsana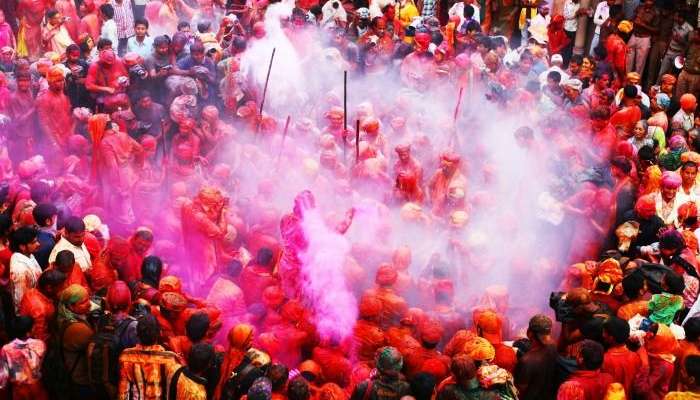 Image Source
You have not celebrated Holi in India till you have witnessed Lath Mar holi in the sprawling compound of the Radha Rani temple in Barsana. Women beat up men with sticks as those on the sidelines become hysterical, sing Holi Songs and shout Sri Radhey or Sri Krishna.
Must Read: Rang Barse!- 6 Awesome Places to Celebrate Holi this Year
9. Visa God Temple in Hyderabad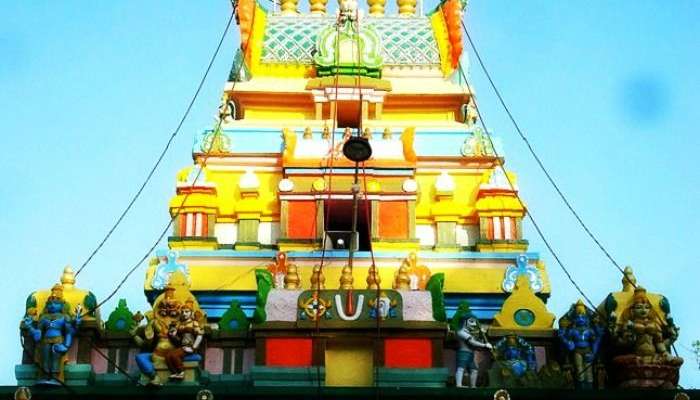 Image Source
Popularly called as the Visa God temple, those who expect to go overseas flock to the temple seeking the blessings of Balaji. The temple is one of the oldest in the Telangana region-built about half a million years ago.
10. Mustard Fields in Punjab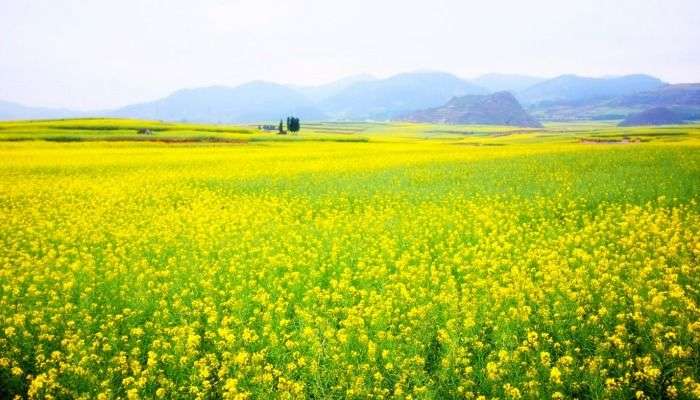 Image Source
One of the most colorful places in the world is the land of five rivers – Punjab, the most fertile & agriculturally rich state in India. Nothing gets better than witnessing the picturesque landscapes of lush widespread mustard fields.
11. Laad Bazaar in Hyderabad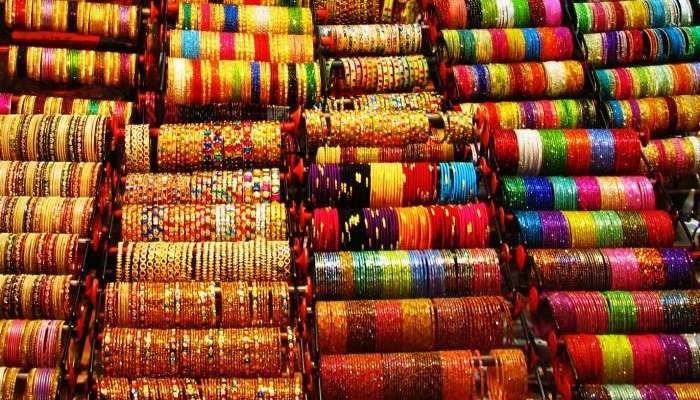 Image Source
Shiny, bright and colourful, this traditional old market located near Charminaar, is famous for the large variety of beautiful bangles that would make you go crazy with its sheer exuberance. Be prepared to walk and bargain, though.
Must Read: Top 11 Shopping Destinations in India
12. Khari Baoli in Old Delhi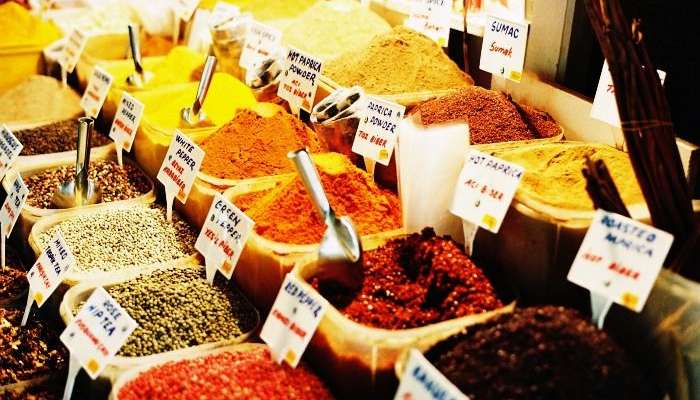 Image Source
Prepare to be engulfed into an aroma of hundreds of spices that will tantalize your nose and eyes. Khari Baoli in Old Delhi, Asia's largest spice market is a unique experience to visit with huge quantities of spices being loaded, carried and sold.
13. Rajasthani Thali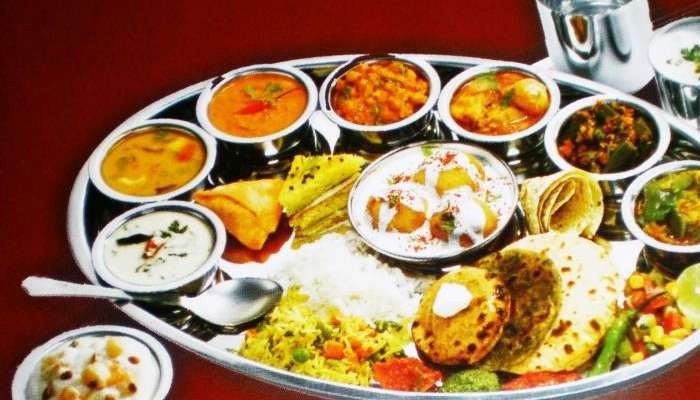 Image Source
A traditional Rajasthani thali depicts a brilliant play of gourmet preparations on a plate of epic proportions. It includes a varied number of vegetarian and non vegetarian curries, Dal baati choorma, pickles, special breads, raitas, butermilk, sweetened lassi and desserts.
Must Read: 31 Indian Snacks Which Can Turn You Into a Local From a Tourist!
14. Wazwan meal in Kashmir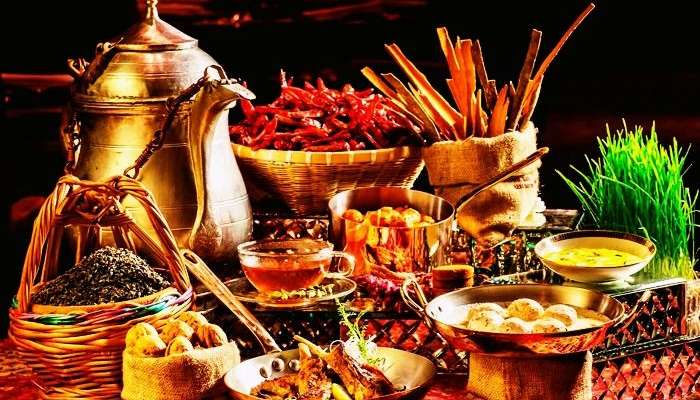 Image Source
Wazwan is a delectable aromatic banquet of Kashmir best experienced on a completely empty stomach. A 36 course meal, almost all the dishes are made from lamb or chicken and is considered an art form in the region.
15. Theyyam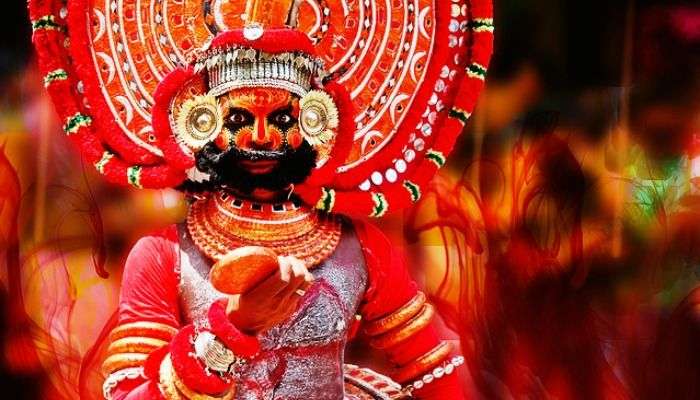 Image Source
Staged in various temples of North Kerala, Theyyam is an exceptional and colorful ritual dance form seen in the districts of Kannur and Kasargod. The colorful pageantry, the enthusiastic crowd and the religious fervor make it an exceptional view.
Must Read: 20 Amazing Things To Do In Kerala For An Incredible Holiday
16. Golden Temple Complex in Coorg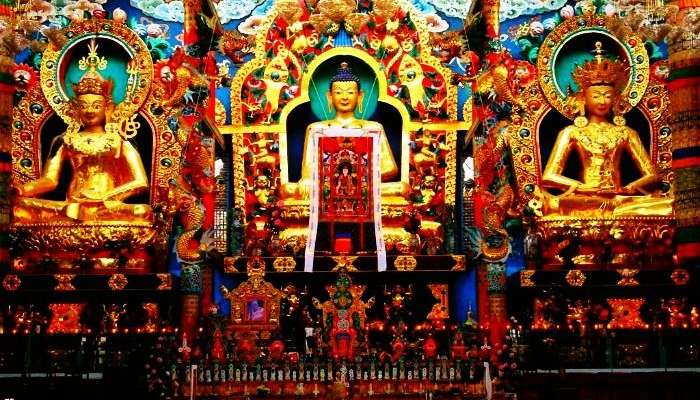 Image Source
The second largest Tibetan settlement in India, the Namdroling Nyingmapa with the Tibetan Monastery and Golden Temple is an area full of culture and colourful paintings and beautiful golden statues of Buddha, Padmasambhava, and Amitayus.
Must Read: 10 Places to Visit in Coorg For a Memorable Vacation
17. Tawang Monastery in Arunachal Pradesh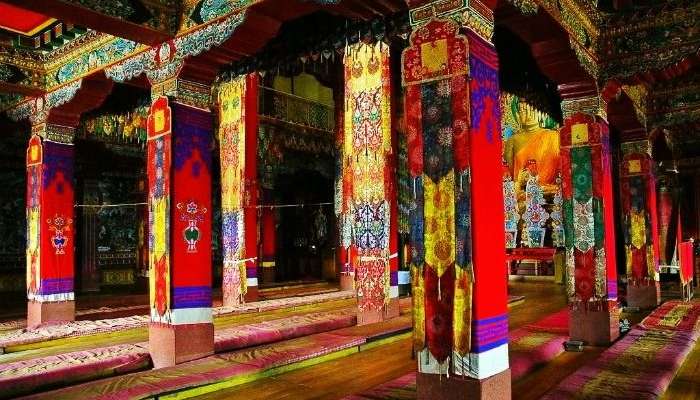 Image Source
Tawang Monastery in Arunachal Pradesh is the biggest Buddhist monastery in the world outside Lhasa, Tibet. And during the Torgya Festival the famed masked dances here make the visit even more special.
Must Read: 7 Most Beautiful Villages in India That You Must Visit Before You Die
18. Durga Puja in Kolkata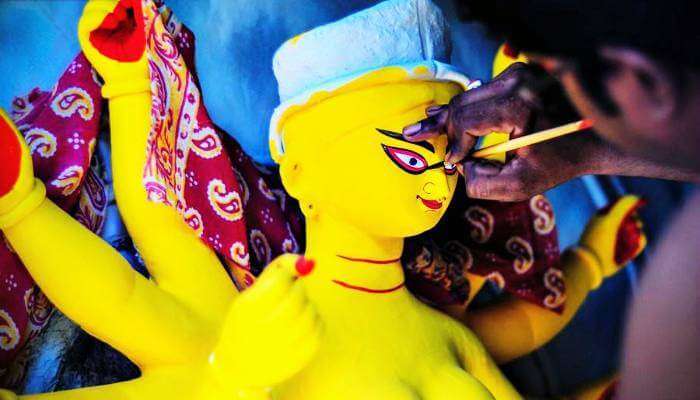 Image Source
The festival of Durga Puja is a grand affair in Kolkata. Infinite pandals line the streets and the City of Joy transforms into a place emitting unprecedented happiness and vibrant colors.
19. Saffron Fields in Pampore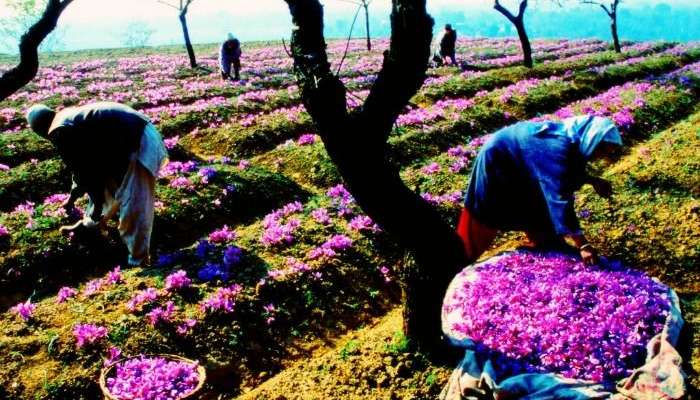 Image Source
The only place in the world besides Spain to grow Saffron, Pampore is a sleepy hamlet which accounts for major production of the spice in India. The beautiful lavender fields here are a sight to behold.
20. Dasara celebrations in Mysore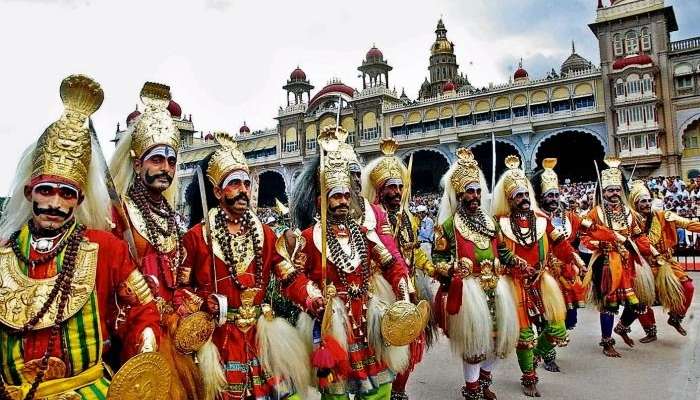 Image Source
On Vijayadashmi, Mysore witness the Jamboo Savari where brightly decorated royal elephants walks the streets mounted with a 750-kilogram gold altar carrying the idol of Goddess Chamundeshwari. Tens of thousands of people line up to watch these regal elephants along with horses, camels, musicians, dancers, acrobats making it a vivid sight of colour and culture.
21. Hornbill festival in Nagaland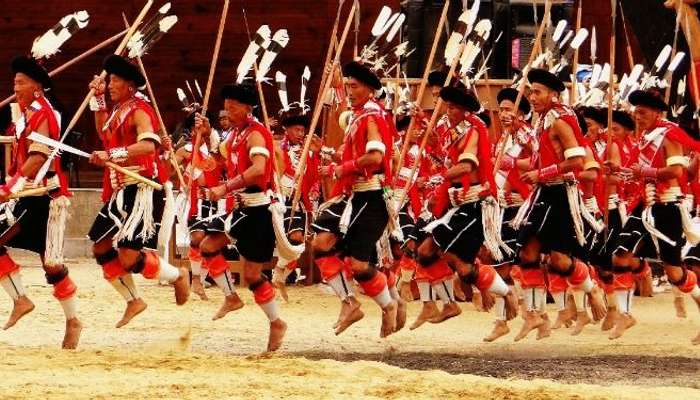 Image Source
Hornbill Festival of Nagaland is one of the biggest cultural extravaganzas in the North East celebrating the rich cultural heritage of the Nagas. Naga tribes come together in Kisama for a colorful display of traditional dances, sports, songs and local cuisines for an experience that is truly remarkable.
Must Read: 31 Reasons Why You Should Never Visit North East India
22. Pushkar Camel Mela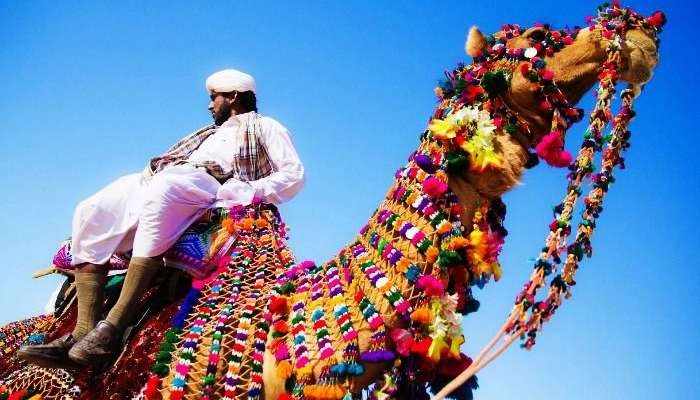 Image Source
A once-in-a-lifetime opportunity to witness the colour, spectacle and carnival of one of the last great traditional melas of Rajasthan. This festival is a sight to behold with hundreds of cameleers buying and selling camels and competitions like matka phod, longest moustache as well as camels races and dance competitions.
23. Kathakali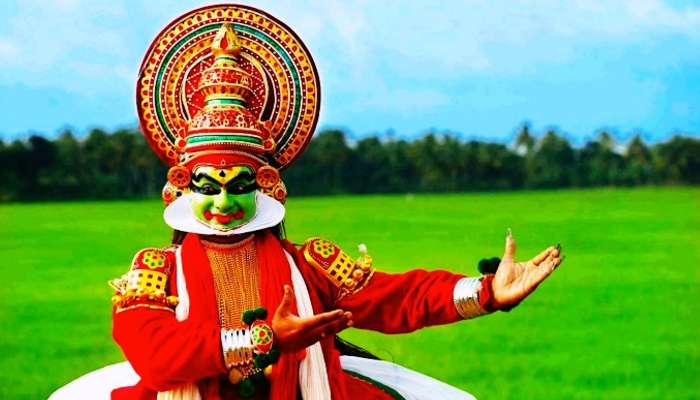 Image Source
One of the oldest theatre forms in the world Kathakali as an amalgam of literature, painting, dance, music, and acting. The artistic costumes and the colourful makeup along with traditional storytelling makes a Kathakali performance an enthralling experience.
Must Read: The Ultimate Kerala Honeymoon Bucket List
24. Chilka Lake bird sanctuary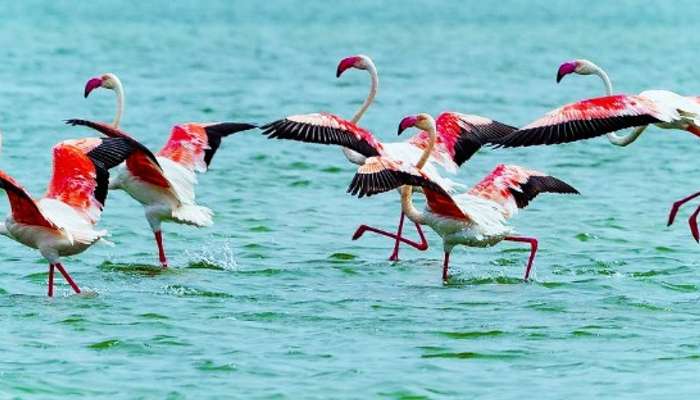 Image Source
The Chilka Lake is the most beautiful brackish water lake in Asia and famous as a wintering ground for migratory birds in India. The pear-shaped lake is one of the best bird watching spots in India.
25. Lavasa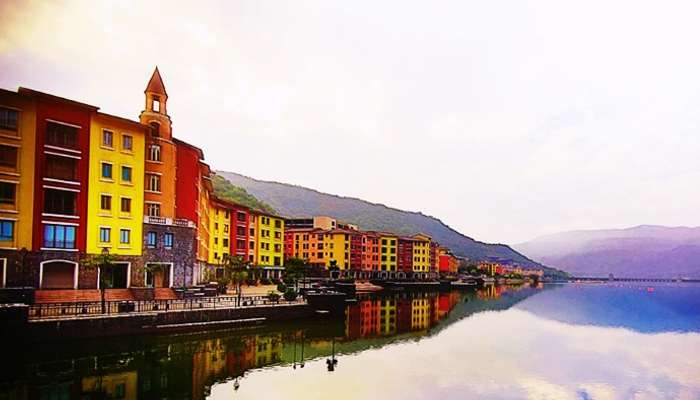 Image Source
This contemporary city is one of the most colorful places in India and boasts of its vibrant European architecture, set by the river amidst luscious verdant slopes.
26. Holi Cow festival in New Delhi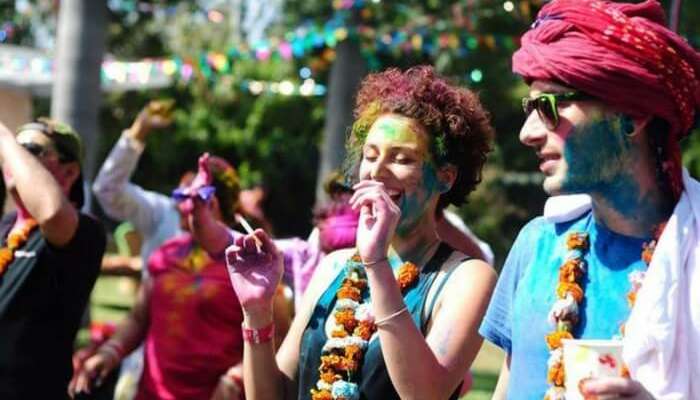 Image Source
Revel in a blast of colour, music and art at Holy Cow. This colourful retreat features music along with visual artists and performance artists. It's a holi celebration that you will never forget.
27. Tulip Garden in Kashmir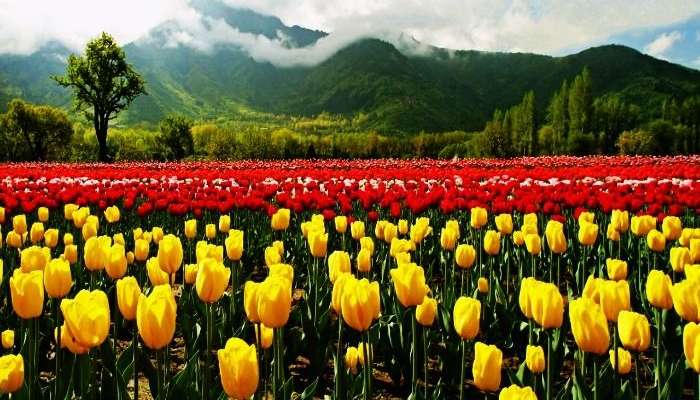 Image Source
Located at the foothills of the Zabarwan Mountains and on the banks of the Dal Lake, Asia's largest tulips gardens with over 60 varieties of Tulips are a sight to behold. Kashmir is undoubtedly offers the best colorful experience in India.
28. Rock Garden of Chandigarh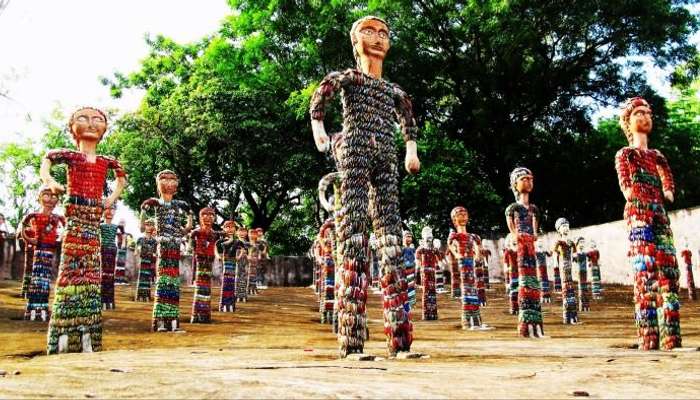 Image Source
Rock Garden near Sukhna Lake is a unique collection of sculptures made of scrap and wastes items such as water bottles, broken glasses, bangles, tiles, ceramic pots and electrical waste. Nestled amidst 20 acres of woods, it is an open air exhibition hall and a miniature maze of vast fantasy art and landscape.
29. Dal Lake in Srinagar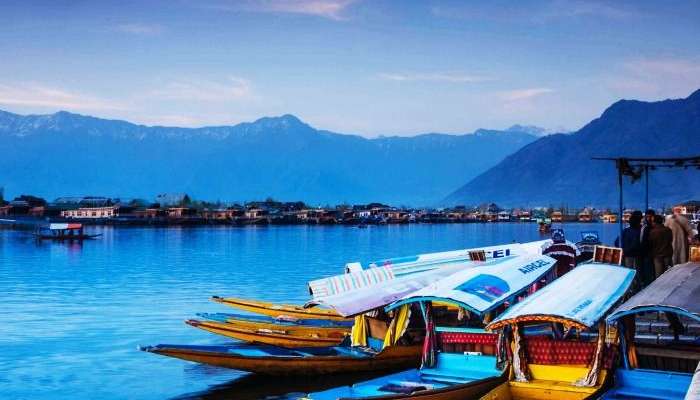 Image Source
Dal Lake is a beautiful sheet of water reflecting the carved wooden balconies of the houseboats and the misty peaks of the Pir Panjal mountains around. Painted shikaras skiff around the lake, transporting flowers, vegetables and people making it the most colorful place in the world.
Must Read: 15 Places to Visit in Kashmir on your honeymoon
30. Meenakshi Temple in Madurai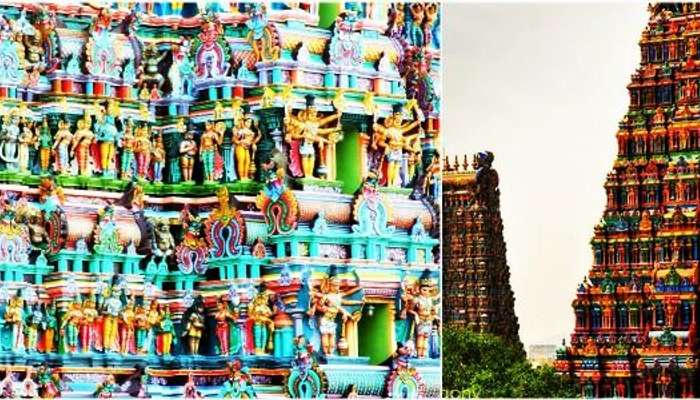 Image Source
Located on the southern bank of the Vaigai River the Meenakshi Amman Temple houses 14 magnificent towers. Each of these visually dazzling towers is covered with thousands of stone figures of animals, demons and gods of Hindu tradition to create maximum visual impact.
31. Puli Kali in Thrissur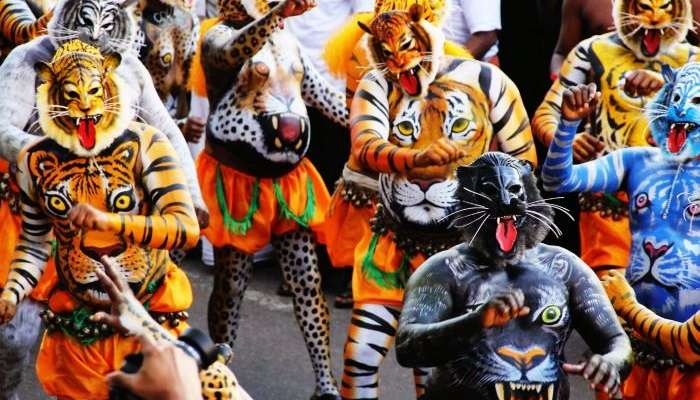 Puli Kali, celebrated in Thrissur dictrict of Kerala on the fourth day of Onam is one colourful spectacle bursting with energy. Painted in bright yellow, red and black, performers take to the street, dancing to traditional folk beats.
32. Andaman and Nicobar Islands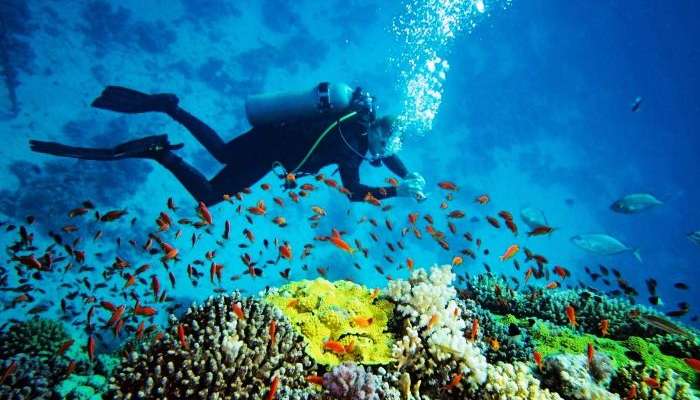 Image Source
earth. With opaque emerald waters surrounded by primeval jungles, mangrove forests and snow-white beaches Andaman and Nicobar Islands are a paradise without a question. Havelock is a glorious location to see the coral reef and the beautiful aquatic life.
Must Read: Top 12 Places To Visit In Andaman
33. Snake boat race in Kerala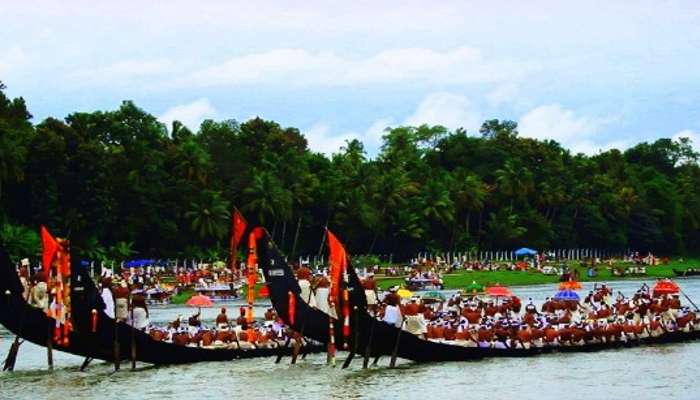 Image Source
Held along the river at Champakkulam near Alleppey, the Snake boat races are a sight to behold. It is a 400-year-old tradition where each snake boat occupies 100 oarsmen making it the largest team sport in the world.
34. Makar Sankranti in Gujarat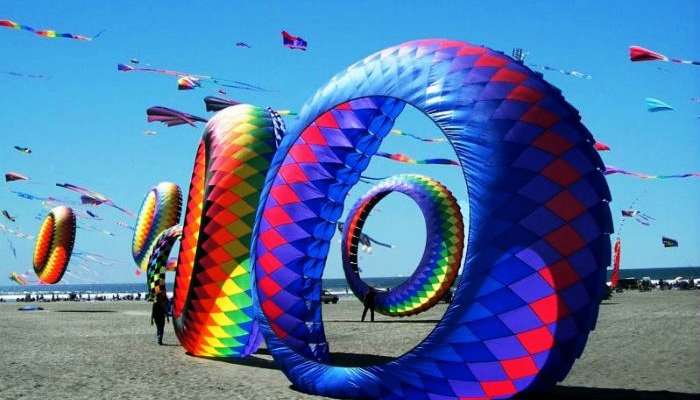 Image Source
International Kite Festival is held at Ahmedabad , to coincide with the festival of Uttarayan or Makar Sankranti. With a display exotic kites of various designs and shapes it is a spectacular show in the sky.
35. The rare bloom of Neelakurinji in Munnar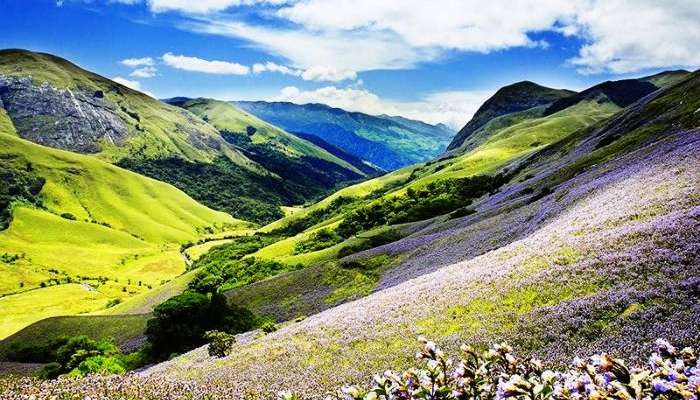 Image Source
The beautiful hill station of Munnar is home to the rare lavender colored flower of Neelakurinji that blooms only once in 12 years. The best place to see the striking color spread is inside the Eravikulam National Park.
36. Khajjiar in Himachal Pradesh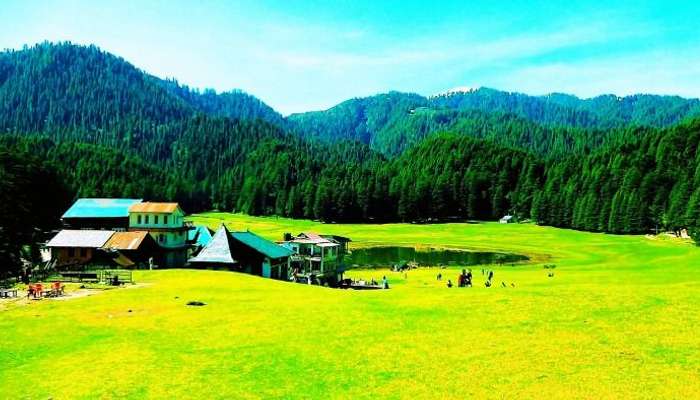 Image Source
Often called as India's Switzerland, Khajjiar is a picturesquely set hill station in the midst of dense pine and magnificent Deodar forests. It is a beautifully colorful place to visit in India.
37. Devaraja market in Mysore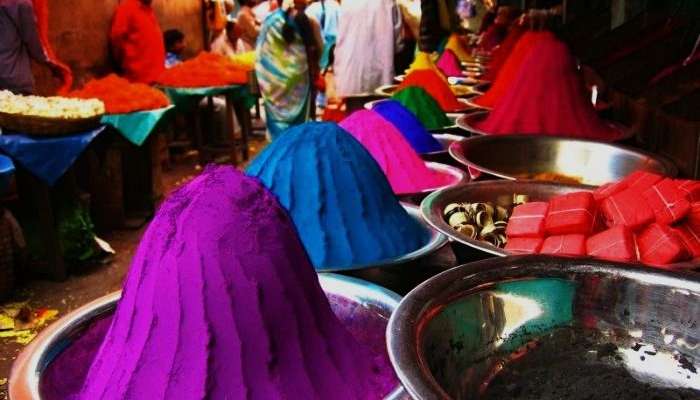 Image Source
Devaraja market is traditional market place that is colorful, noisy, vibrant and a tad chaotic. It is an apt place to get a flavor of Mysore. With more than 100 years of history, this market sells everything from brightly coloured Marigolds, fruits, colour powders, incense sticks to perfumes and a whole lot more.
38. Dzukou Valley in Kohima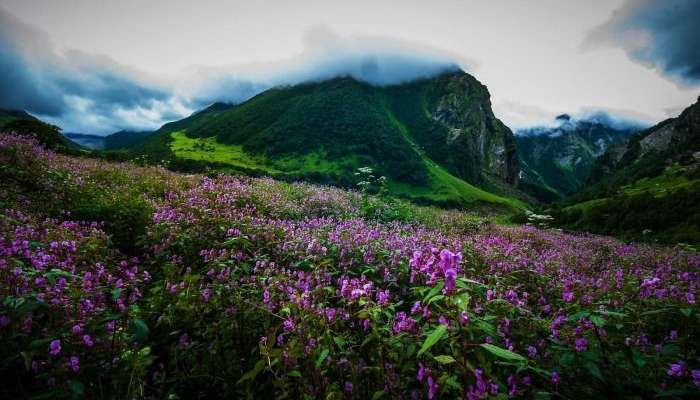 Last on our list of colorful places in India is the Dzoku Valley in the North East India. Situated at a height of nearly 1500 m above sea level, Dzukou Valley turns into a beautiful sight with a mixture of rhododendrons, lilies and wild flowers in their full bloom during the winter and spring season.
Which of these colorful delights have you experienced? Share with us in comments below.
Further Explore: 19 Photos that will make you wish you were in Sri Lanka Right Now!
Frequently Asked Questions About Most Colorful Places In India
Q. Which city is called Heaven of India?
A. Kashmir is often called a 'Heaven on Earth' because of the otherworldly beauty of its snow-capped mountains and its lush green valleys.
Q. When is the best time to visit Dzukou Valley?
A. If you are planning to Kohima, the best time to visit Dzukou Valley would be between June and September as this is the time when the flowers of the valley are in full bloom which paints the valley in beautiful colors.
Q. When is the Pushkar camel fair?
A. The Pushkar Camel Mela will begin on the 4th of November, 2019 and will end on the 12th of November 2019. 
Q. Where can I see Neelakurinji?
A. The famous Neelakurinji flower, which is bluish in color usually blooms one every 12 years during late July. This beautiful flower which is found on the Anamalai hills of Munnar is quite a popular attraction.
Q. During which festival are snake boat races held in Kerala?
A. Snake boat races are usually held during Onam, which marks the end of the harvest season and it usually takes place during the autumn season.
Q. When can we see tulips in Kashmir?
A. If you don't want to miss the beautiful sight of Kashmir when the entire hill is covered in beautiful hues of the tulips, the best time to visit the Tulip Garden would be during the last week of March and the first week of April.
Q. Is it good to visit Mysore during Dussehra?
A. Dussehra is the best time you should visit Mysore so that you can witness the bright and colorful Dassara celebration which is too good to miss. The festival will probably begin on September 29th this year.
Q. What is the time of playing Holi?
A. Holi is usually celebrated at the end of winter. This year Holi was celebrated on March 21st.
Comments
comments