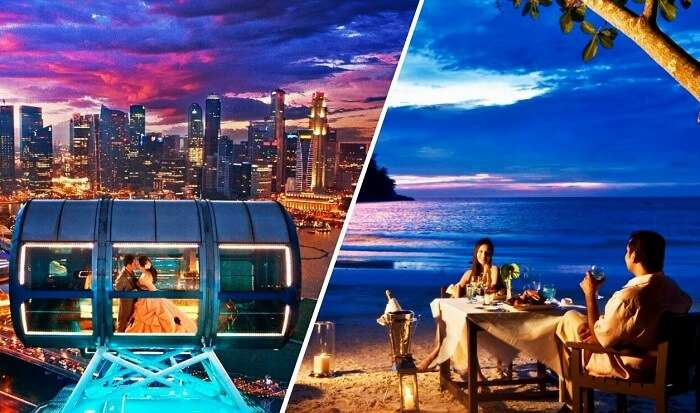 Planning a wedding may not seem so stressful as deciding a honeymoon destination may be for most of the newly-weds. Having said that, when the destinations are as charming as the island city-state of Singapore and the tropical paradise of Malaysia, making a decision indeed becomes a task.
However, as difficult as it may get to pick one when it comes to Singapore vs Malaysia honeymoon, there is always a fear amidst the couples regarding missing out on something or the other.
And in order to make the most of these surreal destinations, keep this comparative guide between Singapore honeymoon and Malaysia honeymoon handy while planning what suits you the most!
Natural Landscape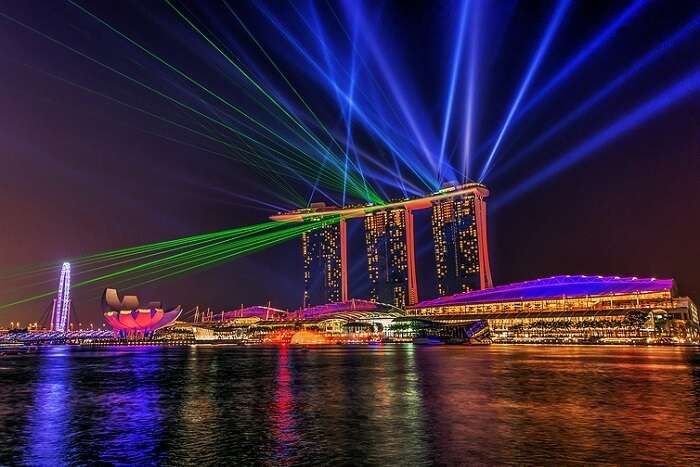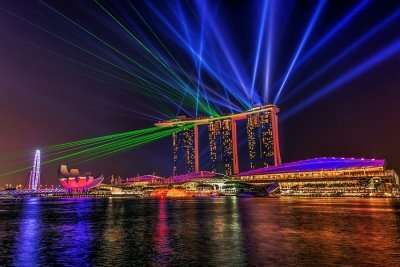 Image Source
The first thing that you'll notice is the vast difference between the natural landscape of both these amazing destinations. While Singapore flaunts its limitless skyscrapers, Malaysia is blessed abundantly with the nature's best gifts.
Located in between the countries of Indonesia and Malaysia, Singapore happens to be a beautiful amalgamation of many islands with Jurong and Sentosa being the most popular ones set at the end of Malayan Peninsula. Forming a shape of a diamond, Singapore is a heavily, and highly modern island-state which boasts of a stunning skyline.
On the contrary, Malaysia is separated into two major parts of East Malaysia, and Peninsular Malaysia in the west which portray a landscape of massive mountains, picturesque plains, and a shimmering coastline featuring some of the best beaches in Malaysia.
Suggested Read: 95 Best Honeymoon Destinations In The World In 2022 For A Romantic Escape!
Singapore Vs Malaysia Honeymoon: Highlights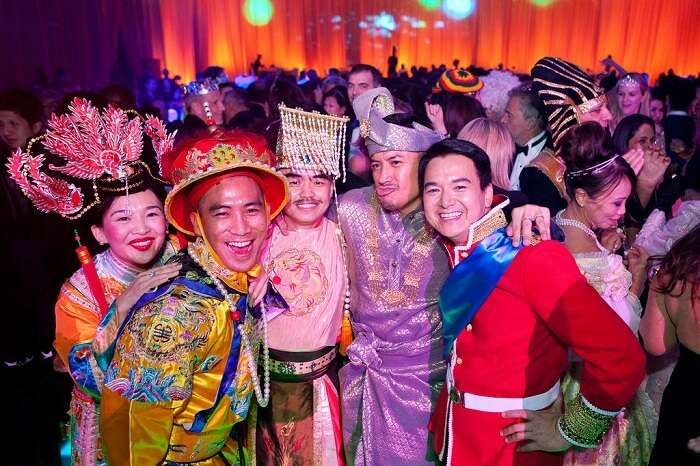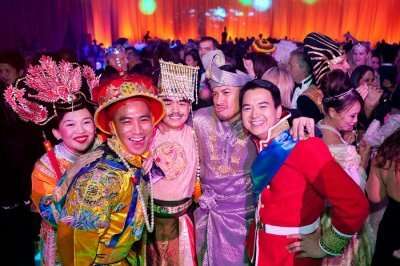 While the skyscrapers and striking building do highlight the grandeur of architectural marvels in Singapore, the multicultural population and the mouth-watering food scenes form the real highlights that a couple must experience on their Singapore honeymoon.
Malaysia serves as a perfect recipe for the honeymooners who are looking forward to a balance between nature and adventure on their honeymoon. With quixotic beaches, lush tropical rainforests, and majestic colonial structures being the highlights of this romantic escapade, couples can also add a dash of adventure to their Malaysia honeymoon by exploring the famous scuba diving and snorkeling sites in the country.
Weather & Best Time To Visit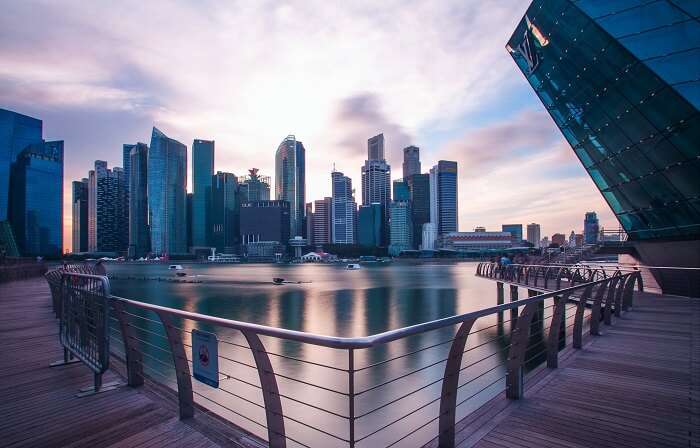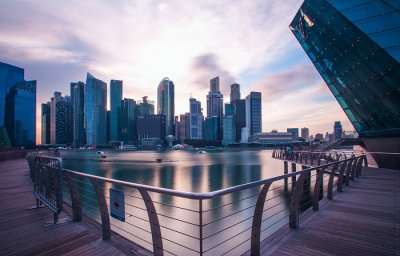 While Singapore offers a tropical climate throughout the year, Malaysia experiences hot and humid weather around the year. Any time of the year happens to be the best time to visit Singapore except for the rainy season which spans from the month of November to December. On the contrary, the months from December to February and June to September happen to be the best time to visit Malaysia.
Ideal Duration
A maximum of four days in Singapore and five to six days in Malaysia would work wonders for those who're looking forward to relish the essence of these destinations. And for honeymooners, this duration would be more than enough though the travelers never feel like coming back from these enchanting places.
Currency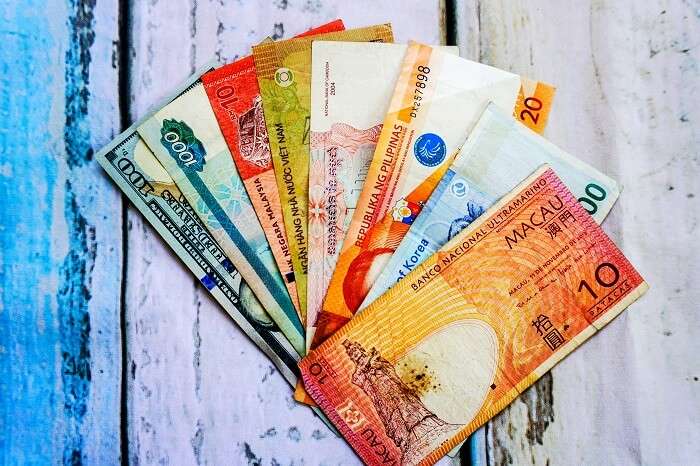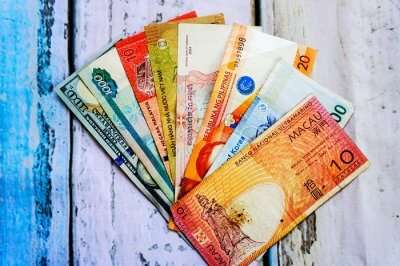 The currency of Singapore is called Singapore Dollar which is denoted by the abbreviation SGD, and the currency of Malaysia is called the Malaysian Ringgit which is denoted as RM. While 1 SGD is equivalent to 49 INR, 1 RM equals 16.51 INR.
Other major currency exchanges include the following, and before that, make sure you are totally aware of whether you should exchange currency at the airport or not.
1 USD = 1.32 SGD / 3.92 RM
1 EUR = 1.62 SGD / 4.82 RM
1 GBP = 1.84 SGD / 5.47 RM
Suggested Read: The Most Romantic Private Islands For Honeymoon
Average Budget
One of the most important facets while planning a honeymoon is that of the budget. Whether you want a luxury or a budget honeymoon, it all depends on how fast you plan and how much would the basic cost would amount up to.
And to give a basic idea of what the spends will be like, all the important factors like that of average accommodation, meals, transfers, sightseeing, and miscellaneous have been taken into consideration to arrive at an estimated budget per day per couple for both the destinations.
The breakup is as follows:
Average Budget For Singapore Honeymoon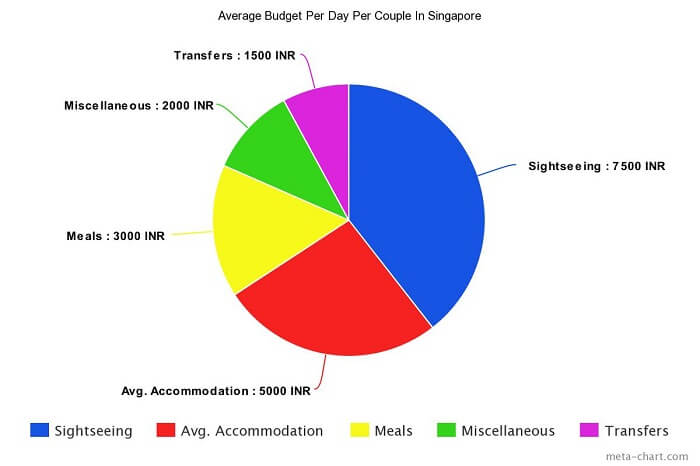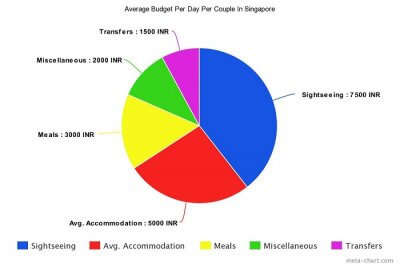 Flights (Economy): INR 30,000 approx. for a round trip per couple (bookings done 30 days prior to departure)
Average Accommodation: INR 5,000 to 6,000 approx. (double-sharing basis and including taxes)
Meals: INR 3,000 to 3,500 approx. (Breakfast, Lunch, and Dinner)
Transfers: INR 1,500 approx.
Sightseeing: INR 7,500 approx.
Miscellaneous: INR 2,000 approx.
Average Budget Per Day Per Couple: INR 19,000 or 385 SGD approx.
Average Budget For Malaysia Honeymoon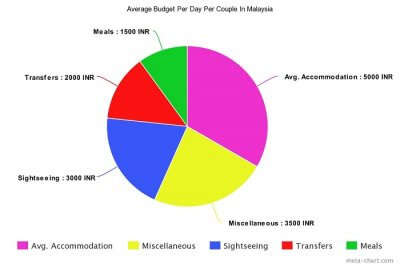 Flights (Economy): INR 32,000 approx. for a round trip per couple (bookings done 30 days prior to departure)
Average Accommodation: INR 5,000 to 6,000 approx. (double-sharing basis and including taxes)
Meals: INR 1,500 to 2,000 approx. (Breakfast, Lunch, and Dinner)
Transfers: INR 2,000 to 2,500 approx.
Sightseeing: INR 3,000 to 3,500 approx.
Miscellaneous: INR 3,500 approx.
Average Budget Per Day Per Couple: INR 15,000 or 900 RM approx.
Please Note:
Average accommodation, meals, local transfers, sightseeing, and miscellaneous expenses have been included.
The cost of flights have been excluded as it varies from traveler to traveler and their location, timings, and planning.
Also, the cost of flights may be cheaper if booked from cities like Mumbai, Chennai, Kolkata, Trichy, Jaipur, and so on.
Per day sightseeing cost may vary as it depends on how many attractions you're visiting and what type of attractions you are visiting. Eg – The tickets for Universal studio may cost more than the tickets for Singapore Flyer. And if you combine other attractions along with Singapore Flyer, then your per day spend may be higher than what you spend inside Universal Studios.
Also, the lower limit has been considered to calculate the average budget per person per day.
Visa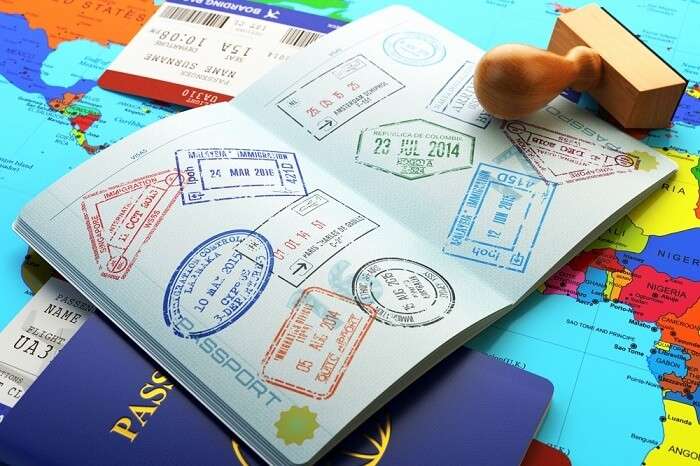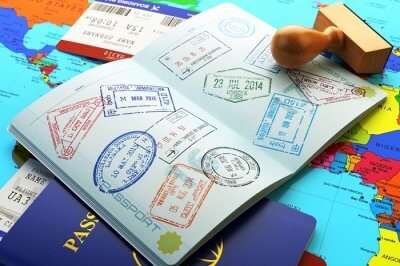 The best way to arrange a tourist visa for Singapore is to process it through one of the trusted, and verified agents. There are many travel agents who are authorised and registered with the Immigration and Checkpoint Authority of Singapore to be able to offer tourist visa to the travelers. Charging you just the visa fee and the service charges, the leading online portals can not only offer you hassle-free visa services but you can also customize one of the best Singapore honeymoon packages with them.
However, traveling to Malaysia is way easier when compared to Singapore. Offering visa on arrival to all the travelers, the only condition that you need to adhere to is that your passport needs to be valid for at least six months post your date of traveling. The immigration authorities will stamp your passport with the visit pass via which, you can stay upto a period of 90 days in Malaysia. And if you don't know the expiration date of your passport, chances are high that it has already expired and here's why you should renew your passport as soon as possible.
Romantic Places To Visit On Your Honeymoon
All set for your honeymoon? Here is the comparison of places that you can visit in Singapore and Malaysia on your honeymoon. Keep scrolling down and read along!
Romantic Places In Singapore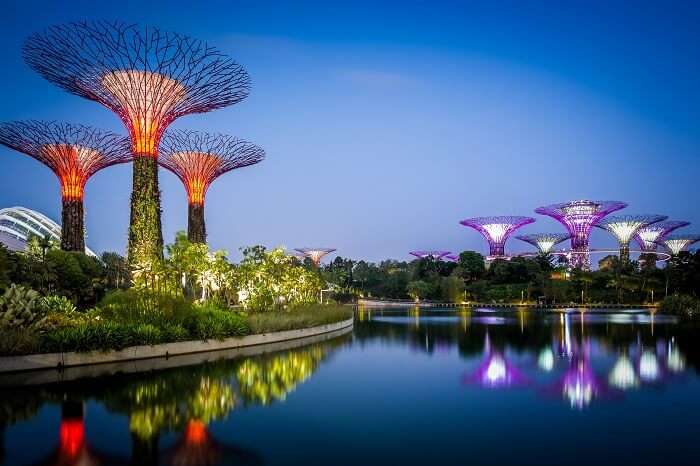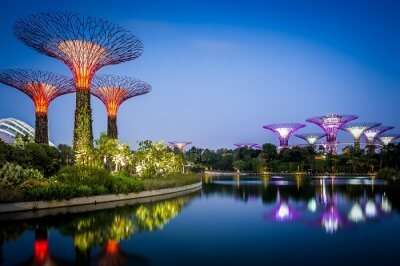 Image Source
Of glitz, and glamour, each attraction in Singapore oozes out love and romance in abundance. Allowing the travelers to create their forever memories, the couples just cannot miss on these places to visit in Singapore for honeymoon that makes the city a clear winner when it comes to Singapore vs Malaysia honeymoon.
Gardens By The Bay: Located within the lush Marina Gardens, couples just cannot miss this glamourous attraction on their Singapore honeymoon. Be it the Cloud Forest, the Flower Dome, or the fantastic light and sound show, this magical garden will not fail to cast a spell on you!
Changi Point Coastal Walk: A romantic boardwalk that is tucked away from the hustle and bustle of the city, Changi Point Coastal Walk is one unique experience that differentiates Singapore when it all boils down to choosing one Singapore vs Malaysia honeymoon. Stretching for upto 2.2 kilometers, the couples are only left charmed and refreshed post a 45 minute walk on the shimmering coast of Singapore.
Bukit Batok Town Park: Much famed as Xiao Guilin or the Little Guilin amidst the locals, the beautiful park of Bukit Batok Town Park is spread across a land of 42 acres of land that serves the honeymooners just right with its romantic environs. With a giant rock cliff set in between the lake, the tranquil environs offers all the peace and quiet that the couples look forward to on a Singapore honeymoon.
Suggested Read: Best Islands For Honeymoon: Across The World & Full Of Love!
Romantic Places In Malaysia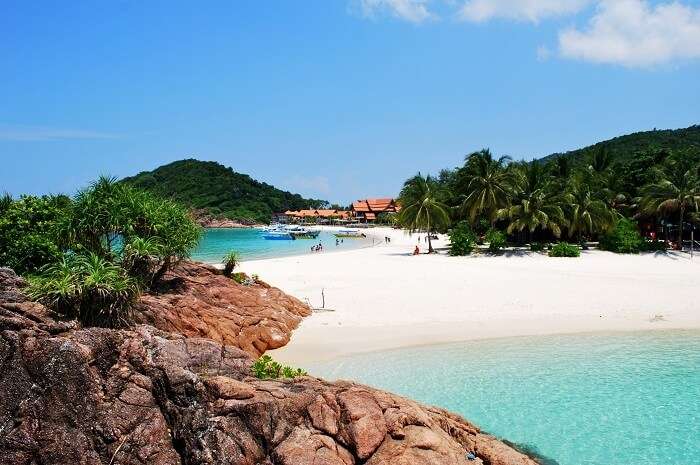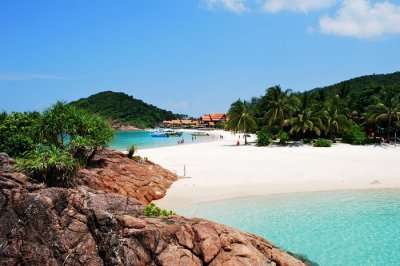 Manifesting elegance, and sophistication, all the places to visit in Malaysia for honeymoon are undoubtedly extraordinary. Housing a surprise for all kind of travelers, the couples must explore these incredibly romantic places.
Redang Island: Crystal clear, pristine, and heavenly is what Redang Island is all about. Treating the couples with a romantic seclusion, it is one of the biggest island located in the Peninsular Malaysia that lies off the eastern coast of Malaysia. Home to one of the exotic white sand beaches, Redang Island also offers numerous sites for diving and snorkeling.
Kota Kinabalu: Set in the heart of the Borneo Island, Kota Kinabalu or KK as it is popularly referred to by locals, is one of the best honeymoon destinations in Malaysia. With beaches, tropical rainforests, boardwalks, and much more, be surrounded by nature's blessings at this quixotic island.
Kuala Lumpur: The capital city of Malaysia needs no introduction when it comes to being the favored city for shopping, and fine dining experiences which makes the choice quite obvious for couples who are confused between a Singapore vs Malaysia honeymoon. With majestic skyscrapers dominating the skyline of Kuala Lumpur, the city offers endless romantic experiences to the couples with the best of luxury, and convenience.
Experiences You Must Have
Here is the list of some of the experiences you can have on your Mauritous honeymoon or your Singapore honeymoon. Keep scrolling down and read along!
Romantic Experiences In Singapore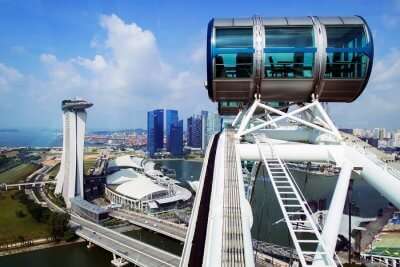 Image Source
There is no dearth of experiences and activities for couples who're looking forward to romantic things to do in Singapore on honeymoon. Be it witnessing the sun go down from an outdoor infinity pool or enjoying on a romantic cruise, one must not miss out on these romantic experiences on their Singapore honeymoon.
Singapore Flyer: Offering stunning views of the skyline of Singapore, experiencing a ride on the flyer is once in a lifetime experience for couples. Be it in the broad daylight or during the nightfall, Singapore Flyer offers breathtaking panoramic views along with a fine dining experience.
Marina Bay Sands: Considered to be one of the top romantic experiences for couples in Singapore, no feeling surpasses the charm of witnessing a mesmerizing sunset from the infinity pool of the Skypark. Be it reveling in the luxury, trying your luck at the casino, or going on a shopping spree, this hotel has everything to make your honeymoon extra special.
Singapore Cruise: From enticing shore excursions to utterly romantic surprises, embarking on fun-filled Singapore cruise tour is one of the best ways to explore real essence of this island-city. From the ancient temples to the bustling markets, discover the charm of Singapore on an unforgettable cruise tour.
Romantic Experiences In Malaysia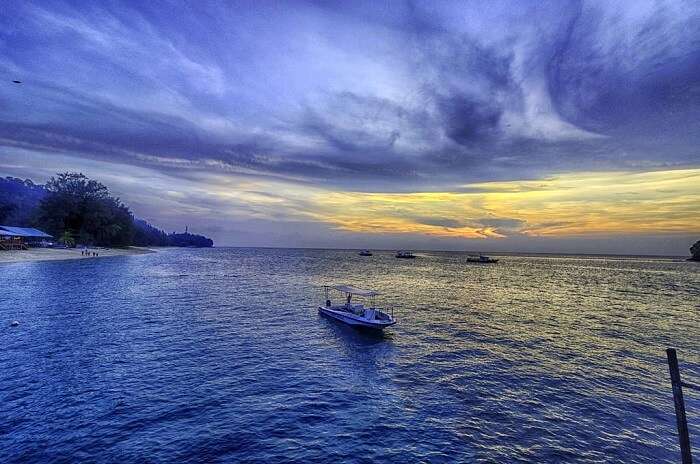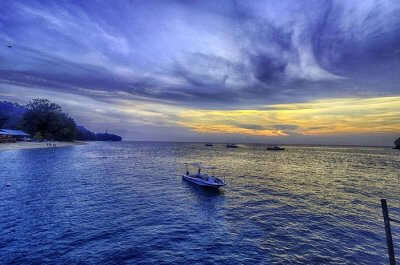 Image Source
From the bustling streets of the metropolitan Kuala Lumpur or the breezy environs of the Penang Island, there are numerous things to do in Malaysia on honeymoon, of which, the couples can never get weary.
Tioman Island: Much famed for its turtle farms and endless diving sites, Tioman Island is blessed with marvelous reserves of nature. Set amidst the South China Sea and off the Peninsular Malaysia, this island is famous for its turquoise beaches, incredible shipwrecks, rich coral reefs, and the famous Juara Turtle Project.
Langkawi: An astonishing archipelago of about 104 islands, Langkawi is much famed as the Jewel of Kedah which is located in the heart of Andaman Sea. Home to some of the famous attractions like that of Payar Island, and Pantai Cenang, Langkawi is also reckoned for its cable car rides, scuba diving sites, vibrant art scenes, the best of shopping, and beautiful beaches.
Penang Island: Set in the heart of the Strait of Malacca, Penang Island is one of the best Malaysia islands in Malay Peninsula. Known for its rich heritage and being a haven for the food lovers, Penang takes you through a destination which is beyond beaches and islands on your Malaysia honeymoon. One look at this island is all it takes to get biased towards this island while picking your favorite from Singapore vs Malaysia honeymoon.
Suggested Read: Things To Do On Honeymoon: Travel Tips And How To Make It Special
Shopping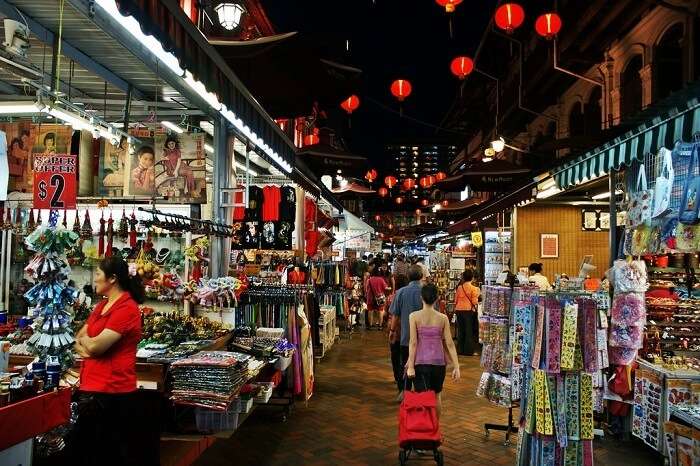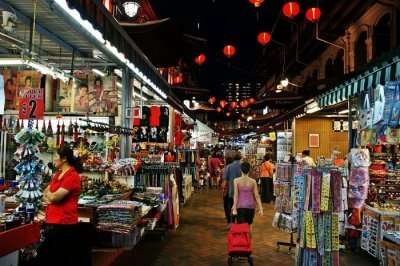 From clothes to footwear, from designer labels to budget apparels, from electronics to housewares, there is no dearth of boutique stores, street shops, flea markets, and mega malls when it comes to shopping in Singapore. From the famous Orchard Road to the enticing Marina Bay, shop away to glory on your Singapore honeymoon.
On the contrary, duty-free shopping is what attracts travelers the most to enjoy shopping in Malaysia endlessly. Be it the malls or the flea markets, one can lay hands on all the big brands and luxury items that are available not only in huge variety but also at competitive prices. From glittery Petaling Street to the creative Central Market, shop to your heart's content on your Malaysia honeymoon.
Romantic Stays In Singapore
Wondering where you can stay in Singapore? Here is the list of best stays for your honeymoon in this beautiful country. Take a look!
1. Raffles Hotel Singapore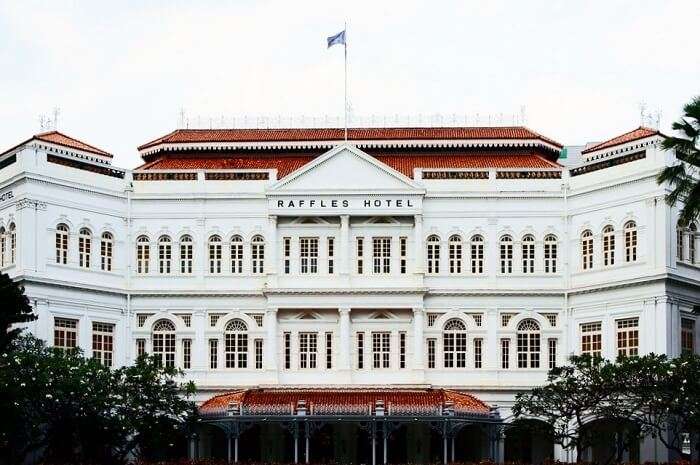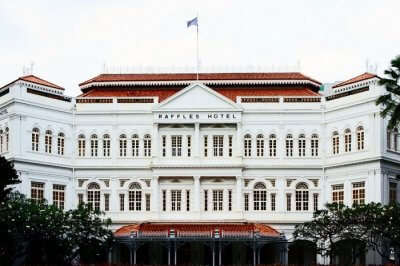 This colonial-styled building in the heart of Singapore is all about class and elegance. With posh interiors and impeccable services, couples are sure to have a gala time at this grand hotel on their Singapore honeymoon.
Address: 1 Beach Rd, Singapore 189673
Price/Night: Starts From INR 45,000 (double-sharing basis & tax excluded)
Website | Reviews
2. The Fullerton Bay Hotel Singapore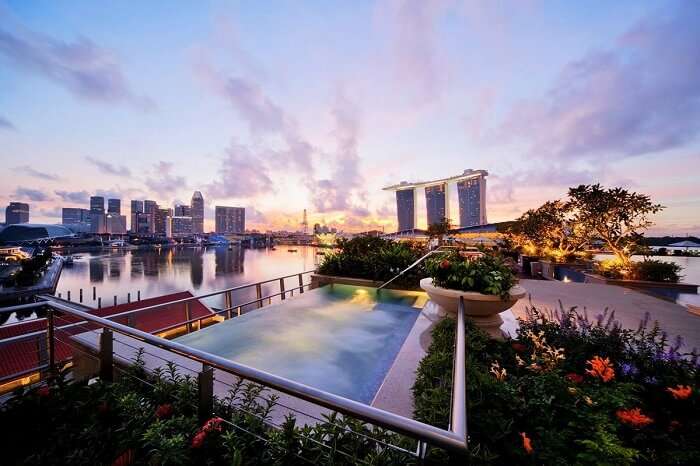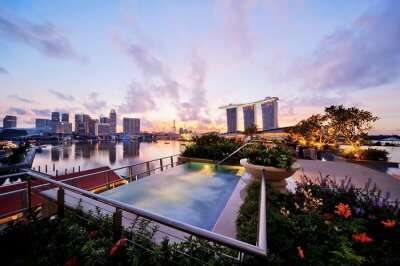 Located at the core of the famous Central Business District, the Fullerton Bay Hotel offers unimaginable views of the Marina Bay Sands and the skyline of Singapore from its rooftop. With lavish rooms and unsurpassed hospitality, it is indeed one of the best hotels in Singapore for honeymooners.
Address: 80 Collyer Quay, Singapore 049326
Price/Night: Starts From INR 24,000 (double-sharing basis & tax excluded)
Website | Reviews
3. The Quincy Hotel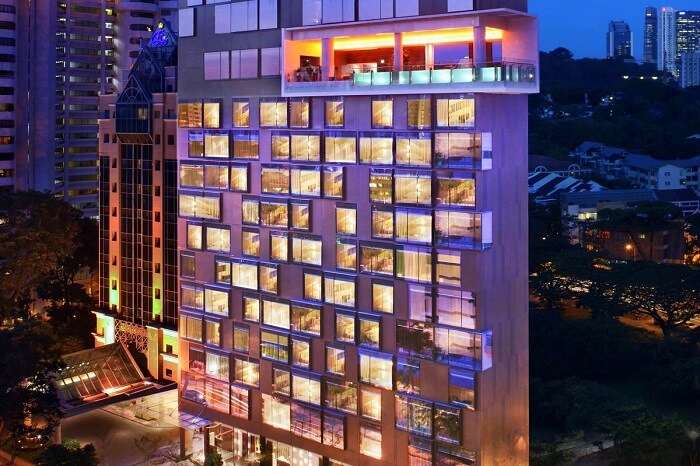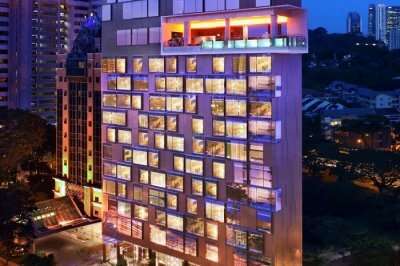 Image Source
Set at a distance of just five kilometers from the stunning casino of Marina Bay Sands, the Quincy Hotel strikes a perfect blend between glass and concrete. Offering chic room, modern amenities, and great views, the Quincy hotel also offers a great value for money experience as well.
Address: 22 Mt Elizabeth, Singapore 228517
Price/Night: Starts From INR 15,000 (double-sharing basis & tax excluded)
Website | Reviews
Suggested Read: 20 Kickass Honeymoon Destinations In 2022: Perfect Backdrops For Your Love Story
Romantic Stays In Malaysia
Check out the list of best places where you can stay on your honeymoon in Malaysia. Pick the one you like the most from this list! Take a look!
1. Four Seasons Resorts Langkawi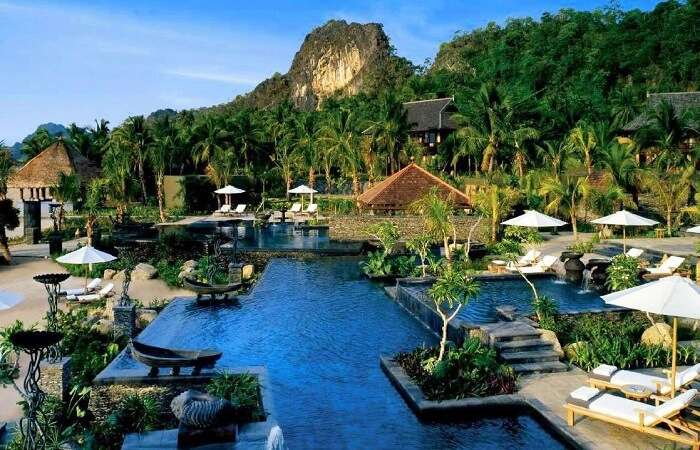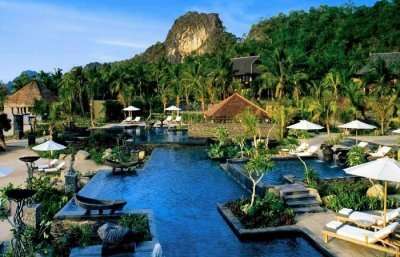 Image Source
The brand Four Seasons needs absolutely no introduction to its class and elegance anywhere in the world. And such is the luxury offered by the Four Seasons Resorts Langkawi as well. Overlooking the beach and surrounding the couples with its breezy environs, this luxury resort has everything that a couple could ask for on a romantic Malaysia honeymoon.
Address: Jalan Tanjung Rhu, 07000 Langkawi, Kedah, Malaysia
Price/Night: Starts From INR 42,000 (double-sharing basis & tax excluded)
Website | Reviews
2. Gaya Island Resort, Kota Kinabalu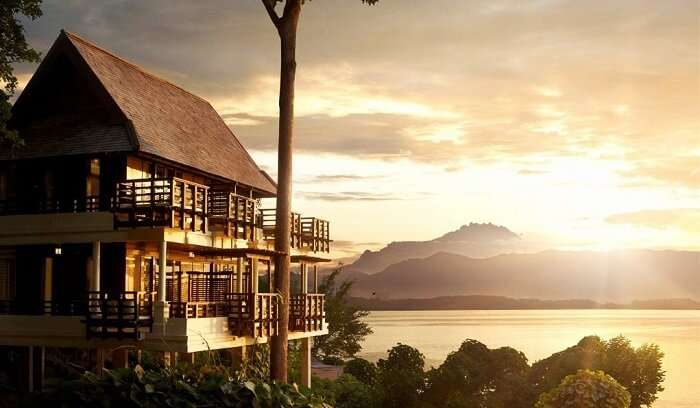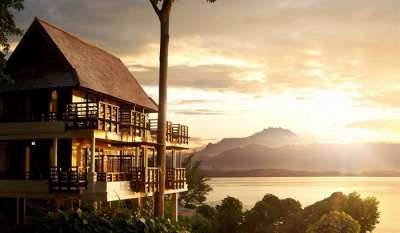 Image Source
Overlooking the South China Sea in all its might, a stay at the Gaya Island Resort will let you relish the true and natural essence of Kota Kinabalu's culture and traditions. Rustic and luxurious in nature, this resort will surround with all the peace and quiet that the couples look forward to on a romantic honeymoon.
Address: Malohom Bay, Tunku Abdul Rahman Marine Park, Kota Kinabalu, Sabah, Malaysia, 88000
Price/Night: Starts From INR 21,000 (double-sharing basis & tax excluded)
Website | Reviews
3. Mandarin Oriental, Kuala Lumpur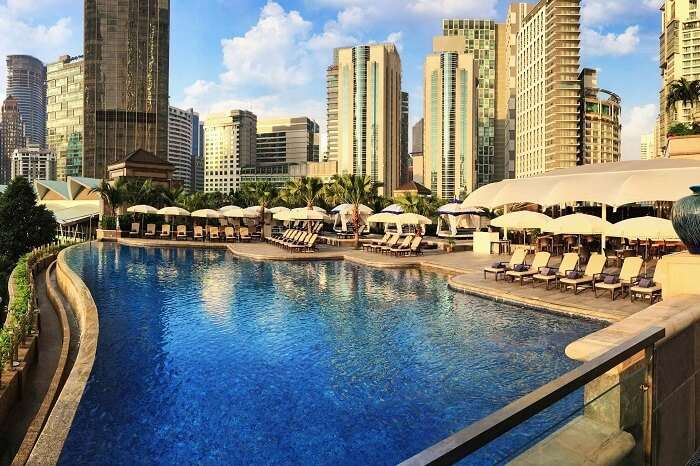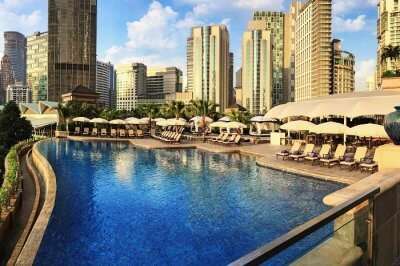 Image Source
Giving you a taste of the metropolitan luxury at its best, the high-end Mandarin Oriental in Kuala Lumpur happens to be one of the best hotels in Malaysia for honeymooners. Enjoying its proximity to the Petronas Twin Towers, and the City Centre Park, this hotel is perfect for those who love to indulge in luxury at feasible prices.
Address: Kuala Lumpur City Centre, 50088 Kuala Lumpur, Malaysia
Price/Night: Starts From INR 9,900 (double-sharing basis & tax excluded)
Website | Reviews
How To Get There
While Jet Airways, Air India, and Singapore Airlines are well connected to both Singapore and Malaysia, few other airlines like that of AirAsia, British Airways, Emirates, Etihad Airways, Vistara, Qatar Airways, and Malaysia Airlines provide direct and connecting flights to Malaysia from leading cities in India and worldwide.
Getting Around In Singapore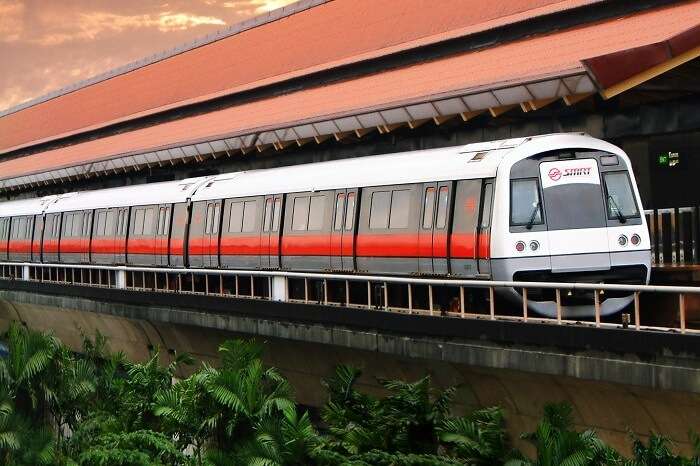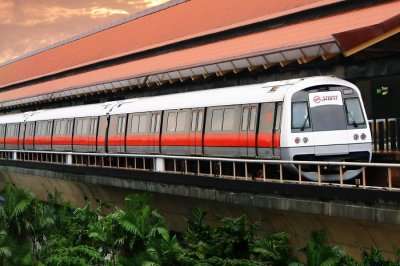 MRTs: Comprising a total of five lines, the MRTs or the Mass Rapid Transit is one of the best, cheapest, and convenient ways of getting around the city of Singapore.
Buses: With its huge network of transportation that is linked throughout the city, more than 300 buses help the travelers in exploring the city in a hassle-free manner.
Taxis: For those who don't mind paying more but would like to opt for a faster mode of travel, taxis would be the best option for them to save on their time and efforts when in Singapore.
Suggested Read: 10 Best Beach Honeymoon Destinations In Asia For Experiencing Romance Like Never Before!
Getting Around In Malaysia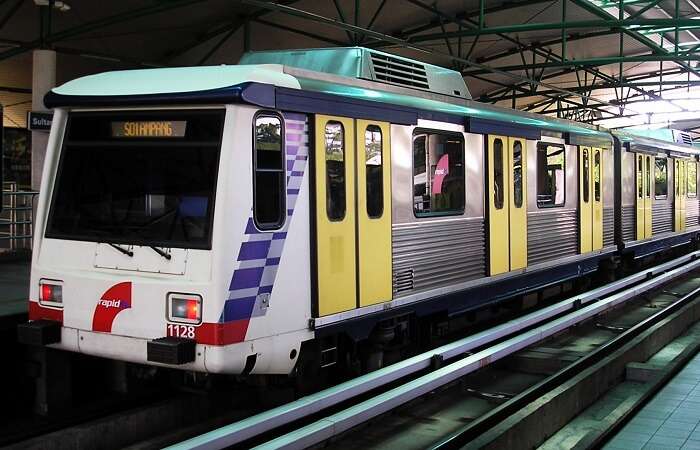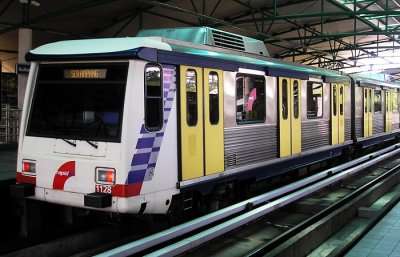 By Air: Flights like Malaysia Airlines and AirAsia offer many domestic flights that are best way to explore more destinations in Malaysia in a limited period of time.
By Train: The national train system which is run by the Government of Malaysia offers a great connectivity to the nearby cities of Kuala Lumpur, Butterworth, Bangkok, and more.
Further Read: Malaysia Honeymoon Guide To Answer All Your Travel Queries
Picked your favorite already? Well sure this guide would have come handy in time. And whether it is Singapore or Malaysia, make your honeymoon at these dazzling destinations more special with TravelTriangle's customizable packages.
Disclaimer: TravelTriangle claims no credit for images featured on our blog site unless otherwise noted. All visual content is copyrighted to its respectful owners. We try to link back to original sources whenever possible. If you own the rights to any of the images, and do not wish them to appear on TravelTriangle, please contact us and they will be promptly removed. We believe in providing proper attribution to the original author, artist or photographer.
Please Note: Any information published by TravelTriangle in any form of content is not intended to be a substitute for any kind of medical advice, and one must not take any action before consulting a professional medical expert of their own choice.
Frequently Asked Questions About Singapore Vs Malaysia Honeymoon
Which is the best way to travel within Singapore?
Though there are three prime modes of traveling in Singapore of MRTs, taxis, and buses, the best way to travel within Singapore is via MRT. It is fast, cheap, convenient, and safe.
Where all can you buy a MRT card in Singapore?
You can buy an Ez-link card from various sales points throughout the city that include:
1. All TransitLink Ticket Offices
2. All Concession Card Replacement Offices at all the MRT stations
3. Passenger Service Centres
4. 7-Eleven Shops
5. Buzz Pods
Is it safe to travel via buses and ferries in Malaysia?
Traveling via buses in Malaysia has proven to be efficient in the past but it is not always safe. Though the roads may be in a very good condition, the reckless driving habits do put the life of travelers in danger. Also, ferries are not that good of an option especially if you're on a honeymoon.
Looking To Book An International Honeymoon?
Book memorable honeymoon on TravelTriangle with 650+ verified travel agents for 65+ domestic and international destinations.
---
Comments
comments