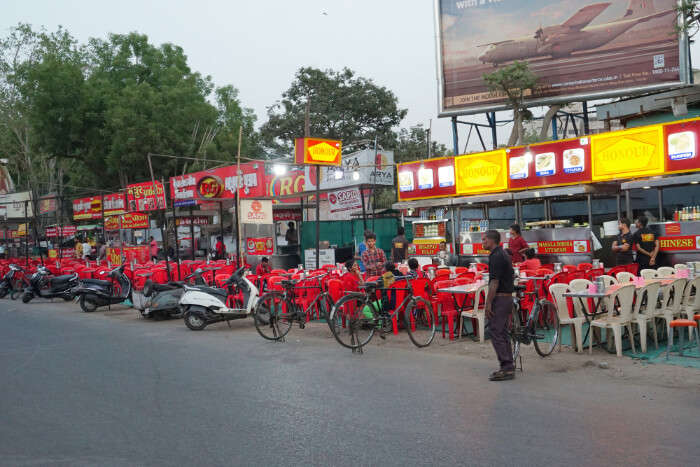 Ahmedabad is one of the largest cities in India and it is the first UNESCO world heritage city of this country. The city is famous for its warm hospitality and friendly people. The people here are fond of eating and one can find numerous restaurants and road-side food installments here. The street food in Ahmedabad makes it a gastronomic paradise and the local Gujarati Thali is famous among visitors. Also, snacks, sweets, and street foods are must-try when one visits this beautiful city.
Ahmedabad has many museums, parks, temples, educational institutions, and it is also a financial hub. This attracts a lot of people from various parts of the country. The most suitable way for them to quench their appetite and satisfy the taste bud is by trying street food that is healthy, tasty and offers a wide array of snacks and dishes. Searching for some of the best Ahmedabad famous food names and streets which offer a plethora of options to try delicious road-side food items? You will find some of them here.
14 Best Street Food Places In Gujarat
The Gujarati food cannot be missed and there is nothing better than having great street food in the bustling city of Ahmedabad. The food here is tempting and full of different spices and flavors. Though most of the Ahmedabad traditional food is vegetarian, there are some places that serve non-vegetarian food as well. Here you can have a quick view of the famous street food delicacies and food markets in Ahmedabad that shouldn't be missed.
Manek Chowk
Law Garden
Baghdad Fry Center
Bhatiyar Gali
Food Truck Park
Municipal Market
HL College Road
InduBen Khakhra
Das Khaman House
Asharfi Kulfi
Om Sai Parantha
Ambika's Dalvada
Bera Samosa Centre
Amdo's Kitchen
1. Manek Chowk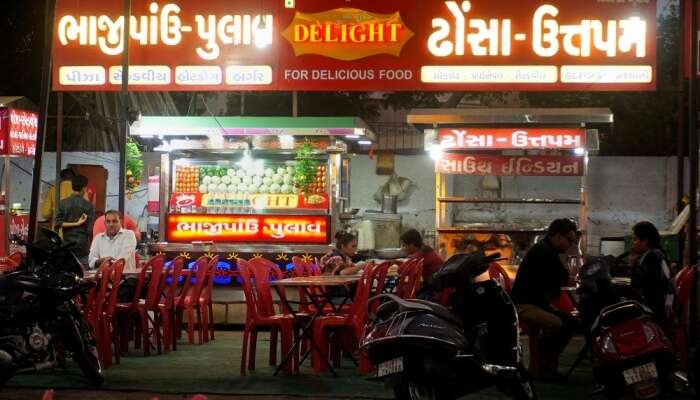 Present in old Ahmedabad and surrounded by historical structure, Manek Chowk is a city square that is filled with stunning food joints. One can find here flocks of people that come to enjoy the delicious street food in Ahmedabad. The best time to visit the place is in the evening when most of the food installments are open. The place offers a variety of cuisine from all over India and some international delicacies as well.
Popular Dishes: Fafda Jalebi, Methi Na Gota, Chocolate Sandwich, Sev Puri
Must Read: 25 Intriguing Tourist Places In Ahmedabad For Your Next Gujarat Getaway
---
Gujarat Holiday Packages On TravelTriangle
Spot lions in their natural habitat at Gir National Park, relax on the beautiful island of Diu or go on a religious tour to Somnath and Dwarka. Book a memorable holiday to Gujarat inclusive of airport transfers, cab, resort, sightseeing, and meals on TravelTriangle.
---
2. Law Garden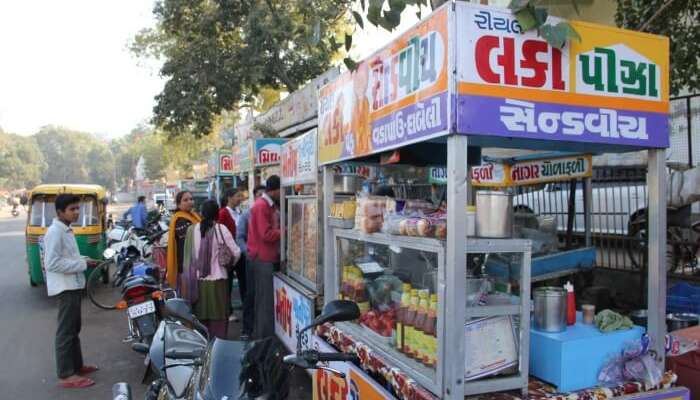 It is the heart of Ahmedabad and is a favorite spot for shopaholics and foodies. The place is bustling with the crowd and what forms the main feature of this place is the street food that offers a lot of variety of flavors. One can find here crispy Vadas, hot dhoklas, pav bhaji, and other snacks. It is one of the best street food places in Ahmedabad.
Popular Dishes: Pani Puri, Pulao, Omelette, Jasuben's Pizza
Suggested Read: 15 Romantic Restaurants In Ahmedabad That'll Fill Your Dinner Date In 2020 With Love!
3. Baghdad Fry Center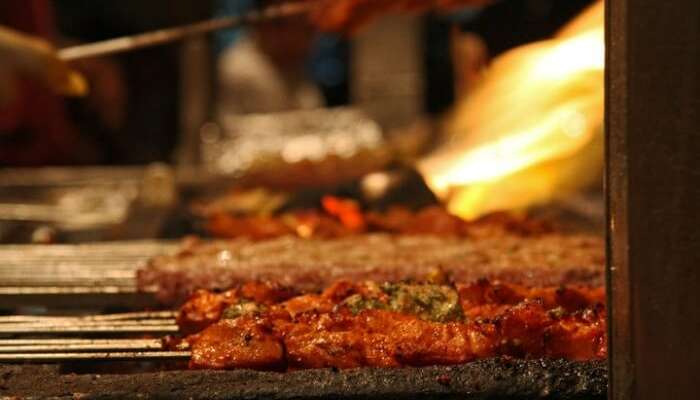 Gujarati cuisine mainly focuses on vegetarian dishes which include different spices that give them a unique touch. Most of the street food in Gujarat is for vegetarians but those who like non-vegetarian will surely not get disappointed by the street food in Ahmedabad as Baghdad fry centers offer flavorful and delicious non-vegetarian food with Mutton chaaps and keema chops as their specialty.
Popular Dishes: Chicken Amreen, Keema Chops, Cutlets, Kharode Soup
Suggested Read: Shopping In Ahmedabad: 15 Fantastic Places And What They Offer
4. Bhatiyar Gali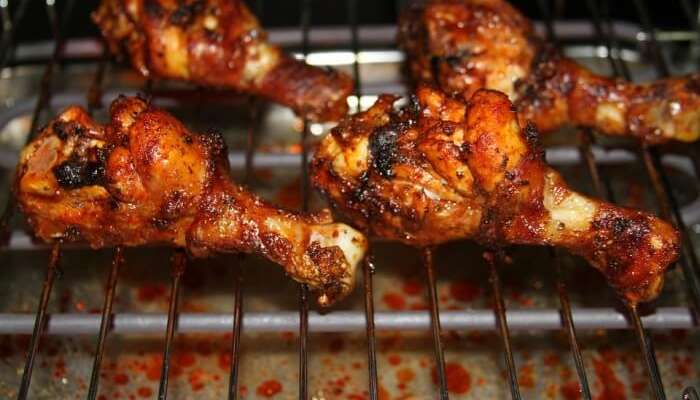 It is another place among the few places in Ahmedabad that offers non-vegetarian food. The food joints here serve 600 years old traditional Ahmedabad delicacies that are unique in every sense. The wide variety of food that this place offers, makes it the best place for non-vegetarian to try some mouth-watering dishes like Chicken Angaar, kebabs, and chaap fry, etc.
Popular Dishes: Chicken Kebabs, Chaap Fry, Bheja Masala, Tava-Biryani
Suggested Read: Top 9 Surreal And Romantic Places Near Ahmedabad Where The Love Birds Flock!
5. Food Truck Park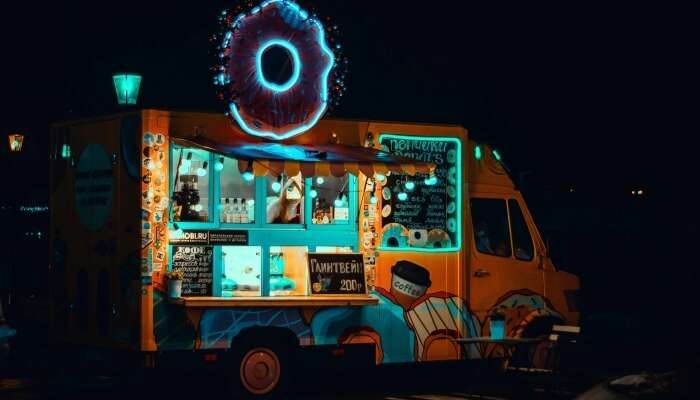 The food truck park is situated in the heart of this city. The place provides an expensive variety of food items along with the great ambiance. The place is perfect to spend a delightful evening with friends and family. The menu here ranges from crispy snacks to delicious desserts. The street food in Ahmedabad has got a new trend by the advent of food trucks that now forms an important feature of the city.
Popular Dishes: Bhajipau, Samosa and Puff, Chula Dhosa, Chhole Bhature
Suggested Read: 13 Amazing Resorts Near Ahmedabad: Guide To Your 2020 Vacation Hotspots
6. Municipal Market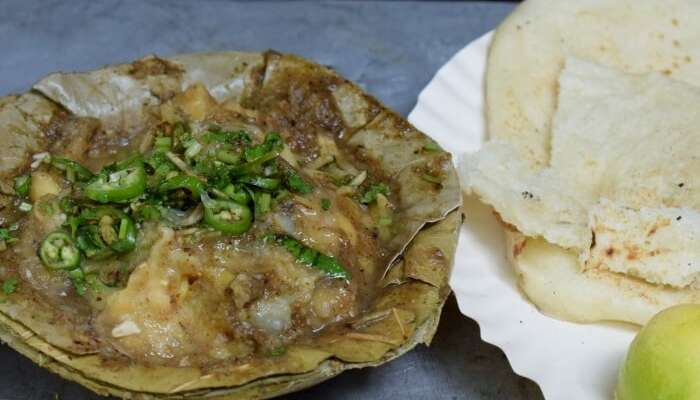 To get the authentic flavor of Punjab, one must try Shri Bajrang chole kulche at the municipal market. The spicy choles with delicious kulchas along with pickles, green chilies, and chutney are capable of winning hearts and generating craving for more. If one wants to taste the Amritsari flavor then this place perfect. Not only this but there are various other food stalls that serve delicious snacks and dishes.
Popular Dishes: Chole Kulche, Pav Bhaji, Shakes, Ice Cream
Suggested Read: 13 Awesome Reasons Why Ahmedabad Will Ruin You For Life
7. HL College Road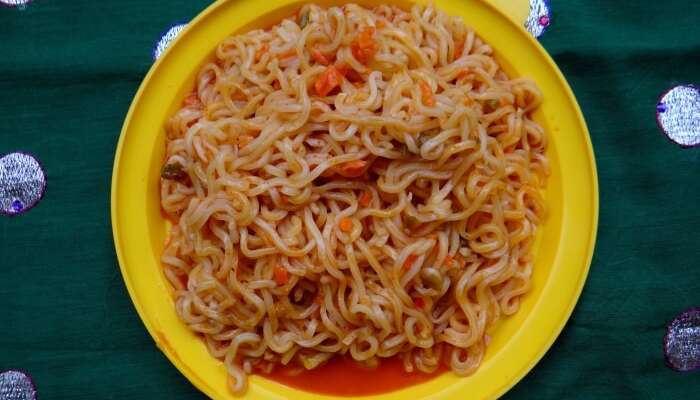 This is another place that is filled with food wagons and small food installments that serves tasty snacks and soft drinks. One can get here tasty vegetable cheese tadka Maggi and masala Maggi which is one of the favorite fast foods of the area. There are many other fast food and snacks that include paneer tikkas and Manchurian among many others.
Popular Dishes: Cheese Masala Maggi, Cold coffee, Vada Pao, Manchurian Frankie, Paneer Tikka Frankie, BBQ Frankie
Suggested Read: Ahmedabad's Real Poseidon Is The First Underwater Restaurant In India
8. InduBen Khakhra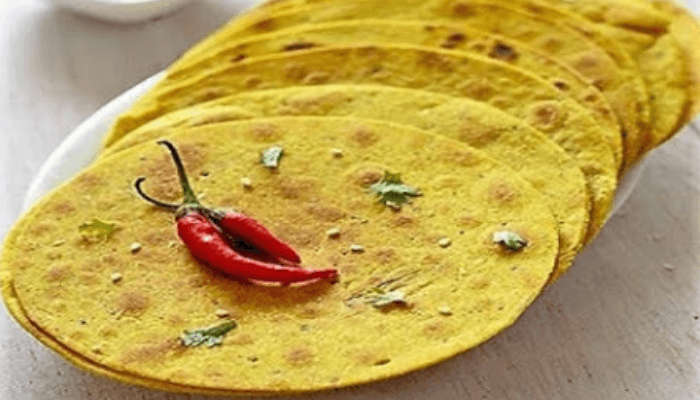 Khakra is one of the Unique foods in Ahmedabad that is perfect to eat for breakfast or with evening tea. It is a lightweight crunchy snack that is easily found at many food outlets. It is very famous among Gujarati people and is a must-have dish when one visits Ahmedabad. The crunchy and crispy khakhra is one of people's favorite dishes in street food in Ahmedabad. To have the best khakhra in Ahmedabad, one should visit InduBen khakhrawala that serves more than 50 variety of delicious and crunchy khakhras.
Popular Dishes: Khakhra, Sev, Dhokla, Chinese Snacks, Sweets
Suggested Read: 10 Hill Stations Near Ahmedabad To Escape For A Chilling Getaway This Summer!
9. Das Khaman House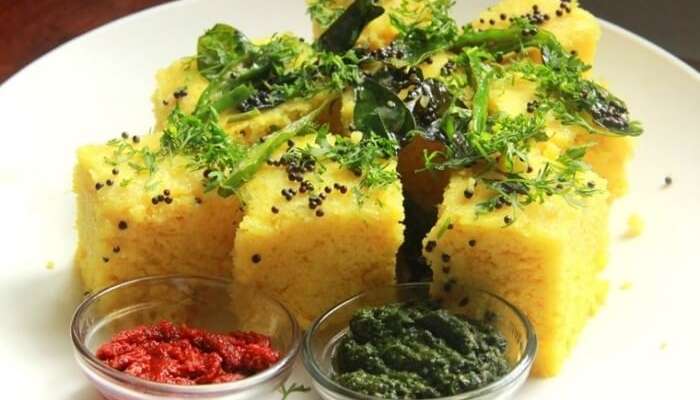 Khaman snack is the most popular Gujarati food item. This juicy snack is very popular in Ahmedabad and can be found in the corner of every street. This snack is also popular among tourists for its impeccable taste. It is a healthy snack that has a special place in Gujarati cuisine. The best place to have Khaman in Ahmedabad is at Das Khaman House that serves delicious Khaman with Sev, Green Chilis, and coriander leaves.
Popular Dishes: Khaman and Sev
10. Asharfi Kulfi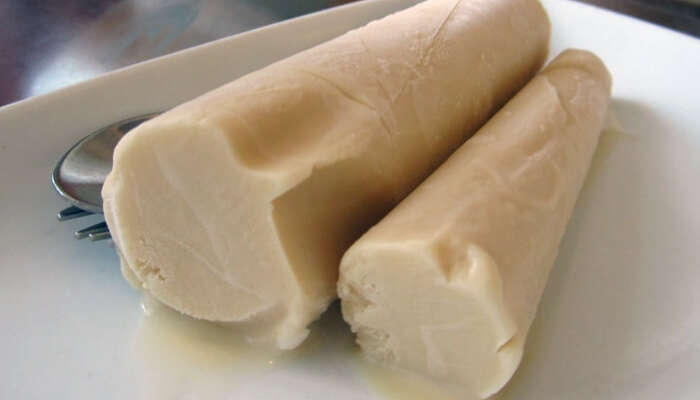 Kulfi forms the major dessert for the people of Gujarat. Kulfi is a stick ice cream that comes in various flavors. No street food experience in Ahmedabad is complete without having a Kulfi at 'Ashrafi kulfi'. They claim to serve one of the best kulfis in the country. They undoubtedly can beat some of the best brands in Kulfi by their unique taste and multiple flavors.
Popular Dishes: Malai Kulfi, Badam Pista Kesar Kulfi, Mango Kulfi
11. Om Sai Parantha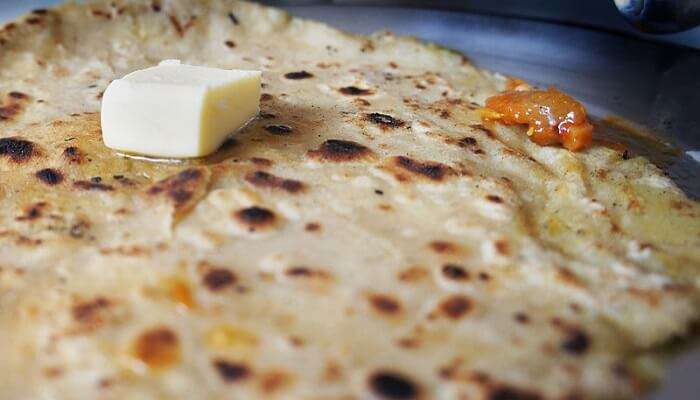 Image Source
Om Sai Parantha is among the notable kings of street food in Ahmedabad and does not require an introduction. It's nothing less of a five-star joint serving delicious parathas of various varieties and fillings with a generous amount of butter every time. One needs to make a prior reservation at this point since it's always packed with Indian and foreign visitors waiting to bite into some spicy and buttery paranthas here. Don't worry about the freshness, hygiene, and quality of food as they're all well-taken care of here. This place is located opposite Udgam School in Thaltej, Ahmedabad.
Popular Dishes: Paranthas, buttermilk
12. Ambika's Dalvada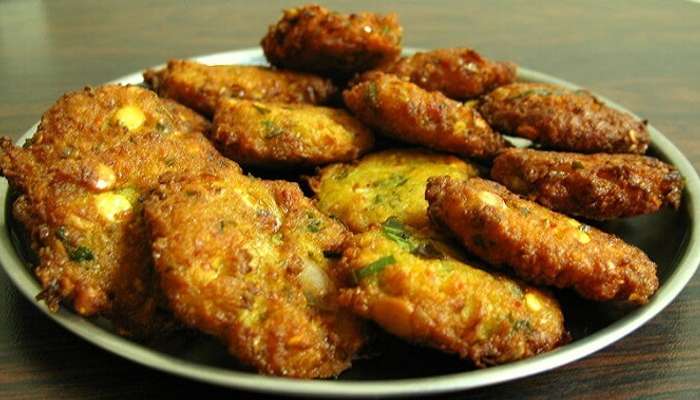 Image Source
Dalvadas are basically a crispier, spicier (and we'd say tastier!) version of pakoras or fritters. It's among the most popular street food of Ahmedabad and Gujarati evening snack that is consumed with tea or coffee. If you're looking for the best version of soft, crisp, and spicy Ahmedabadi Dalvadas with chutney and green chillies, you must get to the famous Ambika's Dalvada center where you'll be served this mouth-watering delicacy along with a steaming cup of tea.
Popular Dishes: Dalvadas, tea, coffee
13. Bera Samosa Centre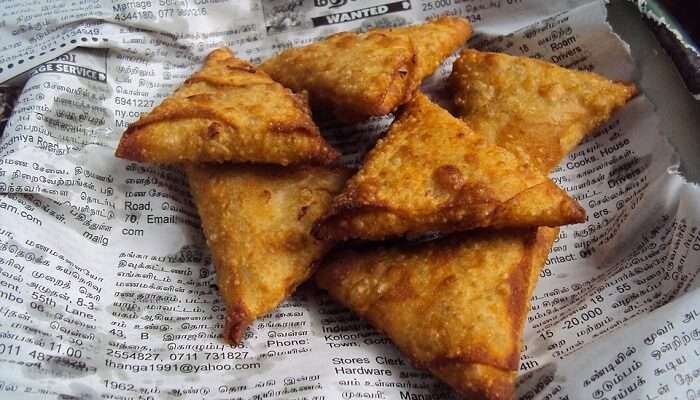 Image Source
Set in the suburbs of Juhapura, the Bera Samosa Centre is among the most favorite street food spots of both locals and travelers. Serving a variety of delish samosas like Mutton Samosas as well as Magic Chicken Samosas, it's the right place to be in for all samosa lovers living in or visiting Ahmedabad in Gujarat. In fact, it's Magic Chicken Samosa is known to be one of the most unique food in Ahmedabad that draws people from near and far, especially those who think Ahmedabad is all about vegetarian food. And you don't have to worry about locating this place, as the aroma of delicious samosas frying will draw you in the direction of this famed eating joint.
Popular Dishes: Mutton Samosa, Magic Chicken Samosa, and more
14. Amdo's Kitchen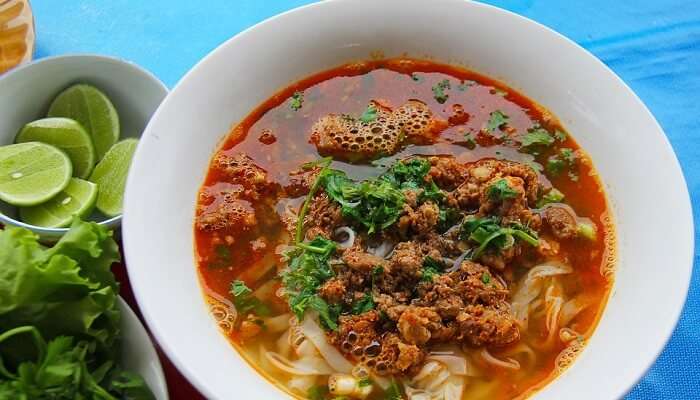 Image Source
Started a long time back by Amdo and his family, this tiny food joint located near Bhagtacharya Road in Kocharab, Ahmedabad, is popular for its authentic Tibetan cuisine. It's the go-to place for all momo lovers. Other than momos, it serves a wide variety of Tibetan delicacies like hot and sour Thukpas and fried rice, all at very affordable rates. Other than the food, their red chutney is something to die for! And if it sets fire to your tongue, you can order their tempting Limbu Paani from the menu. But make sure you visit it at the right time since this place is open for only six months in a year.
Popular Dishes: Momos, Thukpa, Fried Rice, Shikanji
Further Read: 18 Things To Do In Ahmedabad For An Extraordinary Experience In 2020!
Ahmedabad is a city that attracts a large number of people because of its premium educational institutions, temples, and industries. The people from various parts of the country enjoy the street food in Ahmedabad that serves a variety of food items, snacks, and desserts. People of Gujarat are food lovers and dedicated a lot of energy in making the perfect dishes and snacks. The same can be seen in the street food of these places that offers tasty and flavorful snacks and dishes. To celebrate the food culture, various street food festivals in Ahmedabad are organized where one can taste countless Gujarati and other cuisines. For dessert, we have jalebi and kulfis which are perfect to take after a fine meal. Plan your trip to Ahmedabad with Travel triangle to indulge in the delicious taste of street food in Ahmedabad.
Frequently Asked Questions About Street Food In Ahmedabad
Want to know more about the sumptuous street food in this city? See these common queries:
Q. Do people get non-veg in Ahmedabad?
A. Yes, you can get non-vegetarian food at various places in Ahmedabad. The best place to have non-veg food in Ahmedabad is Jashn-e-Zyka.
Q. What is the famous food of Ahmedabad?
A. There isn't just one food item that Ahmedabad is famous for. Gujarati food items like Khakhra, Fafda, Dhokla, Thepla, Dalvada, Dabeli, Sev, and Farsan are some of the most popular food items in Ahmedabad.
Q. Which shop is famous for Kulfi in Ahmedabad?
A. If you want to have the best kulfi in Ahmedabad then you should straight away head to Ashrafi Ni Kulfi which is one of the favorite shops of the locals and is also known as King of Kool Kulfi.
Q. Which is the best street food in Ahmedabad?
A. Khakhra is the best street food in Ahmedabad that you must try on your vacation. Other street food items that you can try are sev, Dhokla, and Chinese Snacks.
Q. Which is the famous sweet in Ahmedabad?
A. Fafda Jalebi is one of the most famous sweet items in Ahmedabad and you must try it if you have a sweet tooth.
Q. Where can I get the best street food in Ahmedabad?
A. There are a lot of spots where you can get the best street food in Ahmedabad like Manek Chowk, Municipal Market, InduBen Khakhra and Das Khaman House.
---
Looking To Book A Holiday Package?
Book memorable holidays on TravelTriangle with 650+ verified travel agents for 65+ domestic and international destinations.
---
People Also Read:
Vietnamese Street Foods Street Foods In Darjeeling Street Foods In Gangtok
Comments
comments