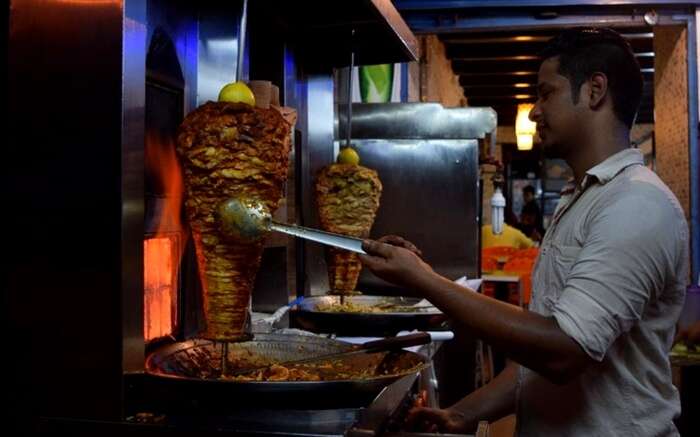 Off the Konkan Coast, Goa is the ultimate tourist attraction in India. And so are its elegant resorts and hotels. But there aren't too many people talking about the street food in Goa which is as exciting as the traditional Goan delicacies. The fact that Goa was under the reigns of the Portuguese for a prolonged period means, its impact can still be seen in the food and cuisines. Konkan Hindu and Goan Catholics have evolved Goan dishes over the years and the heavy use of coconut oil in these dishes is a noticeable feature.
Fish, vinegar, pork, and beef make the most important ingredients of the staple food in Goa. Yet, the cutlet, chilly-fry, and roasted beef can be found at random places on Goan streets and certainly have the attention of locals. Digging deeper into the street food in the offering, there are the Goan-sausage burger, fish cutlet and chicken cafreal (spicy grilled chicken) to satisfy your taste buds. Panjim Church Square, Miramar Beach, St. Cruz, Margao & Vasco, and Mapusa make the pick the places where you can join the locals standing by the local stalls.
13 Places For Best Street Food In Goa
Looking for some scrumptious and drool-worthy places to satiate that hunger for feel-good food? Here are the top places to enjoy some of the most delicious street foods in Goa:
1. Candolim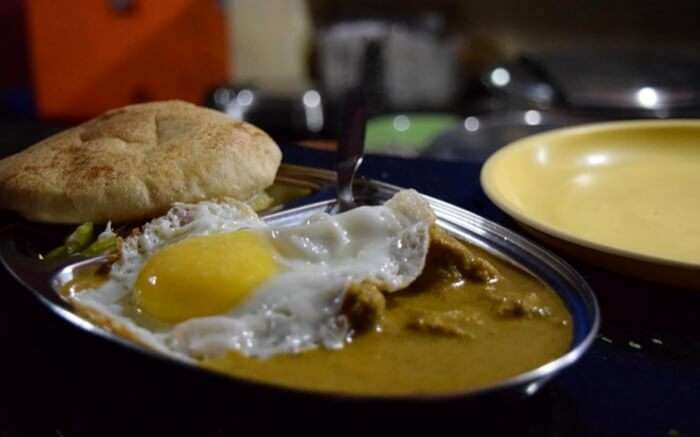 Usually, open from 7 to 10 pm every day, Candolim Market and the street adjoining is the one-stop solution to all the cravings for local food. Soon as the evening looms large over the horizon, Candolim transforms into a local food paradise. Across the swarm of food stalls, you can try the prawn & egg chops, vada pav, chicken lollipops, and authentic Goan food – the best of the street food in Goa.
Where to eat: Michael Lobo's Center, King Kane, and Monico's Beach Shack
What's special: Egg chops, chicken lollipop, prawn chops, and vada pav
Must Read: 26 Churches In Goa That Are A Prestige Of Its Glorious Past
2. Miramar Beach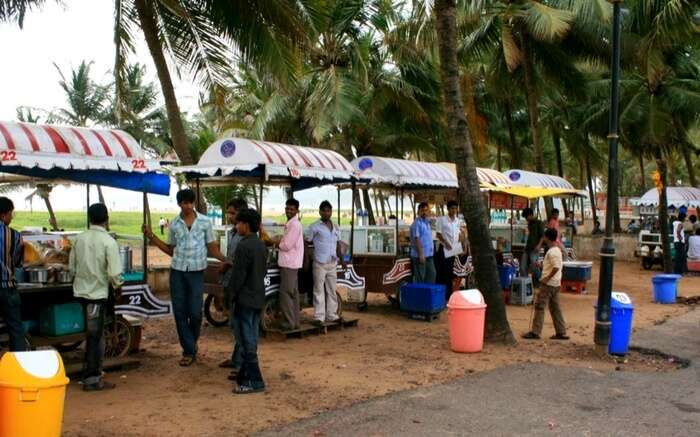 Image Source
Miramar Beachfront is adorned with a similar-looking stall by the parking space and quite naturally, is a major pull for all the travelers heading to the beach, especially during the late evening hours till it gets dark completely.
The sweet aroma of Chaat and the famous Bombay bhel puri spreads in the air around and travelers quietly tiptoe to the place, for they know they might get lucky with some Goan recipes here.
Where to eat: Beachfront ( adjoining parking area)
What's special: Chaat stalls, shawarma stalls, ice gola
Suggested Read: Explore Goa In March By Visiting These 15 Breathtaking Places In 2022!
3. Santa Cruz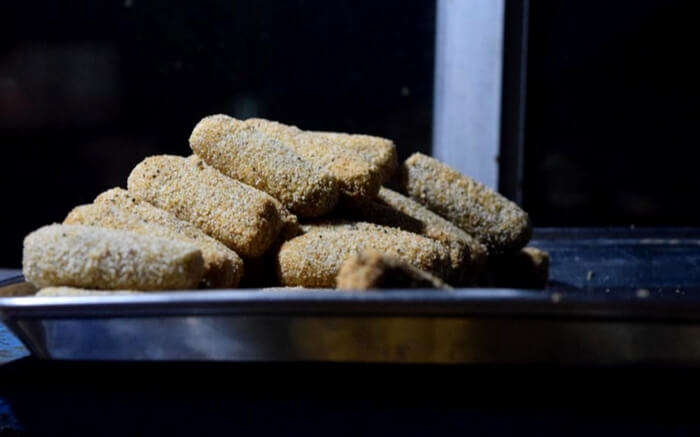 Image Source
If you are looking for some piping hot food delight at the sunset, Santa Cruz is one of the places to eat in Goa. And you are going to love it for sure! Blue carts lined up by the boundary of Santa Cruz Church are ready with their crispy offerings.
So you can spot the local Goans standing there in the queue holding a plat of cutlet or a chilly fry. Save some extra minutes, as there could be a minimum waiting period of 15 minutes at these stalls.
Where to eat: Costa Fast Food, Umao Fast Food, stall outside Santa Cruz Church, playground area
What's special: Cutlet pao, chili fry, and Beef Xacuti
Suggested Read: 10 Scintillating Beaches Near Margao That Will Make Your Goan Vacay Memorable

4. Mapusa Friday Market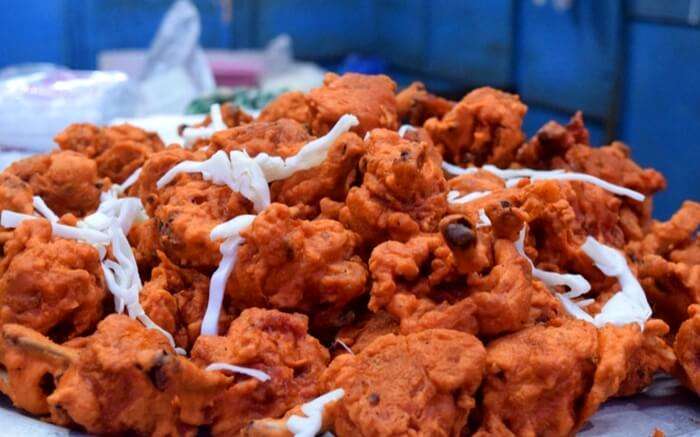 Image Source
The Friday Market in Mapusa is certainly the best place to spot street food in North Goa. The weekly market makes the perfect place to buy household items, grocery, pottery, clothes, and handicrafts. But the food market in and around the market area is the highlight of Goa food.
Another place in Mapusa is Alankar Theatre surroundings which brim with vibrant crowd post sunset. And these street food are so cost-effective, so your budget is under control. Chill!!
Where to eat: Alankar Food Street, shop near the Rashtroli temple, and Ajit tea stall outside Mapusa Bus Stand
What's special: Mirchi Pakoda, clam xacuti (curry), Chinese food, tandoori, shakes, and beetroot samosas
Suggested Read: 15 Best Cafes In Goa That'll Let You Taste The Food Of Heaven In 2022!
5. Panaji Market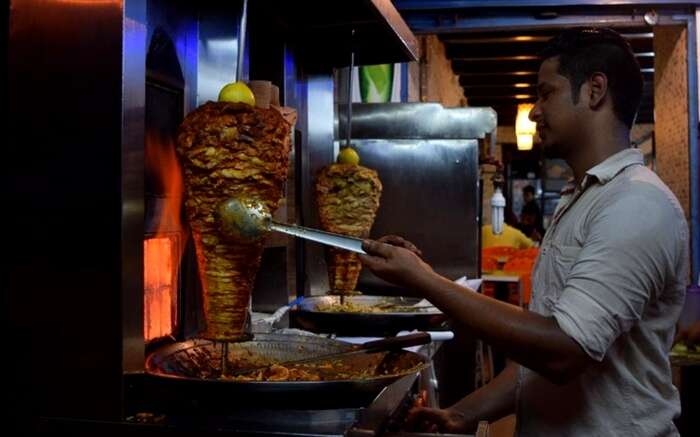 Image Source
Panjim market is the ultimate haven for everyone looking to savor the best of Goa street food. From the spice markets to local shops with handicrafts and artifacts, Panaji market has a lot to offer. But the highlight of Goan recipes here is dried fish and a range of seafood delicacies.
Tandoori items can also be spotted at random food stalls along the street near Caculo Mall. Start when it's dusk and stay there till late night, Panjim is the place to savor a wide range of Goan recipe.
Where to eat: Bhaji & Vada Pav Cart outside Caculo Mall, Haji Ali Chicken Shawarma
What's special: Regular Shawarma, seafood delicacies, like kingfish, Pomfret, squid, mackerel, mussels, oysters, crabs and tiger prawns, and cashew nuts, Ros Omelette at Sandeep Gaddo
Suggested Read: Bungee Jumping In Goa: See What Adventure Lies In This Tourist Paradise
6. Anjuna Flea Market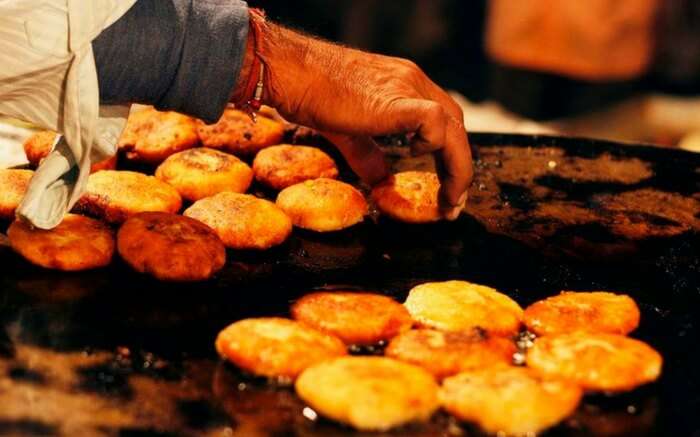 Image Source
Hidden in the deep embrace of the colorful flea market in Anjuna are numerous food stalls that remain a hotspot of street food in Goa. So, while you are planning to explore the wonderful marketplace to buy clothes and souvenirs, you can actually take a pitstop by a stall and enjoy the best of street food in Goa.
Where to eat: Joe Banana, Cafe Looda, The Wooden Bridge
What's special: Pizza, Beer, Coffee, Chaat and more
Suggested Read: 9 Interesting Museums In Goa: Tour The Ancient Showcases In 2022
7. Food Trucks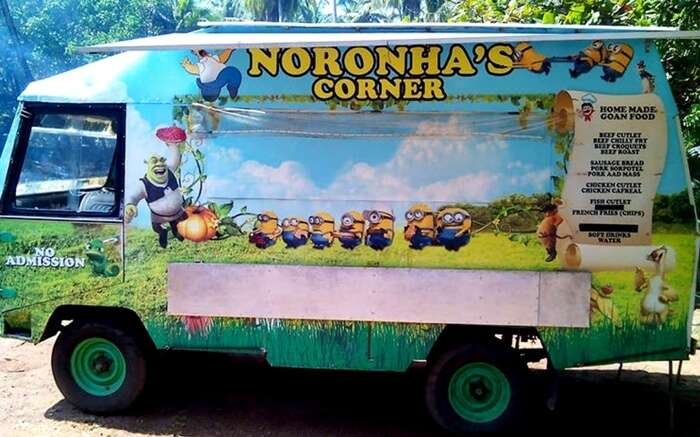 Image Source
Assagao, Dona Paula, Anjuna, and Bandoda are the hotspots to find these popular food trucks in Goa. These trucks make the most popular spots to much the local Goan delicacies. These trucks begin making their setup from as early as 5:30 in the evening and serve till late at night.
Where to eat: Maruti's Food truck – Anjuna, Pinto's Food Truck – Ponda, Jerry's Food Truck – Bambolim, The Goan Food Truck – Cansaulim, Antojitos – Panjim, and Joseph Noronha – Anjuna
What's special: Beef cutlet, Pork burger, Pork Chops, Beef Steak, Sorpotel, and Sausage bread
Suggested Read: Goa In Winter: 7 Happening Events And Festivals To Keep Your Eye On
8. Betalbatim Beach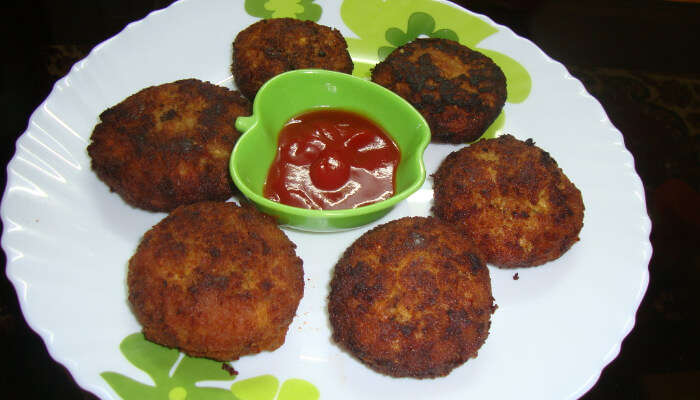 The not-so-crowded Betalbatim Beach in South Goa may not have fancy cafes but there's surely something that can keep you at the beach. The Cutlet Pao served at a tiny blue-eatery at the beach is one of the best that you would ever taste in Goa. The crispy deep-fried golden cutlet of Chicken hidden inside a local Goan Poee Bread is amazing. It is served with some gravy and salad.
Where to eat: Close to Da Tita, Betalbatim
What's special: Chicken Cutlet Pao
Suggested Read: 12 Delhi To Goa Trains: Best Rail Journeys Along The Konkan Coast
9. Ponda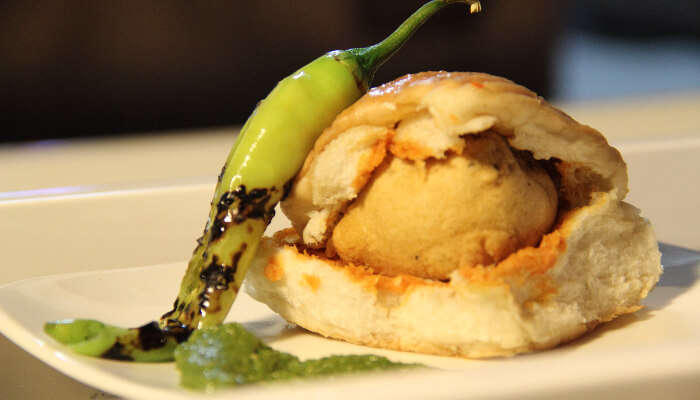 If you want to spice-up your Goa trip, this Vada Pav is a must-try. And this food stall in Ponda's Farmagudi is your go-to place. Established in the '80s, this corner serves one of the best Mumbai-style Vada Pav in Goa. The place is very popular among college students. The Vada is filled with potato and green sauce with a mind-blowing flavor of garlic and chilies.
Where to eat: Sandeep's Cold Drinks, Near the Ganesh Temple, Farmagudi, Ponda
What's special: Vada Pav and Limbu Soda
Suggested Read: Christmas Celebration In Goa Is The Perfect Way To Soak In The Festivities In 2022!
10. Vasco Da Gama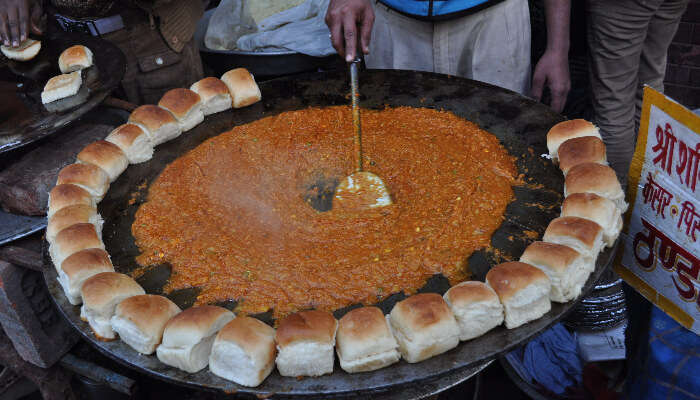 Living up to the name of the city, Vasco Da Gama, who was an explorer, this option is perfect for explorers and backpackers. Taste some of the best flavors of Indian streets at this place-to-eat in Vasco. The place is clean and offers food at minimal prices. Their Bhel Puri and Pav Bhaji are some of the most popular items on the menu. So make sure you try them on your next visit to Goa.
Where to eat: D.E. Jose Vaz Road, Vasco, Goa
What's special: Butter Pav Bhaji and Bhel Puri
Suggested Read: 20 Exciting Things To Do In Goa On A Trip There In 2022!
11. Ribandar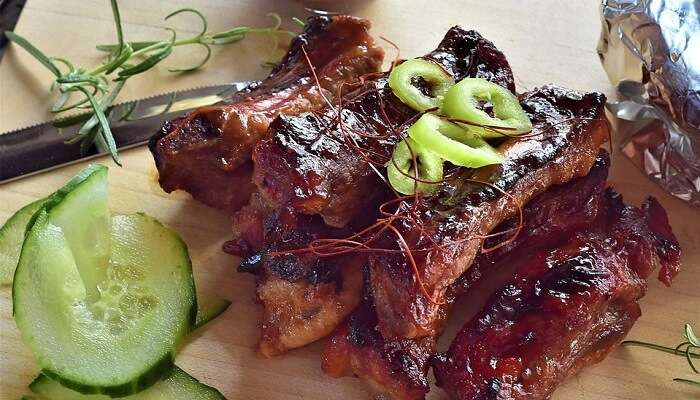 Located in the vicinity of the famous Ribandar Chapel is a quaint counter that serves some of the most scrumptious and finger-licking good delicacies. One can hear the sounds of oil sizzling in a pan as the vendor puts the batter covered chops in it. The fragrance of these chilly fries is something that can make anyone hungry. This counter has an impeccable menu serving some delicious Beef chilly and pork chops with a house salad.
Where to eat: Texeiras, Ribandar Chapel
What's special: Beef Chilly, Pork Chops
Suggested Read: North Goa VS South Goa: A 2022 Guide To The Two Amazing Sides Of One Place!
12. Mackie's Night Bazaar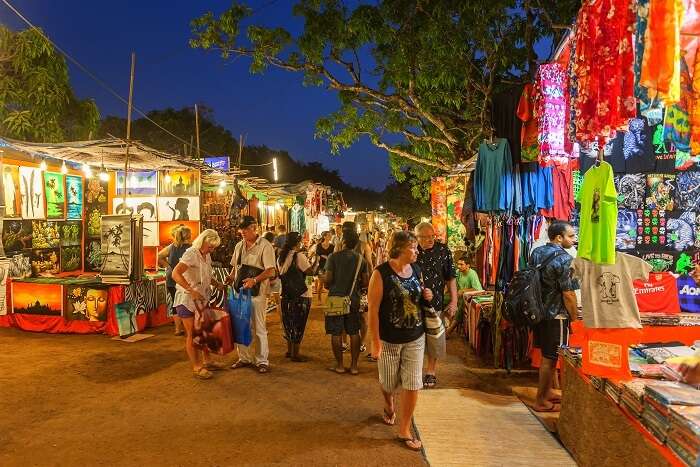 On the banks of River Mandovi, near the Baga beach, Mackie's Night Bazaar is a vibrant marketplace where you can hang out till late at night in Goa. With numerous small shops and stalls selling eco-friendly items other than delicious food. You can choose from a wide range of souvenirs and gift items from these shops. The best part about this lively night market is the live music and the bands jamming to some hip tunes. The whole vibe of the place is certainly worth experiencing.
Where to eat: The multiple food stalls that serve delicious food at affordable prices
What's special: Try out the local Goan street food like Croquettes and Bondas
Suggested Read: 10 Chic Markets In Goa To Shop For Quirky Souvenirs In 2022
13. Ingo's Saturday Night Market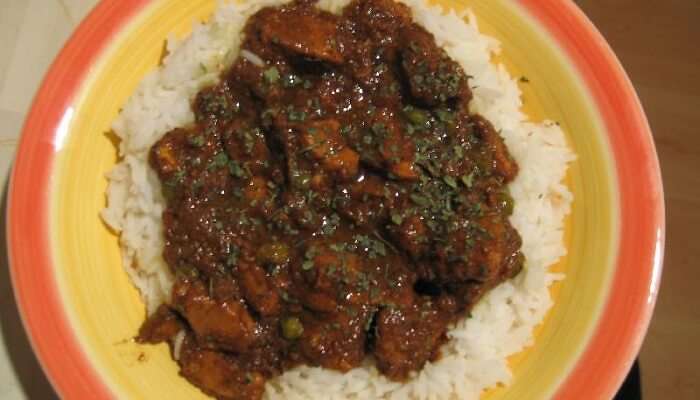 Another hot spot for shopaholics in Goa is the Ingo's Saturday Night Market. An all-night flea market, it is located in Arpora and is famous for selling local Indian handicrafts and carpets and dirt cheap rates. The market is usually open only during the peak tourist season, starting from November till February from 4 PM to 11 PM. People from across the world open stalls here including European traders selling a selection of garments and jewelry. The live music scene here is also something to look forward to.
Where to eat: Choose from any of the open food stalls offering a range of veg and non-veg options
What's special: Try out pork chops and traditional vindaloo with chilled beer
Further Read: 27 Best Shacks In Goa That Are Perfect For A Laid-Back Beach Vacation In 2022!
Dear foodies! If you are done partying already, don't forget to try out the above-listed street food in Goa which you are likely to find at most of the popular party places. But trying them out at the places mentioned here ensures the best taste. So, plan a trip to Goa and get ready to be spoiled for choice.
Frequently Asked Questions About Street Food In Goa
What is the favourite food of Goa?

The staple food if Goa is mostly rice and fish curry, like many other tropical areas in India. Goan food is known to be intense in flavors and spices, which is what makes it so irresistible. The Goan Fish Curry, Shark Ambot Tik, Chicken Xacuti, Goan Pork Vindaloo, Sorpotel, Feijoada, Chicken Cafreal, Sorak, Samarachi Kodi, Goan Khatkhate, and Sannas are some of the most famous culinary specialties of Goa that you should try when you're here.

Is food expensive in Goa?

No, food is not at all expensive in Goa, unless you're dining at a luxurious hotel or restaurant. You can even find meat-based dishes in Goa at moderate prices as compared to other parts of India. In fact, the cost of food in Goa is usually quite reasonable at most of the cafes, street-side eateries, and restaurants in Goa. However, if you opt for street food and go to local restaurants you will definitely be able to get much cheaper food.

What is Goa famous for?

Goa is famous for a variety of things including its stunning beaches, jazzy nightlife, Goan hospitality, the local alcoholic beverage called "Feni", the carnivals, Goan food, range of water sports, islands, and its natural beauty.

Which fish is most popular in Goa?

The Kingfish is the most popular fish in Goa. It is a common ingredient in most seafood-based meals and always remains in high demand by tourists regardless of the season. It is grilled, cooked in tandoori ovens, or even served in sauces and curries with masala as per the preferences of diners. Other popular types of fish served in Goan restaurants include mackerel, pomfret, tuna, and sharks.

Is alcohol cheap in Goa?

Yes, alcohol is generally very cheap in Goa as compared to other cities across India. This is because the government has imposed really low taxes on alcohol and alcohol-based beverages in this city. For instance, you can easily get a bottle of beer for as low as INR 35 in many liquor stores across Goa.

What food is available in Goa?

From authentic Goan cuisine to multi-cultural food, one can find everything in Goa. Goa is one of those destinations that cater to the taste buds of every individual. From seafood and Italian to Mediterranean and Indian, there is a vast variety of food available in Goa.

What should I eat and drink in Goa?

Some popular food and drinks that one should try in Goa are Goan curry, Prawns, Goan sausages, Vindaloo, Kokum, and Fenny.

Which drink is famous in Goa?

Sol Kadhi is a famous drink in Goa that is consumed after meals to expedite the digestion. It is made from kokum, coconut milk, and Amasol. As far as alcoholic drinks are concerned, Feni is the most popular drink in Goa that is made from cashew nuts.

How much does a beer cost in Goa?

A pint of domestic beer will cost you somewhere between 80-160 bucks while imported beer is priced at 250 bucks a pint.
---
Looking To Book A Holiday Package?
---
People Also Read:
Street Food In Gantok Street Food In Chennai Street Food In Gwalior