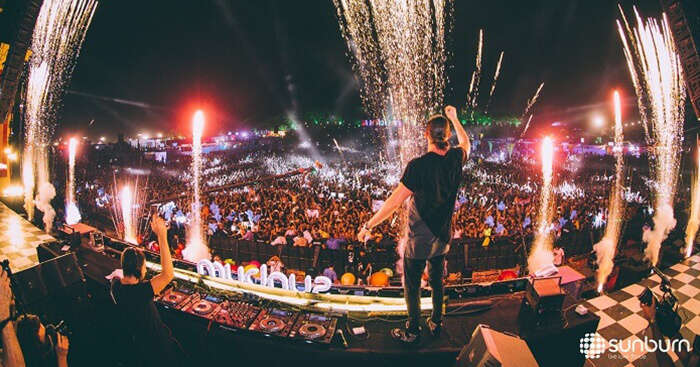 Arguably the largest electronic dance music festival in Asia and the mother of all music fests in the Indian subcontinent, Sunburn Festival Goa is ready with its 9th edition. The Sunburn, apparently, has significantly contributed to the glam quo of Indian party scene. Hoards of youngsters, music lovers, party groovers, and revelers from India and abroad witness the events of Sunburn and it's not going to be any different this time except one thing – The Sunburn Surprise just around the New Year's eve celebrations in Goa.
So, since organizers have spilled all the beans, we are taking up the cause of compiling them and doing all the scrounging for you.
Sunburn Festival Goa: When and Where?

Sunburn Goa 2020 dates: Mark your calendars for 25th to 27th December 2020
Sunburn Goa 2020 venue: Sunburn Goa is going to rock the Vagator Beach. The precise venue is on the Vagator Beach road.
Nearest airport: Dabolim airport; take a prepaid taxi from here to the venue. An estimated fare will be INR 1,250.
Nearest railhead: Tivim
Must Read: Nightlife In Goa: Experience The Other Side
The Lineup of Sunburn Festival Goa, 2020

4 days, over a 100 artists, and almost 100 thousand music and dance revellers – the 2020 edition is an extremely power packed scene. The event organizers have ensured that this edition tops the former versions and raises the bar for the next ones.
Suggested Read: Get Ready To Catch The OPPO Sunburn Goa 2019 In Style With Reno2
Sunburn Surprise

Okay, so this is different. A usual Sunburn lasts for three days. But this one, fellas, takes the music mania to its 4th day– all thanks to the Government of Goa and event organizers. On 30th of December, the event is named as Sunburn Surprise and has extra value to it.
Those with the three-day tickets will have a free entry to the Sunburn Surprise while those with one or two-day tickets will get a 50% discount for the fourth-day ticket. And just to stay thankful and obliged to the Goans, the organizers have allowed free entry for Goans. Any Goan can get the ticket from their MLAs and have a free access to the Surprise day of Sunburn in Goa.
Suggested Read: New Year Parties In Goa 2020: 27 Popular Events And Venues
Entry to Sunburn Festival Goa, 2020

Sunburn ticket price are available on Book My Show and the official Sunburn website. The four-day entry pass to Sunburn Goa is priced at INR 9,250, whereas, VIP tickets are available for INR 15,500. Tickets can also be availed on EMIs of a maximum of 12 months from the website.
Suggested Read: 9 Reasons Why Goa Is A Backpacker's HELL
Free Entry and Complimentary Passes to Sunburn Festival Goa

Time for some hacks. Besides the conditional free entry to the Sunburn Surprise, the organizers have asked for a social promotion of the event. The Sunburn in Goa needed you to tweet about it and if the luck rolled your way, you were that one lucky son/daughter to get free entry to the fest. We suggest you to stay tuned, and also look out for local FM radio shows.
Suggested Read: Explore Goa In March By Visiting These 12 Breathtaking Places
Stay Options In Goa Around The Sunburn Festival

So the event organizers have collaborated with Stayzilla for accommodation during the event. With camps and serviced rooms sorted, Sunburn 2020 is a complete package to help you end the year with a bang. However if you wish to stay aloof, we recommend Doubletree by Hilton and Treebo Turtle Beach resort.
Further Read: 12 Hacks For A Kick-Ass New Year In Goa Without Burning A Hole In Your Wallet
All sorted? Need anything else? Do let us know and we'll make sure to send you for an amazing trip to Sunburn Festival Goa. And yes, have a very happy and sunburning New Year. Make sure to book a trip to Goa and customize it today according to your needs
Frequently Asked Questions
How much is Sunburn festival ticket price?
Tickets to Sunburn Goa 2020 costs nearly INR 9,250, whereas, the VIP ticket costs INR 15,500.
What is Sunburn in Goa?
Sunburn is an electronic music festival held across India. It is believed to be Asia's one of the biggest music festivals.
Where is sunburn 2020?
Sunburn 2020 will be organized at Vagator Beach in Goa.
---